There's an increasing trend in skincare at the moment: natural skincare. You've probably noticed a lot of skincare brands doing away with synthetic ingredients and offering products that feature natural ingredients instead. However, just because an ingredient is natural doesn't mean it's good for your skin.
Essential oils are one group of natural ingredients added to many skincare products. Essential oils are seen as a natural solution to many health problems, and they have been used in aromatherapy for thousands of years.
But in this article today, I want to explain how essential oils can damage your skin and why dermatologists recommend avoiding them.
Essential Oils Good for the Skin?
Natural Isn't Always Safer
While some very beneficial natural skincare ingredients, such as non-fragrant oils, non-fragrant plant extracts, and natural vitamins, are pretty harmful to your skin.
Some of them can irritate and damage your skin's moisture barrier. This causes your skin to become dehydrated and makes it more prone to acne, rosacea, and fine lines and wrinkles.
Conversely, just because an ingredient is synthetic doesn't mean it's terrible for your skin. Most synthetic skincare ingredients are highly safe for your skin and necessary to formulate quality skincare products.
What Are Essential Oils?
Essential oils are also known as fragrant oils. They are volatile, which means they quickly evaporate at average temperatures. They are lipophilic, which can dissolve in lipids or fat essences of plants extracted from flowers, leaves, bark, stems, or roots.
In simple terms, essential oils are concentrated oils that contain quickly evaporating aromatic chemical compounds from plants.
Essential oils have unique and often very pleasant-smelling fragrances that differ from plant to plant. They are primarily extracted from plants by distillation – water or steam- although other processes, such as cold pressing, are sometimes used.
Essential oils have gained massive popularity in the food, cosmetic, and pharmaceutical industries, and they are increasingly added to skincare products for their natural plant-based origin.
However, as I want to highlight in this article, natural ingredients aren't necessarily safer than synthetic ones.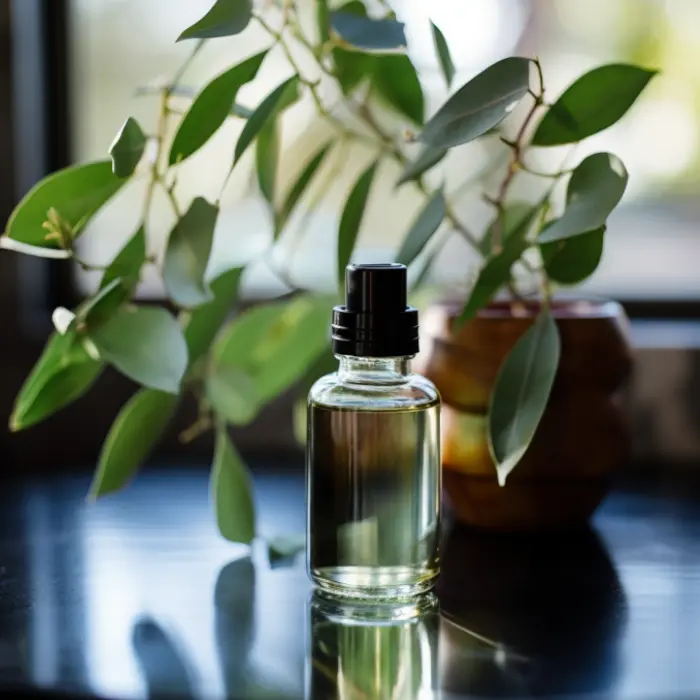 Some of the essential oils you might find added to skin care products include:
Bergamot oil
Eucalyptus leaf oil
Geranium oil
Lavender oil
Lemon peel oil
Orange peel oil
Oregano oil
Rosemary oil
Tea tree oil
Why Do Skincare Brands Use Essential Oils?
As consumers become more conscious about what we consume and put on our bodies, not just in the skincare world, replacing synthetic and natural products is becoming more common.
It's hard to go grocery shopping and not notice nearly every product with at least some 'natural' or 'organic' options.
But why exactly do skincare products contain essential oils?
The main reason is that some skincare ingredients naturally don't smell very pleasant, and skincare brands often don't want to sell products with not-so-pleasant scents. And since consumers are moving away from using products that contain artificial fragrances, essential oils seem to be the perfect natural solution to masking the natural odor of some ingredients.
Some essential oils are also used in skin care products as they have anti-inflammatory, antibacterial, and antioxidant properties, such as tea tree oil, which has been shown to benefit acne-prone skin.
I even mention tea tree oil in my article about the best skincare ingredients for acne-prone skin, although I do caution that it can easily cause skin irritation if you overdo it.
Lastly, essential oils and natural plant extracts are often used in many natural and organic skincare products marketed as 'preservative-free.' Since some essential oils have solid anti-microbial benefits, they are used instead of traditional preservatives.
The Chemical Components of Essential Oils
Many chemical components have been identified in essential oils, most of which are structurally similar, mainly containing carbon, hydrogen, and sometimes oxygen atoms, and belong to a class of terpenes.
Each essential oil is a complex mixture of several hundred chemical components.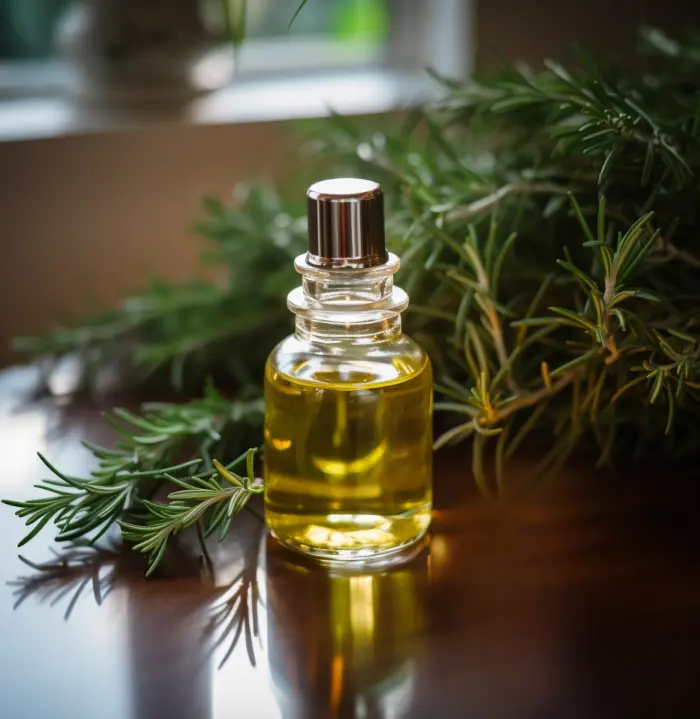 Some essential oils' chemical compounds have antibacterial, antifungal, antiviral, or antioxidant properties. In theory, these compounds sound like they may benefit the skin.
However, they are way too sensitizing and irritating. Examples of the most sensitizing components commonly found in essential oils include limonene, citronellol, eugenol, and linalool.
In other words, essential oils do more damage than good when applied to your skin. So think twice when you see the following pin on Pinterest that says something like "the ten best essential oils for acne" or "7 anti-aging essential oils".
Here is an example of one study that investigated the chemical composition of lavender essential oil and identified 47 compounds (many of which are extremely sensitizing to the skin).
Are Essential Oils Good for the Skin?
The short answer is: No!
As I mentioned above, essential oils comprise many components, so the chances are pretty high that your skin will become sensitized.
Most essential oils contain about 100 to 250 chemical components, but some have 450 to 500. This includes geranium, lavender, and rosemary – commonly added to skincare products.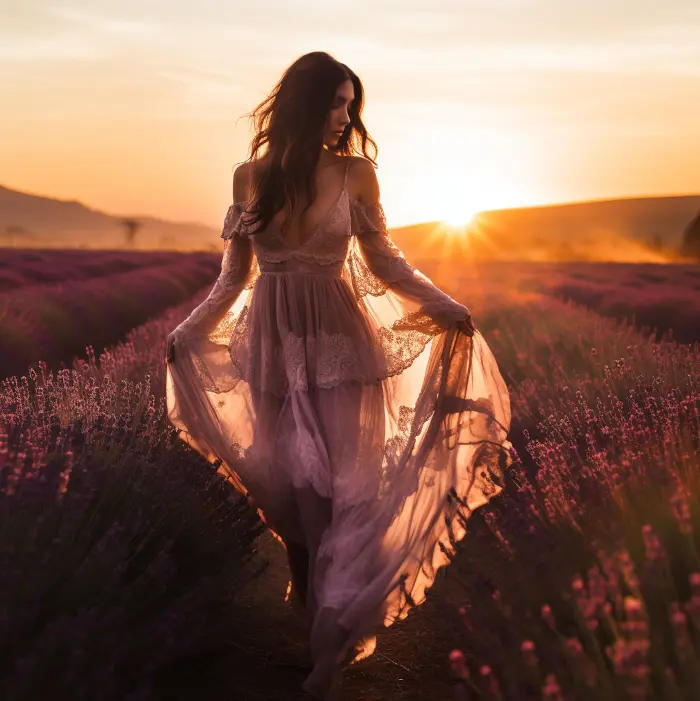 This study found that 80 essential oils are known to cause contact allergy and that more than 50 have caused contact dermatitis in individuals.
The mixture and concentration of chemical components present in essential oils differ from one type of essential oil to the next. It also differs for the same essential oil, depending on how, where, and when it was extracted and how long it has been stored.
Many factors affect essential oil components, including plant genetics, growing conditions, climate, and the method used to extract the oil from the plant material (such as distillation or cold pressing). Therefore, even though your skin may not react to a particular essential oil one time, it doesn't mean it won't react the next time you use a different sample of the same essential oil.
Another important cause of skin irritation and the development of allergies is that the components found in essential oils are highly susceptible to conversion and degradation reactions (including oxidation-reduction responses). Simply put, this means that in the presence of heat, light, and oxygen, the chemical compounds found in essential oils very quickly convert into other chemical compounds that may be much more sensitizing to the skin.
Other factors can increase the likelihood that oil will become oxidized, including metal contaminants, water content, and what chemical components were present in the mixture.
Specific chemical structures are more prone to oxidation than others. Skincare companies cannot control any of these factors; therefore, you cannot know what chemical components are in your product.
How Do Essential Oils Cause Allergic Reactions?
So I mentioned that as well as causing skin sensitization, essential oils are known to often result in allergic reactions. But how does this happen?
The chemical components found in essential oils are very small, with a molecular weight below 300. This means that each drop of essential oil contains about 40 million trillion molecules! The small molecular sizes of components in essential oils give them their aromatic properties since they are so small that they quickly leap into the air and into our noses to be detected as smell.
The tiny size of the components found in essential oils and their ability to dissolve readily in fats and lipids allows them to easily cross the epidermis and enter the dermis layer of the skin.
Once in the dermis, they can enter the bloodstream, oxidize, forming what's known as a hapten, and then easily bind with proteins and elicit an immune response and allergic reaction.
As a comparison, this is the same way that poison ivy causes skin irritation. When the poison (called urushiol) present in poison ivy is absorbed into our skin, it oxidizes, generating a hapten that reacts with skin proteins and elicits an immune response – resulting in painful contact dermatitis.
What If I Patch Test First?
Some dermatologists say using essential oils on the skin is okay if your skin barrier is intact and you do a patch test first. However, most dermatologists recommend steering clear of essential oils no matter what since so many components are present in each oil, and many products contain more than one type of essential oil.
Even if you have been using an essential oil with no skin sensitization or allergic reaction, it doesn't mean this can't happen in the future, as components can oxidize in your skincare product or once absorbed into your skin. Oxidized essential oils have been shown to have a much higher risk of triggering an allergic reaction.
For example, this study found that the compound geranial – the product of the oxidation of geraniol, which is found in geranium essential oil – is much more likely to cause an allergic reaction than the parent compound.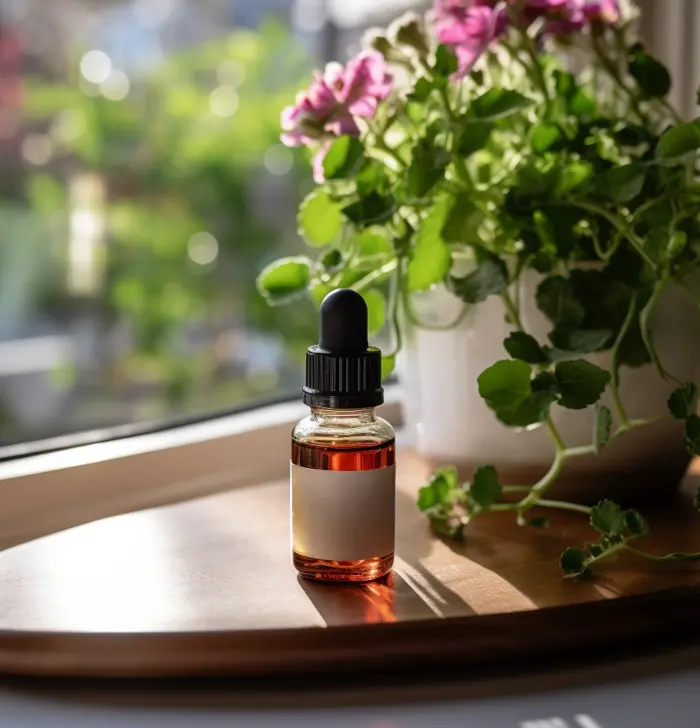 Some Essential Oils Are Also Photosensitizing
Since starting writing for the Garden of Muses and looking over many product ingredient lists, I'd say that citrus oils are probably the most common essential oil to be added to skincare products. This includes essential oils derived from lemon, lime, tangerine, grapefruit, mandarin, and bergamot.
While researching for this article, I came across many websites and Pinterest pins proclaiming the benefits of using citrus oils on your skin. Some claims include that citrus oils have degreasing, antiseptic, antioxidant, astringent properties, and skin-brightening properties that make them great for oily and acne-prone skin.
However, even though citrus oils have been shown to contain components with antimicrobial and antioxidant properties, the risks of skin sensitization and allergic reactions outweigh the benefits you might get.
Another reason why it might be best to avoid skincare products containing citrus oils is that citrus oils have components that are potential photosensitizers. In nature, plants produce these components to defend against herbivorous insects and pathogens. However, these compounds aren't so good for our skin.
But what does this mean exactly?
Some non-volatile compounds in citrus essential oils can change when exposed to UV light. These chemical changes can damage your skin, such as burning, itching and redness, blistering, and discoloration hyperpigmentation.
One compound known as bergapten has also been shown to be photocarcinogenic. I talk more about Bergapten below.
Are All Citrus Oils Equally Photosensitizing?
Now, you might wonder, if citrus essential oils are so photosensitizing, why do so many skincare products still contain them?
The first reason is that not all citrus oils have the same level of phototoxicity. Many studies have investigated the phototoxicity of various citrus oils. Their results show that citrus oils have a low to moderate risk of phototoxicity depending on what non-volatile components they contain (and their concentration).
A class of compounds known as furanocoumarins is known to be responsible for the photosensitizing effects of citrus oils.
Some of the non-volatile photo-sensitizing components present in expressed (cold-pressed) citrus essential oils (obtained from this study). I mentioned the photocarcinogenic effects of bergapten earlier. This compound is found in high concentrations in citrus fruits and carrots peel. Its concentration is incredibly high in the bergamot orange, making it the most photosensitizing essential oil.
A name is given to the dermatitis resulting from the phototoxic reaction induced by UVA radiation on bergapten: Berloque dermatitis. I'll let you decide whether you want to Google Image that term!
The second reason not all citrus essential oils are equally photosensitizing is that the method used to extract essential oil from plant material also affects its phototoxic. Cold-pressed essential oils are much more phototoxic than those extracted using steam distillation. Bergapten is too large and cannot pass through the steam distillation process.
From my research for this article, it appears that skincare products contain a minimal concentration of citrus oils (around the 0.01 – 0.1% range) and that most brands prefer avoiding cold-pressed citrus oils.
Some skincare companies even market their products as containing only bergapten-free essential oils (one great example is Mad Hippie).
Some Korean Sunscreens Contain Citrus Oils – Should You Avoid Them?
I've just explained how citrus oils can be photosensitizing and that they are even potentially photocarcinogenic. However, many Korean sunscreens contain various citrus oils. I even noticed some sunscreens containing bergamot oil.
Should you be avoiding these products?
First, I couldn't find any information regarding the citrus oils used in these sunscreens, whether they are bergapten-free or cold-pressed. It is a matter of trusting that the skincare companies are sourcing the safest essential oils and only adding them to products in deficient concentrations low enough not to cause photosensitivity.
So, it comes down to your own choice.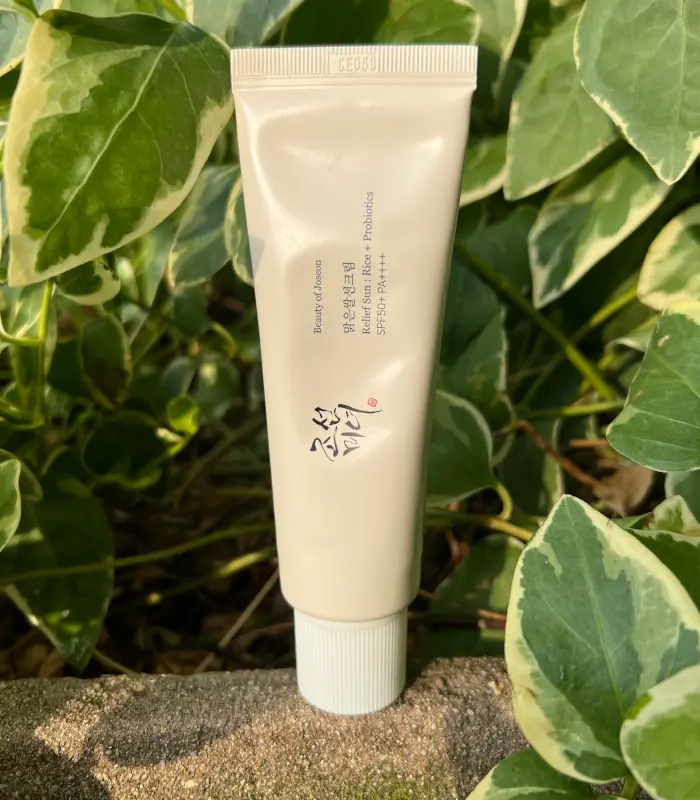 I will only use sunscreens without citrus oils, especially since I am exposed to the beaming hot sun for most of the year (I live in Florida).
I'm also trying to fade hyperpigmentation from years of skincare neglect! The current sunscreen I'm using is the Beauty of Joseon Relief Sun SPF50+ PA++++, which is affordable and suitable for my oily and acne-prone skin.
Beauty of Joseon Relief Sun is essential oil-free and fragrance-free. If you wish, read Mia's review of this super hyped-up sunscreen.
Beauty of Joseon Relief Sun Ingredients List (last check 2023)
Water, Oryza Sativa (Rice) Extract (30%), Dibutyl Adipate, Propanediol, Diethylamino Hydroxybenzoyl Hexyl Benzoate, Polymethylsilsesquioxane, Ethylhexyl Triazone, Niacinamide, Methylene Bis-benzotriazolyl Tetramethylbutylphenol, Coco-caprylate/Caprate, Caprylyl Methicone, Diethylhexyl Butamido Triazone, Glycerin, Butylene Glycol, Oryza Sativa (Rice) Germ Extract, Camellia Sinensis Leaf Extract, Lactobacillus/Pumpkin Ferment Extract, Bacillus/Soybean Ferment Extract, Saccharum Officinarum (Sugarcane) Extract, Macrocystis Pyrifera (Kelp) Extract, Cocos Nucifera (Coconut) Fruit Extract, Panax Ginseng Root Extract, Monascus/Rice Ferment, Pentylene Glycol, Behenyl Alcohol, Poly C10-30 Alkyl Acrylate, Polyglyceryl-3 Methylglucose Distearate, Decyl Glucoside, Tromethamine, Carbomer, Acrylates/C10-30 Alkyl Acrylate Crosspolymer, 1,2-Hexanediol, Sodium Stearoyl Glutamate, Polyacrylate Crosspolymer-6, Ethylhexylglycerin, Adenosine, Xanthan Gum, Tocopherol, Lactobacillus/Rice Ferment, Aspergillus Ferment, Saccharomyces/Rice Ferment Filtrate.
Ingredients referred from the Beauty of Joseon Official Website.
UV filters Herbs Humectant/Moisturizing Active Ferments
Should You Avoid All Other Skincare Products Containing Any Essential Oils?
It's true. I am telling you all about the dangers of using essential oils on your skin. Yet, this online magazine recommended products that contain essential oils, such as the COSRX Low pH Good Morning Gel Cleanser.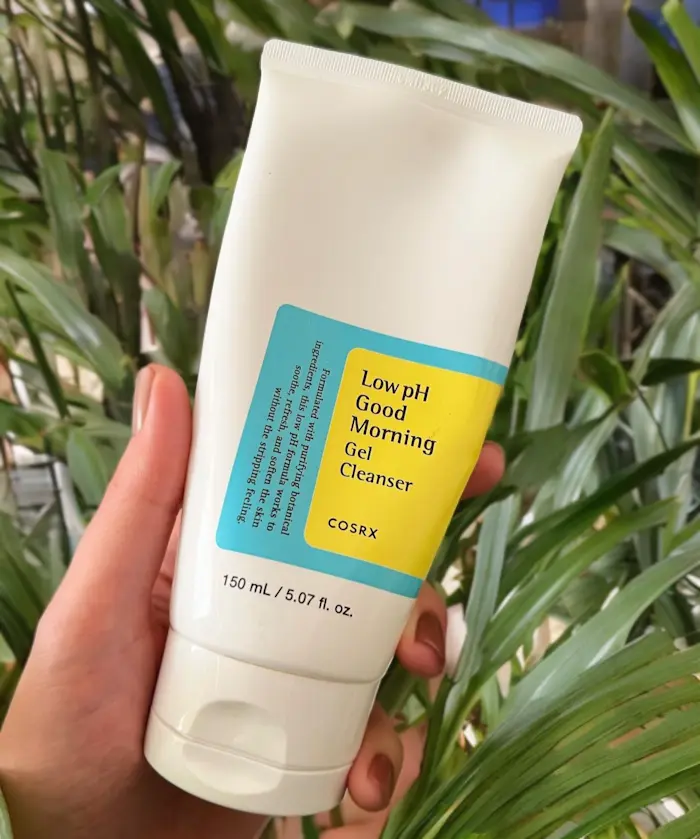 So, are we contradicting ourselves here?
When it comes down to it, some people tend to be way more sensitive than others when it comes to skincare ingredients such as essential oils, especially if you suffer from rosacea, eczema, psoriasis, or even acne, and avoiding them entirely in skincare products is a personal choice.
I have tolerated the diluted amounts of tea tree oil in my skincare products. However, I understand that this could change and that I can become sensitive to specific components in essential oils or even develop an allergy. I am also careful not to choose products that contain more than one or two essential oils, as this dramatically increases the chance of irritation.
Of course, just like you, skincare is a learning journey for me, and as I learn more, I tend to adjust my skincare routine. I always recommend that you know as much as possible about what kind of skincare products and ingredients your skin needs to keep your routine minimal with fewer unnecessary products and ingredients, but still adequate for your skin concerns. I wrote an article on starting a simple (yet effective) skincare routine.
Conclusion
Tackling the topic of essential oils in skincare products was way more difficult than I thought it would be. There's a lot of scientific work in this area and misinformation on the internet. I'm looking at you, Pinterest!
Many dermatologists recommend avoiding skincare products with essential oils, but others say it's okay to patch test. And although many people do experience skin sensitization when using products containing essential oils, others don't experience any problems.
This comes down to how many products you use that contain essential oils. Yes, skincare products only have a tiny concentration of essential oils. Still, if you're using 4 or 5 products in your routine that contain essential oils, you're exposing your skin to many more potentially sensitizing chemical components.
Also, if you know you have sensitive skin, then it might be best to avoid essential oils altogether. If you have an allergy to one essential oil in particular, you should probably avoid all essential oils, as many chemical compounds are found across different essential oils.
It's also important to remember that even if your skin tolerates essential oils now, it doesn't mean it won't down the track. Hence, it's vital to adjust your skincare routine if you notice any negative changes in your skin.
I hope you enjoyed reading this article. I think for my next article, I'll stick to something a little less controversial.
Show Me Proof
de Groot, Anton C., and Erich Schmidt. "Essential oils, part IV: contact allergy." Dermatitis 27, no. 4 (2016): 170-175.
Hagvall, Lina, Ann‐Therese Karlberg, and Johanna Bråred Christensson. "Contact allergy to air‐exposed geraniol: clinical observations and report of 14 cases." Contact Dermatitis 67, no. 1 (2012): 20-27.
Dosoky, Noura S., and William N. Setzer. "Biological activities and safety of Citrus spp. essential oils." International journal of molecular sciences 19, no. 7 (2018): 1966.