Double cleansing is probably one of the most defining and vital steps of any Korean skincare routine. It involves cleansing your skin in two steps: an oil-based cleanser and a water-based cleanser. Using an oil cleanser in addition to a water-based cleanser ensures that you remove oil-based impurities, including sunscreen, makeup, and excess sebum, to help prevent clogged pores and acne.
There are so many Korean oil cleansers and some great Japanese ones. These come in two forms: solid cleansing balms and liquid cleansing oils. If you're starting a Korean skincare routine, you might wonder what the difference is between a cleansing balm and a cleansing oil and which is better for your skin.
Cleansing Balm vs. Oil:
What Is Double Cleansing?
You might benefit from double cleansing if you've got clogged or enlarged pores, acne, blackheads, or oily or very dry skin.
Double cleansing is a pillar of the Korean skincare routine. As I mentioned above, double cleansing involves washing your face in two steps: first, using an oil-based cleanser, followed by a water-based cleanser.
The Benefits of Korean Double Cleansing – A Guide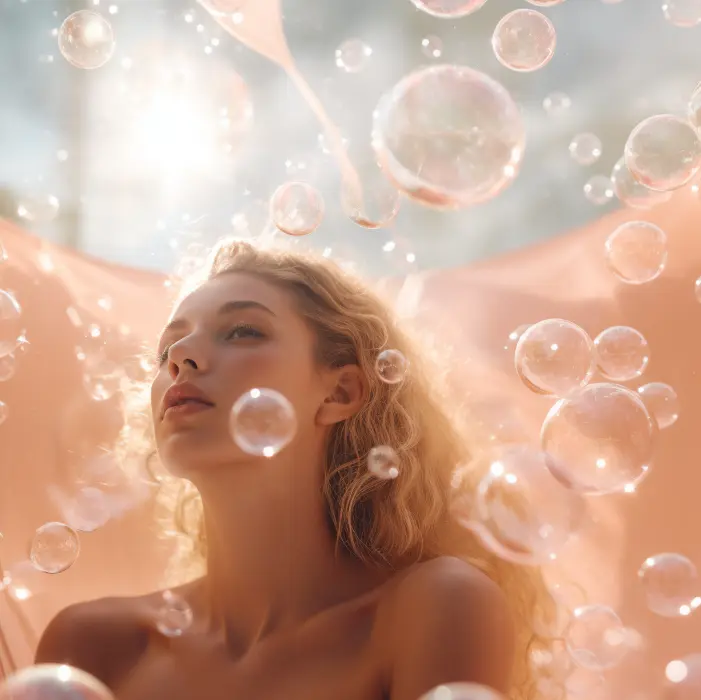 An oil-based cleanser removes oil-based impurities, including sunscreen, makeup, and sebum, while a water-based cleanser removes water-based impurities, such as sweat, bacteria, and dead skin cells.
Using an oil-based cleanser in addition to your regular (water-based) cleanser helps prevent your pores from becoming clogged, which can lead to blackheads and acne.
Will an Oil Cleanser Make My Skin More Oily?
The first question people ask when discovering oil cleaners is, "Won't it make my skin more oily?". I asked the same question because my whole life, before starting a Korean skincare routine, I cleansed my face multiple times a day and used an astringent toner to keep oil away. I also avoided applying any moisturizing products and never wore sunscreen. But this led to even more sebum production and damaged my skin's moisture barrier.
Since using an oil cleanser in my evening routine, followed by a low-pH water-based cleanser, I've found that my skin has improved. It's less oily, even during our hot and humid summer, and I don't have as many clogged and enlarged pores.
So, unless you're over-cleansing, the answer is an oil cleanser won't make your skin oily. This is because the oils in your oil cleanser help pull oil-based impurities from your pores.
And oil-based cleansers won't leave an oily residue as they contain emulsifiers (surfactants), which when you apply water to your face after you've massaged your oil cleanser into your skin), help to dissolve the oil cleanser and rinse it off your skin without leaving any oil behind. There are many different types of emulsifiers used in skincare products, and just some of the ones you might find in oil cleansers include polysorbate 60, PEG-40 sorbitan peroleate, PEG-20 glyceryl triisostearate, PEG-10 isostearate, and sorbeth-30 tetraoleate.
Do I Need an Oil-Based Cleanser?
As you might know, oils and water don't mix, so using a water-based cleanser won't efficiently remove impurities such as sunscreen, makeup, and excess sebum.
I use the word efficiently because water-based cleansers can still remove sunscreen and other oil-based impurities with the help of the surfactants they contain. However, these don't work as well as oil cleansers, which, as the name suggests, contain large amounts of oil that help to lift off anything oil-based from your skin.
This is especially true when removing some types of sunscreens, including zinc oxide-based ones. Even if you cleanse twice, the ingredients in some skincare products, such as crosspolymers and silicones, make it quite challenging to wash off your face with a water-based cleanser only.
Instead of using an oil-based cleanser first, some people prefer to wash their face twice using a water-based cleanser. However, I'd be concerned that this might affect my skin's moisture barrier due to the pH-altering effects of most water-based cleaners (except some low-pH cleansers). The pH of healthy skin is slightly acidic, and using a high pH cleanser (alkaline) damages the acid mantle of your skin, allows bacteria to grow, and, yep, you guessed it, leads to acne or worsening of other skin conditions such as rosacea.
The Difference between a Cleansing Balm and Oil
Okay, so hopefully, I've convinced you that an oil cleanser will help improve your skin and won't make it oily. But now you might be wondering what the difference is between a cleansing balm and a cleansing oil, and whether one is better. These were the same questions I asked when starting my skincare routine – so hopefully, I can save you hours of research by summarizing the differences in this post.
The main differences between liquid cleansing oils and cleansing balms are the texture and packaging. Cleansing balms come in tubs and are solid with a butter-like consistency while cleansing oils are liquid and generally are sold in pump-style bottles. Neither works better than the other. Instead, there are a few pros and cons to using each.
Of course, personal preference is critical, and I would recommend using both to compare, and test what works best for you and your skin. What's 'right' for one person is another person's 'wrong.' It's more looking, in my opinion, what each option offers you, and if that's what you want from a cleanser. Let's get to the nitty-gritty.
I've now tried both forms of oil cleansers. As I'm a busy mum and prefer the convenience of a pump bottle to opening and closing a tub and using a spatula, I prefer the liquid oils to balms. I know, it probably doesn't save that much time, but after a long day looking after a toddler, I prefer the easiest option.
However, some people prefer balms over oils, so you may need to try both balms and oils to decide what works best for your skin and lifestyle, as everyone is different.
Cleansing Balm Pros
Storage
For a different kind of convenient packaging. Most balms come in tubs. I love tubs, as they're stackable and friendly and easy to take a photo of, although that might not be high on your priority if you don't own a skincare blog or Instagram.
Travel-friendliness
You might also prefer a cleansing balm if you travel a lot. I'm likelier to reach for a cleansing balm to slip into a bag, as tubs are way easier to pack without risking it spilling in your purse or being confiscated at the airport. Traveling with oils is a pain as they have a 'leaking' habit.
Spillage
I'll also note that although I find using tubs more inconvenient than a pump bottle, they are less messy. Balms are less likely to spill and get all over your sink.
I can't count how many times I've pressed the pump too hard or missed my hand, and the cleansing oil has gone over my sink or onto my shirt. I know, I'm clumsy.
Thick massage
One aspect of cleansing balms I like is how relaxing and therapeutic it feels to massage them into my skin after a hard day. Because of the balm texture, rubbing a more solid-feeling product into the skin can feel a lot more like a therapeutic massage, with the balm gracefully sliding over the skin and feeling less 'slippery.' Oils feel more slippery and don't feel as thick on your skin, and if your oil has a very thin consistency, you have to try to rub it into your skin quicker before it runs down your face or hands. Also, if you have very dry hands like me, you'll likely feel your dry hands rubbing your face instead of a lovely soft balm.
Better at Removing Makeup
Since balms are not runny, they're less likely to get in your eyes and irritate – meaning they work much better when taking off eye makeup. I don't wear much makeup at all. I wear a non-waterproof mascara and lip gloss most days, so this hasn't been a problem when using cleansing oils.
Beauty of Joseon Radiance Cleansing Balm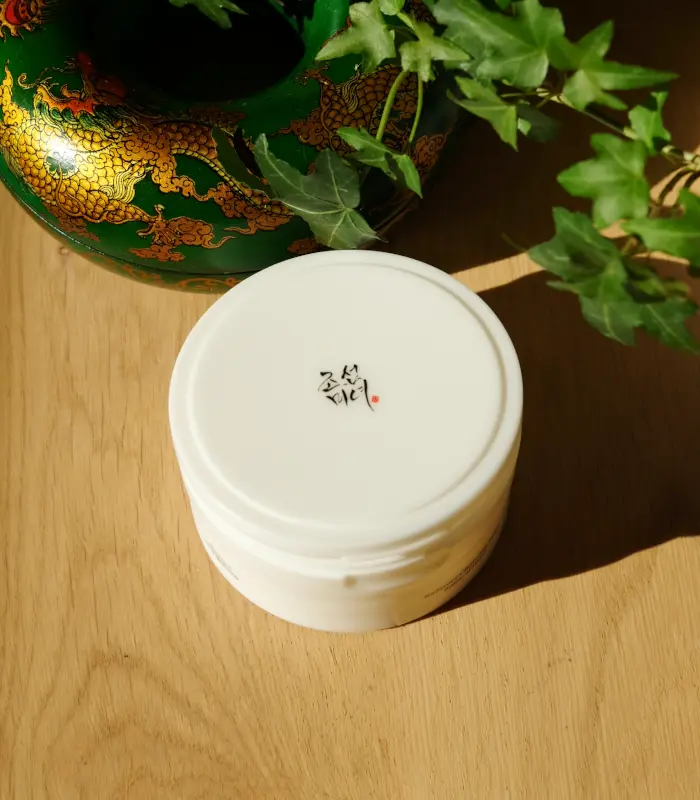 If you want to start a double cleansing routine and think cleansing balms are for you, perhaps try one of the best: Beauty of Joseon Radiance Cleansing Balm.
I love Korean skincare products that incorporate traditional hanbang ingredients into their formulations. This particular cleansing balm offers benefits beyond cleansing as it contains many hanbang ingredients, including Rice Bran Oil, Rice Seed Water, Rice Extract, and fermented soybean.
This is the cult favorite cleansing balm and the first oil cleanser I ever used. I like how smooth and rich this cleansing balm feels as it melts into your skin (it's so relaxing!).
This cleansing balm is impressive in how it melts away your makeup and sunscreen and how gentle it is on the skin.
Also, look at Mia's Beauty of Joseon Radiance Cleansing Balm's full review.
Cetyl Ethylhexanoate, Caprylic/Capric Triglyceride, PEG-20 Glyceryl Triisostearate, Synthetic Wax, PEG-10 Isostearate, Lactobacillus/Soybean Ferment Extract, Hippophae Rhamnoides Oil, Oryza Sativa (Rice) Bran Oil, Oryza Sativa (Rice) Seed Water, Avena Sativa (Oat) Meal Extract, Coix Lacryma-Jobi Ma-yuen Seed Extract, Oryza Sativa (Rice) Extract, Water, Sorbitan Sesquioleate, Glycerin, Propanediol, Butylene Glycol, 1,2-Hexanediol, Caprylyl Glycol, Ethylhexylglycerin.
Ingredients referred from the Beauty of Joseon Official Website.
Surfactant Herb Humectant/Moisturizing Ferments
Cleansing Oil Pros
Variety in consistency
Cleansing oils come in many different thicknesses, with some feeling more liquidy, providing more 'slip,' and some being denser and richer. This is great as you can experiment and tailor your cleansing oil to your tastes in texture and feel. For example, I wouldn't say I like the feel of oil in my hands, and I favor a more watery style – but many are happy to go straight in with pure olive oil or coconut oil—the world's your oyster.
Convenient packaging
This type of packaging, as opposed to tubs, also makes them more hygienic. Even if you're using a clean spatula every time you use a balm, there's still a chance bacteria can get into the product every time you open the lid.
Many cleansing oils come with a pump bottle that is easy to dispense and keeps the oil sealed, making it less likely to spill and get everywhere.
Also, I don't have to mess with spatulas with oily hands.
Affordability
I often find that cleansing oils are slightly cheaper, or have more price variety. However, cleansing balms are more affordable in the long run because they last a little longer if you're careful not to overuse the product. It's debatable.
Emulsification
Remember I mentioned how oil cleansers emulsify in contact with water? Well, cleansing oils often emulsify quicker, and with less product, requiring less skin massaging– while some balms do emulsify quickly in contact with water, many don't. The first balm I ever tried didn't, and it was one of the things that put me off, until now.
So you might prefer a cleansing oil if you're time-poor, extremely tired by the end of the day, and want a no-fuss skincare routine. They are also good if you want to be extra gentle around your eye area to avoid getting wrinkles!
Environment
Cleansing oils may be the best choice for those who are environmentally conscious. Cleansing balms often contain polyethylene, microplastics, or tiny plastic particles that enter the stream of water and cannot be filtered out. These plastic particles go on to pollute, getting into lakes, oceans, rivers, and many of the things around us in our daily lives. As I read about this, I am less and less attracted to cleansing balms.
I also like that the cleansing oils I've tried don't blur my vision and make me feel like there's a film over my eyes for a while. The cleansing balms I've used in the past (although safe to use on the eyes) caused my vision to be blurry for a minute or two, which is a bit inconvenient when I'm trying to rush through my evening routine and get to bed before my toddler wakes up again.
Body wash
Cleansing oils are pretty easy to use as a body wash. I like to use them, especially after the gym, and they can also be added to a bath to leave your skin feeling silky smooth.
Clean Makeup Brushes
Although I don't wear much makeup, cleansing oils are perfect for cleaning makeup brushes, too – so if you have makeup tools that regularly need a good clean, then a cleansing oil might be for you.
Beauty of Joseon Ginseng Cleansing Oil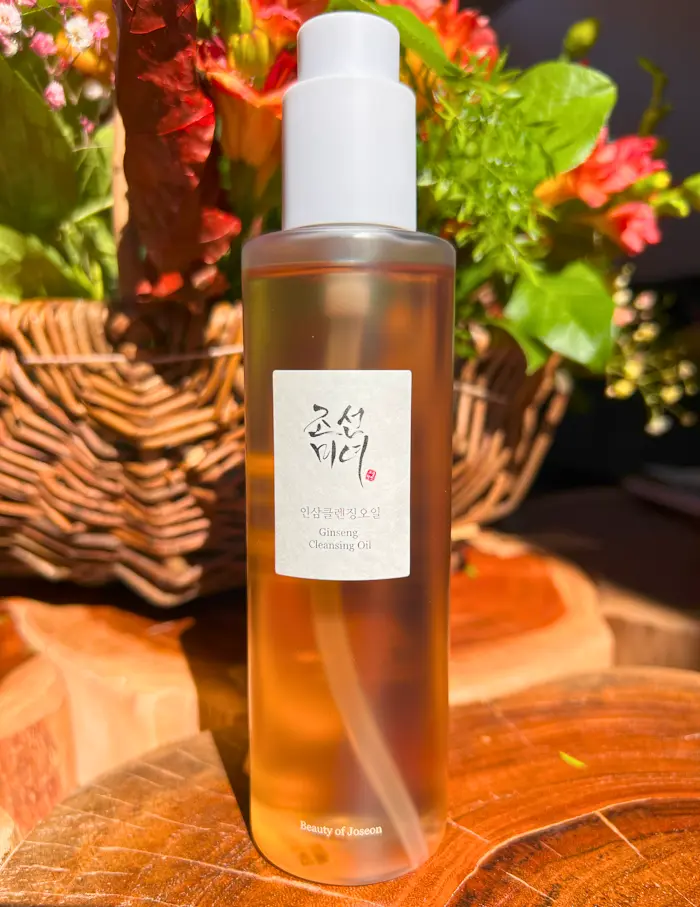 If you think you'd prefer a cleansing oil over a cleansing balm, you're lucky because there are so many great oils.
As I've mentioned, I've recently switched to cleansing oils, and although I do miss my cleansing balms sometimes, I'm delighted with the Beauty of Joseon Ginseng Cleansing Oil.
I love Beauty of Joseon so much that I bought all their products, and I'm working on a massive brand review.
The Beauty of Joseon Ginseng Cleansing Oil has a clean, minimal ingredient list. It contains six different plant oils and many herbal extracts, the most notable being ginseng.
Its soybean oil-based formula works well at lifting makeup and sunscreen off your face without leaving a greasy residue. It easily rinses away and leaves the skin feeling very moisturized.
Read Beauty of Joseon Ginseng Cleansing Oil Review for a more in-depth review.
Glycine Soja (Soybean) Oil, Cetyl Ethylhexanoate, Sorbeth-30 Tetraoleate, Olea Europaea(Olive) Fruit Oil, Sorbitan Sesquioleate, Helianthus Annuus (Sunflower) Seed Oil, Tocopherol, Panax Ginseng Seed Oil, Ethylhexylglycerin, Eclipta Prostrata Extract, Panax Ginseng Root Extract, Melia Azadirachta Leaf Extract, Melia Azadirachta Flower Extract, Coccinia Indica Fruit Extract, Amber Powder, Moringa Oleifera Seed Oil, Solanummelongena (Eggplant) Fruit Extract, Curcuma Longa (Turmeric) Root Extract, Ocimum sanctum Leaf Extract, Corallina Officinalis Extract, Bixa Orellana Seed Oil, Panax Ginseng Berry Extract, Panax Ginseng Root Extract, Butylene Glycol, Water, 1,2-Hexanediol.
Ingredients referred from the Beauty of Joseon official website.
Emollient Moisturizer/Humectant Herbs Brightening
All the Dirt on the Best Korean Water-Based Cleansers in 2023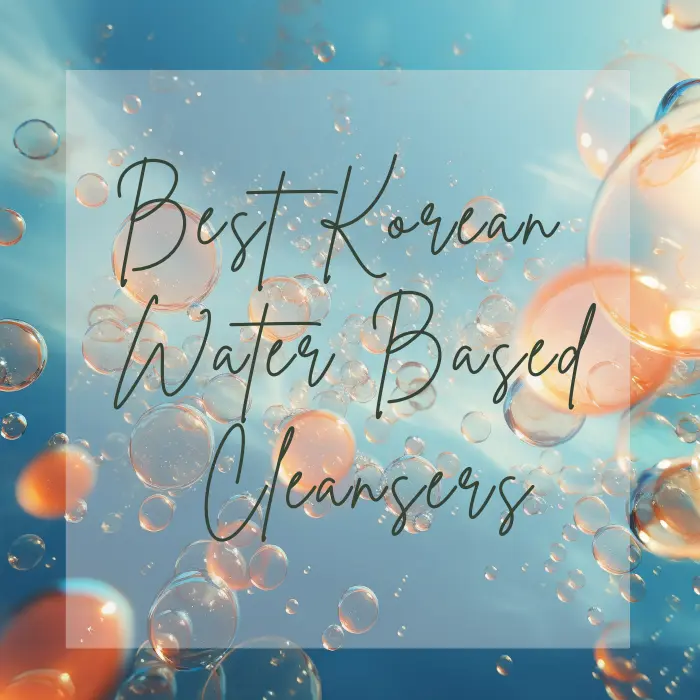 Can't I Use Olive Oil to Cleanse My Skin?
Some of the best oil cleansers on the market contain olive oil as a main ingredient – so why can't you use pure olive oil, the type you buy at the grocery store, to cleanse your face?
Although olive oil benefits our health and our skin, using pure olive oil as a cleanser would likely lead to clogged pores and acne as it will leave residue on the skin. This is because the oil cleansers that contain olive oil also contain surfactants, which help to lift the oil (along with all the oil-based impurities) off your skin.
So it's better to stick to oil-based cleansers such as the Beauty of Joseon Ginseng Cleansing Oil I mentioned above.
Can I Use Micellar Water as a First Step Cleanser?
As the name suggests, micellar water is water-based. It's a mix of water with tiny lipid molecules (micelles) suspended. So, although it's water-based, micellar water does act somewhat like an oil cleanser. As I've mentioned, the micelles are surfactants that attract oil and oil-based impurities.
However, as popular as micellar water is, it doesn't work anywhere near as well at removing makeup and sunscreen and requires a lot of rubbing with cotton pads (since micelles are a mild surfactant).
Micellar water can also be quite drying to the skin compared to cleansing balms and cleansing oils, which can be bad news for those with dry or acne-prone skin. It can also irritate sensitive skin when not rinsed off (due to the residual surfactants left).
Conclusion
Double cleansing is a crucial step in your skincare routine to efficiently remove makeup, sunscreen, and excess sebum to help prevent clogged pores and acne.
Although there are two forms of oil cleansers to choose from (cleansing balm and cleansing oil), the main difference is packaging and texture. It's a personal preference regarding your use; there is no right or wrong choice.
Sometimes, skincare involves experimenting with a few different products before you find one that suits your skin, as painful as it is to admit that a cult favorite doesn't work for you. Hopefully, this article has helped you choose an oil cleanser – a balm or liquid oil.