One of the hardest things I find to buy is sunscreens. It is a love/hate relationship with me as I know and love the protection sunscreen gives my skin, but I also hate how hard it is to find a decent sunscreen use.
In the past many of the sunscreens I have come across smell terrible (that sunscreen smell…), leave a white cast, or are just so thick and heavy on the face. Many of the sunscreens I have enjoyed using in the past are more like moisturizers with a minimal amount of SPF, which in the end, is not enough protection for me or anyone.
I have only recently decided to invest a little bit more in products that will offer me more protection from the sun. The result of this so-called 'investment' is that I now own quite a few different sunscreens from many different brands, and I know that I have asked in the past what the differences are between each one.
I have learned that texture and how sunscreen feels on my skin plays a huge role in whether or not I like a product. The product could be made out of unicorn tears for all I care about, but I know I won't use it if it doesn't feel right on the skin. This is especially relevant for me in sunscreens – if the product doesn't feel lightweight in texture, I would consider it a complete miss. I have found that this plays a huge role in my spending habits.
This sunscreen is a hit. I've only seen rave reviews for it. So I had to have it.
The Beauty of Joseon Relief Sun, at a glance:
Where to Buy Beauty of Joseon Relief Sun?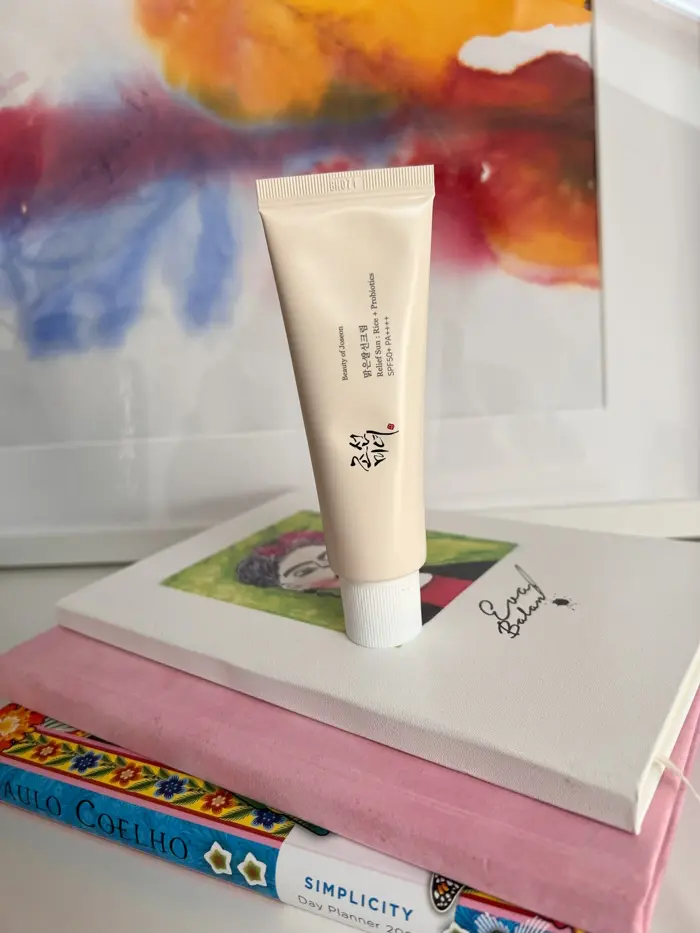 The Beauty of Joseon Relief Sun: Rice + Probiotics (SPF50+ PA++++) retails at $18 for a 1.69 fl.oz./ 50ml tube.
You can shop for it on the official Beauty of Joseon retailers: StyleVana*, YesStyle*, and StyleKorean*.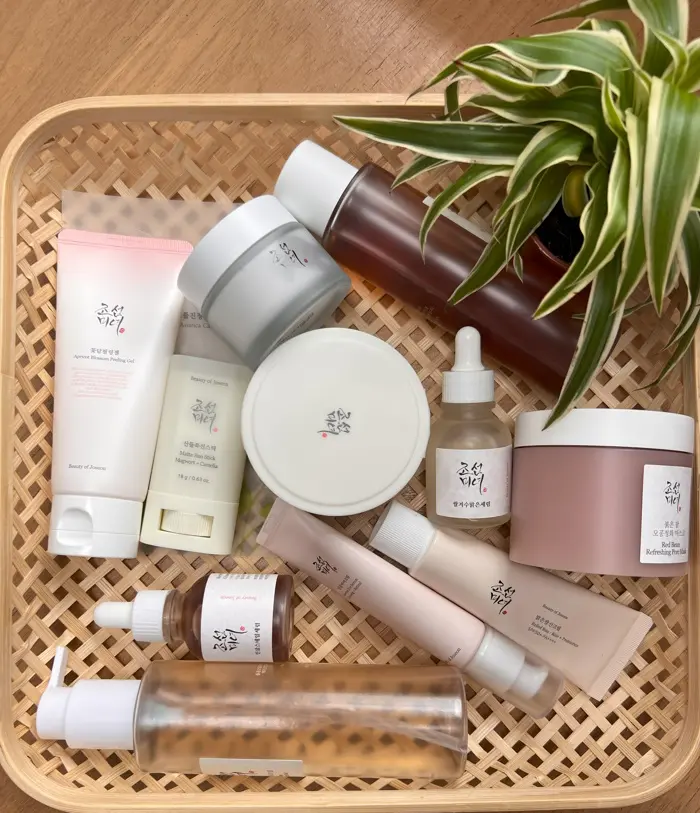 The Beauty of Joseon Brand
This Korean beauty brand creates skincare products using ingredients popular during the Joseon Dynasty. Traditional Hanbang (aka Korean herbal medicine) techniques and ingredients inspire product formulas. Thus you will often find extracts of Rice, Ginseng, Orchid, Radish, etc., as well as traditional techniques such as fermentation in their skincare collection. Beauty of Joseon focuses on achieving bright, clear skin and improving skin health, thus highlighting one's natural beauty. The ancient Korean Dynasty times influences its simplistic and traditional packaging.
The Beauty of Joseon brand has gained enormous popularity quickly due to their well-performing products, especially their first hit, the Beauty of Joseon Dynasty Cream*. Beauty of Joseon Relief Sun is now its second hit. This one really hit hard.
What is the Beauty of Joseon Relief Sun?
Beauty of Joseon Relief Sun is a chemical sunscreen with SPF 50+ PA++++ protection.
Beauty of Joseon Relief Sun Claims
Relief Sun is a lightweight and creamy type organic sunscreen that's comfortable on skin. Even if you apply a large amount several times, it is not sticky and gives a moist finish like that of a light moisturizing cream. Containing 30% rice extract and grain fermented extracts, it provides moisture and nourishment to the skin.

beautyofjoseon.com
Who is this sunscreen for?
I recommend the Beauty of Joseon Relief Sun for every skin type. For oily skin, you can skip moisturizer.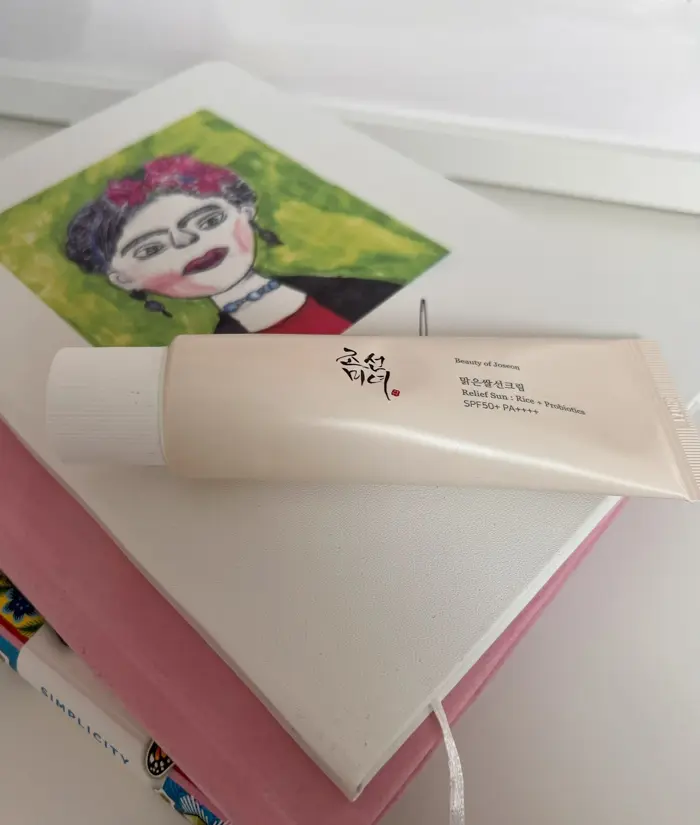 Beauty of Joseon Relief Sun Ingredients
Water, Oryza Sativa (Rice) Extract (30%), Dibutyl Adipate, Propanediol, Diethylamino Hydroxybenzoyl Hexyl Benzoate, Polymethylsilsesquioxane, Ethylhexyl Triazone, Niacinamide, Methylene Bis-benzotriazolyl Tetramethylbutylphenol, Coco-caprylate/Caprate, Caprylyl Methicone, Diethylhexyl Butamido Triazone, Glycerin, Butylene Glycol, Oryza Sativa (Rice) Germ Extract, Camellia Sinensis Leaf Extract, Lactobacillus/Pumpkin Ferment Extract, Bacillus/Soybean Ferment Extract, Saccharum Officinarum (Sugarcane) Extract, Macrocystis Pyrifera (Kelp) Extract, Cocos Nucifera (Coconut) Fruit Extract, Panax Ginseng Root Extract, Camellia Sinensis Leaf Extract, Monascus/Rice Ferment, Pentylene Glycol, Behenyl Alcohol, Poly C10-30 Alkyl Acrylate, Polyglyceryl-3 Methylglucose Distearate, Decyl Glucoside, Tromethamine, Carbomer, Acrylates/C10-30 Alkyl Acrylate Crosspolymer, 1,2-Hexanediol,Sodium Stearoyl Glutamate, Polyacrylate Crosspolymer-6, Ethylhexylglycerin, Adenosine, Xanthan Gum, Tocopherol, Lactobacillus/Rice Ferment, Aspergillus Ferment, Saccharomyces/Rice Ferment Filtrate.
Ingredients referred from the
Beauty of Joseon Official Website
.
Lab results
| Protection tests | Korean Lab | Spain Lab |
| --- | --- | --- |
| SPF | 52.5±5.8 | 63.1±0.6 |
| PA | UVA PF 16.1±2.4 P++++ | UVA PF 19 P++++ |
Sunscreen filters
This product is formulated with new-generation sunscreen agents that are highly photostable. It offers strong protection over the entire spectrum of solar radiation
Uvinul A Plus
Uvinul A Plus (Diethylamino Hydroxybenxoyl Hexyl Benzoate) is a new-generation chemical sunscreen. It is designed for high UVA protection (whole range) and photostability. Highly effective in protecting against free radicals. Uvinul A Plus is not FDA-approved.
Uvinul T 150
Uvinul T 150 (Ethylhexyl Triazone) is a new-generation photostable filter. It offers the highest photostable absorption of all accessible UV-B filters in the market.
Tinosorb M
Tinosorb M (Methylene Bis-Benzotriazolyl Tetramethylbutylphenol) is a broad-spectrum photostable filter. Protects against both types of UV rays in the 280-400 nm range.
Uvasorb HEB
Uvasorb HEB (Diethylhexyl Butamido Triazone) is an effective UVB filter. Also known as Iscotrizinol, it offers up to 25 hours of full protection UVB and UVA II range.
Ingredients Explained
Rice (Oryza Sativa)
Beauty of Joseon Relief Sun contains 30% Rice Extract, Rice Germ Extract, and three types of Rice Ferment (Monascus, Lactobacillus, and Saccharomyces). The rice and probiotics are an interesting duo.
Rice is a staple food and a vital skincare ingredient in Korean history. In the Joseon Dynasty, rice bran water was used like today's toners and was called Beauty Water. It was believed it made the skin beautiful.
Rice contains many vitamins, amino acids, and minerals that can make the skin softer, firmer, and more radiant. Fermented rice extract can bring even more benefits to the skin. It evens out texture, gently cleanses the skin, reduces age spots, helps fight signs of aging by reducing free radicals, makes the skin more radiant and firm, and helps to soothe and restore it from damage.
Niacinamide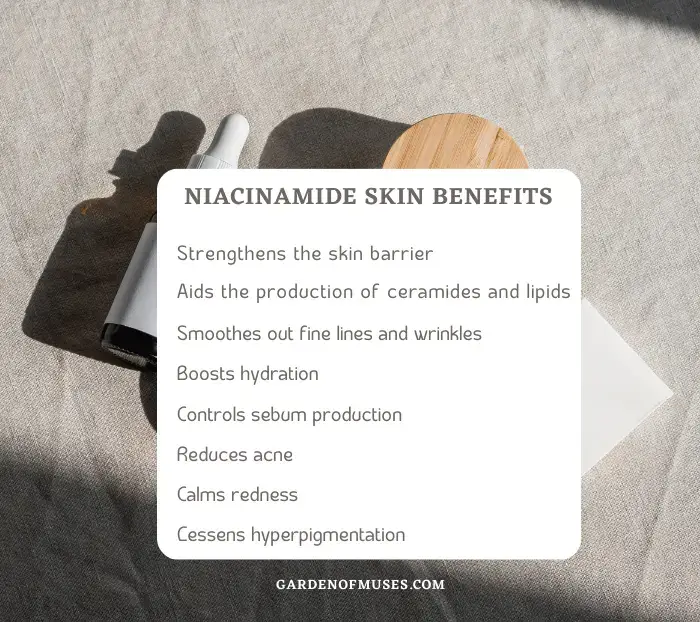 Niacinamide has been making a splash in the Western market over the last few years but has been a superstar in Asian skincare for decades. This beauty powerhouse is the topical form of vitamin B3.
Several well-documented studies show that when used topically, niacinamide can:
Long story short, niacinamide does everything, and the good news is that it is well-tolerated by most skin types. Read the Complete Guide on Niacinamide.
Glycerin
Glycerin is a very effective humectant, used in many moisturizers to increase skin hydration. It occurs naturally in your skin as part of its home-grown moisturizing system, the natural moisturizing factor (NMF).
Like other humectants, it works by sitting in the top layers of your skin and attracting water from the air and the deeper layers, leaving your skin surface plump and hydrated, even when the weather is arid. This ingredient softens the skin so other hydrating ingredients can more easily penetrate the skin.
Glycerin also keeps the skin's lipids flexible, strengthening your skin barrier.
Ferments
Probiotics are one of the beneficial results of fermentation. Probiotics are a complete delight and excellent nutrition for our skin microbiome.
Dr. Shereene Idriss, MD, a New York City-based board-certified dermatologist, founder of Idriss Dermatology, and creator of the PillowtalkDerm skincare brand, says fermented ingredients are good for your skin because of three main reasons. Fermentation:
"increases the potency of the active ingredient by utilizing the yeast, and through the fermentation process, that yeast secretes enzymes which make the active ingredient much more potent."
"enhances penetration of the active ingredient because, through fermentation, the ingredient gets broken down into smaller sizes. The smaller the size of the active ingredient, the better it can penetrate deep into your skin."
"increases the preservation of the active ingredient, because through fermentation a metabolite is created that prevents the growth of unwanted bacteria, therefore preserving the life of your product over time and making it safer for you to use."
Alcohol
Alcohol can potentially assist product absorption, but it is an irritant. It can cause skin dryness and damage the skin barrier in high enough doses.
Fortunately, it is not high on the list and does not smell like alcohol.
Green Tea Extract, Ginseng Extract, and Tocopherol are also responsible for the antioxidant activity in this sunscreen.
Beauty of Joseon Relief Sun does not contain
The sunscreen is fragrance-free and essential oil-free. It does not contain hyaluronic acid.
The Beauty of Joseon Relief Sun is vegan and cruelty-free.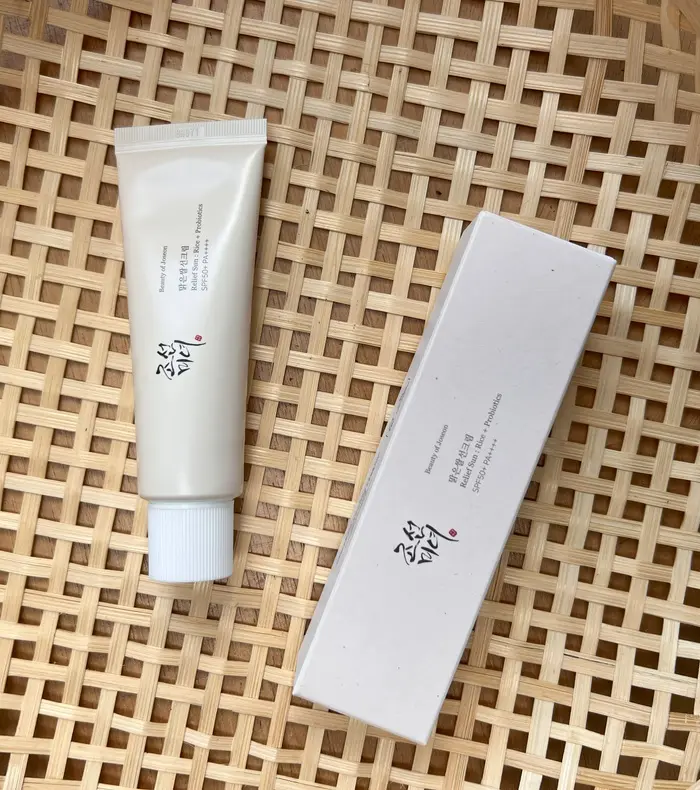 Packaging
I am not a packaging fanatic, I want it to be functional at the end of the day, and that is not an obstacle here.
The BOJ sunscreen comes in a simple squeeze tube like most other facial sunscreens without box packaging. The product does not remain on the walls.
Scent
The sunscreen has no scent, which is a big plus for some.
Texture & Finish
The consistency of the cream is very light, almost like a serum. It spreads easily and is absorbed quickly, leaving almost no stickiness, only a slight glow.
The finish is semi-dewy. Not quite the glassy skin sheen of the Purito Daily Go-To Sunscreen, but not matte. Just dewy, in a good way. Looks amazing, and I don't want to apply powder even though I'm more of a "matte" girl.
My Experience with the Beauty of Joseon Relief Sun
My first impression was, WOW, it's feather-like. I have been using this sunscreen for over a month. I have a normal to dry skin type, and I live in a typically continental with cold winters and hot summers.
My skin is resilient (I haven't reacted to hundreds of products throughout my lifetime). Still, I use retinoids, so first and foremost, I am married to sunscreen.
I have never worn this sunscreen in the water, but I had worn it while jogging and hiking. This wore much better than many of the waterproof sunscreens I have used, including the Missha All Around Safe Block Waterproof. I have never had a sunburn while using this product. Still, the manufacturer does not state the waterproofness of this sunscreen.
Beauty of Joseon is one of those skincare brands that get skincare textures so incredibly right, and their Relief Sun: Rice + Probiotics is no exception. Out of all the sunscreens I tried, the BOJ sunscreen is high on my list of favorites regarding texture and how it wears with makeup throughout the day.
The BOJ sunscreen feels very light, like a creamy thicker serum, and as you work this into the skin, it starts to sink in and feel completely weightless without any stickiness. It also does not bother my eyes at all, like many other sunscreens.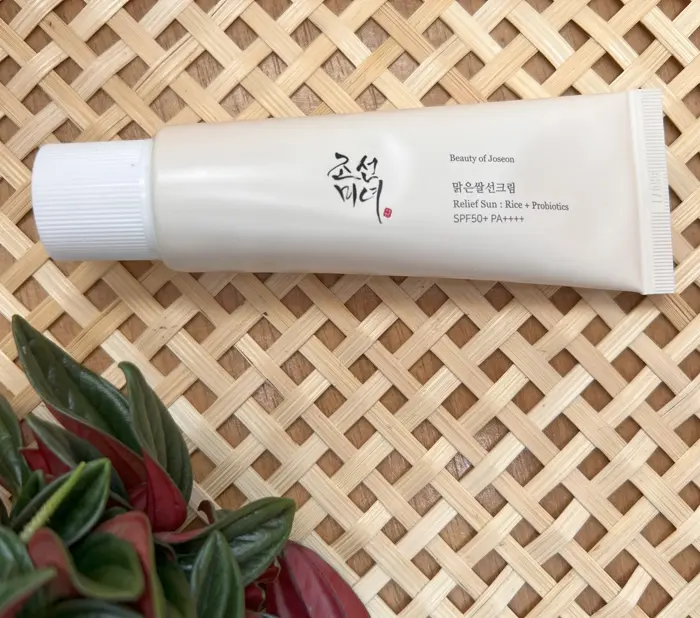 The cream is white and does not leave a white cast on application. It feels weightless, and I love that this dries down to a semi-dewy finish.
What makes Beauty of Joseon Relief Sun sunscreen so very different from the rest is that this sunscreen sits beautifully underneath makeup and helps my makeup last on some of the most sweltering hot days. The BOJ sunscreen is more like a sunscreen and primer in one. It helps to smooth, even out, and blur small imperfections in the skin to create a fantastic base for foundation.
My foundation applies perfectly on top of the BOJ sunscreen; it doesn't pill or flake off. Instead, it glides over the skin like silk to create that perfect base. I also have found that my makeup lasts a little longer (read…it doesn't melt off as easily) when I wear this underneath makeup. Sure, I will look like a hot, sweaty mess by the end of that day. However, my foundation seems to stay intact for longer when using this.
It gives my skin enough moisture without looking or feeling greasy. Overall I am also pleased with this formula on those no makeup days (i.e., on holiday!) and when my skin is feeling a little dry, as it gives it a little bit of extra nourishment and TLC.
I also don't mind using this when I exercise due to its lightweight formula and the fact that it doesn't congest my skin. It generally stays put if I am exercising and fares well under the heat and humidity. I also find that I will always reach for this sunscreen if I know I will be in the sun all day (i.e., beach), as I know Beauty of Joseon Relief Sun sunscreen will protect me because it is independently tested.
How I use the Beauty of Joseon Relief Sun
In the AM, I wash my face with water;
Even if my skin is on the drier side, I skip moisturizer when I use this sunscreen;
I apply a generous amount and spread it evenly on areas easily exposed to UV rays.
Reapply throughout the day as needed / every two hours, especially during prolonged sun exposure.
This sunscreen is famous in Reddit's r/AsianBeauty sub, and I finally understand why.
Pros
third party lab tested
new-generation photostable filters
moisturizing
lightweight
no white cast
suitable for all skin types
wears well underneath makeup
suitable for the eye area
affordable

Cons
not readily available in the US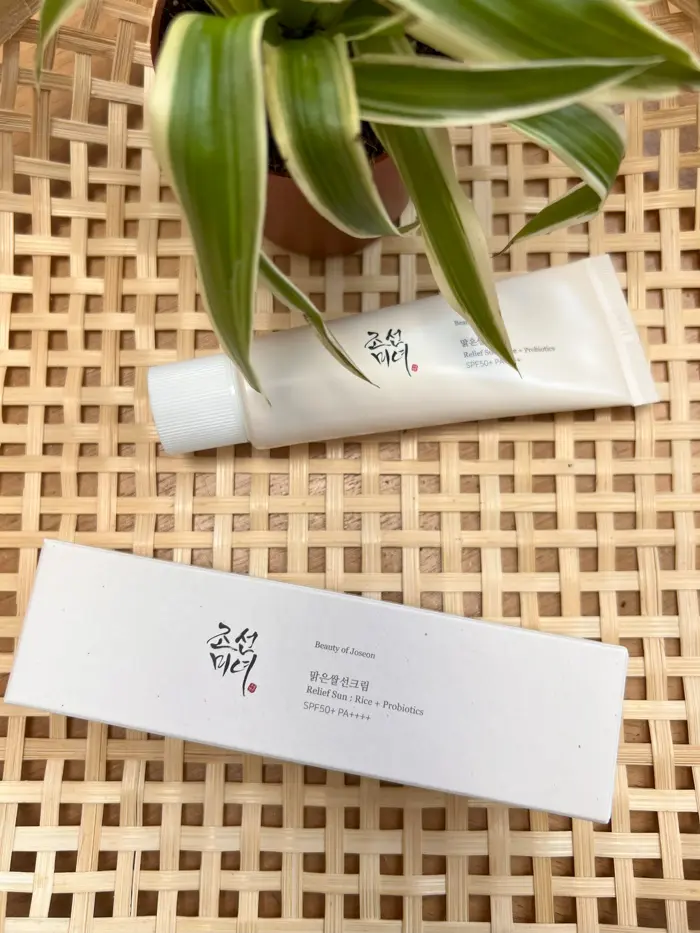 Verdict
The BOJ sunscreen is an absolute dream for its effectiveness, price, and overall the way it sits and feels on my skin. There is a reason why this is one of my favorites and why I have been using this religiously over the past few months.
Overall, Beauty of Joseon Relief Sun is an excellent sunscreen that deserves praise.
Will I repurchase Beauty of Joseon Relief Sun?
I enjoy this product and am almost certainly repurchasing it.
Rating 5/5
Beauty of Joseon Relief Sun vs. Tocobo Bio Watery Sun Cream
Beauty of Joseon Relief Sun is very similar in texture to Tocobo sunscreen
I can say that Beauty of Joseon is thicker than Tocobo and does not absorb as quickly. However, these 2 sunscreens are the lightest Korean-made sunscreens that I have come across at the moment.
Beauty of Joseon has no scent. None at all. In contrast, Tocobo's shortcoming is its floral-fruity smell. So, scent-wise, Beauty of Joseon confidently wins over the Tocobo.
Beauty of Joseon Relief Sun is more dewy and more appropriate for dry skin, while the Tocobo Bio Watery Sun Cream has a velvety matte finish and I feel it is more appropriate for oilier skin types.
Beauty of Joseon Relief Sun vs. Benton Air Fit UV Defense Sun Cream
The Beauty of Joseon Relief Sun uses the same filters as the new Benton Air Fit UV Defense Sun Cream.
Shop for Beauty of Joseon Relief Sun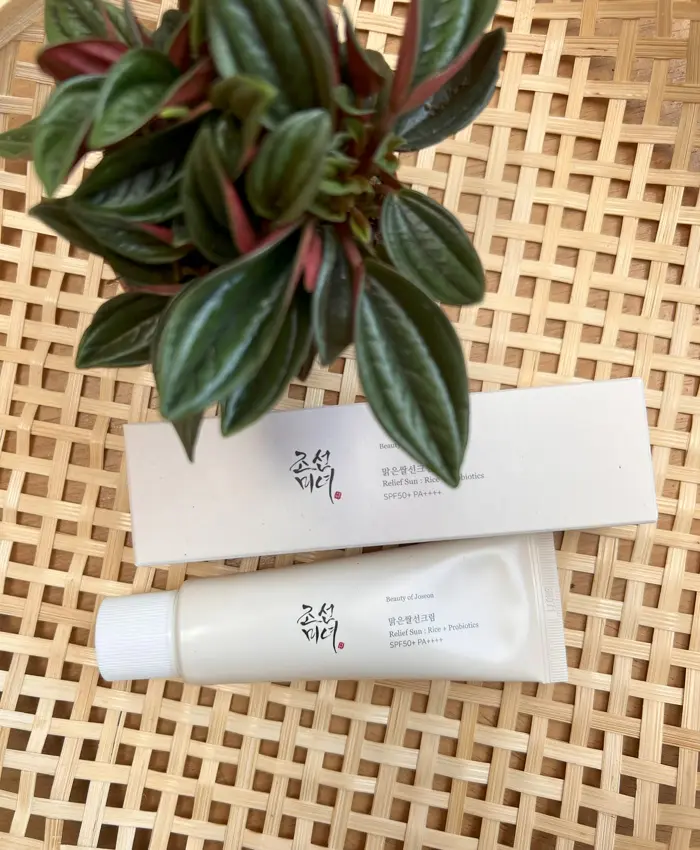 Lastly, I was not paid for this review or received it as a gift.
As always, you do you, be kind to your skin and yourself! Remember that every person's skin and skin type is different, so what might work for me might not work for you, and vice versa. So before adding a new product to your skincare routine, it pays to do a little research first.
Pay special attention to ingredients that you might react to. Doing a patch test is always a good idea.
I am not a dermatologist or a licensed aesthetician, but I do have sufficient experience and knowledge which I gained by testing multiple products and by self-exploration. Unsure? Best to consult your dermatologist.
Happy skin experimenting, and don't forget the sunscreen!
Show Me Proof