We are definitely in a time of hype and innovation in skincare. While I consider myself one of those too excited to see what innovations are being rolled out by major brands and indie companies alike, my skincare choices and routines are pretty basic.
So I've been so happy to see all of the skincare professionals, like aestheticians and dermatologists, popping up all over social media to share their expertise. Their advice and presence have reinforced my general philosophy that there is plenty to explore and learn, even with ingredients that have been around and researched for a long time.
L-ascorbic acid, or LAA for short, has the most skincare research behind it, and it's therefore considered the best form of vitamin C for your skin. However, skincare products containing high concentrations of L-ascorbic acid tend to be pricier than those formulated with vitamin C derivatives.
What are the other forms, or vitamin C derivatives, used in skincare products? How do they compare to L-Ascorbic Acid? Are they as good as L-Ascorbic Acid at treating hyperpigmentation and increasing collagen production?
A Guide to Vitamin C Derivatives:
Vitamin C is an antioxidant – meaning it protects the cells in our body from free radical damage. When it comes to your skin, vitamin C protects against damage from ultraviolet light, aka sun damage.
Vitamin C also has other significant benefits – including its capability to increase collagen production, soften fine lines and wrinkles, and fade hyperpigmentation, including sun spots and post-acne marks.
Looking for a potent Vitamin C? Here are the 7 Best Korean Vitamin C Serums with L-Ascorbic Acid in 2023.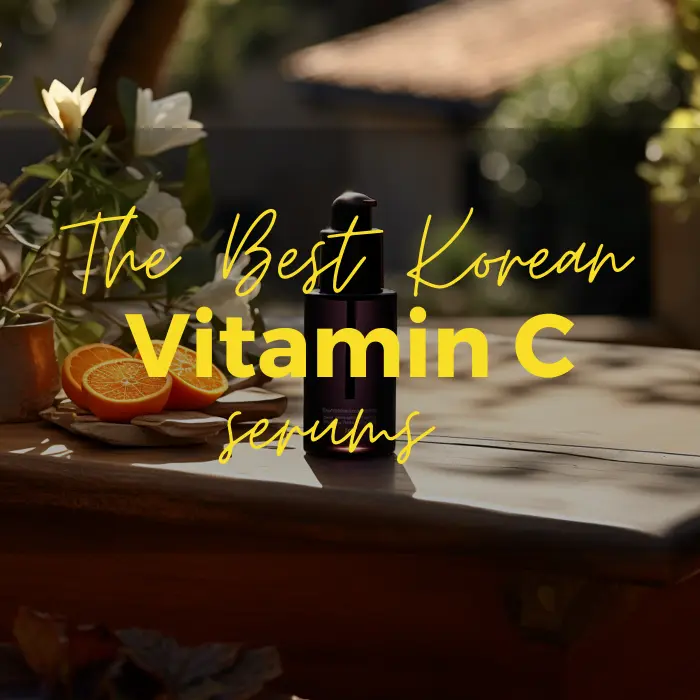 What Is L-Ascorbic Acid?
L-ascorbic acid is the classic OG "gold standard" vitamin C in skincare. LAA is the form that has been most researched in dermatology, and it's easy to see why it's nearly impossible to get into skincare and not hear about a vitamin C product because it seems like it does virtually everything you could ask for:
Helps prevent UVA and UVB damage (though it is not considered a replacement for sunscreen);
Reduces excess pigmentation;
Promotes collagen synthesis;
Acts as an antioxidant;
Brings down inflammation.
L-AA is the preferred form of vitamin C used in skin care products because it is the active form the body can readily use and is already naturally present in our skin.
So why don't we stick to L-AA? Why are other products being formulated with derivatives of vitamin C?
Unfortunately, as powerful as LAA can be, it's just as demanding. It is incredibly unstable when combined with water, which is what most skincare products are based on. It requires a pH below 3.5 to prevent it from oxidizing very quickly – which can make it harsh to the skin, causing skin irritation for some people or even exacerbating acne.
While formulators have tried to get around this by adding other ingredients like ferulic acid or vitamin E to make it more effective and stable, it still has a much shorter shelf life than most other ingredients.
If you've ever seen a vitamin C product turn color from clear or white to yellow or even a dark orange, you're watching the ingredient break down and lose its efficacy. It can be frustrating and disappointing if your bottle still has product left in it and you can't afford another bottle.
Another downside of L-AA requiring such a low pH to remain stable is that applying it requires a wait time of 10-20 minutes before proceeding to the next step in your skincare routine. And we all know how precious our time is these days!
Tia'm Vitamin C24 Surprise Serum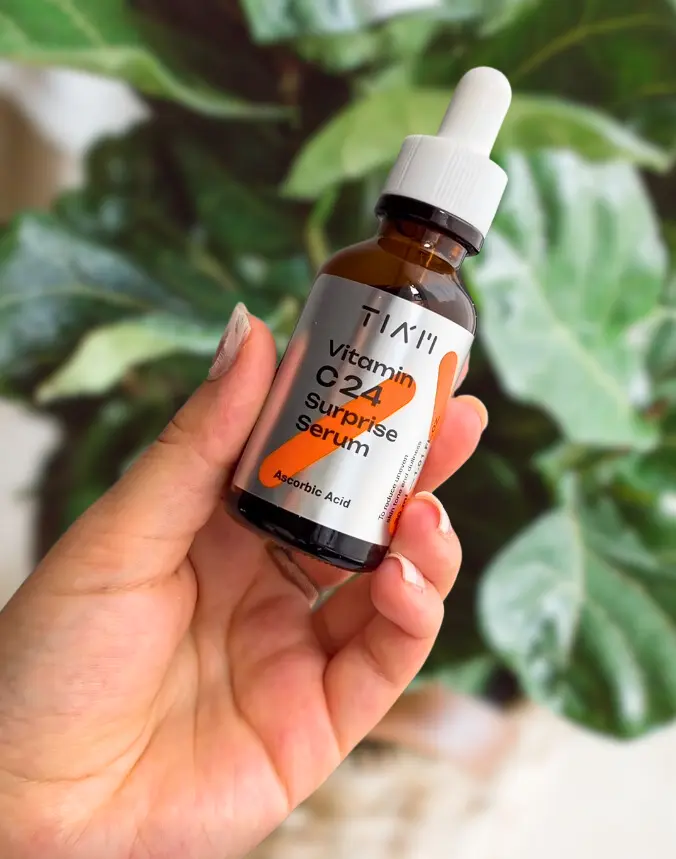 Tia'm Vitamin C24 Surprise Serum has a thick, clear, colorless liquid consistency, but spreads effortlessly. It is also excellent at hydrating the skin. I appreciate that it doesn't have essential oils or fragrance added.
I notice some redness has faded, lightening of my acne scars and the general evenness of my face. With the outcomes I've seen so far, I have high expectations for this.
Tia'm Vitamin C24 Surprise Serum contains a whopping concentration of pure Vitamin C – 22% and 2% Vitamin C derivative. This powerful little bottle of vitamin C is a good dupe of the notoriously priced Skinceuticals Vitamin C + Vitamin E + Ferulic Acid Serum, which contains only 15% L-ascorbic acid.
Tia'm Vitamin C24 Surprise Serum is designed to maximize the benefits of Vitamin C while minimizing the risk of irritation. It contains vitamin E and Ferulic Acid.
It does not contain water. This helps prevent oxidation, which can cause Vitamin C to lose its potency and turn amber over time. Instead, high in the ingredients list is glycerin, which is one of the most effective humectants used in skincare products, and it's naturally present in our skin as part of the natural moisturizing factor.
The serum's thick consistency may make it difficult to spread evenly onto the skin, but this may also make it easier to target specific areas of concern, such as blemishes, dark spots, and dull skin. Overall, this brightening serum suits those looking to improve their skin's appearance by targeting specific concerns with a high concentration of Vitamin C. This gentle, fast-absorbing serum leaves my skin hydrated and nourished with a glowing effect.
Pros:
Contains the golden trifecta: 23% LAA, Ferulic Acid and Vitamin E;
It includes another Vitamin C derivative plus hydrating and soothing ingredients;
Short ingredients list;
The dark dropper bottle helps prevent oxidation;
Fragrance and essential oil free;
Cruelty-free;
Cons:
It leaves my skin feeling tacky.
Propanediol, Ascorbic Acid 22%, Ethyl Ascorbyl Ether, Glycerin, Dipropylene Glycol, Pentylene Glycol, Butylene Glycol, Potassium Hydroxide, Madecassoside, Glutathione, Ferulic Acid, Carnitine, Pyridoxine, Biotin, Inositol, Folic Acid, Tocopherol.
Ingredients referred from the YesStyle*.
Active Herbs Humectant/Moisturizing
What Are Vitamin C Derivatives?
The unfortunate downsides of L-ascorbic acid I mentioned above have led to the development of vitamin C derivatives. Scientists have been working in their labs to formulate various derivatives of LAA to provide the same benefits with fewer drawbacks for both the people making products and those of us who use them.
Vitamin C derivatives are forms of vitamin C that are more stable and less irritating than L-ascorbic acid. They can provide the same benefits of brightening, collagen stimulation, and antioxidant protection, but they must be converted to L-ascorbic acid in the skin.
This conversion process makes vitamin C derivatives less potent as they can't be converted 100 percent into LAA. Still, the lack of potency isn't always negative, and they have unique benefits depending on what you're looking for in your vitamin C.
So, if you love L-ascorbic acid, but your skin doesn't, because you can't tolerate any form of pure vitamin C, I would strongly encourage you to try looking at alternatives with vitamin C derivates on the market.
We haven't found the perfect derivative to rule them all yet, but I wanted to touch on some of the more common ones to provide information on what we can access.
Some common vitamin C derivatives include:
Sodium Ascorbyl Phosphate (SAP)
Magnesium Ascorbyl Phosphate (MAP)
Ascorbyl Palmitate (AA-PAL)
Ascorbyl Tetra-Isopalmitate (VC-IP)
Ascorbyl Glucoside (AA-2G)
Ascorbyl 2-Phosphate 6-Palmitate (APPS)
3-O-Ethyl Ascorbic Acid (EAC)
Of all the vitamin C derivatives, the first two, SAP and MAP, are the most popular and appear to have the most research behind them.
While researching this article, I noticed that vitamin C derivatives aren't being utilized as ingredients in Korean skincare products as much as in Western ones. Although Korean vitamin C serums are available, most contain L-Ascorbic Acid.
As you know by now, I'm a fan of Korean skincare, so most of my recommendations will be Kbeauty.
Sodium Ascorbyl Phosphate (SAP)
This is the first vitamin C derivative I tried in my teenage years. Although I didn't know it at the time, sodium ascorbyl phosphate not only has excellent antioxidant capabilities but has also been shown to have the potential for combating breakouts.
Sodium ascorbyl phosphate (SAP) is a water-soluble precursor of ascorbic acid. It may be a better option than L-AA for people with very sensitive skin, as it's most stable at a pH of around 7. In other words, it's much more gentle on the skin compared to L-AA.
If you want to learn more about SAP and how it compares to LAA, we have a Sodium ascorbyl phosphate vs. L-Ascorbic Acid Guide.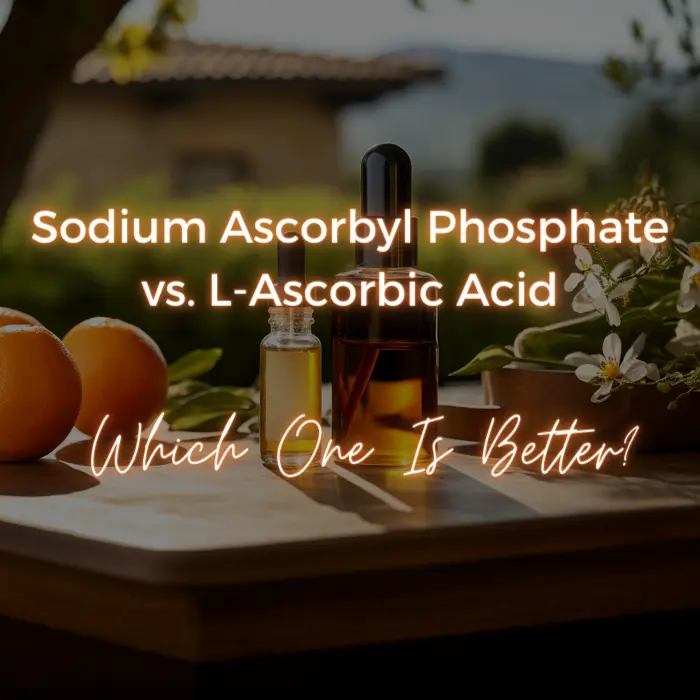 Studies on human skin have shown that SAP protects the skin from UV radiation, reduces skin pigmentation, and increases collagen production. Studies have also shown that this vitamin C derivative can potentially combat p-acnes, the bacteria that causes acne. If you're prone to acne, I would suggest looking into this derivative to see if it could address what's causing your breakouts.
SAP is still a fairly new derivative, so there is not much research comparing its effects to the effects of L-ascorbic acid. This means that although it has been shown to provide many benefits to the skin, we don't know yet how much of the derivative converts to ascorbic acid on the skin.
Cos De Baha VM Vitamin C MSM Serum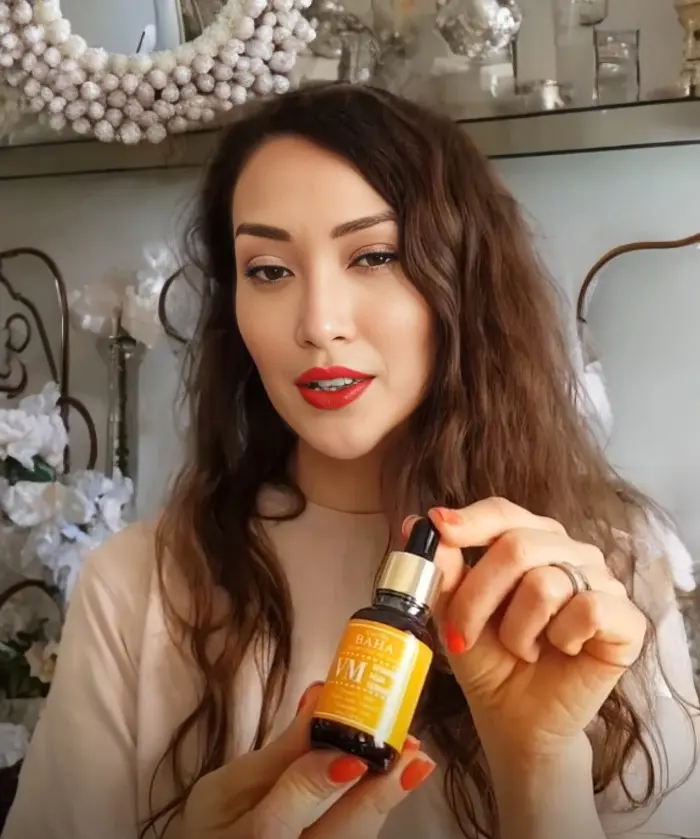 I think this serum is an excellent beginner's option.
SAP is a soothing ingredient in some very hydrating serums, such as this one. This Vitamin C serum contains other beneficial antioxidant ingredients such as green tea, vitamin E, and one of my favorites, Licorice Root Extract. It also has propanediol, betaine, allantoin, and sodium hyaluronate, all beautiful humectants.
I love that the Cos De Baha VM Vitamin C MSM Serum has Aloe Vera as its first ingredient instead of water. It has additional soothing ingredients, such as Allantoin, and Licorice Root Extract.
When I used this serum, I enjoyed everything, from how my skin drank it immediately to how it worked its magic, brightening my face.
Aloe Barbadensis Leaf Extract, Propanediol, Sodium Ascorbyl Phosphate, Glycereth-26, Dimethyl Sulfone, 1,2-Hexanediol, Betaine, Hydrogenated Lecithin, Tocopheryl Acetate, Ferulic Acid, Allantoin, Sodium Hyaluronate, Dipotassium Glycyrrhizinate, Hydroxyethylcellulose, Xanthan Gum, Citric Acid, Camellia Sinensis Leaf Extract, Sambucus Nigra Flower Extract, Momordica Charantia Fruit Extract, Leontopodium Alpinum Extract.
Ingredients referred from the Cos de Baha official site.
Active Herbs Humectant/Moisturizing Brightening Fragrance
Neogen Dermalogy Real Vitamin C Serum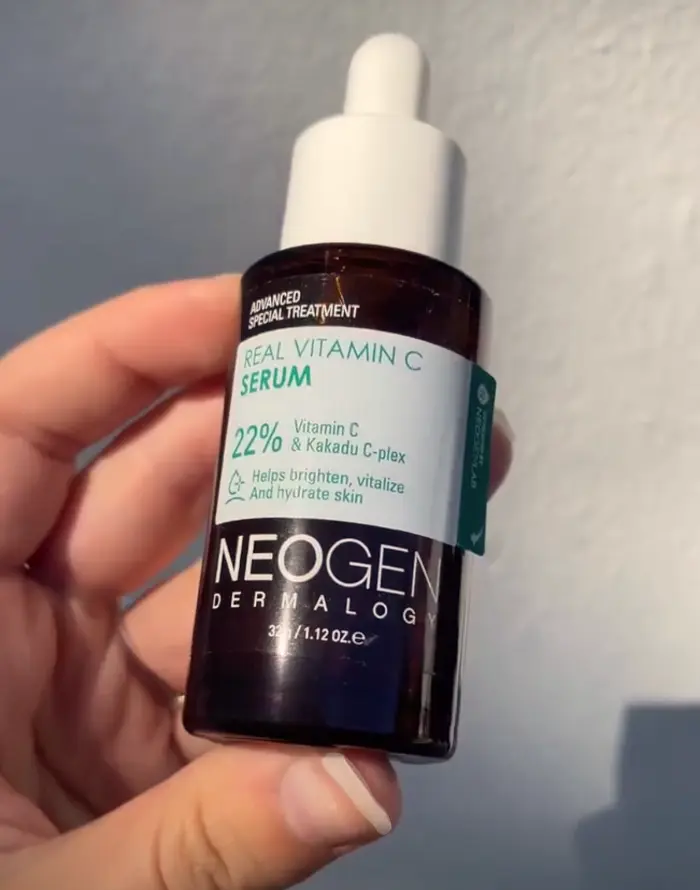 Another great SAP-containing skincare product I highly recommend is the Neogen Real Vitamin C Serum. It has a bit of L-Ascorbic Acid, too! It also contains niacinamide, vitamin E, ferulic acid, three types of hyaluronic acid and Sea Buckthorn. So you know it's good for your skin.
Water, Isopentyldiol, 1,2-Hexanediol, Niacinamide, Dipropylene Glycol, Butylene Glycol, Citric Acid, Octyldodeceth-16, Xanthan Gum, Sodium Metabisulfite, Ethylhexylglycerin, Dextrin, Theobroma Cacao (Cocoa) Extract, Sodium Hyaluronate, Panthenol, Sodium Ascorbyl Phosphate, Hydrolyzed Hyaluronic Acid, Hyaluronic Acid, Morinda Citrifolia Extract, Tocopheryl Acetate, Citrus Paradisi (Grapefruit) Fruit Extract, Caprylyl Glycol, Polyglyceryl-4 Caprate, Glycerin, Hippophae Rhamnoides (Sea Buckthorn) Extract, Persea Gratissima (Avocado) Oil, Ascorbic Acid (12ppm), Ferulic Acid, Citrus Unshiu Peel Extract, Coptis Chinensis Root Extract, Citrus Aurantium Bergamia (Bergamot) Fruit Oil, Citrus Aurantifolia (Lime) Fruit Extract, Terminalia Ferdinandiana Fruit Extract, Malpighia Emarginata (Acerola) Fruit Extract, Pistacia Vera Seed Oil, Apium Graveolens (Celery) Stem Extract, Coptis Japonica Root Extract, Linalool, Citrus Limon (Lemon) Fruit Extract, Brassica Oleracea Italica (Broccoli) Extract, Cichorium Intybus (Chicory) Leaf Extract, Limonene, Citrus Aurantium Dulcis (Orange) Fruit Extract, Disodium EDTA, Brassica Oleracea Acephala Leaf Extract.
Ingredients referred from YesStyle*.
Active Herbs Humectant/Moisturizing Fragrance
Magnesium Ascorbyl Phosphate (MAP)
Magnesium ascorbyl phosphate (MAP) is very similar to SAP, in that it is also a water-soluble derivative of ascorbic acid, and, it's also stable at a neutral pH of 7, therefore having a gentle effect on the skin. However, studies have shown that although it is a more stable form of vitamin C, it is less potent than L-ascorbic acid.
This in vitro (test tube) study compared the skin effects of some vitamin C derivates to ascorbic acid. They found that L-ascorbic acid had the best antioxidant potential. However, MAP showed another significant impact: it can improve hydration deeper within the skin than ascorbic acid and other derivatives.
If your skin is too sensitive for L-AA, and you want to use vitamin C as a preventative ingredient in your routine, then MAP may be a good alternative.
I highly recommend Naked Actives Magnesium Ascorbyl Phosphate Vitamin C*. This serum contains MAP, plus glycerin and vitamin E.
Ascorbyl Palmitate (AA-PAL)
This particular form of vitamin C is known to be one of the gentler derivatives and is also particularly specialized in combating environmental stressors on the skin. If antioxidant potency is at the top of your list, ascorbyl palmitate may be worth trying to help keep your skin in top shape.
Ascorbyl palmitate (AA-PAL or sometimes AP) is a vitamin C ester formed from ascorbic and palmitic acids. Unlike L-ascorbic acid, sodium ascorbyl phosphate, and magnesium ascorbyl phosphate, which are water-soluble, Ascorbyl Palmitate is fat-soluble.
As with ascorbic acid, this vitamin C derivative requires a low pH to remain stable. Animal studies have shown that it penetrates the skin, although this highly depends on the formula.
There is also currently no data to show that it converts to ascorbic acid in the skin, although studies have shown that it does protect against UV radiation damage. Sadly, no studies have determined whether it effectively reduces skin pigmentation. Only in vitro (test tube) testing has shown that it increases collagen production.
The Drunk Elephant C-Tango Multivitamin Eye Cream is a great vitamin C product with ascorbyl palmitate and four other vitamin C derivatives. Since it doesn't contain L-AA, it's gentle enough for the eye area but still has anti-aging and skin-brightening benefits.
Tetrahexyldecyl Ascorbate (THDA)
This vitamin C derivative is sometimes listed as THDA on ingredient labels, and it's picked up some traction in the last few years due to not only how stable it is but also the fact that it's soluble in lipids/fat.
LAA itself and most of its derivatives can only be dissolved into water. Vitamin C usually comes as a powder, so it must be dissolved into a formula.
THDA is oil soluble, which opens up many possibilities regarding what types of formulations it can be used in and other ingredients it can be paired with. If you're looking to fill a specific gap in your routine and need a particular type of product, like a moisturizer, there's a good chance you can find one with THDA to provide that vitamin C boost.
Two of the INCI names for derivatives that you might've seen on ingredient lists are ascorbyl tetraisopalmitate (often called ATIP or VC-IP) and tetrahexyldecyl ascorbate (THDA or THDC). After a lot of digging, I'm pretty sure they're the same molecule – or at least, the vast majority of ingredients called ATIP and THDA used in cosmetics are the same molecule.

cosmetic chemist, Lab Muffin
It is stable at a pH below 5, making it easier to formulate than ascorbic acid. It has remained stable in air and water for up to 18 months!
Studies have shown that it penetrates both the epidermis and the dermis. Although studies have only been in vitro so far, it has also been shown to have a higher conversion rate than ascorbic acid within the skin than other vitamin C derivatives.
Just like the other vitamin C derivatives mentioned here, once Tetrahexyldecyl ascorbate has been converted to ascorbic acid within the skin, it acts as an antioxidant, preventing free radical damage, reduces the production of melanin, and boosts the production of collagen.
Although all results of studies on Tetrahexyldecyl ascorbate have only been in vitro so far, I was interested to learn about the benefits of this derivative. I think it's an excellent option for people whose skin is too sensitive to ascorbic acid or whose wallets can't afford a new bottle every three months due to oxidation.
Here are a couple of great skincare products that you can find Tetrahexyldecyl ascorbate in:
Dr Dennis Gross C + Collagen Serum – A brightening and firming vitamin C serum containing three forms of vitamin C, niacinamide, and superoxide dismutase.
Paula's Choice Resist Super Antioxidant Serum – A hydrating and antioxidant-enriched serum, containing two forms of vitamin C (Tetrahexyldecyl ascorbate and magnesium ascorbyl phosphate) and vitamin E and ferulic acid. It also contains bearberry extract, which is a natural skin-lightening ingredient.
Ascorbyl Glucoside (AA-2G)
What do you get when you combine a glucose molecule with ascorbic acid? Ascorbyl glucoside.
Ascorbyl glucoside is a water-soluble vitamin C derivative. In my experience, this particular derivative vies for the top spot regarding its gentle nature. It doesn't pack a significant punch on its own regarding brightening or collagen stimulation, but if you're someone with sensitive skin, gentler is almost certainly better.
If you've wanted to get into vitamin C in the past, but you've been weary of how it may react on your skin or previous products you've tried felt too active on your skin (i.e., tingling, stinging, irritation, etc.), Ascorbyl glucoside could be what you've been looking for.
Although water-soluble allows for a more pleasant serum texture, it is not as potent as ascorbic acid. Research into the effectiveness of this vitamin C derivative is lacking, and currently, most studies, including ascorbyl glucoside, are company-affiliated and in vitro only.
However, another upside of ascorbyl glucoside is that it has a much longer shelf life than ascorbic acid.
Try Paula's Choice BOOST 10% Niacinamide (Vitamin B3) Booster to include ascorbyl glucoside in your routine. As the name suggests, this serum also contains 10% niacinamide, as well as licorice root extract – making this serum perfect if you'd like to reduce the size of your pores, even out fine lines and wrinkles, as well as brighten and even your skin tone.
3-O-Ethyl Ascorbic Acid
Also known as Ethylated Ascorbic Acid, 3-O-Ethyl Ascorbic Acid is the new kid on the block, creating quite the buzz. While the name might sound like a chemical compound from a science lab, it's a powerful skincare ingredient making waves for all the right reasons.
3-O-Ethyl Ascorbic Acid is an etherified vitamin C derivative consisting of vitamin C and an ethyl group bound to the third carbon position. It shares many benefits that have made vitamin C a superstar in skincare. Moreover, a higher percentage of it appears to convert to LAA than other widely used derivatives.
3-O-Ethyl Ascorbic Acid:
Helps fade hyperpigmentation;
Potent antioxidant that can protect the skin from oxidative stress caused by UV rays, pollution, and smoking;
Reduces fine lines and wrinkles;
Stimulates collagen production.
As opposed to L-Ascorbic Acid, 3-O-Ethyl Ascorbic Acid is more stable. It doesn't oxidize as quickly as L-Ascorbic Acid, so you can count on it to remain effective for longer periods, even in contact with light and air.
It is formulated at a pH of around 4 to 5.5, whereas ascorbic acid is formulated at around a pH of 3.5, which can be very irritating. Therefore, 3-O-Ethyl Ascorbic Acid is a fantastic option for sensitive skin users who may find L-Ascorbic Acid a tad harsh.
Interestingly, 3-O-Ethyl Ascorbic Acid is soluble in water and oil, making it a versatile ingredient for various skincare products, such as serums, creams, and masks.
Again, it's pretty new, so more research is needed, and what there currently is should be taken with a grain of salt, but a more stable and more potent vitamin C derivative is something that I think a lot of people would be happy to use.
SKIN & LAB Vitamin C Brightening Serum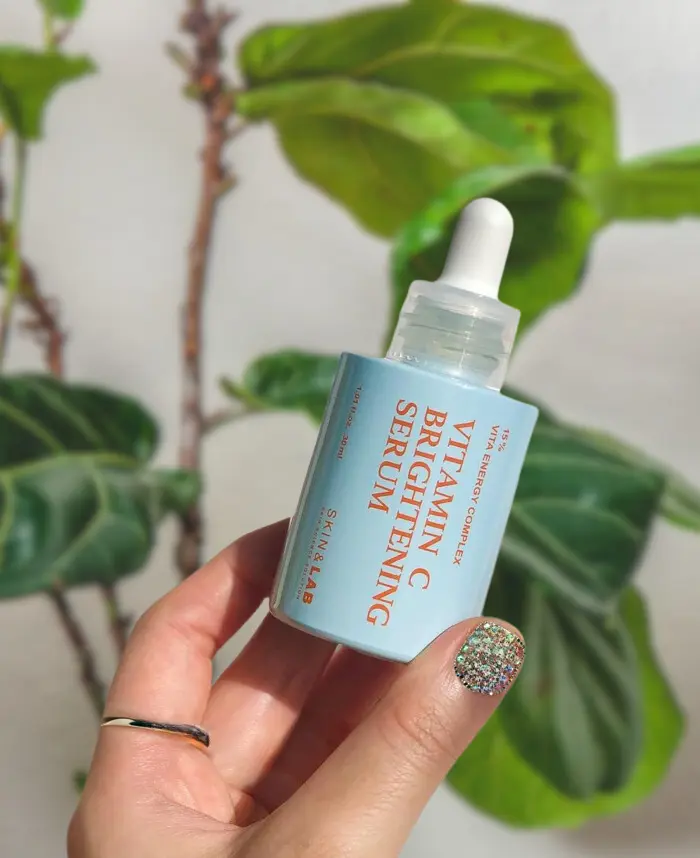 SKIN & LAB Vitamin C Brightening Serum is a Vitamin C derivative-based serum aimed to help brighten and even out skin tone.
Its 15% Vita Energy Complex comprises 3-O Ethyl Ascorbic Acid plus a blend of vitamins. You'll notice some bubble capsules in this serum, packed with antioxidants to boost healthy, youthful skin. It contains 19 hydrating ingredients, including the most effective humectants, five types of Hyaluronic Acid, Glycerin, and Urea. Other notable ingredients include Niacinamide, Panthenol, and Peptides (Matrixyl 3000).
As someone who has had her skin sensitized by Vitamin C before, I was intrigued by this serum, which contains derivatives instead of pure L-Ascorbic acid! I was still skeptical of whether my skin could tolerate this serum, but luckily, it didn't sensitize me. It was very gentle and even hydrating!
This serum has a lightweight gel texture that sinks into my skin seamlessly; it is a bit sticky but doesn't feel tacky. I have no issues layering my other products on top of this.
I wasn't expecting much because I was aware that this contains derivatives instead of pure L-Ascorbic Acid, but I was surprised that it helped to fade some of my PIE marks!
My progress isn't always linear, but I have noticed that my skin looks healthier and more radiant. I think that it is attributed to this serum because I haven't been using any other new brightening products apart from this recently.
I highly recommend this to those who want to start incorporating vitamin C into their routine or those who can't tolerate pure L-Ascorbic acid!
However, if you are familiar with pure Vit C, this probably won't be strong enough to achieve your desired results.
Water, Methylpropanediol, Propanediol, Glycerin, 1,2-Hexanediol, Niacinamide, Betaine, 3-O-Ethyl Ascorbic Acid(15000Ppm), Tocopheryl Acetate, Panthenol, Bifida Ferment Lysate, Chlorella Vulgaris Extract, Sodium Hyaluronate, Melia Azadirachta Flower Extract, Melia Azadirachta Leaf Extract, Hydrolyzed Hyaluronic Acid, Curcuma Longa (Turmeric) Root Extract, Ocimum Sanctum Leaf Extract, Corallina Officinalis Extract, Hyaluronic Acid, Hydrolyzed Collagen, Sodium Hyaluronate Crosspolymer, Hydroxyethyl Urea, Glucose, Hydrolyzed Glycosaminoglycans, Trehalose, Butylene Glycol, Fructooligosaccharides, Fructose, Tromethamine, Benzyl Glycol, Adenosine, Sodium Citrate, Sodium Phytate, Citric Acid, Ethylhexylglycerin, Polysorbate 20, Palmitoyl Tripeptide-1, Palmitoyl Tetrapeptide-7, Ascorbic Acid(106.05Ppb), Biotin, Cyanocobalamin, Folic Acid, Pantothenic Acid, Pyridoxine, Riboflavin, Thiamine Hcl, Bioflavonoids, Glutathione, Linoleic Acid, Menadione, Retinol, Tocopherol, Carbomer, Xanthan Gum.
Ingredients referred from the SKIN & LAB website.
Active Herbs Humectant/Moisturizing Ferments Brightening
Other Vitamin C Derivatives
There are a few more vitamin C derivatives that I haven't mentioned, such as Ascorbyl 2-phosphate 6-palmitate. However, I won't go into these as the research becomes scarce, and you'd be hard-pressed to find skincare products containing them.
It'll be interesting to see how skincare products continue to incorporate vitamin C derivatives over the next few years. I wonder if we'll also see more Korean skincare products containing vitamin C derivatives. I see a lot of potential for at least some of the derivatives I've mentioned here.
Bottom Line
Vitamin C has many known benefits, especially in protecting the skin from UV damage, reducing hyperpigmentation, and boosting collagen production.
Ascorbic acid is the preferred form of vitamin C by skincare brands and enthusiasts. However, it is a highly unstable ingredient that requires a very low pH, making it not only one of the most expensive products in your routine since it has a very short shelf life, but also potentially irritating to use for some people.
Vitamin C is a perfect example of one of these longstanding ingredients that people may feel they already know about. Still, the variety of vitamin C products and derivatives that are available to us is continuing to evolve.
That's where vitamin C derivatives such as sodium ascorbyl phosphate, magnesium ascorbyl phosphate, and tetrahexyldecyl ascorbate come in. These ingredients are much more stable and easier to formulate than ascorbic acid – which means they are less irritating on the skin and have a much longer shelf life.
Although many excellent skin care products are available with vitamin C derivatives, and we know from research that these ingredients convert to ascorbic acid in the skin, we still require quantitative studies on human skin to determine if they are as effective as ascorbic acid.
As you will have noticed, I have mainly recommended Western skincare products in this post. I couldn't find many Korean skincare products with vitamin C derivatives. Since skin brightening is a common skincare concern, I thought including these products (even if they aren't Korean) was helpful. Hopefully, we will see some Korean skincare brands utilizing vitamin C derivatives in their products soon.
Show Me Proof
Klock, Jochen, H. Ikeno, K. Ohmori, T. Nishikawa, J. Vollhardt, and V. Schehlmann. "Sodium ascorbyl phosphate shows in vitro and in vivo efficacy in the prevention and treatment of acne vulgaris." International journal of cosmetic science 27, no. 3 (2005): 171-176.
Fočo, Alma, Mirjana Gašperlin, and Julijana Kristl. "Investigation of liposomes as carriers of sodium ascorbyl phosphate for cutaneous photoprotection." International Journal of Pharmaceutics 291, no. 1-2 (2005): 21-29.
Marini, Alessandra, Mike Farwick, Susanne Grether‐Beck, Heidi Brenden, Ingo Felsner, Thomas Jaenicke, Monika Weber et al. "Modulation of skin pigmentation by the tetrapeptide PKEK: in vitro and in vivo evidence for skin whitening effects." Experimental dermatology 21, no. 2 (2012): 140-146.
Špiclin, Polona, Miha Homar, Andreja Zupančič-Valant, and Mirjana Gašperlin. "Sodium ascorbyl phosphate in topical microemulsions." International Journal of Pharmaceutics 256, no. 1-2 (2003): 65-73.
Telang, Pumori Saokar. "Vitamin C in dermatology." Indian dermatology online journal 4, no. 2 (2013): 143.
Al-Niaimi, Firas, and Nicole Yi Zhen Chiang. "Topical vitamin C and the skin: mechanisms of action and clinical applications." The Journal of clinical and aesthetic dermatology 10, no. 7 (2017): 14.
Wong M. Vitamin C Esters: Are ATIP and THDA the Same Thing?. Lab Muffin Beauty Science. April 14, 2022. Accessed September 26, 2023. https://labmuffin.com/vitamin-c-esters-are-atip-and-thda-the-same-thing/