Today I'm reviewing the NYK1 Lash Force Eyelash Growth Serum*. You might be interested in the product if you're like me and have not been blessed with beautiful, long, fluttery lashes.
NYK1 Lash Force Eyelash Growth Serum Review
I was skeptical about this kind of serum as I've tried several different ones. I didn't see much improvement in my lashes, but when I was offered the NYK1 Lash Force, I decided to give it a go, as my eyelashes did need all the help they could get, haha!
Shop NYK1 Lash Force Eyelash Growth Serum
At this point, I must clarify that I didn't buy the eyelash growth serum. It was offered to me by the brand. Also, I haven't tried the BrowForce*. Read through the review, and you'll decide for yourself if you should buy either of them 😉
(*affiliate links)
Eyelash Growth Serum Ingredients:
Purified Water, Disodium Phosphate, Cellulose Gum, Citric Acid, Swertia Japonica Extract, Panax Ginseng Extract, Biotin (Vitamin B7), Sodium Chloride, Riboflavin (Vitamin B2), Benzalkonium Chloride
Key active ingredients:
Swertia Japonica Extract increases blood micro-circulation and stimulates weak hair follicles to enhance hair/lash growth.
Panax Ginseng Extract encourages hair growth by stimulating blood flow to the area and improves the health of hair follicles and cells, thus preventing lash loss.
Biotin promotes hair and lash growth.
Riboflavin is essential for forming new red blood cells, increasing circulation and oxygenation, and ensuring healthy skin and hair/lashes.
More importantly, NYK1 Lash Force Eyelash Growth Serum does not contain prostaglandin analogs. These compounds can cause periorbital fat atrophy, a visually noticeable side effect. I would not even consider putting it on my eyelids after recent concerns in the skincare community.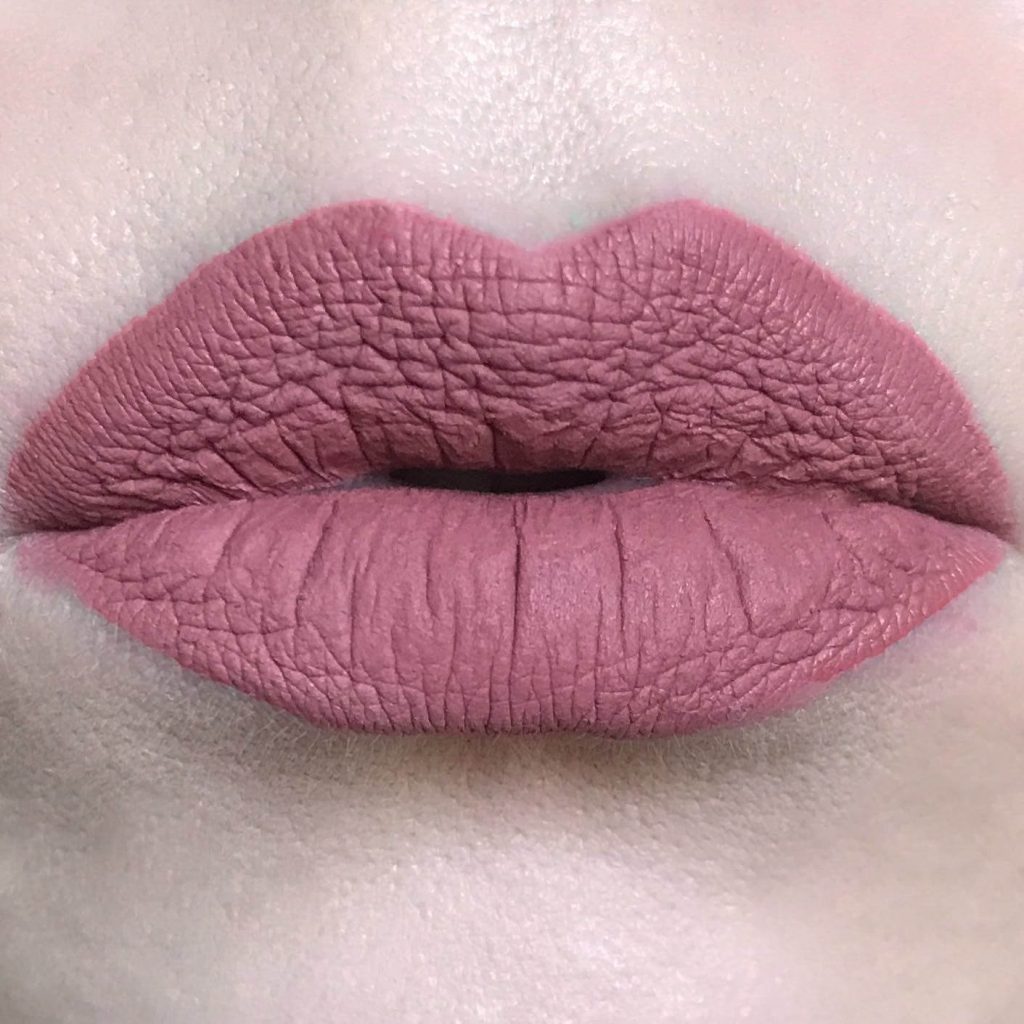 How it works
Rather than only conditioning the lashes, the NYK1 Lash Force Serum * stimulates hair follicles to become stronger by increasing the blood flow while cleaning and clearing the follicles of blockages. Thanks to that, more nutrients and oxygen get to the roots for better results. Proteins increase follicle production, so naturally will grow more lashes. Vitamins B7 and B2 strengthen the lashes and prevent their damage, allowing them to reach peak length before falling out and replacing themselves as a normal growth cycle. Hence, the lashes are naturally longer.
Product Claims:
NYK1 Lash Force is an innovative, concentrated Pure Eyelash and Eyebrow Growth Serum that combines specific, purified ingredients that stimulate, regenerate, rebuild and activate growth in both length and thickness to protect the structure of each brow and lash follicle.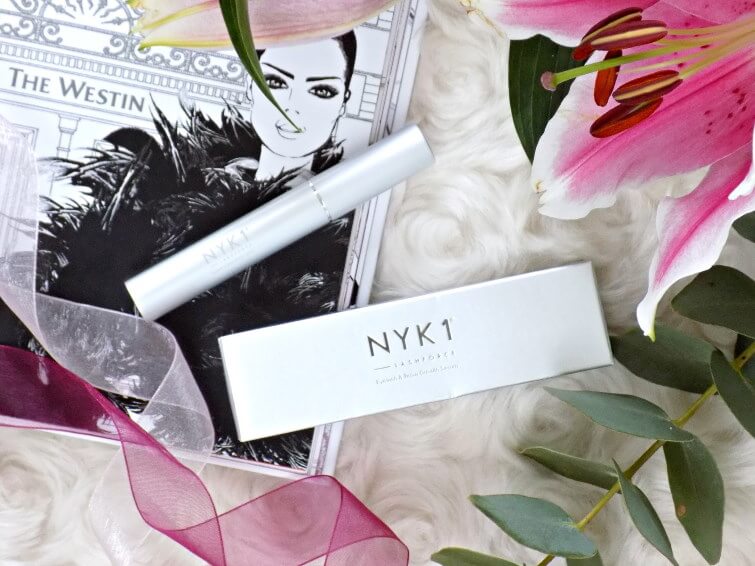 Packaging
The serum comes in an 8ml tube. It has a tiny brush applicator, reminding me of liquid eyeliner. Although the tube is small and used on a twice-daily basis, the serum lasts for more than three months
Texture & scent
The serum is clear in color and doesn't have any particular scent.
Lash Serum Safety
The lash serum is dermatologically and ophthalmologist-tested.
It is safe to use on the eyes. For contact lens users, contacts should be removed before NYK1 Lash Force Eyelash Growth Serum application.
It doesn't alter eye color, as I've heard it was possible with some other lash serums (scary!).
I've not experienced any irritation while using the serum. Still, my lid along the lash line has darkened a bit due to increased blood flow, which was expected.
Precautions on NYK1 website:
We recommend that you do not use if pregnant or nursing, actively undergoing cancer treatments, or if you are under the age of 18. If using any eye treatment prescribed by a doctor seek medical advice prior to beginning NYK1 LashForce treatment. DO NOT use if you are sensitive to any ingredients.
How to apply NYK1 Lash Force Eyelash Growth Serum?
You need to apply a drop of the serum to the roots of your lashes twice daily, just as you would with eyeliner. I've been told it's vital to be consistent with the applications, as failure to do so will break the lash growth cycle, giving poor results.
My Experience with the NYK1 Lash Force Eyelash Growth Serum
I've been using the serum for almost three months, twice daily, and I'm ready to share my thoughts with before and after photos.
I was told that I should see some treatment results on my lashes within one month with regular application. It's been two months of consistent usage, and I have visibly longer, more beautiful lashes.
I noticed my lashes looked thicker and darker after the first month, but there was not so much difference in my photos, so I did not include them. After two months of regularly using the serum, my lashes are longer, more fluttery, and lifted, and there are more of them.
I only applied the serum to my upper lash line. Still, I've noticed an improvement in my lower lashes, probably due to the serum transferring lightly when I blinked my eyes after the application.
NYK1 Lash Force Eyelash Growth Serum Before and After Results
See below the results of my 10-week lash treatment using the NYK1 Lash Force Serum: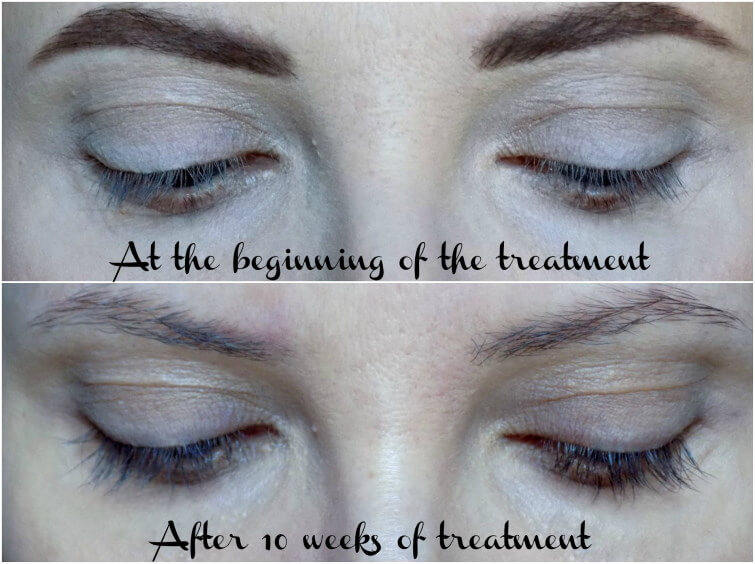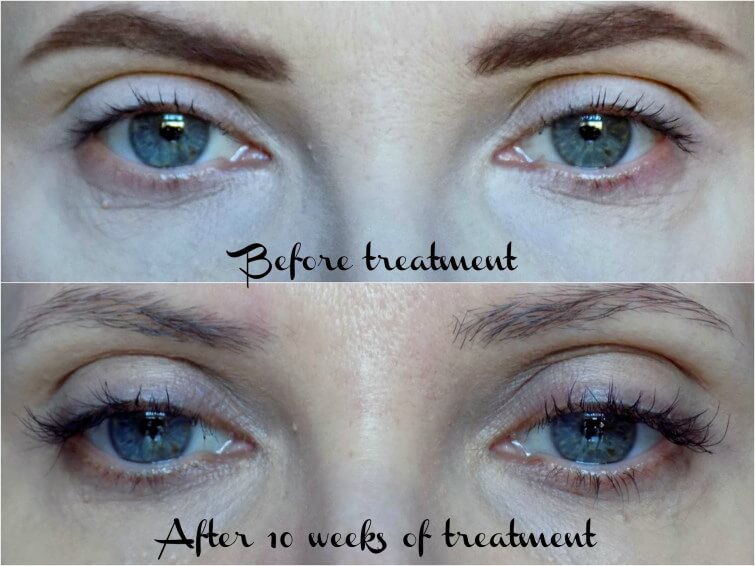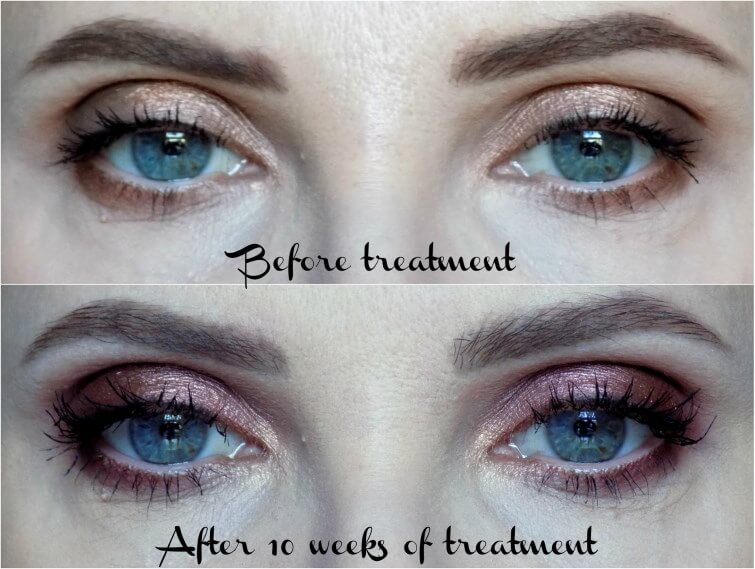 Verdict
As you can see, the improvement in my lashes is quite impressive; I'm thrilled with the results.
My lashes were pathetic, sort, sparse, and straight. Now I love how they look. I've not worn false lashes in weeks because my natural lashes look almost as good yet much more natural. Even my work colleague said that she thought I had some eyelash extensions 🙂
I feel like my lashes have reached a plateau, so I have reduced the application to only once daily. It is advised to do so after about two months of correctly using the serum to maintain the results. It is expected that the lashes to go back to pre-treatment levels of growth after discontinuing utilizing the serum.
The Lash Force has lasted me all this time, and there's still some of it left.
Although it's pretty expensive, it's worth it and lasts at least three months of regular applications.
Will I repurchase the NYK1 Lash Force Eyelash Growth Serum?
I really enjoy this product and will almost certainly repurchase it to ensure I maintain my newly acquired lash length. Since it worked out so well, I also plan on trying the NYK1 Brow Force Eyebrow Growth Serum*.
Shop for NYK1 Lash Force Eyelash Growth Serum
You can find NYK1 Lash Force Eyelash Growth Serum on Amazon* and from the same line, BrowForce Eyebrow Growth*. (*affiliate links)
Lastly, I was not paid for this review or received it as a gift.
As always, you do you; be kind to your skin and yourself! Remember that every person's skin and skin type is different, so what might work for me might not work for you, and vice versa. So, before adding a new product to your skincare routine, it pays to do a little research first.
Before adding the NYK1 Lash Force Eyelash Growth Serum to your skincare regimen, ensure you are not allergic to it or its ingredients. You should also consult your doctor if you are pregnant, breastfeeding, or have any medical conditions or medications that may interact with the NYK1 Lash Force Eyelash Growth Serum. Always do a patch test before applying the NYK1 Lash Force Eyelash Growth Serum on your skin to avoid adverse reactions.
I am not a dermatologist or licensed aesthetician, but I have sufficient experience and knowledge I gained by testing multiple products and self-exploration. Unsure? Best to consult your dermatologist.
Happy shopping, and don't forget the sunscreen! Here's to great skin in 2023!