I am a packaging person when it comes to skincare. I often buy a product because it looks too cute to be resisted. And this usually ends in disappointment.
It was not until I met COSRX that I changed my mind about how skincare brands can be non-cute and non-fancy but effective. Besides, non-fancy packaging also lowers the price, which benefits us, the consumers!
COSRX has a continuously growing number of products, making it overwhelming to narrow down which products to choose – especially if you have acne-prone skin like me and must keep your routine as simple as possible to prevent breakouts.
After a year of trying different products and spending probably hundreds of hours researching, I thought I'd share what I believe are the best COSRX products for oily acne-prone skin.
The COSRX Brand
If you are new to COSRX, COSRX is a Korean cosmetic brand that is probably one of the most popular Korean skincare brands in the West.
COSRX resulted from 15 years of working in the Korean cosmetic industry. Founder Sang Hun Jun was already a distinguished entrepreneur working in the e-commerce business. However, his roots in skincare weren't solely seen as a business venture. Jun struggled with sensitive skin ever since he was young and didn't find much luck with many skincare products.
Frustrated with the lack of options, Jun launched COSRX in 2013 to develop skincare products that worked for sensitive complexions. The formulations were created by an experienced team working on the sister brands C20 and Ciracle. The brand's focus is providing customers with effective skincare products using minimal ingredients to treat various skin troubles and concerns.
The company's first batch of items was formulated to target acne spots and breakouts. Soon after, Cosrx began rapidly expanding within Korea as an affordable skincare product option.
Considered a game-changer by various media outlets, it is one of the few Korean skincare companies that made waves within the Western industry.
Our perspective on beauty has always been in touch with our customers' lifestyles. We provide the most ideal solutions that care for skin problems

COSRX
Its popularity expanded outside Korea and garnered a global cult following, especially within the United States and Australia. Many of their products are long-term bestsellers and favorites for many skincare enthusiasts.
COSRX has won many overseas and Korean awards, including Amazon Best Seller in Facial Cleansing Gels, Amazon's Choice, Get It Beauty 2020 View Label, 29 BEAUTY AWARD 2020, and many other famous awards in the beauty industry.
COSRX is also unique because they have a down-to-earth customer service attitude. You can always e-mail or leave a comment on their Instagram account. They will always try their best to give you the best feedback.
Interestingly, the brand's name is simply the words "cosmetics" and "RX" (for prescription) joined together. Funny fact: When they first launched, they had a fictional ambassador, Mr. Rx, who represented the brand's collective team and has extensive knowledge and experience in the skincare industry.
This philosophy of making products with minimal but effective ingredients matches the brand's simple packaging and naming style. This is obvious among the long-term bestsellers from COSRX and their new lines.
COSRX started with products targeted for oily and acne-prone skin, but they now carry ranges for all skin concerns. In 2023, it has eight product lines:
The Best COSRX Products for Oily Acne-Prone Skin
If you've landed here, you have oily or acne-prone skin like me and need effective skincare products.
I understand how frustrating it is because, for years, I tried so many products marketed to help get rid of acne and fix my oily skin – but yep, you guessed it – they didn't work.
Many products made my skin worse! Ultimately, I almost gave up on skincare altogether, including sunscreen, until I decided to learn everything I needed to know to fix my skin.
Before I tell you what I think are the best COSRX skincare products for acne-prone skin, I'll be honest: my skin has improved immensely.
I can now focus on anti-aging skincare and fade my hyperpigmentation without suffering from massive breakouts. I still get the occasional pimples, especially hormonal type, and I don't have Instagram-perfect skin.
I do still have some clogged pores, especially on my chin. But you know what? So do a lot of people out there.
My point is that I want you to have realistic expectations for your skin. I see so many bloggers and Instagrammers striving for that perfect dewy skin that seems to have no pores marketed in the skincare industry. But please know that it is normal to have clogged pores and occasional breakouts, too.
1. COSRX Low pH Good Morning Gel Cleanser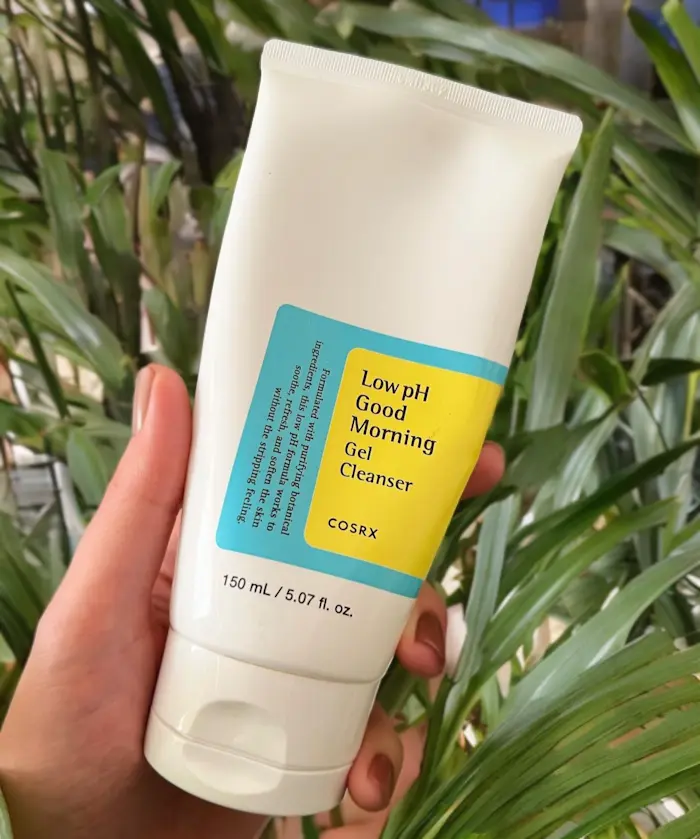 If you have oily and acne-prone skin, using a low-pH cleanser is essential, although this is important for all skin types. This is because the pH of healthy skin is between 4 and 5.6.
Cleansers with a pH higher than your skin can alter your skin's pH, which affects the functionality of your skin's moisture barrier and the ability of your skin to ward off harmful bacteria and fungi. Increasing your skin's pH can also increase sebum production, leading to clogged pores. Harmful bacteria also thrive more in higher pH, so add those to clogged pores, and you've got some acne!
The COSRX Low pH Good Morning Cleanser is one of the best COSRX products for oily acne-prone skin because it has a pH of 3.5. Therefore, it won't alter the pH of your skin, which will help keep oil production to a minimum and acne at bay.
This cleanser also contains acne-fighting ingredients such as betaine salicylate and tea tree oil. Betaine salicylate is an alternative exfoliating ingredient to salicylic acid in Korean skincare products as it is much gentler on the skin.
Tea tree oil is an essential oil derived from the leaves of the Australian tea tree plant (Melaleuca alternifolia). It has antimicrobial and anti-inflammatory properties, and many studies have shown that tea tree oil significantly improves mild to moderate acne.
Please read Sophia's article on essential oils and why, due to the compounds they contain that can be highly sensitizing and even allergenic, it may be best to avoid them in your skincare routine.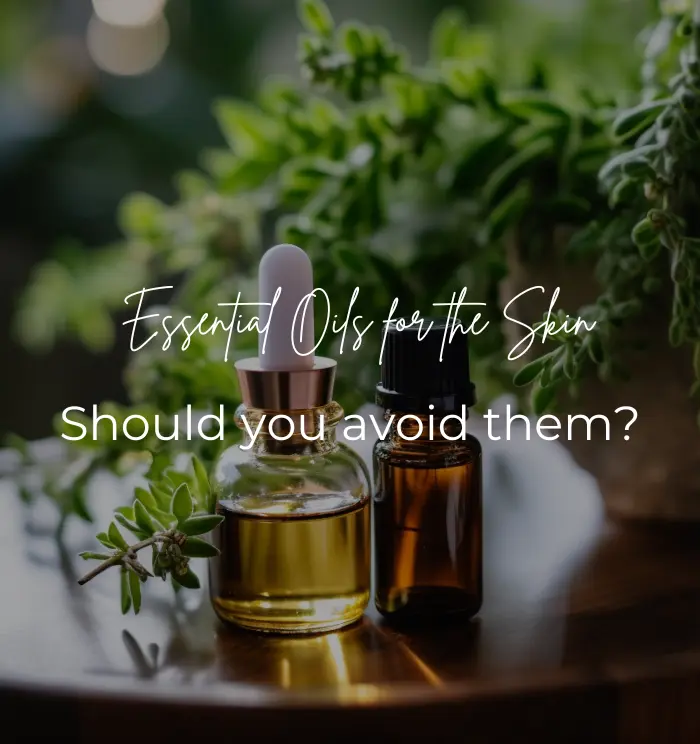 However, some people are more sensitive than others regarding essential oils, especially if they suffer from rosacea, eczema, or psoriasis. My skin can tolerate this cleanser's diluted amounts of tea tree oil. I try to avoid other essential oils, as the more you include in your routine, the higher the chances of skin sensitization.
Another thing that I like about this cleanser is that it is sulfate-free. It contains cocamidopropyl betaine and sodium lauroyl methyl isethionate in place of sulfates. Sulfates are often used to increase the foaming action of cleansers (and other skin and hair care products). However, they can be sensitizing and cause dryness as they essentially work to strip oils from the skin.
But some people say that this cleanser is slightly drying: I agree with many reviews I've read that this cleanser does leave my skin feeling a little dry and tight. This is likely due to the tea tree oil in this formulation. Studies have shown that tea tree oil can cause temporary skin dryness and peeling.
Therefore, I recommend avoiding this cleanser if you have dry or sensitive skin. If you have oily skin like me – follow up with a hydrating toner immediately after cleansing.
My favorite hydrating toner is the Anua Heartleaf 77% Soothing Toner*, which also doubles as a pH-adjusting toner and contains Heartleaf, a plant-derived ingredient great for soothing red and inflamed skin.
I also like to switch it up and only use this cleanser in my evening routine when I use more hydrating and moisturizing products. I use a different cleanser in the morning or only wash my face with water.
Apart from the acne-fighting ingredients I mentioned above, this cleanser also contains a handful of herbal ingredients:
Styrax japonicus Extract has skin-conditioning properties.
Nelumbo Nucifera Leaf Extract is also known as the sacred lotus. It has been shown to have a more significant anti-wrinkle effect than adenosine. Scientific studies also suggest this herbal ingredient has photo-protective properties against UVB radiation.
Ulmus Davidiana Root Extract is used in traditional Korean and Chinese medicine to treat skin inflammation. This study found that this herbal ingredient has almost the same hydrating effect on the skin as hyaluronic acid and protects against UVA radiation.
Furthermore, this study showed that Ulmus Davidiana root extract significantly inhibits wrinkle formation caused by UVB radiation!
Evening Primrose – scientific research on evening primrose mainly focuses on leaves, stems, and seeds (not the flower) extracts, which contain many beneficial compounds with anti-inflammatory properties, such as phenolic compounds and flavonoids.
Pueraria Lobata Root Extract is also known as kudzu root. This ingredient is also used in traditional Chinese medicine. It can help prevent photo-aging for the skin by increasing collagen production and maintaining hyaluronic acid levels in skin exposed to UVB radiation.
In addition, this cleanser also contains butylene glycol and allantoin, which are both humectants that help hydrate the skin.
How to use this product: This is a water-based cleanser (AKA second cleanser). If double cleansing, use this cleanser after your oil cleanser. If skipping oil cleansing, start your routine with this cleanser by gently massaging a pea-sized amount onto wet skin. Then rinse with warm water and let your face air dry, or gently pat dry with a clean towel.
Comedogenic ingredients: Butylene Glycol (1/5)
Price: $8-$13
2. COSRX The Vitamin C 23 Serum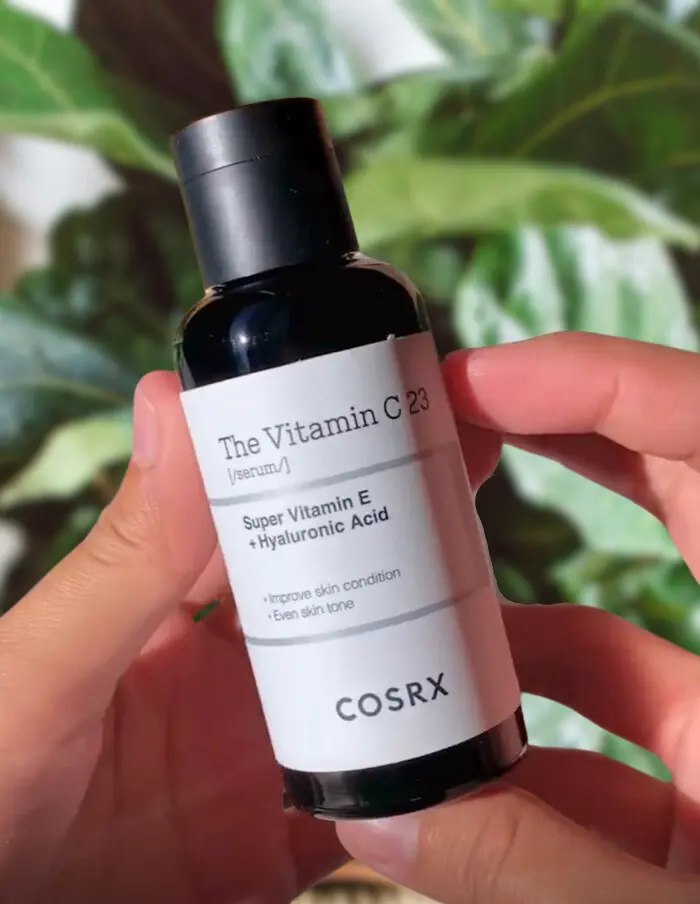 The COSRX The Vitamin C 23 Serum is a vitamin C serum containing a whopping 23% pure L-ascorbic acid. Vitamin C is required by all the cells in our body, and it also plays many vital roles in the skin, including being involved in the synthesis of collagen and inhibiting the overproduction of elastin following UV exposure.
Vitamin C is also an antioxidant, and it can neutralize and remove oxidants found in environmental pollutants and neutralize and remove oxidants found after exposure to ultraviolet radiation, thereby preventing photo-aging.
So, why is the COSRX The Vitamin C 23 Serum good for acne-prone skin? Vitamin C has been shown to prevent hyperpigmentation by inhibiting the enzyme tyrosinase necessary for synthesizing melanin. Research suggests that concentrations as low as 10% L-ascorbic acid are effective.
This means that vitamin C can act as an extra photo-protective measure on top of sunscreen to help prevent the deposition of melanin wherever your skin is breaking out.
How can vitamin C help your skin?
The COSRX The Vitamin C 23 Serum also contains other beneficial ingredients, including butylene glycol, allantoin, sodium hyaluronate, excellent humectants for skin hydration, and two types of beta-carotene with anti-inflammatory, antioxidant, and skin-regenerative abilities.
Another notable addition to the serum is niacinamide, aka vitamin B3, for skin brightening and decreasing the appearance of large pores, fine lines, and wrinkles.
Arginine is an amino acid that helps to strengthen and repair the skin's barrier. Tocotrienols and Tocopherol are two types of vitamin E: Tocotrienol is a super vitamin E with 50 times higher antioxidant activities than tocopherol and stimulates collagen production.
Of particular interest, though, is the addition of licorice root extract – which has potent skin-soothing properties and can help to decrease the redness and irritation associated with acne. Licorice root extract may also help treat hyperpigmentation, although studies have only been done in vitro (in a test tube).
If you'd like to learn more about the benefits of licorice root extract, check out Seo-Yeaon's article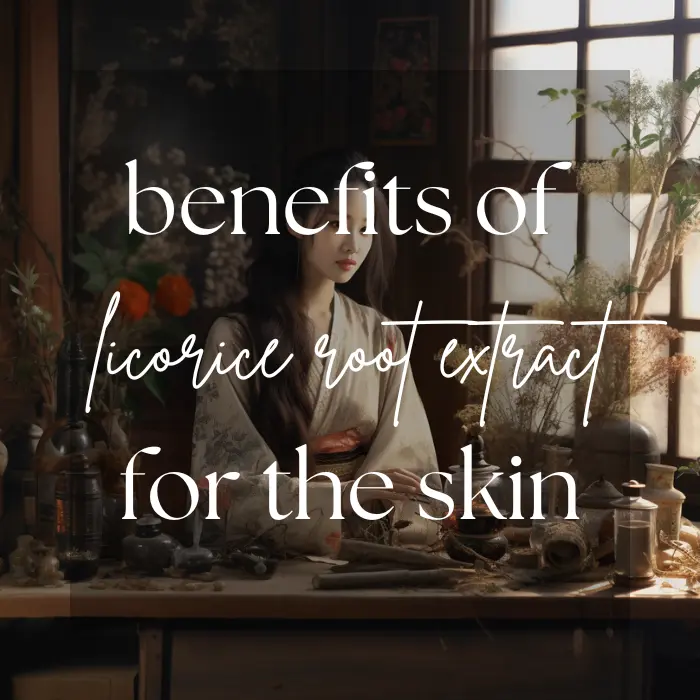 How to use this product: If this is the first vitamin C you have ever used or you have sensitive skin, introduce it slowly to your skincare routine. At first, apply it only once every 3-4 days, first thing after cleansing.
Once you've built up a tolerance to this serum (you don't have any irritation), apply 1-2 drops to your skin every second morning, gradually applying it every morning.
Since L-ascorbic acid is a pH-dependent serum, you must apply it after cleansing before toning and all other skincare products. Please read Mateo's in-depth review of the COSRX The Vitamin C 23 Serum.
Comedogenic ingredients: Tocopherol (2/5), Butylene Glycol (1/5), Beta-Carotene (1/5)
Price: $15-$21
3. COSRX BHA Blackhead Power Liquid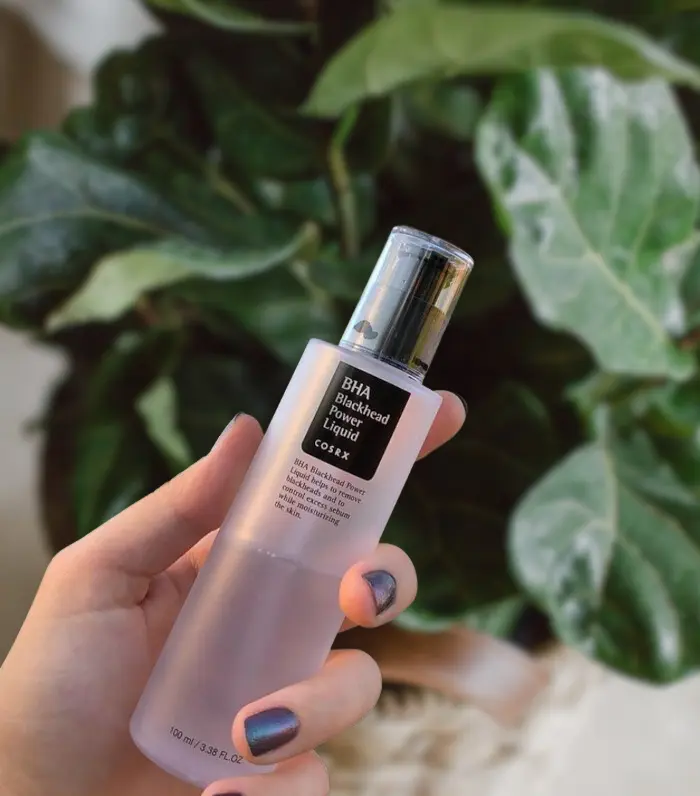 If you have oily or acne-prone skin, it's essential to use a chemical exfoliator to both help get rid of dead skin cells and to help remove gunk from your pores, such as sebum mixed with bacteria and dirt.
Both alpha hydroxy acids (AHAs) and beta hydroxy acid (BHA) can help to prevent acne by gently exfoliating your skin. However, BHA seems to be better suited to oily skin types, and it is also better able to penetrate deep within the pores.
About a handful of types of AHA are used in skincare products. Glycolic acid and lactic acid are the most commonly used.
However, there is only one type of BHA – salicylic acid. As I've already mentioned earlier in this article, the use of salicylic acid in skincare products is highly regulated in Korea. Korean skincare companies are not permitted to use more than 0.5% salicylic acid in their formulations, which isn't that effective. Therefore, Korean skincare products use betaine salicylate instead, which is derived from beets and has a much better tolerability.
Chemically speaking, betaine salicylate is essentially salicylic acid combined with betaine. This betaine molecule makes betaine salicylate much gentler for use on the skin compared to salicylic acid.
Betaine has anti-inflammatory and hydrating properties.
The cult-favorite COSRX BHA Blackhead Power Liquid contains 4% betaine salicylate, equivalent to 2% salicylic acid, in terms of exfoliating effectiveness.
Using this product in my skincare routine has helped to decrease the amount of blackheads and surface acne I have. As I've already mentioned, BHA works by removing dead skin cells from within the pores.
Because betaine salicylate is oil-soluble, it can penetrate deep inside the pores and purge whatever sebum-based mess is within them.
Besides betaine salicylate, the BHA Blackhead Power Liquid also contains willow bark water instead of plain water, which has anti-inflammatory properties.
Some companies market willow bark water as a natural BHA, as it contains salicin, which can be converted to salicylic acid inside the digestive tract. However, no research supports claims that willow bark water has exfoliating properties as it cannot be converted to salicylic acid in the skin.
The COSRX BHA Blackhead Power Liquid is one of the best COSRX products for oily acne-prone skin because it also hydrates the skin besides gently exfoliating it. It doesn't feel drying or stripping at all. COSRX has been smart enough to include three awesome humectants: panthenol, sodium hyaluronate, and butylene glycol.
And as if that wasn't enough, also added in is 2% niacinamide, which has anti-aging, skin-brightening, and pore-shrinking properties.
How to use this product: After cleansing, pump 2-3 pumps of this liquid onto a cotton pad and gently swipe it over the skin, but avoid your eyes and mouth.
To prevent irritation, use this product only once a week, especially if you have sensitive skin or have never used chemical exfoliators. Slowly, you can increase the usage to 2 to 3 times a week.
I also like to wait 20-30 minutes before proceeding with the rest of my skincare routine, as BHA is pH-dependent.
Comedogenic ingredients: Butylene Glycol (1/5)
Price: $12-$14
4. COSRX AHA Whitehead Power Liquid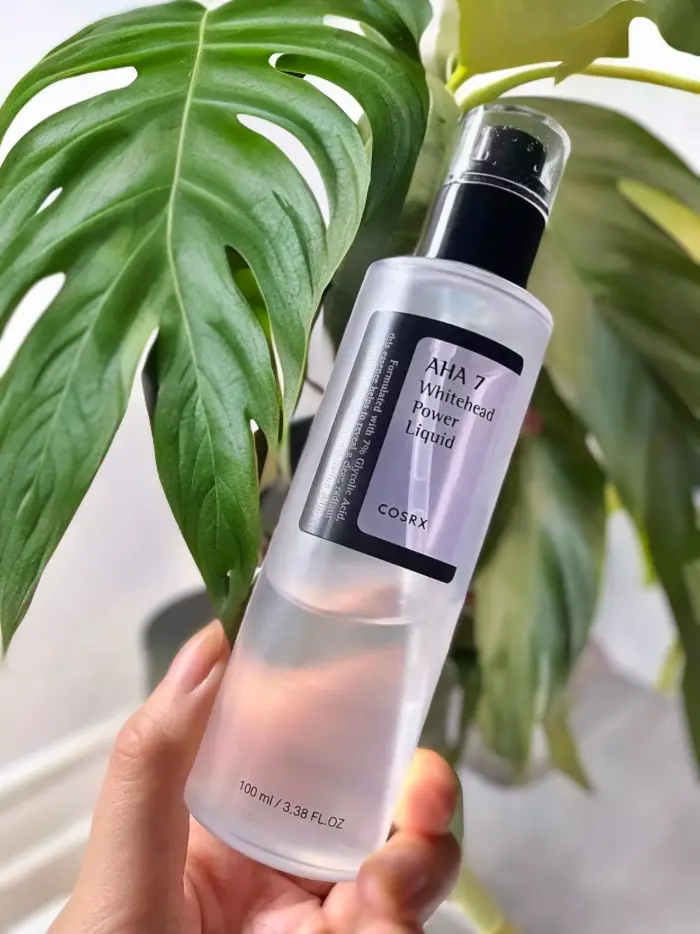 If you have acne-prone skin, you're likely all too familiar with post-inflammatory hyperpigmentation, aka acne marks or scars that pimples can leave behind.
Post-inflammatory hyperpigmentation, or PIH for short, occurs when we have a wound on our skin. When damaged, our skin produces melanin to protect itself from the sun as melanin absorbs most of the UV radiation that hits your skin. The melanin gives our skin color, in this case, dark marks where pimples used to be.
Of course, if your skin is exposed to more sunlight and you're not wearing sunscreen, you will end up with more post-inflammatory hyperpigmentation! PIH does eventually fade on its own; however, this can take 3-6 months.
One of the best COSRX products that can speed up the process of fading PIH is the AHA Whitehead Power Liquid.
While the COSRX AHA Whitehead Power Liquid works wonders at exfoliating dead skin cells, which helps prevent pores from becoming clogged, these properties also make it good at fading PIH.
The way it works is by increasing the skin cell turnover rate. This means new skin cells are revealed faster as older pigmented skin cells (containing melanin) are exfoliated.
AHAs can help prevent acne, too, by exfoliating dead skin to prevent pores from becoming clogged. The exact process also helps to fade acne scars (post-inflammatory hyperpigmentation).
COSRX AHA 7 Whitehead Power Liquid contains 7% glycolic acid, the most common and widely researched form of AHA in skincare products. It has the smallest molecular size of all types of AHA, meaning it can penetrate the deepest layers of the skin.
You'll find apple fruit water instead of plain water in this exfoliator containing natural AHAs. Niacinamide has also been added to this formulation at a concentration of 2% to help fade hyperpigmentation.
I love humectants; you'll find 3 in this product: butylene glycol, panthenol, and sodium hyaluronate.
How to use this product: Use this product after cleansing but before toning. It's best to soak a cotton pad in this liquid to swipe a thin layer over the skin (I use 2-3 pumps). Since this is a chemical exfoliator, you should work up a tolerance to this product by only using it once a week and then increasing it to two (and then three) times a week if your skin doesn't show any signs of irritation.
COSRX recommends waiting 20-30 minutes before applying other skincare products, as AHAs are pH-dependent (meaning they require a specific pH to be effective).
It's best to use this chemical exfoliator in the evenings as it may result in photosensitivity. Be sure to apply sunscreen the morning after applying AHA to your face, although you should do this every day anyway!
Comedogenic ingredients: Butylene Glycol (1/5)
Price: $10-$19
5. COSRX Propolis Light Ampoule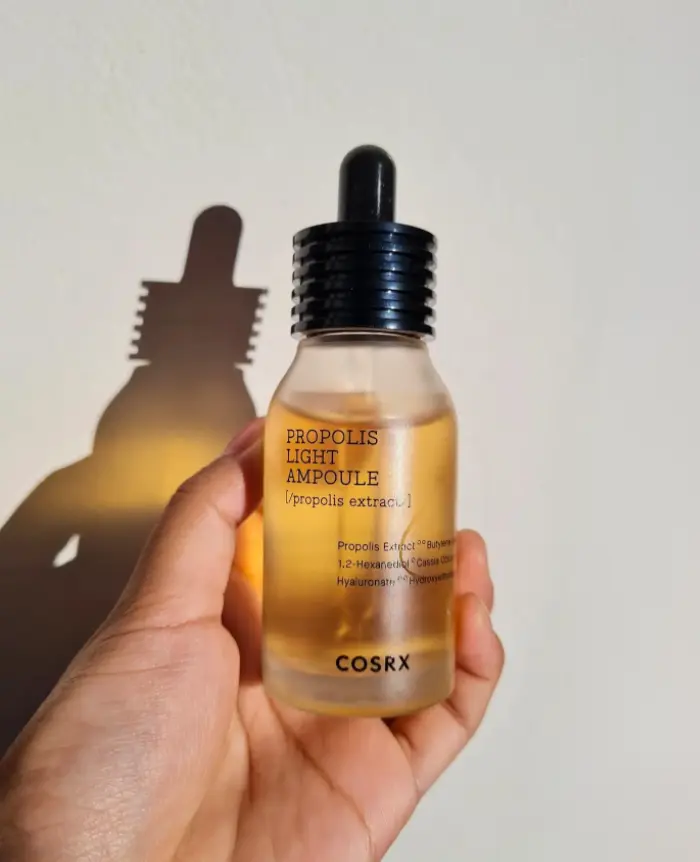 Propolis is another of my favorite acne-fighting ingredients, which I think doesn't get enough attention. The COSRX Propolis Light Ampoule contains an impressive 83.25% propolis.
Propolis is a plant-derived resinous mixture honeybees produce to fill in honeycomb crevices. It has been found to have powerful antibacterial, antiviral, antifungal, antioxidant, and anti-inflammatory properties, which protect bees and their hives from weather and microbes (such as bacteria and fungi).
The antibacterial and anti-inflammatory properties make propolis fantastic for preventing and treating acne. Studies have found that propolis, at a concentration as low as 20%, effectively reduces the number and severity of pimples in patients with mild to moderate acne vulgaris.
Propolis may even help treat hormonal or cystic acne (which isn't caused by bacteria), as it can decrease inflammation and increase the rate of wound healing. It can also reduce the severity of post-inflammatory erythema (the redness often associated with cystic acne).
If you want to learn more about the benefits of propolis for your skin, please read our guide, The Buzz on Propolis Benefits for the Skin.
This ampoule only contains 11 ingredients, so you don't have to worry about putting anything unnecessary or potentially damaging on your skin!
The ingredients list includes an excellent mix of humectants to help keep your skin hydrated: butylene glycol, glycerin, sodium hyaluronate, and panthenol. Remember, humectants should be an integral part of your skincare routine as dehydrated skin can lead to loss of skin barrier function, resulting in skin irritation and acne.
Also included in this ampoule is Cassia obtusifolia seed extract, which has been found to contain compounds with anti-inflammatory properties.
Betaine, which has skin-soothing properties, and arginine, an amino acid with wound-healing properties, are also part of the formulation of this propolis ampoule to help treat any acne on the skin.
How to use this product: Apply this ampoule after cleansing and toning and after your vitamin C serums and chemical exfoliators. Gently massage and pat it onto your skin using your hands.
It absorbs pretty quickly, and you don't have to wait to proceed to the remaining steps of your skincare routine.
Comedogenic ingredients: Butylene Glycol (1/5), Carbomer (1/5)
Price: $13-$23
6. COSRX Advanced Snail 92 All In One Cream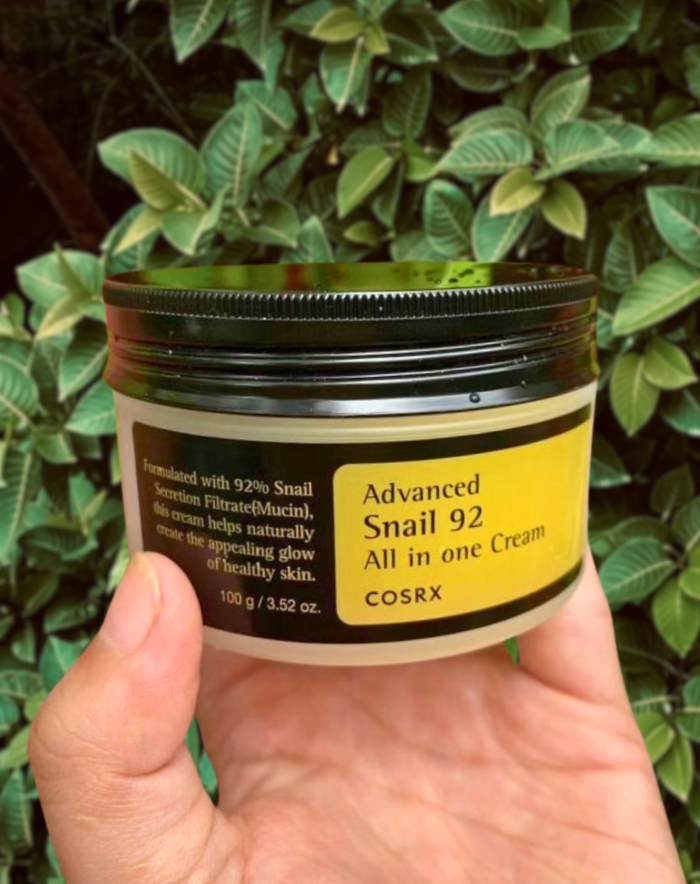 The COSRX Advanced Snail 92 All In One Cream is a skin-repairing moisturizer of 92% snail mucin extract. It has a bouncy, slimy texture that is not sticky when applied to the skin. The official instruction claims this product is nutritious enough after cleansing without needing a toner, emulsion, or serum, hence the name "all-in-one cream."
If you've read a few of my articles already, you'll know that the COSRX Advanced Snail 92 All In One Cream is probably one of my favorite skincare products. It's made a massive difference to my skin, and I'm so happy that I found something that hydrates my skin and doesn't break me out like moisturizers tend to do.
COSRX is much-loved for their snail mucin products, namely this one and the Advanced Snail 96 Mucin Power Essence. As their names suggest, the All In One Cream contains 92% snail mucin, while the essence contains 96% snail mucin.
If you'd like to know more about the benefits of snail mucin for your skin, I highly recommend that you check out the:
Guide on Snail mucin benefits.
To put it shortly, COSRX Advanced Snail 92 All In One Cream is one of the best COSRX products for acne because snail mucin:
Has anti-bacterial properties, which help to keep acne-causing bacteria at bay;
Has skin-healing properties, making it great for calming extensive, red, and angry breakouts;
Contains hyaluronic acid, a humectant that helps to keep the skin hydrated -thereby maintaining a healthy moisture barrier;
Contains glycolic acid, which helps to prevent breakouts by exfoliating the skin.
Other beneficial ingredients: This lightweight All In One Cream is exceptionally hydrating and an excellent moisturizer option if you have oily skin like me that breaks out easily if you apply suffocating creams. It contains panthenol, a very effective humectant, sodium hyaluronate, and allantoin.
It also contains adenosine, a relatively new ingredient in the skincare world with powerful anti-wrinkle benefits. You might have seen it marketed all over the packaging of L'Oreal creams and serums. You can check out the benefits of adenosine here.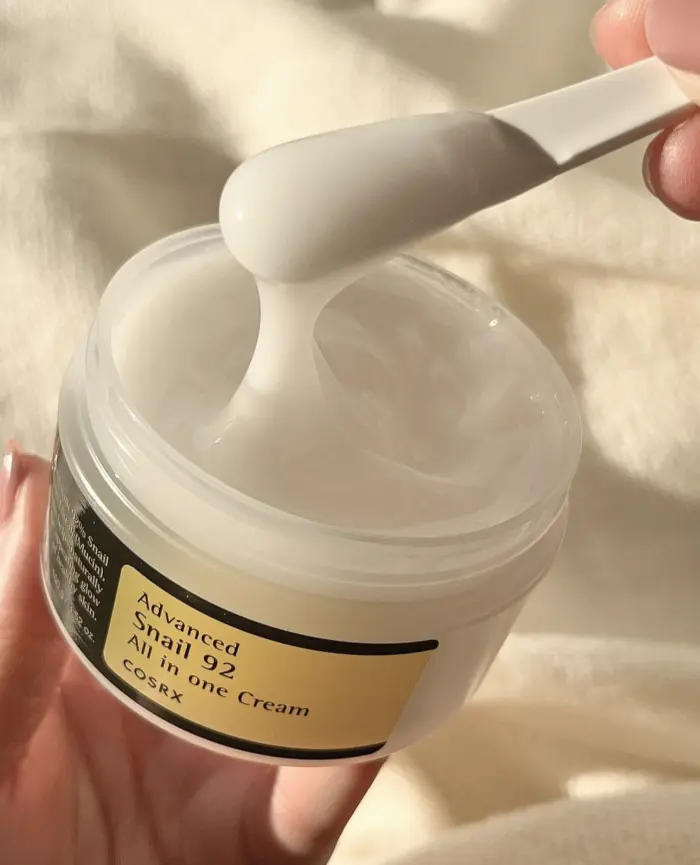 How to use this product: Apply this cream to your face but not your eyes and mouth towards the end of your skincare routine after any essences, serums, or ampoules, but before any facial oils, spot treatments, sleeping packs, or sunscreen.
I love ingredient lists! Especially this one.
Comedogenic ingredients: Cetearyl Alcohol (2/5), Stearic Acid (2/5), Butylene Glycol (1/5), Carbomer (1/5), Dimethicone (1/5), Caprylic/Capric Triglyceride (1/5)
Price: $12-$16
7. COSRX Hydrium Green Tea Aqua Soothing Gel Cream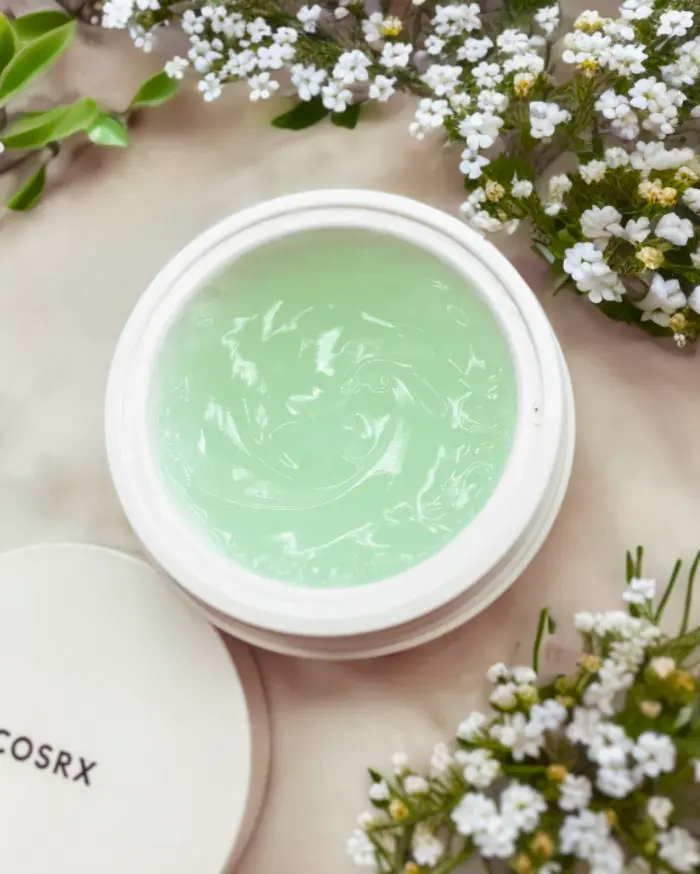 This gel cream is similar to the COSRX Advanced Snail 92 All In One Cream, in that it is a lightweight hydrating cream, one of the best moisturizers available for oily skin. The difference, however, is that this gel cream contains even more humectants: glycerin, panthenol, butylene glycol, allantoin, and Aloe ferox leaf extract.
Unlike the snail mucin cream, the star of this cream is green tea (Camellia sinensis leaf extract). Green tea is a fantastic ingredient for oily and acne-prone skin as it is incredibly high in polyphenols, compounds with potent antioxidant, anti-inflammatory, and anti-microbial properties.
Scientific research suggests green tea can decrease sebum production and prevent and treat acne vulgaris when applied topically.
As well as being extremely hydrating but without suffocating, this gel cream contains many soothing ingredients, making it a great product to use if you have red or inflamed skin from breakouts. Both words "aqua" and "soothing" are in the name of this cream!
I've talked about green tea's benefits and the various humectants in the cream for your skin. However, this gel cream also contains some herbal extracts worthy of mention:
Hydrolyzed Hibiscus Esculentus Extract – growing research indicates that hibiscus extracts (from various species) have potent antioxidant effects. In particular, studies have focused on hibiscus extracts' anti-aging and photo-protective properties. This study found that the Hibiscus sabdariffa extract maintains collagen production and decreases melanin synthesis under UVB radiation.
Lupinus Albus Seed Extract – a non-fragrant plant (legume) extract high in oleic and erucic acids (omega-9 unsaturated fatty acids). Oleic acid helps other plant-derived ingredients penetrate further into the skin, preventing moisture loss, while erucic acid hydrates and strengthens the skin's barrier. This seed extract also contains omega-3 linolenic acid and omega-6 linoleic acid – which both work to repair the skin's barrier. However, you should avoid products that contain Lupinus albus seed extract if you have a peanut allergy, as the cross-allergenicity of peanuts and Lupinus albus has been recorded.
Moringa Oleifera Seed Extract is an extract from the Moringa Oleifera plant, often called the "miracle tree." The oil of Moringa seeds is non-fragrant and contains several antioxidants, including zeatin, quercetin, and vitamins A, C, and E. The oil of Moringa seeds is also high in oleic acid and contains amino acids and plant sterols with skin-soothing properties.
Melia Azadirachta Leaf and Flower Extracts – also known as the chinaberry, are related to the neem tree (Azadirachta indica). These extracts have potent antioxidant, anti-fungal, and anti-inflammatory properties. In particular, research suggests that the limonoids present in Melia azadirachta plants can improve inflammation.
How to use this product: Use this cooling cream in your skincare routine to soothe redness, blemishes, and sunburn, or refresh oily skin in hot and humid weather. Apply as much as necessary after cleansing, toning, and using any essences, serums, or ampoules.
Comedogenic ingredients: Butylene Glycol (1/5)
Price: $15-$24
8. COSRX Centella Blemish Cream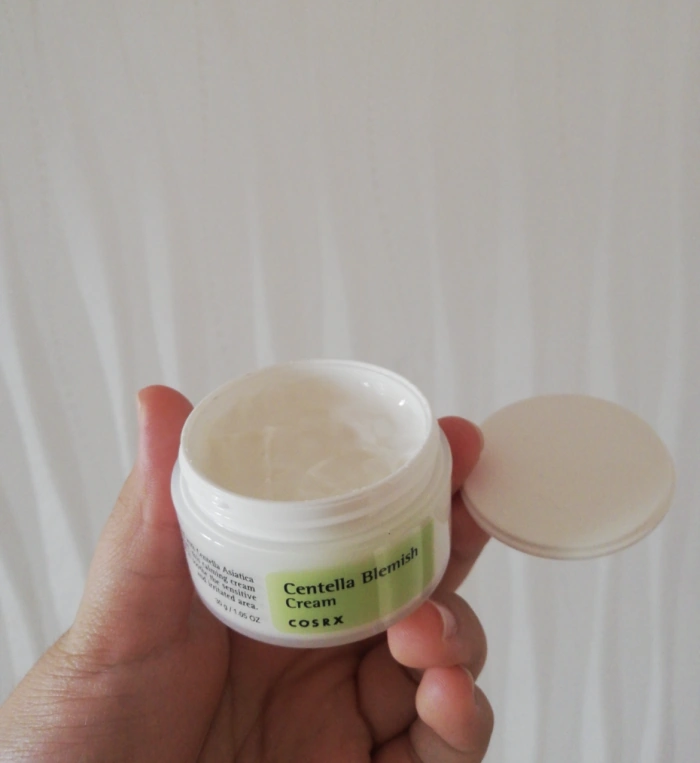 The star ingredient of this cream is Centella Asiatica, one of the most-loved ingredients in Korean skincare. We have an entire article about the benefits that Centella can have for your skin, but in short, this plant extract has a fantastic ability to soothe and calm red and inflamed skin.
Centella can also speed up wound healing by stimulating collagen production, making it a great ingredient when breaking out (as a pimple is essentially a type of wound). This also means that Centella can lessen the likelihood of acne-scarring.
Centella is a great skincare ingredient for soothing and calming red and inflamed skin – making it beneficial for acne-prone skin.
As if that wasn't enough for acne-prone skin, Centella has also been found to improve skin hydration (see the study here). Its hydrating ability is comparable to that of aloe vera!
It is believed that the saponins (mainly Asiaticoside, Madecassoside, Asiatic acid, and Madecassic acid) present in the leaves of Centella plants are responsible for this plant's acne-fighting properties.
This Centella cream also contains butylene glycol and glycerin to help hydrate the skin. However, since this cream is meant to be used as a spot treatment on active breakouts, I think these two ingredients are used more to improve the consistency of the formulation.
This cream does contain other anti-inflammatory ingredients to help soothe red and sore breakouts, including zinc oxide, betaine, and Scutellaria baicalensis root extract.
Scutellaria baicalensis root extract contains flavones (baicalin, wogonoside, baicalein, wogonin, and oroxylin A), which have potent soothing properties. In addition, this plant extract may also help to prevent post-inflammatory hyperpigmentation, which acne can often leave behind.
Lastly, this cream also contains tea tree oil, which I mentioned earlier, has antimicrobial and anti-inflammatory properties.
All in all, it is one of the best COSRX products for preventing and treating acne.
How to use this product: This cream is not meant to be used like a moisturizer because it will leave a white cast and doesn't absorb into the skin like a moisturizer. It's a spot treatment cream, which you can apply directly onto pimples to help them heal, disappear faster, and help prevent acne scarring.
It's best to apply this spot treatment at night time after you apply your moisturizer.
Comedogenic ingredients: Cetearyl Alcohol (2/5), Butylene Glycol (1/5), Zinc Oxide(1/5), Dimethicone (1/5)
Price: $10-$14
9. COSRX Acne Pimple Master Patch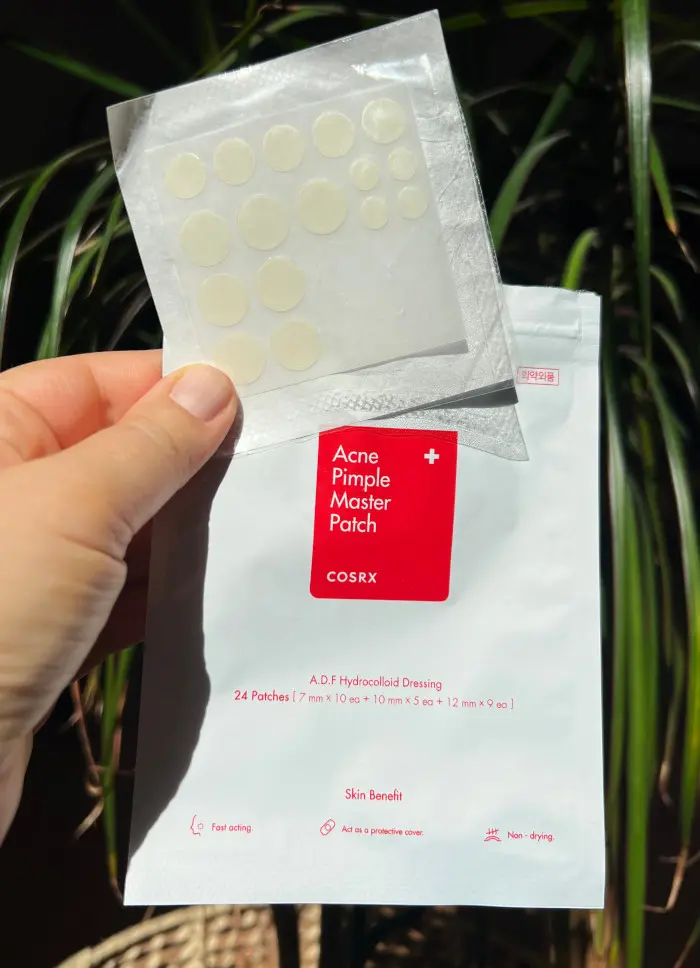 The COSRX Pimple Master Patches are thin and transparent hydrocolloid patches that treat pimples by preventing further infection and minimizing inflammation.
Have you had a massive pimple before that's stuck around for what seems like weeks, only for more spots to appear right next to it? Well, these hydrocolloid patches treat pimples like an infected wound. These patches tightly adhere to your skin, forming a waterproof seal around the spot. This stops any water, dirt, or bacteria from contacting the wound.
The patches work overnight, breaking down debris from blackheads and absorbing the gunk from whiteheads without leaving a dry patch. Anyone who has put toothpaste or zinc cream on their pimples knows what I'm talking about. This is achieved because the tight seal of the patch creates a moist environment, which promotes healing. A bonus of this effect is that these patches can help minimize any acne scarring.
One thing I like about this patch is that it comes in various sizes. Sometimes, acne might be big or small, so patches with different sizes are helpful to avoid wastage.
The actual plastic film of these patches is made from polyurethane, which is tough and stops water from evaporating from the wound area, which would otherwise leave it very dry.
Styrene isoprene styrene block copolymer (what a long name!) and petroleum resin act as adhesives to ensure the patch stays on your skin.
Polyisobutylene forms a somewhat lubricant on the skin to help it stay soft and smooth. Liquid paraffin acts as an occlusive, preventing water from evaporating from the skin. It also helps to relieve any itching.
The side of the patch attached to the skin also contains cellulose gum, which is responsible for sucking fluid out of the wound due to its water-binding properties.
How to use this product: Cleanse and dry the affected area thoroughly and attach a patch of a bigger size of the acne to the affected area. Remove when the size of the acne is reduced or the patch has become white.
This pack of patches contains three different sizes, so choose one that suits the size of your pimple best. You can then carry on with the rest of your skincare routine. Leave it on overnight and remove it in the morning. You will notice that the patch is swollen with the fluids from your pimple.
Note, though, that hydrocolloid patches only work on raised pimples and those that visibly contain pus (whiteheads or pimples that you have picked or squeezed) – as they flatten them out by extracting fluid from them.
Comedogenic ingredients: none
Price: $2-$5
Conclusion
COSRX is one of the most popular Korean skincare brands, and they have heaps of products to choose from, including many that are suitable for oily and acne-prone skin.
In summary, the ingredients I covered in this article that are great for preventing or treating acne (as well as preventing and fading acne scars) include:
Green tea extract
L-ascorbic acid (vitamin C)
Various other plant extracts;
Humectants, including glycerin, panthenol, butylene glycol, sodium hyaluronate, and allantoin.
Most of the COSRX inventory is generally affordable to the average consumer. The company is also very transparent regarding what ingredients they use for their formulas. It's nice to see a company that doesn't put its focus on aesthetics, which makes the outlook of this brand more trustworthy and reliable.
There are also thousands of positive customer testimonies stating that their products effectively improve their skin. This Cosrx skincare review also found that most of their ingredients are cruelty-free and vegan, which is always an advantage when shopping for skincare products.
If you're looking for an inexpensive way to get into the K-Beauty, it's not a bad idea to try COSRX. Here's our editor's guide to shopping for Korean skincare.
Hopefully, this article has helped you understand what ingredients and products work well on oily and acne-prone skin for better skin.
Show Me Proof