After noticing the warm hospitality a couple of vitamin C derivative-based serums received on my skin, I figured it was finally time to take the plunge and test out the 'big brother' himself.
Isntree Hyper Vitamin C 23 Serum was a no-brainer purchase in this category mainly for two reasons:
The first was obviously due to the positive reviews across all the media platforms.
The second and most important reason is the high concentration of ascorbic acid in it. I want results in no time!
Isntree Hyper Vitamin C 23 Serum Review:
Where to Buy the Isntree Hyper Vitamin C 23 Serum?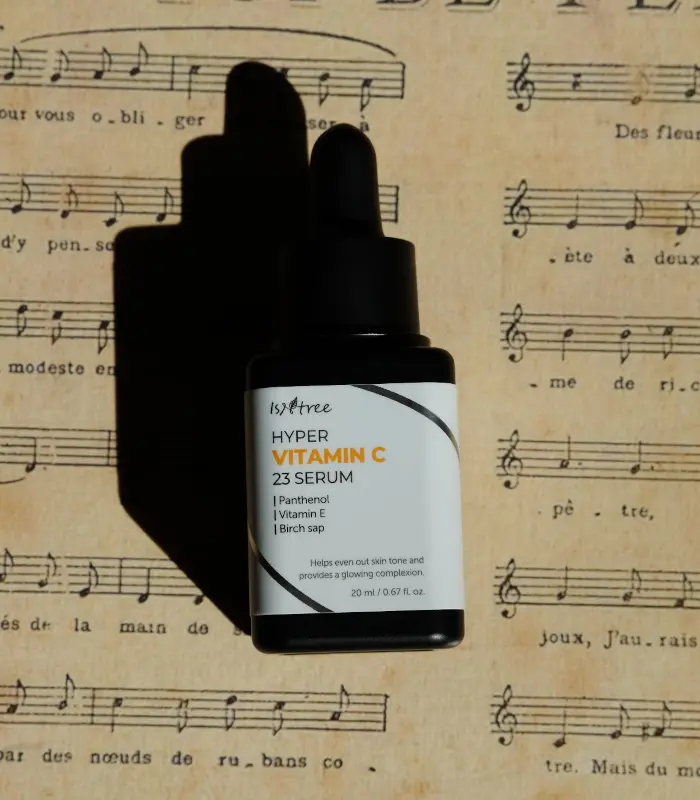 The Hyper Vitamin C 23 Serum comes in a 0.67 fl. oz. / 20 ml opaque glass dropper bottle and retails for $20. (~$26/ounce)
For all you lucky people in the US who can get Prime delivery, you can buy the L-Ascorbic Acid vitamin C Serum from Isntree's official store on Amazon*.
You can also shop for Hyper Vitamin C 23 Serum on trusted Asian official retailers, such as YesStyle*, StyleVana*, and StyleKorean*.
Here's our editor's guide to shopping for Korean skincare.
The Isntree Brand
Isntree is a 'green' beauty brand that focuses on ingredients safe for the skin and contains actual effects by researching the optimal combination of natural and functional ingredients.
What Is Isntree Hyper Vitamin C 23 Serum?
Isntree Hyper Vitamin C 23 Serum is a L-Ascorbic Acid vitamin C Serum. It is one of the latest additions to Isntree.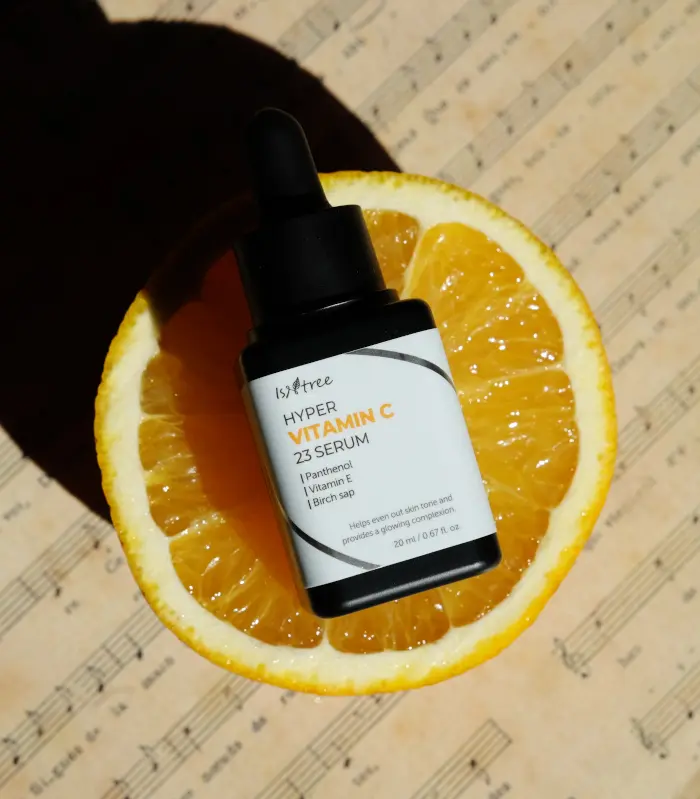 Spoiler alert: I can highly recommend it as a part of your skincare routine, but not to everyone. Keep on reading.
Isntree Hyper Vitamin C 23 Serum Claims
Improves the skin radiance and addresses fine lines and wrinkles.

Targets hyperpigmentation, dark spots, and acne marks, revealing even and radiant skin.

Formulated with the pure form of Vitamin C and complemented with the benefits of Vitamin E and Panthenol, this serum delivers a brightening effect, while keeping the skin hydrated and protected.

Isntree Official Website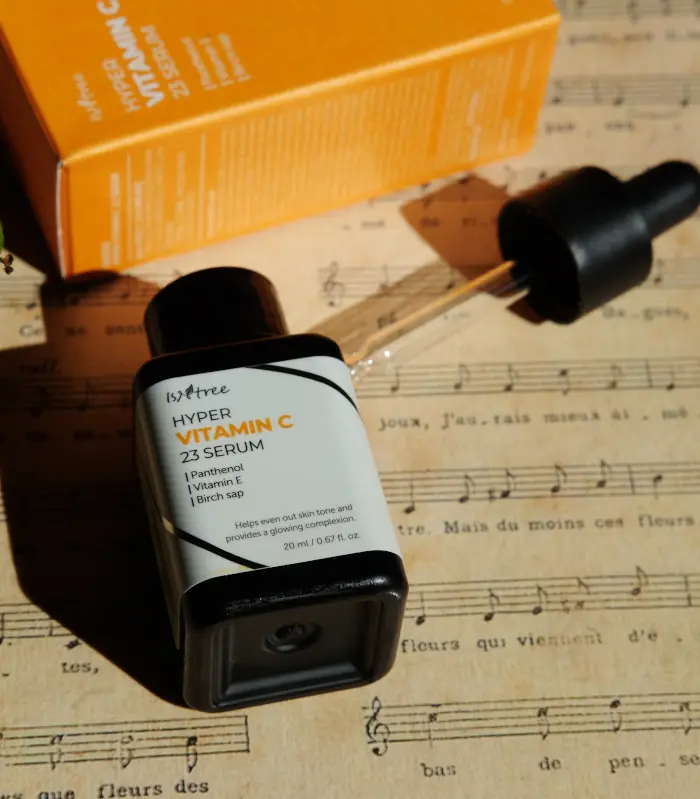 Who Is this Vitamin C Serum For?
For those with dull, uneven skin tone, looking to fade hyperpigmentation. I would recommend this for everyone as a boost of antioxidants under your favorite sunscreen.
However, if you have never applied a vitamin C serum in such high concentrations before, I would advise you to go slow regarding frequency and application.
Isntree Hyper Vitamin C 23 Serum has 23% pure L-Ascorbic Acid; therefore, it's not a beginner-friendly vitamin C option.
If you're new to vitamin C or have never applied a vitamin C serum in such high concentrations before, I would advise you to go slow not only in frequency but also in terms of the application.
Or, you can start with Seoul Ceuticals Day Glow Serum Vitamin C Serum, formulated with a gentler vitamin C derivative.
Isntree Hyper Vitamin C 23 Serum Ingredients
Isntree Hyper Vitamin C 23 Serum Ingredients List (last checked 2023)
Water, Ascorbic Acid (23%), Propanediol, Betaine, 1,2-Hexanediol, Polyglycerin-3, Tromethamine, Ethyl Ascorbyl Ether, Hydroxyethyl Urea, Betula Platyphylla Japonica Juice, Ethylhexylglycerin, Adenosine, Disodium EDTA, Panthenol, Gardenia Florida Fruit Extract, Dextrin, Tocopherol.
Ingredients referred from the Isntree Official Website.
Active Humectant/Moisturizer Herb
Ingredients Analysis
The formula is brilliantly crafted with 17 core ingredients.
First, I want to note that Tocopherol is a potentially comedogenic ingredient (2/5). Gardenia Florida Fruit Extract, although high in flavonoids and ferulic acid, is a fragrance and can sensitize the skin.
L-Ascorbic Acid
Vitamin C is such a superstar active that it provides a whole range of benefits to the skin when added to your skincare routine.
This potent antioxidant helps brighten age spots and hyperpigmentation due to sun exposure. It also helps fade post-inflammatory hyperpigmentation (PIH) – the dark marks left after an acne breakout. Vitamin C can help fade these marks and give your skin an overall "brighter" appearance.
Vitamin C doesn't just fade spots that arise from sun damage. It helps prevent sun damage in the first place.
It is a potent antioxidant, which can help protect your skin from UV exposure and damaging environmental pollutants. Combined with vitamin E and layered under sunscreen, it gives our skin much better protection than sunscreen alone.
Additionally, it has been shown that topical applications of vitamin C serums help boost collagen production in the skin, reducing and preventing signs of aging, such as wrinkles and loss of elasticity.
Out of the many types of Vitamin C, Ascorbic acid, also known as L-ascorbic acid, is the royalty of Vitamin C and is backed by the most skin-related research proving its effects.
In general, Vitamin C is a powerful ingredient in your skincare arsenal.
Hydroxyethyl Urea
Besides 23% Ascorbic acid, the serum contains amazing humectants such as Hydroxyethyl Urea, a urea derivative.
Urea is a natural moisturizing factor, naturally present in the skin.
Not many people know about urea, although it's one of the best humectants for the skin. Research has shown that it's as effective as glycerin at keeping the skin hydrated and with a nicer texture. Unlike hyaluronic acid, urea is easily able to penetrate the stratum corneum.
Urea has three additional benefits for the skin:
It can help other skincare ingredients penetrate further into the skin.
It helps regulate the good bacteria on the skin, enhancing skin barrier function. Studies also suggest that urea may be an effective ingredient for treating fungal acne as it directly inhibits the yeast Malassezia.
And yes, urea is also a component of urine. However, there's no need to be grossed out regarding the urea used in skincare products because it is synthetically derived.
Adenosine
Adenosine is an effective ingredient for decreasing the appearance of fine lines and wrinkles. Adenosine can also stimulate collagen production, which promotes dermal wound healing and tissue repair.
Adenosine may also be an effective ingredient for soothing inflammation often experienced by people with sensitive skin or acne.
Panthenol
Panthenol is a fantastic skincare ingredient that needs more spotlight.
Apart from its humectant properties in skincare, panthenol also reduces itching and inflammation of the skin, mainly when used for longer than four weeks, improves skin elasticity, and accelerates wound healing.
It also has the added advantage of acting as an emollient. It smooths and softens skin cracks and helps prevent water loss.
Panthenol also has a fantastic ability to penetrate the skin's lower layers. Upon application, it is immediately converted to pantothenic acid (vitamin B5), which then binds to and holds water.
Vitamin E
Vitamin E not only aids in stabilizing vitamin C but also infuses antioxidant benefits into the skin. It is well-proven to help skin regeneration, stimulate collagen, prevent wrinkles, and increase skin hydration levels.
Isntree Hyper Vitamin C 23 Serum does not contain parabens, alcohol, or essential oils and is vegan and cruelty-free.
Packaging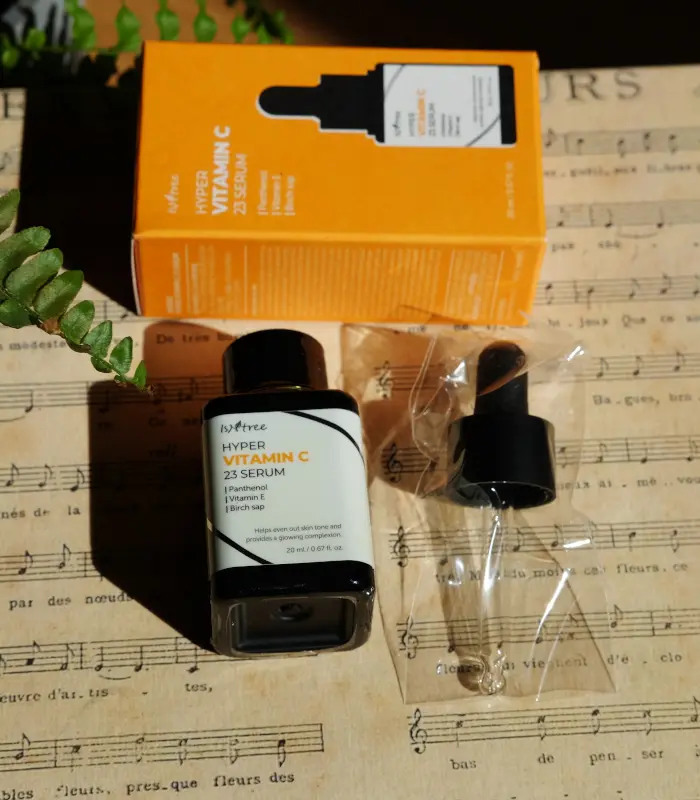 The paper box is made from discarded green tea. It is printed with soy ink and applied without coating, making recycling easy.
Isntree Hyper Vitamin C 23 Serum comes in an opaque glass bottle, protecting the ascorbic acid inside from exposure to light.
It is heavy for its small size. This gives the bottle a sturdy, qualitative feel, and I like its looks. It has a simple yet pretty design.
The serum has a transparent glass pipette type of applicator.
PAO: 2 months after opening
Scent
I find there is hardly any scent and have to focus and sniff hard to make out any traces of a scent. It doesn't have the "hot dog water" smell that plagues Vitamin C serums, including the expensive SkinCeuticals one.
Gardenia Florida Fruit Extract probably masks the typical Vitamin C smell. Although it is high in flavonoids and ferulic acid, Gardenia Florida can sensitize the skin.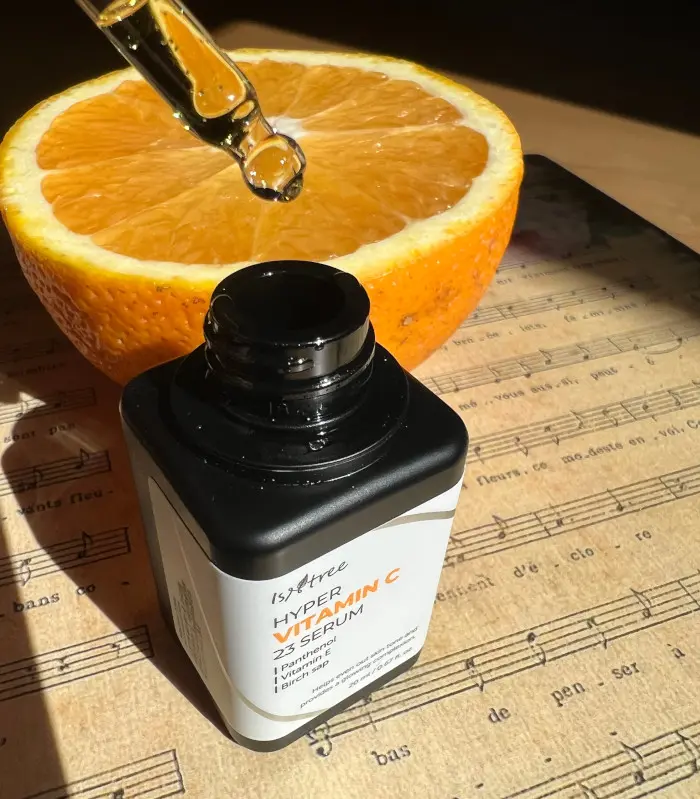 Texture
The serum is clear with a lightweight consistency and a pale yellow tinge. It is a very liquid serum, almost as light as plain water, but a bit slippery. It glides on smoothly but, unfortunately, leaves a sticky finish.
My Personal Experience with the Isntree Hyper Vitamin C 23 Serum
I have a normal to dry skin type, and I live in a typically continental with cold winters and hot summers. I have resilient skin and have never reacted to any skincare products I've used. Still, I am a Tretinoin user, and first and foremost, I focus on barrier strengthening.
My concerns are hyperpigmentation, blackheads on the nose and chin, the occasional hormonal pimples, and aging skin.
I've been using it for over a month, and I am beginning to notice its effects on my skin. I've been using it every morning, and I have almost finished my (tiny) bottle.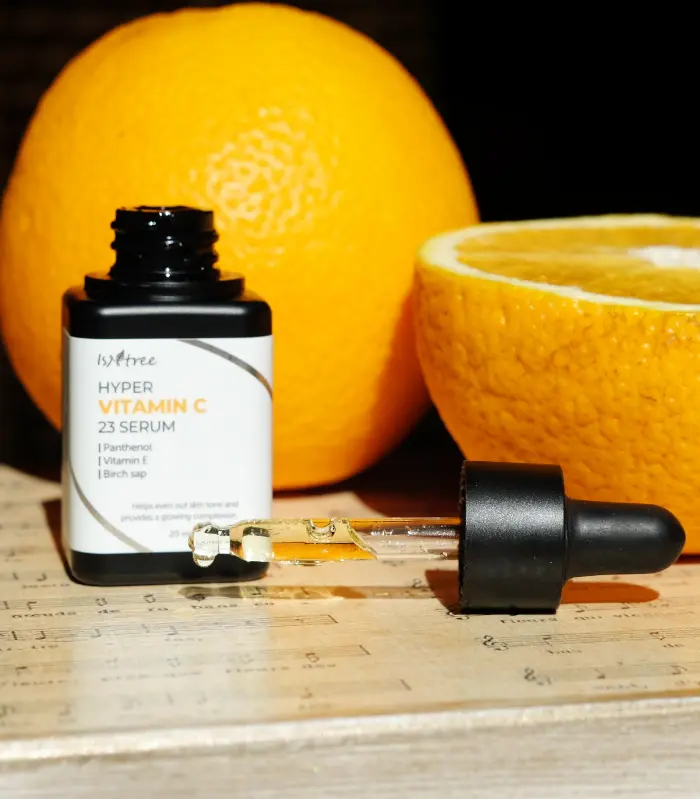 How to Use the Isntree Hyper Vitamin C 23 Serum?
I use it in the AM.
Cleanse
I like to apply the Isntree Vitamin C Serum on my skin directly instead of putting it on my palm and then patting it on.
I give my skin a 10-minute break before layering on any other skincare product over it.
Follow with the rest of my toners.
Sunscreen! Always!
When starting out using a vitamin C serum, it is a good idea to gradually increase usage from a lower percentage (10%) and application times (1-2 days) to higher percentages (15-20%) and more frequent application (2x daily).
With Vitamin C, more than with other skincare items, the time and frequency of its application depend upon personal skin needs and tolerance.
If used during the day, then wearing sun protection is a must. Generally, if you use actives in your skincare routine, protecting your skin from the sun is crucial.
As I've mentioned, my skin is resilient, and I had no trouble jumping to the highest percentage of pure Ascorbic Acid (on the market, I guess). I use it every morning, and I have not felt a tingling sensation on my face.
My cleavage has reacted poorly, though. I am used to putting everything I put on my face on my neck and cleavage, but I have noticed that my cleavage is far more sensitive than my face and neck area.
Since developing a minor rash around the base of my neck, I am putting the serum only on my face and neck. I also avoid the eye area but spread it all over my lips.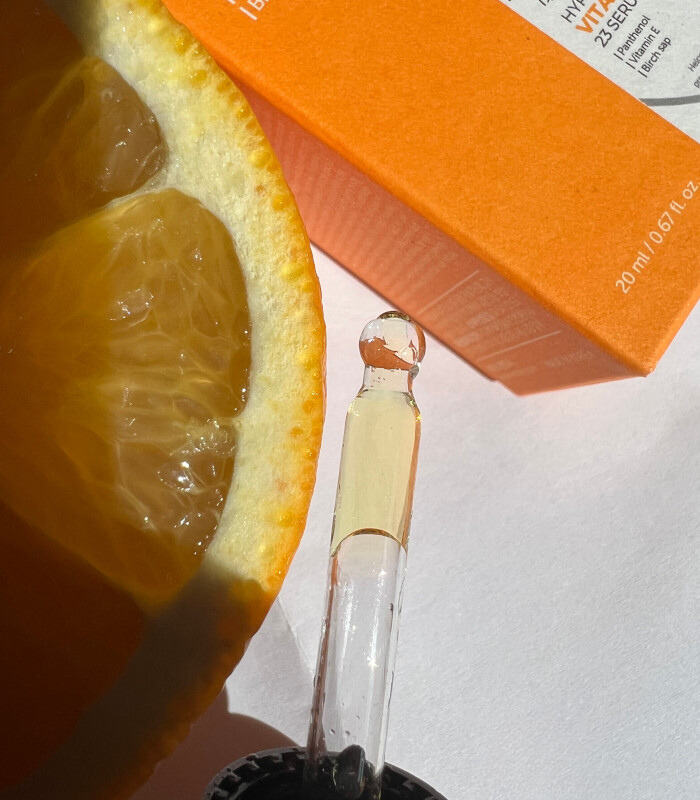 You'll need to note that since Ascorbic Acid is notoriously easy to oxidize, it's best to keep this product in the fridge to extend its lifespan. Applying oxidized Vitamin C is not only of no benefit to your skin, but it might further introduce free radicals to disrupt your skin.
This vitamin C serum has a pale yellow tinge, and that's how you know it's fresh. Oxidized Vitamin C has an unmistakable dark amber color, so stop using your Vitamin C if it has changed color.
I find that Isntree Hyper Vitamin C 23 Serum soaks into my skin extremely quickly, which I very much appreciate, especially when dealing with a problematic ingredient like LAA. It's effortless to slot it into my routine. The serum layers well with other skincare steps and wears well under makeup.
It feels sticky upon application, and it remains sticky for a while, even after layering other products over it. I wouldn't say I like the feeling, even for 15 minutes, which is the resting time required between vitamin C and other products.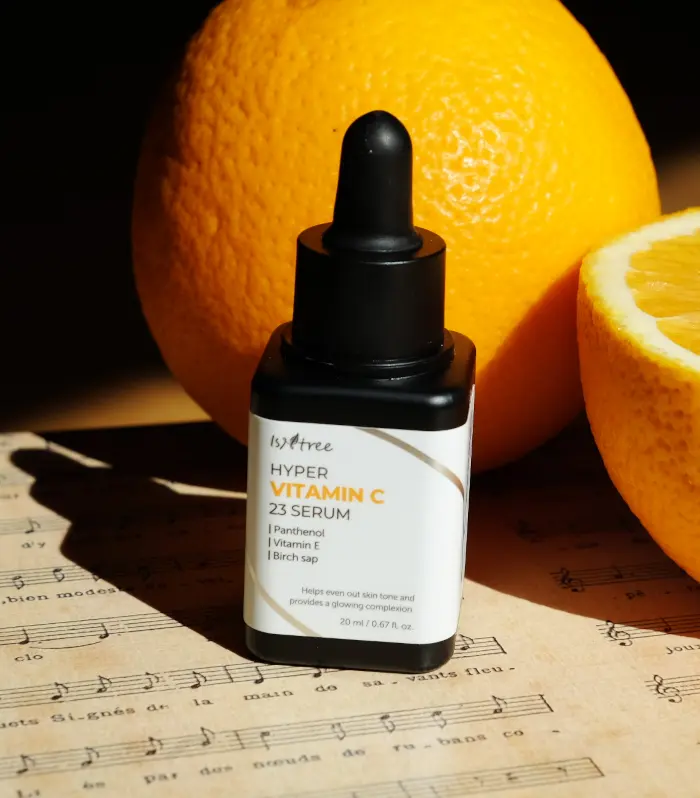 It feels hydrating on its own; I don't feel an immediate need to follow with moisturizer. As expected, I did not experience any tingling sensation when I applied it to my skin.
My skin is generally softer and smoother when I use this, but otherwise, I didn't notice any lightening of skin tone or spots.
Pros
highly concentrated L-Ascorbic Acid;
Hydrating;
Minimal ingredients list;
Dark bottle;
No scent;
Cons
It doesn't contain ferulic acid;
Contains fragrance;
Sticky.
Overall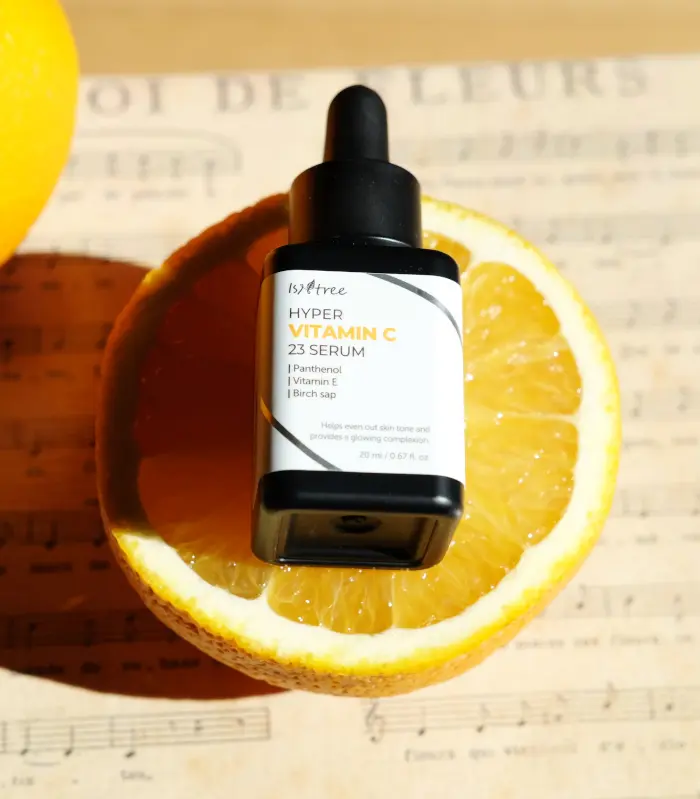 The Isntree Hyper Vitamin C 23 Serum is a great serum, especially for the price. Given how good Vitamin C is for your skin, probably everyone could stand to incorporate a Vitamin C serum into their routine.
Overall, if you're struggling with dull, dehydrated and pigmented skin, it's time to incorporate a good Vitamin C serum in your skincare regime and experience the results. Of course it is definitely gonna take about a month or two to show up.
Look at what your skin can take or what your skin likes, higher concentrations do not guarantee quick or outstanding results. If your skin like what you are feeding it then lower percentages will also give you the desired results.
Will I Repurchase the Isntree Hyper Vitamin C 23 Serum?
I think I will.
Rating 4/5
Shop for the Isntree Hyper Vitamin C 23 Serum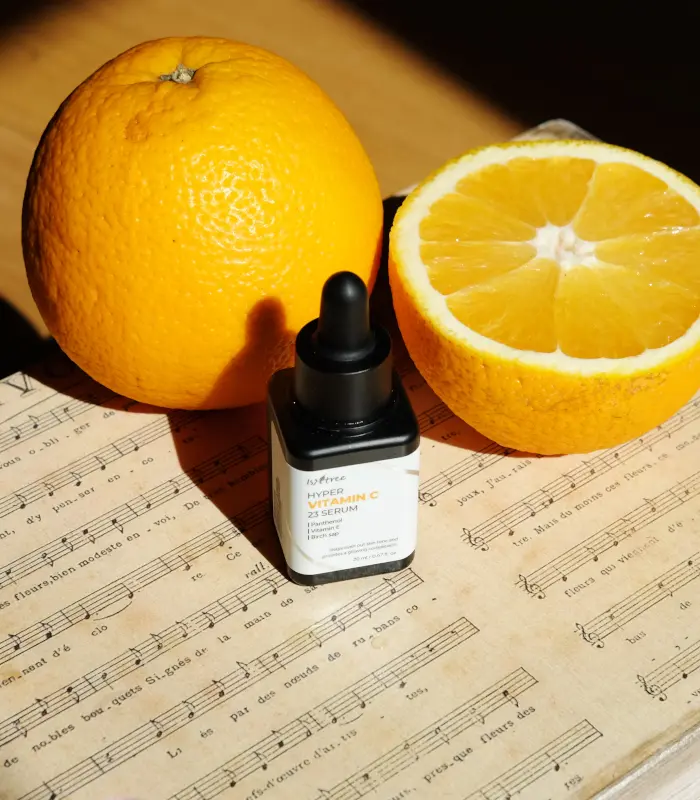 Lastly, I was not paid for this review or received it as a gift.
Depending on the skin condition, the Isntree Hyper Vitamin C 23 Serum may cause a possible reaction on the skin. It is recommended to perform a patch test first and adjust the application amount gradually.
The 23% pure vitamin C may cause minor side effects such as peeling, redness, and irritation. These side effects are temporary, but reduce the frequency or discontinue use if irritation persists and develops.
Due to the high concentration of vitamin C, the manufacturer recommends using this product once every 3-4 days.
As always, you do you; be kind to your skin and yourself! Remember that every person's skin and skin type is different, so what might work for me might not work for you, and vice versa. So, before adding a new product to your skincare routine, it pays to do a little research first.
Before adding the Isntree Hyper Vitamin C 23 Serum to your skincare regimen, ensure you are not allergic to it or its ingredients. You should also consult your doctor if you are pregnant, breastfeeding, or have any medical conditions or medications that may interact with the Isntree Hyper Vitamin C 23 Serum. Always do a patch test before applying the Isntree Hyper Vitamin C 23 Serum on your skin to avoid adverse reactions.
I am not a dermatologist or licensed aesthetician, but I have sufficient experience and knowledge I gained by testing multiple products and self-exploration. Unsure? Best to consult your dermatologist.
Happy shopping, and don't forget the sunscreen! Here's to great skin in 2023!