The Belif Hungarian Water Essence was inspired by the legendary "Hungarian Water" that allowed Hungarian Queen Elizabeth to maintain her beauty far into old age. Based on a moisturizing formula created by applying Hungarian Water to natural herbs, including rosemary and lavender, this water-type essence allegedly transforms aged, dull skin into healthy-looking skin glowing with youth. Let's see how it went on my normal-dry skin.
Belif Hungarian Water Essence, at a Glance:
Where to Buy the Belif Hungarian Water Essence?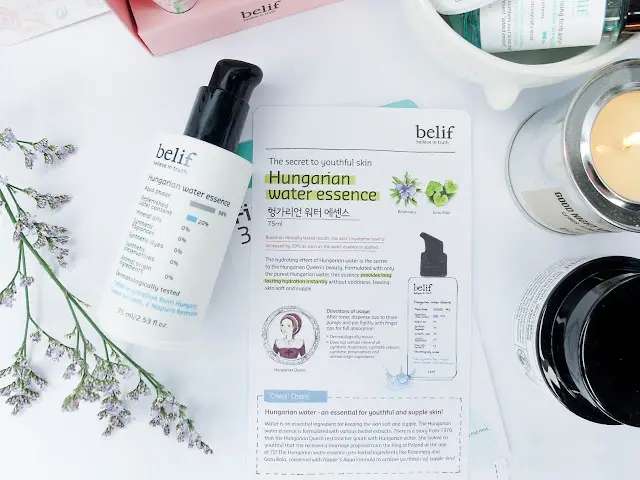 The Belif Brand
Belif is a brand that uses herbs to create and deliver products of value that are high quality based on a world-renowned herbalist, Duncan Napier's processes and philosophy that dates back 150 years. With that, Belif creates products that target today's skin concerns. One of my favorite things about this brand is that they stay away from over-packaging and let the quality and effectiveness of their products speak for themselves.
Belif products are formulated with herbs and are entirely free of Mineral Oil, Synthetic Fragrances, Synthetic Dyes, Synthetic Preservatives, and Animal Origin ingredients.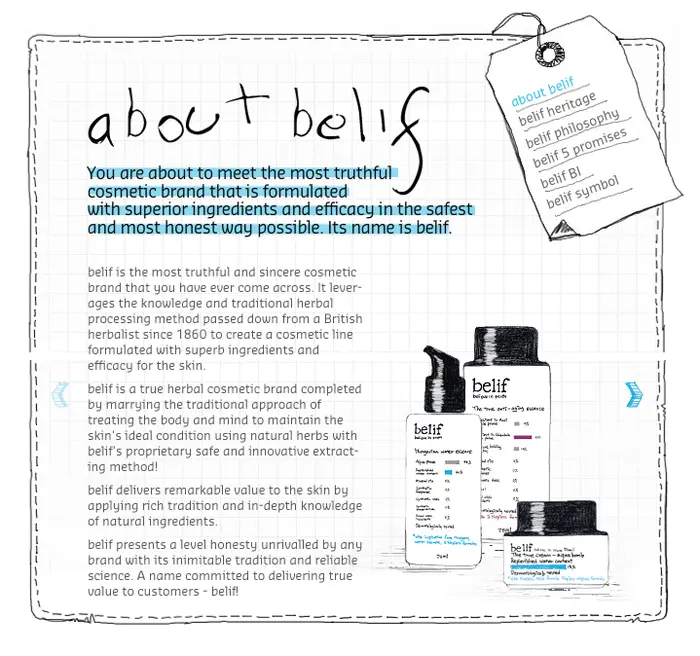 Belif Hungarian Water Essence Claims
Belif Hungarian Water Essence is a an instant, lightweight hydration recharger serum that is powerfully effective for deep, lasting hydration.

Hungarian Water Essence is formulated to recharge skin's lost hydration back in an instant (20%). This formula contains a blend of apothecary herbs, including rosemary and lavender—powerful hydrating and antioxidant agents. This ultra-light watery texture instantly glides onto skin to provide a burst of powerful moisture that penetrates skin for a long-lasting hydration, leaving the skin healthy-looking, soft, and supple.

belifusa.com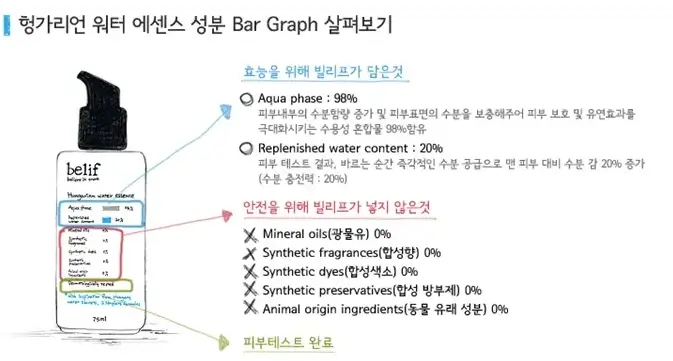 Around 1370, loyal subjects of the Hungarian Queen Elizabeth developed the magic water by distilling a natural herbal combination to enable the once-beautiful queen to restore her stunning beauty. The queen restored the beauty she had as a young princess after applying the water over her body and, at the age of 72, received a proposal of marriage from the King of Poland. Since then, the magical water earned the name The Hungarian Water and was widely coveted as a key ingredient for various hydrating products and fragrances.
Inspired by the Hungarian Water that delivered a magical effect, British herbalist, Duncan Napier, developed his own hydrating formula by adding rosemary, lavender, and other natural herbs to the Hungarian Water. With its superb hydrating and absorbing effect, a women's desert-like parched aged skin blossomed again with a moist and youthful look.
The magical water of youth, Hungarian Water, was used by Napiers in its hydrating formula for 150 years, and now, Belif has carried on the tradition in its hydrating formula. The Belif Hungarian Water Essence will keep modern women's skin moist all day long with its fresh hydrating powers for younger-looking skin!
Experience the perpetual and beautiful romance! The secret water will provide a lasting hydrating effect to help you embrace a new skin transformation.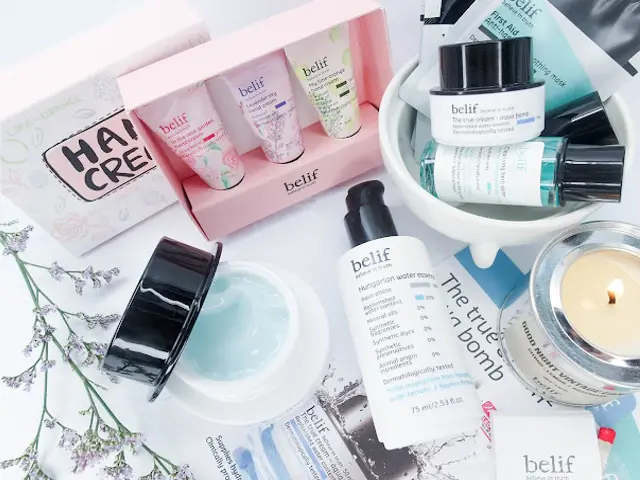 Who is this Water Essence For?
The brand claims it is for those with combination or oily. But I feel I must add that, due to the many plant-based ingredients, fragrances could be avoided in the formula, so those with sensitive skin definitely be careful.
Not sure what your skin type is? Please read our guide on Skin types & skin conditions.
Belif Hungarian Water Essence Ingredients
Water, Dipropylene Glycol, Glycerin, 1,2-Hexanediol, Rosmarinus Officinalis (Rosemary) Extract, Centella Asiatica Extract, Lavandula Angustifolia (Lavender) Extract, Salvia Officinalis(Sage) Leaf Extract, Melissa Officinalis Leaf Extract, Achillea Millefolium Extract, Peucedanum Graveolens (Dill) Extract, Alchemilla Vulgaris Extract, Rose Extract, Poncirus Trifoliata Fruit Extract, Portulaca Oleracea Extract, Avena Sativa (Oat) Kernel Extract, Calendula Officinalis Flower Extract, Nepeta Cataria Extract, Rubus Idaeus (Raspberry) Leaf Extract, Baptisia Tinctoria Root Extract, Stellaria Media (Chickweed) Extract, Alchemilla Vulgaris Leaf Extract, Equisetum Arvense Leaf Extract, Urtica Dioica (Nettle) Leaf Extract, Plantago Lanceolata Leaf Extract, Sodium Hyaluronate, Cyclopentasiloxane, Triethylhexanoin, Tromethamine, Sclerotium Gum, Ammonium Acryloyldimethyltaurate/​Vp Copolymer, Acrylates/​C10-30 Alkyl Acrylate Crosspolymer, Trisodium EDTA, Fragrance, Citronellol, Limonene.
Ingredients referred from the Belif Official Website.
Napier's Original Formula Napiers Aqua Formula Fragrances of Natural Origin. Herb Extracts 5% Humectant/Moisturizing
As you can see, the formula has lots of herbs. Some are lavender, rosemary, Centella Asiatica, sage, oats, lemon balm, and dill. You will find a total of 21 herbal extracts in the Belif Hungarian Water Essence. According to the description, these are said to be the secret of Hungarian Water, according to Queen Elizabeth. Due to the many plant-based ingredients, fragrances cannot be avoided. The sensitive skin among you should be careful.
Key Ingredients
Rosemary
This herb boosts microvascular circulation, keeping skin tone clear and healthy. Removing active oxygen prevents the oxidation of skin tissue.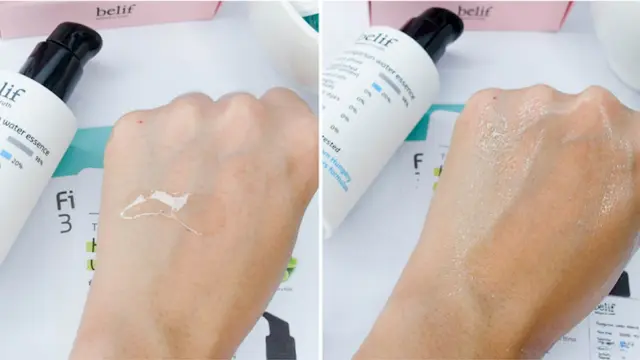 Centella Asiatica
Also called Gotu Kola or Tiger Grass, Centella Asiatica is one of the most popular ingredients in Korean skincare products due to its powerful antioxidant, antimicrobial and anti-inflammatory properties. It's high on the list of ingredients of the Belif Hungarian Water Essence, and it's a fantastic ingredient for soothing red and inflamed skin.
Centella contains many active compounds. However, researchers believe that saponins Asiaticoside, Madecassoside, Asiatic acid, and Madecassic acid are responsible for this plant's broad therapeutic actions.
Centella Asiatica has strong antioxidant properties due to the above compounds, and it's also a rich source of amino acids, flavonoids, phytosterols, and fatty acids. It
Belif Hungarian Water Essence does not contain:
Sulfates, phthalates, alcohol, niacinamide, or animal-origin ingredients.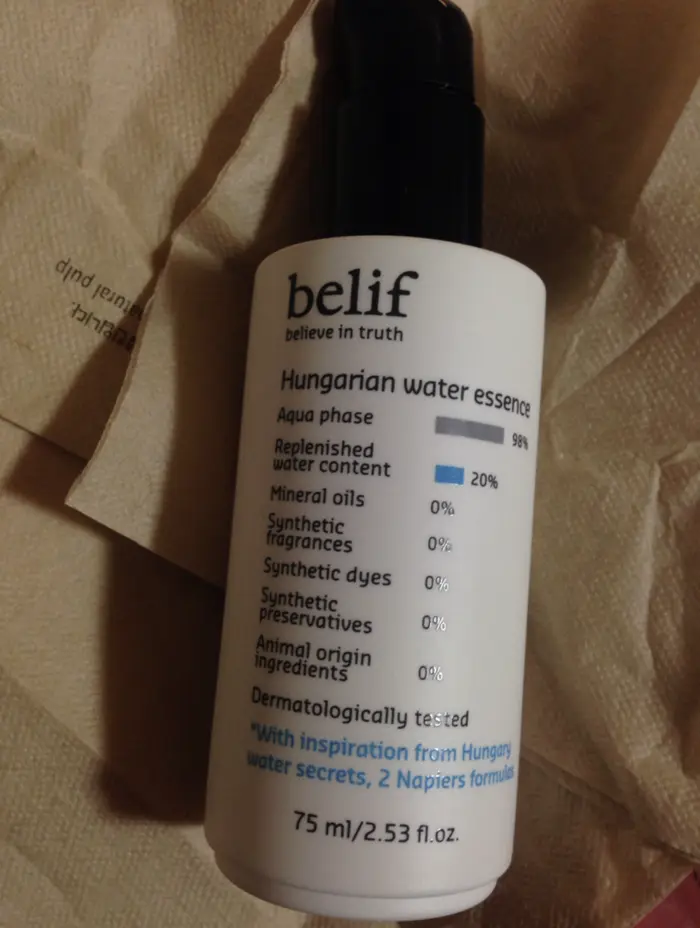 Packaging
Pump bottle.
Scent
The essence has a clean scent, almost undetectable.

Texture
This water-based essence is a little thicker than water, like most Asian toners. It is very spreadable and sinks into the skin quickly.
My Experience with the Belif Hungarian Water Essence
As it is named, the Belif Hungarian Water Essence is applied cool like a spritz of water. It clings to the skin lightly and gets absorbed instantly. My skin drinks this up immediately like it's been in the desert for months. My skin instantly feels refreshed and hydrated. It soothes the skin immediately and hydrates it without stickiness, prolonging suppleness and softness.
But this is all it does. Lightweight hydration. It doesn't improve your skin texture or tone, nor can it provide decent anti-oxidizing benefits. It is a watery essence that feels like water, light, and refreshing. Other than that, I don't find it unique or effective in any other ways.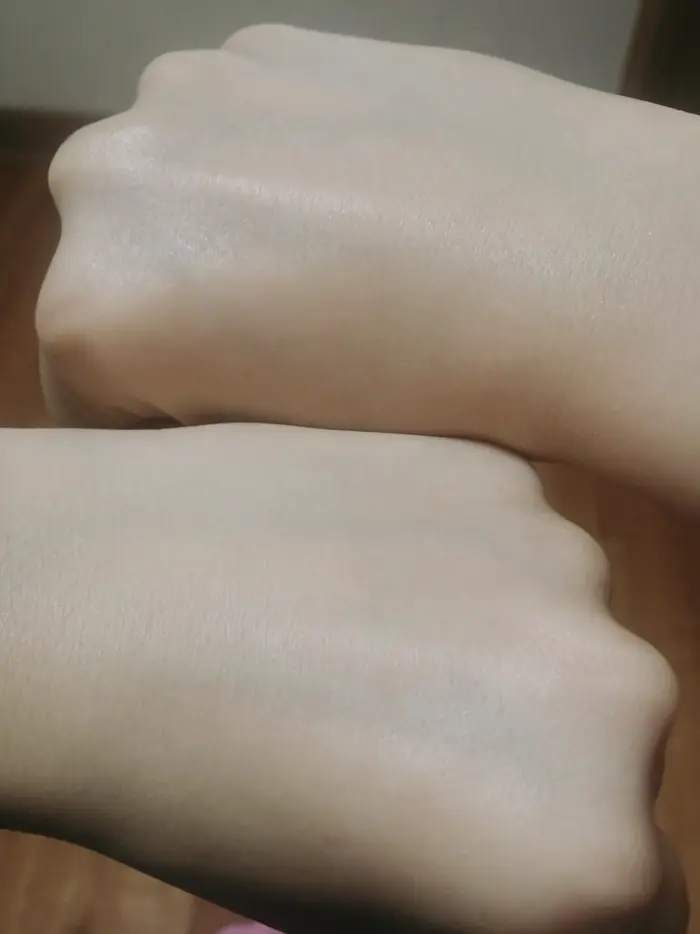 When Do You Apply It?
Essences are essential in a routine. As a step between toner and serum, they prepare the skin for the subsequent treatment and provide additional moisture.
I like using this mostly in the morning because it hydrates my skin and gives my skin that "plump" feeling. It makes my skin the perfect canvas for makeup because it takes away any dry skin that may have been there.
I like to use the Belif Hungarian Water Essence, especially in the summer. Its ultra-light formulation makes it very comfortable on the skin, even at 90 degrees. In winter, however, I need additional moisturizers with more occlusive active ingredients. Otherwise, my skin loses the moisture supplied far too quickly.
How to apply Belif Hungarian Water Essence?
For reference, I have a normal-dry skin – I was not paid for this review or received it as a gift.
Cleanse
Tone
Belif Hungarian Water Essence
Serum
Moisturizer
Sunscreen / Sleeping pack
Pros
hydrates
good for oily skin
refreshing
fast absorbing
Cons
expensive
not a multitasker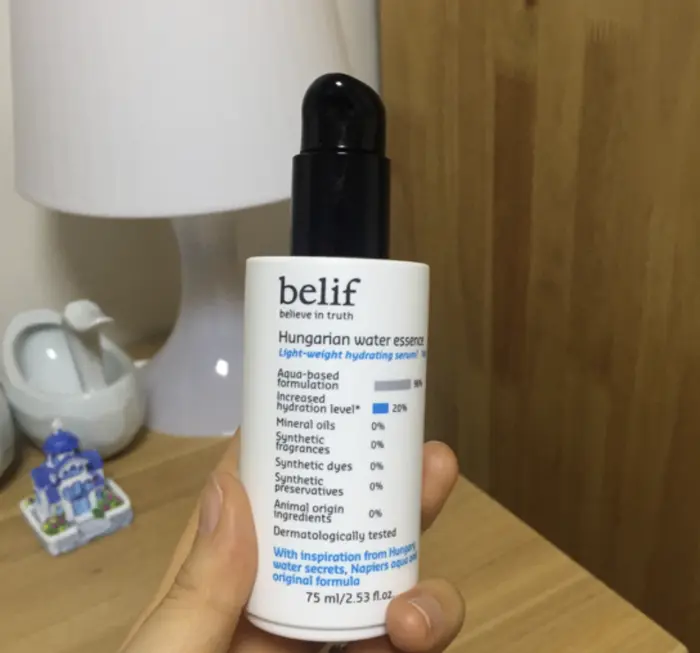 Conclusion
Belif Hungarian Water Essence hydrates the skin well, soothes it, and gives the most natural and lightweight finish.
Still, it is seriously too mild and light to benefit my skin significantly on its own. It is good but could be more memorable.
This is an excellent introductory product for those who have just started their skincare routine or for those who hate to feel like there are layers of stuff on the face.
Will I repurchase Belif Hungarian Water Essence?
No, I am looking for a more affordable essence.
Rating 3.5/5
Shop for Belif Hungarian Water Essence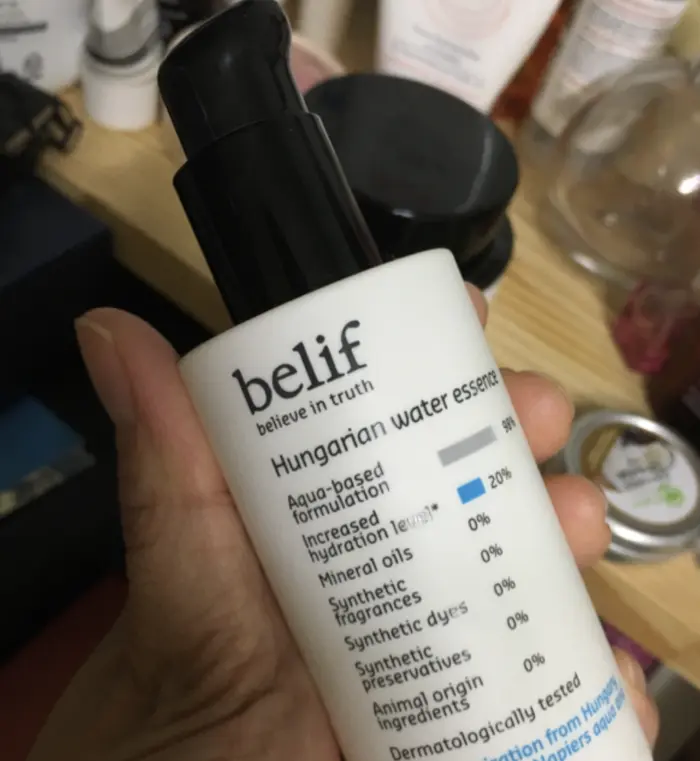 As always, you do you, be kind to your skin and yourself! Remember that every person's skin and skin type is different, so what might work for me might not work for you, and vice versa. So before adding a new product to your skincare routine, it pays to do a little research first.
Pay special attention to ingredients that you might react to. Doing a patch test is always a good idea. Unsure? Best to consult your dermatologist.
Happy skin experimenting, and don't forget the sunscreen!
Show Me Proof
Ratz-Łyko, A., J. Arct, and K. Pytkowska. "Moisturizing and antiinflammatory properties of cosmetic formulations containing Centella asiatica extract." Indian journal of pharmaceutical sciences 78, no. 1 (2016): 27.
Haftek, Marek, Sophie Mac‐Mary, Marie‐Aude Le Bitoux, Pierre Creidi, Sophie Seité, André Rougier, and Philippe Humbert. "Clinical, biometric and structural evaluation of the long‐term effects of a topical treatment with ascorbic acid and madecassoside in photoaged human skin." Experimental dermatology 17, no. 11 (2008): 946-952.
Gohil, Kashmira J., Jagruti A. Patel, and Anuradha K. Gajjar. "Pharmacological review on Centella asiatica: a potential herbal cure-all." Indian journal of pharmaceutical sciences 72, no. 5 (2010): 546.