Centella Asiatica, also known as cica in the skincare world, is an ingredient that works wonders for soothing red and inflamed skin.
Centella Asiatica skincare products are one of the fastest-growing Korean skincare categories. Centella has been in the ingredient spotlight for a solid minute now, and I'm not complaining. Its prominence in skincare began in South Korea, where its product inclusion was inspired by the need to combat the ill effects of high air pollution levels.
It can, therefore, be quite overwhelming to know which product to choose. Almost every brand has its line of Cica products. You can find Centella products anywhere, from toners and serums to cica creams and sheet masks.
The Cica Guide: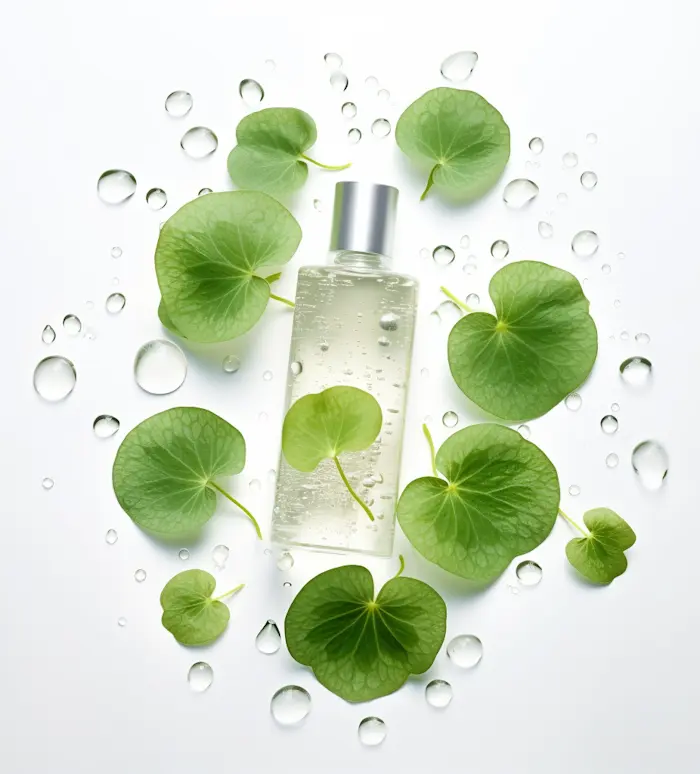 What Is Centella Asiatica?
Centella Asiatica is a cute little plant with pretty little fan-shaped leaves. Centella Asiatica is the scientific name of the medicinal plant commonly known as gotu kola, tiger grass, or Indian pennywort. It's a perennial herb with small fan-shaped leaves that grows in tropical and subtropical regions, including Asia, India, equatorial Africa, and Central America.
This tiny, perennial herb has an impressive history of use as a remedy for mild to severe skin conditions, including asthma, ulcers, leprosy, and vein diseases. It has been used in traditional Chinese and Indian medicine for thousands of years, especially for dermatological conditions such as minor wounds, scratches, and burns. It is also an anti-inflammatory ingredient to treat conditions such as eczema and psoriasis. It has even been used as an antibacterial and antiviral drug to relieve anxiety, as an antidepressant, and improve cognition.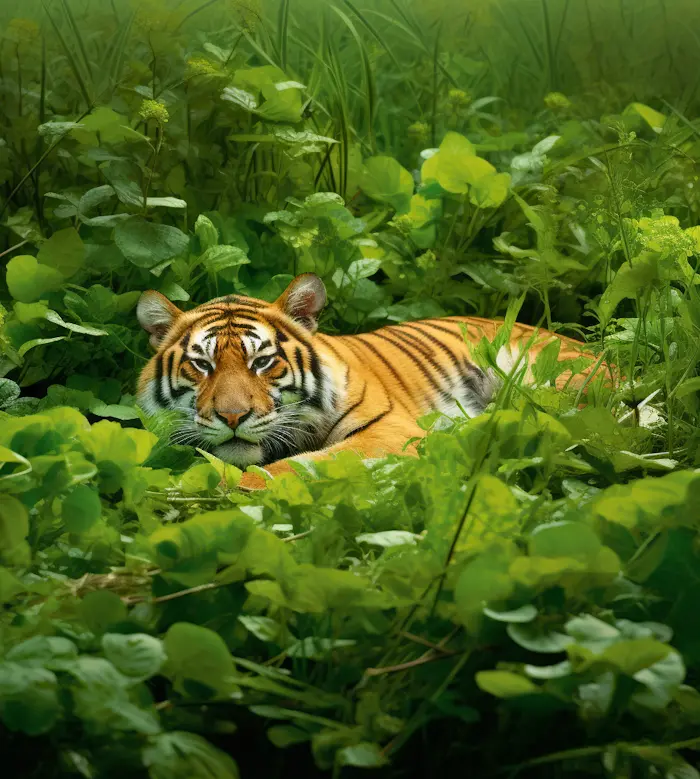 The Tiger Grass Legend
Did you know that tiger grass has a fascinating origin story behind its name? It is said that wounded tigers would roll on the plant's stems to heal their injuries. This legend reveals tiger grass's incredible healing powers and explains why it is also called the "herb of long life."
Active Constituents of Centella Asiatica
So we now know that Centella is a plant with substantial medicinal value, but what gives this little herb its pro-healing, antibacterial, and anti-inflammatory properties?
The skin benefits of Centella stem predominantly from its main active constituents, also known as saponins. Centella's four main skin-loving saponins are Asiaticoside, Asiatic Acid, Madecassoside, and Madasiatic Acid. These saponins have similar characteristics, contributing to Centella's exceptional soothing, healing, and antioxidant properties.
Benefits of Centella Asiatica For Skin
Centella Asiatica is a plant powerhouse when it comes to skincare – it does have many, many benefits for the skin.
Many scientific studies have shown it has potent antioxidant, antimicrobial, and anti-inflammatory properties.
Centella Asiatica Strengthens the Skin's Barrier
This study found that a formulation of 5% Centella Asiatica extract for four weeks improved the hydration of the skin's barrier by 25%. This is mainly due to the molecular structure of the saponins in Centella Asiatica – which can bind water within an occlusive layer – reducing the amount of trans-epidermal water loss.
Centella's effect on the skin's hydration is comparable to Aloe vera's.
If you're looking for an excellent moisturizer to improve your skin's epidermal barrier function, looking for one with Centella Asiatica extract might be worthwhile!
Centella Asiatica Reduces the Skin's Sensitivity to Irritants
The same study as above also evaluated the anti-inflammatory properties of Centella Asiatica. It was found that Centella has a protective effect on the skin, reducing its sensitivity to irritants.
Although I'd love to go into the biochemical details of how Centella has these effects, I will spare you! I'll instead say that it is mainly due to the anti-inflammatory and antioxidant effects of the compounds found in Centella – which reduce skin redness (erythema), decrease trans-epidermal water loss, and allow the skin to return to optimal pH after exposure to irritants.
In other words – if you have sensitive skin that gets irritated easily, a Centella product could help to calm and soothe your skin while reducing redness!
Anti-aging Benefits of Centella Asiatica
If the above benefits weren't enough, Centella Asiatica has also been shown to increase collagen production and improve skin firmness and elasticity, making it a powerful anti-aging ingredient.
This study found that the compound Madecassoside in Centella Asiatica reverses skin photo-aging by significantly improving deep and superficial wrinkles, suppleness, firmness, roughness, and skin hydration.
The active compounds found in Centella Asiatica can improve deep and superficial wrinkles and skin firmness by increasing collagen production.
Centella Asiatica Speeds up the Healing of Acne
Centella is also a great ingredient to include in your skincare routine if you have acne-prone skin. This is because the active constituents of Centella Asiatica speed up wound healing and decrease inflammation by stimulating collagen production.
Many Korean skincare products targeted for acne-prone skin contain Centella Asiatica or one of its derivatives. This is because Centella helps to heal pimples faster while preventing acne scarring.
The Best Korean Centella Asiatica Products
Centella Asiatica can be found in many Korean skincare products as it is one of the most popular ingredients. This is due to its many benefits for the skin and scientific studies confirming them. It can therefore take some work to know which product you should buy. Which ones are the best?
I've researched for you and have listed what I found to be the best Centella Asiatica products currently available in the Korean skincare market.
Hopefully, this saves you hours of frustration when deciding which Centella product to choose!
Etude Soon Jung Cica Relief Toner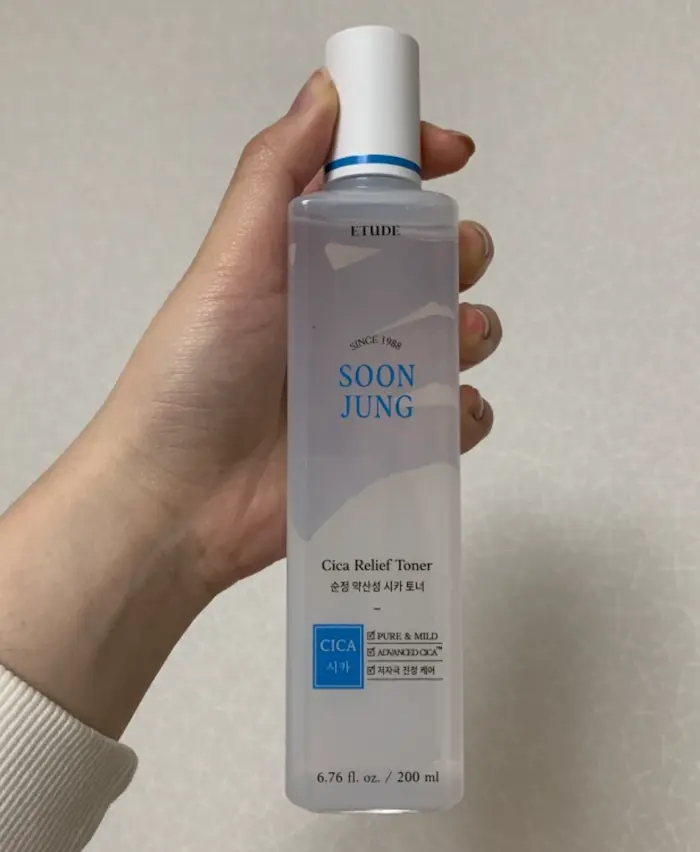 I love the Etude Soon Jung line, and I've been using this toner since I started looking after my skin without even knowing it contains Centella!
At first, I was unsure about using an Etude skincare product in my skincare routine because I felt that Etude is heavily marketed towards younger women and teenagers (especially their makeup). But I am glad I considered the Soon Jung line because this toner has been great for my acne-prone skin.
Soon Jung Cica Relief Toner toner contains Madecassoside, one of the main active compounds found in the plant extract of Centella Asiatica. It also has panthenol, a compound closely related to vitamin B5, which delivers deep hydration to the skin throughout the day.
It is one of the superior products suitable for all skin types! To top it all off, it's also affordable. I love this toner's minimal ingredient list and its unscented content. When I'm breaking out quite badly, this is only one of the few products I continue to use while my skin is recovering.
I love the look of the packaging, not that this should determine which product you choose. I love keeping it in the fridge for an extra-cooling and soothing effect.
Jumiso Super Soothing Cica and Aloe Essence Toner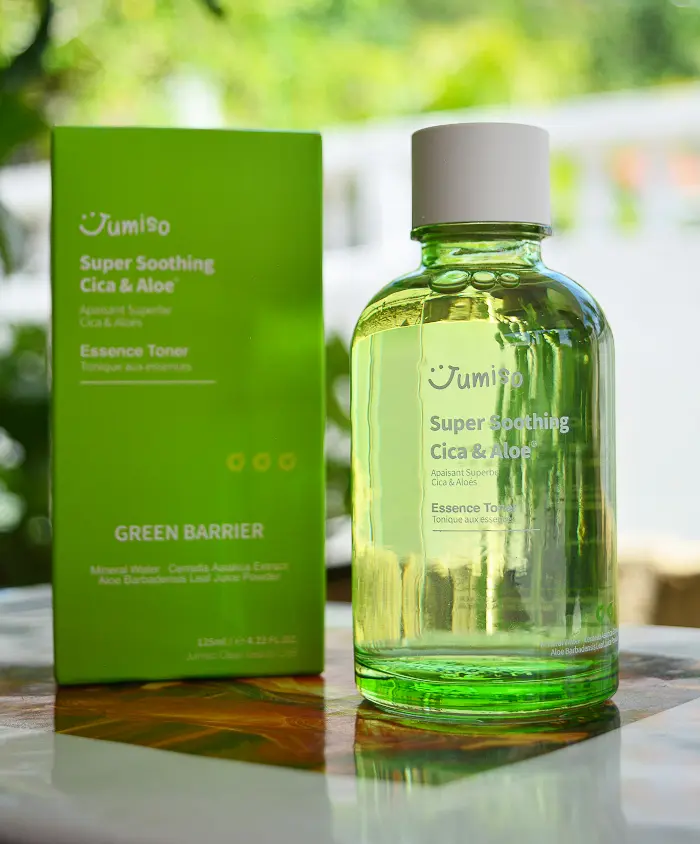 Jumiso Super Soothing Cica and Aloe Essence Toner has a watery viscous consistency that feels very lightweight but has enough slip before it gets fully absorbed. I love how refreshing it feels and how it hydrates my skin instantly. It layers beautifully, and it doesn't feel sticky or heavy at all. It has a cooling effect if you're looking to mask.
Besides Centella Asiatica, this soothing toner contains Asiaticoside, Madecassoside, Aloe Vera, and over a dozen humectants. Also, read Adela's Jumiso Super Soothing Cica and Aloe Essence Toner full review.
SKIN1004 Madagascar Centella Asiatica 100 Ampoule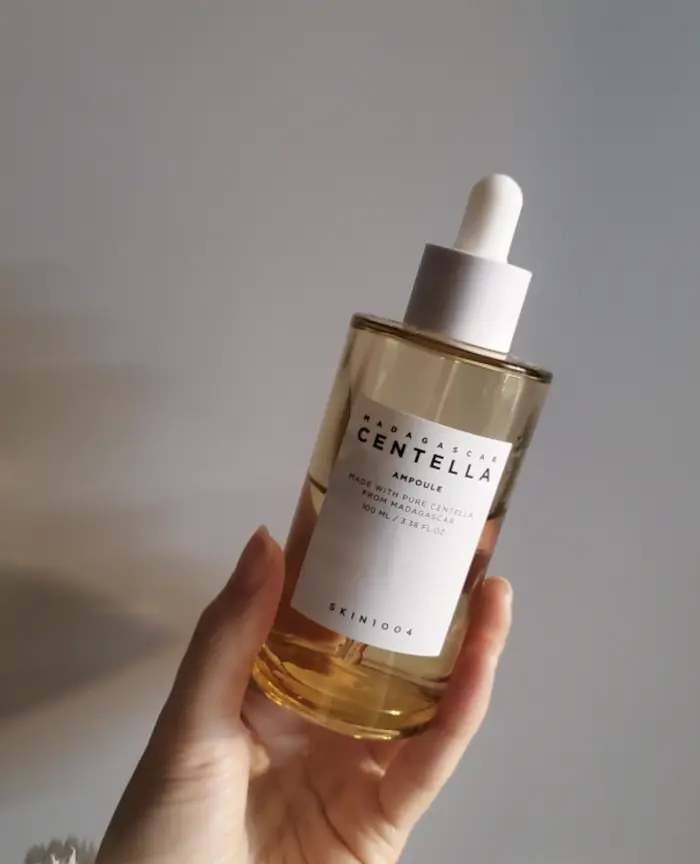 This Centella product comes as an ampoule. Sometimes, we must look past all the other big-name brands and see what lesser-known ones offer!
So, how did this shy little ampoule come out on top? It's down to its ingredient list, which contains 100% Centella Asiatica extract!!
Skin1004's Centella ampoule contains only Centella Asiatica extract with three active compounds: Asiaticoside, Asiatic acid, and Madecassic acid, making it an excellent choice for sensitive or acne-prone skin.
The Centella Asiatica plant is harvested in Madagascar (hence the product's name). It is then processed in Korea, where a low temperature is extracted. The extract is then put through a tiny microfilter and bottled. The resulting chemical composition of the Madagascar Centella Asiatica Ampoule is as follows:
40% Madecassic Acid – soothing, reduces hyperpigmentation, acne, and acne scarring;
30% Asiatic Acid – skin barrier strengthening, calming for sensitive spots, antioxidant, and improves skin elasticity;
30% Asiaticoside – oil-water balancing, stimulates collagen production, anti-aging.
The great thing about this being such a lightweight serum is that it is fantastic for layering, and it can be added to your moisturizer or other creams and applied that way. Also, for the 100ml you get, it's one of the most affordable products I have tried.
It is suitable for all skin types and would be great for very sensitive skin since it contains no other ingredients.
A'PIEU – Madecassoside Cream 2X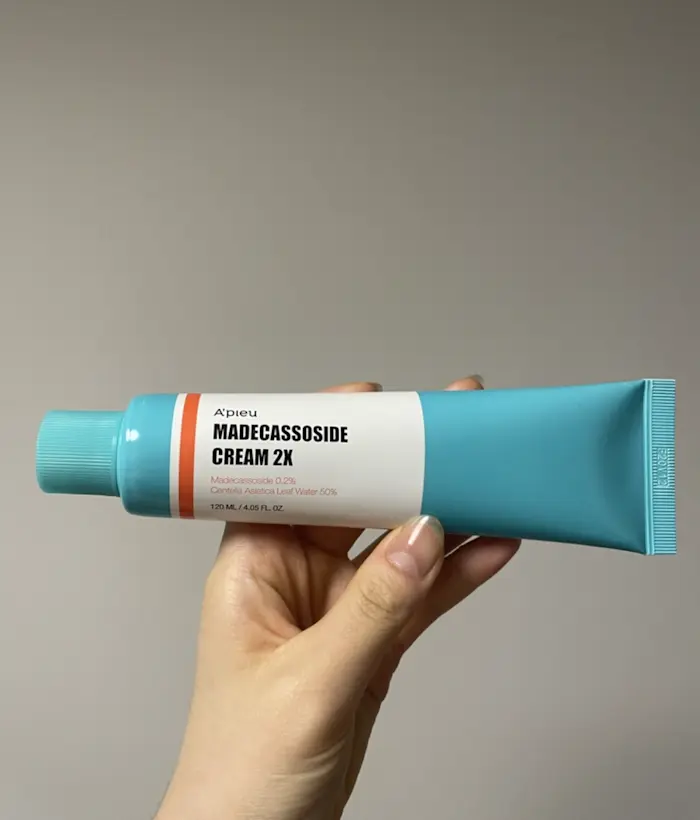 I came across this product a lot when researching for this post. It is a popular choice for people looking for a Centella product and has excellent reviews. The brand A'Pieu has a whole line of Madecassoside products. However, I chose this cream because it seems the most popular.
A'PIEU Madecassoside Cream 2X is a moisturizing cream, not a spot-treatment cream. It contains 40% Centella Asiatica leaf water and 0.1% Madecassoside. It also contains panthenol, witch hazel extract for extra hydration, and niacinamide for skin-brightening.

Therefore, the A'pieu Madecassoside Cream is excellent for all skin types unless you are sensitive to essential oils. It is also a perfect choice for a lightweight moisturizer for oily skin. Dry skin types might need to add a sleeping mask on top of this one.
Also, this cream is a good choice if you're looking at fading hyperpigmentation, as it contains niacinamide.
Final Thoughts
Centella is fast becoming one of the most popular ingredients in Korean skincare products, especially those aimed at sensitive and acne-prone skin, due to its ability to soothe and calm red and inflamed skin.
But, with so many Centella skincare products, it can take time and effort to decide which product to purchase. My hours (I mean days) of researching Centella and comparing popular Korean Centella products can help you find the right product.
I chose Soon Jung toner for Centella in my skincare routine! However, I wanted to add more Centella into my routine. In that case, I would try the SKIN1004 Madagascar Centella Asiatica 100 Ampoule due to its unique formulation of 100% Centella Asiatica extract.
Show Me Proof
Ratz-Łyko, A., J. Arct, and K. Pytkowska. "Moisturizing and antiinflammatory properties of cosmetic formulations containing Centella asiatica extract." Indian journal of pharmaceutical sciences 78, no. 1 (2016): 27.
Haftek, Marek, Sophie Mac‐Mary, Marie‐Aude Le Bitoux, Pierre Creidi, Sophie Seité, André Rougier, and Philippe Humbert. "Clinical, biometric and structural evaluation of the long‐term effects of a topical treatment with ascorbic acid and madecassoside in photoaged human skin." Experimental dermatology 17, no. 11 (2008): 946-952.
Gohil, Kashmira J., Jagruti A. Patel, and Anuradha K. Gajjar. "Pharmacological review on Centella asiatica: a potential herbal cure-all." Indian journal of pharmaceutical sciences 72, no. 5 (2010): 546.