Chemical exfoliation significantly impacts your skin's appearance. It can help fade hyperpigmentation, clear acne, and prevent fine lines and wrinkles. However, knowing where precisely chemical exfoliation should occur in your skincare routine can be confusing.
A question I see often is whether you should exfoliate your skin before or after using a toner.
TLDR: You should use a chemical exfoliant directly after cleansing and before using your toner.
Do You Use Toner Before or After Exfoliating? A Guide:
What Do Chemical Exfoliants Do? The Benefits You Should Know About
As we go about our lives, something gross is occurring on the surface of our faces.
Skin cells don't live forever, and as they die, they build up on the surface of our skin. Dirt, oil, and old makeup also get left behind with these dead skin cells, and if we don't exfoliate, this build-up clogs pores and makes our skin look dull and older.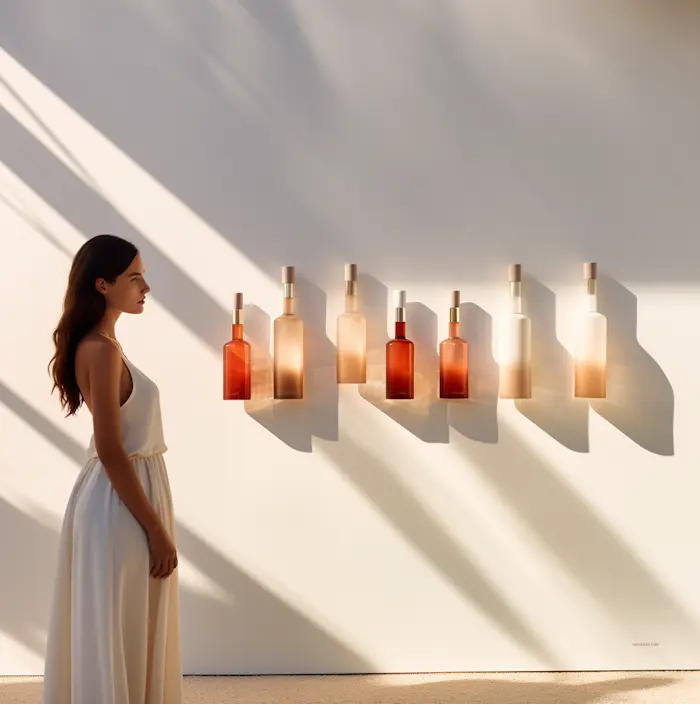 A chemical exfoliant helps shed away these dead skin cells and keeps pores from clogging. This has many benefits for your skin, including:
Brightening your skin;
Lightening hyperpigmentation and evening out general skin tone;
Smoothing out rough textured skin;
Lightening acne blemishes and preventing future breakouts;
Increasing production of collagen and elastin;
Minimizing pore size;
Helping other skincare products and ingredients to absorb better and penetrate deeper into the skin;
Decreasing the appearance of fine lines and wrinkles.
How Do Chemical Exfoliants Work?
Unlike physical exfoliation, which can often be abrasive and quite harsh for the skin, chemical exfoliation involves using one or more chemical compounds to gently break up the bonds between dead skin cells – allowing the skin to naturally shed its dead cells – revealing new and healthier cells in their place.
Several types of chemicals can be used as exfoliants on the skin, and these are broken up into two main categories:
AHAs – alpha-hydroxy acids
BHA – beta-hydroxy acid
PHAs – poly hydroxy acids
AHAs
Alpha-hydroxy acids are water-soluble, and their molecular size is smaller than that of beta-hydroxy acid, so they can effectively get between layers of dead skin cells. However, they cannot penetrate pores. AHAs used in skin care products include:
Glycolic acid – the most common and derived from sugar cane and sometimes other plants with high sugar content;
Lactic acid – commonly derived from milk, but alternative vegan sources include fermented corn starch, beets, and other sugar-rich foods;
Citric acid – derived from citrus fruits;
Mandelic acid – derived from bitter almonds and the most suitable AHA for sensitive skin due to its larger molecular size;
Malic acid – derived from apples and pears;
Tartaric acid – derived from grapes.
BHA
There is only one proper form of beta-hydroxy acid, salicylic acid.
Salicylic acid is a naturally occurring hormone plants produce as an environmental or pathogenic stress defense mechanism. It can be isolated in small amounts from the bark of willow trees. However, it is produced commercially using dry sodium phenoxide and carbon dioxide.
Unlike AHAs, BHA is oil-soluble and can penetrate deep inside pores to clear dirt.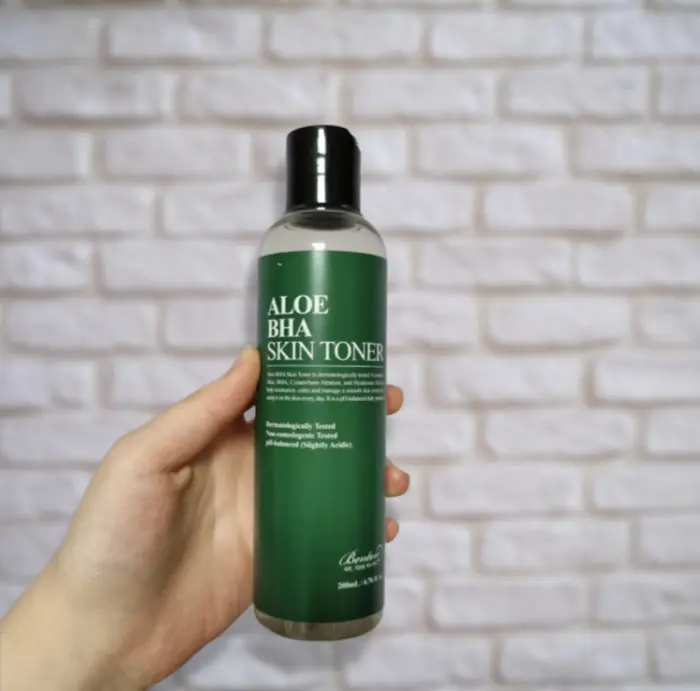 Benton Aloe BHA Skin Toner is a fabulous product. It's worth all the hype and a must-try for oily and combination skin. If your skin is congested and needs a gentle product, try this BHA toner. It is one of those products you always want to have around. Please read Diana's Benton Aloe BHA Skin Toner Review.
Aloe Barbadensis Leaf Water, Water, Butylene Glycol, Glycerin, Dipropylene Glycol, Pentylene Glycol, 1,2-Hexanediol, Aloe Barbadensis Leaf Juice, Sodium Hyaluronate, Portulaca Oleracea Extract, Psidium Guajava Fruit Extract, Aspalathus Linearis Extract, Cynanchum Atratum Extract, Salicylic Acid, Perilla Ocymoides Leaf Extract, Schisandra Chinensis Fruit Extract, Acorus Calamus Root Extract, Aloe Barbadensis Leaf Extract, Althaea Rosea Root Extract, Polyglutamic Acid, Beta-Glucan, Arginine, Allantoin, Citrus Paradisi (Grapefruit) Fruit Extract, Caprylyl Glycol, C12-14 Pareth-12, Acrylates/C10-30 Alkyl Acrylate Crosspolymer, Xanthan Gum.
Ingredients referred from the Benton official website
Herb Humectant/Moisturizer Active Potential Irritant
PHAs
Poly-hydroxy acids (PHAs) have larger molecular structures than AHAs and BHAs, penetrating the skin slowly and less deeply. This makes PHA a better option for people with sensitive skin. In addition to gentle exfoliation, PHAs can help retain moisture and enhance the appearance of sun-damaged skin.
PHAs used in skin care products include:
gluconolactone
lacto-bionic acid
malto-bionic acid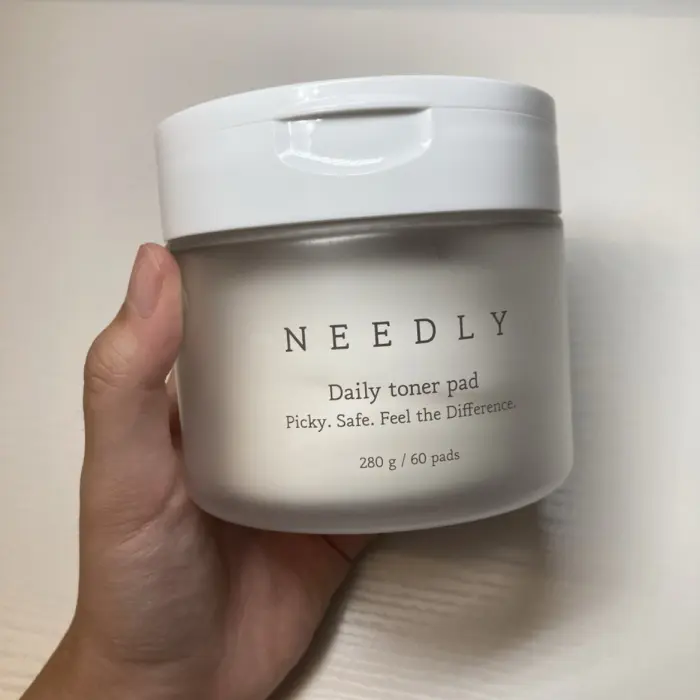 Needly Daily Toner Pad is an excellent all-in-one toner that cleans, tones, and tightens pores. I love them because they are soothing, gently exfoliating, hydrating, and moisturizing with yummy blend of gentle exfoliants, humectants and antioxidant herbs. Please read Mia's Needly Daily Toner Pad Review.
Water, Glycerin, Dipropylene Glycol, Glyceryl Glucoside, 1,2-Hexanediol, Allantoin, Ethylhexylglycerin, C12-14 Pareth-12, Betaine, Caprylyl Glycol, Artemisia Princeps Leaf Water, Butylene Glycol, Centella Asiatica Extract, Melaleuca Alternifolia (Tea Tree) Leaf Extract, Carbomer, Sodium Citrate, Disodium EDTA, Gluconolactone, Salicylic Acid, Tromethamine, Glucose, Aniba Rosaeodora (Rosewood) Wood Oil, Sodium Hyaluronate.
Ingredients referred from Needly's official website.
Humectant/Moisturizer Active Fragrance
Chemical vs. Physical Exfoliation
Physical exfoliation involves physically or "mechanically" sloughing away dead skin cells from the surface of your skin. It can be achieved using tools such as motorized dermabrasion sponges or skincare products containing rough material, such as face scrubs containing ground-up nut shells.
Chemical exfoliants are generally considered better for your skin as they don't require any rubbing. Often, physical exfoliation can lead to skin irritation due to excessive abrasion, mainly when products containing ground-up nut shells or fruit pits are used.
Also, chemical exfoliants offer a more even exfoliation and can penetrate the skin for deeper exfoliation. Products containing chemical exfoliants are usually leave-on and formulated with hydrating or soothing ingredients.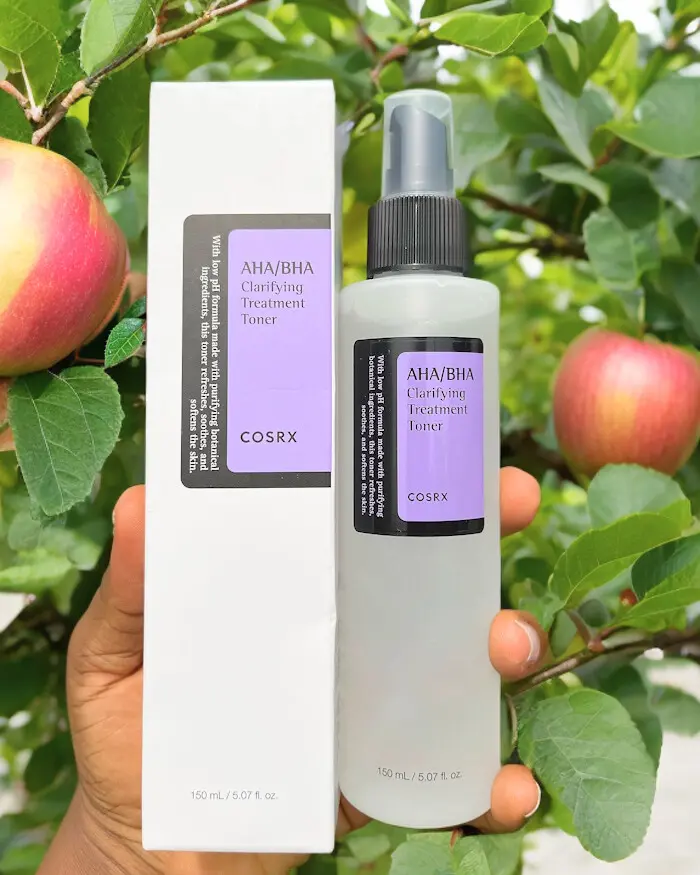 CosRx AHA/BHA Clarifying Treatment Toner, a cult favorite, is among the best Korean gentle chemical exfoliating products. It contains natural glycolic acid, and betaine salicylate, a gentler form of salicylic acid. It also contains gentle natural exfoliants such as Willow Bark Water, and Apple Fruit Water. Please read Alyssa's CosRx AHA/BHA Clarifying Treatment Toner Review.
Mineral Water, Salix Alba (Willow) Bark Water, Pyrus Malus (Apple) Fruit Water, Butylene Glycol, 1,2-Hexanediol, Sodium Lactate, Glycolic Acid, Betaine Salicylate, Allantoin, Panthenol, Ethyl Hexanediol.
Ingredients referred from COSRX's website.
Herbs Humectant/Moisturizing Active
What is a Toner? Is it Really Necessary?
Toners are often viewed as a type of skincare product you don't really need in your routine. This may be because they look like water, and their effect isn't visibly noticeable immediately.
However, toners are a staple in skincare routines in Korea and Japan, and they have several benefits for the skin, including:
Balancing the skin's pH after cleansing and exfoliating, which helps to maintain a healthy moisture barrier;
Priming the skin to more effectively absorb subsequent skincare products such as serums and moisturizer;
Hydrating and soothing the skin to help relieve dry, sensitive, or acne-prone skin.
Korean and Japanese toners are very different from Western toners.
Instead of being used to remove excess oil and debris from your skin using astringent and very drying ingredients, Korean and Japanese toners are rich in hydrating, soothing, brightening, and anti-aging ingredients, including glycerin, Hyaluronic acid, Niacinamide, Ceramides, Panthenol, Ginseng, Green Tea, Licorice, Rice, Centella Asiatica, Mugwort, Aloe vera, Beta-glucan, Heartleaf, Allantoin, and Adenosine.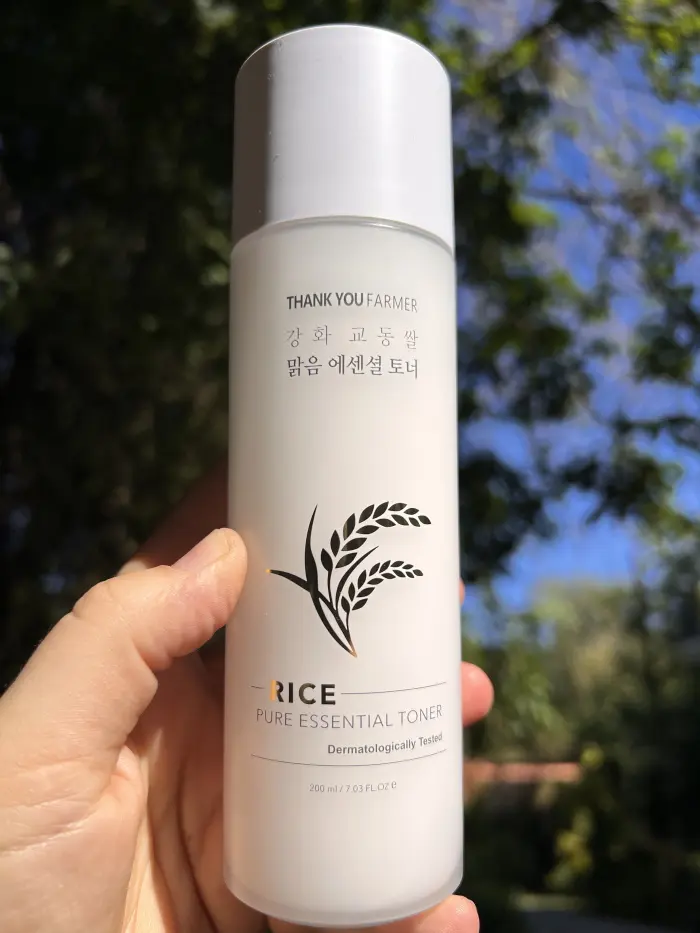 The Thank You Farmer Rice Pure Essential Toner is a fragrance-free brightening and hydrating toner formulated with rice extract – great for dry or dull, irritated, and aging skin. Read Mia's Thank You Farmer Rice Pure Essential Toner review.
Why You Should Exfoliate Before Using A Toner
As I mentioned, chemical exfoliants contain alpha-hydroxy and beta-hydroxy acids, breaking up the bonds between dead skin cells and removing sebum and other gunk from within pores.
An easy way to remember that you should exfoliate before using your toner is to think of exfoliating as an extension of cleansing because you're, in effect, dissolving dead skin cells, sebum, dirt, and other residues from your skin.
You wouldn't want to cleanse your skin, apply a toner that hydrates and returns your skin's pH to an optimal range, and then cleanse again when you apply your exfoliating product.
Chemical Exfoliants Are Only Effective Within Certain pH Ranges
Another essential thing about exfoliating acids is that they are all pH-dependent, which means they require a specific pH range to be effective on your skin.
A pH between 3 and 4 is optimal for both AHAs and BHA to be effective on the skin.
AHAs and BHA would be most effective if formulated in a solution with a pH below 2. This is because of the chemical nature of exfoliating acids – the lower the pH of a solution containing AHAs or BHA, the higher the concentration of "free" acid available to work its magic on your skin. However, solutions with such a low pH can cause severe burns.
On the other hand, the higher the pH of an exfoliating product and the higher concentration of exfoliating acids is needed for it to be effective on your skin.
The pH of your exfoliating products matters because the pH of most toners is above 5.5. You, therefore, want to apply your toner after applying your chemical exfoliant, as toners will increase your skin's pH to a range that will leave AHAs and BHA ineffective.
How Long Should You Wait After Applying Chemical Exfoliant?
Unfortunately, no scientific data suggests whether wait times are needed after applying chemical exfoliants. This is because most scientific trials that study the use of exfoliating acids focus on concentrations and other parameters that aren't practical for the types of skincare products we use at home.
Therefore, dermatologists disagree on whether a wait time is required between applying chemical exfoliants and subsequent skincare steps.
However, many people like to wait 20-30 minutes after applying their exfoliating product before moving on with the remainder of their skincare routine to ensure that:
The chemical exfoliants have enough time to absorb into the skin, and
The pH of the skin is at an optimal range for exfoliating acids to work
On the other hand, some people like to proceed with the following products in their skincare routine to prevent their skin from getting too dry.
It's a personal preference, and I recommend seeing what works best for your skin.
How Often Should You Exfoliate Your Skin?
The average person loses up to 500 million skin cells daily, so dermatologists recommend exfoliating your skin 2-3 times weekly to achieve smooth and glowing skin.
However, if you have sensitive skin or are just starting to use exfoliating products, you shouldn't exfoliate more than 1-2 times per week.
Not only does your skin type affect how often you exfoliate, but so does what types of exfoliating acids you use and their concentration. Glycolic acid is the most sensitizing AHA, while mandelic acid is gentle and fabulous for people with sensitive skin.
As a general rule of thumb, people with oily skin tend to be able to exfoliate their skin more often than those with dry or sensitive skin. But people with oily skin can over-exfoliate and cause damage to their skin barrier, too – so you should regularly assess how your skin looks and feels no matter what your skin type.
Related article: AHA vs. BHA for Acne – Which Is Better?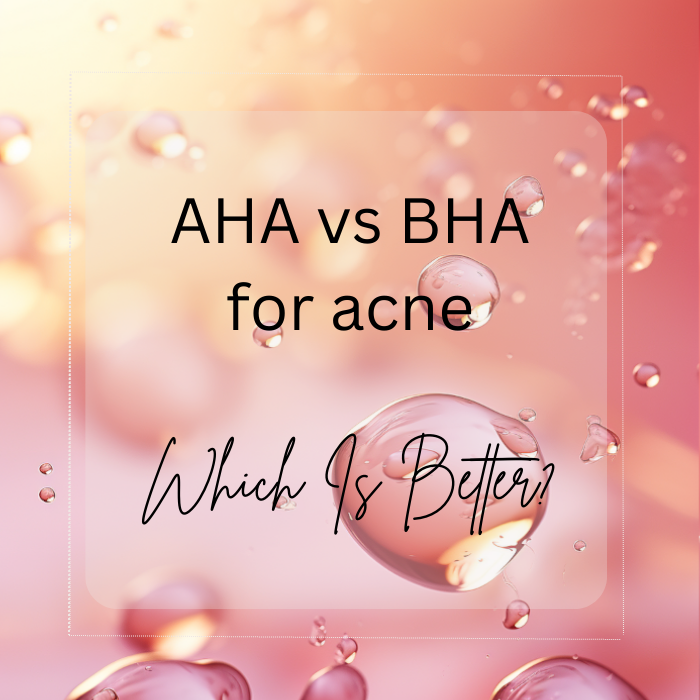 How Do You Know If You're Over-Exfoliating?
Your skin has a natural barrier that keeps water in and irritants out. This barrier is located on the outermost layer of the skin and is protected by a thin layer of lipids called the acid mantle.
Exfoliating too often can damage the skin's moisture barrier. When this happens, your skin will have difficulty maintaining the moisture levels it needs, leading to various skin issues.
It is easy to tell if you are over-exfoliating. Some classic signs include:
Redness or inflammation
Irritation, burning, or peeling skin
Breakouts
Increased sensitivity to other skincare products or ingredients
Although a bit harder to spot, another tell-tale sign you are over-exfoliating is if your skin feels tight, appears shiny, and has a wax-like texture. This appears most noticeable on the forehead.
People often mistake this shine for a healthy glow, but what's happened is that too many skin cells have been exfoliated. Essential natural oils have been wiped away, exposing premature skin cells underneath. Instead of being plump and moisturized, the skin will be dry, thin, and waxy.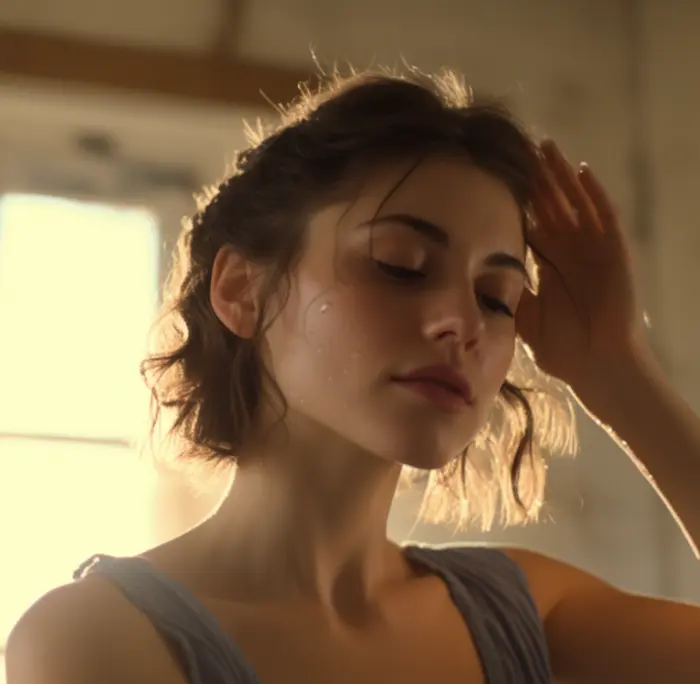 Should You Wash off the Chemical Exfoliant?
There is no need to wash off your AHA or BHA exfoliating product before you proceed with the rest of your skincare routine. These products are known as "leave on."
There is no risk of over-exfoliation, as most exfoliation occurs in the first few minutes after applying your AHA or BHA product.
BHA also has anti-inflammatory and anti-bacterial properties, while AHA is a humectant, hydrating the skin by attracting water molecules. These additional benefits would be lost if you washed your chemical exfoliant off after use.
However, if your chemical exfoliant leaves your skin feeling sticky or oily, rinse it off with warm water or gently wipe it off using toner on a cotton pad.
How Often Can You Use Toner on Your Face?
You can use your toner in your morning and evening skincare routines daily if it is a hydrating toner, not a chemical one.
It is even beneficial to apply hydrating toners in layers for extra hydration. This is known as the seven-skin method in Korean skincare, as toners are commonly called "skins" in Korea.
Do You Need to Wash Off Toner?
Toners are leave on products and therefore don't need to be washed off. After applying your toner, you let it dry and then move on to the rest of your skincare routine, such as serums or moisturizer.
Washing your toner off means washing off the humectants with which your toner is formulated. These humectants are essential because they attract water molecules to your skin to help keep it hydrated throughout the day or night.
Most toners also contain other beneficial ingredients that may have soothing, brightening, or anti-aging properties – and washing your toner off means you would be washing these ingredients off too.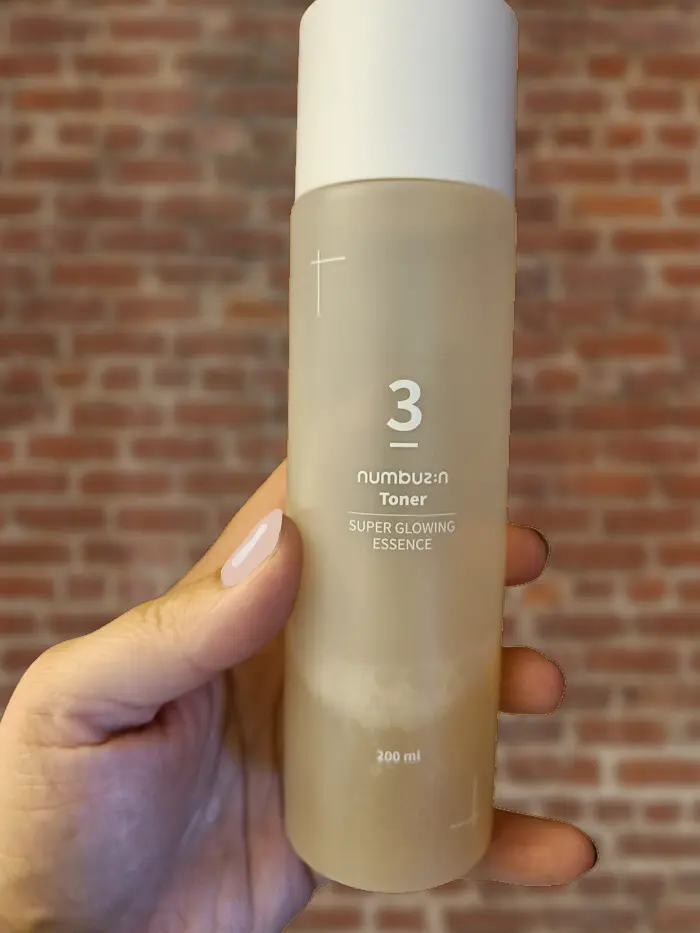 The Numbuzin No.3 Super Glowing Essence Toner is a fantastic essence toner with a unique formulation: of 50 fermented ingredients. It makes the skin glow. Using it consistently makes the skin softer, bouncier, and refreshed. You could say there is a "honey skin" effect. It also works nicely under makeup. You can do 3-4 layers without getting sticky, leaving the skin soft and dewy. I don't find it necessary to pair it up with the serum, but they work together harmoniously. Read Seo Yeon's Numbuzin No.3 Super Glowing Essence Toner review.
Conclusion
Chemical exfoliants have many benefits for your skin and are worth including in your skincare routine.
Various types of chemical exfoliants are used in skin care products, and these can be divided into alpha-hydroxy acids (AHAs) and beta-hydroxy acid (BHA). AHAs are water soluble and work on the skin's surface to exfoliate dead skin cells. At the same time, BHA (salicylic acid) is oil soluble and can penetrate deep inside pores to unclog gunk.
However, there are a few essential things to know before you start using skincare products that contain exfoliating acids – mainly the order in which you apply them in your skincare routine and how often you use them.
Due to the pH-dependency of AHAs and BHAs, you should apply them after cleansing and before using your toner. You should also only exfoliate your skin 2-3 times weekly to prevent irritation and sensitization.