Niacinamide is an excellent skincare ingredient with many benefits; it's almost certain that it will do something good for you, no matter your skin situation.
I was talking to someone recently, and the question came up: "If you could give your younger self one skincare product, what would it be?" My answer to this question was: a good niacinamide serum. Starting with this incredible ingredient earlier would've made my skin a world of good, especially given how oily and irritated my skin was in my teens. Thankfully, it's never too late to get into niacinamide!
Niacinamide is an ingredient widely used in Korean skincare serums to help brighten the skin. In fact, unlike in Western skincare, niacinamide is preferred over other ingredients (such as vitamin C, hydroquinone, and retinoids) when it comes to fading hyperpigmentation.
So much so you will find at least 2% niacinamide in most Korean skincare products. However, I'd like to share the best Korean skincare products with niacinamide if you want to brighten your skin and fade dark spots.
How to Fade Dark Spots with Niacinamide
What Is Niacinamide?
Niacinamide is a water-soluble form of vitamin B3 that our bodies do not produce. It's also known as nicotinamide, one of dermatology's most studied skincare ingredients.
Unlike L-ascorbic acid (vitamin C), it is a stable ingredient, relatively unaffected by light, heat, moisture, and oxygen.
Niacinamide reduces the degradation of the essential enzymes NADH and NADPH in our cells (including skin cells). These enzymes are essential for the cell processes that keep our skin elastic as we age and act as antioxidants when degraded in the cells – repairing damage caused by free radicals.
You'll find niacinamide in many skincare serums because there is a lot of evidence to suggest that the presence of the enzymes NADH and NADPH in our cells decreases as we age.
What Benefits Does Niacinamide Have For the Skin?
Although I'm focusing on niacinamide's ability to fade hyperpigmentation in this article, niacinamide is a hugely versatile skincare ingredient. It is well tolerated by almost any skin type and improves many skin concerns!
I have written a guide on niacinamide's numerous benefits for the skin.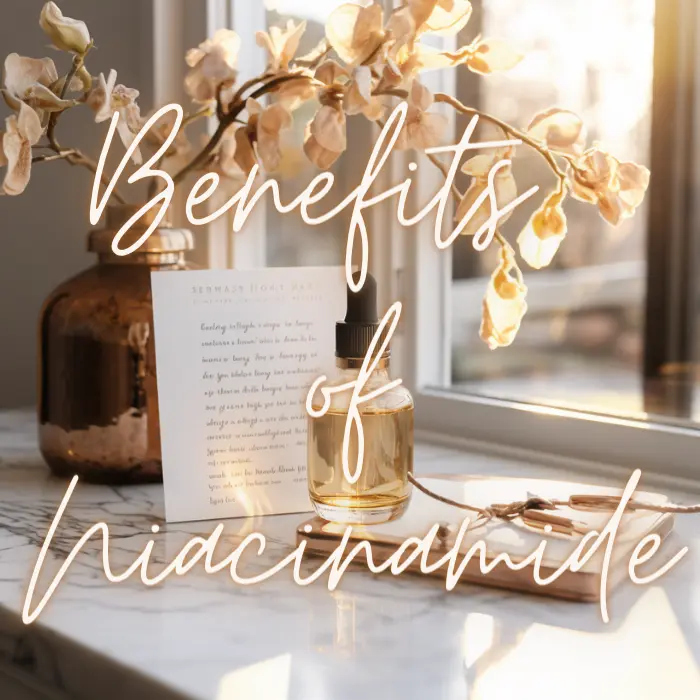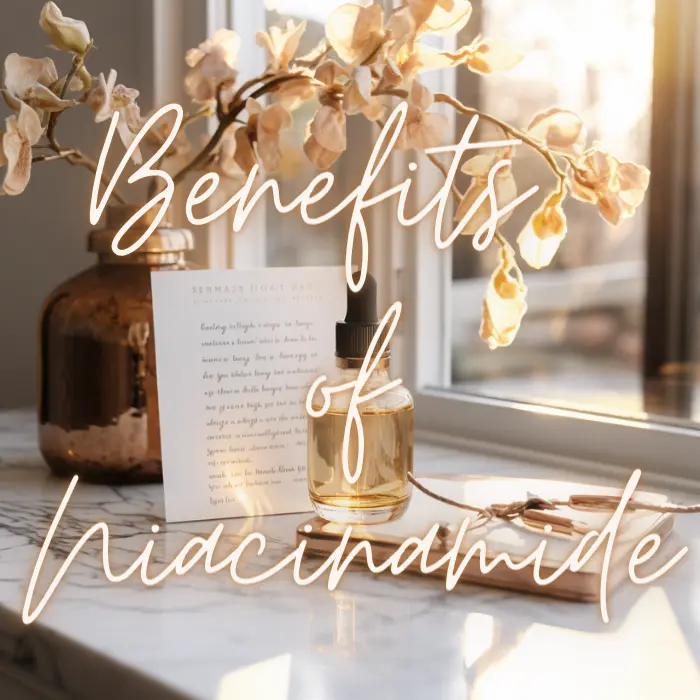 Some of the beautiful things that niacinamide can do for your skin. Niacinamide:
So, as you can see, it doesn't matter what your skincare concerns are. You are very likely to see improvements in the appearance and health of your skin by using niacinamide-containing skincare products.
How Does Niacinamide Work To Brighten The Skin?
If you haven't read Alyssa's guide on treating hyperpigmentation, I strongly recommend you check it out. It is massive. In that article, she goes over different types of hyperpigmentation. She gives excellent information about potent hyperpigmentation-treating-ingredients such as retinol (and other retinoids), vitamin C, hydroquinone, arbutin, azelaic acid, kojic acid, licorice root extract, natural oils, and chemical exfoliants.
As I've mentioned, Korean skincare focuses heavily on skin-brightening, which involves fading hyperpigmentation. Niacinamide has become a trendy ingredient in many Asian skincare products as numerous studies have shown it to be very effective at lightening dark spots.
But how does niacinamide fade hyperpigmentation?
Unlike some other popular skin-brightening ingredients, such as vitamin C and kojic acid, which inhibit the activity of tyrosinase (the enzyme that stimulates melanin production), niacinamide has been shown to suppress the melanosome transfer from melanocytes to keratinocytes. This means that instead of suppressing melanin production, niacinamide inhibits the transfer of melanin to the epidermis skin cells.
This study compared the effects of 4% niacinamide with 4% hydroquinone in the treatment of melasma (in 27 patients over eight weeks). Although the lightening effects of hydroquinone were seen four weeks sooner, at the end of the study, no statistical difference was found between the two treatments! It was also found that patients were less likely to experience side effects such as erythema and burning when using the niacinamide treatment (and when side effects were experienced, they were less severe).
A Korean study showed that applying a topical solution containing 2% niacinamide and sunscreen every morning reduces the appearance of irregular hyperpigmentation significantly more so than when only sunscreen is applied.
A similar study examined the effects of 4% niacinamide combined with 2% N-acetylglucosamine (an amino acid sugar naturally found in our skin with skin-brightening benefits). After two weeks, the authors found that the niacinamide and N-acetylglucosamine solution provided skin-brightening effects for both melasma and dark spots beyond that achieved by using sunscreen only.
Want to know more about treating hyperpigmentation?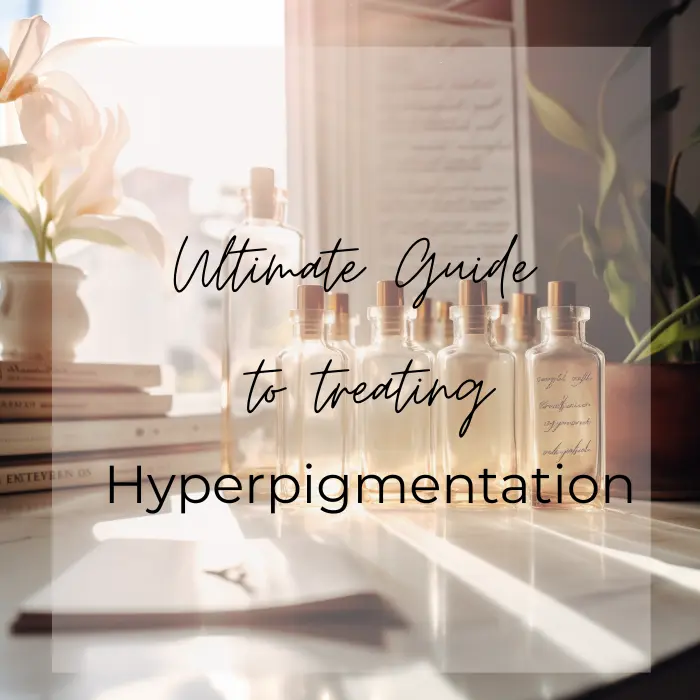 The 5 Best Korean Skincare Serums With Niacinamide For Skin Brightening in 2023
If you're looking for skincare serums containing niacinamide and love Korean skincare, you're lucky since so many Korean skincare products contain niacinamide.
I've prepared a list of what I believe are the five best Korean skincare serums containing niacinamide for skin brightening. The good news is that, unlike other actives (such as L-ascorbic acid, AHAs, and BHA), you can use multiple niacinamide-containing products in your skincare routine. This is because niacinamide is generally very well tolerated by all skin types – meaning it doesn't cause skin irritation or sensitization.
1. Beauty of Joseon Glow Deep Serum: Rice + Alpha-Arbutin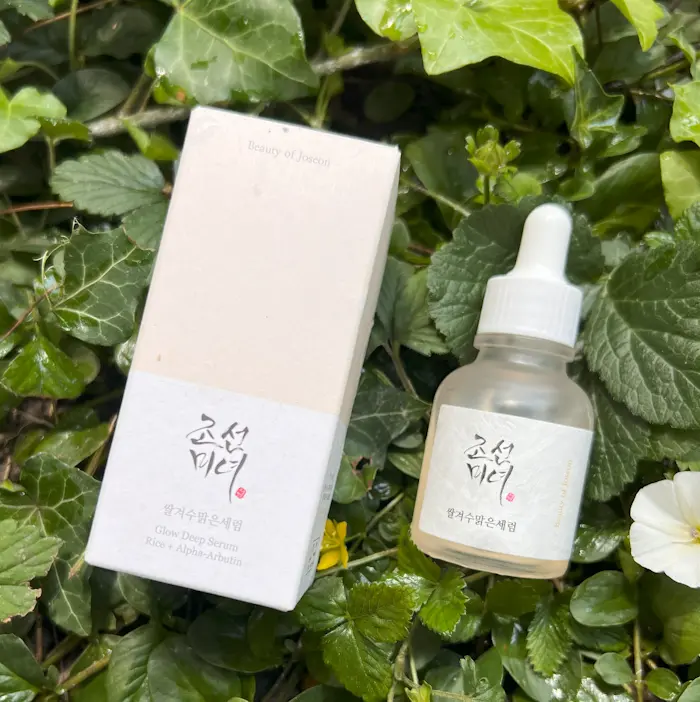 Just as the name suggests, products from the Beauty of Joseon brand are inspired by the aesthetic preferences of Korean women during the Joseon Dynasty, who focused heavily on taking care of their skin.
I love the way the brand has decided to market its skincare products. All Beauty of Joseon products feature hanbang ingredients.
Beauty of Joseon Glow Deep Serum is a niacinamide-containing rice serum with 68% rice bran water. In skincare, rice is mainly known for its brightening properties, but rice extract also strengthens the skin barrier due to its linoleic acid content and vitamin B6. Rice extract has anti-aging properties and is a good source of antioxidants. It has anti-inflammatory properties, heals acne, soothes skin, reduces redness, tightens pores, stimulates blood flow, improves skin hydration, and promotes cell production.
Not only does it contain niacinamide, but it doubles up on reducing hyperpigmentation with a very effective skincare ingredient: Alpha-Arbutin.
Along with its brightening ingredients, the Beauty of Joseon Glow Deep Serum also contains glycerin, panthenol, soybean seed, and sesame seed extracts. These ingredients make this serum incredibly brightening, hydrating, and soothing and an excellent product that addresses dull skin tone and pigmentation issues. Read Mia's Beauty of Joseon Glow Deep Serum review.
How to use it: Apply 2-3 droppers to your face, neck, and cleavage after cleansing, exfoliating acids, and toning. Alpha arbutin is vulnerable to light and heat, so this serum is recommended for use in the evening.
Oryza Sativa (Rice) Bran Water, Water, Glycerin, Butylene Glycol, 1,2-Hexanediol, Dipropylene Glycol, Alpha-Arbutin, Niacinamide, Methyl Gluceth-20, Panthenol, Polyglycerin-3, Trehalose, Glyceryl Glucoside, Hydrolyzed Jojoba Esters, Hydroxyethyl Acrylate/Sodium Acryloyldimethyl Taurate Copolymer, Ethylhexylglycerin, Hydroxyethylcellulose, Xanthan Gum, Arginine, Acrylates/C10-30 Alkyl Acrylate Crosspolymer, Disodium EDTA, Coptis Japonica Root Extract, Sorbitan Isostearate, Glucose, Coix Lacryma-Jobi Ma-Yuen Seed Extract, Glycine Soja (Soybean) Seed Extract, Hordeum Distichon (Barley) Extract, Oryza Sativa (Rice) Extract, Sesamum Indicum (Sesame) Seed Extract, Triticum Vulgare (Wheat) Seed Extract, Vigna Radiata Seed Extract, Zea Mays (Corn) Kernel Extract.
Ingredients referred from the Beauty of Joseon Official Website.
Herbs Humectant/Moisturizing Active
2. RNW Der. Concentrate Ceramide Plus Serum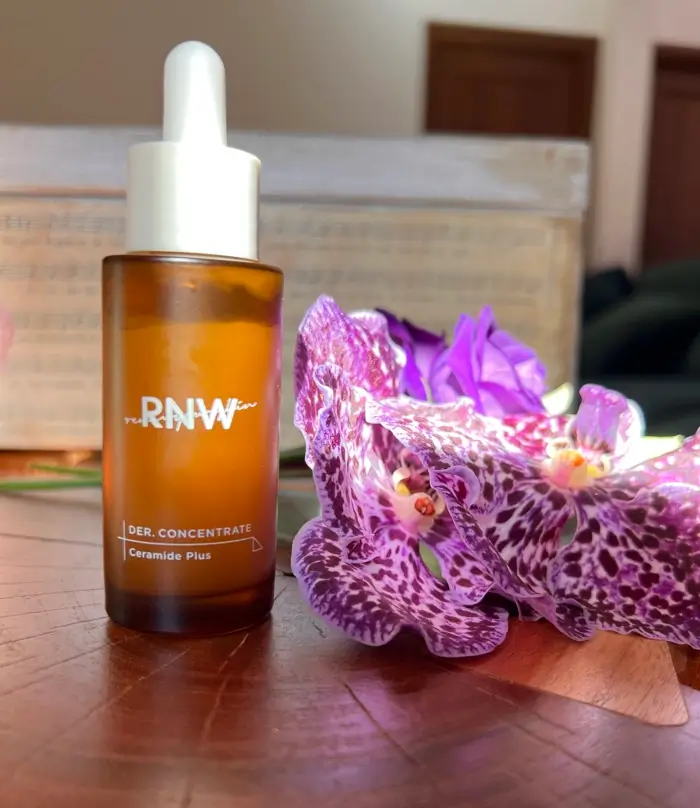 This hidden gem should get more attention. Along with niacinamide, it has an impressive ingredient list: five ceramides, eight peptides, and plenty of humectants. I haven't yet discovered that there's such a thing as too many ceramides in a routine. So, while the rest of my skincare regime is likely also helping with hydration and moisturization, I've felt immediate hydration by adding this product to the mix. Read Mia's RNW Der. Concentrate Ceramide Plus Serum review.
How to use it: Apply a moderate amount to your face and neck after cleansing, toning, and any pH-dependent actives such as vitamin C serums and BHA or AHA products. Gently tap for better absorption.
Water, Dipropylene Glycol, Glycerin, Methylpropanediol, Glycereth-26, 1,2-Hexanediol, Niacinamide, Dimethicone/​Vinyl Dimethicone Crosspolymer, Betaine, Cynara Scolymus (Artichoke) Leaf Extract, Avena Sativa (Oat) Kernel Extract, Ceramide NP, Ceramide EOP, Ceramide NS, Ceramide AP, Ceramide AS, Acetyl Hexapeptide-8, Nonapeptide-1, Palmitoyl Tetrapeptide-7, Palmitoyl Pentapeptide-4, Palmitoyl Tripeptide-1, Hexapeptide-9, Tripeptide-1, Copper Tripeptide-1, Beta Vulgaris (Beet) Root Extract, Eclipta Prostrata Leaf Extract, Algae Extract, Persea Gratissima (Avocado) Oil, Camellia Sinensis Leaf Water, Hydrogenated Lecithin, Cholesterol, Squalane, Tocopherol, Hydrolyzed Hyaluronic Acid, Polyquaternium-51, Glyceryl Stearate, Beta-Glucan, Adenosine, Fructooligosaccharides, Xanthan Gum, Tromethamine, Glyceryl Polymethacrylate, Sucrose Distearate, Acrylates/​C10-30 Alkyl Acrylate Crosspolymer, Butylene Glycol, Silica, Hydrolyzed Corn Starch, Caprylyl Glycol, Ethylhexylglycerin.
Ingredients referred from RNW Website.
Active Humectant/Moisturizing Herbs
3. CosRx Advanced Snail Radiance Dual Essence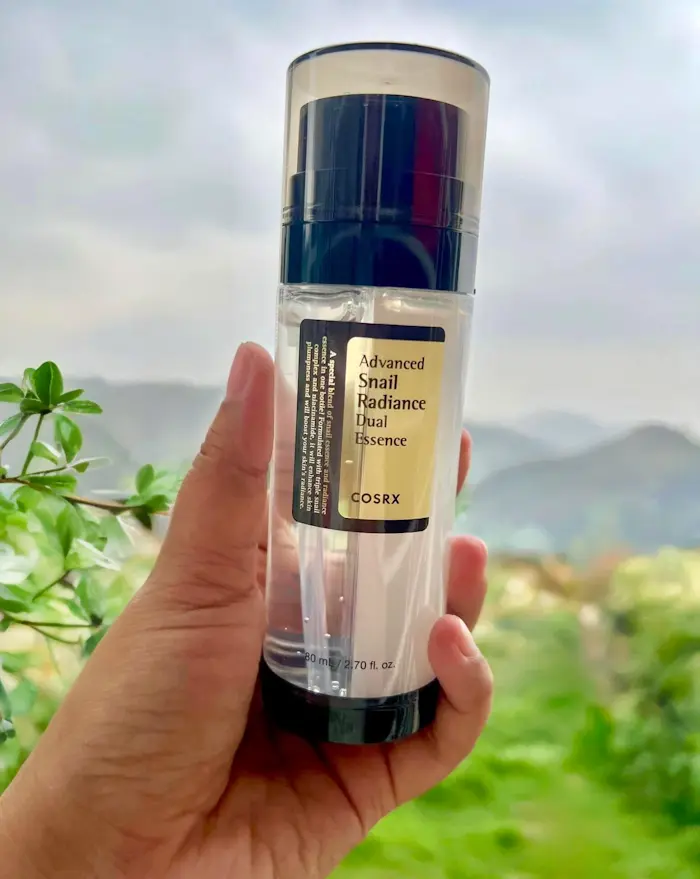 CosRx Advanced Snail Radiance Dual Essence is a brightening essence, an upgrade of the CosRx Advanced Snail 96 Mucin Power Essence and Advanced Snail 92 All In One Cream (both of which I love!). I like that it contains 5% niacinamide instead of 2% in most other CosRx skincare products. Studies have shown that niacinamide effectively lightens hyperpigmentation at 4-5% concentrations.
This snail essence contains 74.3% Triple Snail Complex, combining CosRx 's regular snail mucin with black and gold snail mucin. The essence also contains glutathione, which reduces hyperpigmentation by inhibiting tyrosinase enzyme activity.
On top of these brightening ingredients, this essence also contains some powerful humectants to help hydrate your skin and some beautiful oils to help maintain the skin barrier and decrease transepidermal water loss.
How to use it: This essence comes in a pump bottle with two separate compartments with different ingredients to maximize the product's freshness. After cleansing and toning, use this product by simply pumping an appropriate amount into your palm and mixing the two essences. Apply gently to your face and neck and pat using fingertips to aid absorption.
Snail Secretion Filtrate, Butylene Glycol, Niacinamide, 1,2-Hexanediol, Betaine, Panthenol, Water, Glycerin, Limnanthes Alba (Meadowfoam) Seed Oil, Helianthus Annuus (Sunflower) Seed Oil, Allantoin, Carbomer, Macadamia Ternifolia Seed Oil, Sodium Polyacrylate, Sodium Hyaluronate, Inulin Lauryl Carbamate, Arginine, Argania Spinosa Kernel Oil, Xanthan Gum, Sodium Surfactin, Ethylhexylglycerin, Glutathione.
Ingredients referred from CosRx official website.
Active Humectant/Moisturizing Herbs
4. Isntree C-Niacin Toning Ampoule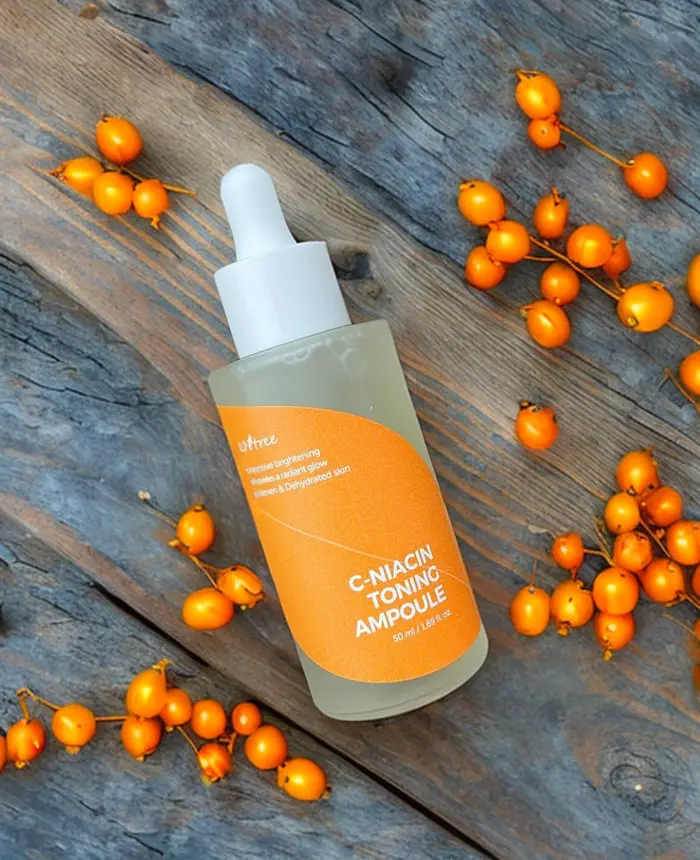 I'm a little obsessed with Isntree's skincare products. I love this serum as it strengthens the skin's moisture barrier. Along with niacinamide, it triples down on treating hyperpigmentation with Licorice root extract and Turmeric root extract.
Apart from containing 2% niacinamide, this serum contains 69% of vitamin-rich sea buckthorn fruit extract. Sea buckthorn is an excellent source of vitamin C, various B vitamins, vitamin E, and many phenolic compounds that provide antioxidant benefits. Sea buckthorn has been shown to improve skin hydration, trans-epidermal water loss, and skin barrier function when used long-term.
Isntree C-Niacin Toning Ampoule also contains hydrating ingredients such as aloe vera extract, sodium hyaluronate, beta-glucan, panthenol, and allantoin.
It also contains Physalis alkekengi fruit extract and turmeric root extract, which have also been shown to have skin-brightening properties. It soothes with dipotassium glycyrrhizate, and vitamin E helps protect the skin from UV radiation.
This hydrating, nonsticky ampoule is lightweight. I noticed how it lightened my pigmentation and dark spots after a month. It gave my skin a healthy glow. I am impressed with this sea buckthorn product.
It contains a new vitamin C derivative, 3-O-Ethyl Ascorbic Acid, which is stable and gentle. However, the PAO is just six months. Nevertheless, this is a great brightening product for all skin types.
How to use it: This ampoule is a cross between a toner and serum in texture and viscosity. It's incredibly hydrating and absorbs into the skin very quickly. I recommend applying this ampoule in the morning to your face and neck after cleansing, exfoliating, and toning.
Hippophae Rhamnoides Fruit Extract, Butylene Glycol, Pentylene Glycol, Glycerin, Betaine, Water, Niacinamide, Propanediol, Aloe Barbadensis Leaf Extract, Melia Azadirachta Flower Extract, Melia Azadirachta Leaf Extract, Cucurbita Pepo (Pumpkin) Fruit Extract, Physalis Alkekengi Fruit Extract, Sodium Hyaluronate, Dipotassium Glycyrrhizate, Ocimum Sanctum Leaf Extract, Beta-Glucan, Curcuma Longa (Turmeric) Root Extract, Corallina Officinalis Extract, Brassica Oleracea Italica (Broccoli) Extract, Coccinia Indica Fruit Extract, Moringa Oleifera Seed Oil, Boswellia Serrata Resin Extract, Bioflavonoids, Panthenol, Allantoin, Sodium Polyacrylate, Ammonium Acryloyldimethyltaurate/​VP Copolymer, 3-O-Ethyl Ascorbic Acid, Ethyl Hexanediol, Polysorbate 80, 1,2-Hexanediol.
Ingredients referred from Isntree's official website.
Active Humectant/Moisturizing Herbs Brightening
5. Purito Galacto Niacin 97 Power Essence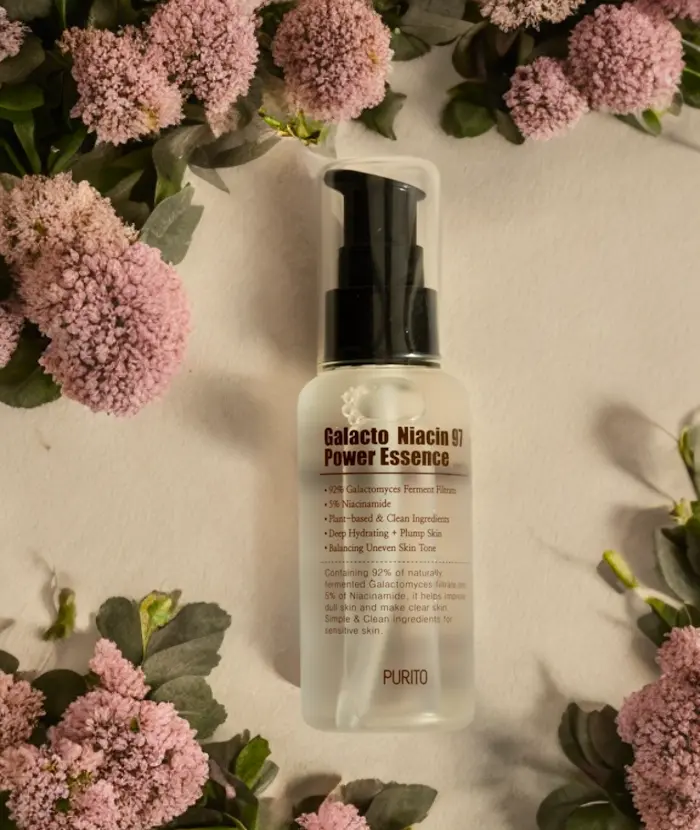 Purito Galacto Niacin 97 Power Essence is such a powerful little essence as it contains 92% Galactomyes Ferment Filtrate and 5% niacinamide, which work together to brighten the skin while improving the health of your skin. Purito products are suitable for sensitive skin types as they contain no harsh ingredients or preservatives.
Galactomyces Ferment Filtrate is rich in vitamins, minerals, amino acids, organic acids, and yeast peptides, which reduces melanin synthesis, strengthens the skin's barrier, decreases the number of enlarged pores and blackheads, and reduces sebum production and acne. If you want to know more, here is an in-depth guide on GFF.
It also contains soybean ferment, rich in proteins, vitamins, and minerals, and helps strengthen the skin's moisture barrier, lactobacillus ferment, which helps suppress melanin production in the skin.
How to use it: This is a "first treatment essence," and so, as the name suggests, it needs to be applied before everything else in your skincare routine (after you've cleansed your skin and used any pH-dependent actives such as vitamin C, BHA, AHA or any retinoids). You can either pour some of the essence onto a cotton pad or on clean hands and gently pat it onto your skin—some people like moving their first essence into a small spray bottle and mist it onto their face.
Galactomyces Ferment Filtrate, Niacinamide, 1,2-Hexanediol, Bacillus/​Soybean Ferment Extract, Propanediol, Lactobacillus Ferment, Acrylates/​C10-30 Alkyl Acrylate Crosspolymer, Arginine, Butylene Glycol, Allantoin, Adenosine, Disodium EDTA, Dipotassium Glycyrrhizate, Glycerin, Pentylene Glycol.
Ingredients referred from Purito's official website.
Ferments Active Humectant/Moisturizing Brightening
Can I Use Too Much Niacinamide?
Since so many Korean skincare serums contain niacinamide, you might wonder if too much of a good thing is bad. Can your skincare routine consist of two or more products with niacinamide? Can you cause damage to your skin if you use too many products with niacinamide?
The good news is that niacinamide is a relatively gentle ingredient (compared to actives such as AHAs, BHAs, retinol, and vitamin C).
Many people use multiple niacinamide-containing serums in their skincare routine without any adverse effects on their skin. However, although rare, using higher concentrations of niacinamide can cause some people temporary skin redness (in the form of blushing).
Can I Use Niacinamide with Vitamin C?
Bottom Line
Niacinamide is one of the most versatile skincare ingredients, as it has many benefits for your skin. In particular, it has terrific skin-brightening properties.
It has been shown that niacinamide is as effective as hydroquinone at treating hyperpigmentation but without any side effects that hydroquinone and other skin-brightening ingredients can cause.
I hope this article has helped you find some Korean skincare serums with niacinamide.
Show Me Proof