Houttuynia Cordata is all the rage in Korean skincare in 2023. Its claim to fame is delivering immaculate glass skin.
Korean glass skin has become quite a universally understood term for excellent skin. There must be a reason for the almost characteristically good complexion among Korean women (and men).
What powers the efficacy of Korean skincare products? I love geeking out on skincare, and here at Garden of Muses, we've written about other trending ingredients: Centella Asiatica (Tiger Grass), Mugwort (Artemisia), and ginseng.
Today, let's decode an ingredient skyrocketing in popularity in Korean skincare: Heartleaf. What drives its potency, and why should you not miss it? Here's the low-down.
Houttuynia Cordata Skin Benefits Guide:
What Is Houttuynia Cordata?
Heartleaf, or Houttuynia Cordata, is a flowering plant indigenous to Southeast Asia belonging to the Saururaceae family. Houttuynia cordata has many common names, such as fish mint, fish leaf, fishwort, Heartleaf houttuynia, rainbow plant, chameleon plant, dokudami, or Chinese lizard tail. In skin care, it is often referred to as Heartleaf.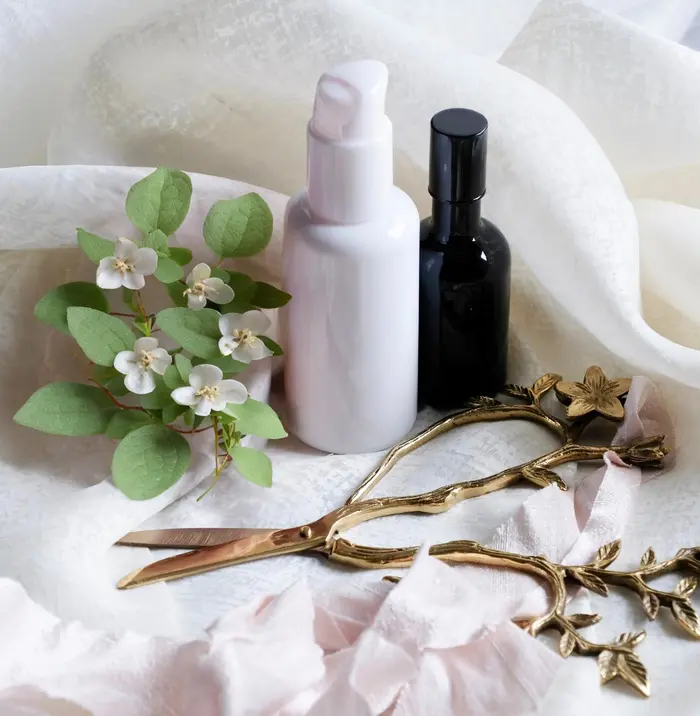 The Houttuynia Cordata is a plant with heart-shaped green leaves that grows over the ground to form thick leafy meadows.
It is native to Southeast Asia, including Japan, China, and Vietnam, but it has also been naturalized in North America. It is mainly found in moist and shady locations and is known for its medicinal properties and distinctive aroma.
Houttuynia Cordata's Uses
While you can consume Heartleaf as a vegetable, the plant has also been an elixir in traditional medicine for years. Heartleaf has been used extensively to treat various ailments, including high blood sugar, cholera, and deficiencies.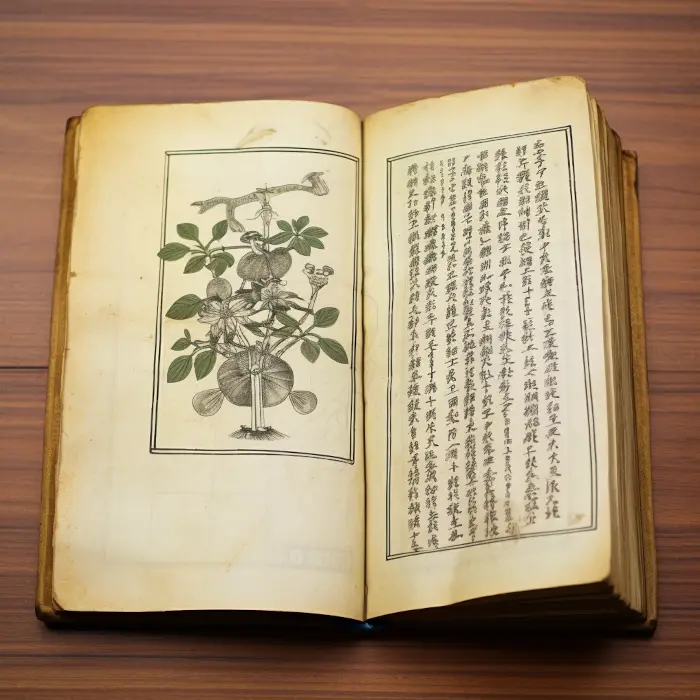 Health Benefits
Doing specific research on the chemical composition of this plant, I read that Houttuynia Cordata is a super-active ingredient with many functions for the skin.
The main active constituents in Heartleaf are called flavonoids. In particular, polyphenolic flavonoids are the four main types in Heartleaf: Quercetin, Quercitrin, Hyperoside, and Rutin. These compounds all exhibit similar properties of being anti-inflammatory, antioxidant, antiviral, antitumor, antiallergic, and antibacterial.
Due to its health benefits, Houttuynia cordata is studied both in Western medicine and in traditional Asian medicines, with promising benefits for constipation, hyperglycemia, pneumonia, antidote, inflammation, oral care, syphilis, abscess, paralysis, and gynecological diseases.
Cuisine
Houttuynia Cordata's leaves, stems, and roots are edible. The plant is grown and harvested for daily vegetable consumption, particularly in North and Northeast Thailand. It is also used as a culinary herb in some Asian cuisines and is appreciated for its anti-inflammatory properties.
The Japanese call this plant 蕺草 (dokudami), but like Korean, it has an affectionate nickname meaning "ten medicines," 十薬 (juyaku).
It is also called fishwort, fish leaf, or eosongcho (어성초 in Korean) due to its terrible fishy smell and aftertaste when eaten.
Beauty
Besides Heartleaf's Skincare Benefits, Houttuynia Cordata has also researched benefits for hair. It promotes hair growth.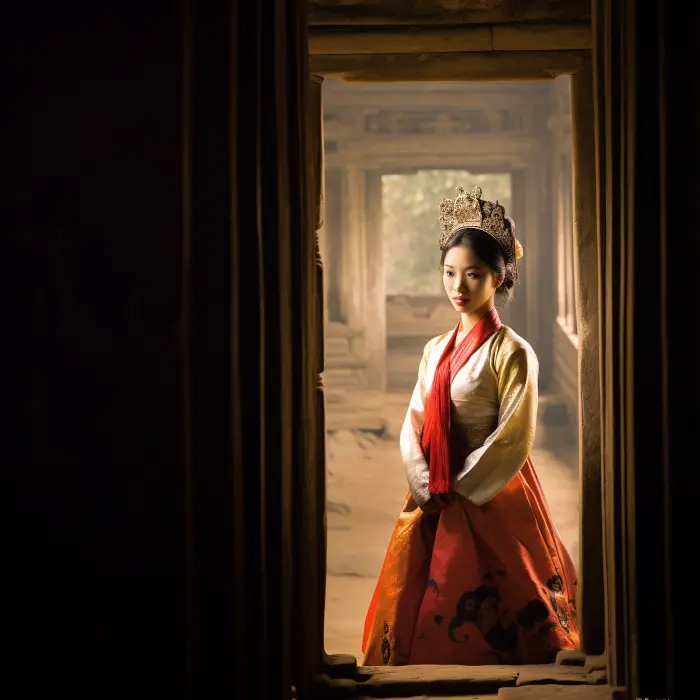 Houttuynia Cordata Skin Benefits
Korean beauty products are known for their unique ingredients, such as snail mucin, bamboo water, bee venom, and fermented plant extracts, and their focus on skin health and nourishment.
Additionally, Korean beauty trends are more experimental and innovative than other traditions.
Due to its numerous benefits for the skin, heartleaf has become a common ingredient in Asian beauty. Skincare brands use Heartleaf extract extensively, adding it to many skin care products, such as cleansers*, toners*, serums*, essences, creams*, sheet masks*, spot treatments*, and sunscreens*.
Jump to see the Best Products with Heartleaf.
1. Heartleaf is a potent antioxidant herb
Houttuynia cordata possesses a powerhouse of bio-actives and antioxidants. Research has shown it has a wide range of polyphenols, flavonoids, tannins, and vitamins known to be responsible for their anti-inflammatory and antioxidative properties. These antioxidants protect the skin against pollution, stress, and UV rays.
2. Anti-inflammatory
The Heartleaf plant extract has been used as a robust anti-inflammatory agent for treating atopic dermatitis and acne in traditional Korean herbal medicine.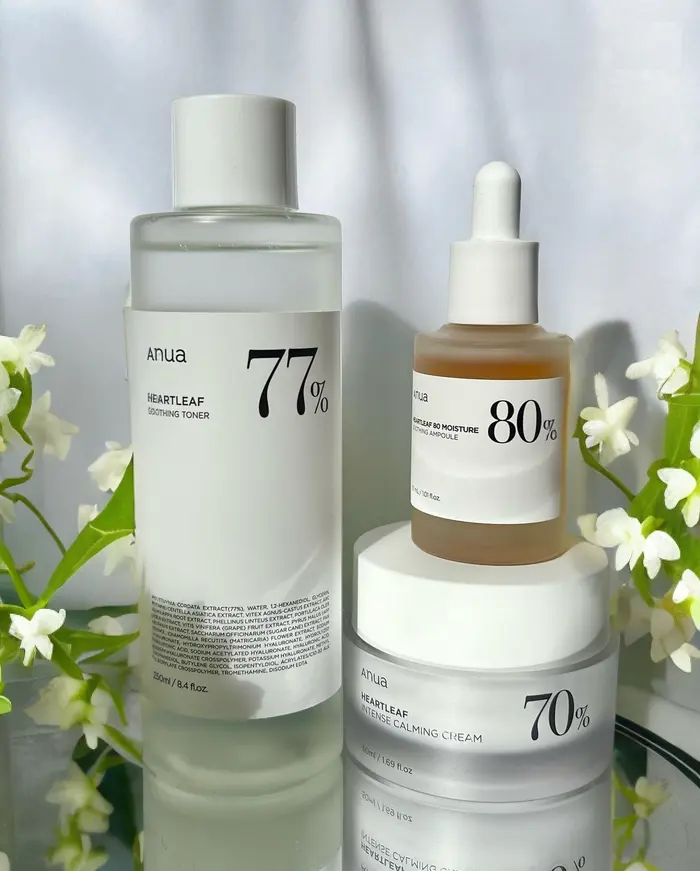 3. Boosts Skin Hydration
On top of its antioxidant and anti-inflammatory properties, research has found that Houttuynia Cordata extract contains polysaccharides. When present in skincare, polysaccharides serve as fantastic humectants, i.e., attracting water and hydrating the skin. Polysaccharides can accelerate skin renewal and help heal wounds, are anti-microbial, protect the skin from UV radiation and prevent oxidative stress and cancer.
This makes Heartleaf suitable for hydrating toners, serums, moisturizers, and masks.
4. Anti-aging
Houttuynia cordata extract also has anti-aging benefits by preventing the degradation of collagen, elastin, and hyaluronic acid in the skin. Interestingly, a new study shows an anti-aging effect by significantly increasing the skin's telomerase activity (skin's intrinsic aging mechanism).
5. Anti-acne
Herbal extracts are efficient in treating mild to moderate acne vulgaris. Herbal extracts generally have fewer adverse effects and can be a good alternative for those who would rather skip drugs.
Adding to its goodness for acne troubles, Heartleaf works to keep the skin healthy, calms, and detoxifies through several researched mechanisms:
It has antimicrobial properties that fight against acne-related pathogens, making it a desired ingredient in anti-acne skincare products;
The extract from Houttuynia Cordata leaves also has astringent properties that can effectively (but gently) deeply cleanse pores while regulating excess sebum production;
Its anti-inflammatory effects are excellent in calming acne-prone skin.
6. Sun damage protection
UVB exposure is a major external cause of skin damage, aging, inflammation, tanning, wrinkling, DNA damage, and skin cancers. One of the main strategies for preventing UVB-induced skin damage is reducing the oxidative stress of skin cells. Using its antioxidant super-power, Houttuynia cordata has been proven to protect and attenuate UVB damage.
Remember that the Houttuynia cordata performance relies on whether the extract is derived from the roots or leaves and has been purified by water or alcohol extraction.
The polyphenol-rich extracts of Heartleaf have been shown to protect cells against UVA damage and oxidative stress. They prevent photoaging and intrinsic aging through anti-oxidation and anti-inflammatory functions.
7. Repairs the skin barrier
Houttuynia Cordata's antioxidant properties work against atopic dermatitis by healing the damaged skin barrier.
8. Anti-allergic
There is also good evidence for powerful anti-allergic properties in Houttuynia Cordata extract, which could make Heartleaf especially beneficial for dermatitis/eczema-prone skin.
9. Lightens Hyperpigmentation
Antioxidants help prevent or slow pigmentation by fighting free radicals and inhibiting melanin synthesis. And provided that Houttuynia contains a large amount of polyphenols, which can reduce tyrosinase activity, Houttuynia Cordata can lighten the skin and fight pigmentation.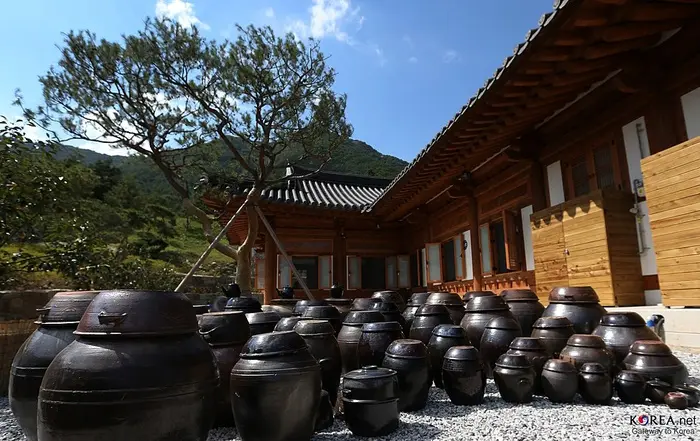 Who Should Use Heartleaf?
Studies into Heartleaf extract's skin benefits have yielded convincing results, particularly for use on sensitive, oily-dehydrated, and acne-prone skin.
Due to its anti-inflammatory and anti-bacterial properties, Houttuynia Cordata is an excellent addition to acne-prone skin. And because of its anti-aging benefits, the plant is fantastic for everyone (duh).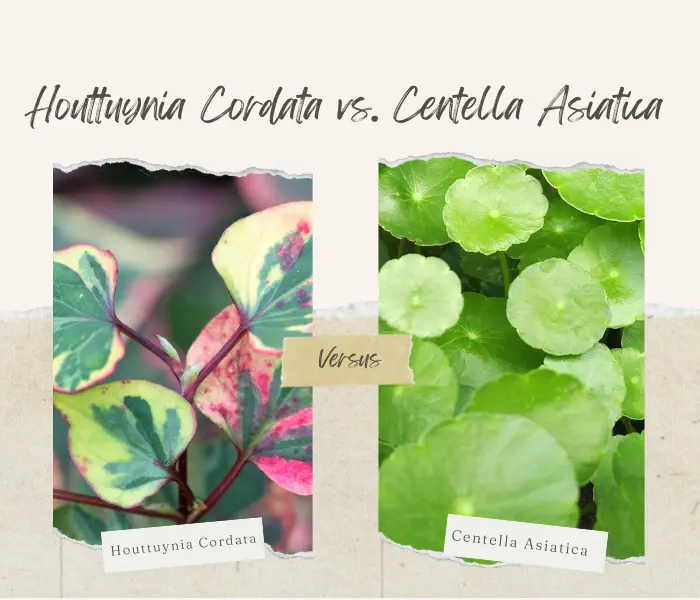 Houttuynia Cordata vs. Centella Asiatica
Houttuynia cordata and Centella Asiatica are popular plants in skincare because of their skin benefits.
Centella Asiatica, or Gotu Kola or Tiger grass, is a perennial plant that grows in tropical and subtropical regions. Centella Asiatica is a medicinal herb in Ayurvedic, African and Asian medicine. It is more widely known and used than its little sister, Houttuynia Cordata.
Like Houttuynia cordata, Centella Asiatica contains flavonoids and phenolic compounds with anti-inflammatory and antioxidant activities that fight stress and pollution. Both have been proven to improve the skin barrier function and lock moisture in.
Centella Asiatica has added benefits like triterpenoid saponins, such as Asiaticoside and Madecassoside, that can stimulate collagen synthesis, improve skin elasticity, and prevent scarring. Centella Asiatica is widely known for its calming and soothing properties.
They are both edible, though Centella has a mild and slightly bitter taste that is more palatable than Houttuynia Cordata.
They both are considered safe to use topically and do not have side effects.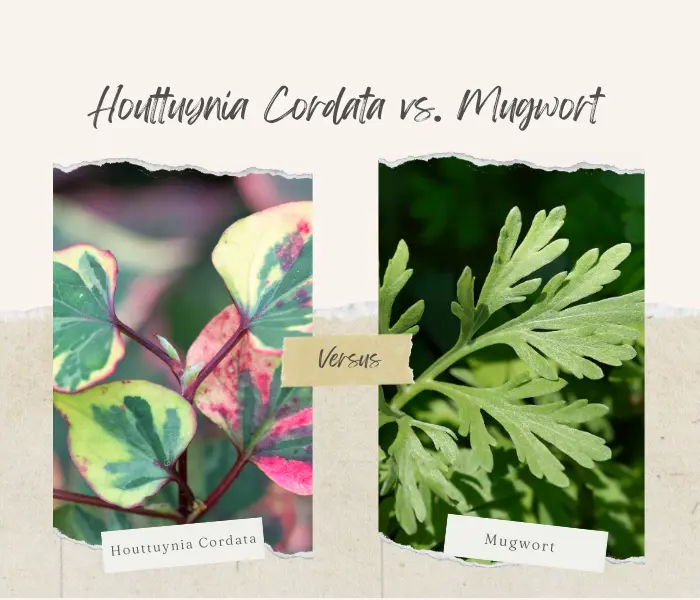 Houttuynia Cordata vs. Mugwort
Mugwort is another relatively unknown plant in the U.S., but it has been used for centuries in Asia.
Like Centella Asiatica, Mugwort is soothing and is best suited for sensitive, rosacea-prone skin. If redness or overall sensitivity is your skin concern, you should better go with Mugwort or Cica.
As well as Houttuynia Cordata, Mugwort has antibacterial and anti-fungal properties that help treat acne.
Best Products Containing Houttuynia Cordata
Anua Heartleaf Pore Control Cleansing Oil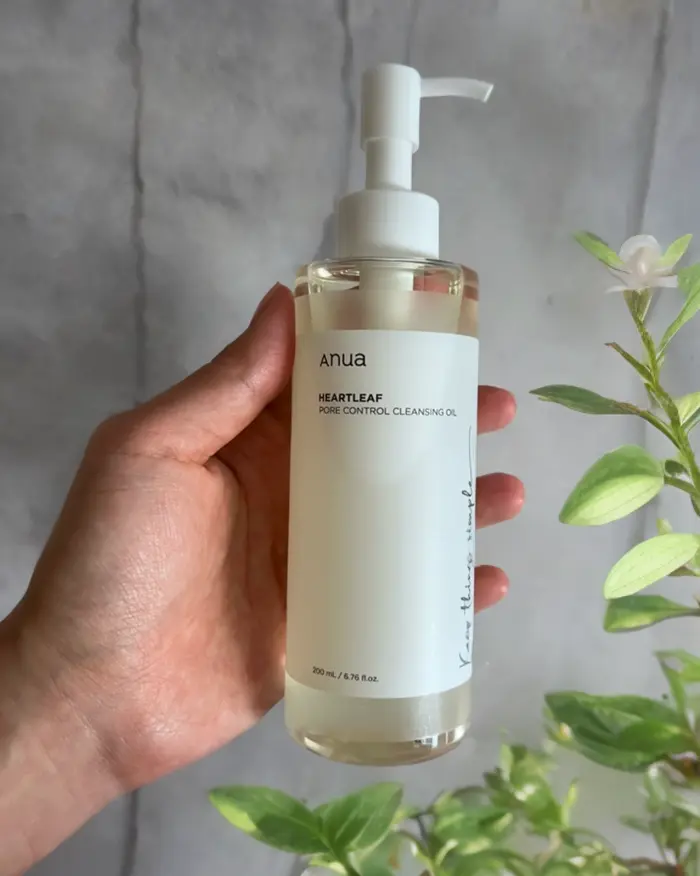 If you want to remove your makeup and day-to-day dirt without clogging your pores, try Anua Heartleaf Pore Control Cleansing Oil. It's a gentle oil cleanser that contains heartleaf extract and plant-based oils to soothe and hydrate your skin. Just massage it on your dry face, add some water to emulsify, and rinse off with lukewarm water. Your skin will feel clean and refreshed!
Anua Heartleaf Pore Control Cleansing Oil Ingredients List (last checked 2023)
Ethylhexyl Palmitate, Sorbeth-30 Tetraoleate, Sorbitan Sesquioleate, Caprylic/​Capric Triglyceride, Butyl Avocadate, Fragrance, Helianthus Annuus (Sunflower) Seed Oil, Macadamia Ternifolia Seed Oil, Olea Europaea (Olive) Fruit Oil, Simmondsia Chinensis (Jojoba) Seed Oil, Vitis Vinifera (Grape) Seed Oil, Caprylyl Glycol, Ethylhexylglycerin, Curcuma Longa (Turmeric) Root Extract, Melia Azadirachta Flower Extract, Tocopherol, Melia Azadirachta Leaf Extract, Houttuynia Cordata Extract, Corallina Officinalis Extract, Melia Azadirachta Bark Extract, Moringa Oleifera Seed Oil, Ocimum Sanctum Leaf Extract.
Ingredients referred from YesStyle*
Herbs Humectant/Moisturizer Brightening Active Fragrance
Abib Acne Foam Cleanser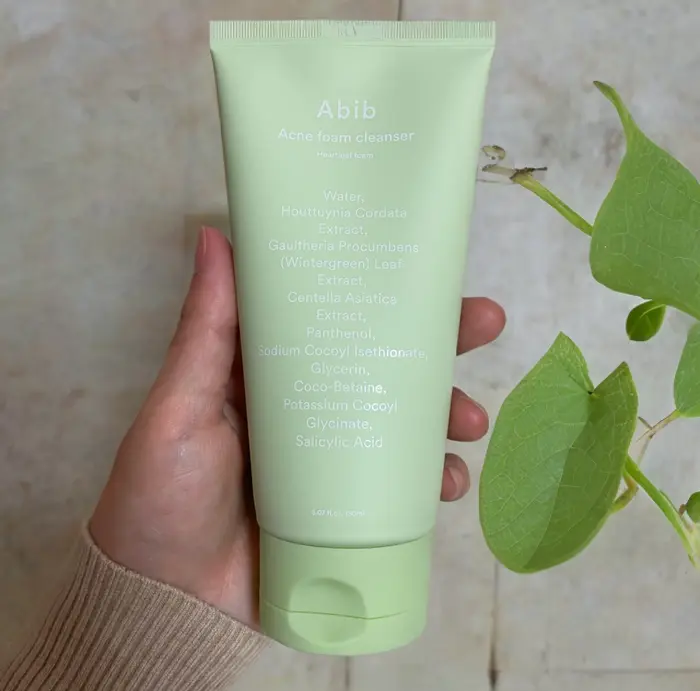 Abib Acne Foam Cleanser has a mildly acidic pH that leaves the skin pH closest to its healthy level. It contains heartleaf harvested from Mount Jiri to soothe and clear the skin. Salicylic acid helps improve troubled skin, and Centella calms down the redness.
Water, Sodium Cocoyl Isethionate, Glycerin, Houttuynia Cordata Extract, Coco-Betaine, Sodium Methyl Cocoyl Taurate, Butylene Glycol, Gaultheria Procumbens (Wintergreen) Leaf Extract, Centella Asiatica Extract, Glyceryl Stearate SE, Potassium Cocoyl Glycinate, Salicylic Acid, Sodium Chloride, Caprylyl Glycol, Polyquaternium-67, Tromethamine, Panthenol, 1,2-Hexanediol, Ethylhexylglycerin, Disodium EDTA.
Ingredients referred from Abib's official website.
Surfactant Herbs Active Humectant/Moisturizer
Abib Heartleaf Calming Toner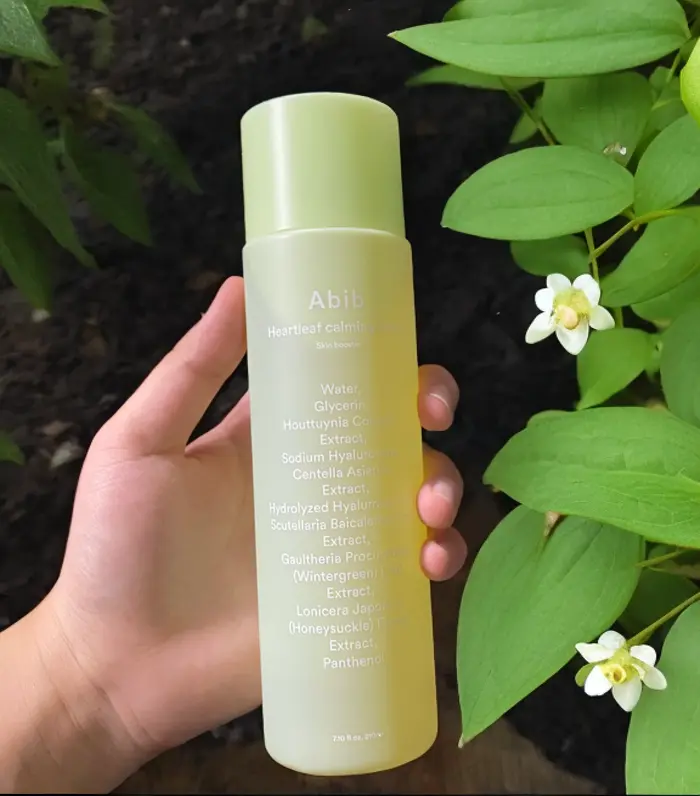 The Abib Heartleaf Calming Toner is quite large, and even though I feel like I'm using it a lot, the volume doesn't seem to decrease much. It contains heartleaf extract, glycerin, butylene glycol, two types of hyaluronic acid, panthenol, and Centella Asiatica extract. These ingredients soothe the skin, regulate oil production, and prepare the skin for the next steps in the routine. I love how gentle and refreshing it feels on my face.
I prefer using it as a toner pad, especially on acne-prone areas. The toner has a watery consistency, and applying it 2 to 3 times doesn't bother me. It's not sticky and has no scent. I'm impressed by how well it absorbs into my skin. I've noticed it helps to reduce redness during breakouts. So far, I love it!
Water, Houttuynia Cordata Extract, Glycerin, Butylene Glycol, Pentylene Glycol, Xylitol, Bifida Ferment Lysate, Sodium Hyaluronate, Glycine Soja (Soybean) Seed Extract, Centella Asiatica Extract, Hydrolyzed Hyaluronic Acid, Scutellaria Baicalensis Root Extract, Gaultheria Procumbens (Wintergreen) Leaf Extract, Lonicera Japonica (Honeysuckle) Flower Extract, Betaine, 1,2-Hexanediol, Panthenol, Ethylhexylglycerin, Octanediol, Tocopherol, Biosaccharide Gum-4, Disodium EDTA, Xanthan Gum.
Ingredients referred from Abib's official website.
Herbs Humectant/Moisturizer Ferments Active
Goodal Houttuynia Cordata Calming Sun Cream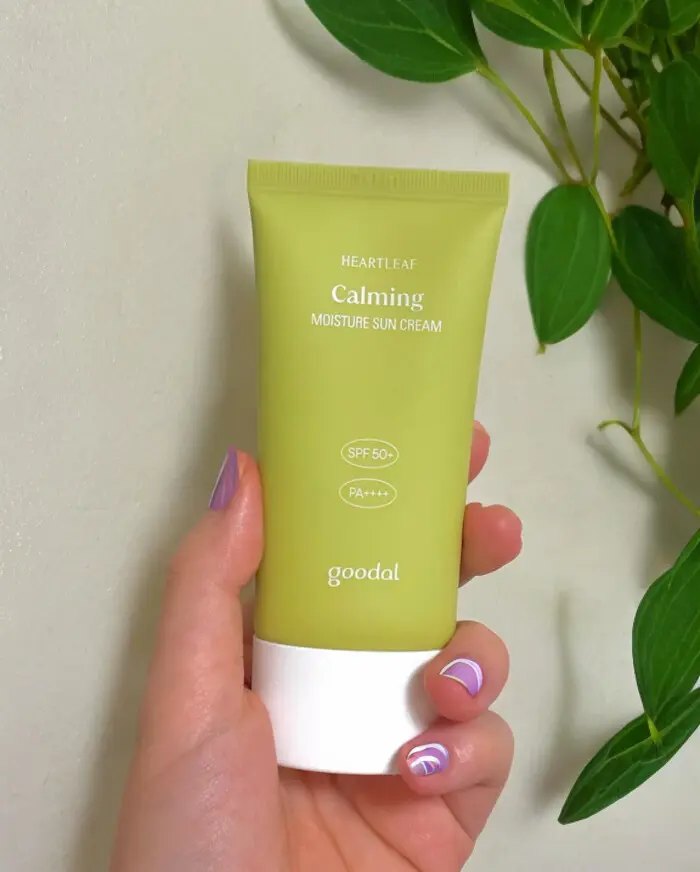 Goodal Heartleaf Calming Moisture Sun Cream is an underrated sunscreen. It is better than the hyped Beauty Of Joseon Relief sunscreen or the Round Lab Birch Juice Moisturizing Sun Cream. It doesn't sting my eyes. It is a moisturizing, antioxidant, and calming sunscreen with no white cast. Please read Goodal Houttuynia Cordata Calming Sun Cream's in-depth review and give it a try.
Goodal Heartleaf Calming Moisture Sun Cream Ingredients List (last checked 2023)
Water, Dibutyl Adipate, Propanediol, Polymethylsilsesquioxane, Diisopropyl Sebacate, Diethylamino Hydroxybenzoyl Hexyl Benzoate (Uvinul A Plus), Ethylhexyl Triazone (Uvinul T 150), Methylene Bis-Benzotriazolyl Tetramethylbutylphenol (Tinosorb M), Coco-Caprylate/​Caprate, Diethylhexyl Butamido Triazone (Iscotrizinol), Butylene Glycol, Glycerin, 1,2-Hexanediol, Caprylyl Methicone, Houttuynia Cordata Extract, Pentylene Glycol, Behenyl Alcohol, Polyglyceryl-3 Methylglucose Distearate, Decyl Glucoside, Tromethamine, Carbomer, Acrylates/​C10-30 Alkyl Acrylate Crosspolymer, Sodium Stearoyl Glutamate, Polyacrylate Crosspolymer-6, Ethylhexylglycerin, Xanthan Gum, T-Butyl Alcohol, Tocopherol.
Ingredients referred from INCIDecoder.
UV filters Herbs Active Ferments Humectant/Moisturizer
Abib Heartleaf Sun Essence Calming Drop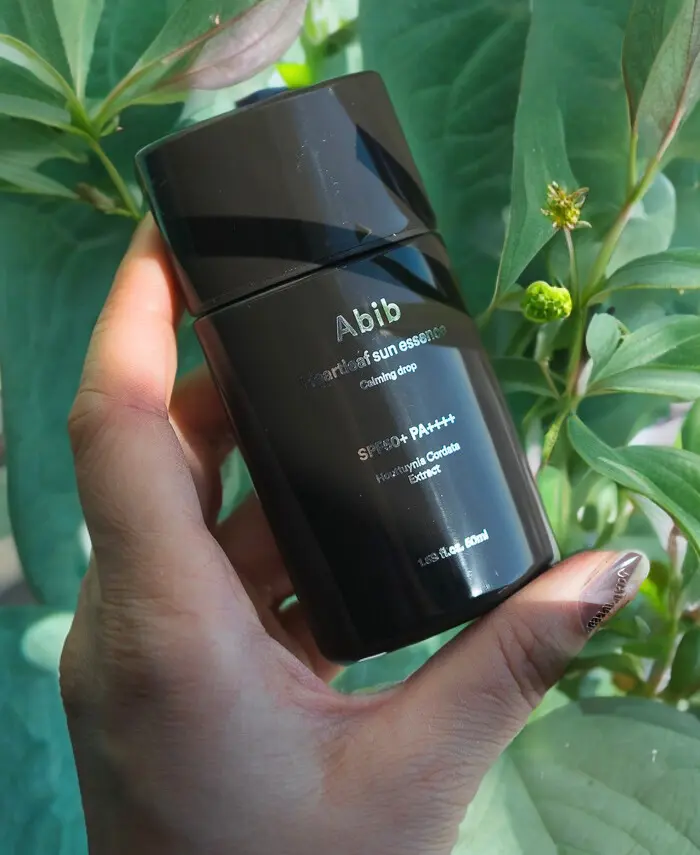 The Abib Heartleaf Sun Essence Calming Drop combines essence and suncare. This product is fortified with heartleaf extract, which calms your skin and provides sun protection. I love how the milky-white essence absorbs fast into my skin. It's fragrance-free and has a light texture that gives my skin a smoother-looking finish.
Even though it doesn't dry out into a matte finish, it doesn't feel greasy, and my skin stays hydrated long after wearing it. Usually, I don't skip my usual serum or essence before applying sunblock. Still, I did try skipping them for a few days and only applied my hydrating toner before applying the Abib Heartleaf Sun Essence. The hydrating effect seems sufficient, as my skin doesn't feel too dry, and I did not notice any dry flacks. Also, please read Seo Yeon's Abib Heartleaf Sun Essence Calming Drop Review.
Abib Heartleaf Sun Essence Calming Drop Ingredients List (last checked 2023)
Water, Dibutyl Adipate, Houttuynia Cordata Extract, Alcohol, Caprylyl Methicone, Diethylamino Hydroxybenzoyl Hexyl Benzoate, Bis-Ethylhexyloxyphenol Methoxyphenyl Triazine, Phenethyl Benzoate, Polymethylsilsesquioxane, Polysilicone-15, Methylene Bis-Benzotriazolyl Tetramethylbutylphenol, Ethylhexyl Triazone, Hexyl Laurate, Niacinamide, Polyglyceryl-6 Stearate, Diethylhexyl Butamido Triazone, Aspergillus Ferment, Triticum Aestivum (Wheat) Seed Extract, 1,2-Hexanediol, Pentylene Glycol, C20-22 Alkyl Phosphate, Panthenol, Decyl Glucoside, Hydroxyacetophenone, Tromethamine, Ethylhexyl Olivate, Polyglyceryl-6 Behenate, Sodium Acrylates Copolymer, Polyglyceryl-4 Oleate, Dipotassium Glycyrrhizate, Adenosine, Glycerin, Sodium Phytate, Maltodextrin, Lipase, Protease, C20-22 Alcohols, Xanthan Gum.
Ingredients referred from Abib's official English website.
UV filters Herbs Active Ferments Humectant/Moisturizer Brightening Potential Irritant
Final Words
Houttuynia Cordata is a valuable herbal medicine with antibiotic, anti-inflammatory, and antioxidant properties. Hence, there have been more and more skincare products featuring Heartleaf.
Korean skincare fan or not, I'd say this hallmark ingredient is a powerhouse in its own right. With more beauty brands beyond East Asia picking up on the Heartleaf hype (particularly the former), you'll probably be able to find a product that suits your skin's preferences and needs. I am a massive fan of Heartleaf and have a whole skincare routine with Heartleaf as the main (or only) active ingredient. I'll credit this mighty herb for alleviating my fungal acne woes (more on that later).
Studies show this promising plant-based ingredient is an excellent addition to your skincare regimen. Still, scientific research on the effectiveness of Houttuynia Cordata in skin care is in its infancy, so it is best to consult a healthcare provider before using it for medicinal purposes.
Show Me Proof
Park, C. -I. (2010) "Study on the Effects of Houttuynia Cordata Extracts on Emulsions," The Korea Journal of Herbology. The Korean Society of Herbal Medicine, 25(4), pp. 145–149. doi: 10.6116/KJH.2010.25.4.145.
Lim, H.-J., Lee, H.-J. and Lim, M.-H. (2021) "Comparison of Antioxidant and Anti-inflammatory Activity of Korean Houttuynia cordata Thunb. Extracts," Journal of the Korean Applied Science and Technology . Korean Society of Applied Science and Technology, 38(1), pp. 217–227. doi: 10.12925/JKOCS.2021.38.1.217.
Ahn, Bin (2002) "Literature Review on the Pharmaceutical Effects and Utilization of Houttuynia cordata Thunb". Journal of the East Asian Society of Dietary Life. Journal of the East Asian Society of Dietary Life (동아시아식생활학회지) Volume 12 Issue 1 / Pages.1-6 / 2002 / 1225-6781(pISSN) / 2288-8802(eISSN)
Woranam, K.; Senawong, G.; Utaiwat, S.; Yunchalard, S.; Sattayasai, J.; Senawong, T. Anti-inflammatory activity of the dietary supplement Houttuynia cordata fermentation product in RAW264.7 cells and wistar rats. PLoS ONE 2020, 15, e0230645.
Wang JH, Bose S, Shin NR, Chin YW, Choi YH, Kim H. Pharmaceutical Impact of Houttuynia Cordata and Metformin Combination on High-Fat-Diet-Induced Metabolic Disorders: Link to Intestinal Microbiota and Metabolic Endotoxemia. Front Endocrinol (Lausanne). 2018 Oct 24;9:620. doi: 10.3389/fendo.2018.00620. PMID: 30405531; PMCID: PMC6208002.
Phosri, Santi, Kanokwan Kiattisin, Aekkhaluck Intharuksa, Raveeporn Janon, Tanat Na Nongkhai, and Tinnakorn Theansungnoen. "Anti-Aging, Anti-Acne, and Cytotoxic Activities of Houttuynia cordata Extracts and Phytochemicals Analysis by LC-MS/MS." Cosmetics 9, no. 6 (2022): 136.
Charachit, Nattakan, Amonnat Sukhamwang, Pornngarm Dejkriengkraikul, and Supachai Yodkeeree. "Hyperoside and quercitrin in houttuynia cordata extract attenuate UVB-induced human keratinocyte cell damage and oxidative stress via modulation of MAPKs and Akt signaling pathway." Antioxidants 11, no. 2 (2022): 221.
Mapoung, Sariya, Sonthaya Umsumarng, Warathit Semmarath, Punnida Arjsri, Kamonwan Srisawad, Pilaiporn Thippraphan, Supachai Yodkeeree, and Pornngarm Dejkriengkraikul. "Photoprotective effects of a hyperoside-enriched fraction prepared from houttuynia cordata thunb. On ultraviolet B-induced skin aging in human fibroblasts through the MAPK signaling pathway." Plants 10, no. 12 (2021): 2628.
Choi, Jee Young, Jung Ae Lee, Jee Bum Lee, Sook Jung Yun, and Seung Chul Lee. "Anti-inflammatory activity of Houttuynia cordata against lipoteichoic acid-induced inflammation in human dermal fibroblasts." Chonnam Medical Journal 46, no. 3 (2010): 140-147.
Kwon N, Vinayagam R, Do GS, Lee KE, Kang SG. Protective Effects of Fermented Houttuynia cordata Against UVA and H2O2-Induced Oxidative Stress in Human Skin Keratinocytes. Appl Biochem Biotechnol. 2022 Dec 10. doi: 10.1007/s12010-022-04241-8. Epub ahead of print. PMID: 36495375.
Mitoma, Chikage, Takeshi Nakahara, Hiroshi Uchi, Akiko Hachiya, Msakazu Takahara, Gaku Tsuji, Makiko Nakahara, and Masutaka Furue. "Antioxidant Houttuynia cordata extract upregulates filaggrin expression in an aryl hydrocarbon-dependent manner." (2014): 205-213.
Sekita Y, Murakami K, Yumoto H, Amoh T, Fujiwara N, Ogata S, Matsuo T, Miyake Y, Kashiwada Y. Preventive Effects of Houttuynia cordata Extract for Oral Infectious Diseases. Biomed Res Int. 2016;2016:2581876. doi: 10.1155/2016/2581876. Epub 2016 Jun 20. PMID: 27413739; PMCID: PMC4931051.
Yang, Ji Hoon, Eun Ju Hwang, Jungyoon Moon, Ji Young Yoon, Ji Won Kim, Sungjun Choi, Soo Ick Cho, and Dae Hun Suh. "Clinical efficacy of herbal extracts in treatment of mild to moderate acne vulgaris: an 8-week, double-blinded, randomized, controlled trial." Journal of Dermatological Treatment 32, no. 3 (2021): 297-301.
Lee KH, Lee JP, Kim W. Effects of a complex mixture prepared from agrimonia, houttuynia, licorice, peony, and phellodendron on human skin cells. Sci Rep. 2020 Dec 17;10(1):22132. doi: 10.1038/s41598-020-79301-2. PMID: 33335246; PMCID: PMC7746697.
Rafiq S, Hao H, Ijaz M, Raza A. Pharmacological Effects of Houttuynia cordata Thunb (H. cordata): A Comprehensive Review. Pharmaceuticals (Basel). 2022 Aug 29;15(9):1079. doi: 10.3390/ph15091079. PMID: 36145299; PMCID: PMC9501394.
Kim J, Shin JY, Choi YH, Jang M, Nam YJ, Lee SY, Jeon J, Jin MH, Lee S. Hair Growth Promoting Effect of Hottuynia cordata Extract in Cultured Human Hair Follicle Dermal Papilla Cells. Biol Pharm Bull. 2019;42(10):1665-1673. doi: 10.1248/bpb.b19-00254. PMID: 31582654.
Kwon TK, Kim JC. In vitro skin permeation and anti-atopic efficacy of lipid nanocarriers containing water soluble extracts of Houttuynia cordata. Drug Dev Ind Pharm. 2014 Oct;40(10):1350-7. doi: 10.3109/03639045.2013.819883. Epub 2013 Jul 25. PMID: 23886304.
Jiangang, Fu, Dai Ling, Lin Zhang, and Lu Hongmei. "Houttuynia cordata Thunb: a review of phytochemistry and pharmacology and quality control." Chinese Medicine 2013 (2013).
Albuquerque, Priscilla Barbosa Sales, Weslley Felix de Oliveira, Priscila Marcelino dos Santos Silva, Maria Tereza dos Santos Correia, John F. Kennedy, and Luana Cassandra Breitenbach Barroso Coelho. "Skincare application of medicinal plant polysaccharides—A review." Carbohydrate Polymers 277 (2022): 118824.
Han, Eun Hee, Jin Hee Park, Ji Young Kim, and Hye Gwang Jeong. "Houttuynia cordata water extract suppresses anaphylactic reaction and IgE-mediated allergic response by inhibiting multiple steps of FcεRI signaling in mast cells." Food and chemical toxicology 47, no. 7 (2009): 1659-1666.