When I saw Purito Centella Unscented Recovery Cream online, it struck me like lightning. A CICA cream from Purito? Yes, please! If you had followed me for a while, you would have known my crazy love for Centella serums, which I will review soon. I immediately carted this out as soon as I saw this being sold on Amazon*.
Some background: I have been working from home since the pandemic started, and I have noticed that my skin type has somewhat changed from super oily to combination skin. I asked around, and to my surprise, my friends who used to have combination skin now suffer from extremely dry skin. Can anyone relate to these pandemic skin changes?
My nose area is currently super dry, with itchiness and redness. And I started having random pimples here and there …
At a glance: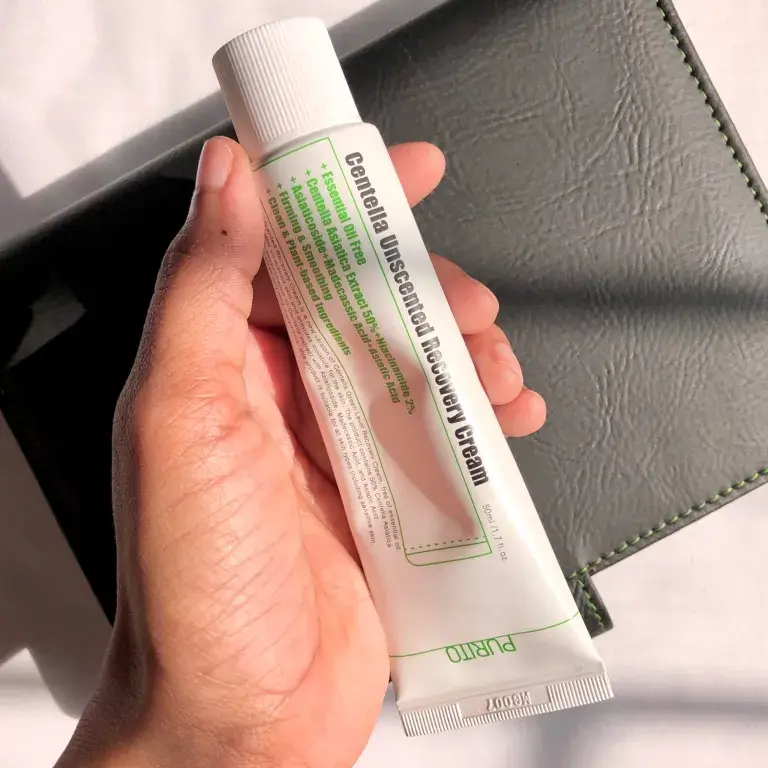 Where to Buy Purito Centella Unscented Recovery Cream?
In the US, it's available for roughly $16 and comes in a 1.7 fl. oz / 50 ml tube.
You can shop for Purito Centella Unscented Recovery Cream on Amazon* or choose other popular, trusted Asian websites: YesStyle* or StyleVana (*affiliate links).
The Purito Brand
Purito is a completely cruelty-free, vegan-certified, climate-neutral, certified sustainable brand. Purito takes pride in animal care by donating a part of its profit to the Best Friend Animal Society. Most of their products are packaged in sustainable, earth-friendly materials. Purito donates another part of its profits to the Korean Federation For Environmental Movement.
Purito is one of the brands I love the most due to their relatively inexpensive but effective, safe, and non-irritating, suitable for sensitive skin.
Purito says:
Just as healthy plants grow from robust roots, the beauty glows from your inner green.
.*Affiliate links below.
Purito Centella Unscented Recovery Cream Claims
Purito Centella Unscented Recovery Cream is the unscented, essential oil-free version of the original CICA cream with green packaging. The star ingredient of this cream is Centella Asiatica Extract, which helps to soothe and relieve irritated skin keeping skin radiant and healthy. It also has skin barrier-repairing ingredients such as Asiaticoside, Asiatic Acid, Madecassic Acid, and Ceramide.
This is not a sponsored post. I purchased this product with my own money.
Who is this cream for?
The product claims it is suitable for combination skin. I would recommend this for dry, normal, or combination skin types. Oily skin may use in the dry winter season only.
Not sure what your skin type is? Please read our guide on Skin types & skin conditions.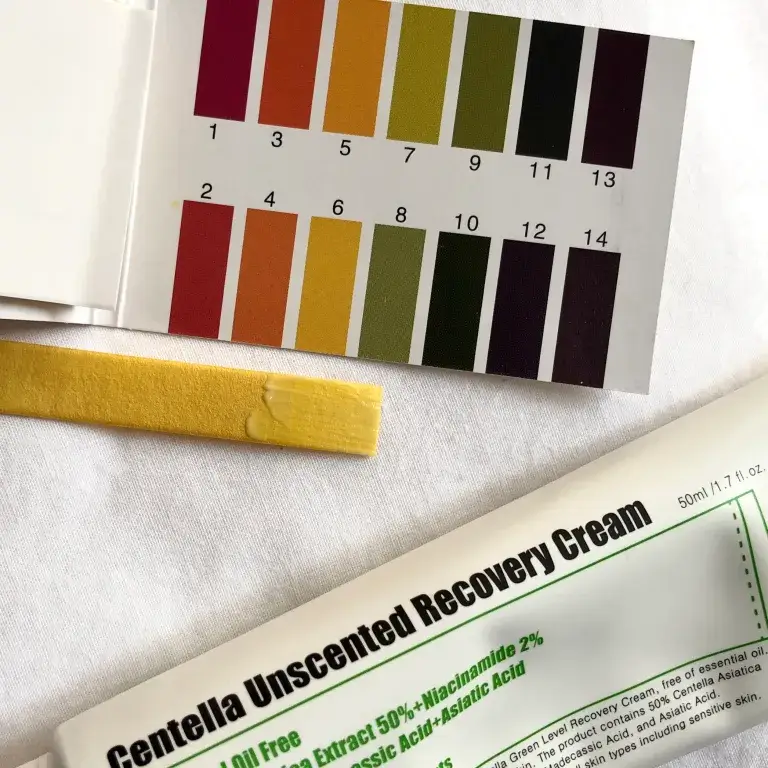 As you can see, I have tested the pH for you guys. It has a pH of 6 ~ 6.8, weakly acidic, so it is safe to use on compromised skin barriers.
Purito Centella Unscented Recovery Cream Ingredients
Centella Asiatica Extract (50%, Strengthens Skin-Barrier), Water, Caprylic/​Capric Triglyceride, Macadamia Ternifolia Seed Oil, Squalane, Butylene Glycol, Cetearyl Alcohol, Glycerin, Niacinamide, 1,2-Hexanediol, Potassium Cetyl Phosphate, Behenic Acid, Butyrospermum Parkii Butter Extract, Betaine, Tromethamine, Palmitic Acid, Hydrogenated Lecithin (Emulsifying Agents), Stearic Acid (Emulsifying Agents), Caprylyl Glycol (Emollient), Tremella Fuciformis (Mushroom) Extract (Skin-Conditioning Agents), Sodium Hyaluronate (Natural Moisturizing Factor/​Humectants), Perilla Ocymoides Seed Extract (Skin-Conditioning Agent), Beta-Glucan (Skin Conditioning Agents), Carbomer (Viscosity Increasing Agents), Argania Spinosa Kernel Oil (Emollient), Xanthan Gum (Viscosity Increasing Agents), Hydroxyethylcellulose (Viscosity Increasing Agents), Sodium Carbomer (Viscosity Increasing Agents), Adenosine (Strengthens Skin Barrier), Spent Grain Wax (Skin-Conditioning Agent), Asiaticoside (Strengthens Skin Barrier), Asiatic Acid (Strengthens Skin Barrier), Phytosphingosine (Skin-Conditioning Agent), Ceramide NP (Strengthens Skin Barrier), Madecassic Acid (Strengthens Skin Barrier), Myristic Acid (Emulsifying Agents), Arachidic Acid (Emulsifying Agents), Tocopherol (Antioxidant).
Ingredients are taken from INCIDecoder.
Ingredients Analysis
I don't know where to start because the ingredient list seems too good to be true.
Centella Asiatica Extract
This cream contains 50% Centella Asiatica Extract, the highest among all the Purito Centella products. Centella is a fantastic moisturizing and anti-inflammatory agent which is excellent for calming down any redness or irritation on the skin. It is my favorite ingredient to soothe, calm and heal the skin. One really cannot go wrong with this.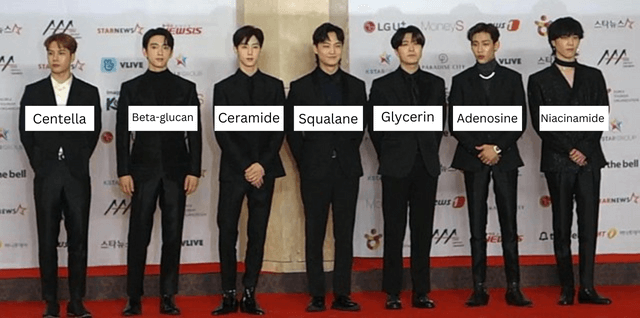 Asiaticoside is a Centella derivative that heals skin, improves the skin barrier, boosts elasticity in the skin, and of course, calms skin.
Asiatic acid is also a Centella Asiatica derivative that calms the skin and has anti-aging benefits for the skin.
Madecassic acid is a Centella Asiatica derivative that calms and heals the skin and helps fade PIE and PIH through skin regeneration.
Squalane
Squalane is a light and non-comedogenic oil that helps moisturize the skin without feeling heavy.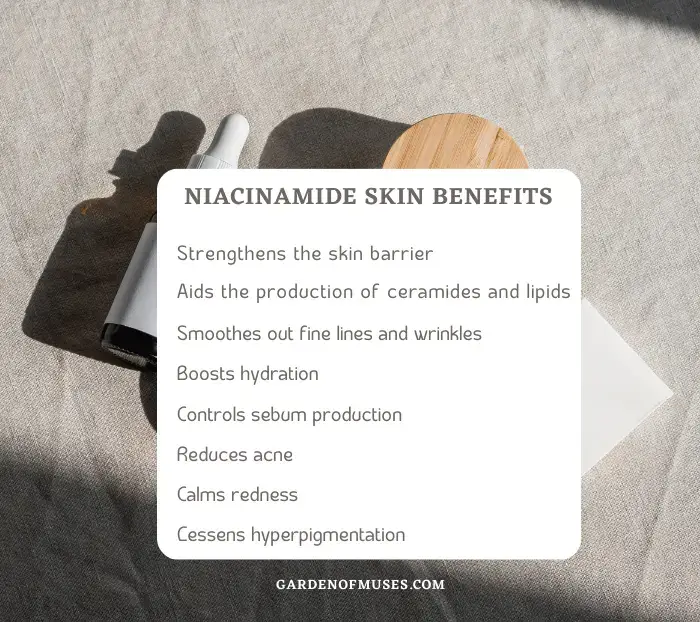 Niacinamide
Niacinamide has been making a splash in the Western market over the last few years and has been splashing in Asian skincare for decades. This beauty powerhouse is the topical form of vitamin B3.
Several well-documented studies show that when used topically, niacinamide can:
Long story short, niacinamide does everything, and the good news is it is included in a low percentage, 2% strength, which is well tolerated by all skin types. Read the Complete Guide on Niacinamide.
Mushroom Extract
The Mushroom Extract calms skin and helps in reducing breakouts. It also protects from and repairs UV photoaging.
Ceramides
Ceramides are a family of lipids that account for 50% of the skin barrier (by weight), so they're essential, right? Ceramides are crucial to:
Maintain the skin's moisture levels;
Protect skin from external irritants making skin more resilient;
Help make skin more plump, juicy, radiant, and smooth;
Make skin tolerate chemical exfoliation much better;
skin is less likely to become irritated;
because they prevent dehydration, ceramides are a great anti-aging ingredient;
regulate the cell cycle and apoptosis (regulated cell death);
beneficial for all skin types.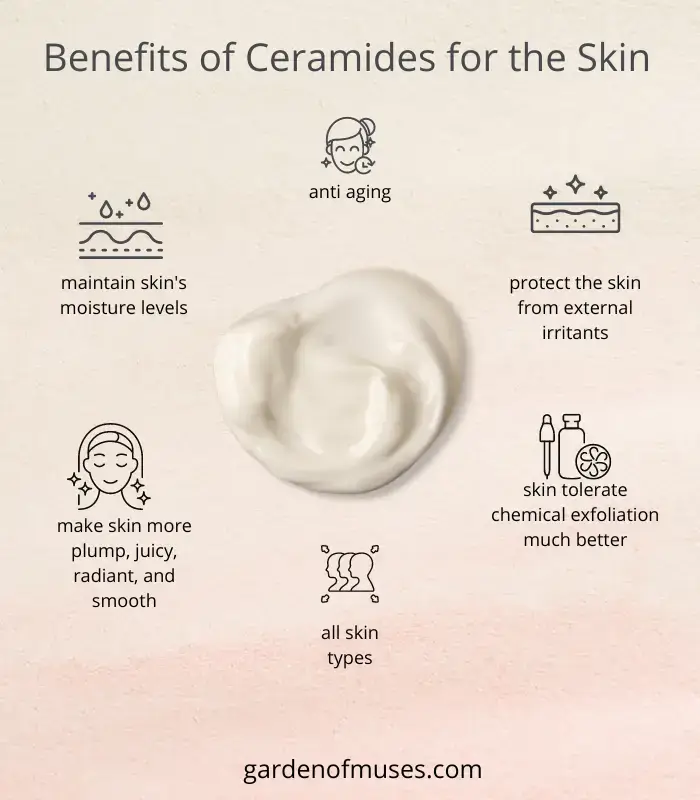 Heralded as skincare heroes, ceramides can now be found in cleansers, toners, serums, masks, moisturizers, and even hand creams.
Broken your skin barrier? Fallen in love with ceramides? The muses from Garden Of Muses have too. Read the reviews to add more ceramides to your routine:
Toner: Thank You Farmer Miracle Age Repair Toner
Mist: Holika Holika Good Cera Super Ceramide Mist
Serum: Thank You Farmer True Water Deep Serum
Creams: Real Barrier Extreme Cream, Holika Holika Good Cera Super Ceramide Cream, Illiyoon Ceramide Ato Concentrate Cream
Sunscreen: Pyunkang Yul ATO Mild Sun Cream
Other Multitaskers
Glycerin and Sodium Hyaluronate are humectants that will help keep skin soft and well-hydrated.
Other notable ingredients include Phytosphingosine (a problematic name, lol) and Adenosine. These two are great for repairing the damaged skin barrier and treating acne due to their antimicrobial and anti-inflammatory properties.
Other moisturizing ingredients include Macadamia Seed Oil, Shea Butter, and Argan oil, which are rich in nourishing fatty acids.
Tocopherol is a Vitamin E derivative that helps in fighting free radical damage.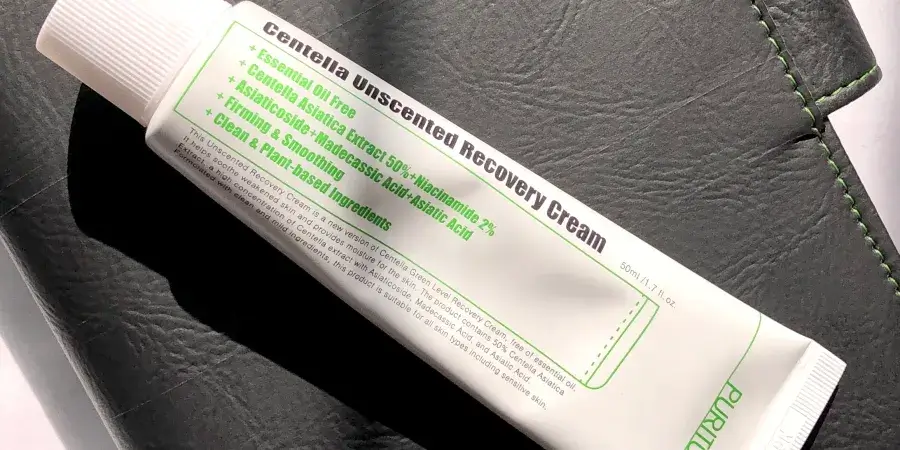 Ingredients not included in Purito Centella Unscented Recovery Cream
To make it even better, this cream is free from alcohol, fragrance, and essential oil.
Note: Purito has removed their Witch Hazel Extract from their formulation for their newer version. This ingredient can be hit & miss for many.
Is the Purito Centella Unscented Recovery Cream vegan?
Yes, it's vegan and cruelty-free.
Packaging
Purito products are generally well-priced and easily accessible by everyone.
Purito Centella unscented Recovery cream comes in a simple tube packaging with a roll-on cap, which I love. I find this more hygienic than creams in a jar.
Expiry: Use within 12 months of opening.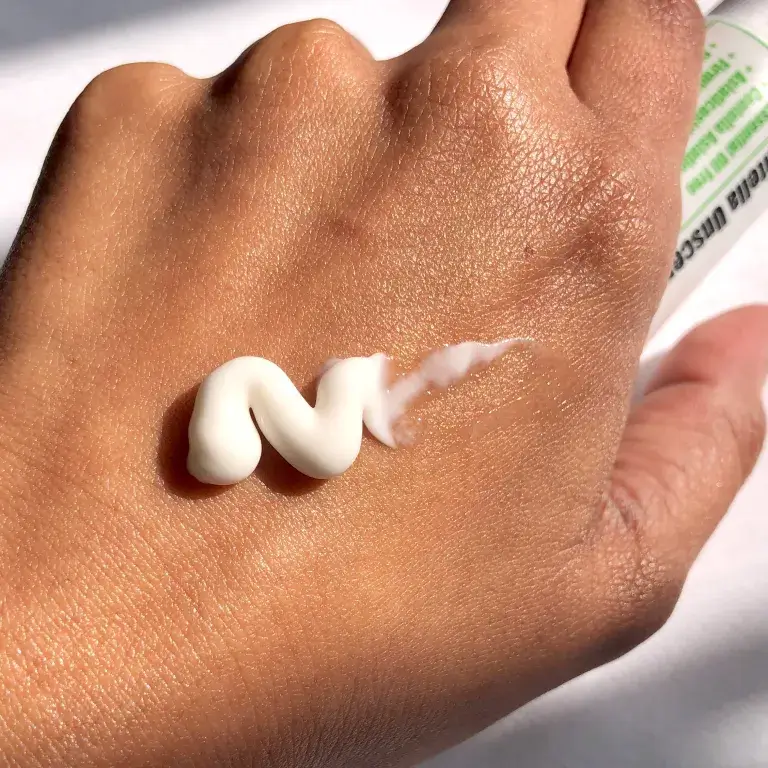 Scent
This product has no scent as it is free from fragrance and essential oil.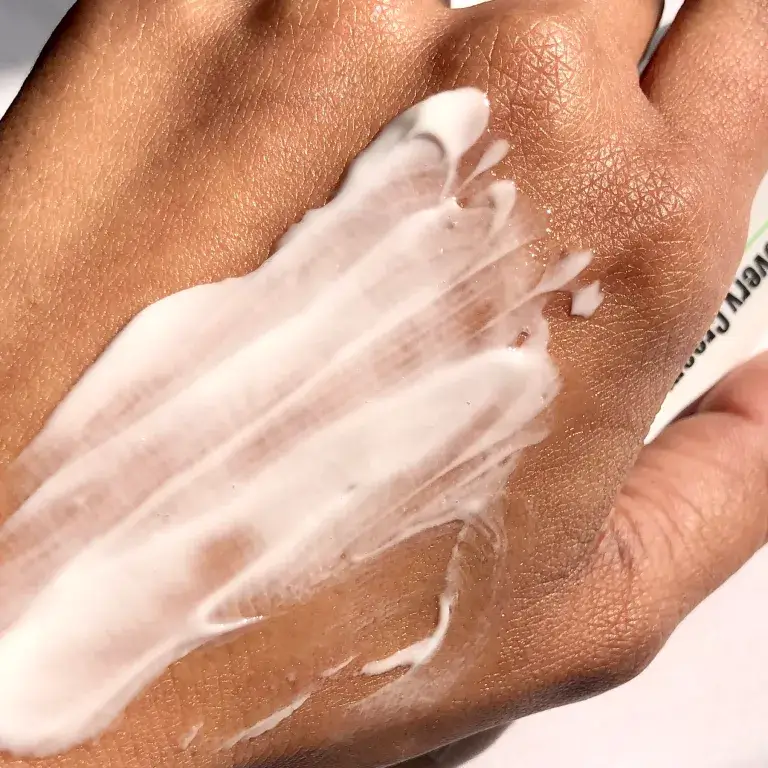 Texture
I expected this cream to be very heavy and thick, but to my surprise, this cream is somewhere in between a thick cream and a gel. It spreads quickly on the skin. It's not very greasy but not very light either.
On application, it sinks in well, leaving skin soft and moisturized. It will give you a slight occlusive layer with minimal stickiness on top of your skin.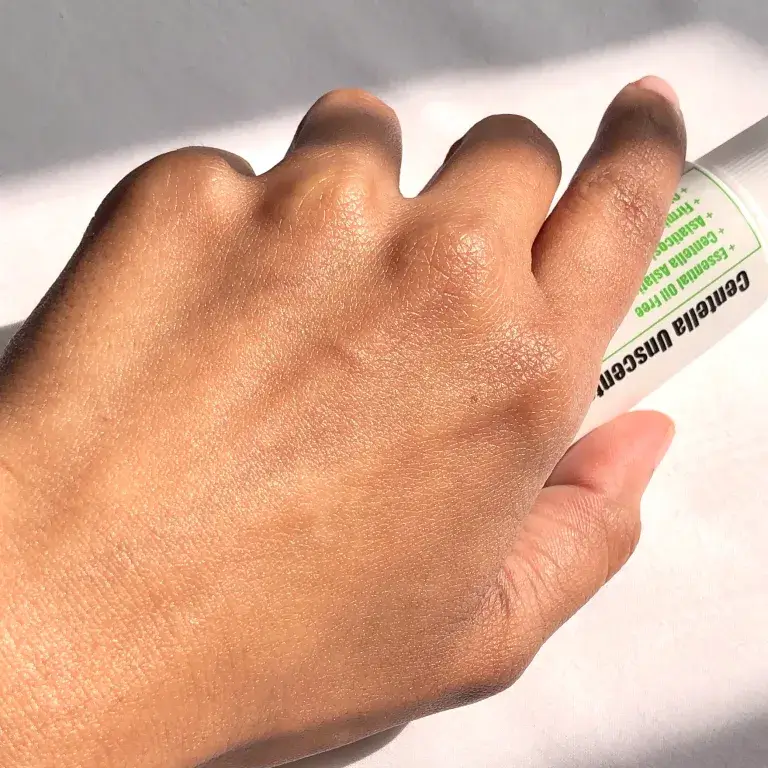 My Personal Experience with Purito Centella Unscented Recovery Cream
The performance of this cream is wow, my skin loves this cream! I am amazed by how calming, moisturizing, and comfortable it feels on my combo-acne-prone skin.
For reference, I live in Singapore. The weather here is hot and humid.
The dry patches on my nose and skin tightness are all gone. The sebaceous filaments on my nose also seem smaller, and I haven't spotted much irritation since then.
My pimples also seem to heal faster. This cream works on all kinds of acne marks, from red to brown ones; the lighter and superficial ones will fade sooner, and the deeper ones take time, but they do in almost two months or so!
When my tube got almost empty, this Purito Centella Recovery Cream* and the Cosrx Advanced Snail 96 Mucin Power Essence* worked fabulously in lightening my quite deep, stubborn acne mark in almost 30-40 days with daily day and night usage! The mark is still there but faded.
How to use Purito Centella Unscented Recovery Cream?
Wondering where something like this fits into your skincare routine?
Cleanse;
Squeeze some Purito Centella Unscented Recovery Cream;
Massage gently on your face, neck, and decolletage;
Apply another thick layer on dry patches and red areas.
When do you apply?
Purito Centella Unscented Recovery Cream can be used daily; I apply it twice daily during my skincare routine.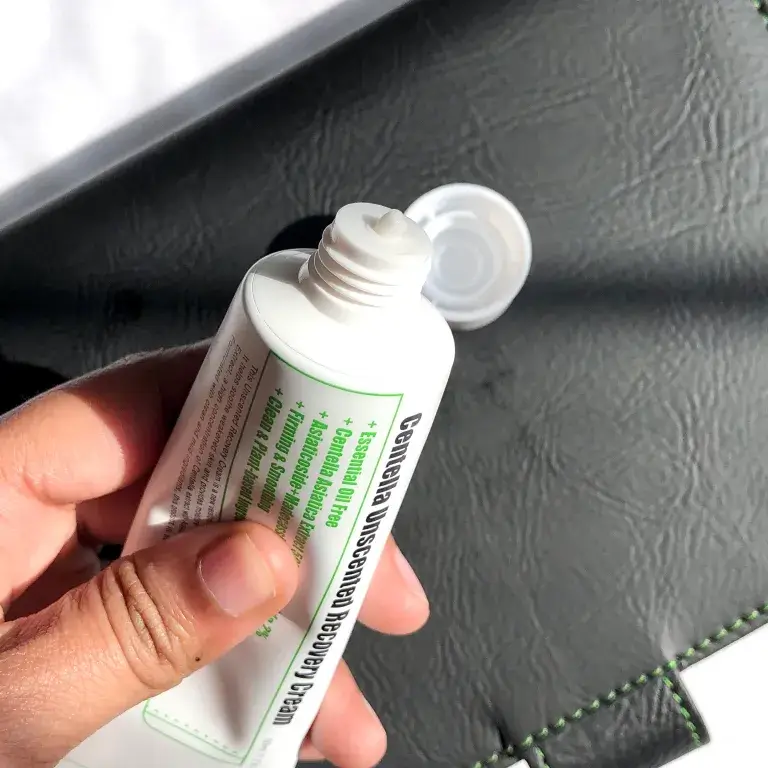 Pros
High concentration of Centella;
Helps reduce the inflammation due to acne;
Moisturizing;
Fragrance-free;
Essential oil-free;
Cruelty-Free;
Vegan friendly;
Clean Beauty Product;
Cons
Not that effective on severe acne;
Not fungal acne safe.
It is to be noted that fatty acids are fantastic for the skin and are much needed for repairing damaged skin barriers, but if you have severe fungal acne issues, stay away from ingredients like carrier oils.
Conclusion
The Purito Centella Green Level Recovery Cream is a moisturizer that helps repair the damaged skin barrier, soothing and relieving irritated skin.
I'm delighted with my results. This moisturizer has helped tremendously with acne marks, hydration, and redness.
Will I repurchase Purito Centella Unscented Recovery Cream?
I enjoy this product and am almost certainly repurchasing it to use it twice daily.
Have you tried Purito Centella Unscented Recovery Cream, and did it work for you? I would love to hear from you in the comments section below!
Rating 5/5
Shop for Purito Centella Unscented Recovery Cream
Shop other products from the Purito Centella Unscented line:
Eye cream: Purito Centella Unscented Eye Cream*
Toner: Purito Centella Unscented Toner*
Serum: Purito Centella Unscented Serum*
(*affiliate links)
As always, you do you, be kind to your skin and yourself! Remember that every person's skin and skin type is different, so what might work for me might not work for you, and vice versa. So before adding a new product to your skincare routine, it pays to do a little research first.
Pay special attention to ingredients that you might react to. Doing a patch test is always a good idea. Unsure? Best to consult your dermatologist.
Happy skin experimenting, and don't forget to try the new Purito Daily Go-To Sunscreen*!
References
Ratz-Łyko A, Arct J, Pytkowska K. Moisturizing and Antiinflammatory Properties of Cosmetic Formulations Containing Centella asiatica Extract. Indian J Pharm Sci. 2016 Jan-Feb;78(1):27-33. doi: 10.4103/0250-474x.180247. PMID: 27168678; PMCID: PMC4852572.
Lingrong Wen, Qing Gao, Chung-wah Ma, Yazhong Ge, Lijun You, Rui Hai Liu, Xiong Fu, Dong Liu. Effect of polysaccharides from Tremella fuciformis on UV-induced photoaging.
Journal of Functional Foods, Volume 20, 2016, Pages 400-410, ISSN 1756-4646, https://doi.org/10.1016/j.jff.2015.11.014.
Q Li, H Fang, E Dang, G Wang, The role of ceramides in skin homeostasis and inflammatory skin diseases, Journal of Dermatological Science, Volume 97, Issue 1, 2020, https://doi.org/10.1016/j.jdermsci.2019.12.002.
Coderch, L., López, O., de la Maza, A. et al. Ceramides and Skin Function. Am J Clin Dermatol 4, 107–129 (2003). https://doi.org/10.2165/00128071-200304020-00004
Uchida Y. Ceramide signaling in mammalian epidermis. Biochim Biophys Acta. 2014 Mar;1841(3):453-62. doi: 10.1016/j.bbalip.2013.09.003. Epub 2013 Sep 19. PMID: 24055887; PMCID: PMC3943494.
Cha, H. J., He, C., Zhao, H., Dong, Y., An, I., An, S."Intercellular and intracellular functions of ceramides and their metabolites in skin (Review)". International Journal of Molecular Medicine 38, no. 1 (2016): 16-22. https://doi.org/10.3892/ijmm.2016.2600
Tanno, O., Y. Ota, N. Kitamura, T. Katsube, and S. Inoue. "Nicotinamide increases biosynthesis of ceramides as well as other stratum corneum lipids to improve the epidermal permeability barrier." British Journal of Dermatology 143, no. 3 (2000): 524-531.
Snaidr, Victoria A., Diona L. Damian, and Gary M. Halliday. "Nicotinamide for photoprotection and skin cancer chemoprevention: A review of efficacy and safety." Experimental dermatology 28 (2019): 15-22.
Gehring, W. "Nicotinic acid/niacinamide and the skin." Journal of Cosmetic Dermatology 3, no. 2 (2004): 88-93.
Soma, Yoshinao, Masato Kashima, Akiko Imaizumi, Hideto Takahama, Tamihiro Kawakami, and Masako Mizoguchi. "Moisturizing effects of topical nicotinamide on atopic dry skin." International journal of dermatology 44, no. 3 (2005): 197-202.
Draelos, Zoe Diana, Akira Matsubara, and Kenneth Smiles. "The effect of 2% niacinamide on facial sebum production." Journal of Cosmetic and Laser Therapy 8, no. 2 (2006): 96-101.
Shahmoradi, Zabiolah, Farib Iraji, Amir Hossein Siadat, and Azamosadat Ghorbaini. "Comparison of topical 5% nicotinamid gel versus 2% clindamycin gel in the treatment of the mild-moderate acne vulgaris: A double-blinded randomized clinical trial." Journal of Research in Medical Sciences: The Official Journal of Isfahan University of Medical Sciences 18, no. 2 (2013): 115.
Ungerstedt, J. S., M. Blombäck, and T. Söderström. "Nicotinamide is a potent inhibitor of proinflammatory cytokines." Clinical & Experimental Immunology 131, no. 1 (2003): 48-52.
Bissett, D. L., K. Miyamoto, P. Sun, J. Li, and C. A. Berge. "Topical niacinamide reduces yellowing, wrinkling, red blotchiness, and hyperpigmented spots in aging facial skin 1." International journal of cosmetic science 26, no. 5 (2004): 231-238.