Over the last few years, the buzz for vitamin C regarding anti-aging has been insane! Even with this craze, many people don't know what vitamin C is or does in skincare.
I was running out of vitamin C serum. I discovered this vitamin C serum, with over 20k reviews on Amazon, making it one of Amazon's most popular vitamin C serums.
I let my shopping senses take the lead. I didn't do as much research into products or brands as I usually take the time to do…
Seoul Ceuticals Day Glow Serum Vitamin C Serum, in Short:
Where to Buy the Seoul Ceuticals Day Glow Serum?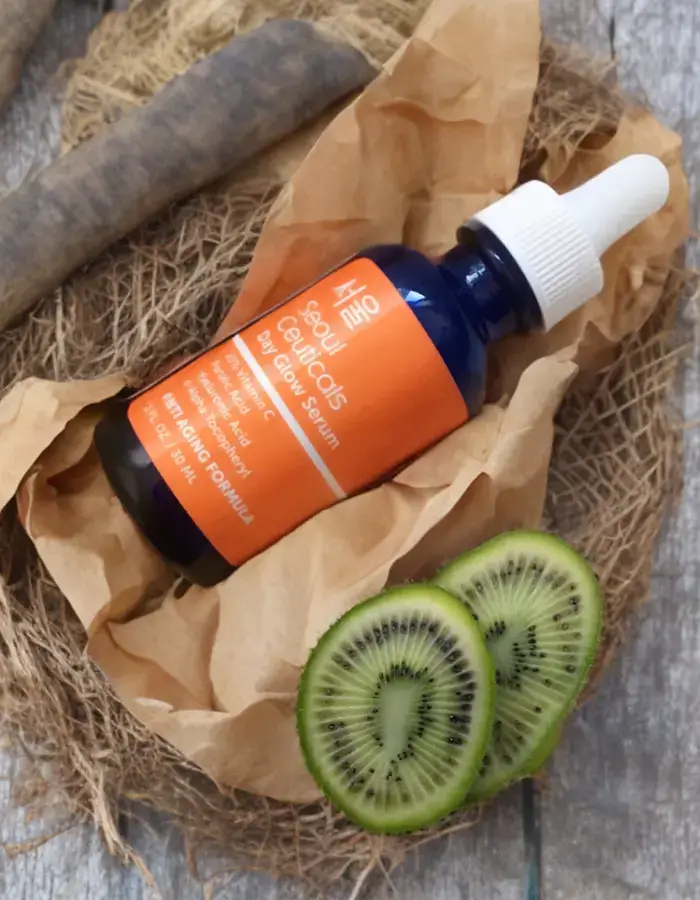 This product is not highly accessible to the international marketplace at the moment.
The Seoul Ceuticals Vitamin C Serum comes in a one fl. oz. / 30 ml dark blue dropper bottle and retails for approximately $20.
For all you lucky people in the US who can get Prime delivery, you can buy the vitamin C serum from Seoul Ceuticals's official store on Amazon*.
You can also shop for the Seoul Ceuticals Vitamin C serum on their official website.
The Seoul Ceuticals Brand
According to its website, Seoul Ceuticals is a United States-based company. Their products are not made in Korea. They are sourced in Korea and made in "a state-of-the-art" US facility. They explain that they chose to produce in the US to be able to be directly involved in the manufacturing process.
Seoul Ceuticals Day Glow Serum 20% Vitamin C Claims
It helps reduce the appearance of wrinkles, fine lines, and crow's feet;
Provides robust antioxidant protection;
Helps reverse the effects of aging and sun damage.

seoulceuticals.com
Who Is this Vitamin C Serum For?
Because this serum contains soothing and hydrating ingredients, it should be geared more toward those with dry and sensitive skin.
Seoul Ceuticals Day Glow Serum Vitamin C Ingredients
Aqua (Deionized Water), Sodium Ascorbyl Phosphate, Hamamelis Virginiana Water, Cassia Angustifolia Seed Polysaccharide, Dimethyl Sulfone (MSMJ), Citrus Aurantium Dulcis (Orange Stem Cells), Callus Culture Extract, Tocopheryl Acetate, Aloe Barbadensis Leaf (Organic Aloe) Extract, Ferulic Acid, Glycerin, Simmondsia Chinensis (Organic Jojoba) Oil, Centella Asiatica (Organic Gotu Kola) Extract, Equisetum Arvense (Horsetail) Extract, Taraxacum Officinale Extract (Dandelion), Geranium Maculatum (Wild Geranium) Extract, Arginine, Acrylates/(10-30 alkyl acrylate Crosspolymer), Phenoxyethanol, Ethylhexylglycerin.
Ingredients referred from Seoul Ceuticals' official website.
Herbal Active Humectant/Moisturizer
Ingredients Analysis
According to CosDNA, it has no acne triggers and no irritants. There are many ingredients in its formulation aimed at suppressing inflammatory activity.
Sodium Ascorbyl Phosphate (SAP)
Seoul Ceuticals's Vitamin C star ingredient is Sodium Ascorbyl Phosphate (SAP), a vitamin C derivative. Sodium Ascorbyl Phosphate is a water-soluble form of Vitamin C that acts as an antioxidant and is potentially effective at reducing acne or sebum over-production-related concerns.
Compared to L-Ascorbic Acid, its effectiveness is lower, but it does not irritate the skin as much, does not require low pH, does not oxidize, and products with SAP do not need to be stored in the fridge. SAP also helps collagen production.
Regarding hyperpigmentation, a publication with in-vivo data shows that SAP can fade brown spots.
What is most interesting is that SAP helps fight acne. Studies found that SAP has potent antimicrobial activity against the bacteria that cause P. acnes and showed in vivo (on real people) that it can significantly improve inflammatory and non-inflammatory lesions of acne vulgaris. The studies compared SAP with benzoyl peroxide and retinol and showed that it is a suitable replacement for them in acne therapy.
Witch Hazel
Witch hazel is an astringent rich in antioxidants that reduce inflammation and decrease oil in the skin, which is great for acne-prone skin. Witch Hazel helps minimize the appearance of pores.
Arginine
Arginine is an amino acid that helps to strengthen and repair the skin's barrier. It's a natural moisturizing factor, a humectant that may help speed up wound healing.
Cassia Angustifolia Seed Polysaccharide is an extract from the African cassia shrub that helps fight the first signs of aging, smoothes wrinkles, moisturizes, and tones the skin.
Aloe Vera provides soothing medicinal benefits for skin irritations or burns and some antibacterial advantages. Aloe Vera's main claim to cosmetic fame is its hydration properties because the ingredient is 99.5% water.
Hyaluronic Acid – Hyaluronic acid is ordinarily considered a super ingredient for its water-attracting and binding abilities. This vitamin C serum contains one of the highest-rated forms of this ingredient.
Tocopheryl Acetate – This antioxidant is a form of Vitamin E that reduces inflammation and smooths skin texture. Since it is a fat-soluble component, it penetrates the skin well. It protects the skin from photoaging.
Ferulic Acid – An antioxidant that enhances Vitamins C and E benefits. It owes its fame to a 2005 study that found that adding ferulic acid to a vitamin C and E solution stabilizes vitamin C (especially in ascorbic acid) but doubles the photoprotective ability of the formula.
Jojoba Oil (Simmondsia Chinensis) is a non-fragrant emollient that stimulates collagen production, moisturizes the skin, softens it, reduces sebum production, and repairs the skin barrier.
Equisetum Arvense (Horsetail) Extract – accelerates skin cell renewal, pore tightening, and healing of minor wounds—good ingredient for oily skin.
Dandelion and Wild Geranium Extracts have anti-inflammatory activity.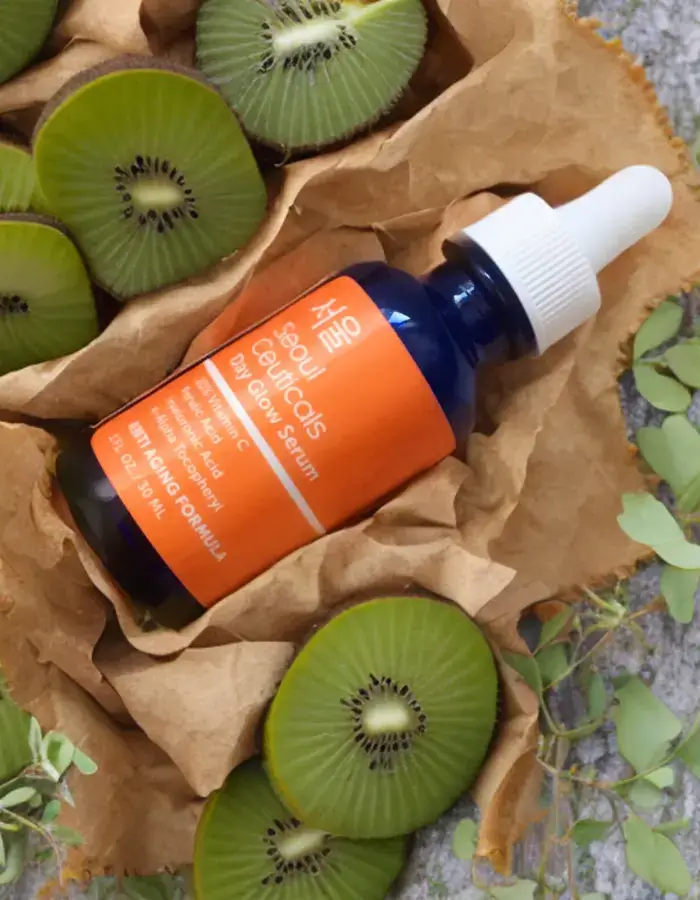 Vitamin C serums are not long-lasting products by nature. The average shelf life is 3-4 months once opened.
The Seoul Ceuticals Day Glow serum is botanically based, which I look for in my cosmetics. This formula contains two stabilizing ingredients:
Ferulic acid is a natural formula stabilizer;
Phenoxyethanol, a plant-based preservative.
The Seoul Ceuticals Day Glow Vitamin C serum is an OK product. Still, users should always pay attention to the formula of any Vitamin C serum they purchase.
Seoul Ceuticals Day Glow Serum does not contain niacinamide, parabens, alcohol, or fragrance and is cruelty-free but not vegan.
Packaging
This Seoul Ceuticals Day Glow serum comes in dropper bottle packaging, which is standard for this type of serum.
Dark packaging helps stabilize the product formula by protecting it from light. Still, it is transparent enough to see how much product is left.
The dropper itself is sturdy and has not leaked while traveling.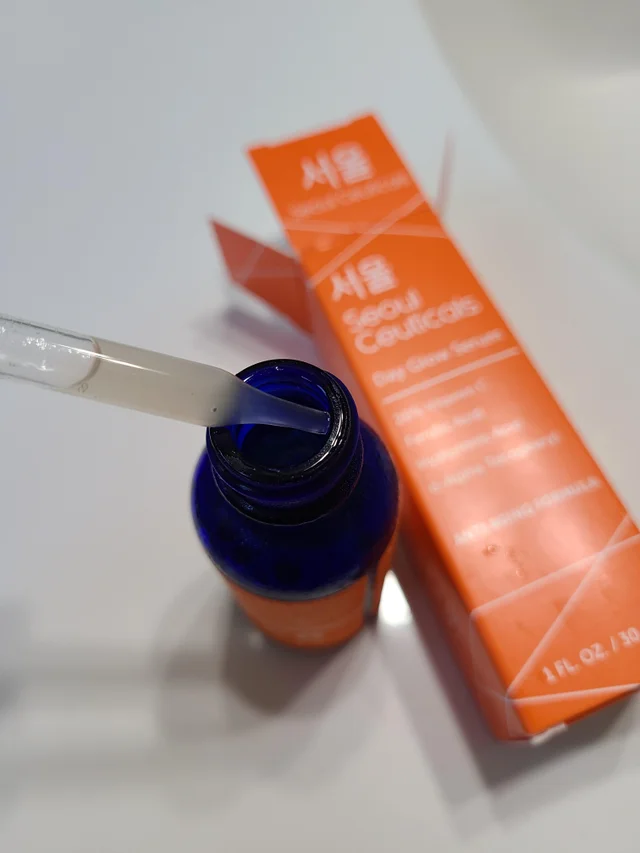 Scent
This brought me back to my childhood. It smells like Sunny D! It has a candied orange juice scent, but the best part is that no artificial fragrance is added.
Texture
This formula is slightly unusual as I have never tried a serum that looked like this before. It is cloudy and off-white.
For most Vitamin C serums, that is a sign of oxidation, but for this vitamin C serum, you don't have to worry about that since it doesn't contain L-Ascorbic Acid.
The thick liquid is easy to apply, sinks in quickly, and doesn't leave my skin feeling greasy.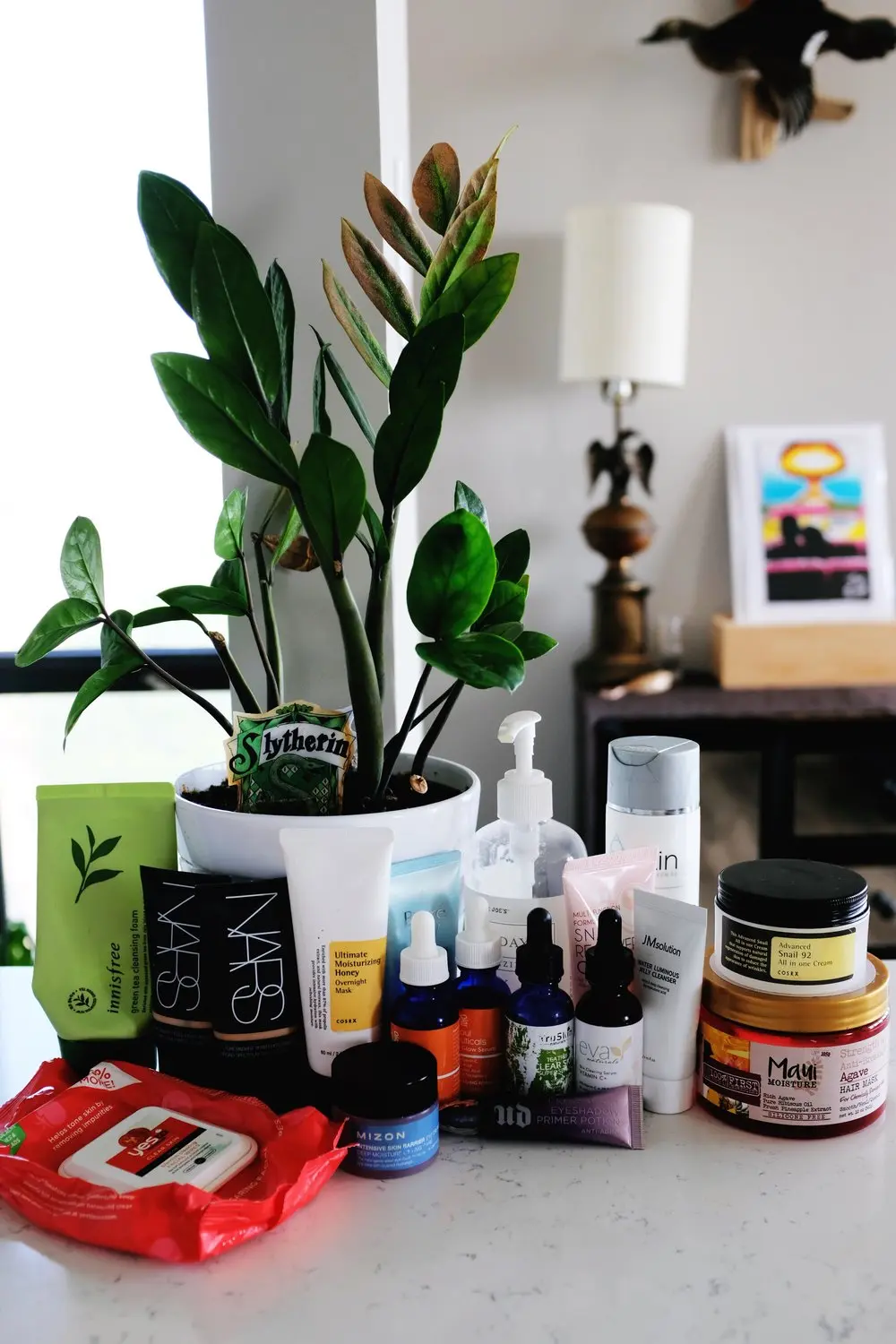 My Experience with the Seoul Ceuticals Day Glow Serum
For reference, I have a normal-dry skin type and live in a typically continental with cold winters and hot summers.
The Day Glow Vitamin C Serum is an average hydrating product at best. It is not the most effective exfoliant I have ever used regarding vitamin C serums. Still, I was unsurprised when I glanced at the ingredient list. This serum contains more water-based and soothing ingredients than a typical vitamin C product. This serum should be targeted more toward sensitive or dry skin types, and there is a market for that. I never experienced any tightness or stinging as I have with more aggressive vitamin C serums, so a serum like this could be a good option as an introductory product.
I have been using vitamin C serums for over four years now. I did not have as strong brightening effects or fine line reduction as other vitamin C serums. However, I still had minor brightening effects, and my skin looked plumper due to all the hydrating extras in the ingredients list.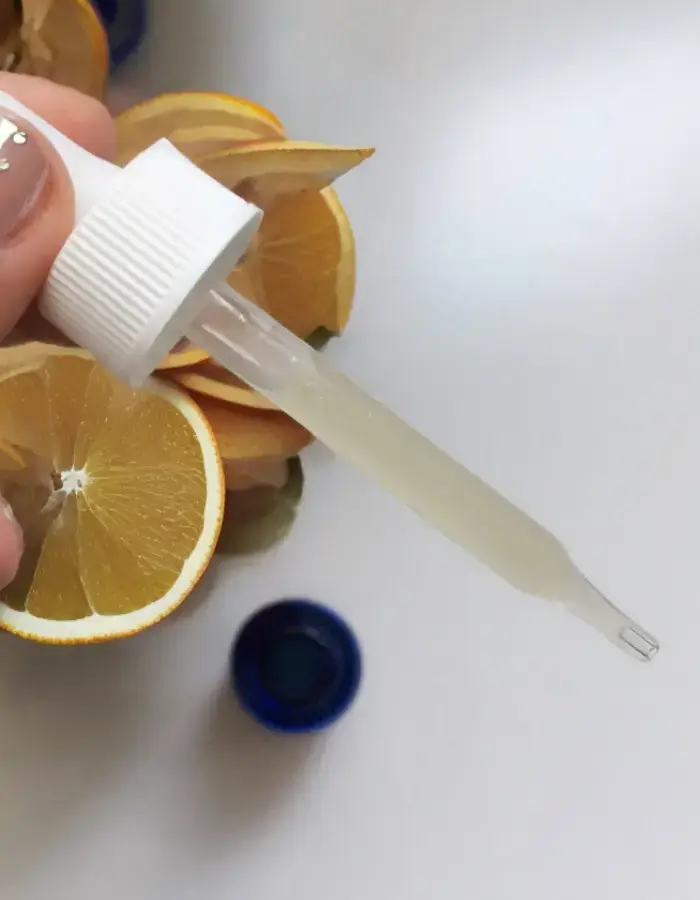 How to Apply the Seoul Ceuticals Day Glow Serum?
You may be wondering where this vitamin C serum fits into your routine. The brand advises using it in the morning, but it can be used in the AM and the PM. If you wish to use it once daily, in rotation with other serums, choose the AM because vitamin C helps protect against UVA rays.
I use the Round Lab Birch Juice Moisturizing Cleanser as my water-based cleanser;
Tone with Thank You Farmer Rice Pure Essential Toner;
Apply the Seoul Ceuticals Vitamin C serum. I put 2-3 drops onto the palm of the clean hand and use my fingertips to massage into the face and neck until fully absorbed;
Add my pore hero, Numbuzin No.3 Skin Softening Serum;
Moisturize with Purito Centella Unscented Recovery Cream;
Sunscreen! Goodal Heartleaf Calming Moisture Sun Cream (in the AM).
Pros
good introductory product
affordable
plumping
Cons
Seoul Ceuticals Day Glow Vitamin C Serum vs. SkinCeuticals C E Ferulic
The Day Glow Serum* allegedly rivals Skinceuticals, which is not entirely accurate. First, the Skinceuticals Vitamin C serum contains about half the ingredients as Seoul Ceuticals Vitamin C serum, which may be vital if you have sensitive or acne-prone skin.
Secondly, the Vitamin C derivatives are entirely different for both products, so the active ingredients are not the same as claimed. This derivative difference affects how this product functions as a chemical exfoliant. The Skinceuticals vitamin C serum contains L-Ascorbic Acid, the gold standard of derivatives. Seoul Ceuticals Day Glow Vitamin C Serum contains Sodium Ascorbyl Phosphate, a more water-soluble form of Vitamin C, though the least effective form for exfoliation and preventing free radicals.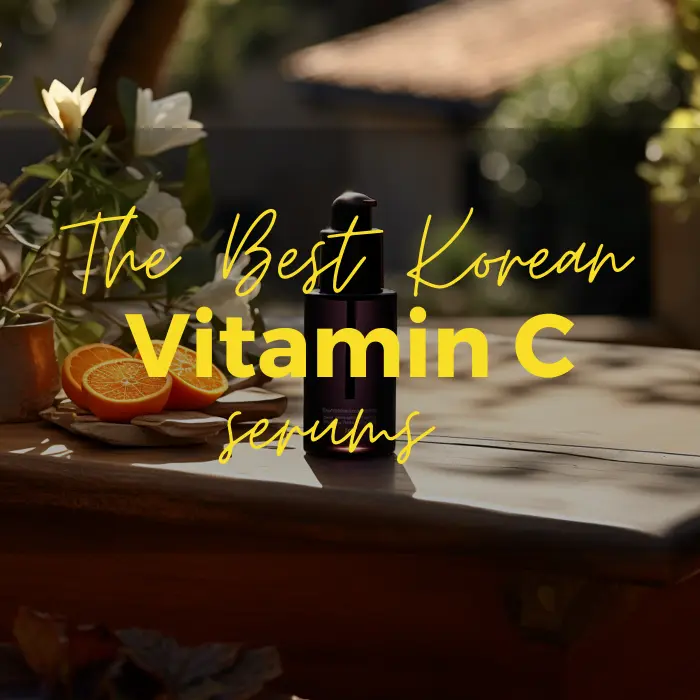 Final Thoughts
I would rank the serum formula 2 / 5 because I was not fond of the product. I prefer a different Vitamin C formula with more vigorous exfoliation. I also ranked this product lower because of the brand's aggressive marketing and lack of transparency.
I will use the rest of this serum because I have already spent the money. It is not a completely useless product, but I will not repurchase it.
Rating 2/5
Shop for Seoul Ceuticals Day Glow Vitamin C Serum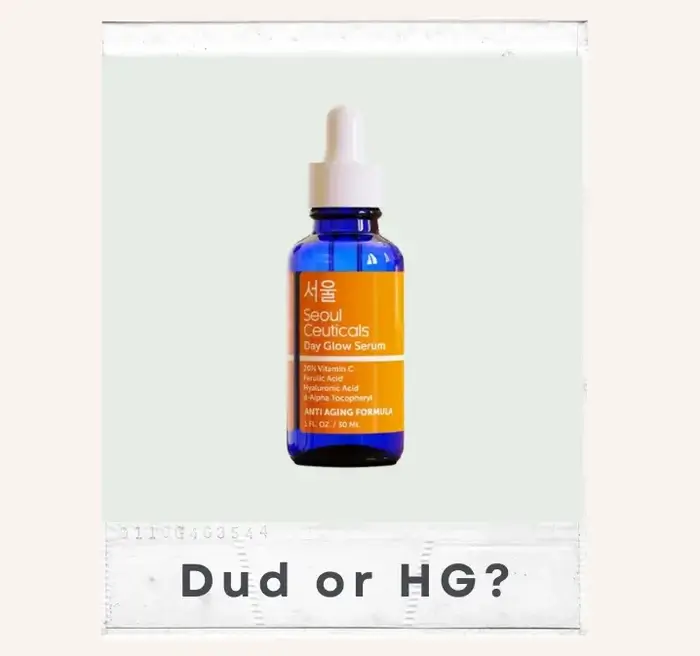 As always, you do you, be kind to your skin and yourself! Remember that every person's skin and skin type is different, so what might work for me might not work for you, and vice versa. So, before adding a new product to your skincare routine, it pays to do a little research first.
Before adding the Seoul Ceuticals Day Glow Serum Vitamin C Serum to your skincare regimen, ensure you are not allergic to it or its ingredients. You should also consult your doctor if you are pregnant, breastfeeding, or have any medical conditions or medications that may interact with the Seoul Ceuticals Day Glow Serum Vitamin C Serum. Always do a patch test before applying the Seoul Ceuticals Day Glow Serum Vitamin C Serum on your skin to avoid adverse reactions.
I am not a dermatologist or licensed aesthetician, but I have sufficient experience and knowledge I gained by testing multiple products and self-exploration. Unsure? Best to consult your dermatologist.
Happy shopping, and don't forget the sunscreen! Here's to great skin in 2023!
Show Me Proof
Telang PS. Vitamin C in dermatology. Indian Dermatol Online J. 2013 Apr;4(2):143-6. doi: 10.4103/2229-5178.110593. PMID: 23741676; PMCID: PMC3673383.
Prieto, M.D.. "Cosmetic Topical Use of Vitamin C" In Ascorbic Acid – Biochemistry and Functions, edited by Assistant Kükürt, Volkan Gelen. London: IntechOpen, 2023. 10.5772/intechopen.109644