I bought the Jumiso Waterfull Hyaluronic Sunscreen when planning for my vacation. Since I am using retinoids, I buy (and like to test) a lot of sunscreens. This was a good choice, although summer vacation in Coachella Valley wasn't our best decision thus far. We hadn't even thought of Palm Springs existing in a desert until well after locking in our Airbnb, so we were committed. But how bad could it be? Living in Chicago, we're used to cooler summers, and while locals swear it's humid here, this area of Illinois is far drier than the swampy states I've lived in.
Imagine entering an outdoor oven with everything immediately drying out: your eyes, skin, and sinuses. You start feeling cold-like symptoms from the level of dryness you're experiencing. Your clothing feels like it's melting into you. Sweating is just part of existence—hot asf.
Weather aside, Joshua Tree is mesmerizingly beautiful, and Palm Springs's mid-century modern vibes are carefree. No wonder gay men go there to sunbathe and die! If I had to choose a winter escape, this would be it.
At a glance:
Where to buy Jumiso Waterfull Hyaluronic Sunscreen?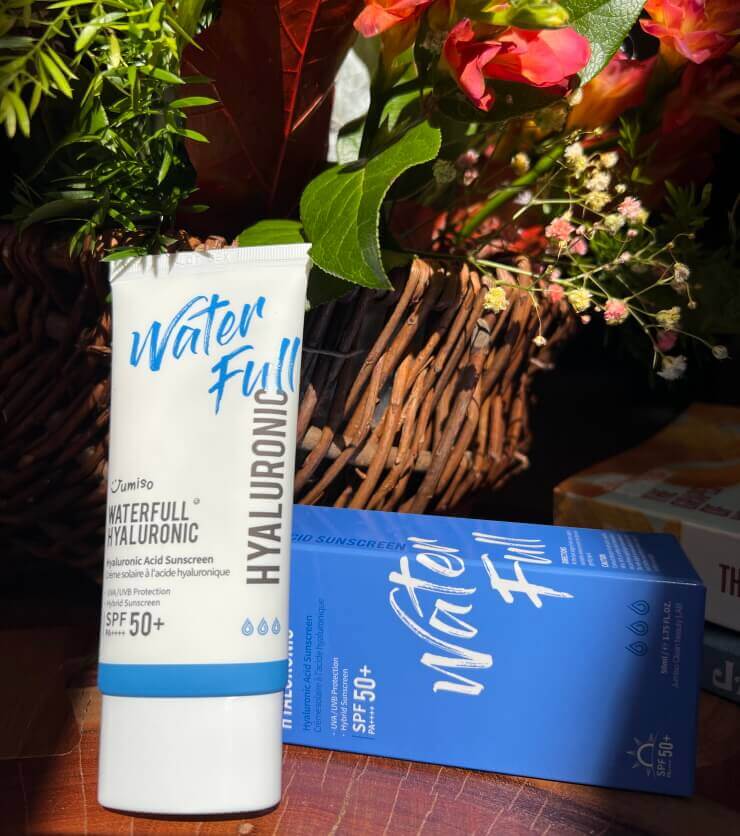 Shop Jumiso Waterfull Hyaluronic Sunscreen at StyleKorean*, Amazon*, and Jumiso US. (*affiliate links)
Jumiso Waterfull Hyaluronic Sunscreen SPF50+ PA++++ claims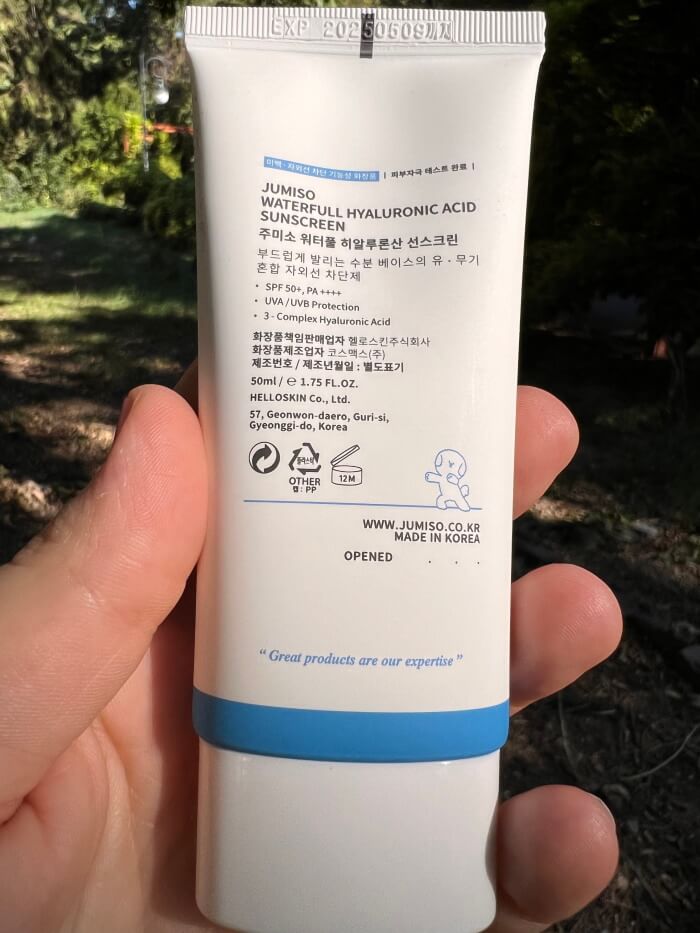 Jumiso WaterFull Hyaluronic Acid Sun-screen is a hybrid sunscreen that can block both UVA/UVB rays. It provides sun protection of SPF 50+, PA++++, It is a water-based sunscreen for all skin types, and it is absorbed softly and moistly.
Who is this sunscreen for?
For all skin types, but oily skin will prefer this soft and moist texture.
Jumiso Waterfull Hyaluronic Sunscreen Ingredients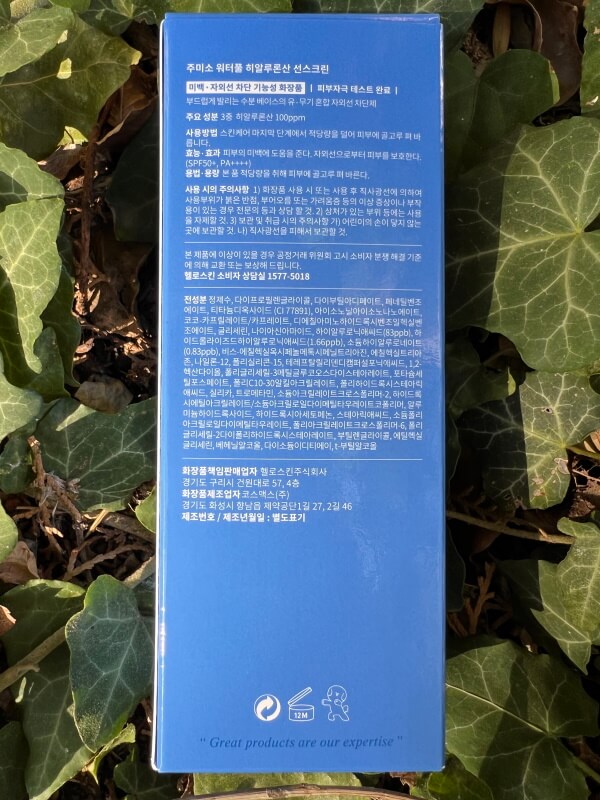 Water, Dipropylene Glycol, Dibutyl Adipate, Phenethyl Benzoate, Titanium Dioxide, Isononyl Isononanoate, Coco-Caprylate/​Caprate, Diethylamino Hydroxybenzoyl Hexyl Benzoate, Glycerin, Niacinamide, Bis-Ethylhexyloxyphenol Methoxyphenyl Triazine, Ethylhexyl Triazone, Nylon-12, Polysilicone-15, Terephthalylidene Dicamphor Sulfonic Acid, 1,2-Hexanediol, Polyglyceryl-3 Methylglucose Distearate, Potassium Cetyl Phosphate, Behenyl Alcohol, Poly C10-30 Alkyl Acrylate, Polyhydroxystearic Acid, Silica, Tromethamine, Sodium Acrylates Crosspolymer-2, Hydroxyethyl Acrylate/​Sodium Acryloyldimethyl Taurate Copolymer, Aluminium Hydroxide, Hydroxyacetophenone, Stearic Acid, Sodium Polyacryloyldimethyl Taurate, Polyacrylate Crosspolymer-6, Polyglyceryl-2 Dipolyhydroxystearate, Disodium EDTA, T-Butyl Alcohol, Butylene Glycol, Hyaluronic Acid, Ethylhexylglycerin, Hydrolyzed Hyaluronic Acid, Sodium Hyaluronate
See explained ingredients on INCIDecoder.
Key Ingredients
Sunscreen filters
Titanium Dioxide, Diethylamino Hydroxybenzoyl Hexyl Benzoate, Bis-Ethylhexyloxyphenol Methoxyphenyl Triazine, Ethylhexyl Triazone, Polysilicone-15, Terephthalylidene Dicamphor Sulfonic Acid.
Niacinamide
Vitamin B3, also known as nicotinamide, is a favorite ingredient amongst skincare enthusiasts, and for a good reason.
It acts as an antioxidant, neutralizing the damaging free radicals that cause aging;
It improves skin hydration and elasticity2;
It fades hyperpigmentation, redness, and sallowness1;
It reduces fine lines and wrinkles3;
With regular use, it increases the production of ceramides and proteins, making it an ideal additive to moisturizers
Bonus points for including it in this sunscreen!
Niacinamide can quickly become a skincare must for those suffering from skin dryness and dehydration, rosacea, atopic dermatitis, or anyone looking to avoid hydroquinone.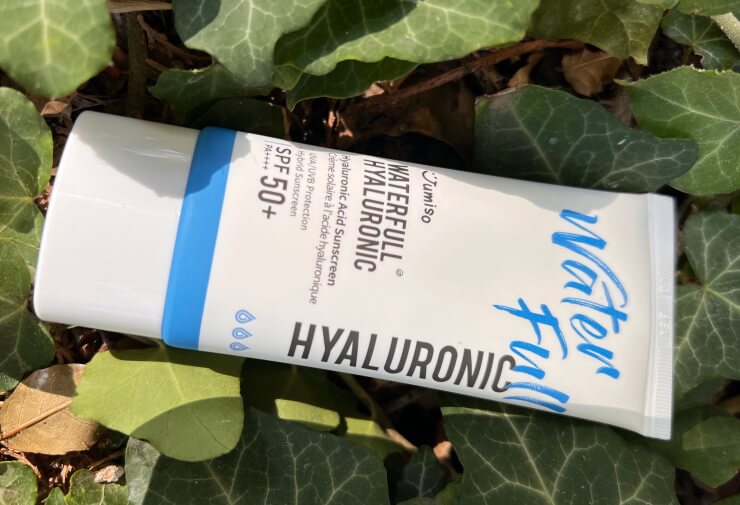 Glycerin
Glycerin is a very effective humectant, used in many moisturizers to increase skin hydration. It occurs naturally in your skin as part of its home-grown moisturizing system, the natural moisturizing factor (NMF)4.
Like other humectants, it works by sitting in the top layers of your skin and attracting water from the air and the deeper layers of your skin, leaving your skin surface plump and hydrated, even when the weather is arid. Glycerin also keeps the skin's lipids flexible, which means your skin is more supple and able to function appropriately without cracking5.
Hyaluronic Acid
This sunscreen contains three types of hyaluronic acid: Hyaluronic Acid, Hydrolyzed Hyaluronic Acid, and Sodium Hyaluronate.
Hyaluronic acid, a skincare buzzword back in the day, was spotlighted for its incredibly hydrating and moisturizing properties. It's a naturally occurring component of the skin that plays many vital roles in skin health and wellness, including skin hydration.
But it may come as a surprise to learn that, used on its own, it is not an incredibly beneficial ingredient in skincare. Could Hyaluronic Acid be dehydrating?
Dr. Shereene Idriss talks about this popular skincare ingredient and how to include it in your routine so hear her out.
Alcohol
Alcohol can potentially assist product absorption, but this is the one irritant in this product. It can cause skin dryness and damage the skin barrier in high enough doses.
Is it vegan? Yes, it is vegan-certified.
Is it reef safe? Yes, it has the label "protect reef first."
Packaging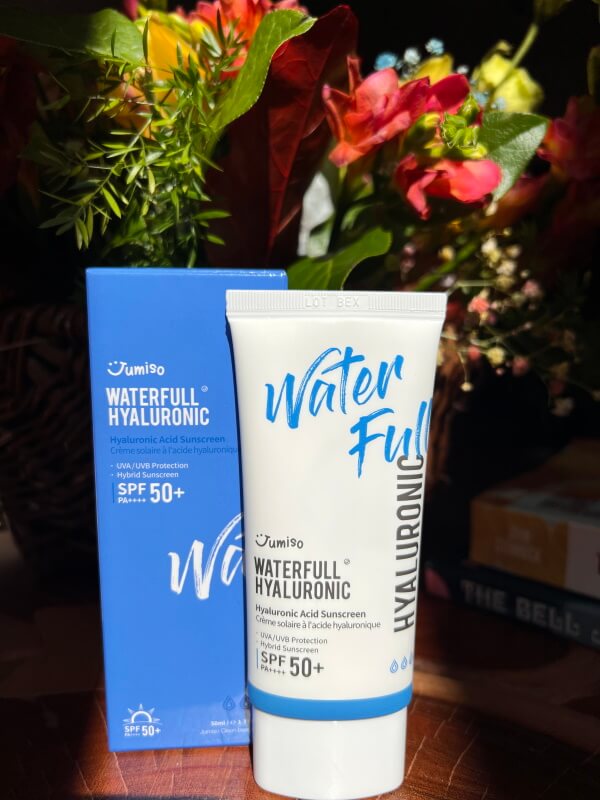 It comes in a 1.69 fl. oz / 50ml pretty tube. It is compact, slim, and easy to carry around.
Scent
I detect no smell at all.
Texture

Squeezing the tube gently, a white, watery cream oozes out onto the back of my hand. If I had to describe it, the sunscreen is light-medium texture-wise and is not a pain to spread onto the face (or hand).
White Cast
My experience with Jumiso Waterfull Hyaluronic Sunscreen
I was not paid for this review or received it as a gift. I've used it for nearly two months and am ready to share my thoughts.
My skin is dry right now because I have just started using tretinoin. With winter approaching, my skin is getting drier and drier. My skin is also very sensitive to sunlight because of the early retinization stage.
I must admit that I was impressed with this sunscreen for its hydrating and moisturizing properties. It indeed does its job well. My skin feels smooth and hydrated.
Protection-wise, it has successfully kept me from tanning or burning while on vacation. I must admit I was stressing out, regretting I didn't bring a hat, and reapplying hourly.
Unfortunately, as shown in the video above, the sunscreen has quite a white cast. It is not visible on my face because I am very pale, so I will continue using it. If I'm going out, I need to apply makeup, so I don't look sick. The good news is it wears very well under makeup.
For me, one of the reasons I appreciate it is because it doesn't sting my eyes.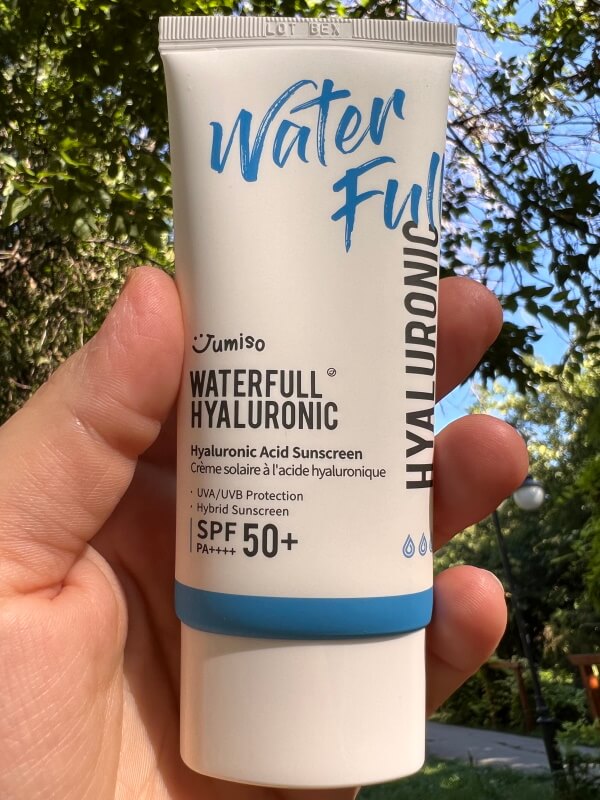 How to use Jumiso Waterfull Hyaluronic Sunscreen?
At the end of the skincare routine, take an adequate amount (recommended ¼ tsp, but this is arguable) and spread it all over the face.
Tap gently for absorption.
Also, apply it to body parts exposed to the sun, such as the neck, arms, and legs.
Reapply if exposed to the sun for long hours.
Pros
provides good protection
does not sting my eyes
no scent
no greasiness
Cons
Verdict
I have to say I'm not regretting buying it.
Although the Jumiso sunscreen did well, I will not repurchase it because I am still searching for my HG sunscreen.
Rating 4.5/5
Shop for Jumiso Waterfull Hyaluronic Sunscreen
Shop Jumiso Waterfull Hyaluronic Sunscreen at Amazon*, StyleKorean*, and Jumiso US. (*affiliate links)
As always, you do you, be kind to your skin and yourself!
Remember that every person's skin and skin type is different, so what might work for me might not work for you, and vice versa.
So before adding a new product to your skincare routine, it pays to do a little research first. Pay special attention to ingredients that you might react to.
Doing a patch test is always a good idea. Unsure? Best to consult your dermatologist.
Happy skin experimenting, and don't forget the sunscreen!
References