I cannot stress enough the importance of applying sunscreen daily, although many people, including myself, are reluctant to slather that rich, sticky layer on their skin. The good news is cosmetic brands are now coming out with lighter textures and more user-friendly sunscreens without compromising their sun-protecting abilities! I have a few sunscreens I love putting on every day. Among them is the Beauty of Joseon Ginseng Moist Sun Serum.
Where to Buy the Beauty of Joseon Ginseng Moist Sun Serum?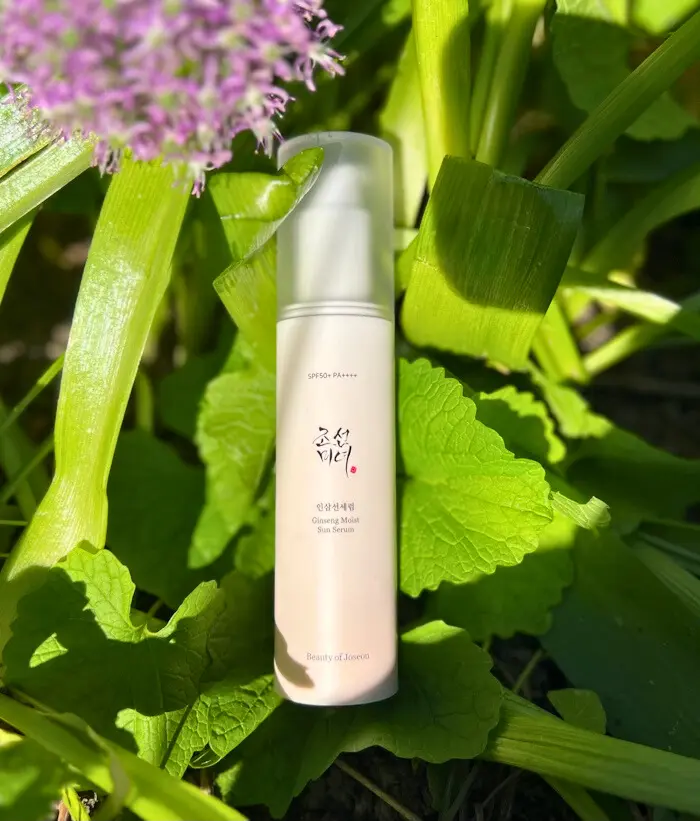 The Beauty of Joseon Ginseng Moist Sun Serum comes in a 1.69 fl.oz./ 50ml pump bottle and retails for $16-$24.
Unfortunately, the sun serum cannot be purchased from the Beauty of Joseon's official store on Amazon* so beware of fakes.
Still, you can find Beauty of Joseon Ginseng Moist Sun Serum on trusted Asian international shops, such as YesStyle*, StyleVana*, and StyleKorean*.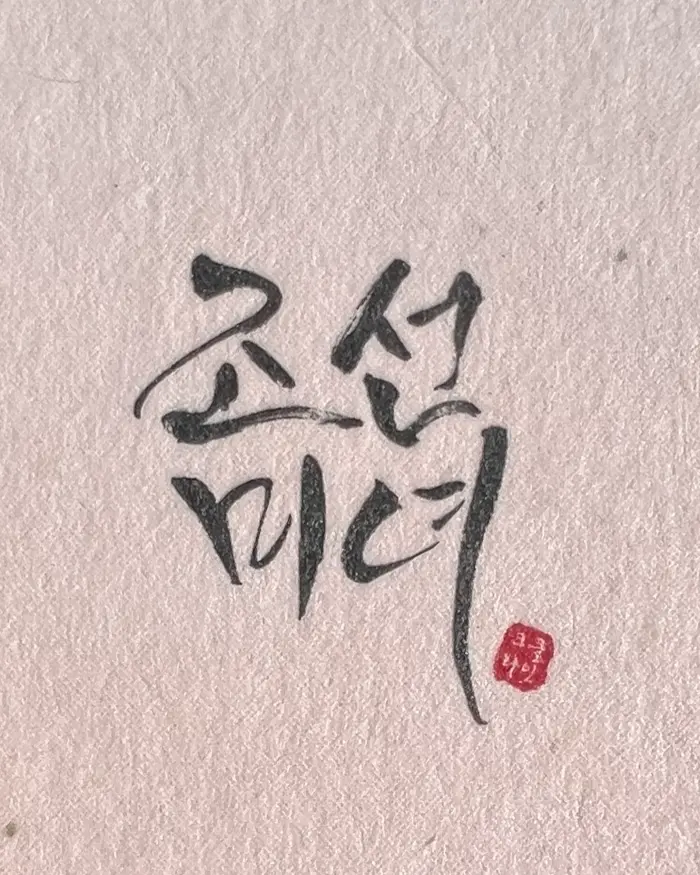 The Beauty of Joseon Brand
This Korean beauty brand creates skincare products using ingredients popular during the Joseon Dynasty. Traditional Hanbang (aka Korean herbal medicine) techniques and ingredients inspire product formulas. Thus you will often find extracts of Rice, Ginseng, Orchid, Radish, etc., as well as traditional techniques such as fermentation in their skincare collection. Beauty Of Joseon focuses on achieving bright, clear skin and improving skin health, thus highlighting one's natural beauty. The ancient Korean Dynasty times influences its simplistic and traditional packaging.
The Beauty of Joseon brand has gained enormous popularity quickly due to their well-performing products, especially their first hit, the Beauty of Joseon Dynasty Cream*. It's a universally loved brand, and I was excited to see how this goes.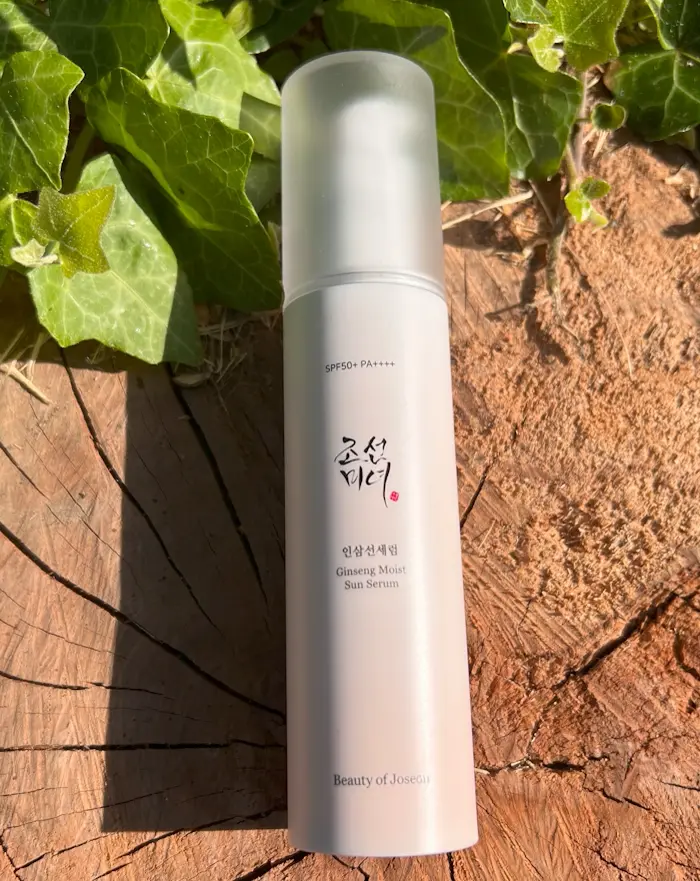 What is the Beauty of Joseon Ginseng Moist Sun Serum?
The Beauty of Joseon Ginseng Moist Sun Serum is a broad-spectrum SPF50 PA++++ chemical sunscreen.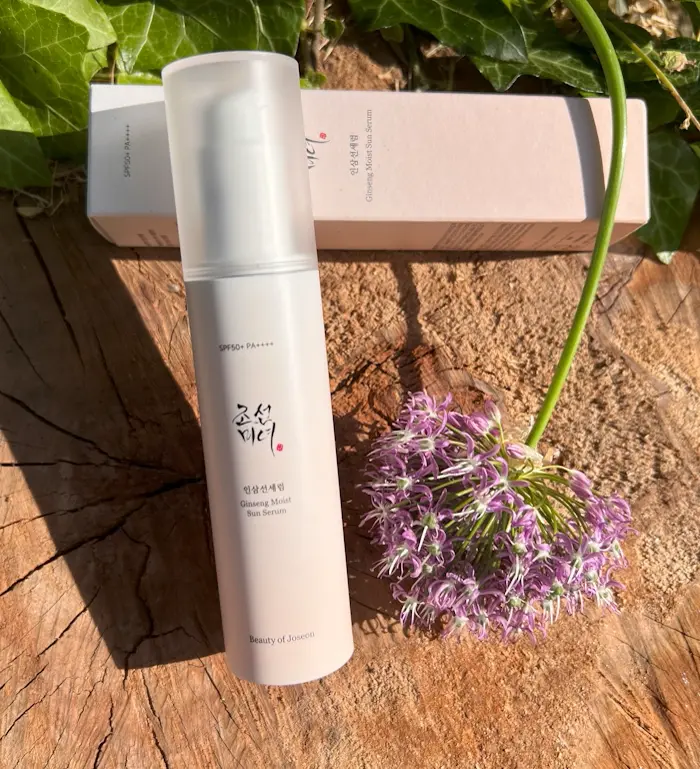 Beauty of Joseon Ginseng Moist Sun Serum Claims
The UV rays that bombard us during our daily activities damage skin tissue, causing reduced skin elasticity and aging. Therefore, sunscreen is essential to protect the skin exposed to such photoaging every day.

However, factors such as the oily and sticky texture of sunscreen, white cast, and the annoyance of adding it to the skincare routine cause many to neglect its use.

That is why we wanted to create a product that can provide sun protection and skin care without the common disadvantages of sunscreen.

To achieve this, we selected ginseng, a key BOJ and Hanbang ingredient whose effectiveness has been proven through numerous studies, as the main element. Saponin, abundant in ginseng extract, has an anti-aging effect, helps improve wrinkles, and supplies nourishment to the skin.

In addition, the capsule-type serum formula without surfactant ingredients absorbs into the skin moistly and refreshingly, ultimately protecting the skin from UV rays.

Beauty of Joseon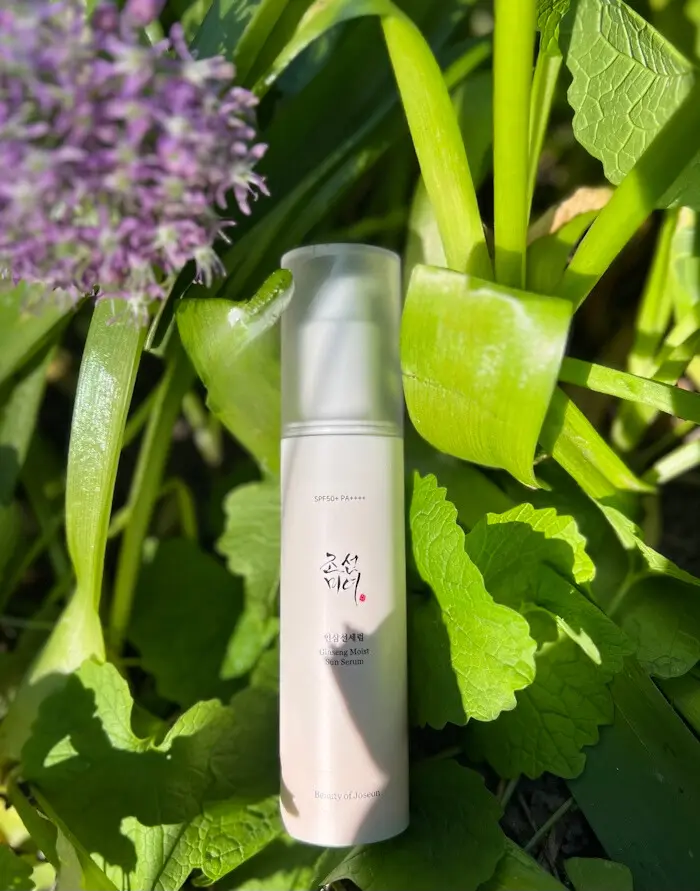 Who Is This Sunscreen For?
Beauty of Joseon claims this sunscreen is suited for everyone, but it's specially designed for combination skin types.
However, since this is a pure chemical sunscreen, individuals who prefer physical sunscreens or are sensitive to chemical sunscreens should walk away.
Moreover, the Beauty of Joseon Ginseng Moist Sun Serum contains alcohol that could irritate sensitive skin. But normal skin, especially dull and pigmented skin, will find this works well on brightening their entire skin tone and fading those naughty little dark spots!
Not sure what your skin type is? Please read our guide on Skin types & skin conditions.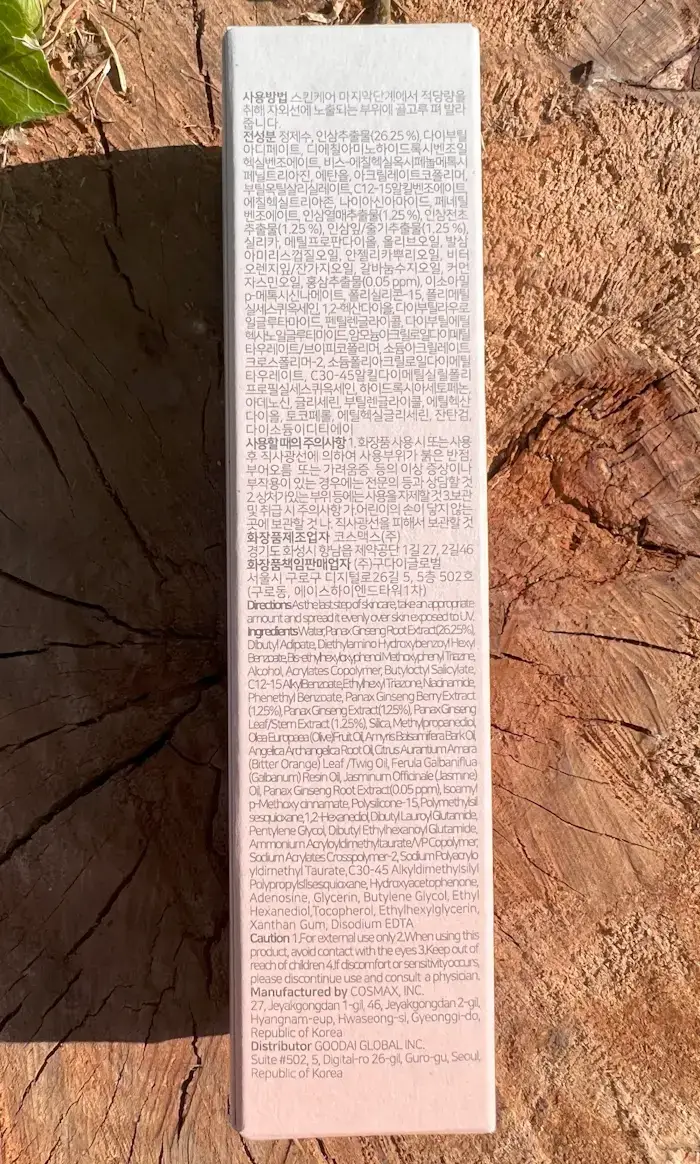 Beauty of Joseon Ginseng Moist Sun Serum Ingredients
Sunscreen Filters
The Beauty of Joseon Ginseng Moist Sun Serum has four chemical UV filters, which combine to form broad-spectrum sun protection against most UVA and UVB rays. They shield sunlight to your skin, minimizing sun-related damage like collagen depletion, dark spots, and dullness. These are common ingredients in most Asian sunscreens, especially those with a lighter texture.
Amiloxate
Amiloxate (Isoamyl p-Methoxycinnamate) is an oil-soluble, chemical sunscreen agent that protects in the UVB (290-320 nm) range with a peak absorbance at 310 nm and with some additional protection in the UVA II (320-340nm) range. It is a newer generation UV filter approved up to 10% in the EU but not (yet) available in the US due to FDA regulations.
Uvinul A Plus
Uvinul A Plus (Diethylamino Hydroxybenxoyl Hexyl Benzoate) is a new-generation chemical sunscreen. It is designed for high UVA protection (whole range) and photostability. Uvinul A Plus is not FDA-approved.
Tinosorb S
Tinosorb S (Bis-Ethylhexyloxyphenol Methoxyphenyl Triazine) is a broad spectrum photo stable chemical filter not yet FDA approved.
Parsol SLX
Parsol SLX (Polysilicone-15) is a silicone-based chemical sunscreen that protects from UVB rays. Silicone is not my favorite ingredient. It can trigger acne and cause "pilling" under makeup. It can have benefits for dry skin since it helps prevent water loss. Although it is not yet FDA-approved, it has been approved in many European and Asian countries.
Ingredients Explained
This sun serum has loads of viscosity controllers, giving it its bouncy, moisturizing, and thick-serum light-weighted texture.
Skin-benefiting ingredients include wild celery, bitter orange, and vitamin E. All these are potent antioxidants to shield the skin from environmental and UV damage.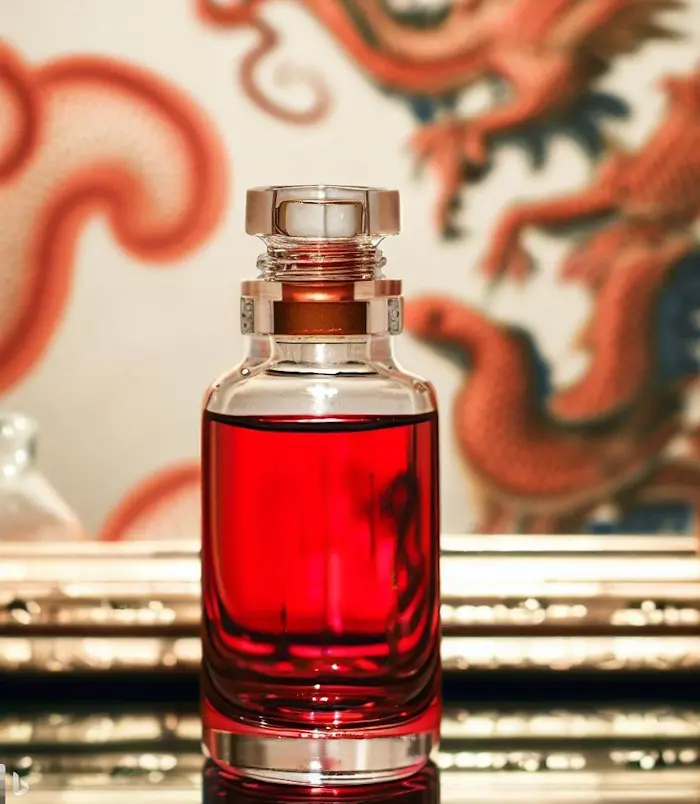 Ginseng
In Korean history, Ginseng has long been regarded as a precious herbal medicine for eternal youth.
Ginseng stabilizes the mind, calms the nerves, stops the heart beating from shock, and activates brain activity. In addition, it is effective for those who are weak, those with low body temperature and who get cold easily.

Donguibogam, the medical record of Korean medicine in the Joseon Dynasty
The namesake of this precious sun serum and the second ingredient on the list, ginseng, has a high concentration of ginsenosides. Ginsenosides are believed to be the major biologically active components of ginseng, responsible for many of the benefits of ginseng for the skin. In skincare, ginseng:
Want to learn more? Please read our complete Guide on Ginseng Benefits for the Skin.
Olive Oil
Olive oil is known for its anti-inflammatory and antioxidant qualities. This oil is also considered one of the most hypoallergenic oils. Scientists have seen little reactions from patients, and it has been proven to help those with skin disorders such as eczema.
Alcohol
This sunscreen uses alcohol as its primary solvent to give its ultra-light texture. I don't have any problems with cosmetics using alcohol, but this might concern those sensitive to alcohol.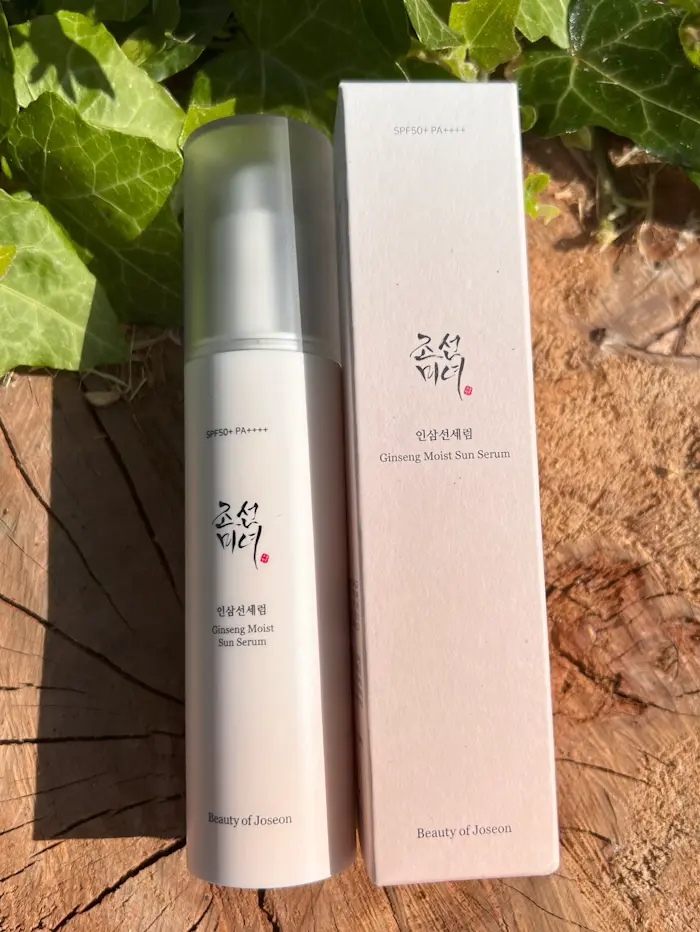 Packaging
The Beauty of Joseon Ginseng Moist Sun Serum comes in a convenient pump top with a cap for added hygiene and protection. I've found that the pump makes applying the necessary amount so much easier. It is also travel friendly.
The size, unfortunately, is a regular Korean sunscreen size of 1.69 fl.oz./ 50ml.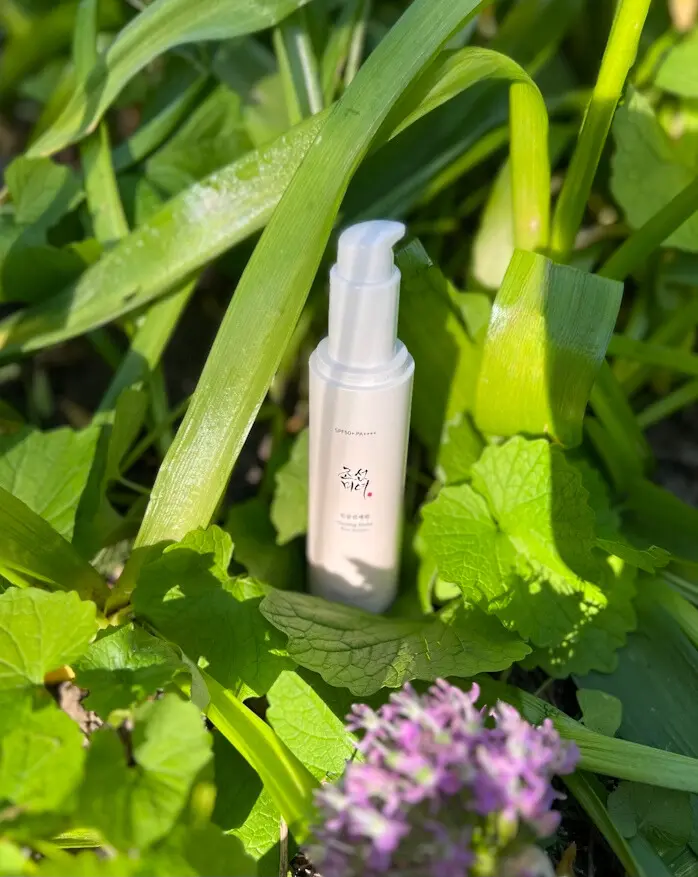 Scent
The Beauty of Joseon Ginseng Moist Sun Serum has an odd nicotine smell which I dislike. Unfortunately, it lingers after application.
Texture
The texture of this sunscreen is divine. It is just like a lightweight moisturizing serum. It melts into my skin and absorbs instantly.
I love love love the texture of the Beauty of Joseon Ginseng Moist Sun Serum!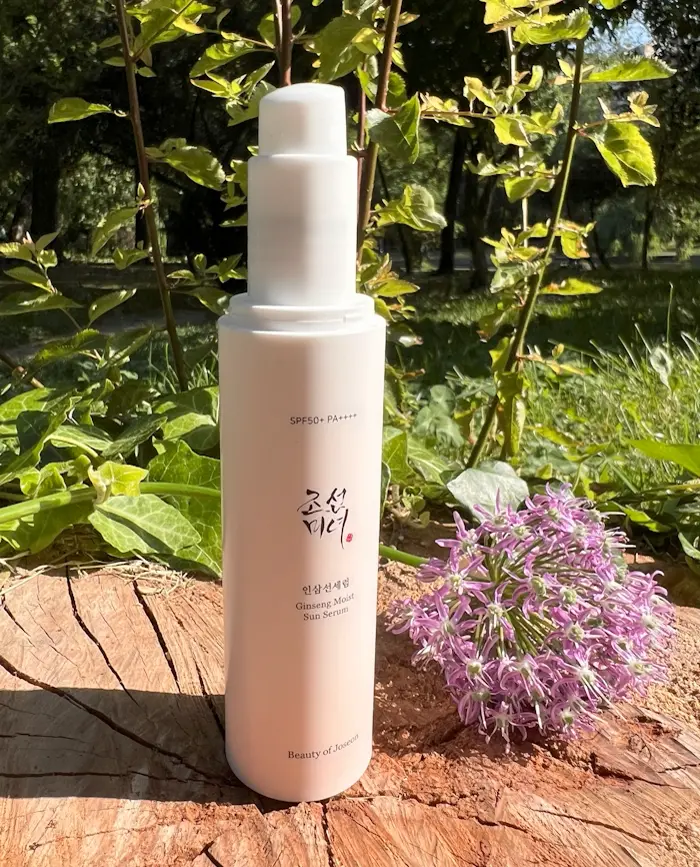 My Personal Experience with the Beauty of Joseon Ginseng Moist Sun Serum
I have been using the new version of this cream for over a month. I have a normal to dry skin type, and I live in a typically continental with cold winters and hot summers. My concerns are hyperpigmentation, blackheads on the nose and chin, the occasional hormonal pimples, and aging skin. My skin is resilient (I haven't reacted to hundreds of products throughout my life). Still, as a Tretinoin user, I must focus on sun protection.
First, the Beauty of Joseon Ginseng Moist Sun Serum has SPF50+ and PA++++ broad spectrum protection, the highest possible in a Korean sunscreen. I will always reach for this sunscreen if I know I will be in the sun all day (i.e., beach), as I trust that this will protect me.
It does not irritate my extremely sensitive eyes, and I can generously apply it over my eye area.
This formula applies like a thicker bouncy serum and sinks in so effortlessly onto my complexion. It feels weightless, and I love that it dries to a semi-matte finish. Even if I apply 1/4 tablespoon, my skin still drinks it up well, leaving a feathery, light, moisturized finish. Despite its high sun protection, it is not greasy, sticky, or drying.
The Beauty of Joseon Ginseng Moist Sun Serum is beige but applies seamlessly and does not leave a white cast.
It also works well as a makeup base or primer. I have found that this hasn't pilled with any of my foundations. I also don't mind using this when I exercise due to its lightweight formula and the fact that it doesn't congest my skin. It generally stays put if I exercise and fares well under the heat and humidity.
I was worried this sunscreen would be drying because the ingredient list contained alcohol in the first half of the ingredient list, but it isn't.
Unfortunately, when using this, it has an unpleasant, overpowering scent. Also, it lingers and lingers after application.
How to Apply the Beauty of Joseon Ginseng Moist Sun Serum?
In the AM, at the end of your skincare routine, 30 minutes before going out;
Apply the Beauty of Joseon Ginseng Moist Sun Serum by pumping it onto my fingers and dabbing it all over my face and neck;
5.5 pumps are equivalent to ¼ tsp, the amount needed to cover your face and neck;
I usually do 1.5 for my nose and chin, 1 for my forehead, 3 for both cheeks, and 1 for neck;
Spread evenly on areas easily exposed to UV rays;
Reapply every 2-4 hours if you are outside and are under direct sun exposure.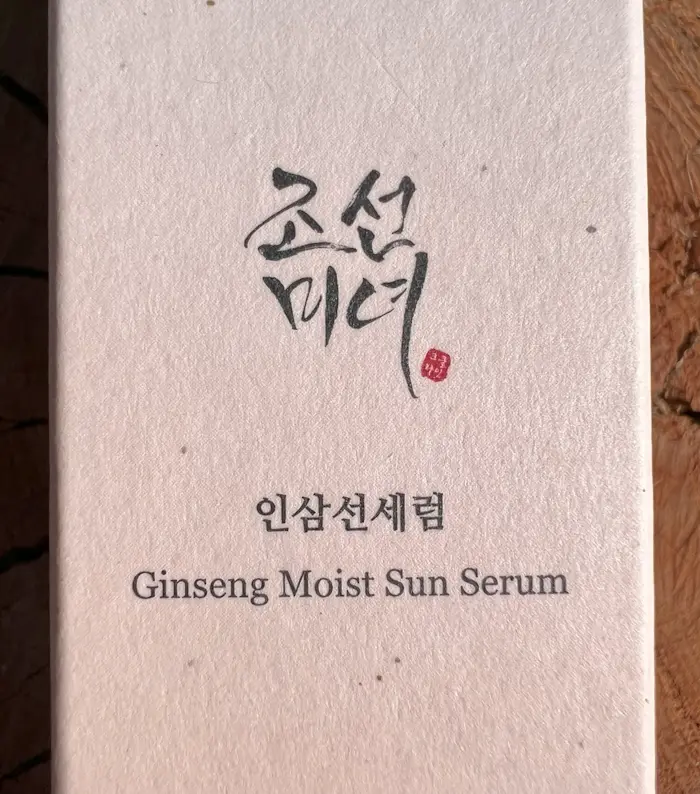 Pros
broad spectrum, high UV protection
doesn't sting my eyes
not greasy
not drying
divine texture
lovely finish
effortlessly absorbed
Cons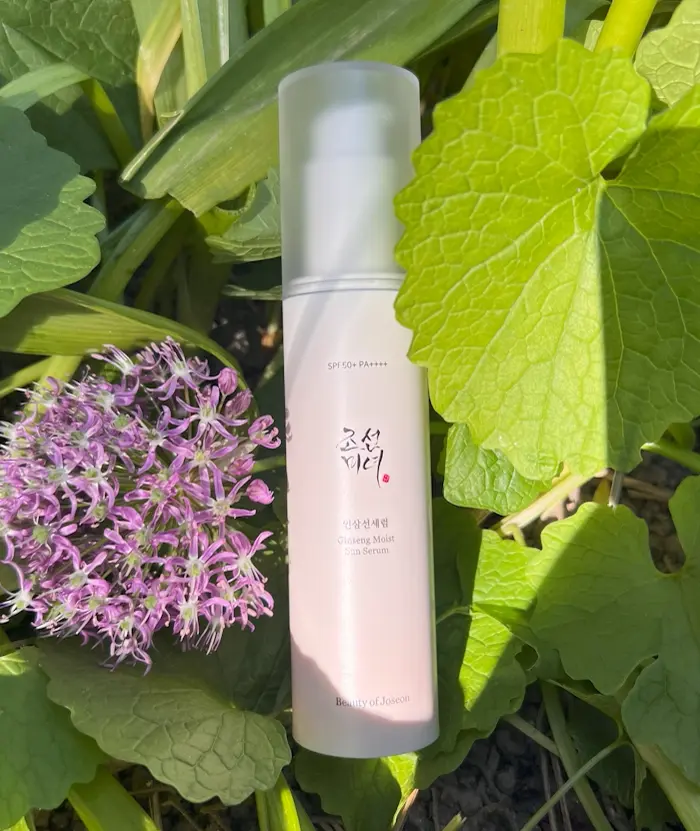 Conclusion
The BOJ Ginseng Moist Sun Serum has got to be one of the best value, cosmetically elegant, and potent sunscreens I have ever found.
It's a fantastic purchase, especially considering the price, the pump's convenience, and the bottle's cuteness. It works well to protect the skin and acts wonderfully as a sunscreen.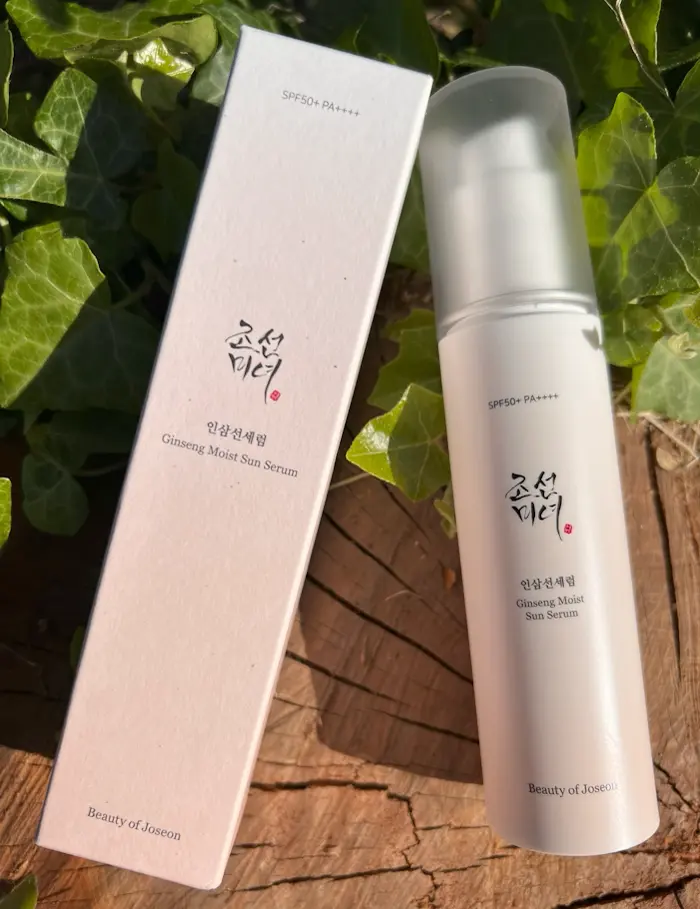 Will I Repurchase Beauty of Joseon Ginseng Moist Sun Serum?
I didn't enjoy its scent, so I will not repurchase it.
Rating 4/5
Shop for Beauty of Joseon Ginseng Moist Sun Serum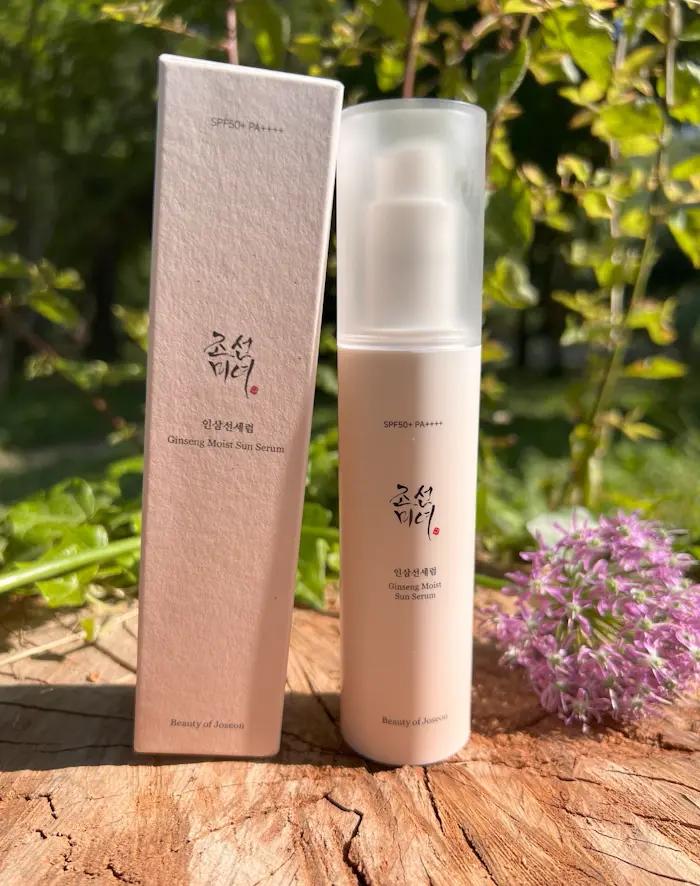 Lastly, I was not paid for this review or received it as a gift.
As always, you do you; be kind to your skin and yourself! Remember that every person's skin and skin type is different, so what might work for me might not work for you, and vice versa. So, before adding a new product to your skincare routine, it pays to do a little research first.
Before adding the Beauty of Joseon Ginseng Moist Sun Serum to your skincare regimen, ensure you are not allergic to it or its ingredients. You should also consult your doctor if you are pregnant, breastfeeding, or have any medical conditions or medications that may interact with the BOJ Ginseng Moist Sun Serum. Always do a patch test before applying the Beauty of Joseon Ginseng Moist Sun Serum on your skin to avoid adverse reactions.
I am not a dermatologist or licensed aesthetician, but I have sufficient experience and knowledge I gained by testing multiple products and self-exploration. Unsure? Best to consult your dermatologist.
Happy shopping, and don't forget the sunscreen! Here's to great skin in 2023!
Show Me Proof