I love Korean sunscreens so much that I keep ordering what new sunscreen is getting launched. My latest victim is the Numbuzin No.1 Clear Filter Sun Essence.
Spoiler alert: I love it!
Numbuzin No.1 Clear Filter Sun Essence, in a Nutshell :
Where to Buy the Numbuzin No.1 Clear Filter Sun Essence?
The No.1 Clear Filter Sun Essence comes in a 1.69 fl. oz. / 50 ml sunscreen tube and retails for $12-$19.
For all you lucky people in the US who can get Prime delivery, you can buy the sun essence from Numbuzin's official store on Amazon*.
You can also shop for the No.1 Clear Filter Sun Essence on trusted Asian official retailers, such as YesStyle*, StyleVana*, Jolse*, BeautyNetKorea*, and StyleKorean*.
Here's our editor's guide to shopping for Korean skincare.
The Numbuzin Brand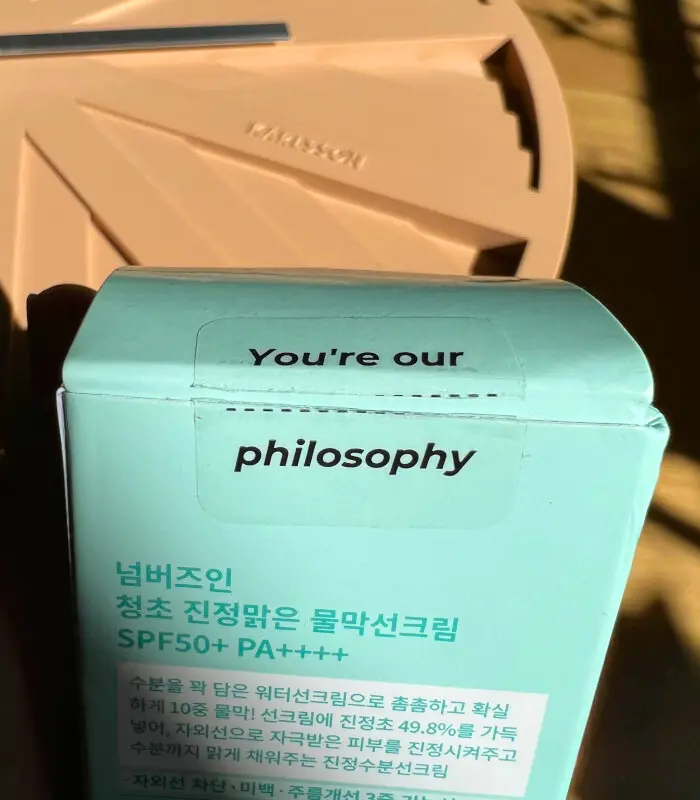 Read a massive review of (almost) all Numbuzin products by fellow muse editor Seo Yeon Lee: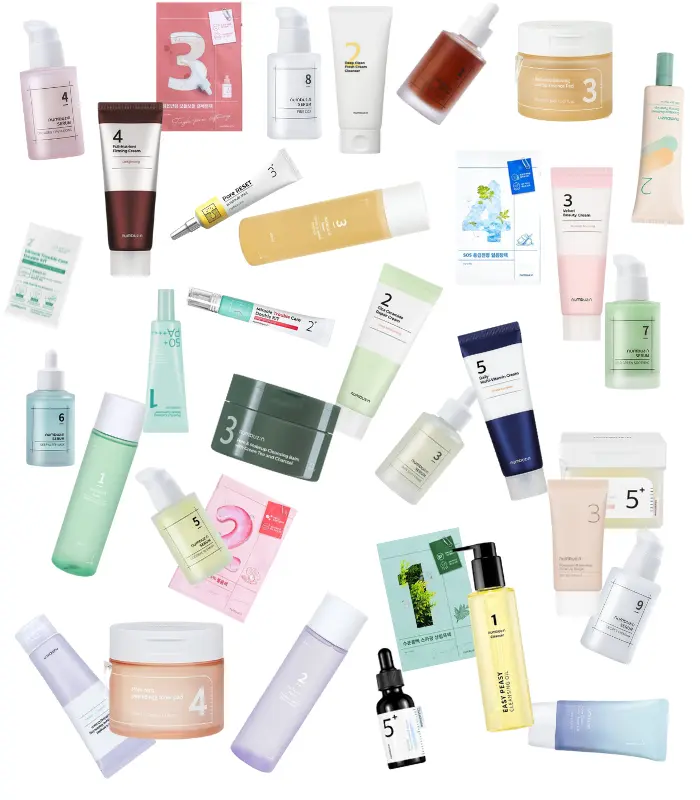 What Is Numbuzin No.1 Clear Filter Sun Essence?
Numbuzin No.1 Clear Filter Sun Essence is a chemical sunscreen with broad spectrum protection of SPF50+ PA++++.
Who Is this Sun Essence For?
I would recommend this for every skin type.
Numbuzin No.1 Clear Filter Sun Essence Ingredients
Numbuzin No.1 Clear Filter Sun Essence Ingredients List (product launched in 2023)
Glycyrrhiza Glabra (Licorice) Root Water (20.55%), Centella Asiatica Extract (15%), Houttuynia Cordata Extract (14.25%), Purified Water, Dibutyl Adipate, Propanediol, Butyloctyl Salicylate, Ethylhexyl Triazone, Terephthalylidene Dicamphor Sulfonic Acid, Polymethylsilsesquioxane, Niacinamide, Tromethamine, Polyglyceryl-3 Distearate, 1,2-Hexanediol, Pentylene Glycol, Diethylamino Hydroxybenzoyl Hexyl Benzoate, Cetearyl Alcohol, Caprylyl Methicone, Polysilicone-15, Melia Azadirachta Leaf Extract, Coccinia Indica Fruit Extract, Eclipta Prostrata Extract, Melia Azadirachta Flower Extract, Anastatica Hierochuntica Extract, Hyacinthus Orientalis (Hyacinth) Extract, Polygonatum Officinale Rhizome/Root Extract, Lycium Chinense Fruit Extract, Velvet Extract, Ophiopogon Japonicus Root Extract, Polygonum Multiflorum Root Extract, Astragalus Membranaceus Root Extract, Atractylodes Lancea Root Extract, Laminaria Japonica Extract, Ulmus Davidiana Root Extract, Aloe Barbadensis Leaf Extract, Viola Mandshurica Flower Extract, Dioscorea Japonica Root Extract, Sodium Hyaluronate, Glyceryl Stearate, Bis-Ethylhexyloxyphenol Methoxyphenyl Triazine, Potassium Cetyl Phosphate, Butylene Glycol, Methylpropanediol, Carbomer, Acrylate/C10-30 Alkyl Acrylate Crosspolymer, Glyceryl Stearate Citrate, Ethylhexylglycerin, Xanthan Gum, Adenosine, Polyether-1, Madecassoside, Biosaccharide Gum-1, Glycerin, Dimethylsilanol Hyaluronate, Hydrolyzed Sodium Hyaluronate, Hydrolyzed Hyaluronic Acid, Potassium Hyaluronate, Hyaluronic Acid, Sodium Hyaluronate Crosspolymer, Hydroxypropyltrimonium Hyaluronate, Sodium Hyaluronate Dimethylsilanol, Sodium Acetylated Hyaluronate.
Ingredients referred from the YesStyle*.
Brightening Herbal Surfactant Sun filter Active Hydrating/Moisturizing
Sunscreen Filters
Uvinul T 150
Uvinul T 150 (Ethylhexyl Triazone) is a new-generation chemical sunscreen with today's highest photo-stable absorption of all available UVB filters. It is oil-soluble, odorless, colorless, and works well in fragrance-free formulas. It is approved worldwide but has not yet been FDA-approved.
Mexoryl SX
Mexoryl SX (Terephthalylidene Dicamphor Sulfonic Acid) is a L'Oréal-group exclusive sunscreen agent. Unlike most sunscreen agents, it is water soluble and protects in the UVA range.
Uvinul A Plus
Uvinul A Plus (Diethylamino Hydroxybenxoyl Hexyl Benzoate) is a new-generation chemical sunscreen. It is designed for high UVA protection (whole range) and photostability. It is approved for use in European and Asian countries but has not yet been FDA-approved.
Parsol SLX
Parsol SLX (Polysilicone-15) is a silicone-based chemical sunscreen that protects from UVB rays. Silicone is not my favorite ingredient. It can trigger acne and cause "pilling" under makeup. It can have benefits for dry skin since it helps prevent water loss. Although it is not yet FDA-approved, it has been approved in many European and Asian countries.
Tinosorb S
Tinosorb S (Bis-Ethylhexyloxyphenol Methoxyphenyl Triazine) is a photostable chemical filter that can stabilize other UV filters like Avobenzone. Tinosorb S is a broad-spectrum oil-soluble filter that can absorb UVA1, UVA2, and UVB rays. Although it is not yet FDA-approved, it has been approved in many European and Asian countries.
Key Ingredients Explained
This sun essence is a powerhouse of calming, soothing, and anti-oxidant ingredients.
Licorice Root Water (20.55%)
Navigating ingredient lists can feel like a cryptic puzzle. Several parts of the licorice plant are sometimes used in skincare products, namely:
Licorice Root Extract
Licorice root water
Licorice root juice
Licorice root powder, and
Licorice leaf extract
The chemical composition of these licorice-derived ingredients differs from that of licorice root extract, giving them different properties when it comes to skincare.
Licorice root water is an aqueous solution of the steam distillate obtained from the roots of Glycyrrhiza glabra. This is one of the chemical processes used to extract essential oils from plants, and licorice root water is classified as an essential oil and astringent.
Research available mainly focuses on licorice root extract, as scientific research suggests that the root of the licorice plant contains the highest concentration of ingredients with skin-benefiting compounds.
If you want to learn more about Licorice and its beneficial components, please read our guide: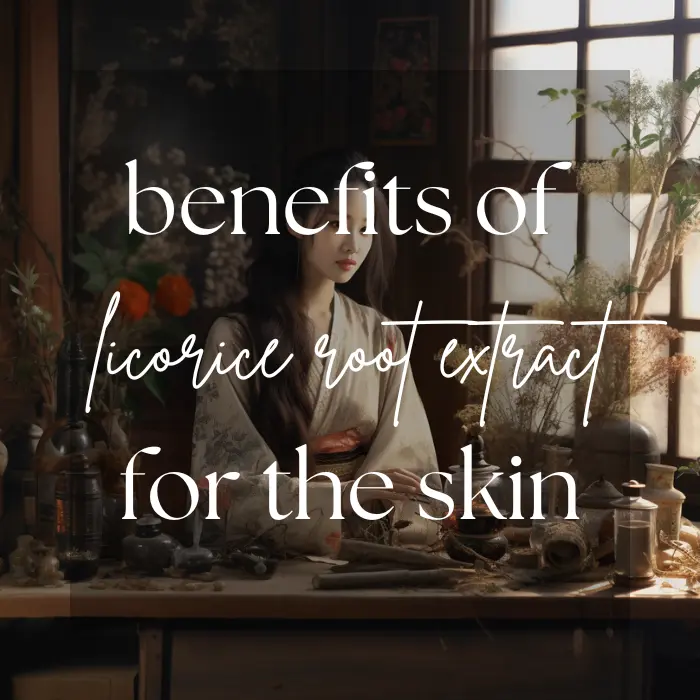 Centella Asiatica Extract (15%)
Centella Asiatica, also known as tiger grass, Indian pennywort, or gotu kola, has been used in Asian cooking and as a medicinal herb for centuries. Its anti-inflammatory and antibacterial superpowers make it an excellent ingredient for oily skin types, helping to lessen redness and soothing any angry breakouts thanks to clogged pores.
If your skin type is that dreaded mix of sensitive and oily/acne-prone, Centella Asiatica can be a godsend, helping to soothe sensitivities while clearing up the skin.
Also in the ingredients list, one of Centella Asiatica's active components, Madecassoside, is often added to anti-aging products due to its high antioxidant levels, which help combat UV ray damage and premature aging.
If you want to learn more about the benefits of Centella Asiatica for the skin and editors' recommended products, take a look at this article: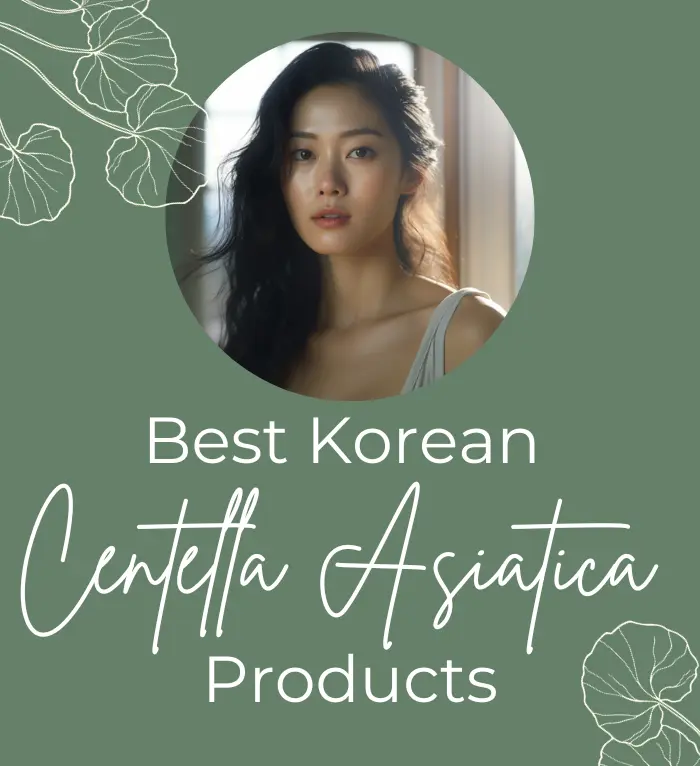 If you don't have time, here are Centella's main benefits for the skin.
Houttuynia Cordata Extract (14.25%)
Houttuynia Cordata's popularity in Korean skincare is skyrocketing in 2023.
Houttuynia cordata has many common names, such as fish mint, fish leaf, fishwort, Heartleaf houttuynia, rainbow plant, chameleon plant, dokudami, or Chinese lizard tail. In skin care, it is often referred to as Heartleaf.
Its claim to fame is delivering immaculate glass skin. Learn more about it in our Houttuynia Cordata Guide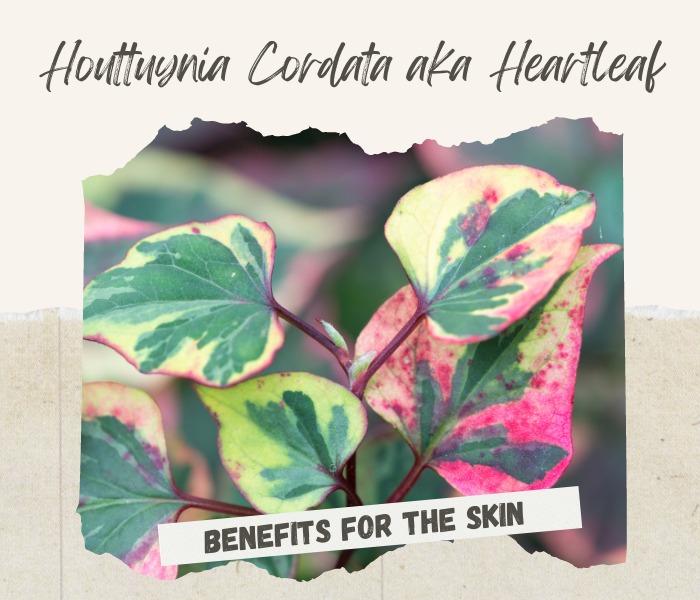 Astragalus Membranaceus Root Extract
I love how this sunscreen incorporates traditional Korean medicine into its formulation. Astragalus Membranaceus Root Extract, also known as Milk Vecht Root has been used in Eastern medicine for thousands of years.
When used on the skin, it has anti-inflammatory and antioxidant properties. It also helps nutrients be better absorbed into the skin by improving circulation, and it's been shown to protect against UVB-induced photoaging1.
Numbuzin No.1 Clear Filter Sun Essence does not contain parabens, alcohol, essential oils, fragrances, or allergens and is vegan, reef-safe, benzophenone and octinoxate-free.
Comedogenic ingredients: Cetearyl Alcohol (2/5), Butylene Glycol (1/5), Carbomer (1/5).
Fungal acne triggers: Polyglyceryl-3 Methylglucose Distearate, Cetearyl Alcohol, Glyceryl Stearate, and Glyceryl Stearate Citrate.
Packaging
I like the packaging too. It has a small tipped nozzle, which makes dispensing the product very easy.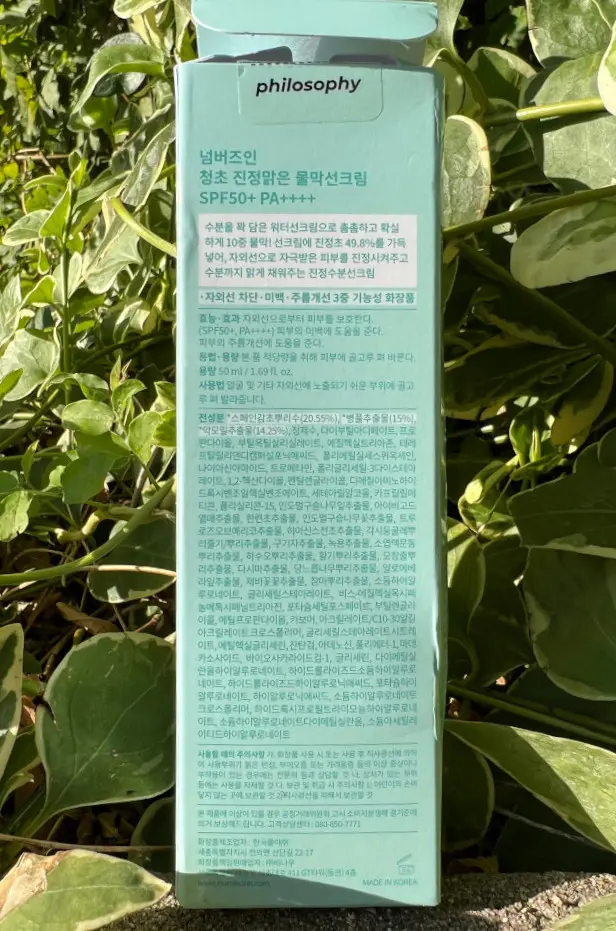 Scent
The sun essence has no smell.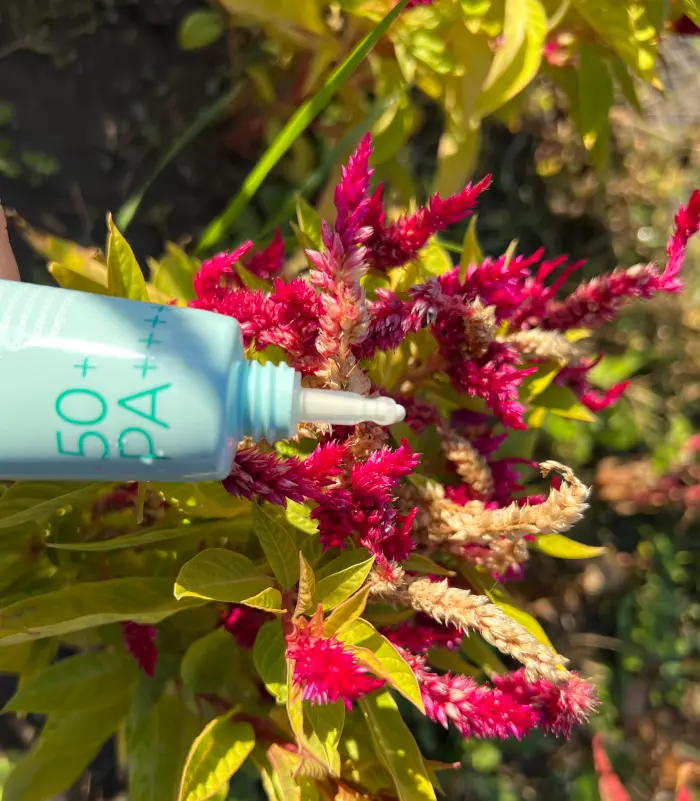 Texture
Its texture is a very light, airy, refreshing sun essence. It's incredibly soothing to apply. It absorbs instantly, which is a pleasure.
This product has a slight greenish undertone, but you cannot see it on your face.
My Experience with the Numbuzin No.1 Clear Filter Sun Essence
I just recently finished a tube of this sun essence, and it is incredible, can't live without it anymore! I have a normal to dry skin type, and I live in a typically continental with cold winters and hot summers.
My skin is resilient and does not react to any skincare products. Still, I am a Tretinoin user, and first and foremost, I focus on barrier strengthening. My concerns are hyperpigmentation, blackheads on the nose and chin, the occasional hormonal pimples, and aging skin.
First, the texture is super lightweight, and the application is featherlike and smooth, though it's not a gel watery sunscreen (i.e., biore aqua). I love the liquidity. It's so easy to blend!
The sunscreen does not sit on the skin. It melts and disappears into the skin the minute you apply it to the skin. It's so comfortable and doesn't smell like sunscreen.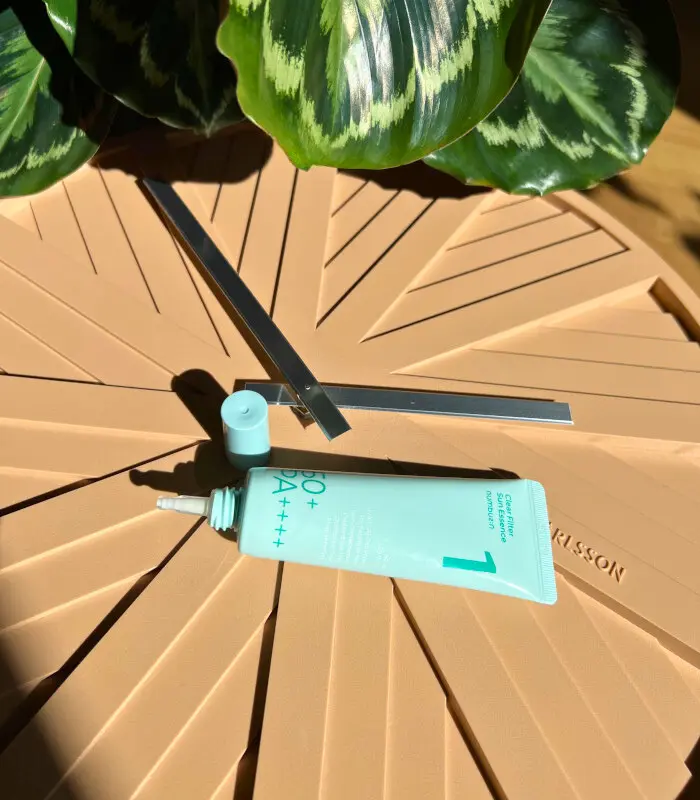 Most importantly, it does not sting my eyes.
It does not leave a white cast since it's a chemical sunscreen. I've experienced no piling issues and layered it with many different skincare and makeup.
The finish is dewy and gives you a bit of glow, nothing too crazy, less than Canmake Mermaid Skin Gel* or Hyaluronic Acid Watery Sun Gel*.
It is still warm outside, and the Numbuzin No.1 Clear Filter Sun Essence feels moisturizing but not as much as the Beauty of Joseon Relief Sun. During winter, I will need to wear a thick moisturizer underneath this one as I feel it will not be moisturizing enough for my dry-tret-winter skin.
My colleagues have also tried it and (finally) sent me their impressions.
I have combo acne-prone skin, which works so well on my skin. It's soothing and hydrating and my skin doesn't get oily. I've been using it for over a month, and it didn't irritate my skin, nor did I get any pimples.

Honestly, my skin is liking this more than the Round Lab's one. So far, it hasn't triggered any acne on my forehead and it doesn't sting my eyes.

This has become my HG.

Alyssa Tan, Beauty Editor for Garden of Muses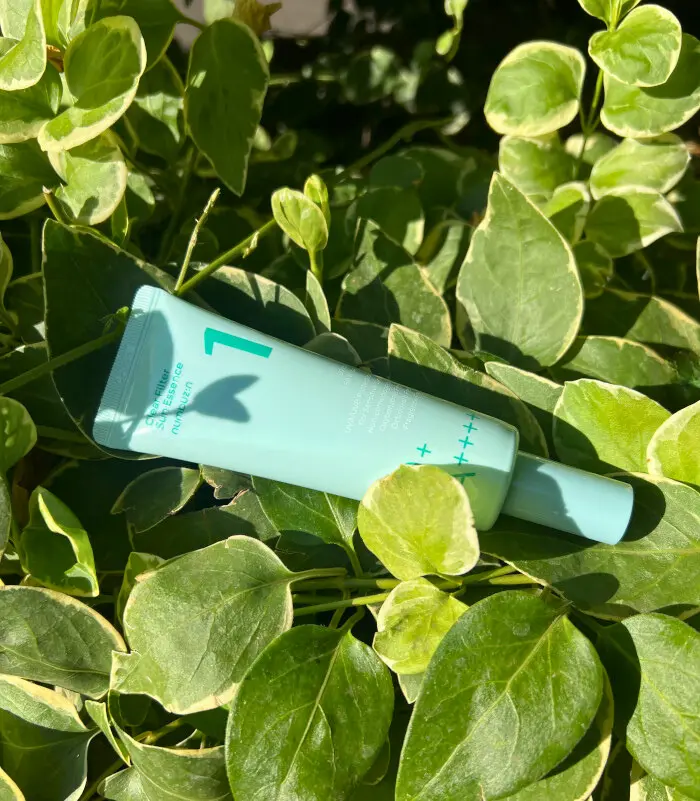 Oily skin here. Love this sunscreen so light weight soft dewy finish.

Surprisingly, it has also reduced my pores, so I highly recommend this one for everyone.

Perfect for dark complexion. 10/10

Diana Brown, Beauty Editor for Garden of Muses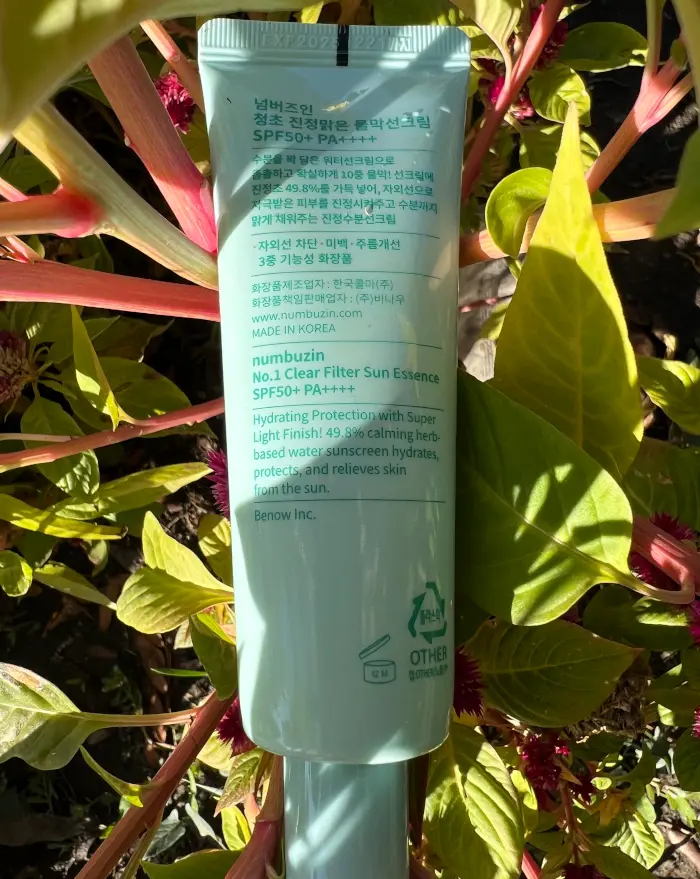 Pros
no white cast
feels like a lightweight moisturizer
easy to blend
no scent
calming
non-comedogenic
not sticky
doesn't sting my eyes
Cons
Verdict
This sunscreen makes me want to put on sunscreen every day.
The Numbuzin No.1 sun essence has quickly become an all-time favorite product. It is hydrating, calming, and soothing, reduces my acne scars and hyperpigmentation, and gives me a super healthy skin glow.
Will I Repurchase the Numbuzin No.1 Clear Filter Sun Essence?
Yes. Numbuzin Sun Essence is the No.1 sunscreen right now 🙂
Rating 5/5
Shop for Numbuzin No.1 Clear Filter Sun Essence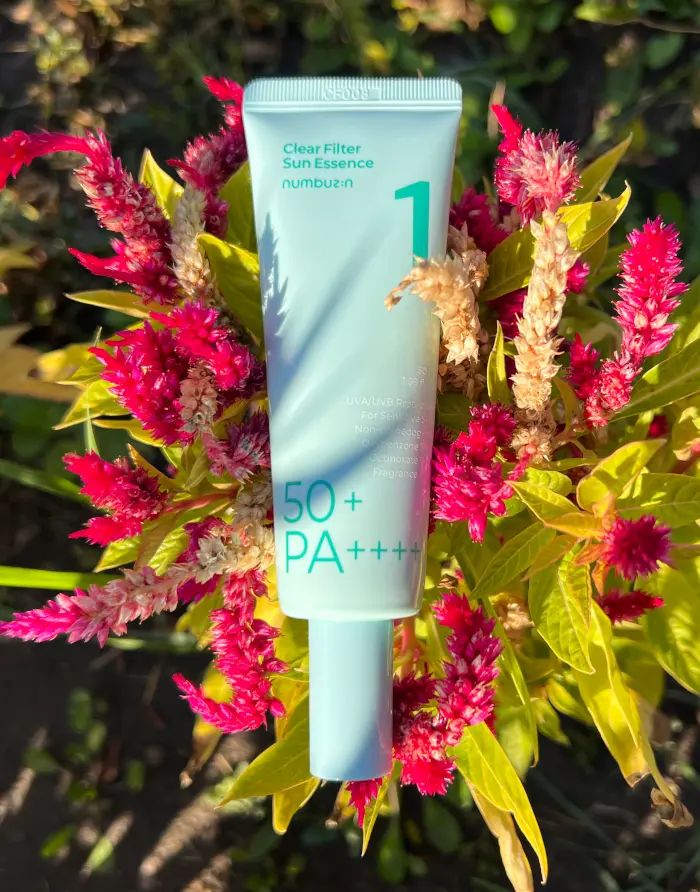 Lastly, I was not paid for this review or received it as a gift.
As always, you do you; be kind to your skin and yourself! Remember that every person's skin and skin type is different, so what might work for me might not work for you, and vice versa. So, before adding a new product to your skincare routine, it pays to do a little research first.
Before adding the Numbuzin No.1 Clear Filter Sun Essence to your skincare regimen, ensure you are not allergic to it or its ingredients. You should also consult your doctor if you are pregnant or breastfeeding or have any medical conditions or medications that may interact with the Numbuzin Numbuzin No.1 Clear Filter Sun Essence. Always do a patch test before applying the Numbuzin No.1 Clear Filter Sun Essence on your skin to avoid adverse reactions.
I am not a dermatologist or licensed aesthetician, but I have sufficient experience and knowledge I gained by testing multiple products and self-exploration. Unsure? Best to consult your dermatologist.
Happy shopping, and don't forget the sunscreen! Here's to great skin in 2023!
Show Me Proof
Shamoto, Yuta, Mikio Yagi, Nozomi Oguchi-Fujiyama, Kazuyuki Miyazawa, and Azusa Kikuchi. "Photophysical properties of hexyl diethylaminohydroxybenzoylbenzoate (Uvinul A Plus), a UV-A absorber." Photochemical & Photobiological Sciences 16 (2017): 1449-1457.
Puri, Neerja, and Ashutosh Talwar. "The efficacy of silicone gel for the treatment of hypertrophic scars and keloids." Journal of cutaneous and aesthetic surgery 2, no. 2 (2009): 104.
Chatelain, Eric, and Bernard Gabard. "Photostabilization of Butyl methoxydibenzoylmethane (Avobenzone) and Ethylhexyl methoxycinnamate by Bis‐ethylhexyloxyphenol methoxyphenyl triazine (Tinosorb S), a New UV Broadband Filter¶." Photochemistry and photobiology 74, no. 3 (2001): 401-406.
Ratz-Łyko, A., J. Arct, and K. Pytkowska. "Moisturizing and antiinflammatory properties of cosmetic formulations containing Centella asiatica extract." Indian journal of pharmaceutical sciences 78, no. 1 (2016): 27.
Haftek, Marek, Sophie Mac‐Mary, Marie‐Aude Le Bitoux, Pierre Creidi, Sophie Seité, André Rougier, and Philippe Humbert. "Clinical, biometric and structural evaluation of the long‐term effects of a topical treatment with ascorbic acid and madecassoside in photoaged human skin." Experimental dermatology 17, no. 11 (2008): 946-952.
Gohil, Kashmira J., Jagruti A. Patel, and Anuradha K. Gajjar. "Pharmacological review on Centella asiatica: a potential herbal cure-all." Indian journal of pharmaceutical sciences 72, no. 5 (2010): 546.
Phosri, Santi, Kanokwan Kiattisin, Aekkhaluck Intharuksa, Raveeporn Janon, Tanat Na Nongkhai, and Tinnakorn Theansungnoen. "Anti-Aging, Anti-Acne, and Cytotoxic Activities of Houttuynia cordata Extracts and Phytochemicals Analysis by LC-MS/MS." Cosmetics 9, no. 6 (2022): 136.
Choi, Jee Young, Jung Ae Lee, Jee Bum Lee, Sook Jung Yun, and Seung Chul Lee. "Anti-inflammatory activity of Houttuynia cordata against lipoteichoic acid-induced inflammation in human dermal fibroblasts." Chonnam Medical Journal 46, no. 3 (2010): 140-147.
Kwon TK, Kim JC. In vitro skin permeation and anti-atopic efficacy of lipid nanocarriers containing water soluble extracts of Houttuynia cordata. Drug Dev Ind Pharm. 2014 Oct;40(10):1350-7. doi: 10.3109/03639045.2013.819883. Epub 2013 Jul 25. PMID: 23886304.
Albuquerque, Priscilla Barbosa Sales, Weslley Felix de Oliveira, Priscila Marcelino dos Santos Silva, Maria Tereza dos Santos Correia, John F. Kennedy, and Luana Cassandra Breitenbach Barroso Coelho. "Skincare application of medicinal plant polysaccharides—A review." Carbohydrate Polymers 277 (2022): 118824.
Phosri, Santi, Kanokwan Kiattisin, Aekkhaluck Intharuksa, Raveeporn Janon, Tanat Na Nongkhai, and Tinnakorn Theansungnoen. "Anti-Aging, Anti-Acne, and Cytotoxic Activities of Houttuynia cordata Extracts and Phytochemicals Analysis by LC-MS/MS." Cosmetics 9, no. 6 (2022): 136.
Yang, Ji Hoon, Eun Ju Hwang, Jungyoon Moon, Ji Young Yoon, Ji Won Kim, Sungjun Choi, Soo Ick Cho, and Dae Hun Suh. "Clinical efficacy of herbal extracts in treatment of mild to moderate acne vulgaris: an 8-week, double-blinded, randomized, controlled trial." Journal of Dermatological Treatment 32, no. 3 (2021): 297-301.
Mapoung, Sariya, Sonthaya Umsumarng, Warathit Semmarath, Punnida Arjsri, Kamonwan Srisawad, Pilaiporn Thippraphan, Supachai Yodkeeree, and Pornngarm Dejkriengkraikul. "Photoprotective effects of a hyperoside-enriched fraction prepared from houttuynia cordata thunb. On ultraviolet B-induced skin aging in human fibroblasts through the MAPK signaling pathway." Plants 10, no. 12 (2021): 2628.
Charachit, Nattakan, Amonnat Sukhamwang, Pornngarm Dejkriengkraikul, and Supachai Yodkeeree. "Hyperoside and quercitrin in houttuynia cordata extract attenuate UVB-induced human keratinocyte cell damage and oxidative stress via modulation of MAPKs and Akt signaling pathway." Antioxidants 11, no. 2 (2022): 221.
Mitoma, Chikage, Takeshi Nakahara, Hiroshi Uchi, Akiko Hachiya, Msakazu Takahara, Gaku Tsuji, Makiko Nakahara, and Masutaka Furue. "Antioxidant Houttuynia cordata extract upregulates filaggrin expression in an aryl hydrocarbon-dependent manner." (2014): 205-213.
Han, Eun Hee, Jin Hee Park, Ji Young Kim, and Hye Gwang Jeong. "Houttuynia cordata water extract suppresses anaphylactic reaction and IgE-mediated allergic response by inhibiting multiple steps of FcεRI signaling in mast cells." Food and chemical toxicology 47, no. 7 (2009): 1659-1666.
Wen, Weijie, Jianwen Chen, Liugang Ding, Xia Luo, Xueping Zheng, Qi Dai, Qianqian Gu et al. "Astragaloside exerts anti-photoaging effects in UVB-induced premature senescence of rat dermal fibroblasts through enhanced autophagy." Archives of biochemistry and biophysics 657 (2018): 31-40.