Numbuzin No.3 Porcelain Base-skip Tone Up Beige is a tone-up cream with added protection from the sun. It is designed to even out skin tone and is one of Numbuzin's best-sold products.
Numbuzin No.3 Tone Up, at a Glance:
Where to Buy the Numbuzin No.3 Porcelain Base-skip Tone Up Beige?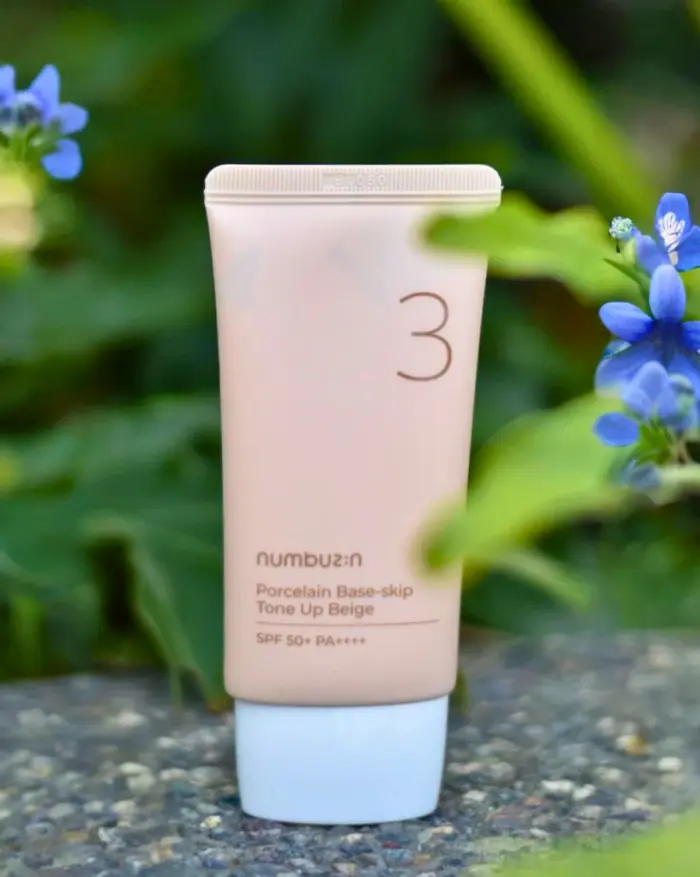 The Numbuzin No.3 Porcelain Base-skip Tone-Up Cream comes in a 1.69 fl. oz. / 50 ml tube and retails for $12-$19. If you're in the US, the tone-up cream can be purchased from Numbuzin's official store on Amazon*.
You can also shop for numbuzin No.3 Porcelain Base-skip Tone Up Beige on trusted Asian international shops, such as YesStyle*, StyleVana*, Jolse*, and StyleKorean*.
Here's our editor's guide to shopping for Korean skincare.
The Numbuzin Brand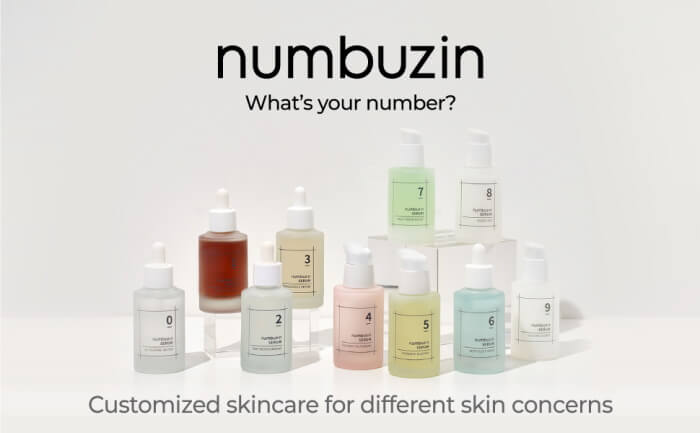 Numbuzin's mission is to know its customers and find solutions for each person's skin troubles. Numbuzin has an original marketing concept; a number represents each skincare line. Therefore, the brand's slogan is "What's Your Number?"
For many, Numbuzin is a relatively new brand for its cutting-edge skincare that involves research and innovation. The company creates some wonderful skincare products, which I personally enjoy using in my skincare routine. However, Numbuzin is not just skincare; they also have amazing tone-up creams through textures and formulations. The Numbuzin No.3 Porcelain Base-skip Tone Up Beige is no exception.
Seo Yeon took one for the team and did a colossal review of almost all Numbuzin products.
The No. 3 line is designed for smoothing and hydrating textured skin. Other products for this skin concern are:
(*affiliate links)
What is the Numbuzin No.3 Porcelain Base-skip Tone Up Beige?
This is a 3 in 1 tone-up cream for textured skin. It is a sunscreen with SPF 50 PA++++ protection, a primer, and a powder.
Numbuzin No.3 Porcelain Base-skip Tone Up Beige Claims
Numbuzin No.3 Porcelain Base – Skip Tone Up Beige is a multi-use, long-lasting foundation that leaves skin beautiful and smooth. The 3 in 1 product includes the functions of a make-up primer, sunscreen and foundation product.

Numbuzin No.3 Porcelain Base-skip Tone Up Beige provides :

Makeup-no-makeup effect.
Soft and velvety finish. Conceals pores and other skin imperfections.
Evens out skin tone, conceals imperfections and uneven texture for natural looking, radiant skin. It has a beige neutral shade that is versatile for all skin tones.
Contains only physical sunscreens.
Maximum UV protection.

The foundation contains 11 types of skin-soothing ingredients (such as Centella Asiatica, Houttuynia Cordata, Tea Tree and Artemisia) to soothe irritated and inflamed skin.

Fixing powder has been added to the composition of the product, so a lasting and flawless result lasts all day long, does not leave marks on clothes.

Numbuzin
Who is this Tone-Up Cream For?
For those who want a lightweight, natural finish.
Numbuzin No.3 Porcelain Base-skip Tone Up Beige Ingredients
numbuzin No.3 Porcelain Base-skip Tone Up Beige Ingredients List (last checked 2023)
Water, Zinc Oxide, Cyclohexasiloxane, Propanediol, Propylheptyl Caprylate, Caprylyl Methicone, Trimethylsiloxysilicate, Polyglyceryl-3 Polydimethylsiloxyethyl Dimethicone, Titanium Dioxide, Niacinamide, Disiloxane, Butyloctyl Salicylate, Centella Asiatica Extract, Polygonum Cuspidatum Root Extract, Scutellaria Baicalensis Root Extract, Camellia Sinensis Leaf Extract, Rosmarinus Officinalis (Rosemary) Leaf Extract, Chamomilla Recutita (Matricaria) Flower Extract, Artemisia Capillaris Extract, Glycyrrhiza Glabra (Licorice) Root Extract, Houttuynia Cordata Extract, Melaleuca Alternifolia (Tea Tree) Extract, Rosmarinus Officinalis (Rosemary) Leaf Oil, Disteardimonium Hectorite, Magnesium Sulfate, Triethoxycaprylylsilane, 1,2-Hexanediol, Polyglyceryl-2, Dipolyhydroxystearate, Lauryl Polyglyceryl-3 Polydimethylsiloxyethyl Dimethicone, Methyl Methacrylate Crosspolymer, Polymethylsilsesquioxane, Dicaprylyl Carbonate, Glyceryl Caprylate, Caprylyl Glycol, Mica, Aluminum Hydroxide, Ethylhexylglycerin, Perfluorooctyl Triethoxysilane, Tocopherol, Butylene Glycol, Pentylene Glycol, Iron Oxides(Ci 77492), Iron Oxides(Ci 77491), Iron Oxides(Ci 77499).
Ingredients referred from INCIDecoder.
Sunscreen filter Herb Active Humectant/Moisturizing Brightening
Sunscreen Filters
The numbuzin No.3 Porcelain Base-skip Tone Up Beige has two physical filters, zinc oxide, and titanium dioxide.
Zinc Oxide
Zinc Oxide is considered one of the safest sun filters. It is broad-spectrum, photostable, non-irritating, and also potentially an antioxidant.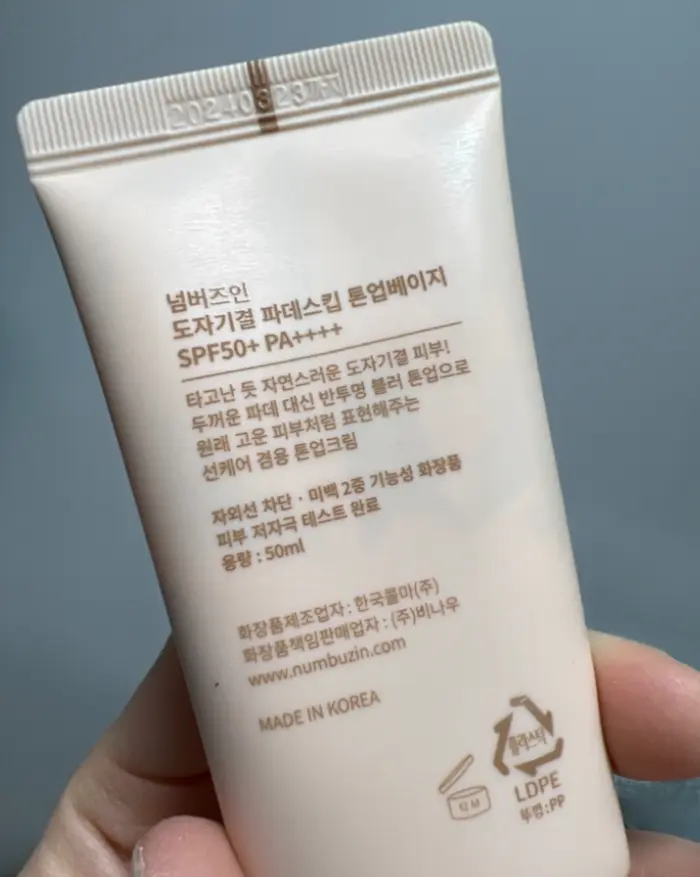 Titanium Dioxide
Titanium dioxide is a super popular physical sun active, which offers ample UVA protection and prevents UVA-related aging and dark spots. It is a naturally occurring white mineral, chemically inactive and safe for the skin.
Titanium dioxide is also an opacifier, which means it can make cosmetics thicker and more opaque. This can sometimes leave a white cast on the skin, especially if the titanium dioxide particles are large. To avoid this, some sunscreen products use titanium dioxide in nanoparticle form, which is smaller and more transparent. However, there is some debate about nanoparticles' safety and environmental impact, so further research is needed to determine their effects.
The manufacturer mentions that the No.3 Porcelain Base-skip Tone Up Beige has been registered as a sunscreen protector with only Zinc Oxide. Here, Titanium Dioxide is not for sun protection but is added as a tone-up ingredient. Moreover, the manufacturer guarantees that the tone-up cream does not contain nanoparticles.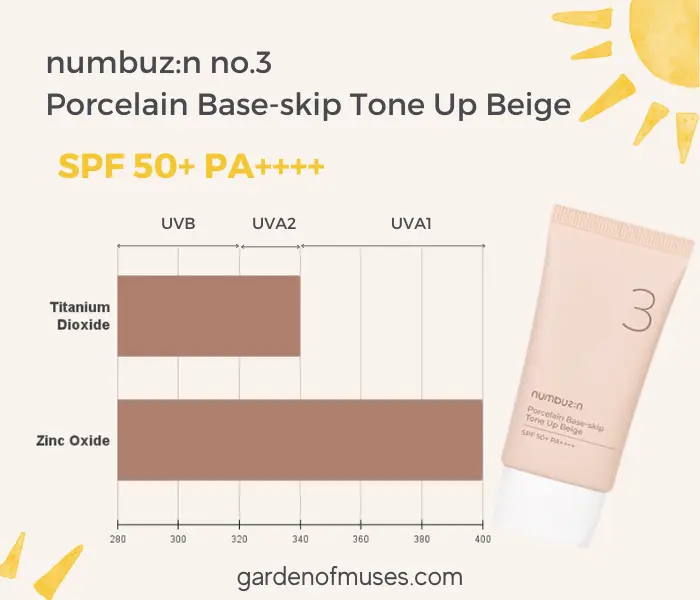 Ingredients Analysis
The ingredients list is typical for tone-up products.
Silicones
The composition contains eight volatile silicones, thanks to them, physical filters do not lie like white zinc ointment on the face but have a pleasantly light texture. Still, silicones are not my favorite ingredients. Silicone can trigger acne and cause "pilling" under makeup. It can have benefits for dry skin since it helps prevent water loss.
Cyclohexasiloxane, the third ingredient in the list, is not considered comedogenic but has been shown to harm aquatic life. Hence, a few Western countries have limitation bans on the ingredient. This form of silicone in skincare acts like a "wetting" emollient. It is easily spreadable and has temporary plumping effects by filling in pores and fine lines.
Propylheptyl Caprylate
The 5th ingredient in the list is an exciting ingredient, Propylheptyl Caprylate, which is also meant to soften the skin and is also ideal for sunscreens as it can increase the solubility of crystalline UV filters.
Dimethicone
Dimethicone is a standard skincare silicon that acts as a barrier in cosmetics. They make the skin feel more smooth and are a gatekeeper to all previously applied skincare products. It is common to see silicones in moisturizers, sleeping masks, and sunscreens because they are some of the last steps in a skincare routine.
Due to the molecular structure of Dimethicone, it is much more comedogenic than other silicons. Dimethicone is not an acne trigger for my skin, but it is high enough on the ingredient list to cause sensitive user issues. So make sure to patch test.
Niacinamide
Complete Guide on the Benefits of Niacinamide for the skin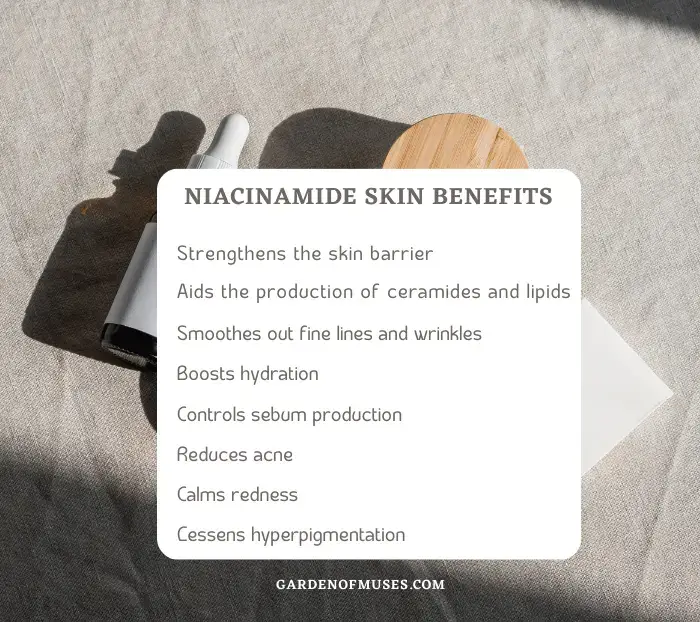 Niacinamide has been making a splash in the Western market over the last few years but has been a superstar in Asian skincare for decades. This beauty powerhouse is the topical form of vitamin B3.
Several well-documented studies show that when used topically, niacinamide can:
Long story short, niacinamide does everything, and the good news is that it is well-tolerated by most skin types. To learn more, please read our Complete Guide on Niacinamide and How to Reduce Hyperpigmentation with Niacinamide.
Chinese skullcap
Chinese skullcap (Scutellaria Baicalensis root extract) is a flowering plant native to China with roots high in plant flavones – compounds with soothing properties. It may also be effective at fading hyperpigmentation, although studies have only been in vitro (studies on intact human skin are still needed).
Rosemary
Rosemary (Rosmarinus Officinalis Leaf Extract) has strong antioxidant properties and can calm the skin. It can cause skin sensitivities if used in higher concentrations due to the essential oils it contains.
Chamomile
Chamomile is a popular and age-old medicinal herb used since ancient Egypt, Greece, and Rome to treat conditions like asthma, colic, fever, inflammation, nausea, and cancer. Its popularity resembles the Chinese tonic Ginseng in Europe. A cup of chamomile tea is also found to relieve individuals of their hefty lifestyle, work stress, environmental pollutants, imbalanced diet, and sleep deprivation.
As a skincare ingredient, chamomile is also great for individuals with duller, dehydrated, inelastic, and troubled skin. This is attributable to constituents such as phenolic compounds, flavonoids, and glucosides inside the flower which carry antioxidizing and skin-soothing benefits. It is also a skin conditioner that enhances the appearance of dehydrated or damaged skin by reducing flakiness and restoring suppleness.
Mugwort
Love soothing ingredients in your skincare? Check out Mugwort's skin benefits.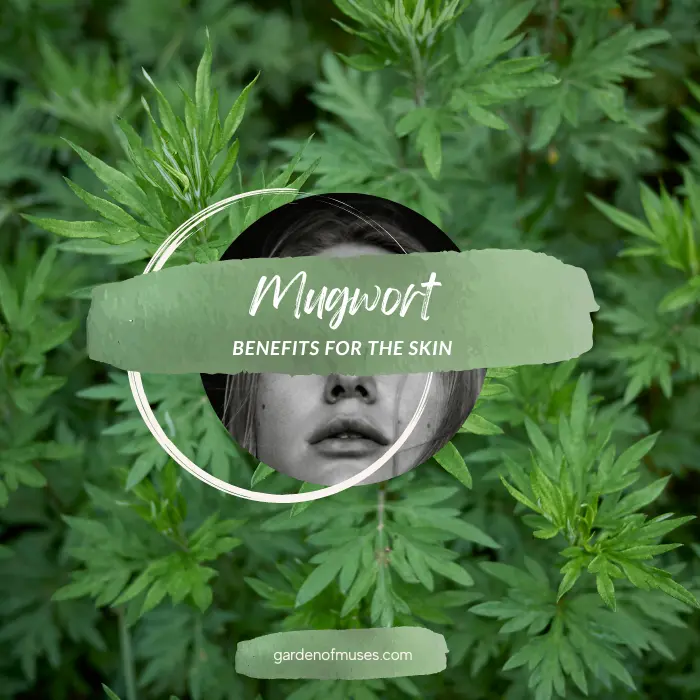 Artemisia, also known as mugwort, has been a beneficial ingredient in medicine, food, and cosmetics for centuries. It is a fool-proof, flexible product for sensitive, acne-prone, dry, and dull skin.
calms irritated and sensitive skin;
helps treat redness and atopic diseases;
prevent breakouts;
is full of antioxidants and Vitamin E;
helps to protect and nourish the skin barrier;
hydrates and brighten the skin tone, making it look more radiant and healthy.
Heartleaf
Read our Ingredient Spotlight: Houttuynia Cordata on this new Korean skincare ingredient.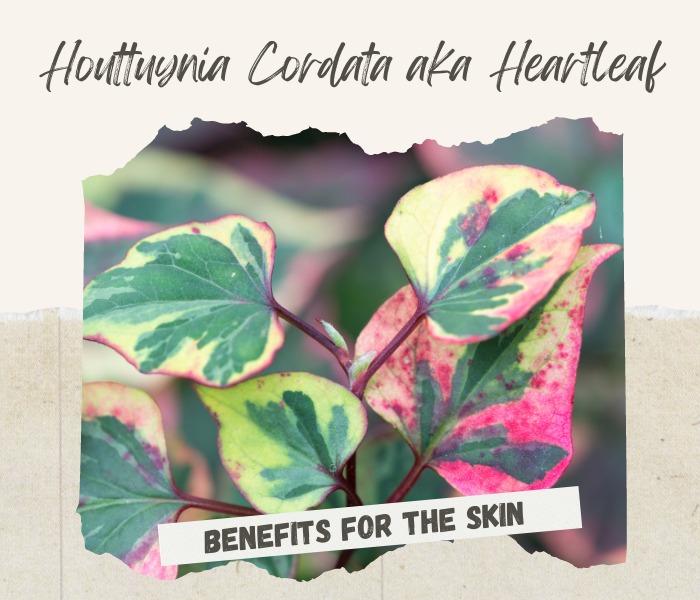 This sunscreen is also enriched with Houttuynia Cordata Extract, an antioxidant and calming ingredient.
Licorice
Licorice is one of my all-time favorite botanical extracts, a potent antioxidant, and anti-inflammatory that evens skin tone and soothes sensitive skin. Studies also have shown it acts as an anticarcinogenic.
What I enjoy about the Numbuzin No.3 Porcelain Base-skip Tone Up cream is the number of botanical extracts in the bottle. There's a blend of Centella Asiatica, Reynoutria japonica, Chinese skullcap, tea leaves, rosemary, chamomile, mugwort, licorice, heartleaf, and tea tree. These are mainly anti-oxidant and soothing ingredients to repair skin damage, soften the skin, and prevent skin aging.
numbuzin No.3 Porcelain Base-skip Tone Up Beige does not contain Hyaluronic acid or alcohol.
Packaging
The foundation came in a beige-pink tube, indicating all the information in Korean.
The tube of the cream is the most common with a standard dispenser.
Scent
No scent.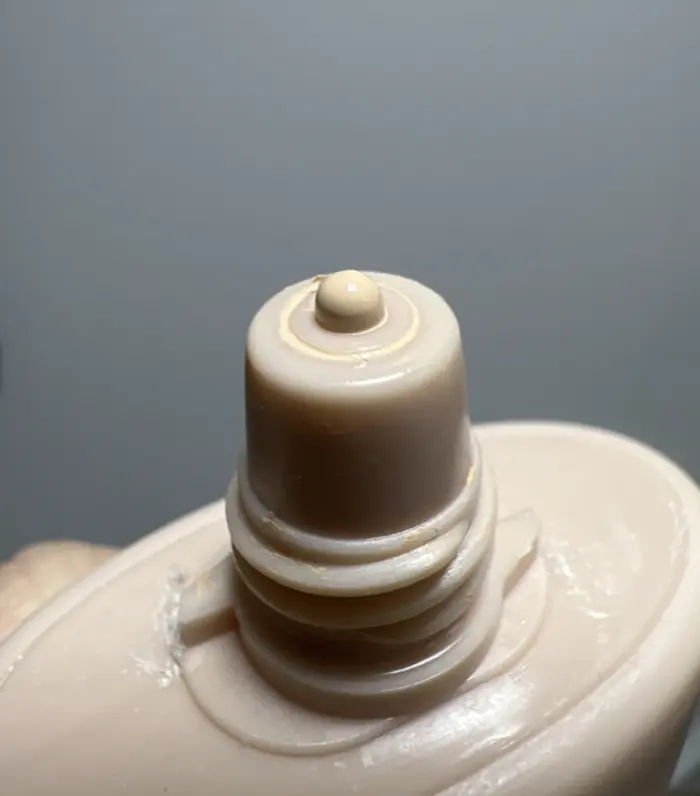 Texture
The consistency of the foundation is thick, dense, and light beige. The coverage is below average. It spreads well with a sponge or brush. It may streak when applied with hands or a brush.
Leaves a slightly damp, satin finish at first. After a while, the skin becomes almost matte.
My Experience with the Numbuzin No.3 Porcelain Base-skip Tone Up Beige
I have a normal – combo skin type, and I live in a tropical, humid climate where we don't have winter, so I don't know how this base-skip tone-up cream performs during cold weather.
Anyone who knows me can tell you that my makeup purchases generally revolve around silky skin, and I love anything that covers my textured skin naturally. I have tried various bb creams/tone-up creams/foundations and find that sometimes it looks like a mask or the formula can be too 'cakey,' making it a little difficult to wear. However, when I was recently sent the numbuzin No.3 Porcelain Base-skip Tone Up Beige, I was impressed with the finish, ease of use, texture, and just how it sat on my skin. 
I love the lightweight formula, which can be easily applied to the skin for different effects and intensities. It does not sink into wrinkles or pores, it doesn't clog pores either, but it erases them.
It hides almost all skin imperfections, including redness and inflammation. It imparts a beautiful satin, slightly radiant finish. It gives a natural transparent coverage that can be intensified using more product. I love using this as an everyday tone-up cream because it perfectly adapts to my skin tone.
The product does not dry the face, accentuate imperfections, or irritate the eyes.
On the downside, it is difficult to wash off. You need a serious cleansing oil and a foam cleanser to ensure everything goes off.
I am satisfied with the coverage it gives me, it feels quite comfortable on the skin, but it seems to interfere with the makeup applied. I can't apply foundation or powder over it because it makes my face look like a scary mask.
This is an almost perfect tone-up sunscreen, but if you have flaky skin, this tone-up cream will emphasize it.
As a sunscreen, the recommended half a teaspoon for the face and neck to achieve the manufacturer's claimed protection is not easy to spread and work into the skin. Reapplying is also a no-no. Moreover, if you put another sunscreen on it, you get some terrible mess on your face. The only option is to clean the face and apply everything again.
So I recommend it, but not as a sunscreen! The fact that there is additional protection from the sun will remain a big plus. It could be your only protection from the sun during autumn – wintertime (UV index 1-2).
As a result, this is a very cool skin toner for every day. This is a good replacement for the same Dr. Jart+ Cicapair Tiger Grass Color Correcting Treatment*, but they are not interchangeable.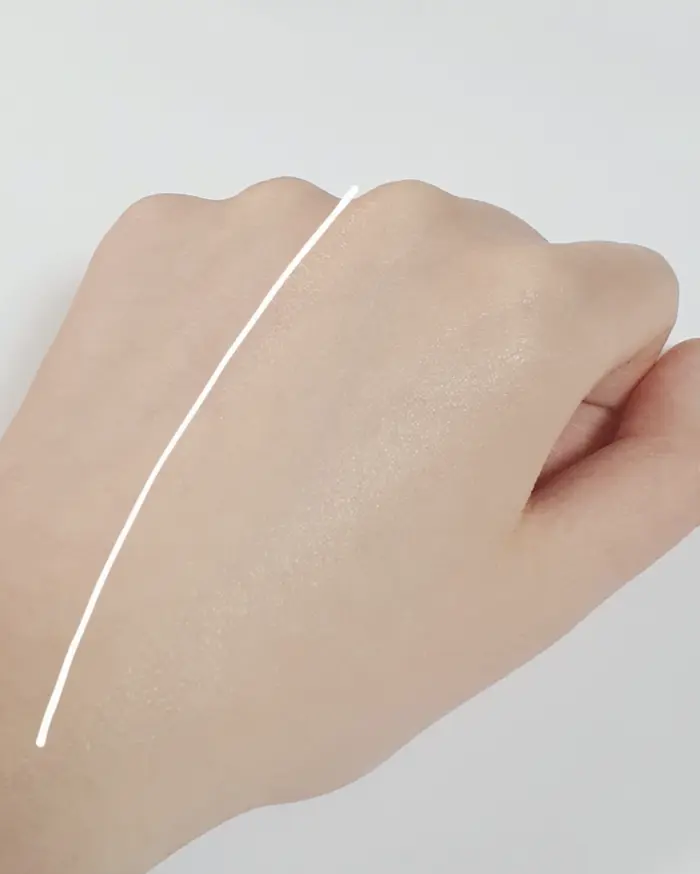 Pros
excellent for lightweight, protective coverage
good for the no-makeup makeup look
doesn't stain
doesn't sting
doesn't clog pores
Cons
emphasizes flaky skin
messy reapplication
wouldn't rely on it solely as a sunscreen
Overall
Numbuzin No.3 Porcelain Base-skip Tone Up Beige is an everyday makeup favorite because of its light coverage and added protection. Its lightweight formula makes it easy and quick to apply, perfect for a lazy makeup girl like me. The beige suits my yellow-based Asian skin quite well, but I have seen this on pink skin tones, and the color still looks flattering due to its satin finish—excellent tone-up cream, suitable for everyone except those with dry, retinoid, flaky skin.
Will I repurchase numbuzin No.3 Porcelain Base-skip Tone Up Beige?
Not sure.
Rating 4/5
Shop for Numbuzin No.3 Porcelain Base-skip Tone Up Beige
The price point of the numbuzin No.3 Porcelain Base-skip Tone Up Beige is $19.
Lastly, I was not paid for this review or received it as a gift.
As always, you do you, be kind to your skin and yourself! Remember that every person's skin and skin type is different, so what might work for me might not work for you, and vice versa. So before adding a new product to your skincare routine, it pays to do a little research first.
Before adding the Numbuzin No.3 Porcelain Base-skip Tone Up Beige to your skincare regimen, ensure you are not allergic to it or its ingredients. You should also consult your doctor if you are pregnant, breastfeeding, or have any medical conditions or medications that may interact with the Numbuzin No.3 Tone Up. Always do a patch test before applying the Numbuzin No.3 Porcelain Base-skip Tone Up Beige on your skin to avoid adverse reactions.
I am not a dermatologist or licensed aesthetician, but I have sufficient experience and knowledge I gained by testing multiple products and self-exploration. Unsure? Best to consult your dermatologist.
Happy shopping, and don't forget the sunscreen! Here's to great skin in 2023!
Show Me Proof