Being a person whose skin (before the RNW Ceramide serum) frequently resembled a 2000-year-old sheet of parchment, my biggest skin problem has always been Dry and dry.
I was drawn to K-beauty years ago because everything I read, from 10-step routines to reviews of products, seemed to have a heavy focus on moisture. I was always puzzled when putting moisturizer on the night before and waking up with dry patches under my nostrils — Why was it doing that? I had JUST put moisturizer on it!
This was way before I knew anything about the skin's moisture barrier. Now that I do, I understand that no amount of moisturizer could have fixed my problem at the time. I was washing my face with highly drying products, and it was causing an overall state that left my face vulnerable to hormonal acne, sun damage, and, of course, mega-dryness. My skin's moisture barrier was unhappy.
I have since been diligently caring for my skin's moisture barrier. You can include many great things for your skin barrier, but you aren't doing everything unless you have ceramides in your routine.
RNW Der. Concentrate Ceramide Plus Serum Review:
Where to Buy the RNW Der. Concentrate Ceramide Plus Serum?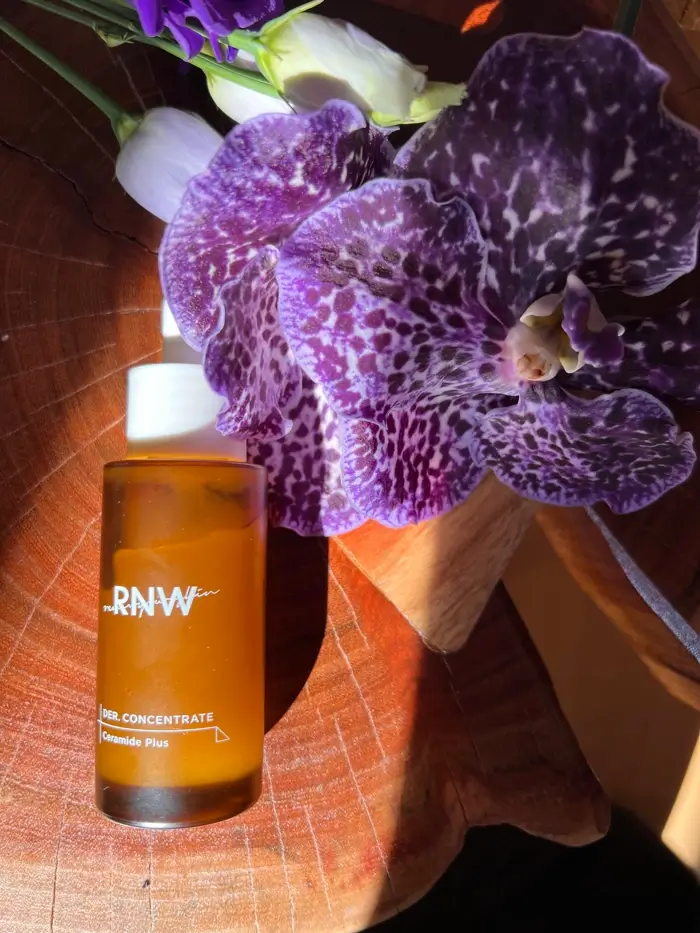 Price varies greatly, between $16 and $28. Price/quantity-wise, it's definitely on the higher end of things. One fl. oz. / 30ml is tiny. It might be the standard quantity for most serums, but it isn't much, especially when you apply it in the morning and the evening routine.
Shop for the RNW Der. Concentrate Ceramide Plus Serum on Amazon*, YesStyle*, or StyleVana*.
The RNW Brand
RNW, short for Renew Your Skin, is a Korean skincare brand. RNW works with Shinsegae Intercos and Kolmar, two of Korea's best cosmetic manufacturers, to supply raw materials and produce basic products.
RNW constantly researches to solve fundamental skin problems and provides differentiated skincare solutions. RNW works to restore one's natural beauty using only minimalistic, essential, EWG green-grade ingredients.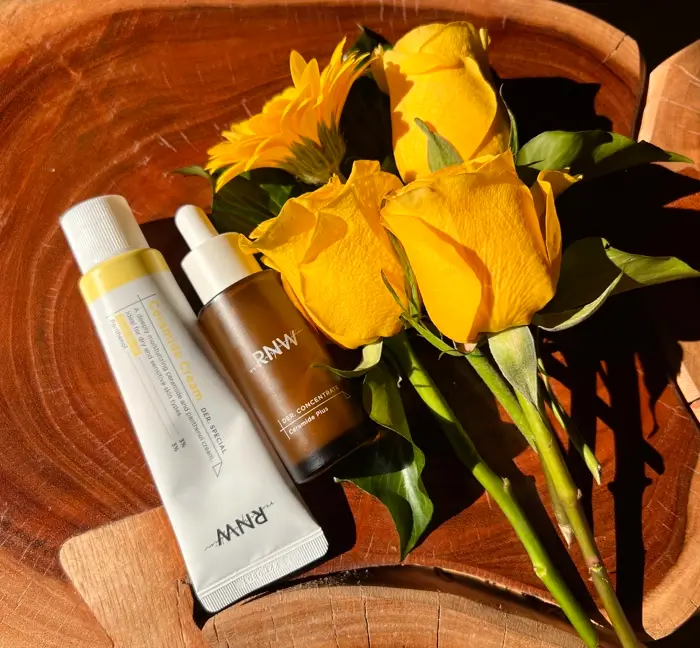 True beauty is being healthy.

RNW
RNW doesn't make absurd, exaggerated claims. In skin care, there are no instant fixes. There are no products that magically transform your skin overnight. But, if you are consistent with your skincare, subtly, over time, magic does happen.
I don't see much press about RNW's products in the K-beauty world, but people are missing out by not trying them.
RNW DER. CONCENTRATE Ceramide Plus Serum Claims
The RNW Der. Concentrate Ceramide Plus is an opaque serum that contains five types of ceramide, fatty acid and multiple peptides to protect and strengthen the skin barrier. Ceramides are the building blocks of a healthy skin barrier. This RNW ceramide plus serum ingredients include peptides and ceramide molecules that are encapsulated in a micro fatty acid capsule to improve the deliverance of the highly valuable skincare ingredients. These capsules penetrate deeper into the skin layers to target areas that require skin rejuveration and restoration.

https://oshenskin.com/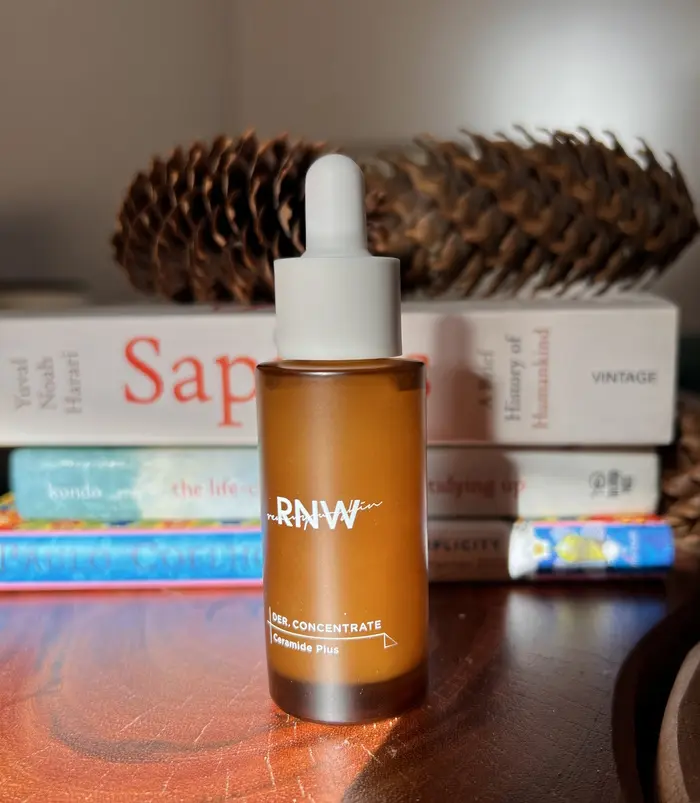 Who is this ceramide serum for?
The brand recommends it for those with combination, dry, mature, and normal skin. Not sure what your skin type is? Please read our guide on Skin types & skin conditions.
I would recommend this for every skin type.
RNW Der. Concentrate Ceramide Plus Serum Ingredients
Water, Dipropylene Glycol, Glycerin, Methylpropanediol, Glycereth-26, 1,2-Hexanediol, Niacinamide, Dimethicone/​Vinyl Dimethicone Crosspolymer, Betaine, Cynara Scolymus (Artichoke) Leaf Extract, Avena Sativa (Oat) Kernel Extract, Ceramide NP, Ceramide EOP, Ceramide NS, Ceramide AP, Ceramide AS, Acetyl Hexapeptide-8, Nonapeptide-1, Palmitoyl Tetrapeptide-7, Palmitoyl Pentapeptide-4, Palmitoyl Tripeptide-1, Hexapeptide-9, Tripeptide-1, Copper Tripeptide-1, Beta Vulgaris (Beet) Root Extract, Eclipta Prostrata Leaf Extract, Algae Extract, Persea Gratissima (Avocado) Oil, Camellia Sinensis Leaf Water, Hydrogenated Lecithin, Cholesterol, Squalane, Tocopherol, Hydrolyzed Hyaluronic Acid, Polyquaternium-51, Glyceryl Stearate, Beta-Glucan, Adenosine, Fructooligosaccharides, Xanthan Gum, Tromethamine, Glyceryl Polymethacrylate, Sucrose Distearate, Acrylates/​C10-30 Alkyl Acrylate Crosspolymer, Butylene Glycol, Silica, Hydrolyzed Corn Starch, Caprylyl Glycol, Ethylhexylglycerin.
Ingredients referred from RNW Website.
Active Humectant/Moisturizing Herbs
Ingredients Analysis
The list of ingredients is quite impressive. Have you ever wondered what the "Plus" stands for in Der. Concentrate Ceramide Plus?
RNW Ceramide Serum contains the skin barrier repair trifecta ceramides, cholesterol, and fatty acids. In addition, this ampoule contains plenty of humectants and a bunch of other barrier-replenishing ingredients.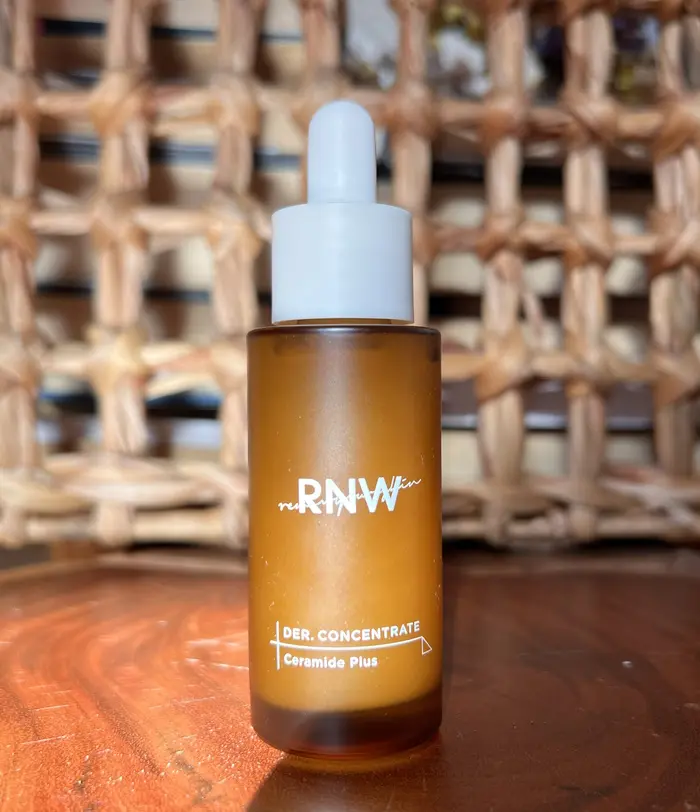 Glycerin
The third ingredient is glycerin, which the skin absorbs very well. In addition, glycerin is naturally found in the skin and is very well tolerated.
Glycerin is also probably the best humectant. It:
Hydrates. Glycerin is a very effective humectant, used in many moisturizers to increase skin hydration.
Occurs naturally in your skin as part of its home-grown moisturizing system, the natural moisturizing factor (NMF).
Strengthens skin barrier. Glycerin also keeps the skin's lipids flexible, strengthening your skin barrier.
Softens. Glycerin softens the skin so other hydrating ingredients can more easily penetrate the skin.
Reduces TEWL. Glycerin helps slow down transepidermal water loss (TEWL). Like other humectants, it works by sitting in the top layers of your skin and attracting water from the air and the deeper layers, leaving your skin surface plump and hydrated, even when the weather is arid.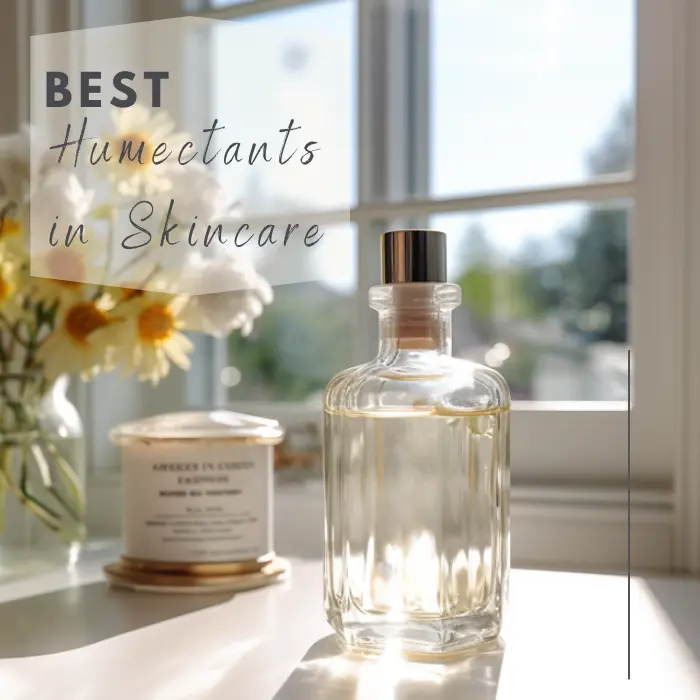 Ceramides
Ceramides are a super important component that maintains a healthy skin barrier. They help your skin retain moisture, protect against visible signs of aging, and help keep out environmental stressors that can cause damage and irritation. They're like the beefy bouncers that keep the creeps out of the nightclub.
When you have enough ceramides, your skin looks visibly healthy. It's plump, juicy, radiant, and smooth. It's also more resilient, and you'll likely notice that you're less prone to itching, redness, and fine lines.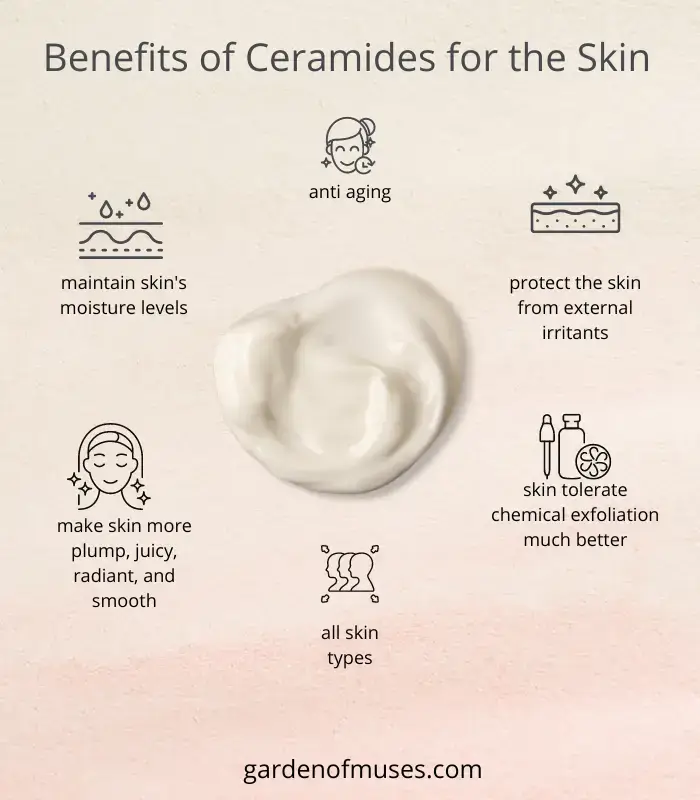 Ceramides are especially helpful in the colder months because of how much more difficult it is to retain moisture! Between dry, cold winds and blasting the heater, your poor skin would probably sob if it had any moisture left for tears.
One more benefit to adding ceramides to your beauty routine is that your skin will be able to tolerate chemical exfoliation much better. Healthy, ceramide-packed skin responds much better to actives, and you're less likely to experience the irritation and over-exfoliation that often comes with some of the stronger acids.
RNW considers that maintaining a healthy skin barrier is crucial. When the skin barrier is damaged, no matter how good your products are, it is like pouring water into a broken jar.
RNW contains a proprietary patented ingredient, Celrederm™, discovered after a long research period. It protects the skin from harmful environments and relieves stress caused by external stimuli, making it healthier. This serum has five types of ceramides to support the skin barrier and its overall hydration: Ceramide NP, Ceramide EOP, Ceramide NS, Ceramide AP, and Ceramide AS.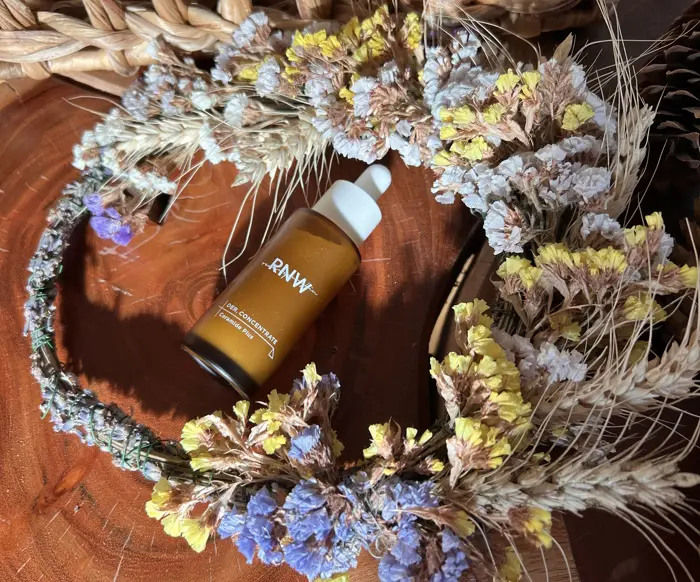 Niacinamide
The fifth ingredient is niacinamide – which is in everything, I swear! I feel sorry for people who can't use this because it's included in many things.
Niacinamide has been making a splash in the Western market over the last few years and has been splashing in Asian skincare for decades. This beauty powerhouse is the topical form of vitamin B3.
Several well-documented studies show that when used topically, niacinamide can:
Long story short, niacinamide does everything, and the good news is that it is well-tolerated by most skin types. To learn more, please read our Complete Guide on Niacinamide and How to Reduce Hyperpigmentation with Niacinamide.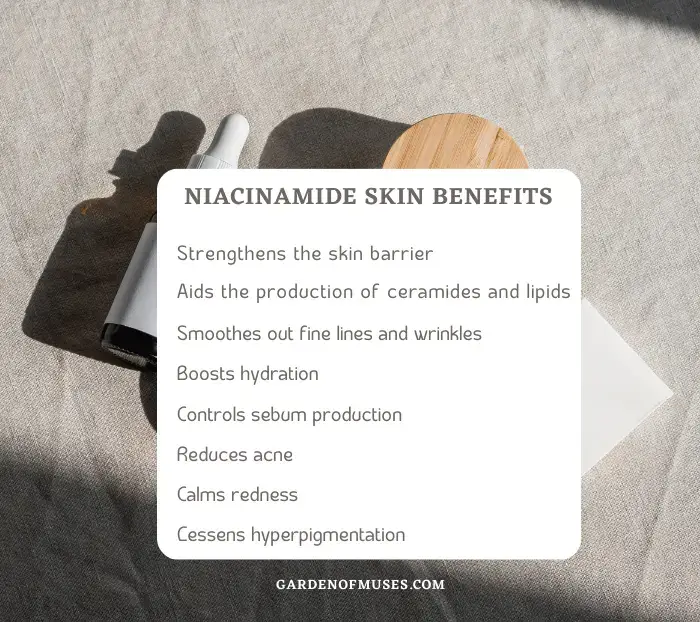 Peptides
I believe this is one of the most underrated ingredients in anti-aging skincare. This ingredient has the genetic makeup that is part of proteins that form amino acids. You will often see di, tri, tetra, hexa etc. prefixes in front peptides that refer to the number of amino acids encompassed in the ingredient. They are cell communicators but possess different "communication styles," i.e., hormonal activity, immune activity, etc.
So why does any of this jibberish matter? Wrinkles form when the skin loses elasticity and collagen. Peptides are cell communicators that alert your skin to collagen loss so your body can produce more collagen. Theoretically, when peptides are applied topically, they penetrate your skin without damaging your cells so that your body receives the "More collagen, bro!" message, thus stimulating more collagen production wherever it is applied.
It depends greatly on the type of peptides used in a product and its formulation. Some peptides have great anti-inflammatory benefits, while others have been used as antibacterials. The real challenge is having peptides successfully penetrate the skin without breaking down.
Another major obstacle to any new and exciting skincare item is curbing expectations back to reality. Peptides will not erase a few decades from your face or plump your lips like Kylie Jenner. No serum or cream can take back time. Consider alternative options like Botox or surgical intervention if you want these results. This ingredient can have great preventative effects but will not eliminate all the damage already done.
This serum is chock-full of peptides – in what I consider true K-beauty style.
Acetyl Hexapeptide-8 (Argireline) – This is one of the most used peptides in anti-aging products, as it seems to be backed up by more research than other peptides in that domain. It seems quite interesting. The peptide works similarly to Botox by relaxing facial muscles. A study on ten healthy volunteers showed significantly more reduction in the depth of wrinkles for the Argireline group compared to placebo when Argireline was used as an emulsion formulated at 10% of the peptide.
Palmitoyl Tripeptide-1 – Has shown the ability to stimulate collagen synthesis in a human fibroblast culture and prevent its degradation after exposure to UVA light. Furthermore, as shown in a study involving 23 healthy female volunteers, Palmitoyl Tripeptide-1 promotes a small but statistically significant increase in skin thickness;
Palmitoyl Tetrapeptide-7 – One of the most used peptides in anti-aging, it reduces inflammation after UVB exposure;
Copper Tripeptide-1 – The least sexy peptide of the bunch, it is still an antioxidant though it may not penetrate the skin as well as other peptides;
Avocado
Fatty acid blends in with the ceramides and cholesterol to mimic the skin's natural lipids and provide moisturization to protect and repair the stratum corneum lipid barrier.
Lecithin
Lecithin is a water-binding emollient with skin-restoring properties when used in high concentrations.
Squalane
Squalane is an oil, and yet it is characterized by a silky and non-greasy finish. Adding squalane to the mix improves product absorption, hydrates, smoothes, and revitalizes the skin, preserving moisture.
Squalane is a precursor to cholesterol and is naturally produced in the body, which explains its low-irritant properties. The squalane concentrations in the skin are very high up to the age of 20, after which there is, unfortunately, a significant decline.
It also includes a variety of plant extracts and waters for antioxidant benefits to protect the skin barrier from free radicals. Additional goodies include beta-glucan and prebiotic fructooligosaccharides.
RNW Ceramide Serum does not contain parabens, alcohol, essential oils, fragrance, or allergens and is vegan and cruelty-free.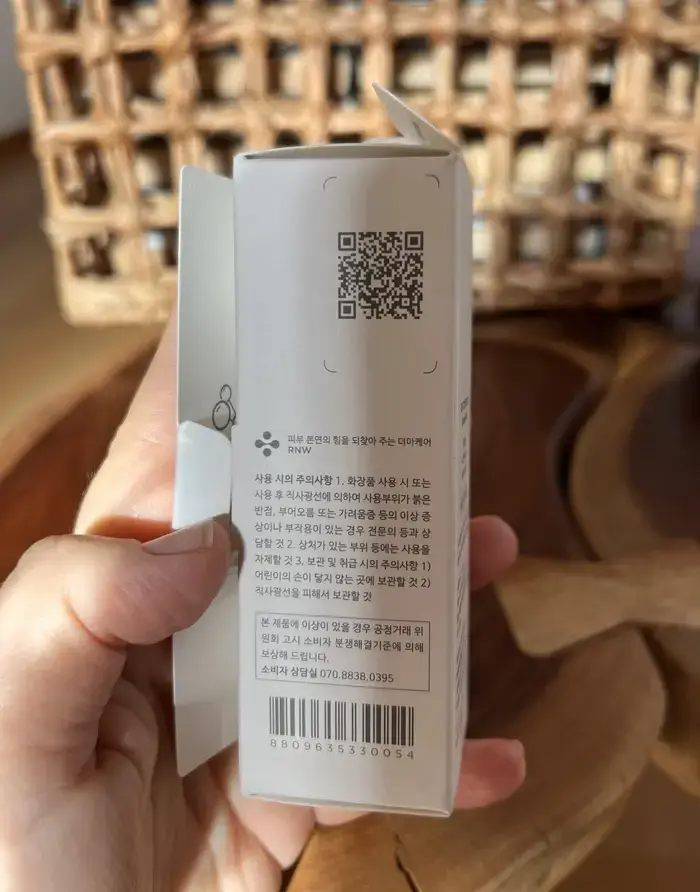 Packaging
RNW Ceramide Serum is housed in an exciting cardboard box. The serum itself comes in a weighty, frosted brown glass bottle with a glass dropper.
I prefer pump bottles because I am clumsy, always in a hurry, and risk spilling the whole content. Also, with pump bottles, it is easier to control the product amount, and the serum doesn't come in contact with air. But that is just a personal preference.
This dropper applicator, in particular, doesn't allows me to control how much I'm using. Also, the fluid is heavy and dense, so I cannot get the last 10% out of the bottle.
Scent
This ceramide serum has no scent.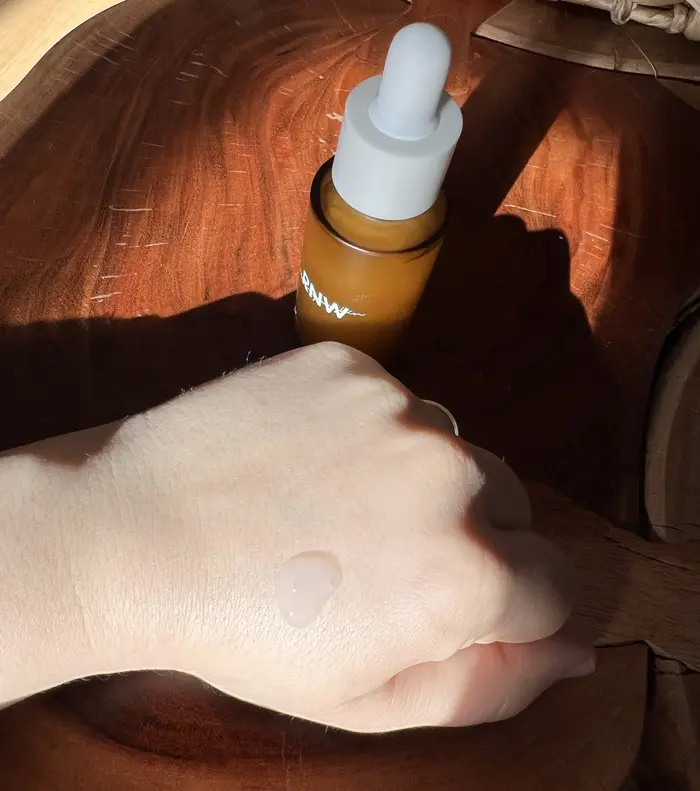 Texture
RNW Ceramide Serum has what I consider a "classic" ceramide serum texture in that it's a bit gloopy and works well in a "cocktail" — mixed in your palm with another serum for spreadability. It is milky white and applies clearly.
My Personal Experience with RNW Ceramide Serum
I tend to vary my routine depending on the weather, but winter is always the worst for me in terms of trying to keep my skin in decent shape. It's still wintertime here, and I have a dry skin type. I'm also a Tretinoin user, so my skin sometimes gets very dry.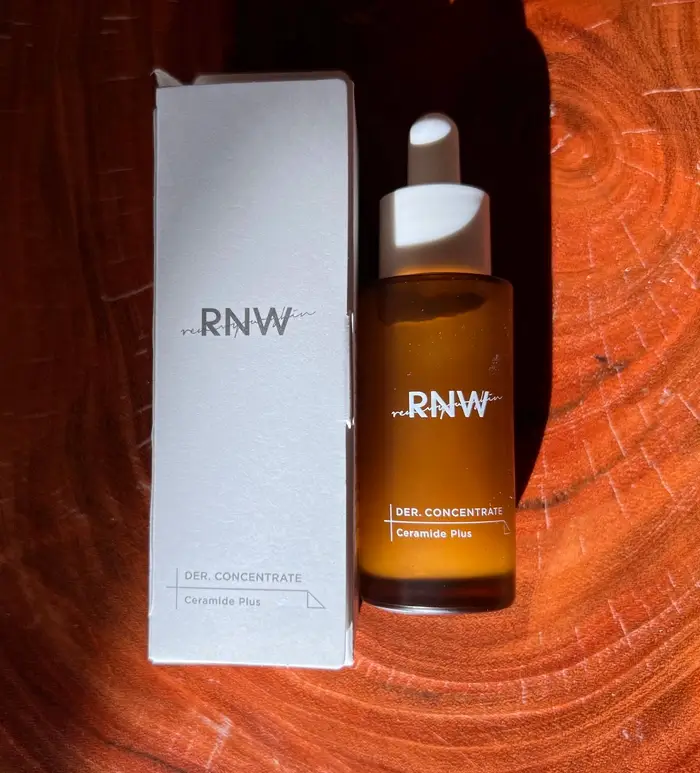 I like this RNW serum; it's an all-in-one product. You get ceramides, peptides, and a small percentage of niacinamide without using three different serums. It is extremely fast absorbing, soothing, and moisturizing. It works great paired with tretinoin, leaving the skin smooth and hydrated. I had no irritation. I even used this around my eye contour with no irritation, so that was good, as my eyes are pretty sensitive.
It's a product that takes its sweet time but eventually does help dry and dehydrated skin.
I look for ceramides in cleansers, mists, moisturizers, and masks; you name it. I haven't yet discovered that there's such a thing as too many ceramides in a routine. So, while the rest of my skincare regime is likely also helping with hydration and moisturization, I've felt immediate hydration by adding this product to the mix.
Over time, I feel that this ampoule has helped fortify and strengthen my skin barrier. If I have to travel and take only one serum, this will be the one. This must mean something.
On the downside, I was very surprised by how quickly this product reached the bottom. I've used this for less than 40 days, but it's almost empty! Generally, I wouldn't say I'm a person who uses too much product on the skin; I'd say I use just enough product to go everywhere on my face. That's why I think for people who use a lot; this would last way less. That's probably the only thing I didn't like about this product. I'd buy a liter of this if I could.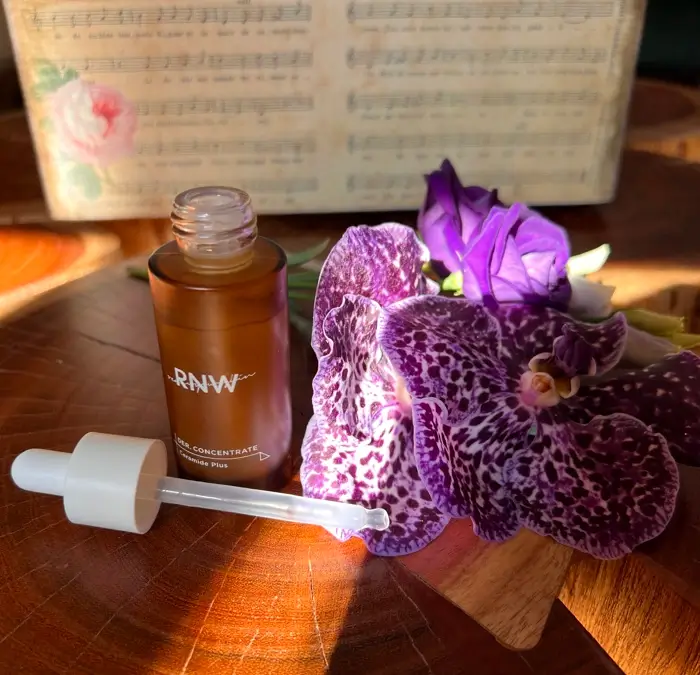 How to use RNW Ceramide Plus Serum?
In your skincare routine, this fits in the "serum" step.
Tone;
Apply a full dropper of RNW Der. Concentrate Ceramide Plus onto your slightly damp skin, which will help the active ingredients penetrate;
Pat lightly;
Don't forget your neck and your cleavage;
You have to wait at least a few minutes to let your serum absorb into your skin before you follow up with moisturizer or sunscreen if in the AM.
I use the RNW serum twice daily.
Tip. I'm always paranoid about getting age spots on my hands, so if you have any excess product, rub it on your hands for an extra anti-aging boost.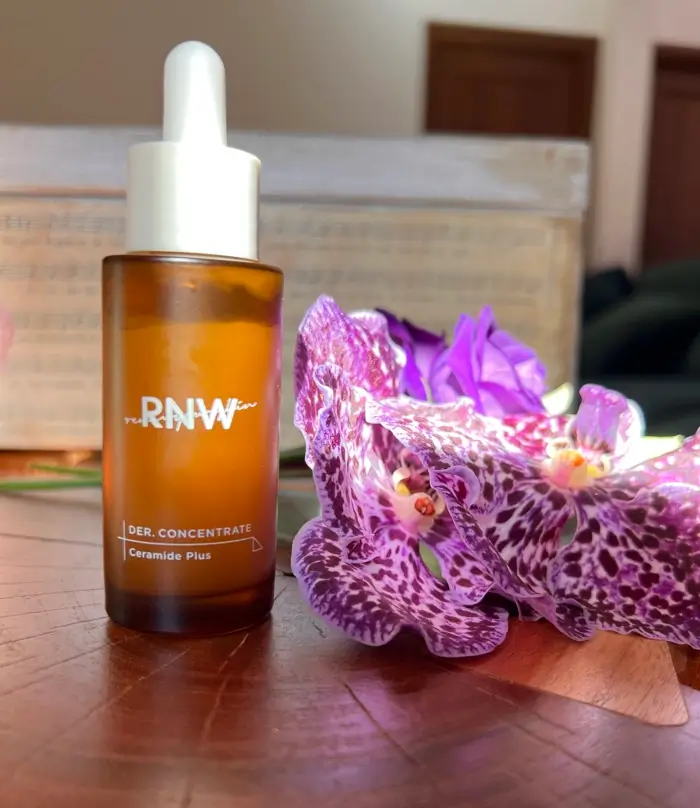 Pros
very well formulated
absorbs quickly
supports the skin barrier
peptides
antioxidants
Cons
small size
expensive
inefficient dropper
Final Thoughts
Ceramides, cholesterol, and fatty acids are the trifecta for skin barrier support. RNW Der. Concentrate Ceramide Plus is one of my favorite options because it also includes niacinamide, a variety of antioxidant plant extracts, and a bunch of peptides, which will help soothe and rebuild the skin barrier.
The RNW brand tends to focus on hero ingredients, and they're starting to get some well-deserved hype for their ceramide line—the RNW Der. Concentrate Serum is a fabulous, goopy, skin-barrier-supporting serum.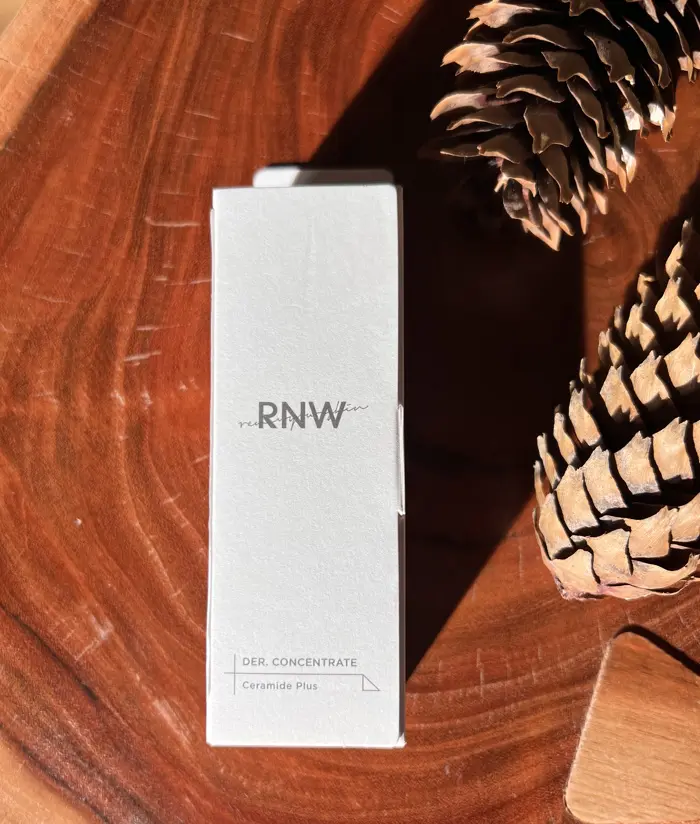 If you're a skincare fanatic who wants to try something many folks haven't heard of while fighting signs of aging and dehydration, you need to try the RNW Der. Concentrate Ceramide Plus. Its unique and highly concentrated formula makes this ceramide serum a one-and-done serum staple in your routine.
Will I repurchase RNW Ceramide Plus Serum?
Although it is very good, I am not sure. It is pretty expensive.
Rating 4.5/5
RNW Ceramide Plus Serum vs. AMPLE:N Ceramide Shot Ampoule
I like them both!
Texture-wise, AMPLE:N Ceramide Shot Ampoule is richer and thicker. RNW absorbs immediately; my skin seems to drink it up. Ample N has a velvety glide and doesn't absorb as fast.
They are both moisturizing and nourishing, but the RNW Ceramide Plus Serum has a nicer, more luxurious feeling than Ample:n's Ceramide Ampoule.
I consider the RNW Ceramide Plus Serum in a different league because it offers more benefits. However, if you're looking for an affordable, comfortable ceramide serum, AMPLE:N Ceramide Shot Ampoule will not disappoint you.
With Ample:n's Ceramide Ampoule, you only need a very small amount, which spreads well. The 3.38 fl. oz. / 100ml lasts a long, long time. With RNW Ceramide Plus Serum, on the other hand, because it sinks in so quickly, I feel I am using more product, so the one fl. oz. / 30 ml bottle doesn't last much.
RNW Ceramide Plus Serum is a highly concentrated product, but it is almost three times more expensive (per fl. oz.) than the AMPLE:N Ceramide Shot Ampoule.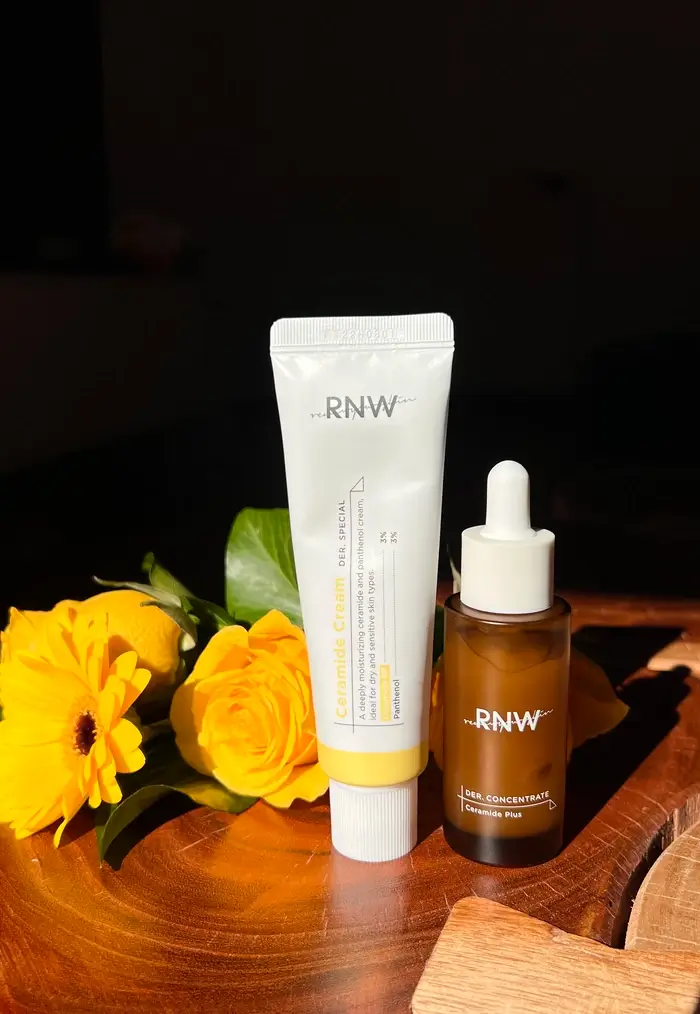 Shop for RNW Der. Concentrate Ceramide Plus Serum
You can get RNW Der. Concentrate Ceramide Plus Serum at Amazon* or YesStyle*. RNW also has a ceramide moisturizer* from their "Der. Special" Line.
From the same line, "Der. Concentrate":
(*affiliate links)
Lastly, I was not paid for this review or received it as a gift.
As always, you do you; be kind to your skin and yourself! Remember that every person's skin and skin type is different, so what might work for me might not work for you, and vice versa. So, before adding a new product to your skincare routine, it pays to do a little research first.
Before adding the RNW Der. Concentrate Ceramide Plus Serum to your skincare regimen, ensure you are not allergic to it or its ingredients. You should also consult your doctor if you are pregnant, breastfeeding, or have any medical conditions or medications that may interact with the RNW Ceramide Plus Serum. Always do a patch test before applying the RNW Der. Concentrate Ceramide Plus Serum on your skin to avoid adverse reactions.
I am not a dermatologist or licensed aesthetician, but I have sufficient experience and knowledge I gained by testing multiple products and self-exploration. Unsure? Best to consult your dermatologist.
Happy shopping, and don't forget the sunscreen! Here's to great skin in 2023!
Show Me Proof
Chularojanamontri, Leena, Papapit Tuchinda, Kanokvalai Kulthanan, and Kamolwan Pongparit. "Moisturizers for acne: What are their constituents?." The Journal of clinical and aesthetic dermatology 7, no. 5 (2014): 36.
Björklund S, Engblom J, Thuresson K, Sparr E. Glycerol and urea can be used to increase skin permeability in reduced hydration conditions. Eur J Pharm Sci. 2013 Dec 18;50(5):638-45. doi: 10.1016/j.ejps.2013.04.022. Epub 2013 May 3. PMID: 23643739.
Fluhr, J. W., R. Darlenski, and C. J. B. J. Surber. "Glycerol and the skin: holistic approach to its origin and functions." British Journal of Dermatology 159, no. 1 (2008): 23-34.
Verdier‐Sévrain, Sylvie, and Frédéric Bonté. "Skin hydration: a review on its molecular mechanisms." Journal of cosmetic dermatology 6, no. 2 (2007): 75-82. (glycerin NMF)
Sahle F, F, Gebre-Mariam T, Dobner B, Wohlrab J, Neubert R, H, H: Skin Diseases Associated with the Depletion of Stratum Corneum Lipids and Stratum Corneum Lipid Substitution Therapy. Skin Pharmacol Physiol 2015;28:42-55. doi: 10.1159/000360009
Holleran WM, Man MQ, Gao WN, Menon GK, Elias PM, Feingold KR. Sphingolipids are required for mammalian epidermal barrier function. Inhibition of sphingolipid synthesis delays barrier recovery after acute perturbation. J Clin Invest. 1991 Oct;88(4):1338-45. doi: 10.1172/JCI115439. PMID: 1918384; PMCID: PMC295604.
van Smeden J, Janssens M, Gooris GS, Bouwstra JA. The important role of stratum corneum lipids for the cutaneous barrier function. Biochim Biophys Acta. 2014 Mar;1841(3):295-313. doi: 10.1016/j.bbalip.2013.11.006. Epub 2013 Nov 16. PMID: 24252189.
Kim SK, Karadeniz F. Biological importance and applications of squalene and squalane. Adv Food Nutr Res. 2012;65:223-33. doi: 10.1016/B978-0-12-416003-3.00014-7. PMID: 22361190.
Tanno, O., Y. Ota, N. Kitamura, T. Katsube, and S. Inoue. "Nicotinamide increases biosynthesis of ceramides as well as other stratum corneum lipids to improve the epidermal permeability barrier." British Journal of Dermatology 143, no. 3 (2000): 524-531.
Snaidr, Victoria A., Diona L. Damian, and Gary M. Halliday. "Nicotinamide for photoprotection and skin cancer chemoprevention: A review of efficacy and safety." Experimental dermatology 28 (2019): 15-22.
Gehring, W. "Nicotinic acid/niacinamide and the skin." Journal of Cosmetic Dermatology 3, no. 2 (2004): 88-93.
Soma, Yoshinao, Masato Kashima, Akiko Imaizumi, Hideto Takahama, Tamihiro Kawakami, and Masako Mizoguchi. "Moisturizing effects of topical nicotinamide on atopic dry skin." International journal of dermatology 44, no. 3 (2005): 197-202.
Draelos, Zoe Diana, Akira Matsubara, and Kenneth Smiles. "The effect of 2% niacinamide on facial sebum production." Journal of Cosmetic and Laser Therapy 8, no. 2 (2006): 96-101.
Shahmoradi, Zabiolah, Farib Iraji, Amir Hossein Siadat, and Azamosadat Ghorbaini. "Comparison of topical 5% nicotinamid gel versus 2% clindamycin gel in the treatment of the mild-moderate acne vulgaris: A double-blinded randomized clinical trial." Journal of Research in Medical Sciences: The Official Journal of Isfahan University of Medical Sciences 18, no. 2 (2013): 115.
Ungerstedt, J. S., M. Blombäck, and T. Söderström. "Nicotinamide is a potent inhibitor of proinflammatory cytokines." Clinical & Experimental Immunology 131, no. 1 (2003): 48-52.
Bissett, D. L., K. Miyamoto, P. Sun, J. Li, and C. A. Berge. "Topical niacinamide reduces yellowing, wrinkling, red blotchiness, and hyperpigmented spots in aging facial skin 1." International journal of cosmetic science 26, no. 5 (2004): 231-238.
Robbins, P. B., S. F. Oliver, S. M. Sheu, J. B. Goodnough, P. Wender, and P. A. Khavari. "Peptide delivery to tissues via reversibly linked protein transduction sequences." BioTechniques 33, no. 1 (2002): 190-194.
Lupo, Mary P., and Anna L. Cole. "Cosmeceutical peptides." Dermatologic therapy 20, no. 5 (2007): 343-349.
Blanes‐Mira, C., J. Clemente, G. Jodas, A. Gil, G. Fernandez‐Ballester, B. Ponsati, L. Gutierrez, E. Pérez‐Payá, and A. Ferrer‐Montiel. "A synthetic hexapeptide (Argireline) with antiwrinkle activity." International journal of cosmetic science 24, no. 5 (2002): 303-310.
Gorouhi, F., and H. I. Maibach. "Role of topical peptides in preventing or treating aged skin." International journal of cosmetic science 31, no. 5 (2009): 327-345.
Mondon, Philippe, Melanie Hillion, Olivier Peschard, Nada Andre, Thibault Marchand, Emmanuel Doridot, Marc GJ Feuilloley, Cédric Pionneau, and Solenne Chardonnet. "Evaluation of dermal extracellular matrix and epidermal–dermal junction modifications using matrix‐assisted laser desorption/ionization mass spectrometric imaging, in vivo reflectance confocal microscopy, echography, and histology: effect of age and peptide applications." Journal of cosmetic dermatology 14, no. 2 (2015): 152-160.
Mazurowska, Lena, and Miroslaw Mojski. "Biological activities of selected peptides: skin penetration ability of copper complexes with peptides." Journal of cosmetic science 59, no. 1 (2008): 59-69.
Lintner, K., and O. Peschard. "Biologically active peptides: from a laboratory bench curiosity to a functional skin care product." International journal of cosmetic science 22, no. 3 (2000): 207-218.
Stallings, Alison F., and Mary P. Lupo. "Practical uses of botanicals in skin care." The Journal of clinical and aesthetic dermatology 2, no. 1 (2009): 36.
Fiume, Z. "Final report on the safety assessment of Lecithin and Hydrogenated Lecithin." International journal of toxicology 20 (2001): 21-45.