Since my dry skin can only "take" cleansing oils, I was delighted when Beauty of Joseon launched one of their own: Ginseng Cleansing Oil!
I haven't tried anything else from Beauty of Joseon yet, but I read this review about their Ginseng Line, and I knew I had to try it.
At a glance:
Where to buy?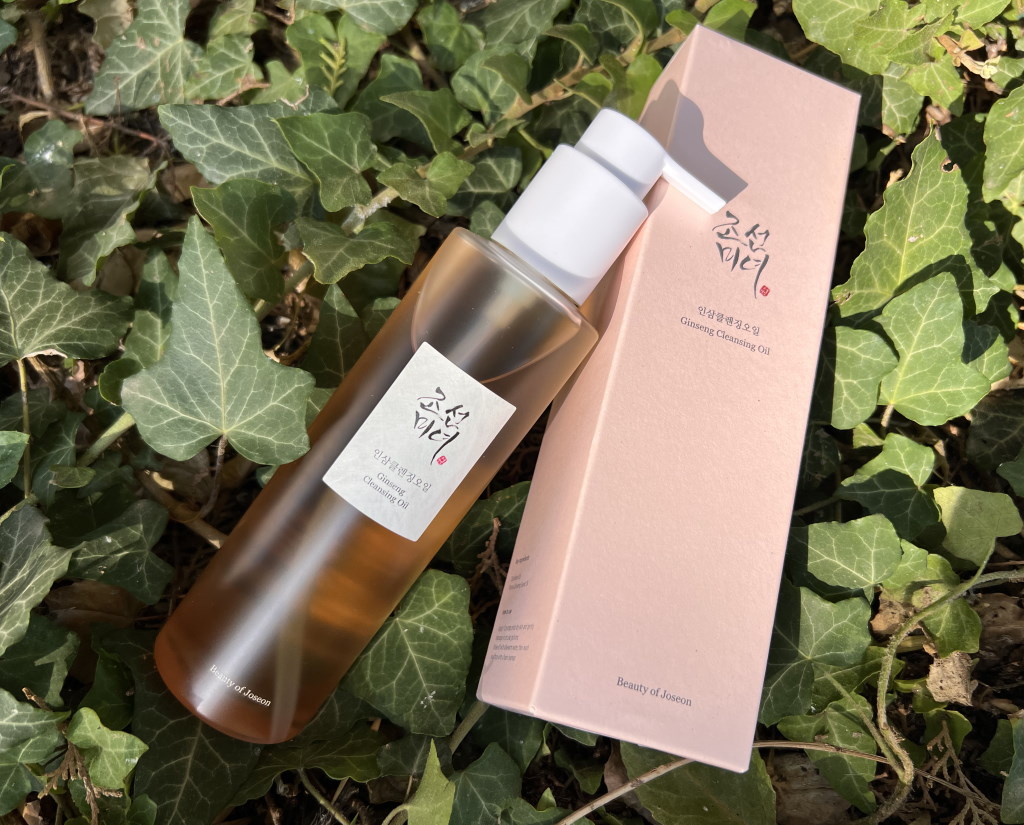 The price for 7.1 fl. oz (210ml) is $20 on the Beauty of Joseon official website. The average cost for 100ml is $9.52/100mL.
You can find Beauty of Joseon Ginseng Cleansing Oil on Amazon (official Beauty of Joseon Store) and BeautyWithin, or all your favorite Korean websites: Beauty of Joseon website, YesStyle, StyleKorean, Stylevana, Olive Young, Jolse,
Product claims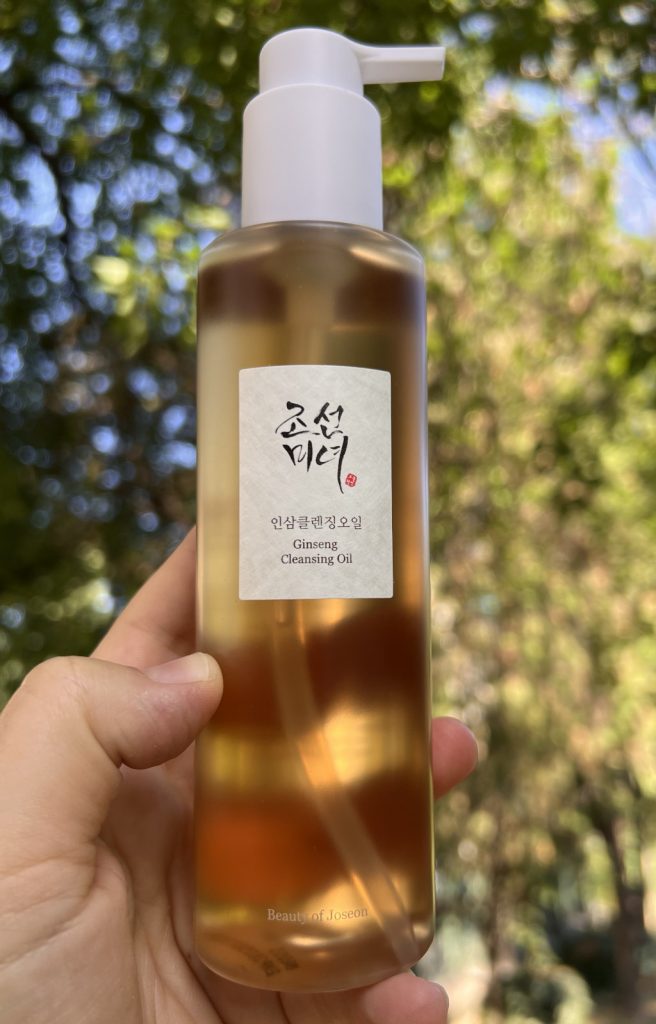 We, team BOJ has been testing numerous products available on the market for a long time to find the right oil as a base ingredient for our cleansing oil. We chose Glycine Soja oil as a base because we found it's the lightest yet effective to remove skin dirt, sebum and makeup residue. This cleansing oil also contains ginseng seed oil that offers subtle grassy scent to present more calm and peaceful cleansing time.
Beauty of Joseon Ginseng Cleansing Oil Ingredients
Glycine soja (soybean) oil, cetyl ethylhexanoate, sorbeth-30 tetraoleate, olea europaea(olive) fruit oil, sorbitan sesquioleate, helianthus annuus (sunflower) seed oil,tocopherol, panax ginseng seed oil, ethylhexylglycerin, eclipta prostrata extract, panaxginseng root extract, melia azadirachta leaf extract, melia azadirachta flower extract,coccinia indica fruit extract, amber powder, moringa oleifera seed oil, solanummelongena (eggplant) fruit extract, curcuma longa (turmeric) root extract, ocimumsanctum leaf extract, corallina officinalis extract, bixa orellana seed oil, panax ginsengberry extract, panax ginseng root extract, butylene glycol, water, 1,2-hexanediol
See explained ingredients on INCIDecoder.
Key Ingredients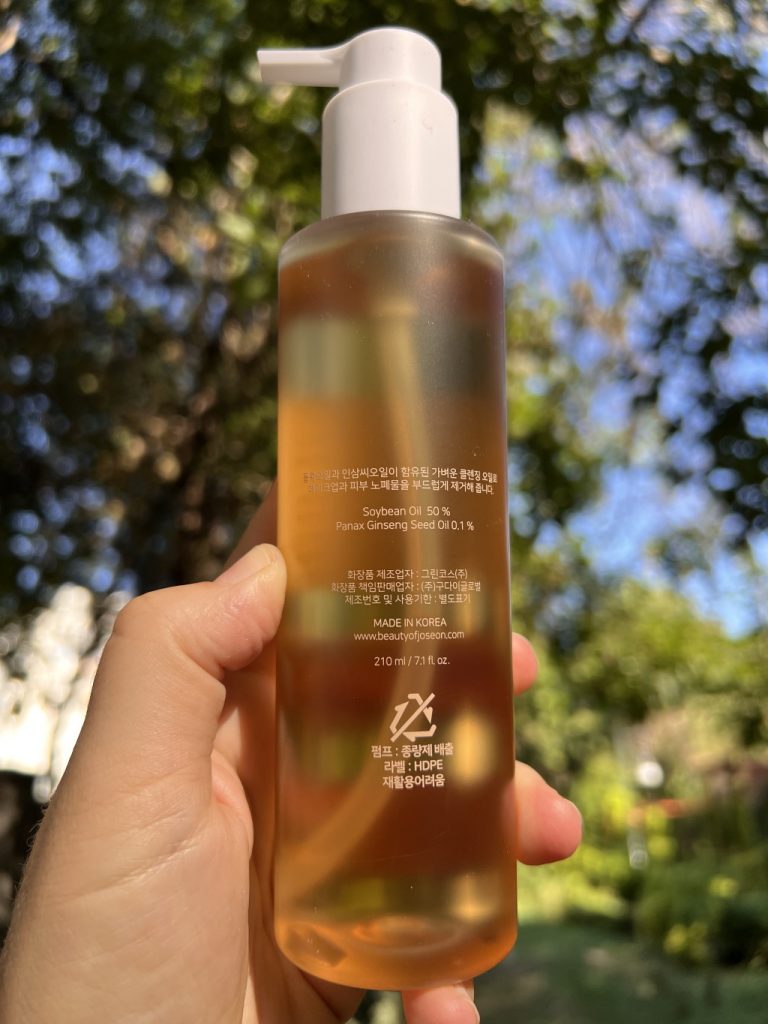 Soybean oil
Soybean oil accounts for 50% of this cleansing oil. It is a skin-friendly oil extracted from Glycine Soja. It consists of oleic acid, linoleic acid, and linolenic acid.
It gently dissolves dirt, makeup residue, sebum, and skin waste without clogging the skin pores and, at the same time, acts as a conditioning agent to smooth the skin.
Soybean oil is not allergenic to soybean-sensitive individuals. This study says it has anti-Inflammatory and skin barrier repair effects.
Ginseng seed oil
Ginseng whitens the skin while providing many vitamins and antioxidants for anti-aging benefits.
In Korea, ginseng is one of the most popular herbal roots many people use in cooking and skincare. This is because ginseng has an ingredient complex that helps boost the skin's appearance making one appear more youthful.
Ginseng has anti-aging benefits, helps protect the skin from external stimuli, has anti-inflammatory effects, and aids in wound healing.
For further reading on ginseng, take a look at this Ginseng Megapost on Fifty Shades of Snail.
Micellar cleansing technology
Micellar is a particle composed of water and oil. When it comes into contact with the skin, the oil molecules attract and absorb waste and makeup residues like a magnet while supplying moisture deep inside the skin.
Ingredients not included in Beauty of Joseon Ginseng Cleansing Oil:
This cleansing oil does not have any fragrance or essential oils.
Vegan & cruelty-free
Beauty of Joseon Ginseng Cleansing Oil is vegan and cruelty-free.
Packaging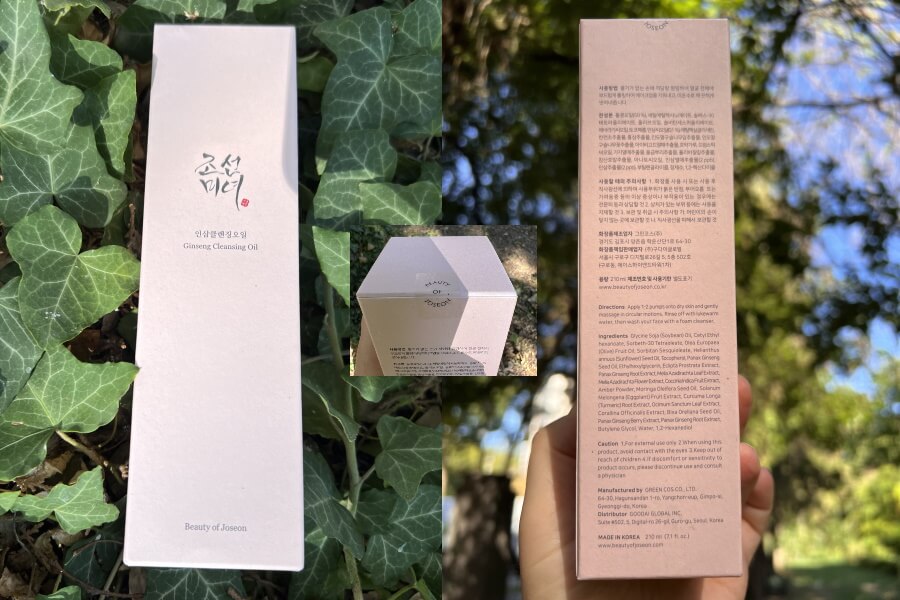 It comes in a plastic pump bottle. The paper box is sealed.
BOJ Cleansing Oil Smell
The cleansing oil smells like cooking oil –  probably because it is 50% soy oil. It doesn't bother me, and I enjoy that it has no fragrance at all.
I could not smell the ginseng in it.
Texture
It is runny and has a nice slip. It has similar viscosity as oil. When emulsified, it's super creamy. It's a pleasure to apply.
My experience with Beauty of Joseon Ginseng Cleansing Oil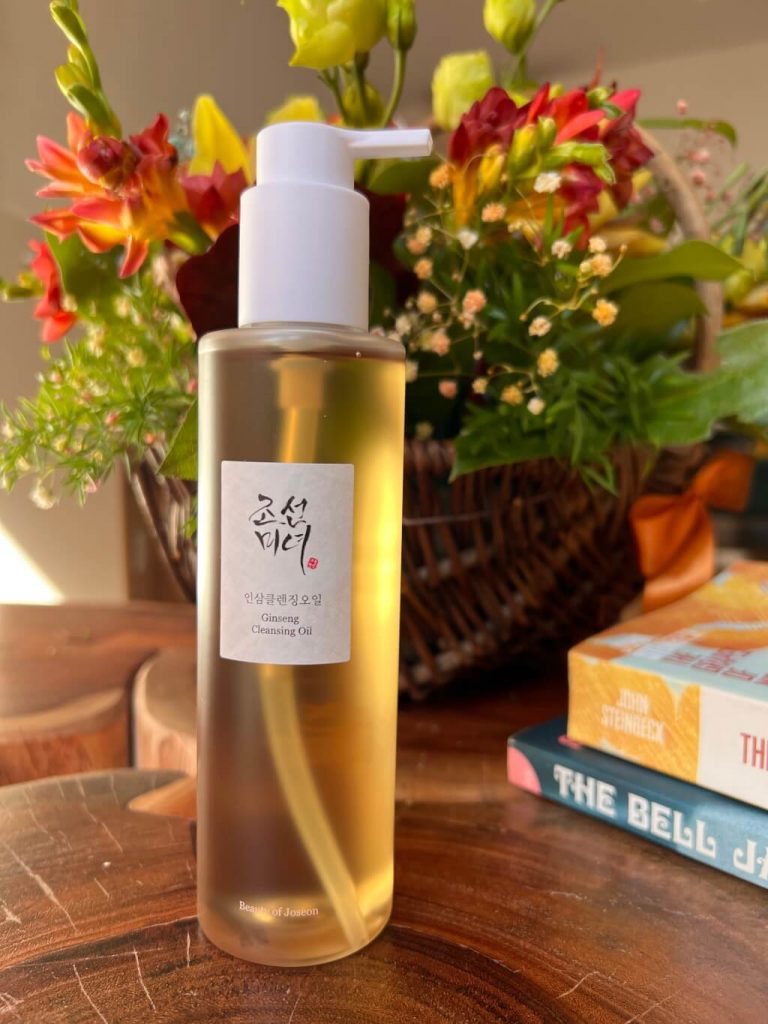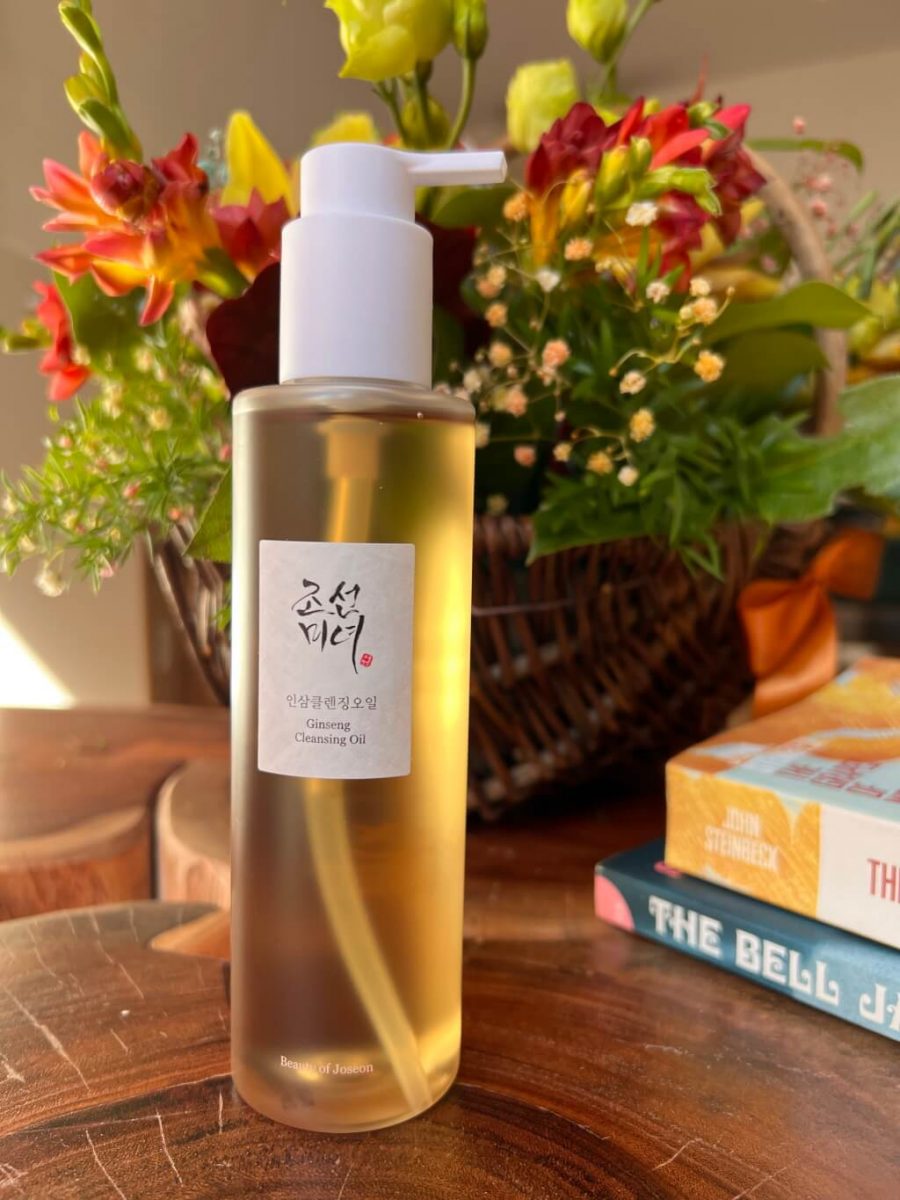 I was not paid for this review, nor did I receive it as a gift.
How to use Beauty of Joseon Ginseng Cleansing Oil?
Pumping cleansing oil 1-2 times;
Massage the oil onto a dry face and work it into the skin;
Add a bit of lukewarm water and massage it again;
Rinse;
Follow with your second cleanser of choice;
Watch how this cleansing oil removes swatches of Romand Juicy Lasting Tint.
I have a normal – dry skin type, and I live in a temperate-continental climate with cold & dry winters and hot &dry summers.
This cleansing oil removes all of my makeup without tugging, and a little bit goes a long way. It's excellent for getting off mascara. It takes a few seconds of light massage to completely remove the dirt without having to rub it too hard.
It does not sting my sensitive eyes, which is rare.
After washing off, my skin was soft. It does not leave a film-like feeling on the skin. My face does not feel stripped at all after washing. This doesn't irritate my skin or dry me out. Because my skin is dry and aging, I do not follow up with a foam cleanser. If I wear eye makeup, briefly wipe my leftover mascara with micellar water.
Immediately after cleansing, I hydrate it with a ceramides mist.
Pros
nourishing and repairing ingredients
not stripping
doesn't sting the eyes
no chemical smell
Cons
Final Thoughts on the BOJ cleansing oil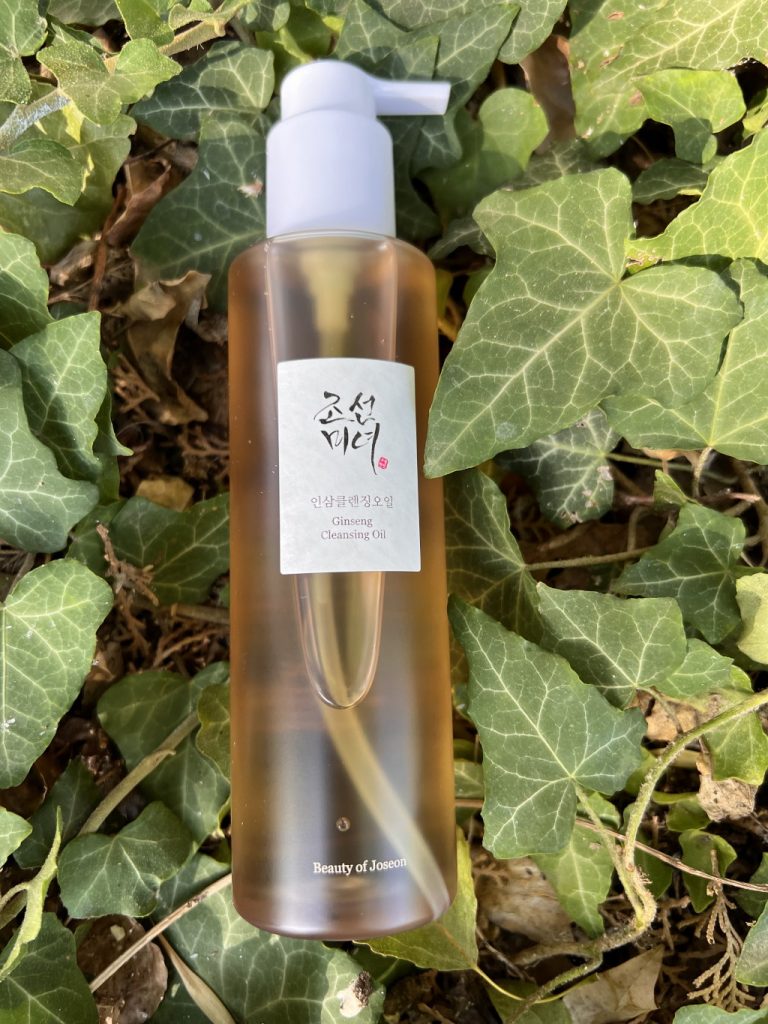 My skin is very demanding, and until now, I haven't found any cleansers that don't feel stripping. I am glad I tried the BOJ cleansing oil. My skin feels nice, so I'm surely going to repurchase.
Rating 5/5
Shop for Beauty of Joseon Ginseng Cleansing Oil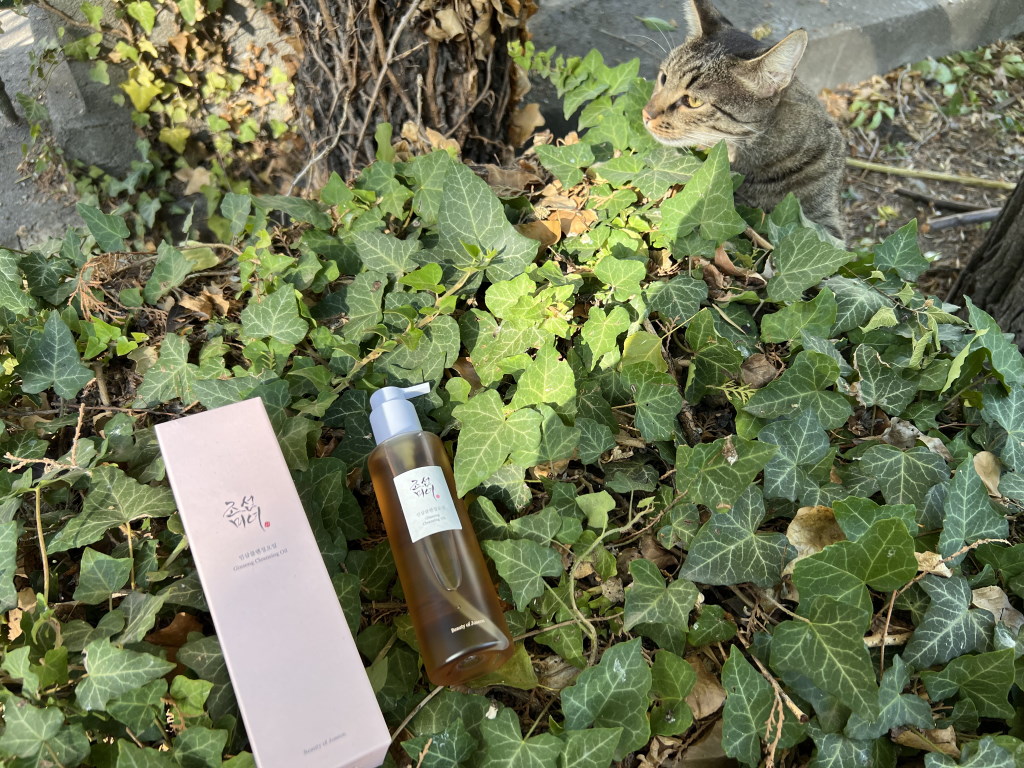 You can find Beauty of Joseon Ginseng Cleansing Oil on Amazon (official Beauty of Joseon Store) and BeautyWithin.
Shop on all your favorite Korean websites: Beauty of Joseon, YesStyle, StyleKorean, Stylevana, Olive Young, and Jolse.
As always, you do you, be kind to your skin and yourself!
Remember that every person's skin and skin type is different, so what might work for me might not work for you, and vice versa.
So before adding a new product to your skincare routine, it pays to do a little research first. Pay special attention to ingredients that you might react to.
Doing a patch test is always a good idea. Unsure? Best to consult your dermatologist.
Happy skin experimenting, and don't forget the sunscreen!
Affiliate disclaimer
Garden of Muses Magazine includes some affiliate links. A kind reminder that if you click on an affiliate link and make a purchase through it, Garden of Muses Magazine may earn a small commission on the sale. The price stays the same for you. You will be helping support further publishing in Garden of Muses Magazine by clicking these links. Thank you!
References
Let's get social
Have you tried Beauty of Joseon Ginseng Cleansing Oil, and did it work for you? I would love to hear from you in the comments section below!
Follow me on Instagram, Facebook, and Pinterest, where we can get a bit more personal and talk about skincare in real time.