So, we're all fully subscribed to the double cleansing mantra, right? This nightly ritual has rightfully taken the world by storm – you know the drill, somewhere somebody does something right, then America and Europe get involved, and there's no looking back.
I mean, sure, Caroline Hirons might have immortalized the phrase 'double cleanse,' but cleansing with an oil-based cleanser and a water-based cleanser has been a staple in the world of Asian Beauty for a long time.
Foams, gels, milks, balms, clay cleansers, creams…when does it stop? How do I know? Sadly, I'm not here to wade through that, but today, I'm here to talk about one of the most popular choices for the oil-based cleansing step, the Beauty of Joseon Radiance Cleansing Balm.
Beauty of Joseon Radiance Cleansing Balm Review:
Where to Buy Beauty of Joseon Radiance Cleansing Balm?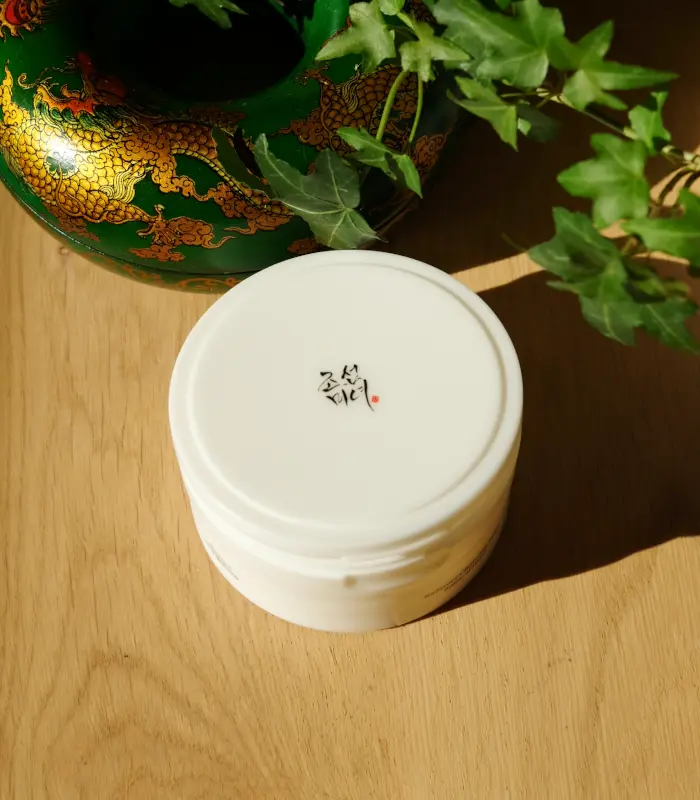 The Radiance Cleansing Balm comes in a 3.38 fl. oz. / 100ml plastic jar and retails for $14-$19. For all you lucky people in the US who can get Prime delivery, you can buy the cleansing balm from Beauty of Joseon's official store on Amazon*.
You can also shop for Radiance Cleansing Balm on trusted Asian international shops, such as YesStyle*, StyleVana*, and StyleKorean*.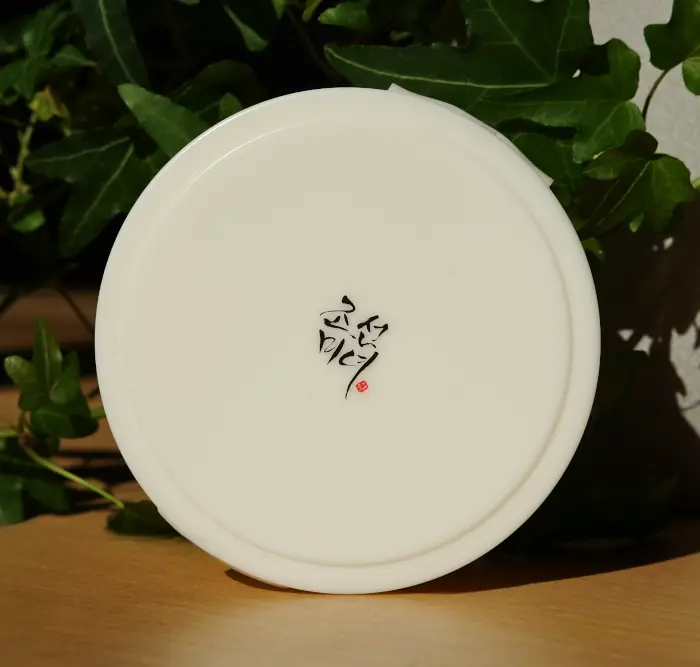 The Beauty of Joseon Brand
Beauty of Joseon combines traditional Korean beauty secrets with modern minimalism. This brand is inspired by the ancient Joseon dynasty, where women used natural ingredients to achieve flawless skin.
Beauty of Joseon uses hanbang ingredients, fermented herbal extracts that nourish and brighten the skin.
What Is the Beauty of Joseon Radiance Cleansing Balm?
It is a balm-type cleansing oil that gently melts eye, lip, base makeup and sebum. It contains rice bran and various grain extracts, so the skin does not get dry and remains moist.

Beauty of Joseon
Beauty of Joseon Radiance Cleansing Balm Claims
A very soft, balm type cleansing balm that gently melts away makeup, excess sebum and skin impurities.

It gently dissolves mascara and eyeliner makeup, so there is no need to use a separate remover. In addition, it is comfortable to use because it does not blur or irritate the eyes.

Beauty of Joseon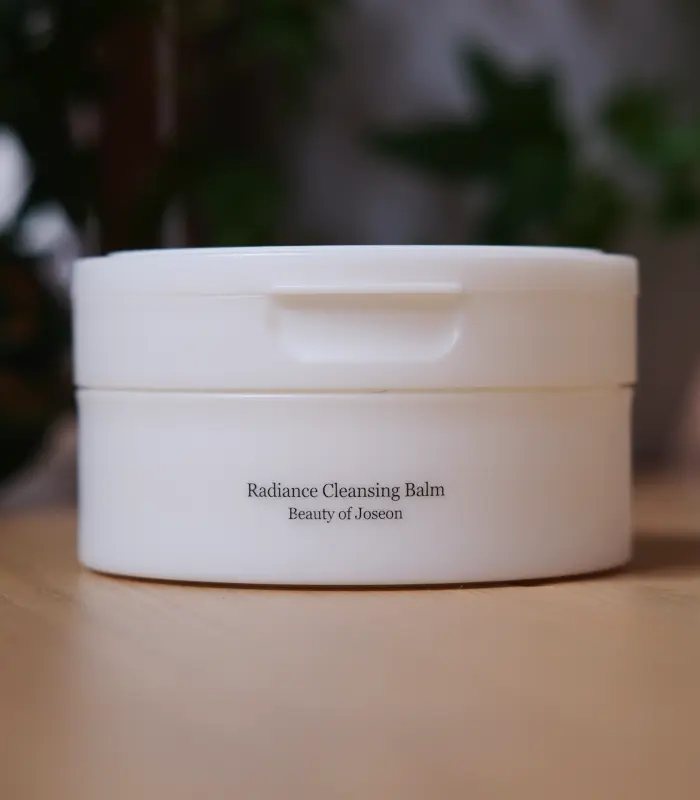 Who Is This Cleansing Balm For?
Beauty of Joseon Radiance Cleansing Balm is targeted at drier or sensitive skin types, though I would recommend this for every skin type.
While this cleanser is incredibly nourishing, those sensitive to fungal acne need to be mindful that this cleanser contains five fungal acne triggers.
Not sure what your skin type is? Please read our guide on Skin types & skin conditions.
Beauty of Joseon Radiance Cleansing Balm Ingredients
Cetyl Ethylhexanoate, Caprylic/Capric Triglyceride, PEG-20 Glyceryl Triisostearate, Synthetic Wax, PEG-10 Isostearate, Lactobacillus/Soybean Ferment Extract, Hippophae Rhamnoides Oil, Oryza Sativa (Rice) Bran Oil, Oryza Sativa (Rice) Seed Water, Avena Sativa (Oat) Meal Extract, Coix Lacryma-Jobi Ma-yuen Seed Extract, Oryza Sativa (Rice) Extract, Water, Sorbitan Sesquioleate, Glycerin, Propanediol, Butylene Glycol, 1,2-Hexanediol, Caprylyl Glycol, Ethylhexylglycerin.
Ingredients referred from the Beauty of Joseon Official Website.
Surfactant Herb Humectant/Moisturizing Ferments
Highlighted Ingredients
Rice
The star ingredient of this cleansing balm is rice. Rice is a traditional beauty ingredient passed down through the generations, a part of Korea's beauty legacy.
And so, Rice oil and water have become a staple in Asian beauty regimens.
With rice being an IT ingredient to achieving that much-desired 'glass skin,' no wonder every brand is trying to bank on this beauty elixir.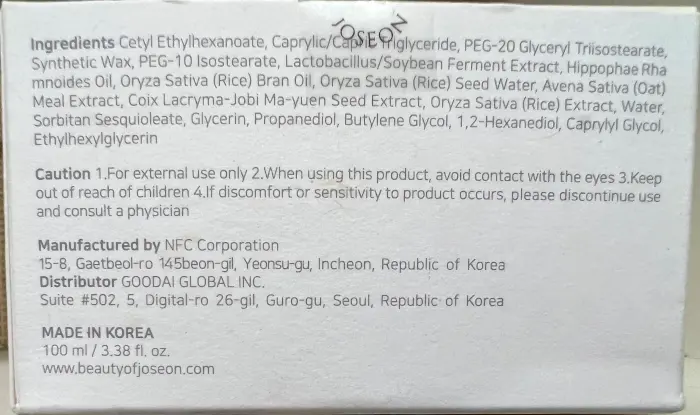 It's only through the K-beauty skincare routines that rice water has come into the limelight, and everyone went gaga over including it in their skin routines.
Rice bran is rich in vitamins, amino acids, and minerals, helping to moisturize dry skin.
Unlike many popular cleansing balms, I love that the Beauty of Joseon cleansing balm is environmentally friendly as it does not contain polyethylene.
Beauty of Joseon Radiance Cleansing Balm does not contain parabens, alcohol, essential oils, fragrances, or allergens and is vegan and cruelty-free.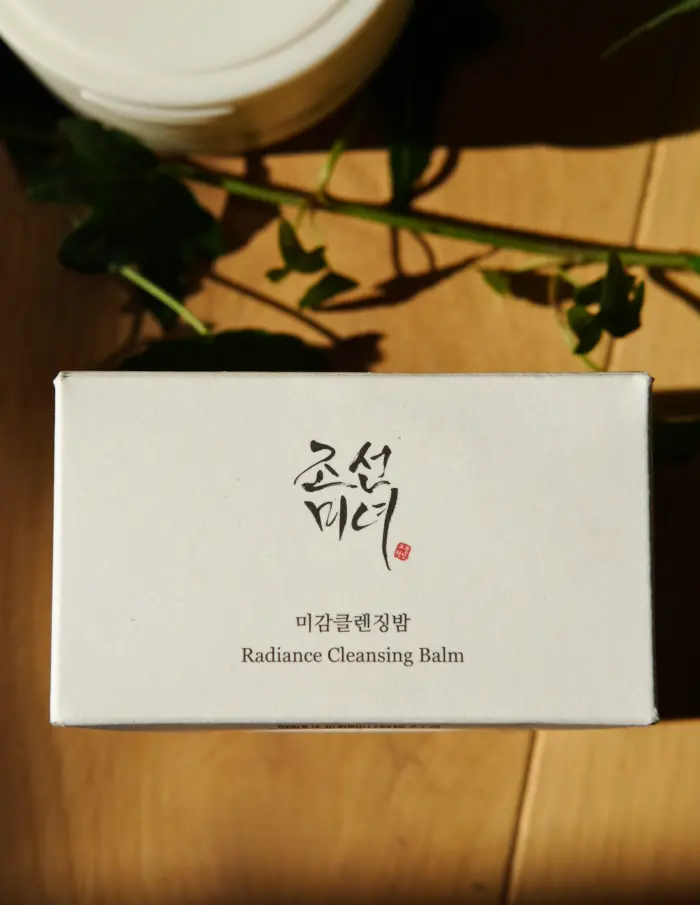 Packaging
The packaging is minimalist and very easy to use. The Beauty of Joseon cleansing balm comes in a white plastic tub with a flip-top cap. This also comes with a spatula. It's sturdy packaging that's travel-friendly.
Scent
The cleansing balm is fragrance-free, which is unfortunate because I prefer some fragrance in my cleansers for a bit of #skintertainment.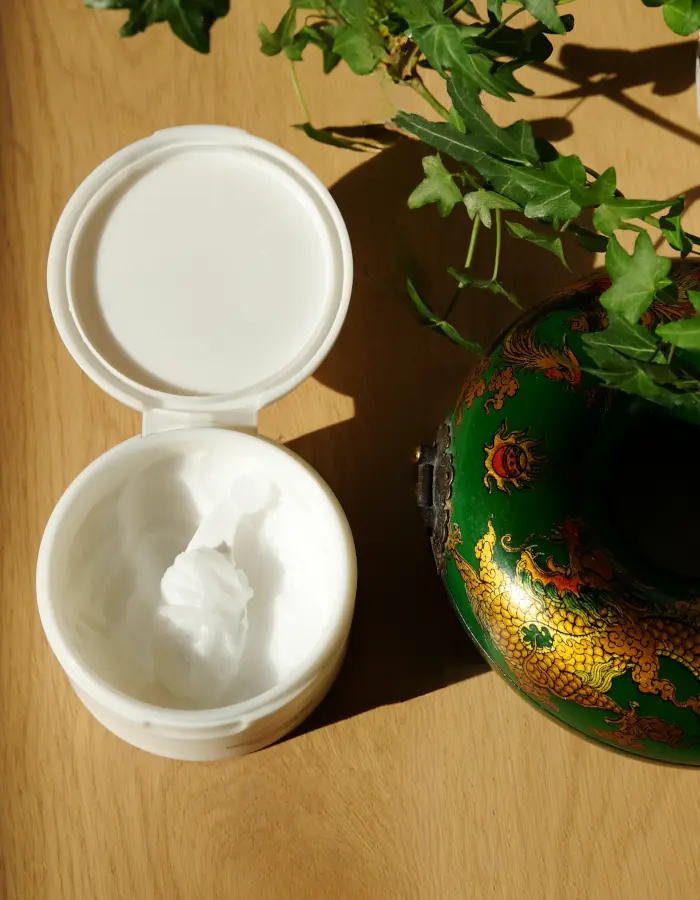 Texture
It has a waxy-sherbet texture.
My Experience with the Beauty of Joseon Radiance Cleansing Balm
This has been my go-to daily cleansing balm for weeks. It looks like a dreamy white sorbet, but it melts effortlessly as soon as it's rubbed on the skin.
My skin usually tends to be on the drier side, especially in the winter.
The Beauty of Joseon cleansing balm incorporates fermented soybean and rice – added as Rice Bran Oil, Rice Seed Water, and Rice Extract. What also attracted me to this balm was the use of sea buckthorn oil in the product, which I think will aid in providing antioxidants to the skin at the cleansing stage. I also love that this is one of the few cleansing balms I have come across that does not contain mineral oil in the ingredients list.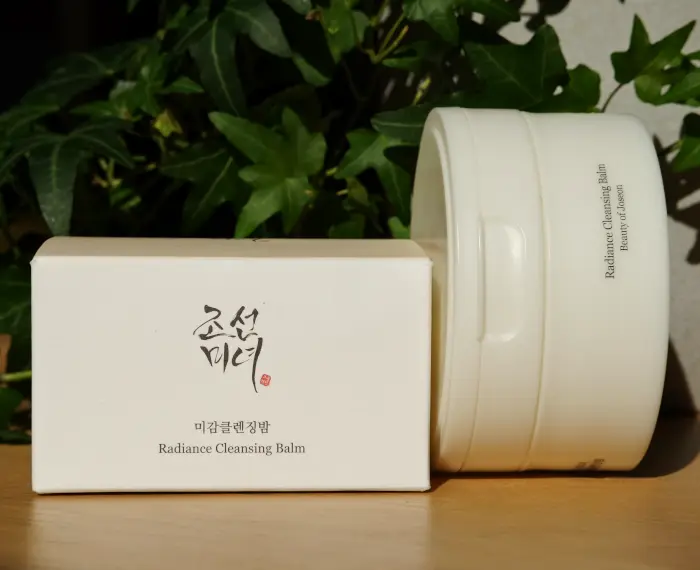 The Beauty of Joseon Radiance Cleansing Balm is a fantastic option for those with drier skin types or who enjoy using oil cleansers. It has a vibrant sherbet texture that feels soft upon application. It glides over the skin and washes off completely with water.
Like with most oil cleansers, this keeps the skin feeling nourished and hydrated after removing the product with water and leaves the skin feeling squeaky clean, soft, supple, and fresh – but not an uncomfortable clean!
This all-in-one cleanser claims to remove makeup, so I tried it with my makeup. It removes any light makeup like the BB/CC creams, and compacts, but does not remove waterproof makeup completely.
I've included this cleanser in my PM routine, and I love how my skin feels clean and supple without any dryness, and it prepares it for my next skincare steps. I have been using this cleanser for more than a month, and a little goes a long way, and that's the reason this jar lasts so long. And I haven't had any skin breakouts or reactions with this cleanser. With that, I'm noting that this cleanser will suit all skin types; dehydrated skin types will love this for its hydration and suppleness after a cleanse.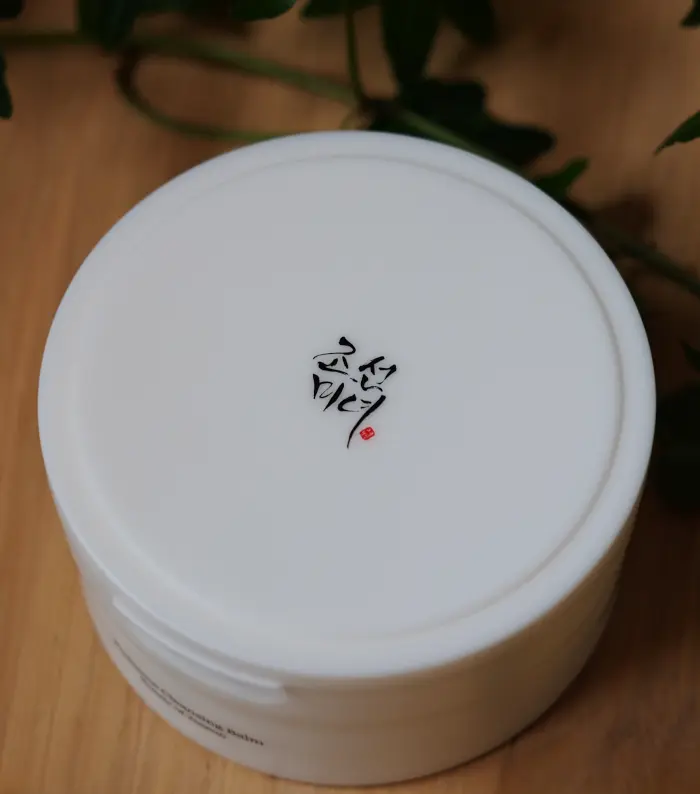 How to Use the Beauty of Joseon Radiance Cleansing Balm?
I use this as a first cleanser in my nightly double-cleansing routine.
I scoop a little balm with the spatula and put it on my dry face.
I gently massage it in circular motions.
I add a little water to emulsify it and massage it again.
I Rinse off with lukewarm water.
I follow up with a foam cleanser.
In the Am, I apply my vitamin C serum.
I exfoliate (optional)
Toner/Essence/Serum
SPF (in the am)
Pros
nourishing
suitable for the eye area
travel-friendly
Cons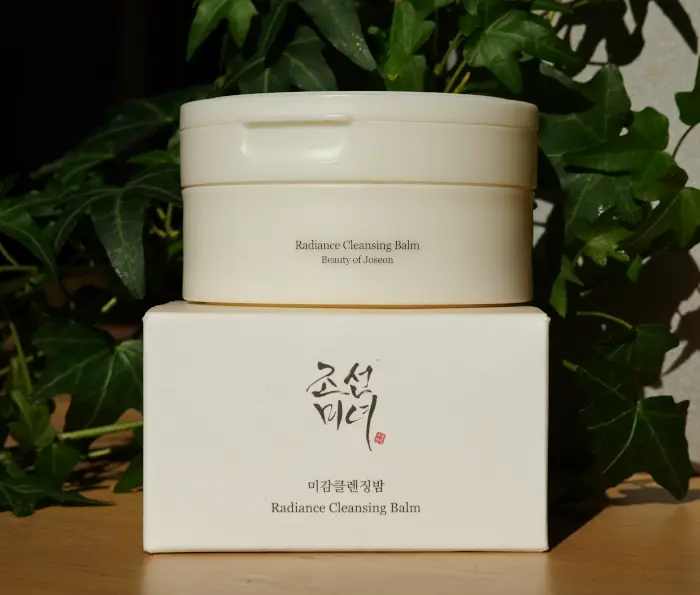 Final Thoughts
Overall, I'm very impressed with the Beauty of Joseon Cleansing Balm. You should try this if you want a gentle cleansing balm. It cleans up the skin and leaves the skin soft and supple without making it dry. And it suits all skin types, so I'd recommend this cleanser.
Will I repurchase Beauty of Joseon Radiance Cleansing Balm?
I don't know if I will repurchase it because I have a lot of new stuff to try.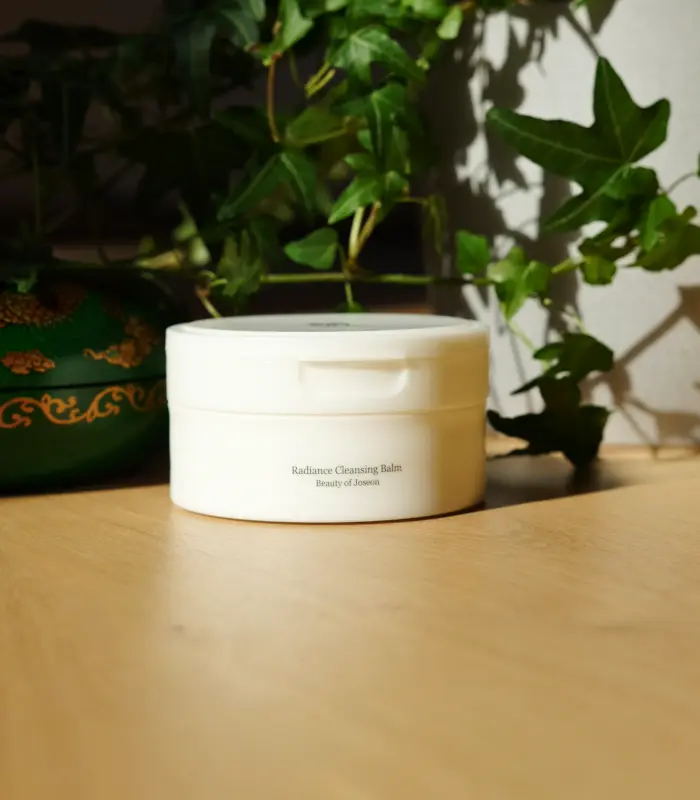 Rating 4.5/5
Beauty of Joseon Radiance Cleansing Balm vs. Banila Co Clean It Zero
I enjoyed Beauty of Joseon Radiance Cleansing Balm, compared to my early experiences with the Banila Co cult classic Clean It Zero, which I found left a horrible film and irritated my eyes.
Everyone's different – but the more you experiment, the more you'll find what's right for you.
Shop for Beauty of Joseon Radiance Cleansing Balm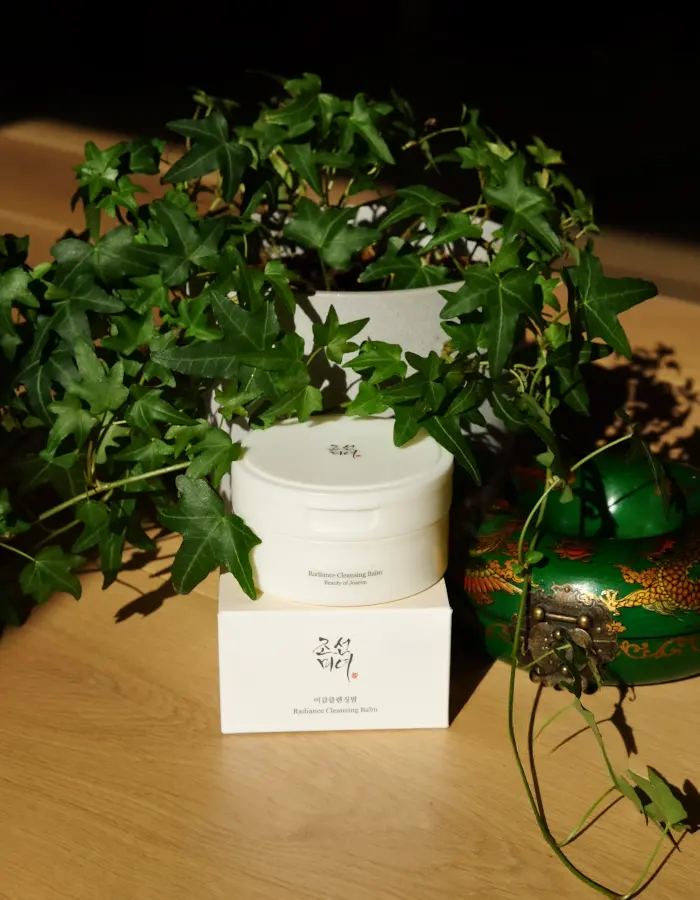 Lastly, I was not paid for this review or received it as a gift.
As always, you do you; be kind to your skin and yourself! Remember that every person's skin and skin type is different, so what might work for me might not work for you, and vice versa. So, before adding a new product to your skincare routine, it pays to do a little research first.
Before adding the Beauty of Joseon Radiance Cleansing Balm to your skincare regimen, ensure you are not allergic to it or its ingredients. You should also consult your doctor if you are pregnant, breastfeeding, or have any medical conditions or medications that may interact with the Radiance Cleansing Balm. Always do a patch test before applying the Beauty of Joseon Radiance Cleansing Balm on your skin to avoid adverse reactions.
I am not a dermatologist or licensed aesthetician, but I have sufficient experience and knowledge I gained by testing multiple products and self-exploration. Unsure? Best to consult your dermatologist.
Happy shopping, and don't forget the sunscreen! Here's to great skin in 2023!