I was thrilled when I came across this Pyunkang Yul Acne Facial Cleanser because I have been searching for the best cleanser for my husband. He has acne-prone, dehydrated, and oily skin with huge pores.
Most guys don't like to spend a lot on skincare. So, he wants a gentle and hydrating cleanser on a budget.
Pyunkang Yul Acne Facial Cleanser looks simple and hydrating. It is affordable and designed for acne-prone skin types by a reputable Korean clinical brand. Let's look at my husband's date with this cleanser and see how it fits him.
Pyunkang Yul Acne Facial Cleanser, in a Nutshell: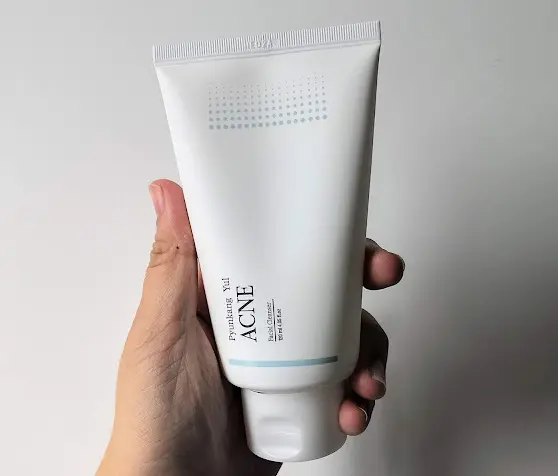 Where to Buy the Pyunkang Yul Acne Facial Cleanser?
This Pyunkang Yul Acne Facial Cleanser is housed in a 4.05 fl. oz / 120 ml white tube.
The cleanser is affordable, retailing for roughly $8 – $9. You can find this at the official US site, StyleKorean*, StyleVana* and YesStyle*.
The Pyunkang Yul Brand
Most of us are familiar with Pyunkang Yul. It has recently become so popular that almost all Instagrammers are raving about it. It uses simple but effective oriental medical ingredients for skincare. Fortunately, it also has an Acne line for acne-prone and oily skin types.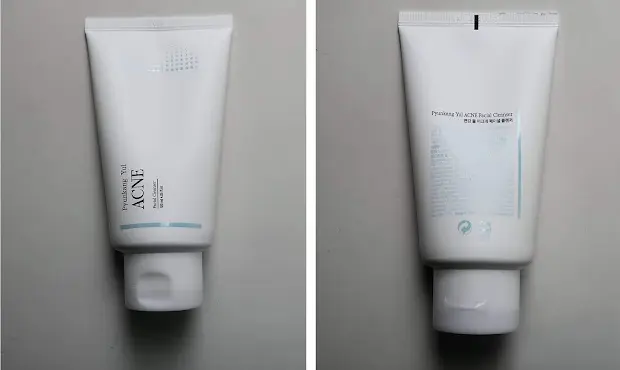 Pyunkang Yul Acne Facial Cleanser Claims
The cleanser claims to do three things:
It mildly and gently cleanses sensitive skin with fine bubbles without worrying about irritation
Prevent excessive sebum and remove pore wastes.
Excessive sebum control and skin alleviation with Licorice, Asiatic Pennywort and Matricaria Flower.
Pair with ACNE line products for boosting acne-clearing effect.

Pyunkang Yul's official website
Who is this cleanser for?
For those with oily, acne-prone skin. It is not recommended as a daily cleanser for normal or dry skin types because it can be too stripping.
Not sure what your skin type is? Please read our guide on Skin types & skin conditions.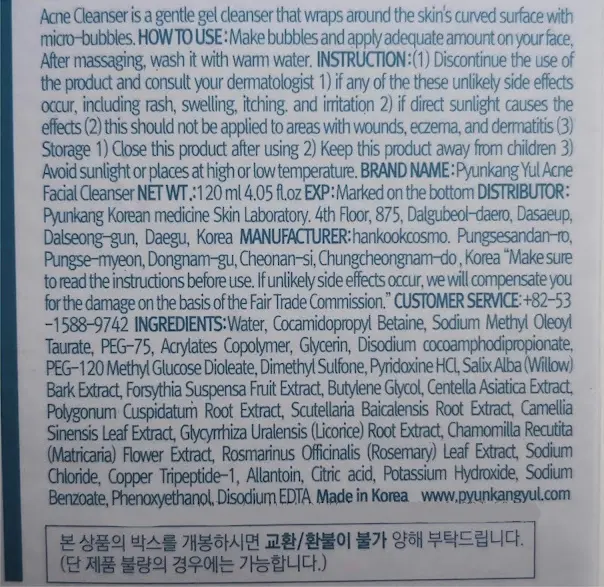 Pyunkang Yul Acne Facial Cleanser Ingredients
Water, Cocamidopropyl Betaine, Sodium Methyl Oleoyl Taurate, PEG-75, Acrylates Copolymer, Glycerin, Disodium Cocoamphodipropionate, PEG-120 Methyl Glucose Dioleate, Dimethyl Sulfone, Pyridoxine Hcl, Salix Alba (Willow) Bark Extract, Forsythia Suspensa Fruit Extract, Butylene Glycol, Centella Asiatica Extract, Polygonum Cuspidatum Root Extract, Scutellaria Baicalensis Root Extract, Camellia Sinensis Leaf Extract, Glycyrrhiza Uralensis (Licorice) Root Extract, Chamomilla Recutita (Matricaria) Flower Extract, Rosmarinus Officinalis (Rosemary) Leaf Extract, Sodium Chloride, Copper Tripeptide-1, Allantoin, Citric Acid, Potassium Hydroxide, Sodium Benzoate, Phenoxyethanol, Disodium EDTA.
Ingredients referred from Pyunkang Yul's official website.
Surfactant Humectant/Moisturizing Herbal Active Brightening Potential irritant
Key Ingredients Explained
This cleanser uses Cocamidopropyl Betaine, Sodium Methyl Oleoyl Taurate, and Disodium Cocoamphodipropionate as surfactants, with a 2-4 safety score on CosDNA. My only concern is Cocamidopropyl Betaine, a synthetic surfactant associated with allergic reactions among users, primarily due to the impurities in the ingredients. So, it depends on the quality control of Pyunkang Yul's manufacturer.
White Willow Bark Extract
White willow bark is a natural BHA that can dissolve dead skin cells, clean up sebum, and reduce inflammation and breakouts.
Centella Asiatica
Best Korean Centella Asiatica (Cica) Products in 2023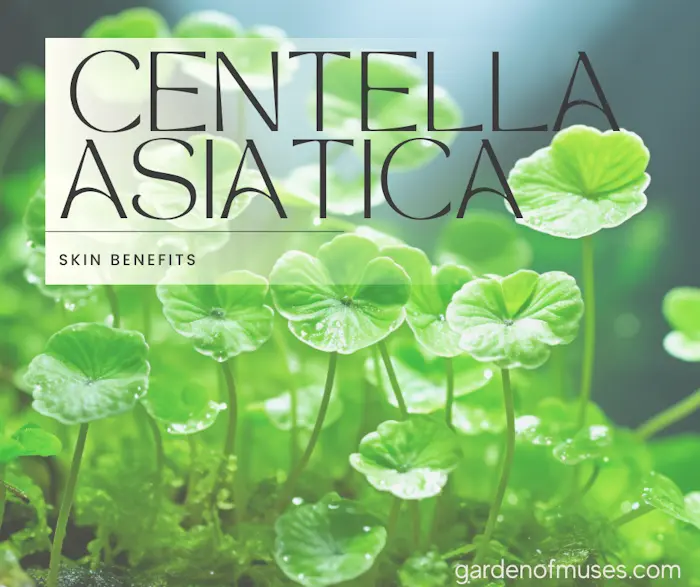 Centella Asiatica (Gotu Kola) Extract is one of the most popular ingredients in Korean skincare products due to its powerful antioxidant, antimicrobial, and anti-inflammatory properties. It's a fantastic ingredient for soothing red and inflamed skin, making it a great asset in caring for acne-prone skin.
Centella Asiatica is a plant powerhouse when it comes to skincare. Centella:
Japanese Knotweed
Japanese knotweed (Polygonum cuspidatum) has anti-inflammatory and antioxidant properties. It is a fantastic natural source of the potent polyphenolic antioxidant trans-resveratrol, the most bio-available form of resveratrol.
Chinese Skullcap
Chinese skullcap (Scutellaria baicalensis root extract) is a flowering plant native to China with roots high in plant flavones – compounds with soothing properties. It may also be effective at fading hyperpigmentation, although studies have only been in vitro (studies on intact human skin are still needed).
Green Tea
Green tea (Camellia sinensis leaf extract) has many benefits for the skin. It is high in polyphenols, giving it potent antioxidant and skin-soothing properties. Research also suggests that green tea can improve the appearance of sun-damaged skin.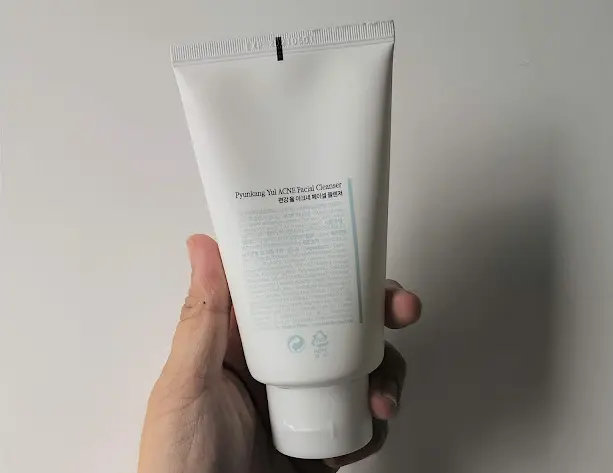 Licorice
A potent antioxidant that evens skin tone and soothes sensitive skin has shown some evidence as an anticarcinogenic.
Chamomile Flower Extract
Chamomile is a popular and age-old medicinal herb used since ancient Egypt, Greece, and Rome to treat conditions like asthma, colic, fever, inflammation, nausea, and cancer. Its popularity resembles the Chinese tonic Ginseng in Europe. A cup of chamomile tea is also found to relieve individuals of their hefty lifestyle, work stress, environmental pollutants, imbalanced diet, and sleep deprivation.
As a skincare ingredient, chamomile is also great for individuals with duller, dehydrated, inelastic, and troubled skin. This is attributable to constituents such as phenolic compounds, flavonoids, and glucosides inside the flower which carry antioxidizing and skin-soothing benefits. It is also a skin conditioner that enhances the appearance of dehydrated or damaged skin by reducing flakiness and restoring suppleness.
Rosemary
Rosemary (Rosmarinus Officinalis Leaf Extract) has strong antioxidant properties and can calm the skin. It can cause skin sensitivities if used in higher concentrations due to the essential oils it contains.
Copper Tripeptide-1
Finally, we also have Copper Tripeptide-1, an antioxidant that can promote cellular repair and thus benefit wound healing and acne scars.
Pyunkang Yul Acne Facial Cleanser Does Not Contain
Niacinamide, hyaluronic acid, parabens, alcohol, essential oils, or fragrance.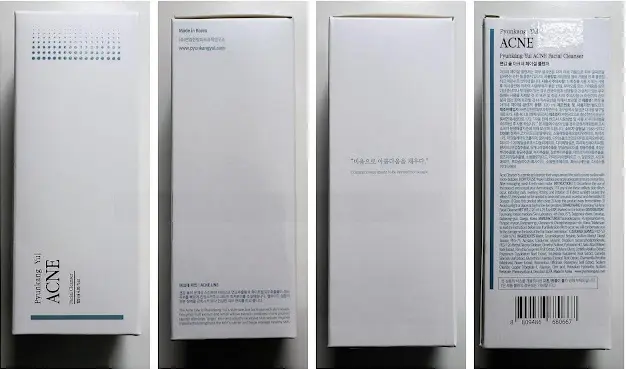 Packaging
Pyunkang Yul Acne Facial Cleanser comes in a white squeeze tube.
Scent
The facial cleanser has no scent whatsoever.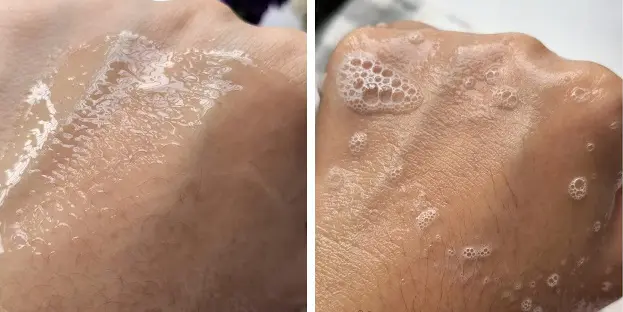 Texture
Pyunkang Yul Acne Facial Cleanser is a transparent gel. It lathers up upon contact with water into big and bouncy bubbles.
My Husband's Experience with the Pyunkang Yul Acne Facial Cleanser
My husband, with oily, acne-prone skin, has been using the Pyunkang Yul Acne Facial Cleanser for one month. He thinks that this is a gentle cleanser for everyday use.
This lightweight foaming gel is ideal for acne-prone and sensitive skin. It easily transforms into a rich lather to cleanse the skin of pollution, excess oil, and impurities, leaving it feeling pure and fresh. Its White Willow Bark Extract removes sebum while revitalizing botanicals such as Centella and licorice, helping rebalance the skin and restore moisture.
If you are after a comfortable cleansing foam with a great pH, look no further than Pyunkang Yul Acne Facial Cleanser. I measured this to have a pH of 5.1, and this cleanser, which has a gentle foam, is incredibly comfortable. This does not strip the skin and leaves my husband's oily skin feeling fresh and balanced. His face looks clearer and has fewer blemishes after using this cleanser, not to mention he also has fewer blackheads.
For him, it makes the perfect summer morning and second cleanser, as it feels cooling and has a fantastic gel-like texture that lathers beautifully with water.
I haven't tested the makeup-removing capabilities and cannot comment on how well it removes makeup. However, it makes a wonderful morning or second cleanser. For him, this leaves his skin feeling clean and removes any excess oil on his skin, keeping his complexion feeling balanced. My husband loves this cleanser.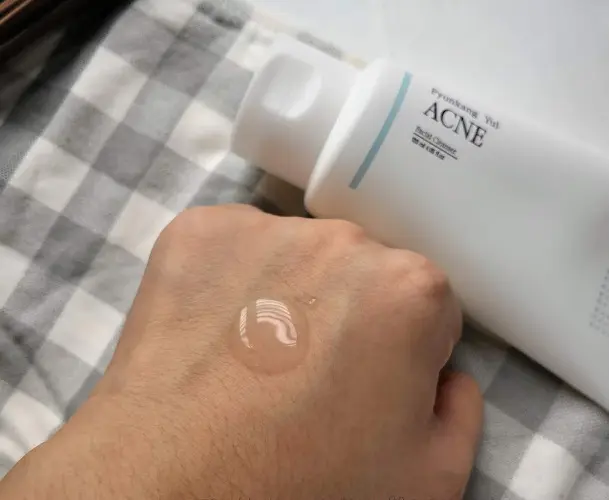 How to Use the Pyunkang Yul Acne Facial Cleanser?
If you're skin is acne-prone, oily, or both, this cleanser should be part of a double cleansing routine.
Squeeze an adequate amount of cleanser on hand;
Gently massage the face;
Rinse off waste on the skin with lukewarm water;
Follow with your favorite toner, essence, serum, ampoule, and moisturizer.
Pros
no fragrance
nice foam
fewer blemishes and blackheads
affordable
Cons
stripping for dry skin types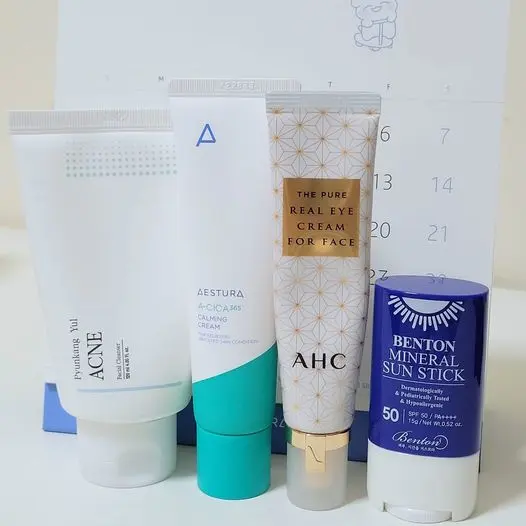 Overall
My husband loves this, and he will repurchase it. He just repurchased the Abib Acne Foam Cleanser Heartleaf Foam and will use both cleansers in rotation.
Not convinced? Here are the 9 Best Korean Water-Based Cleansers in 2023.
Rating 4.5/5
Shop for Pyunkang Yul Acne Facial Cleanser
You can get Pyunkang Yul Acne Facial Cleanser from trusted, popular Asian websites: StyleKorean*, StyleVana*, and YesStyle*.(* affiliate links)
Lastly, I was not paid for this review or received it as a gift.
As always, you do you; be kind to your skin and yourself! Remember that every person's skin and skin type is different, so what might work for me might not work for you, and vice versa. So, before adding a new product to your skincare routine, it pays to do a little research first.
Before adding the Pyunkang Yul Acne Facial Cleanser to your skincare regimen, ensure you are not allergic to it or its ingredients. You should also consult your doctor if you are pregnant, breastfeeding, or have any medical conditions or medications that may interact with the Pyunkang Yul Acne Facial Cleanser. Always do a patch test before applying the Pyunkang Yul Acne Facial Cleanser on your skin to avoid adverse reactions.
I am not a dermatologist or licensed aesthetician, but I have sufficient experience and knowledge I gained by testing multiple products and self-exploration. Unsure? Best to consult your dermatologist.
Happy shopping, and don't forget the sunscreen! Here's to great skin in 2023!
Show Me Proof