I was thrilled when I came across this Pyunkang Yul Acne Facial Cleanser because I have been searching for the best cleanser for my husband. He has acne-prone, dehydrated, and oily skin with huge pores.
Most guys don't like to spend a lot on skincare. So, he wants a gentle and hydrating cleanser on a budget.
Pyunkang Yul Acne Facial Cleanser looks simple and hydrating. It is affordable and designed for acne-prone skin types by a reputable Korean clinical brand. Let's look at my husband's date with this cleanser and see how it fits him.
At a glance: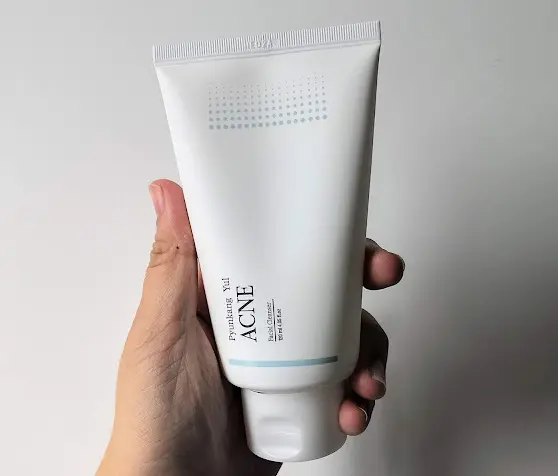 Where to buy Pyunkang Yul Acne Facial Cleanser?
This Pyunkang Yul Acne Facial Cleanser is housed in a 4.05 fl. oz / 120 ml white tube.
The cleanser is affordable, retailing for roughly $8 – $9. You can find this at the official US site, iHerb, Walmart, Sukoshi Mart, StyleKorean*, Style Vana, YesStyle*, and Jolse. (*affiliate links)
The Pyunkang Yul brand
Most of us are familiar with Pyunkang Yul. It has recently become so popular that almost all Instagrammers are raving about it. It uses simple but effective oriental medical ingredients for skincare. Fortunately, it also has an Acne line for acne-prone and oily skin types.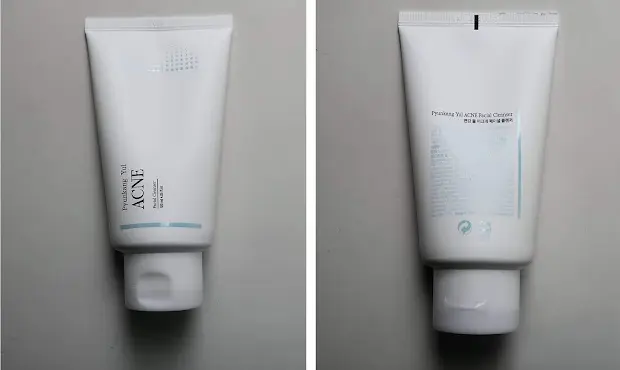 Pyunkang Yul Acne Facial Cleanser claims
The cleanser claims to do three things:
deep-pore cleansing – it contains white willow bark extract (natural BHA) to dissolve blackheads and sebum buildups gently;
anti-bacterial effect – it is loaded with oriental herbs with detoxifying and soothing effects;
anti-inflammatory and skin regeneration – it contains copper tripeptide to soothe and repair skin damage, especially acne scars.
Who is this cleanser for?
For those with oily, acne-prone skin. It is not recommended as a daily cleanser for normal skin types or dry skin types because it can be too stripping.
Not sure what your skin type is? Please read our guide on Skin types & skin conditions.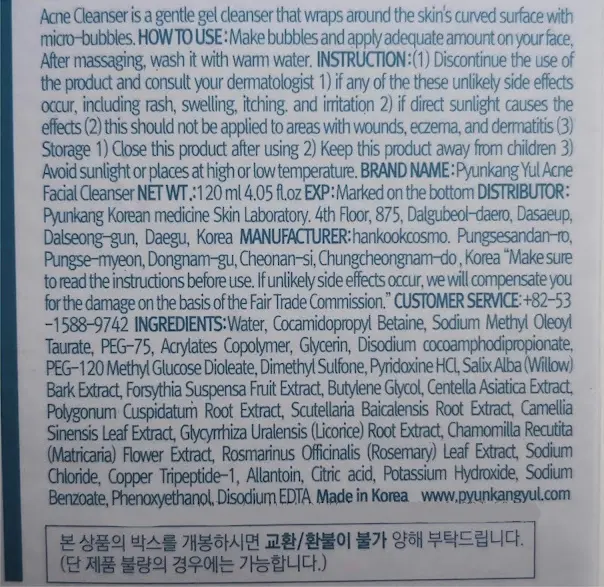 Pyunkang Yul Acne Facial Cleanser Ingredients
Water, Cocamidopropyl Betaine, Sodium Methyl Oleoyl Taurate, PEG-75, Acrylates Copolymer, Glycerin, Disodium Cocoamphodipropionate, PEG-120 Methyl Glucose Dioleate, Dimethyl Sulfone, Pyridoxine Hcl, Salix Alba (Willow) Bark Extract, Forsythia Suspensa Fruit Extract, Butylene Glycol, Centella Asiatica Extract, Polygonum Cuspidatum Root Extract, Scutellaria Baicalensis Root Extract, Camellia Sinensis Leaf Extract, Glycyrrhiza Uralensis (Licorice) Root Extract, Chamomilla Recutita (Matricaria) Flower Extract, Rosmarinus Officinalis (Rosemary) Leaf Extract, Sodium Chloride, Copper Tripeptide-1, Allantoin, Citric Acid, Potassium Hydroxide, Sodium Benzoate, Phenoxyethanol, Disodium EDTA.
Ingredients are taken from INCIDecoder.
Key Ingredients explained
This cleanser uses Cocamidopropyl Betaine, Sodium Methyl Oleoyl Taurate, and Disodium Cocoamphodipropionate as surfactants, with a 2-4 safety score on CosDNA. My only concern here is Cocamidopropyl Betaine, a synthetic surfactant associated with allergic reactions among users, primarily due to the impurities present in the ingredients. So it depends on the quality control of Pyunkang Yul's manufacturer.
White Willow Bark Extract
White willow bark is a natural BHA that can dissolve dead skin cells, clean up sebum and reduce inflammation and breakouts.
Centella Asiatica
Centella Asiatica, commonly known as Cica, is a popular calming and soothing ingredient for sensitive and damaged skin.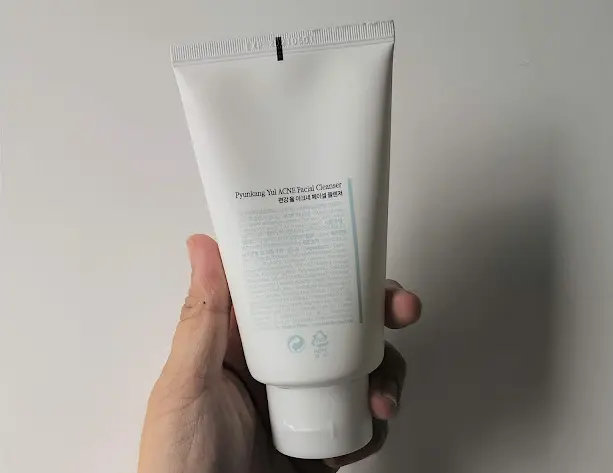 Licorice
A potent antioxidant that evens skin tone and soothes sensitive skin has shown some evidence as an anticarcinogenic.
Chamomile flower extract
This cleanser also has Chamomile flower extract for added soothing and anti-oxidizing benefits.
Copper Tripeptide-1
Finally, we also have Copper Tripeptide-1, a growth factor that can promote cellular repair and thus benefit wound healing and reducing acne scars.
Pyunkang Yul Acne Facial Cleanser does not contain
Niacinamide, hyaluronic acid, parabens, alcohol, essential oils, or fragrance.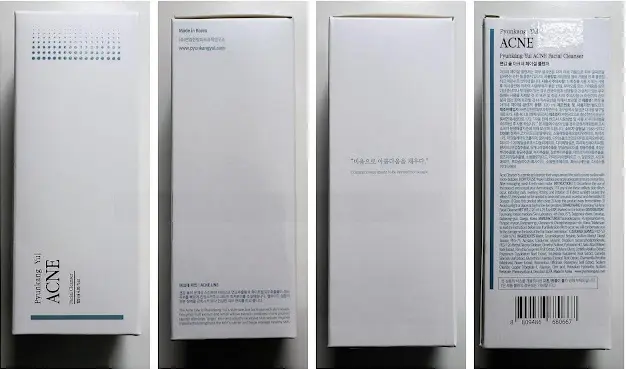 Packaging
It comes in a white squeeze tube.
Scent
The facial cleanser has no scent whatsoever.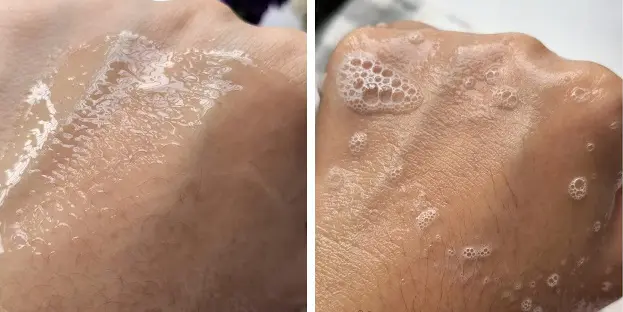 Texture
Pyunkang Yul Acne Facial Cleanser is a transparent gel. It lathers up upon contact with water into big and bouncy bubbles.
My husband's experience with Pyunkang Yul Acne Facial Cleanser
My husband loves this cleanser. He has been using it for one month. He thinks that this is a gentle cleanser for everyday use. It also foams up easily despite its gel-like texture.
His face does look clearer and with fewer blemishes after using this cleanser. Another good news is that he also has fewer blackheads.
However, it doesn't help reduce sebum, so his skin remains as oily as before.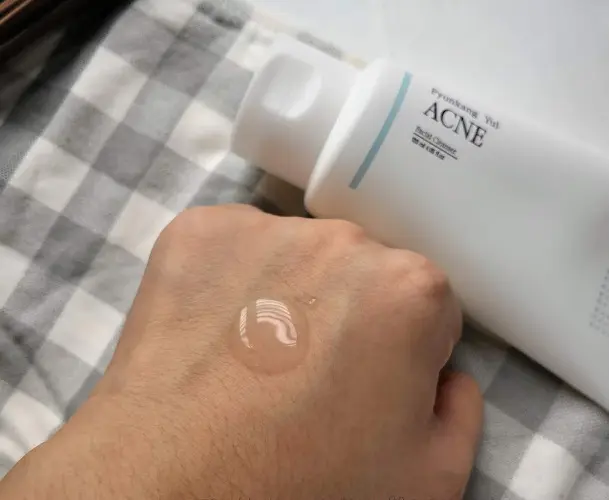 How to use Pyunkang Yul Acne Facial Cleanser?
Squeeze an adequate amount of cleanser on hand;
Gently massage the face;
Rinse off waste on the skin with lukewarm water;
Follow with your favorite toner, essence, serum, ampoule, and moisturizer.
Pros
no fragrance
nice foam
fewer blemishes and blackheads
affordable
Cons
stripping for dry skin types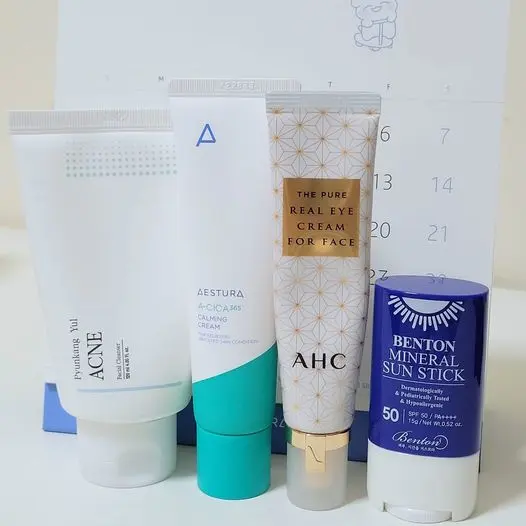 Overall
My husband loves this, and he will repurchase it. He just repurchased the Abib Acne Foam Cleanser Heartleaf Foam and will use both cleansers in rotation.
Rating 4.5/5
Shop for Pyunkang Yul Acne Facial Cleanser
You can get Pyunkang Yul Acne Facial Cleanser on the official US site, iHerb, Walmart, and Sukoshi Mart. Other popular Asian websites: StyleKorean*, Style Vana, YesStyle*, and Jolse.(* affiliate links)
I was not paid for this review, nor did I receive it as a gift.
As always, you do you, be kind to your skin and yourself! Remember that every person's skin and skin type is different, so what might work for me might not work for you, and vice versa. So before adding a new product to your skincare routine, it pays to do a little research first.
Pay special attention to ingredients that you might react to. Doing a patch test is always a good idea. Unsure? Best to consult your dermatologist.
Happy skin experimenting, and don't forget the sunscreen!
Show me proof
Kang TH, Yoon G, Kang IA, Oh HN, Chae JI, Shim JH. Natural Compound Licochalcone B Induced Extrinsic and Intrinsic Apoptosis in Human Skin Melanoma (A375) and Squamous Cell Carcinoma (A431) Cells. Phytother Res. 2017 Dec;31(12):1858-1867. doi: 10.1002/ptr.5928. Epub 2017 Oct 13. PMID: 29027311.