I stray farther from Innisfree products than I should. It is a great brand that makes lovely cosmetics. Still, Innisfree tends to be heavy-handed with the artificial fragrance and I have given away many of their well-formulated cosmetics due to the scent. But, after seeing Innisfree Blueberry Rebalancing Cleanser in a new formulation pop up a few times on social media, I knew I had to tango with Innisfree again. I wanted to see if it could hold its own against some of my favorites.
Innisfree Blueberry Cleanser, at a glance:
Where to Buy the Innisfree Blueberry Rebalancing Cleanser?
It is pretty accessible online in the US, so the only issue might be whether it is sold out since this is a popular item lately.
It is an excellent product for a meager price once you begin considering all the attributes that tend to drive up product prices: Organic and free trade certification, proper pH balance, and incredibly effective makeup remover without using a first oil cleanser.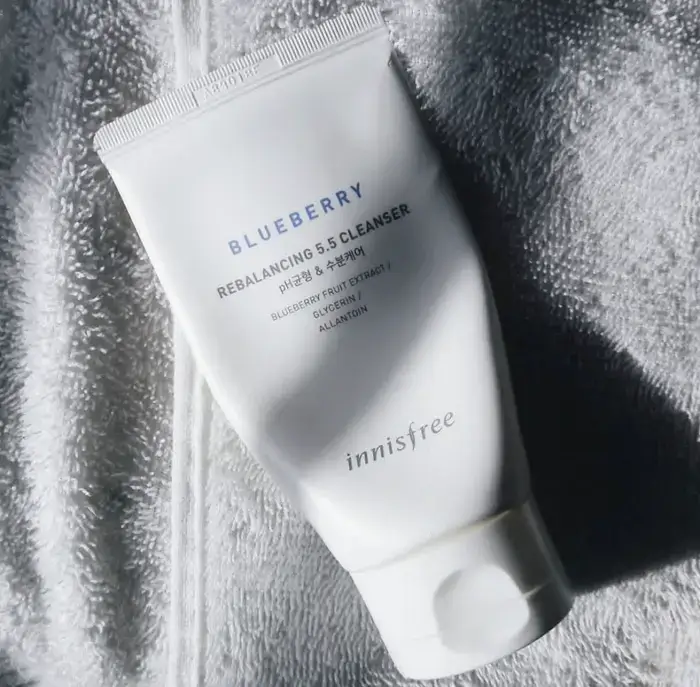 The Innisfree Brand
Innisfree is a South Korean company that launched in 2000. Their products focus on natural ingredients, and they are one of the only Korean cosmetic companies that is ECOCERT certified, an organic and free trade certification.
Innisfree's parent company is AmorePacific. I have rambled many times about their extraordinary efforts to make the world a better place. Innisfree promotes local socially conscious efforts that everyone can make, such as encouraging recycling cosmetic containers and selling handkerchiefs as an alternative to disposable tissues. I like seeing global efforts and corporate transparency from such a big brand.
Innisfree Blueberry Rebalancing Cleanser Claims
Helps rebalance skin's hydration and moisture
Doesn't disturb the skin's natural pH
Won't strip the skin

Innisfree US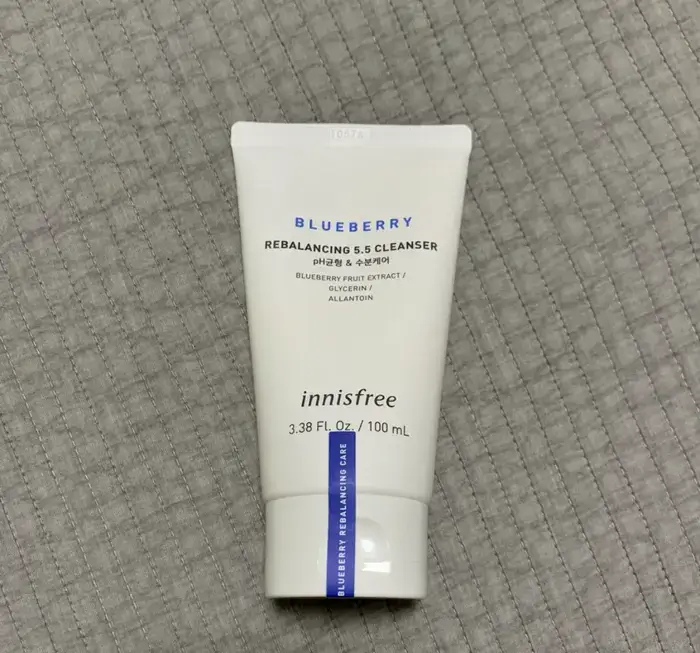 Who is this foam cleanser for?
The Innisfree Rebalancing 5.5 Cleanser is a soft foaming cleanser that rebalances the skin to a proper 5.5 pH. Innisfree considers this cleanser to be for universal skin types. I would recommend this for combo – oily peeps.
Not sure what your skin type is? Please read our guide on Skin types & skin conditions.
Innisfree Blueberry Rebalancing 5.5 Cleanser Ingredients
Innisfree Blueberry Rebalancing 5.5 Cleanser Ingredients List (last check 2023)
Water, Glycerin, Sodium Cocoyl Isethionate, Diglycerin, Hydroxypropyl Starch Phosphate, Citrus Aurantium Dulcis (Orange) Peel Oil, Limonene, Potassium Benzoate, Sodium Methyl Cocoyl Taurate, Potassium Cocoyl Glycinate, Lavandula Angustifolia (Lavender) Oil, Butylene Glycol, Allantoin, Citric Acid, Linalool, Potassium Cocoate, Disodium Edta, 1,2-Hexanediol, Vaccinium Angustifolium (Blueberry) Fruit Extract, Acrylates/C10-30 Alkyl Acrylate Crosspolymer, Polyquaternium-67, Sodium Acetate, Sodium Chloride.
Ingredients referred from the Innisfree Official Website
Herbal Surfactant Humectant/Moisturizing Fragrance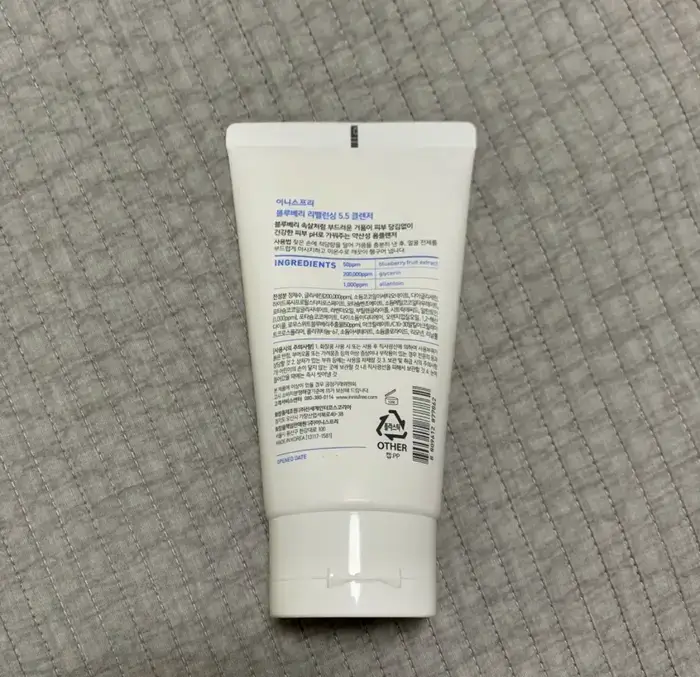 Key Ingredients
Surfactants
The old Innisfree Blueberry Rebalancing Cleanser had the entire first half of the ingredient list of surfactants. The new formulation has removed some of them, making it a milder cleanser.
Surfactants are not inherently harmful but potential irritants that may dry out your skin.
All surfactants in the 2023 formulation are less irritating since they're derived from coconut and are rich in fatty acids. However, you may want to know if you have any coconut oil sensitivities.
Many of these components in the product are naturally derived from common emollients, so they are not quite as stripping as others. However, it is something to be aware of when purchasing if you have dry or dehydrated skin.
Glycerin
Good old trusty glycerin is often overlooked as an inexpensive or inelegant ingredient in skincare, but it is one of the best, most reliable humectants.
Glycerin is also probably the most well-known humectant. It:
Hydrates. Glycerin is a very effective humectant, used in many moisturizers to increase skin hydration.
Occurs naturally in your skin as part of its home-grown moisturizing system, the natural moisturizing factor (NMF).
Strengthens skin barrier. Glycerin also keeps the skin's lipids flexible, strengthening your skin barrier.
Softens. Glycerin softens the skin so other hydrating ingredients can more easily penetrate the skin.
Reduces TEWL. Glycerin helps slow down transepidermal water loss (TEWL). Like other humectants, it works by sitting in the top layers of your skin and attracting water from the air and the deeper layers, leaving your skin surface plump and hydrated, even when the weather is arid.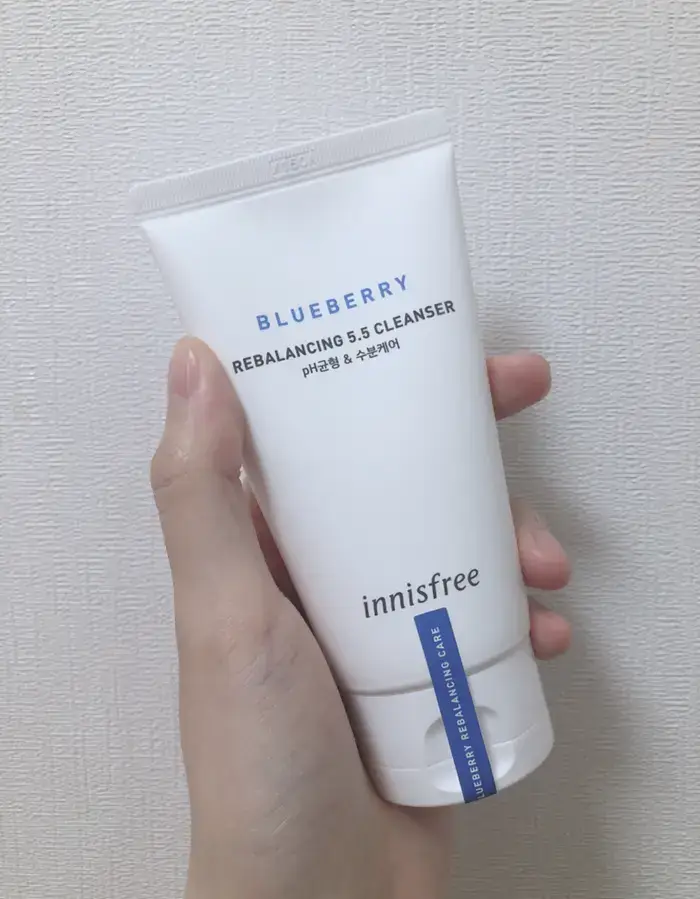 Botanical Extracts
Now we finally get to this antioxidant business! However, you will notice the product's namesake, Blueberries, is at the bottom five ingredients of the list. Adding blueberries is probably just a way for Innisfree to market/categorize their products into different lines, versus having an impactful benefit to the skin.
Citrus extracts are in the middle of the list, which may be irritating if you have sensitive skin. It finally makes sense why the product smells more like oranges than blueberries. This product also contains lavender oil, which is another potential skin irritant.
The previous Innisfree Blueberry Rebalancing Cleanser formulation contained alcohol, also removed in the new formulation.
There is one low acne trigger (Butylene Glycol), according to CosDNA. Innisfree Blueberry Rebalancing Cleanser does not contain niacinamide, parabens, alcohol.
Innisfree is not a cruelty-free company and does not have any vegan certifications. Still, the Innisfree Blueberry Rebalancing Cleanser does not contain any animal products.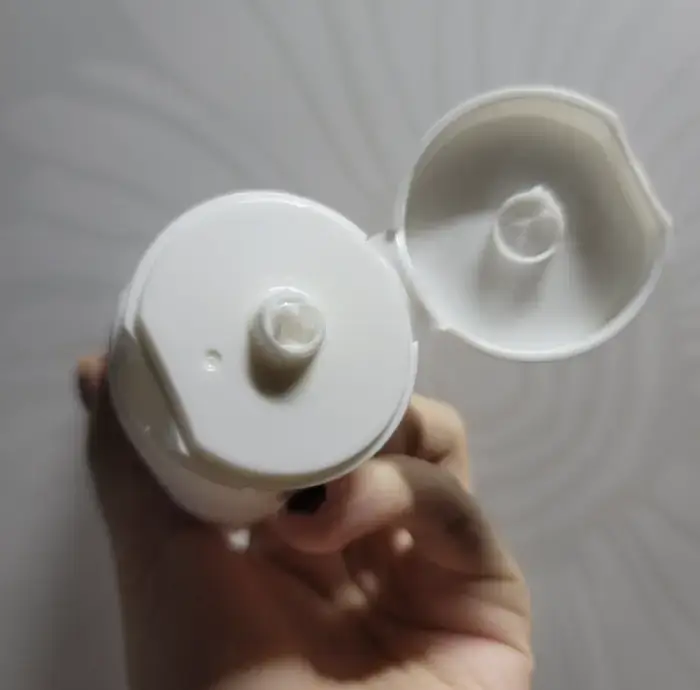 Packaging
For cleansers, I prefer something else to tube packaging. I would much rather have the ease of pump packaging than play hot potato while trying to squeeze out the product with my wet hands.
The package is sturdy and thick, so I would not worry about leakage while traveling. The hinge topper seals exceedingly well compared to similar products I have tried.
The simplicity and high quality of the tube are a nice touch. While the Innisfree Blueberry Rebalancing Cleanser may not be ideal for carry-on luggage, it is a great cleanser.
Scent
The Innisfree Blueberry Rebalancing Cleanser does not smell like Blueberries at all. I was disappointed that this Blueberry cleanser didn't have any blueberry-ness. Instead, it smells like artificial lemons. It is almost like perfume. The smell can be strong, but it does not ordinarily bother me unless I'm having a particularly sensitive day.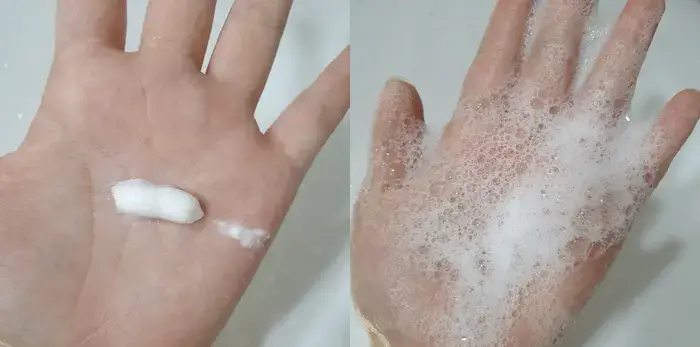 Texture
Innisfree categorizes this as a foaming cleanser, but I consider this a cream cleanser. The formula is incredibly dense and fluffy.
Once you add water, the cleanser breaks down considerably. It lightly lathers into a thin and watery consistency and doesn't create that "luxurious" foam. Considering how thick and creamy it is, I expected a more "intense" foam. This is a pH-Balanced Cleanser, so I can let that slide.
My Personal Experience with the Innisfree Blueberry Rebalancing Cleanser
This product is excellent at removing makeup. There are only ruminants of my liquid lipstick left. Even my waterproof eye makeup is completely gone. I trust this to remove all my sunscreen or light makeup on days I do not put on a full face. An oil cleanser is not required to remove even my most stubborn mascara. It is difficult to achieve an effective and pH-balanced cleanser unless you use surfactants, which are slightly less irritating than sulfate.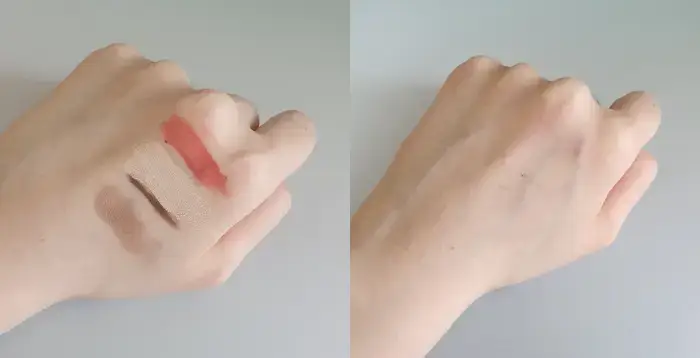 I have a sensitive combination skin type with enlarged pores and texture, but I am in a location with humid summers and high UV ratings (Singapore). My face regularly feels greasy throughout the day from sweat. This cleanser does not dry or strip my skin while removing the built-up sebum. In fact, it almost leaves behind a moisture that I haven't quite experienced with many other cleansers.
This has been my favorite Korean second cleanser I have ever used, but there are a few catches.
I wasn't impressed with the experience of using this Blueberry Cleanser. The foam was nothing exciting, and the scent was just…meh. Innisfree included quite a bit of Orange Oil in the formula. If you are going to do that, let's get some more exciting oils in there to create a more enticing scent, lol!
How to use Innisfree Blueberry Cleanser?
I dispense about an almond-sized amount of the Innisfree Blueberry Rebalancing Cleanser into my hands;
I break it down with just a bit of water to create a nice foam;
I massage the cleanser into my skin, making sure to be gentle while also getting a thorough cleanse;
Rinse with lukewarm water.
Follow with the rest of your routine.
How often do I use the Innisfree cleanser?
Innisfree Rebalancing Cleanser is a water-based cleanser that can be used in the AM and PM skincare routine. This cleanser does have a light foam lather that I find slightly stripping on my dry skin if used twice a day, but perfectly fine to use at the end of the day to get off all my makeup and daily grime. This would be the first step of any skincare routine unless you double cleanse. Then, this cleanser would come after the oil cleanser.
The Innisfree Blueberry Rebalancing Cleanser is a cleanser I would only use regularly during humid seasons, though I would only use it once daily.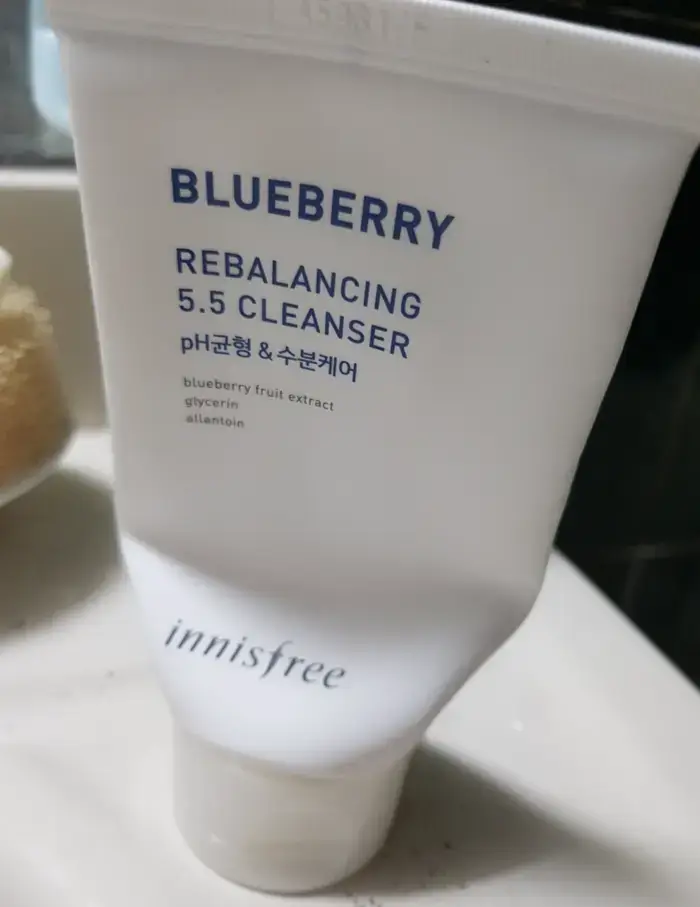 Pros
affordable
removes makeup well
Cons
strong citrusy smell
basic
Verdict
Innisfree Blueberry Rebalancing Cleanser is an effective and inexpensive cleanser. The ingredient list is slightly deceiving, with the name ingredient towards the bottom of the list. It also contains one acne trigger, so I would not consider this a universal skin type cleanser as the product claims. I would change the scent and packaging if the decision were solely up to me, but this is my favorite Korean second cleanser ever! Innisfree and AmorePacific are also great companies to support.
Will I repurchase Innisfree Blueberry Rebalancing 5.5 Cleanser?
I enjoy this product and am almost certainly repurchasing it.
Rating 4/5
Shop for Innisfree Blueberry Rebalancing Cleanser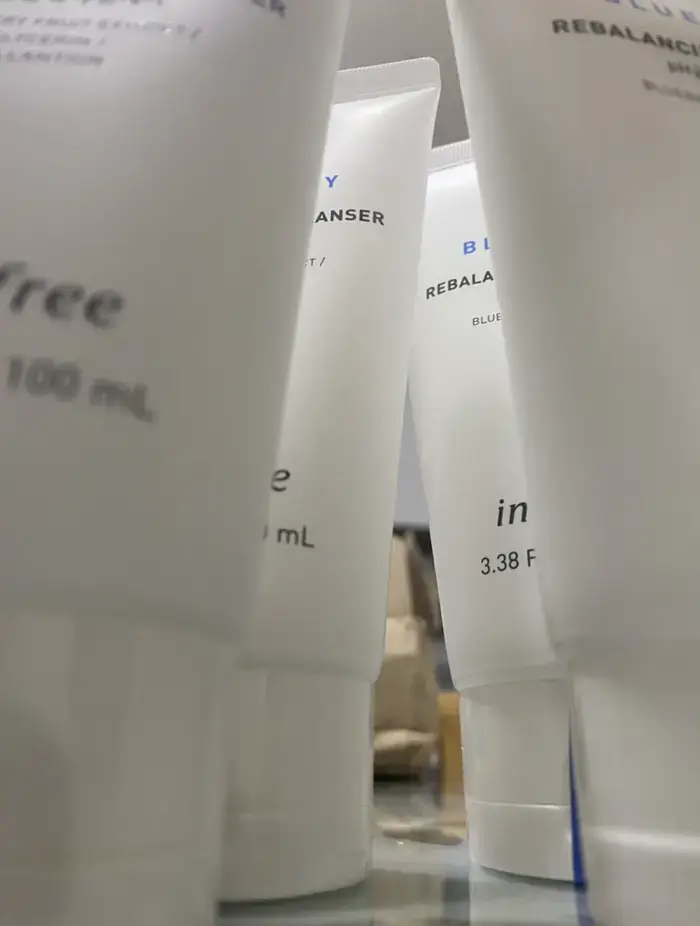 Lastly, I was not paid for this review or received it as a gift.
As always, you do you; be kind to your skin and yourself! Remember that every person's skin and skin type is different, so what might work for me might not work for you, and vice versa. So, before adding a new product to your skincare routine, it pays to do a little research first.
Before adding the Innisfree Blueberry Rebalancing Cleanser to your skincare regimen, ensure you are not allergic to it or its ingredients. You should also consult your doctor if you are pregnant, breastfeeding, or have any medical conditions or medications that may interact with the Innisfree Blueberry Rebalancing Cleanser. Always do a patch test before applying the Innisfree Blueberry Rebalancing Cleanser on your skin to avoid adverse reactions.
I am not a dermatologist or licensed aesthetician, but I have sufficient experience and knowledge I gained by testing multiple products and self-exploration. Unsure? Best to consult your dermatologist.
Happy shopping, and don't forget the sunscreen! Here's to great skin in 2023!
Show Me Proof