I'm giving you my thoughts on Illiyoon Ceramide Ato Concentrate Cream*, a hydrating ceramides cream from the Korean skincare brand Illiyoon.
At a glance:
Where to buy Illiyoon Ceramide Ato Concentrate Cream?
Illiyoon's price is unbeatable. The cream usually costs roughly $23 for 200ml, but you can frequently find it on sale for $12.
You can shop the colossal jar (16.9 fl. oz. / 500ml) of Illiyoon Ceramide Ato Concentrate Cream on Amazon*. (*affiliate link)
Also find it on: StyleKorean*, YesStyle*, iHerb, oo35mm, Olive Young, StyleVana. (*affiliate links)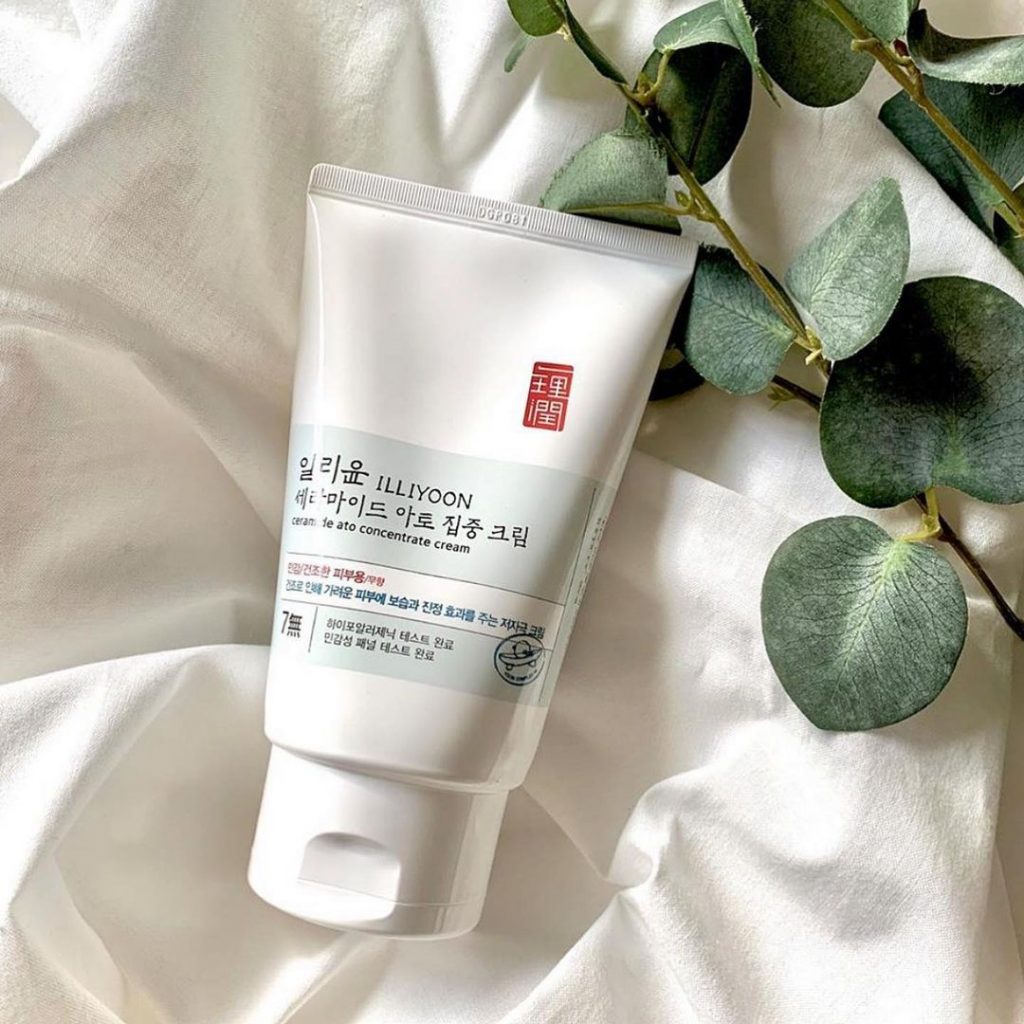 The Illiyoon brand
Illiyoon is popular among the famous Amore Pacific family.
Amore Pacific is a South Korean cosmetic giant subsidizing many other popular cosmetic brands. They have a high-end price tag justified by their cosmetic research partnerships with institutions such as Harvard University. Amore Pacific takes pride in constant technological development, from ingredient cultivation at their exclusive farms until it reaches store shelves. The umbrella corporation is known for widely using botanical ingredients, most notably having popularized EGCG (Green Tea).
Amore Pacific is active in sustainability, including environmental protection and ethical product development. They also have been a huge advocate of women's rights & corporate social responsibility, winning them a collection of awards throughout Asia. Amore Pacific is proud of their track record, and their website displays it, along with its Sustainability Annual Reports.
Sustainability is a newer trend in Eastern skincare, but Amore Pacific goes above and beyond what even Western cosmetic brands are willing to share.
Illiyoon specializes in revitalizing and moisturizing the skin for a natural, healthy glow with the wisdom and the science of the finest native Korean herbal ingredients. According to the Amore Pacific website:
lliyoon products offer a gentle yet rich moisturizing effect to customers with sensitive and dry skin. Korea's heritage ingredients are combined with Amorepacific's advanced skincare science to nourish self-moisturizing ability by strengthening the deep skin barrier, not just the surface of the skin. Experience the gentle yet rich moisturizing power our unscented or mildly scented hypoallergenic and sensitivity-tested mild formula leaves on your skin.
Illiyoon has an entire Ato Ceramide line*, but I will review the top-rated Ceramide Ato Concentrate cream* for this post.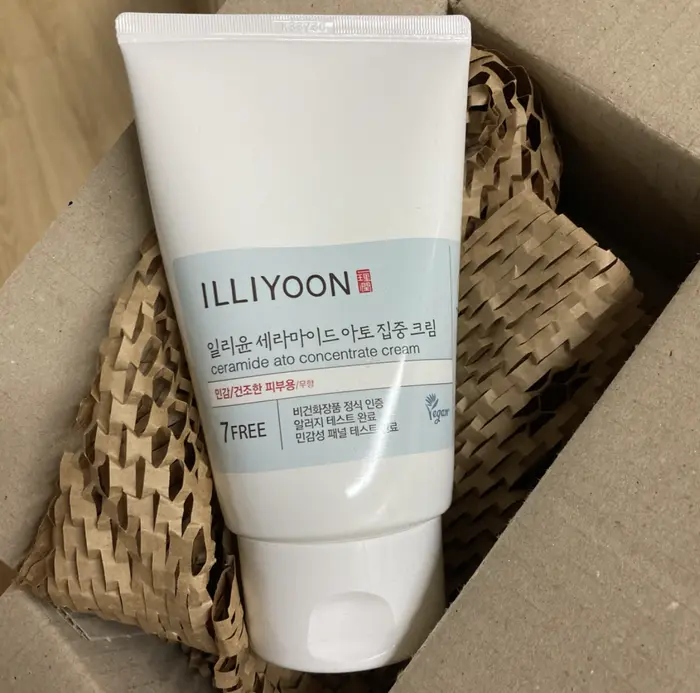 Illiyoon Ceramide Ato Concentrate Cream claims
You might be wondering about the meaning behind the word "Ato" in this cream. The term "Ato" refers to Atopic from Atopic Dermatitis, a skin condition common to people with sensitive skin (aka me).
The product contains Ceramide Skin ComplexTM, which is Illiyoon's patented technology. It is a ceramide capsule exclusively developed by AmorePacific Corporation and Aestura, which successfully delivers active ingredients and helps your skin absorb them.
Illiyoon Ceramide Ato Concentrate Cream Ingredients (2022 formulation)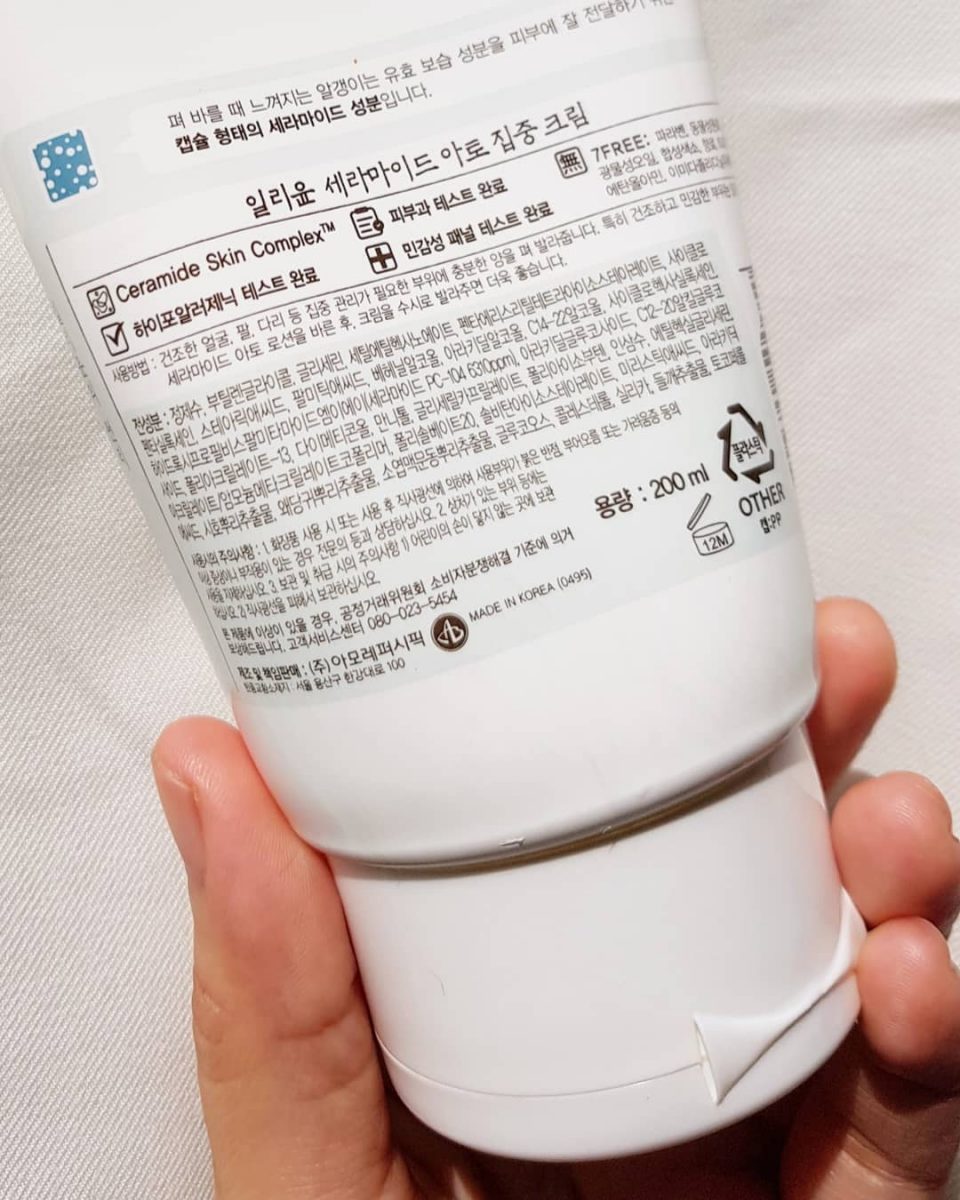 Water, Butylene Glycol, Glycerin, Cetyl Ethylhexanoate, Pentaerythrityl Tetraisostearate, Stearic Acid, Cyclopentasiloxane, Palmitic Acid, Behenyl Alcohol, Hydroxypropyl Bispalmitamide MEA, Panax Ginseng Root Extract, Magnolia Biondii Flower Extract, Cholesterol, Perilla Ocymoides Seed Extract, Lactobacillus/​Soybean Ferment Extract, 1,2-Hexanediol, C12-20 Alkyl Glucoside, C14-22 Alcohols, Glyceryl Caprylate, Dimethiconol, Mannitol, Cyclohexasiloxane, Silica, Arachidyl Glucoside, Arachidyl Alcohol, Acrylates/​Ammonium Methacrylate Copolymer, Ethylhexylglycerin, Polysorbate 20, Polyacrylate-13, Polyisobutene, Propanediol.
See explained ingredients on INCIDecoder.
Key Ingredients
Ceramide Skin Complex
Ceramides included in the Illiyoon Ceramide Ato Concentrate Cream are listed as Hydroxypropyl Bispalmitamide MEA. This is the Ceramide Skin ComplexTM mentioned earlier, which is their patented technology. Also called Ceramide PC 104, a lab-made ceramide with similar properties to Ceramide NP and is more cost-effective. Illiyoon Ceramide Ato Concentrate Cream has ceramides encapsulated to increase efficacy and better absorption into the skin.
Ceramides are a family of lipids that account for 50% of the skin barrier (by weight), so they're essential, right? Ceramides are crucial to:
maintain the skin's moisture levels;
protect skin from external irritants making skin more resilient;
help make skin more plump, juicy, radiant, and smooth;
makes skin tolerate chemical exfoliation much better;
skin is less likely to become irritated;
because they prevent dehydration, ceramides are a great anti-aging ingredient;
regulate the cell cycle and apoptosis (regulated cell death);
beneficial for all skin types.
Heralded as skincare heroes, ceramides can now be found in cleansers, toners, serums, masks, moisturizers, and even hand creams.
Ceramides are golden children; they get along with everyone (unlike vitamin C and A, those brats). They go exceptionally well with plant oils rich in linoleic acid and cholesterol.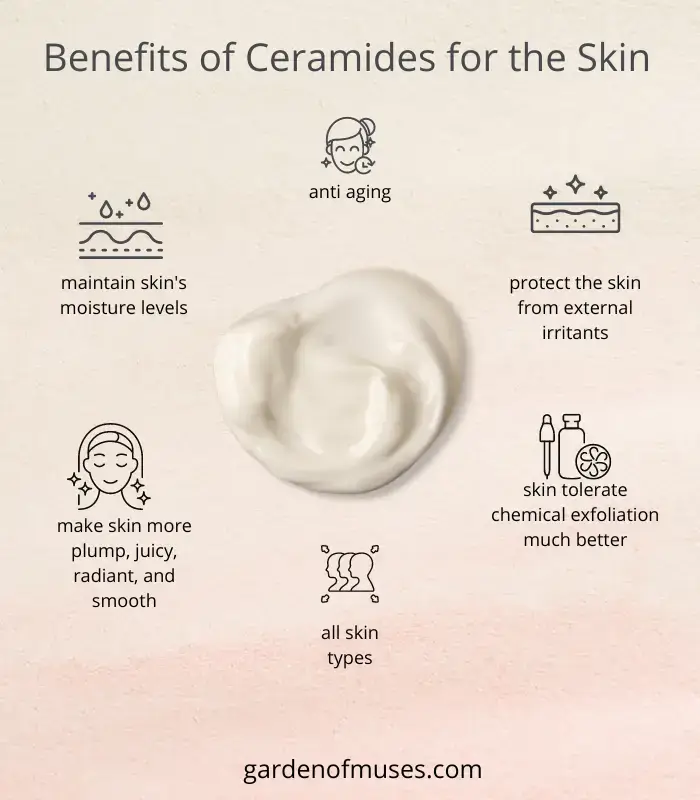 Yoon ComplexTM  
This concoction comprises Korea's native ingredients, including Lactobacillus/Soybean Ferment Extract, Ginseng Extract, Magnolia Extract, and Perilla Ocymoides Seed Extract. These ingredients are great for reducing skin irritation and can help enhance your skin barrier health.
Ingredients not included in Illiyoon Ceramide Ato Concentrate Cream:
The ceramide cream is free from fragrance, essential oil, mineral oil, artificial color, alcohol, animal-derived ingredients, parabens, Triethanolamine, and Imidazolidinyl Urea.
Illiyoon Ceramide Ato Concentrate Cream is vegan-verified.
Packaging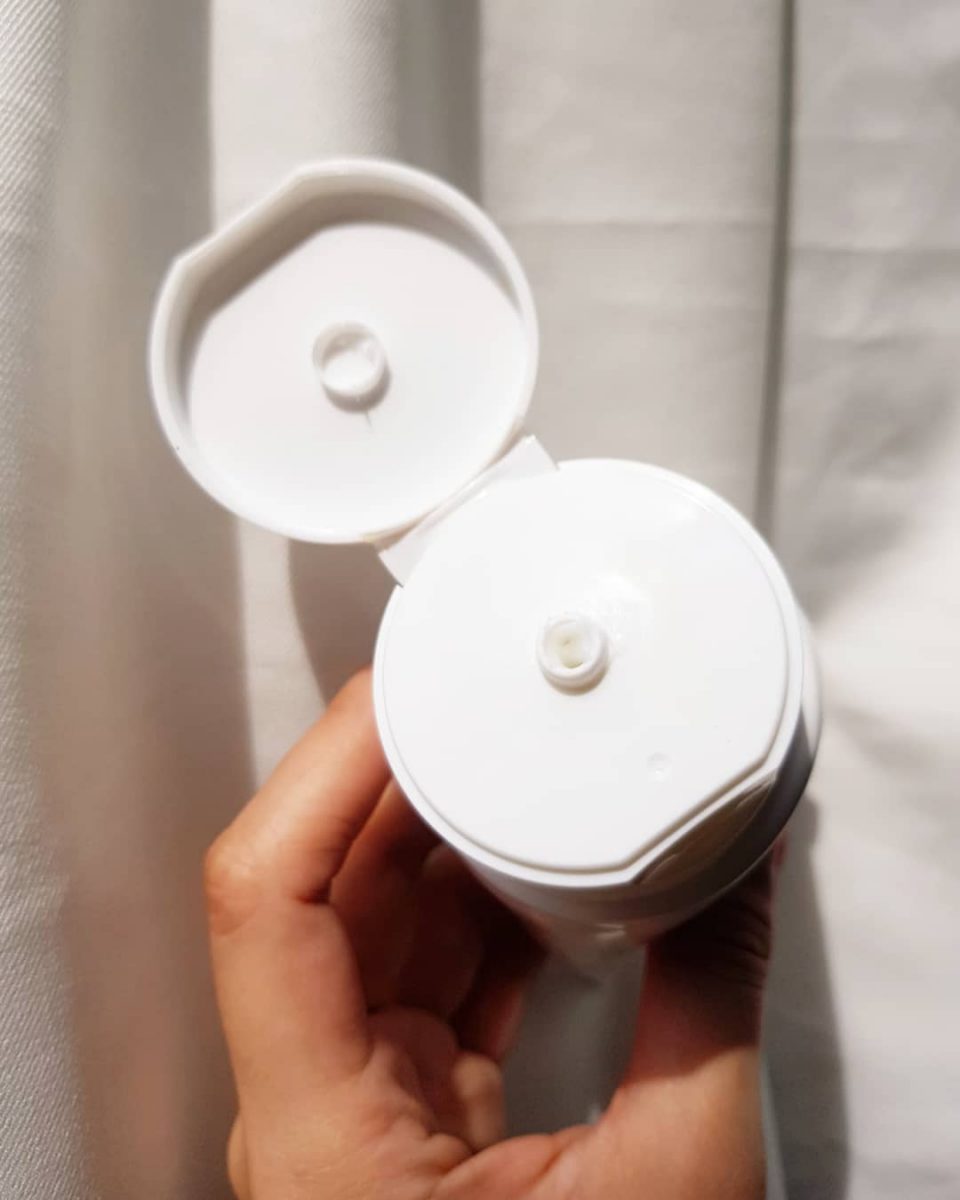 The packaging is pretty straightforward. It comes in three sizes a 2.53 fl. oz. / 75ml tube, a 6.76 fl. oz. / 200ml tube, or a 13.52 fl. oz. / 400 ml jar.
It's so affordable; you can even find it for 12$ on StyleKorean*, and it lasts a lot, so it's excellent value for money.
Scent&Texture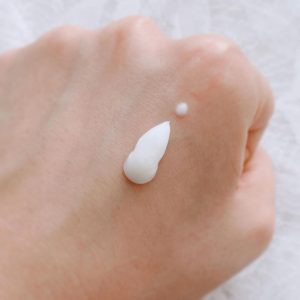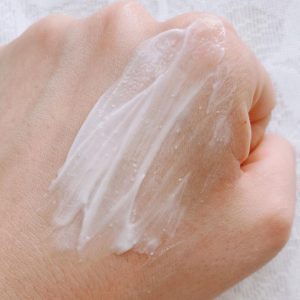 The Ato cream is white and has a thick, rich texture.
The cream feels kinda grainy because of the encapsulated ceramide beads. The tiny dots will explode once you spread them onto the skin. At first, they felt odd, but the more I used the moisturizer, the more I got used to them.
The cream doesn't feel waxy or sticky at all. It sinks into the skin nicely.
The Ceramides Cream has no fragrance at all.
My experience with Illiyoon Ceramide Ato Concentrate Cream's new formula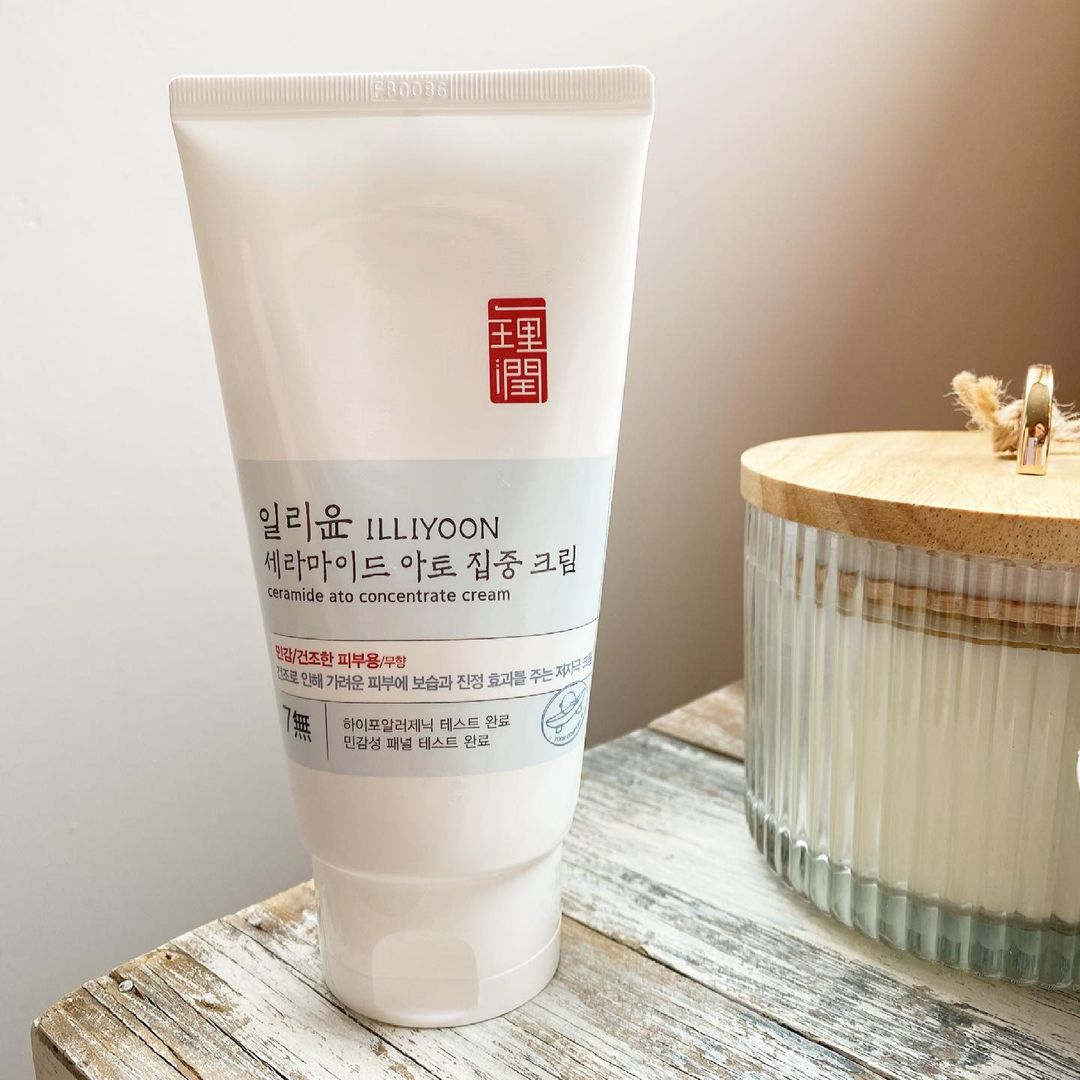 I wouldn't say I like using lotion on my body. I am guilty of saying that despite my love for skincare, I have been neglecting the skin on my body—a little story time before I begin telling you how I feel about this cream.
Last July, I had my first rashes on my arms out of nowhere, and I was in deep panic mode. I tried using my usual-itchy-ointment, but the rash stayed there for over two weeks. I went to a nearby GP (general practitioner) to check, and I was told that I have this skin condition called Atopic Dermatitis, or you can also call it mild Eczema. The cause is unknown, and he prescribed me a super mild steroid cream to be used only when the itch is unbearable.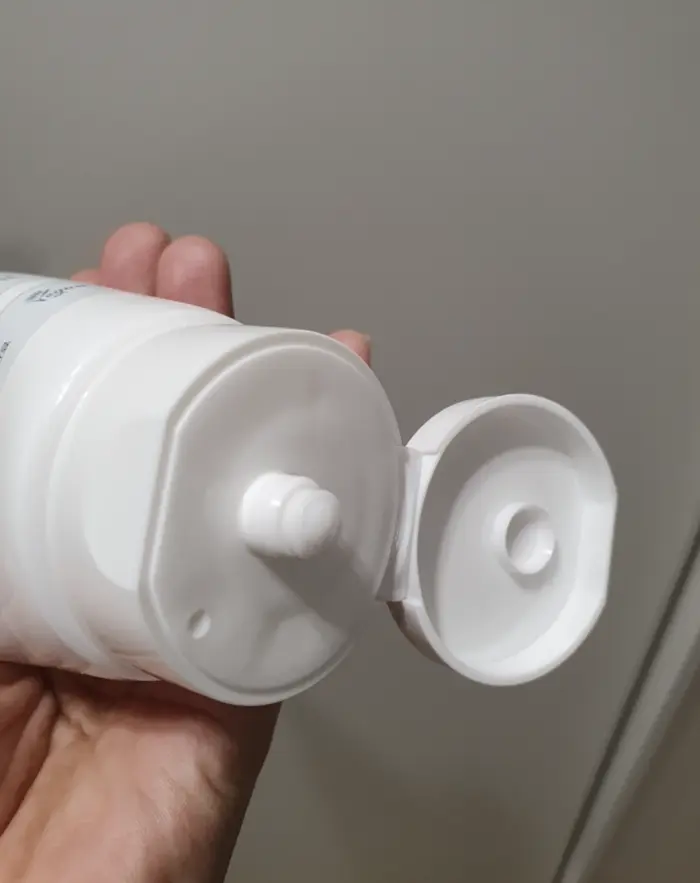 And guess what? He told me to use lotion at least ten times a day until the rashes disappeared. I was shocked; the thought of using lotion daily was already unpleasant, but ten times. That situation left me with no choice, so I bought a Cetaphil cream and used that religiously. The texture was thick to my liking, but it worked well. A week after, my rashes were gone, and ever since that, I have been using lotion daily, day and night.
My Cetaphil lotion ran out in less than two months, and I started looking for a new lotion as a replacement. I was looking for a cream with no harmful ingredients (fragrance, paraben, mineral oil, etc.), excellent pricing, and a light texture. And that's how I found this brand called Illiyoon. 😉
My skin type and before & after
I have a normal combo skin type and live in a tropical, humid climate.
The cream managed to do its job and did not cause any breakout. On my body, it keeps my Atopic Dermatitis at bay. So far, I have never had rashes after using this.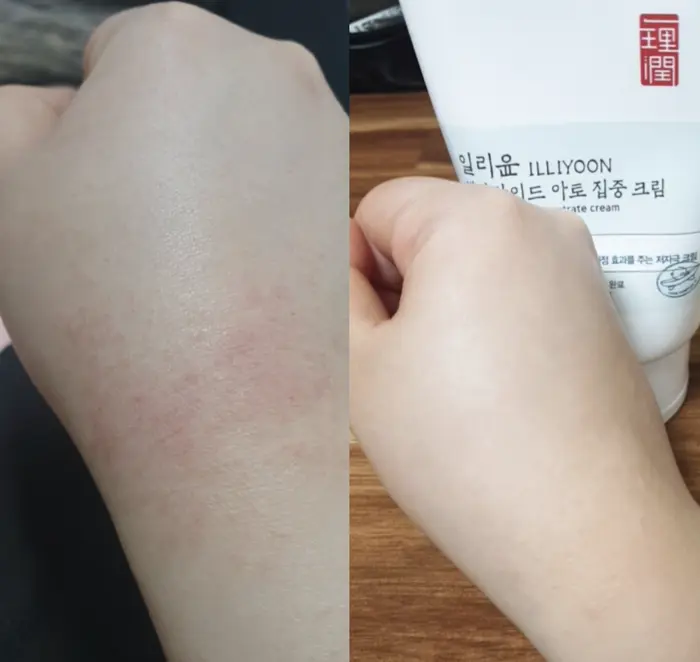 How do I use Illiyoon Ceramide Ato Concentrate Cream?
Cleanse – first step & second step;
Gently readjust the skin's pH with a hydrating toner;
Moisturize with Illiyoon Ceramide Ato Concentrate Cream:
I prefer using the ato cream for my nighttime skincare routine as my last-step moisturizer. I squeeze a small amount into my fingers and effortlessly spread it across my face, lips, neck, and cleavage.
The cream is occlusive, meaning it locks in moisture.
There was a time when I had dry patches on my nose due to whitehead extraction, and this cream was a lifesaver. I loaded this cream on the compromised area, and the dry patches disappeared the next day.
How does it play with other skin types?
For people with very dry skin, or during winter, you can follow the cream with a sleeping pack and an oil.
I think oily acne-prone skin may feel a little heavy and too hydrating. Benton Snail Bee High Content Steam Cream will be a good option if you want the same hydration in a less heavy form.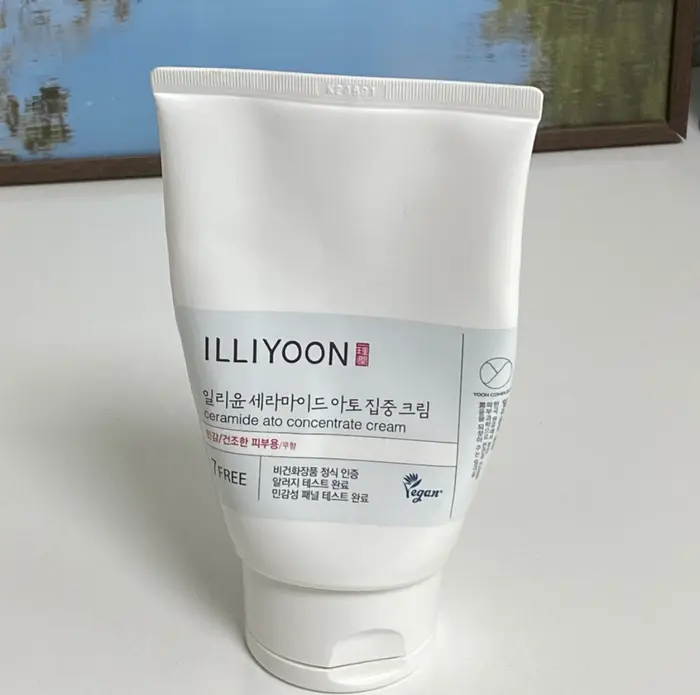 Pros
Moisturizing

Great for all skin types

Has ceramides

A lot of product

Great winter hand cream

Absorbs into the skin easily

Calms irritation

Great winter nighttime moisturizer for oily skin

It is a very rich, thick cream; you probably won't need to use a sleeping mask on top of it.
Cons
It may feel a bit too greasy and heavy if you put too much or if you have oily skin;
It does make me look a bit greasy when I wake up in the morning.
Overall
This Ato Ceramide series is a no-frill, effective and affordable. As mentioned earlier, the cream can be used for both face and body, depending on your preference.
If you want something more lightweight and refreshing, I recommend the lotion version*. The Illiyoon Ceramide Ato Lotion is excellent for someone with oily-combination skin, but if you have drier skin, and prefer something thicker and more moisturizing, go for the cream version. I have Atomic Dermatitis on my body, and these products do wonders for me. If these work for me, I am sure anyone with any skin type can enjoy these.
With the addition of ceramides – my life is complete!
Trust me, once you try it, you won't turn back! 🤩🤩🤩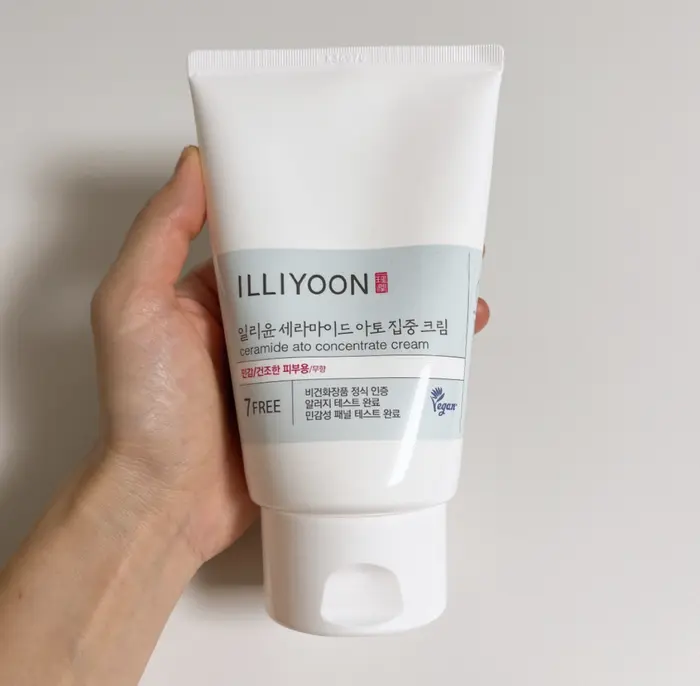 Will I repurchase Illiyoon Ceramide Ato Concentrate Cream?
I enjoy this product and am almost certainly going to repurchase it to always have something in hand for my eczema.
Difference between the old and new formulation
I am lucky to have tried both old and new formulations and liked the new one.
The Pros:
The new formula has a thicker texture; Did not expect the cream to be any denser than before? Well, they managed to do it;
It gets a little difficult to squeeze out of the tube because the texture is thicker now. However, some people appreciated it because they had trouble using too much before;
The texture is much smoother now and less messy. The ceramide dots melt immediately, making people think they removed the dots when the formula improved;
This cream is known to have a non-greasy formula, and it still is, but it is no longer oil free. Illiyoon added soybean oil and canola oil at the bottom part of the ingredients, probably mainly to smooth out the texture;
It felt more moisturizing now. I saw some reviewers with dry skin who started to enjoy it more. If you have oily skin, but it was close to being too much, it might set you over the edge. But otherwise, it's good. It's just a little more emollient now;
The old formula beads were not melting as they should. Now, they work nicely, my skin isn't irritated anymore, and the application is much more pleasant now. The ceramide beads feel more effective for my skin;
My skin no longer gets wet (literally) when I use too much. I don't know why the old formula did that. I never actually minded it, but it's a nice improvement in the new formulation.
The Cons:
It has rosemary extract now, which I strongly feel is such an unnecessary addition;
Sadly, the cream can no longer be used as a lip balm. The old formula kept my lips soft during the day pretty well, and my lips don't get dry anymore after wearing liquid lipsticks the whole day;
Not a problem for me, but the new formula now has dimethicone which some people can't use.
Illiyoon Ceramide Ato Concentrate Cream vs Lotion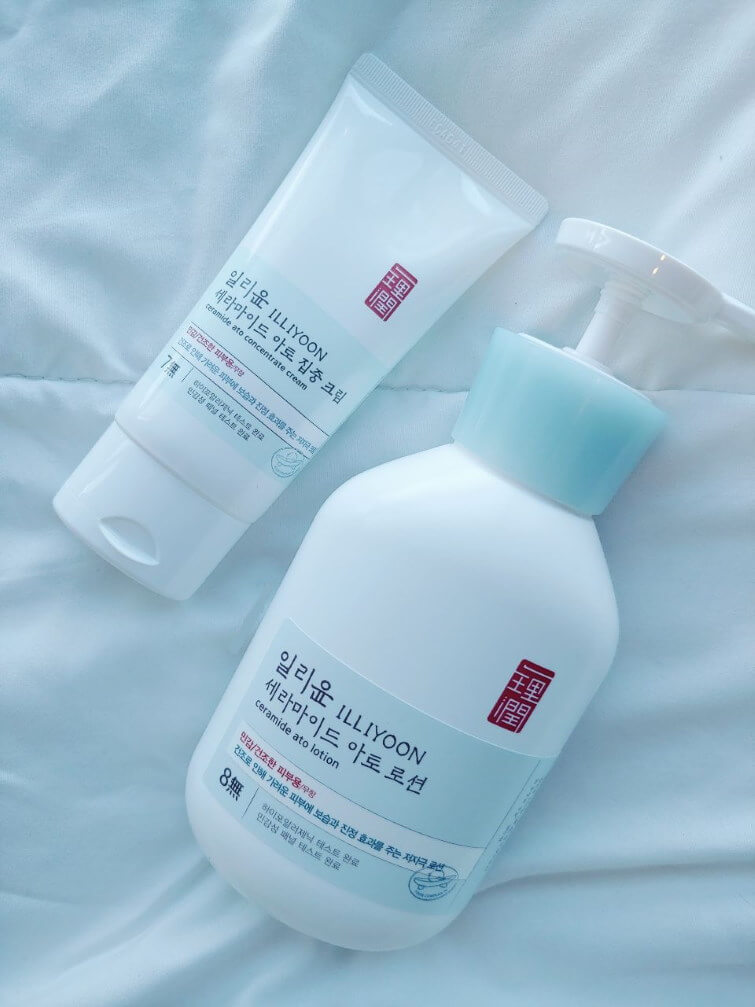 You can use both versions as your daily moisturizer for your face and body.
The critical difference between these products is the texture and consistency. The Illiyoon Ceramide Ato lotion* version has a light consistency and gives a slightly refreshing feeling.
On the other hand, the Illiyoon Ceramide Ato Concentrate Cream* has a thicker consistency and is more occlusive.
Illiyoon Ceramide Ato Concentrate Cream vs Soon Jung 2x Barrier Cream
I live in a tropical country, and we don't have winter, so I don't know how these two moisturizers perform during cold weather.
It's hard for me to compare the two because I used them under different circumstances and issues, but I can say both are great moisturizers and can be used by people with sensitive skin.
Soon Jung 2x Barrier Cream* does what it claims, but the downside is that it made my skin look greasy and a bit sticky after application. I suspect it's the shea butter in it. If your skin likes shea butter, it's a decent, affordable cream. Maybe it was too much for my oily skin back then.
Illiyoon Ceramide Ato Concentrate Cream* is a beautiful moisturizer. I prefer it over Soon Jung 2x Barrier Cream because of the following reasons:
Sinks in much better than Soon Jung's cream;
I don't feel any stickiness on my skin;
Thick cream but doesn't make me look oily or greasy;
It doesn't feel heavy;
Very moisturizing and calming;
Significant strengthens my moisture barrier;
It is more occlusive;
It comes in large volumes;
Inexpensive.
Illiyoon Ceramide Ato Concentrate Cream vs Cetaphil Moisturizing Cream
This Illiyoon Ceramide Ato Concentrate Cream is slightly lighter than the Cetaphil Moisturizing Cream*. Still, it is not oily, unscented, sinks into the skin beautifully, and makes my eczema happier. It also doesn't make my skin feel waxy, sticky, or unbreathable.
The Illiyoon Ceramide Ato whole line somewhat reminds me of Cerave and Cetaphil, but way more affordable and innovative.
Illiyoon Ceramide Ato Concentrate Cream vs Dr. Jart+'s Ceramidin Cream
Fragrance
Dr. Jart+'s Ceramidin Cream* smells stronger and has a lot of essential oils. Illiyoon Ceramide Ato Concentrate Cream* feels more neutral, with no essential oils, fragrances, or anything nasty added.
Texture
Dr. Jart+'s Ceramidin Cream is thicker and greasier than Illiyoon's Cream, probably because Dr. Jart+'s Ceramidin Cream has oils. These oils add to the emollient feeling.
Illiyoon's is still thick, just not as thick as Dr. Jart+'s, and dries matte. Both are too heavy for morning use.
Occlusiveness
Both are occlusive moisturizers. Dr. Jart+'s Ceramidin Cream felt thicker and more occlusive. If you want something super occlusive, use the Illiyoon Cream and slug afterward.
Skin type
Illiyoon Ceramide Ato Concentrate Cream is excellent for all skin types, even for sensitive skin, and is much more hydrating than Dr. Jart+'s Ceramidin Cream.
In my opinion, Illiyoon wins, hands down.
The apparent difference based on the ingredients is that Dr. Jart+'s Ceramidin Cream* contains oils while the Illiyoon cream doesn't. So it depends on your preference.
FAQ
Is Illiyoon Ceramide ATO Concentrate Cream for the face?
The Illiyoon Ceramide Cream is suitable for the face. Many users with dry skin enjoy it on the face for its richness and occlusiveness.
Shop for Illiyoon Ceramide Ato Concentrate Cream
You can shop 500ml/16.9 fl. oz. of Illiyoon Ceramide Ato Concentrate Cream on Amazon*. (*affiliate link)
Trusted Asian beauty stores: StyleKorean*, YesStyle*, iHerb, oo35mm, Olive Young, StyleVana. (*affiliate links)
I was not paid for this review or received it as a gift.
Shop the Illiyoon Ceramide Line
Illiyoon Ceramide Ato Soothing Gel*
Illiyoon Ceramide Ato Water Lotion*
Illiyoon Ceramide Ato 6.0 Top To Toe Wash*
Illiyoon Ceramide Cleansing Foam*
(*affiliate links)
As always, you do you, be kind to your skin and yourself!
Remember that every person's skin and skin type is different, so what might work for me might not work for you, and vice versa.
So before trying a new product, it pays to research first. Pay special attention to ingredients that you might react to.
And doing a patch test is always a good idea. Unsure? Best to consult your dermatologist.
Happy skin experimenting!
Show me proof