My newest addition, the Thank You Farmer True Water Deep Serum EX*, is a hydrating, anti-aging serum from the K-Beauty skincare brand Thank You Farmer. I haven't tried anything else from Thank You Farmer yet, but my fellow muse, Mia, has been enjoying the Thank You Farmer Miracle Age Repair Toner.
What is your favorite part of your skincare routine? Mine is serum! Before exploring skincare, I had nil idea what serums were. In case you're in that stage, facial serums are highly concentrated liquids formulated to target a particular skincare issue. There are those intended for acne and dull skin and also for anti-aging.
Since I am the queen of serums, I was delighted when Garden of Muses magazine bought the Thank You Farmer True Water Deep Serum EX for me to test!
Thank You Farmer True Water Deep Serum EX Review in a Nutshell:
Where to Buy the Thank You Farmer True Water Deep Serum EX?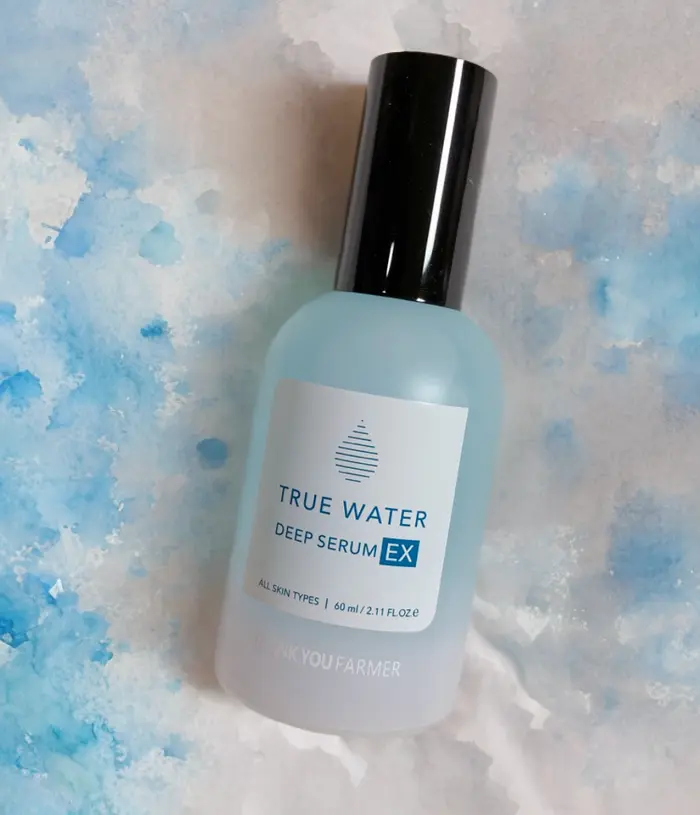 The Thank You Farmer True Water Deep Serum EX comes in a 2.11 fl oz / 60 ml pump bottle and retails for ~$32. For all the lucky people in the US who can get Prime delivery, you can buy the True Water Deep Serum from Thank You Farmer's official store on Amazon*.
You can also shop for Thank You Farmer True Water Deep Serum EX on trusted Asian international shops, such as YesStyle* and StyleVana*.
The Thank You Farmer Brand
Thank You Farmer is a Korean brand that imbibes our farmers' concept of natural and farm-grown ingredients.
The brand does not promise rapid results, but through time, patience, and efficacy of its products, it will lead to bright, resilient, healthy skin.
According to the brand's ideology, skin care is like farming: if you want to harvest and enjoy the harvest, you must also look after it regularly. Just as there are no shortcuts in farming, there are no shortcuts in skin care. When you regularly take care of your skin, it will reward you.
However, this approach does not mean that all hope has been lost if you have not taken care of your skin before or if your skin is otherwise just struggling. The brand's products help even in a desperate situation – if you use them regularly and don't expect the impossible. Adequate hydration and moisturization of the skin can bring surprisingly radical changes, so its power should not be underestimated.
My Thank You Farmer favorites are the in the Tue Water line, which provides effective hydration for all skin types. I've been using Thank You Farmer True Water Vita Mist and True Water Deep Serum EX, which help to hydrate thirsty skin.
Thank You Farmer True Water Deep Serum EX Claims
Thank You Farmer True Water Deep Serum is an anti-wrinkle and brightening skincare product that sustains moisture deeply into the skin. It is stated to be suitable for all skin types.
The serum was created with skin-fit technology. This technology helps with the adhesion of the ingredients into the skin as the vegetable mucin has been permeated into a moisturizing factor.
The serum has a water-glowing effect as its softly absorbed and creates a moisture barrier. The serum transforms rough skin into glowing skin using a lively essential formula. The ideal skin type claimed by the producer is dry.
Thank You Farmer True Water Deep Serum EX Ingredients
Water, Pentylene Glycol, Glycerin, Methyl Gluceth-20, Methylpropanediol, Bis-PEG-18 Methyl Ether Dimethyl Silane, Piper Methysticum Leaf/​Root/​Stem Extract, Dioscorea Japonica Root Extract, Phellinus Linteus (Mushroom) Extract, Arctium Lappa (Burdock) Root Extract, Aloe Barbadensis (Aloe Vera) Leaf Extract, Portulaca Oleracea (Green Purslane) Extract, Pueraria Lobata (Kudzu) Root Extract, Glycyrrhiza Glabra (Licorice) Root Extract, Paeonia Lactiflora (Red Peony) Extract, Cnidium Officinale (Marsh Parsley) Root Extract, Soluble Collagen, Aloe Barbadensis (Aloe Vera) Leaf Juice, Hydrogenated Lecithin, Sodium Hyaluronate, PEG/​PPG/​Polybutylene Glycol-8/​5/​3 Glycerin, PEG-40 Hydrogenated Castor Oil, Butylene Glycol, Tromethamine, Acrylates/​C10-30 Alkyl Acrylate Crosspolymer, Xanthan Gum, Adenosine, Hydrolyzed Corn Starch, 1,2-Hexanediol, Sodium Polyacrylate, Pvm/​Ma Copolymer, Polyquaternium-51, Glycosyl Trehalose, Beta-Glucan, Hydrogenated Starch Hydrolysate, Raffinose, Biosaccharide Gum-1, Sucrose, Inositol, Panthenol, Lecithin, Folic Acid, Ceramide 3, Cholesterol, Palmitoyl Pentapeptide-4, Fragrance, Blue 1 (Ci 42090).
Ingredients referred from the Thank You Farmer official website.
Active Herbs Humectant/Moisturizing Brightening
Key Ingredients Explained
Yam Root Extract (Dioscorea Japonica Root Extract)
Yam Root Extract is known to have moisturizing, soothing properties, and anti-aging properties. It is also called Phyto Mucin, a good alternative for snail mucin.
Pueraria Lobata Root Extract
Pueraria Lobata Root Extract is also known as kudzu root. This ingredient is also used in traditional Chinese medicine. It can help prevent photo-aging for the skin by increasing collagen production and maintaining hyaluronic acid levels in skin exposed to UVB radiation.
Aloe Vera Leaf Juice
Aloe Vera Leaf Juice is a rich anti-oxidant and an anti-inflammatory ingredient known to help repair skin and prevents the appearance of fine lines and wrinkles.
Cnidium Officinale Root Extract
Cnidium Officinale Root Extract is an important oriental medicinal plant considered a great source of phthalides, polyphenols, and flavonoids. It acts as an antioxidant, skin-moisturizing, and whitening herb that combats inflammation in skin care.
Adenosine
Adenosine is a yeast-derived component that provides anti-aging benefits.
Hyaluronic Acid
Hyaluronic Acid improves skin's elasticity and moisture.
Inositol
Inositol is a skin-replenishing ingredient that works as a humectant moisturizer reducing fine lines.
Packaging
The Thank You Farmer True Water Deep Serum EX* comes in an airless pump dispenser, which is my preferred way for any skincare because then you don't have to scrape it out with your fingers or a spatula, or you don't have to do that thing where you flip it upside down to get the last bit of the product because the tube inside is too short.
The container is a frosted plastic, so it looks pretty nice. You get a generous 2.11 fl oz / 60ml of product, which is quite a lot since most skincare brands give you half the quantity.
Depending on your usage, the serum can last for months, making it excellent value for your money.
Smell
The Thank You Farmer website boasts it has:
Signature scent that refreshes your mood. It soothes your mind from the hardships of city life and relaxes you through the citrus scent blending of grapefruit, orange lime and lemon.

Thank You Farmer
Indeed, the Thank You Farmer True Water Deep Serum EX has a discreet, refreshing, slightly citrusy scent.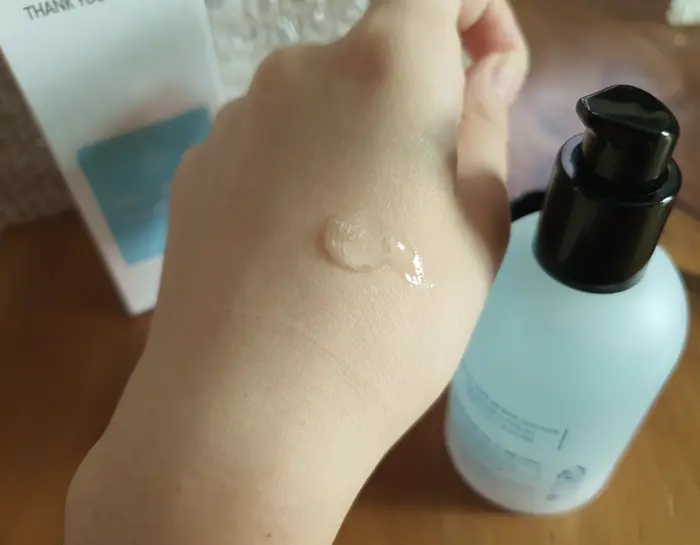 Texture
The Thank You Farmer True Water Deep Serum has a unique viscosity due to the addition of Yam Root Extract (Dioscorea Japonica Root Extract). Similar to the snail mucin, the Yam Root has vegetable mucin.
True Water Deep Serum EX's texture is notably concentrated, making it dense and slippery at sight, but it wears off right after application. I also feel that there's a film applied to my face, which I think is what the brand is saying is a unique texture.
The serum has a mild, slightly citrusy scent and a unique composition. Not only is it packed full of interesting active ingredients, but it also behaves interestingly. It is pretty thin, but a little stretchy without a slimy feeling. In practice, it behaves on the skin like the famous Korean snail serum, but its composition is plant-based.
My Experience with the Thank You Farmer True Water Deep Serum
I have a normal – combo skin type, and I live in a tropical, humid climate where we don't have winter, so I don't know how this serum performs during cold weather.
How to Use
I get two pumps from the bottle;
I apply the serum to my face and neck;
I follow with an ampoule, moisturizer, etc.
The Thank You Famer True Water Deep Serum moisturizes my skin without a heavy feeling. The concentration may look thick, but I felt no stuffiness after applying it to my face.
There's evident radiance on my face when I wake up: my skin feels softer and healthier.
It minimizes my morning face rash, which I experience almost daily (but disappears throughout the day). It does not clog my pores, nor does it trigger my eczema.
It's not a bad serum, I like an excellent hydrating product, and it has an anti-wrinkle effect. It is suitable for all skin types, especially dehydrated ones. I think sensitive skin types should be cautious because of the PEGs and the blue dye. I did like using it this summer because it was very light, but still hydrated my skin. It's a solid serum in my book.

Pros
truly hydrating
soothes
big size for a serum
Cons
I am leaving this blank because I can't think of any!
Conclusion
I'm glad I tried this product out. I think I found a solid serum for a person with combination skin. It exceeded my expectations as far as moisture and brightening are concerned. In addition, it's cruelty-free, paraben-free, sulfate-free, and hypoallergenic.
Will I Repurchase the Thank You Farmer True Water Deep Serum?
While I did enjoy this product, I will probably not repurchase it because I sometimes enjoy switching things around.
Later update: Read the editor's review on Numbuzin No.3 Skin Softening Serum.
Rating 4/5
Shop for Thank You Farmer True Water Deep Serum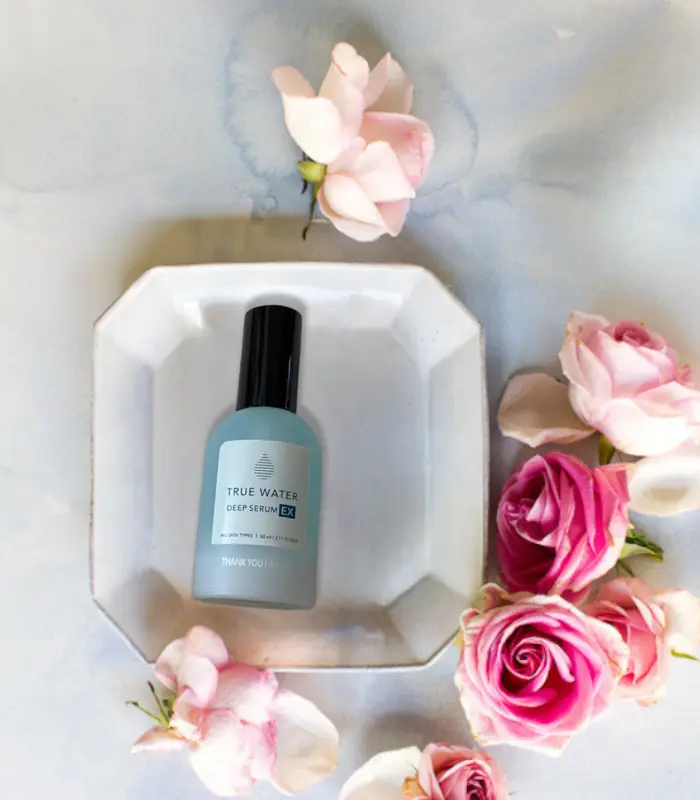 As always, you do you, be kind to your skin and yourself!
Remember that every person's skin and skin type is different, so what might work for me might not work for you, and vice versa.
So before trying a new product, it pays to do a little research first. Pay special attention to ingredients that you might react to.
Doing a patch test is always a good idea. Unsure? Best to consult your dermatologist.
Happy skin experimenting!
Show Me Proof