Confession time: I bought Numbuzin No.3 Skin Softening Serum after reading a single raving review on the AsianBeauty Reddit community.
I happily trotted to Amazon* after a rave review of the serum on /r/AsianBeauty (the user of which I have sadly forgotten) and bought the serum, thinking of great skin and sunshine.
Was my impulse buy successful?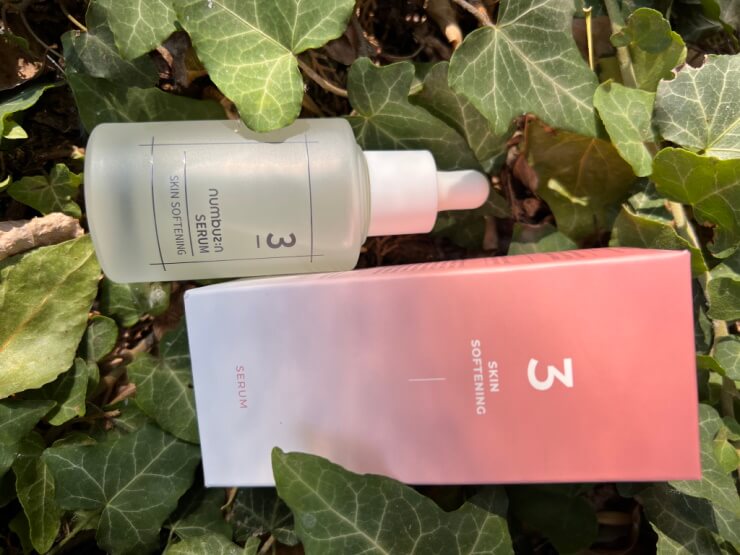 At a glance:
Where to buy Numbuzin No.3 Serum?
The serum is affordable. You can find it on Amazon* or shop for trusted Asian Beauty sites: YesStyle*, StyleKorean*, Jolse, and Olive Young. (*affiliate links)
The Numbuzin brand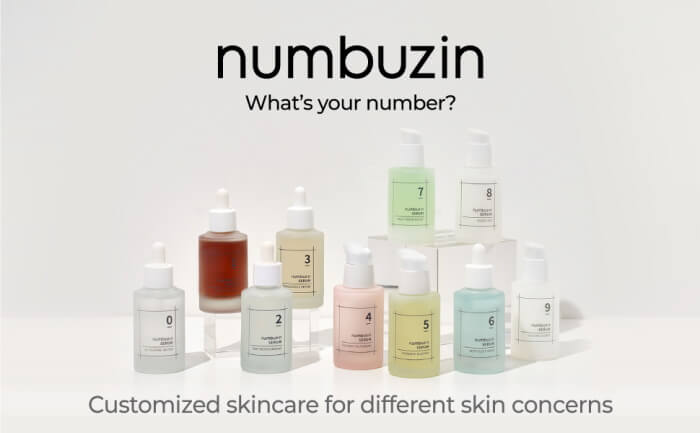 The goal of the Korean skincare brand Numbuzin is to know its customers.
Numbuzin's mission is to find solutions for each person's skin troubles.
Numbuzin has an original marketing concept; a number represents each skincare line. Therefore, the brand's slogan is "What's Your Number?"
The no.3 like smoothes and hydrates textured skin. Other products for this skin concern are:
(*affiliate links)
Numbuzin No.3 Skin Softening Serum claims
Pricey fermented ingredients are combined in golden ratio, making the rough skin noticeably smooth.

No. 3 Serum is specialized in improving the skin concerns below:

Dullness, loss of radiance, sagging pores and dehydration.
I think they meant "precious" ingredients, but I'm not an expert. Also, I don't know what sagging pores are. Lol, should I worry about this too?
Joke aside, they have included the lab test for the claims above on the official website.
Who is this Numbuzin No.3 Skin Softening Serum for?
For those with rough, bumpy, textured skin and enlarged pores. Those sensitive to fermented ingredients and with fungal acne should steer away as it might not be suitable for them.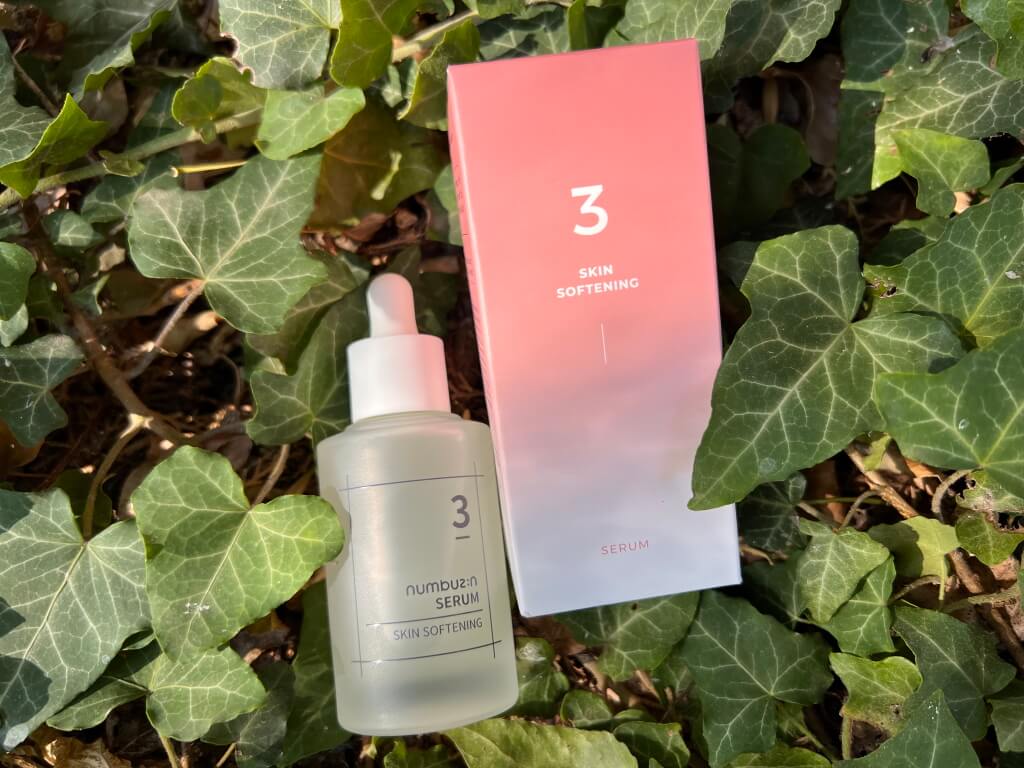 Numbuzin No.3 Skin Softening Serum Ingredients
Bifida Ferment Lysate (42%), Galactomyces Ferment Filtrate (21%), Butylene Glycol, Methyl Gluceth-20, Purified Water, Niacinamide, PEG-90, 1,2-Hexanediol, Glycerin, Squalane, Alteromonas Ferment Extract, Silk Extract, Goat Milk Extract, Sodium Hyaluronate, Panthenol, Adenosine, Glycereth-26, Xanthan Gum, Polyglyceryl-3 Distearate, Glyceryl Stearate SE, Glyceryl Stearate Citrate, Polyglyceryl-3 Methylglucose Distearate, Carbomer, Tromethamine, Ethylhexylglycerin, Caprylyl Glycol, Tropolone, Disodium EDTA
See explained ingredients on INCIDecoder.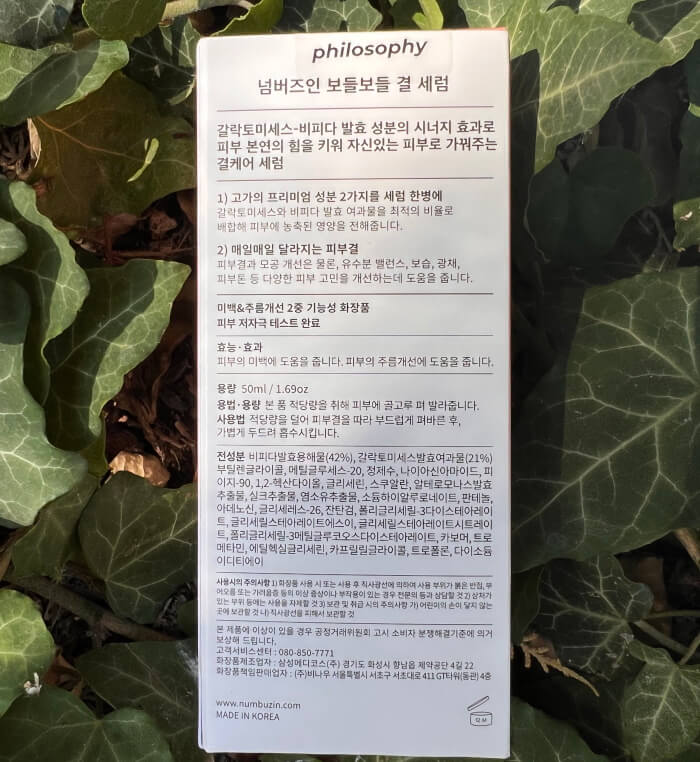 Key Ingredients
Fermented ingredients. Improve skin tone and texture by strengthening the skin. These ingredients are found in the golden ratio. Ferments moisturize and enhance skin elasticity. They also help brighten dull skin and restore skin elasticity.
Ingredients not included in Numbuzin No.3 Skin Softening Serum
Alcohol, common allergens, fragrance, essential oil, parabens, silicones, or sulfates.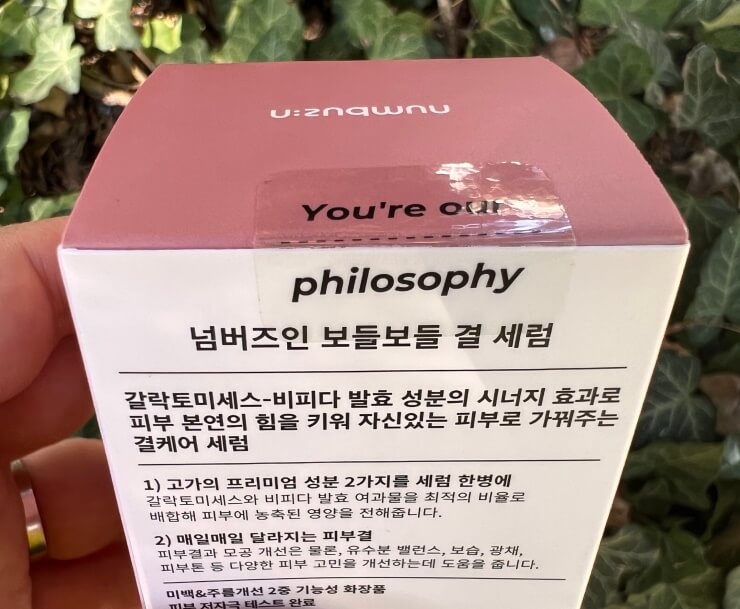 Packaging
1.69 fl. oz. / 50mL glass bottle. It has a glass dropper common to most serums.
Please note that the previous packaging had "Bodlebodle Repair," while the newer version had "Skin softening" on the bottle.
Smell
I don't notice a scent in the Numbuzin No.3 Skin Softening Serum*.
Texture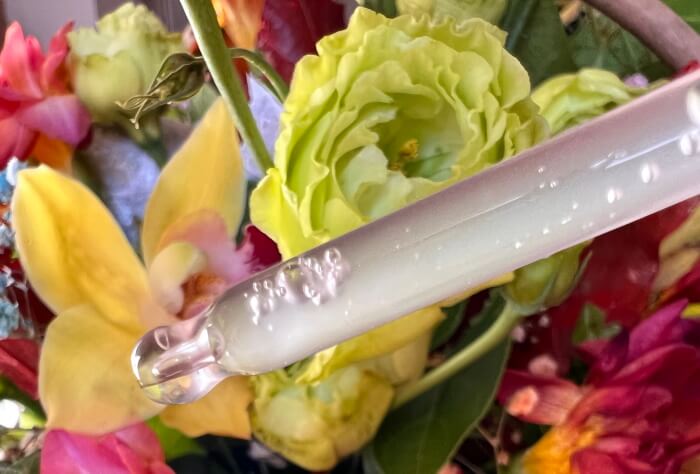 The texture is lovely. It absorbs quickly, is not sticky, and doesn't pill when applying multiple layers.
My personal experience with Numbuzin No.3 Skin Softening Serum
I was not paid for this review or received it as a gift. I've been using this serum every night for nearly three months, but the hydrating effects on my skin were evident from day one.
My skin type and concerns
I have a normal – dry skin type, and I live in a typically continental with cold winters and hot summers.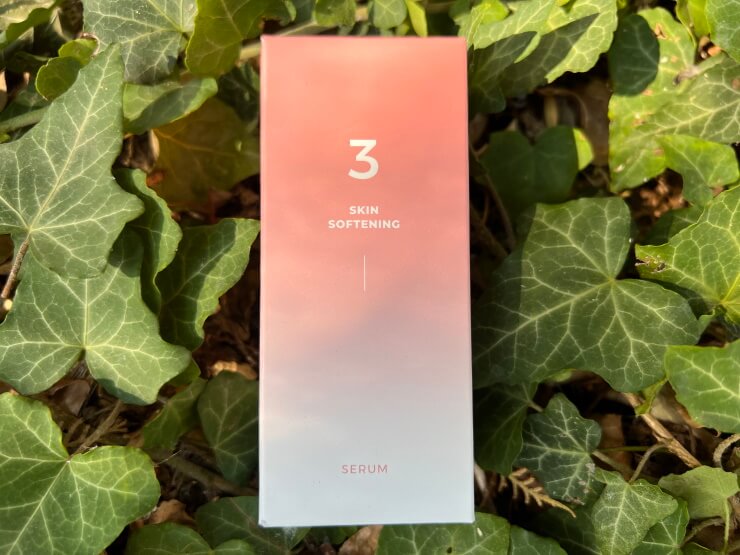 Both my mom and I are using this, as well as some of my friends, so I can share our thoughts on it with you guys.
My mom is the biggest fan of this product. She finds this lightweight enough on her combination skin. She has aging skin with big pores and sagging issues as well as wrinkles, so this product, with its many hydrating and moisturizing ingredients, has helped soothe and even out those wrinkles making her skin appear younger and more resilient over time.
As for the rest of us who are under 40, we don't see significant wrinkle-repairing benefits after using this.
I notice that my skin stays hydrated for longer and is more resilient to stressors after using the Numbuzin No.3 serum*. My skin is also deeply moisturized and soft, as much as urea does. The fermented ingredients are doing wonders. Pore-wise, I haven't noticed any improvements yet.
My friend, who is in her 30's, says she doesn't feel a thing after using this. It doesn't make any difference to her sensitive and rough-textured skin.
I don't particularly appreciate that the No. 3 serum is dispensed with a dropper.
As opposed to pump bottles, the droppers make it much harder to apply a fixed amount. I sometimes end up using too much. Also, when I'm in a hurry, the dropper touches my skin by mistake (hand or face), contaminating the entire bottle and making the serum prone to going bad sooner. It's not a deal breaker, though.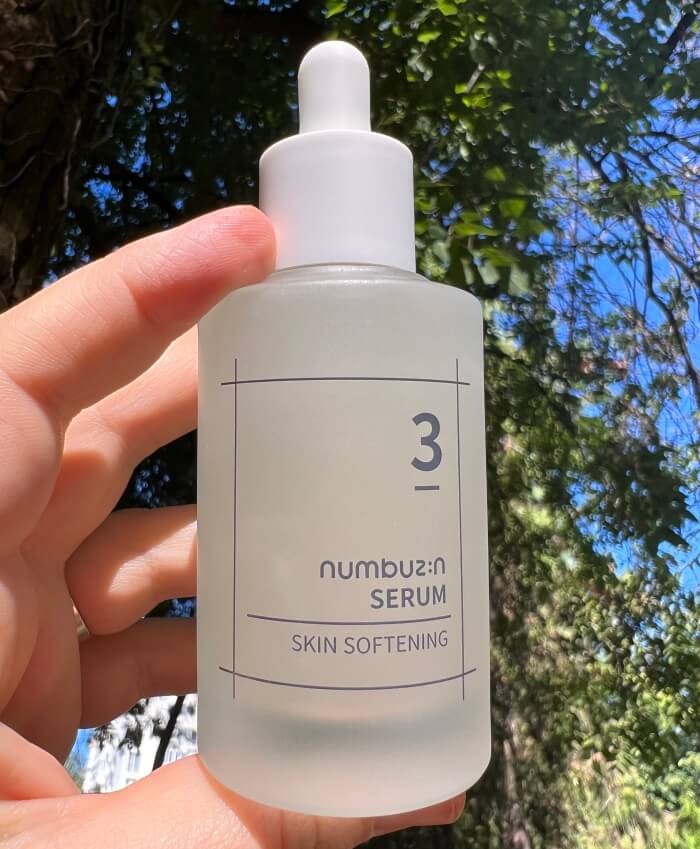 How to use the Numbuzin No.3 Serum?
Apply a layer of the skin-softening serum on the targeted area;
If the skin is very dry, follow with another layer;
Massage gently;
Optional step – ampoule;
Seal the hydration with a moisturizer;
In the mornings, don't forget the sunscreen!
Pros
hydrated
moisturizes
boosts skin elasticity
reduces wrinkles
smoothes roughness
Cons
Final Thoughts
All in all, I love it! It has helped with my skin texture. The jury is still out on the pore-minimizing claim. I think my pores have become tighter since I started using this product, but I am unsure.
I am still debating whether to repurchase it, though. I'm thinking of finding other products for tackling pore minimization, but I would finish using it first and see whether I can live without it and decide then.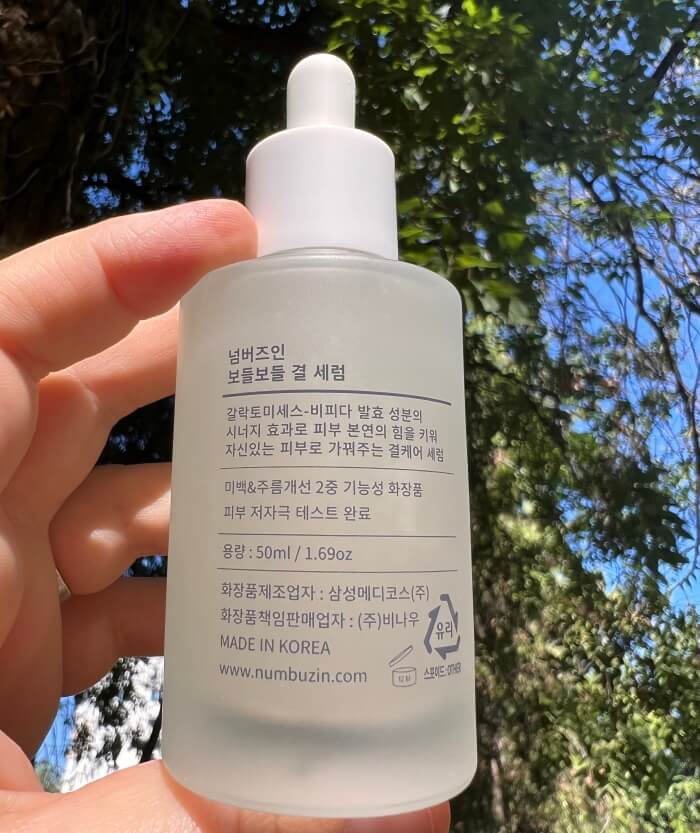 Rating 4.5/5
Have you tried Numbuzin No.3 Skin Softening Serum, and did it work for you? I would love to hear from you in the comments section below!
Shop for Numbuzin No.3 Skin Softening Serum
Get Numbuzin No.3 Skin Softening Serum from Amazon*, YesStyle*, StyleKorean*, Jolse, or Olive Young. (*affiliate links)
As always, you do you, be kind to your skin and yourself!
Remember that every person's skin and skin type is different, so what might work for me might not work for you, and vice versa.
So before adding a new product to your skincare routine, it pays to do a little research first. Pay special attention to ingredients that you might react to.
Doing a patch test is always a good idea. Unsure? Best to consult your dermatologist.
Happy skin experimenting, and don't forget the sunscreen!