Hello friends, how are you doing? I am back with an ampoule* that has flipped my perception of hyaluronic acids. Be prepared to get your wallet burned after reading this post.
At a glance:
Where to buy Wellage Real Hyaluronic Blue Ampoule 100?
In the US, you can purchase this ampoule from Amazon*. This is the biggest ampoule I have ever tried, and I can say this truly is a bang for your buck. As you can see from the photo, I have been using this ampoule for over a month every night, yet I still have a lot left. The ampoule comes with two one-day Hyaluronic Kit, which makes this even more worth your money.
In the US, you can find it for roughly $32.98, and it comes in a 3.38 fl. oz / 100ml bottle.
You can also shop for Wellage Real Hyaluronic Blue Ampoule from trusted Asian websites such as StyleKorean*, YesStyle*, and StyleVana*. (*affiliate links)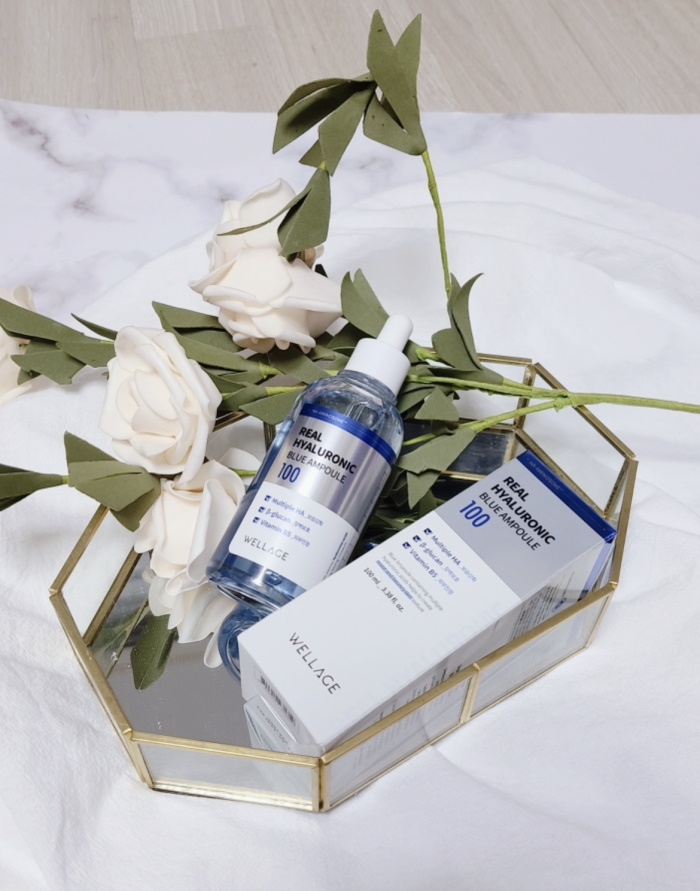 The Wellage Brand
Brand Story
Established in Korea in 2001, Hugel, Inc. is a global leader in medical aesthetics providing botulinum toxin and HA fillers. It brought its skincare technology and expertise, creating the derma cosmetic brand WELLAGE.
From the Wellage website:
WELLAGE delivers high-purity, highly concentrated clinical-grade active ingredients profoundly and effectively into the skin to bring a brilliant effect.
It is a skin specialist at your home to provide clinic-level aesthetic skincare daily with no hassle.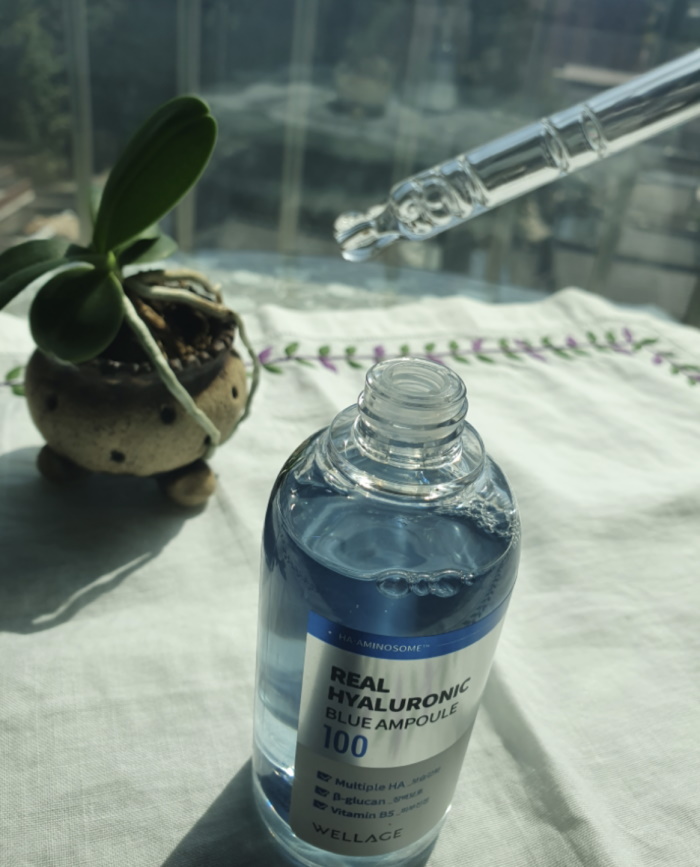 Brand Concept
WELLAGE helps you fill the skin with substances you're currently lacking. Turn back time and regain the skin's health and the innate beauty in the most natural way.
WELLAGE's' continuous moves towards innovation to keep the skin healthy in its most natural conditions. But it also takes the lead in advanced dermatological science for the skin.
Brand Promise
WELLAGE promises Healthy Beauty and Skin Wellness for everyone.
You are most beautiful when living in the moment.
WELLAGE promises better skin by:
Providing highly functional skincare solutions
Using original patented customized ingredients
Having a high-concentration product lineup focused on ingredients
Using a DDS technique to ensure the effective delivery of active ingredients
Bringing back the natural health of the skin
Products consist of ingredients that are essential for the skin structure;
Safe formula free of harmful ingredients;
All products are tested for skin irritation (hypoallergenic)
Delivering a whole new level of skin science
Providing almost the same skincare benefits as cosmetic treatments
Technological prowess with patented ingredients originally developed by Hugel through continuous R&D
Undertaking R&D in collaboration with hospitals and bio manufacturers in Korea and abroad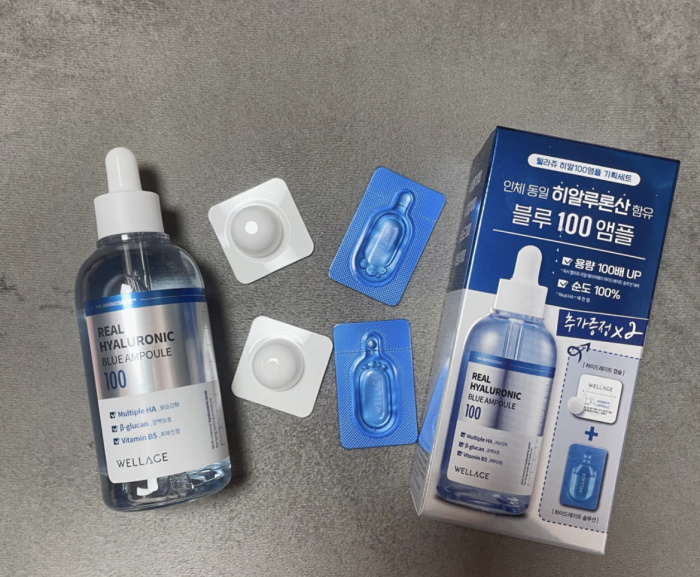 Wellage Real Hyaluronic Blue Ampoule 100 Claims
Wellage has been super popular with their WELLAGE Real HA Hydrate One Day Kit 1ea. However, that kit can be very wasteful due to its one-time use. Hence, they released the ampoule version.
The product claims that it helps skin retain moisture, reinforces the skin barrier, and improves the skin's elasticity.
Who is this ampoule for?
The Wellage Real Hyaluronic Blue Ampoule is an ampoule that targets people with dull, dry, and tired skin and those who want to boost skin hydration and moisture.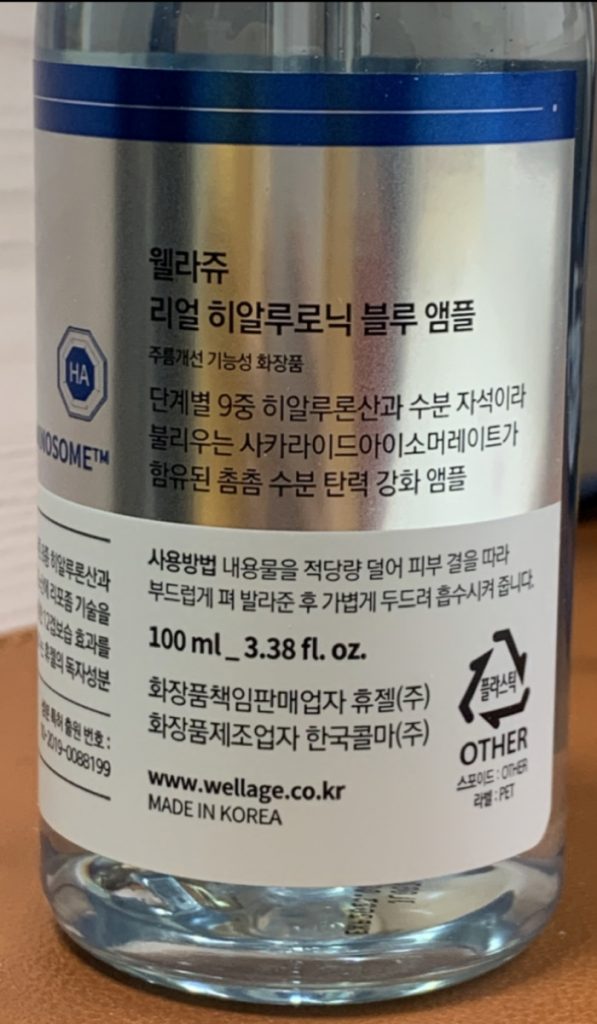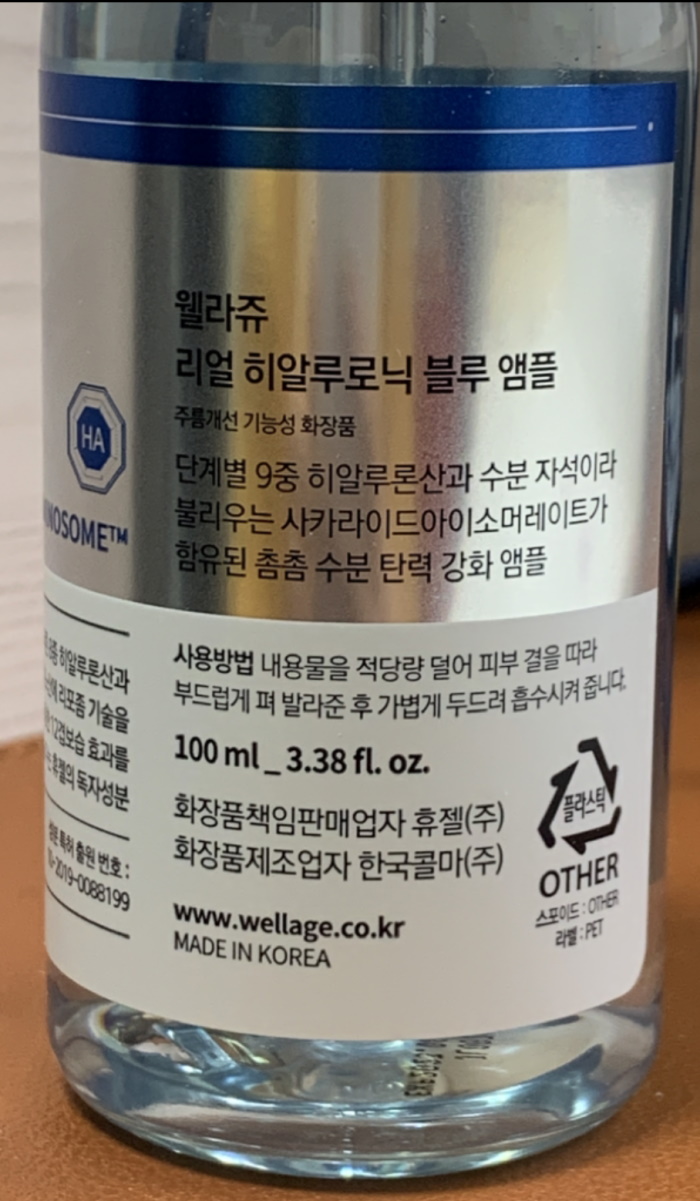 Wellage Real Hyaluronic Blue Ampoule 100 Ingredients
Purified Water, Propanediol, Pentylene Glycol, Glycerin, 1,2-Hexanediol, Panthenol, Dioscorea Japonica Root Extract, Melia Azadirachta Leaf Extract, Melia Azadirachta Flower Extract, Coccinia Indica Fruit Extract, Piper Methysticum Leaf/​Root/​Stem Extract, Centella Asiatica Extract, Panax Ginseng Berry Extract, Solanum Melongena (Eggplant) Fruit Extract, Aloe Barbadensis Flower Extract, Ocimum Sanctum Leaf Extract, Curcuma Longa (Turmeric) Root Extract, Corallina Officinalis Extract, Alpinia Galanga Extract, Sodium Hyaluronate (1,000Ppm), Hydrogenated Lecithin, Methylpropanediol, Sodium Acrylic Acid/​Ma Copolymer, Butylene Glycol, Xanthan Gum, Sodium Citrate, Glycosyl Trehalose, Hydrogenated Starch Hydrolysate, Adenosine, Citric Acid, Raffinose, Lecithin, Polyquaternium-51, Beta-Glucan, Saccharide Isomerate, Cyanocobalamin, Biosaccharide Gum-1, Caprylic/​Capric Triglyceride, Sodium Stearoyl Glutamate, Sucrose Laurate, Glycine, Serine, Arginine, Histidine, Lysolecithin, Hydrolyzed Sodium Hyaluronate (0.1Ppm), Tocopherol, Benzyl Glycol, Hydrolyzed Glycosaminoglycans (0.0056Ppm), Sodium Acetylated Hyaluronate (0.000002Ppm), Sodium Hyaluronate Crosspolymer (0.001Ppm), Hydroxypropyltrimonium Hyaluronate (0.0001Ppm), Hydrolyzed Hyaluronic Acid (0.0005Ppm), Hyaluronic Acid (0.00001Ppm), Ethylhexylglycerin, Caprylyl Glycol
See explained ingredients on Cosdna.
Key Ingredients
As the name suggests, the key ingredient for this ampoule is Wellage Hyaluronic Acid. But hold up there because the HA concoction in this ampoule is unique compared to other brands. This brand is no joke regarding their investment in R&D. This ampoule contains HA-AMINOSOME™, a composite of WELLAGE's key ingredients, REAL-HA™, and amino acid synthesized into liposomes. Wait, what does that even mean?
When I first saw the ingredient list, my jaw dropped looking at this hefty list.
Okay, let's start with their patented ingredient first, which is none other than the HA-AMINOSOME™ concoction. For easier understanding, I have included the photo below: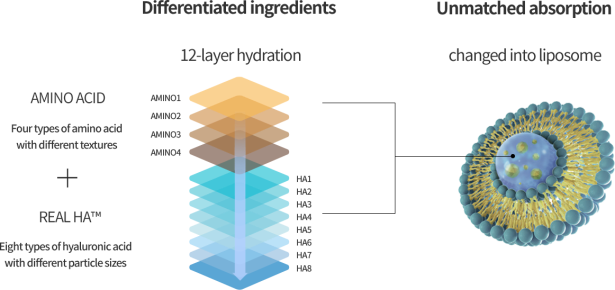 The liposome is a spherical vesicle that mimics the cell membrane and carries the active ingredients allowing a better delivery system. In other words, the benefits of the active ingredients penetrate the skin's deepest layer.
This makes a lot of sense, as this product has too many ingredients; I first wondered, "how will my skin drink up all these in a go?". This product contains eight Hyaluronic Acids with different molecular sizes that penetrate different layers of the skin.
Aside from the Hyaluronic Acid, Wellage Real Hyaluronic Blue Ampoule has numerous other beneficial ingredients.
Firstly, Glycerin spotted as the 4th ingredient, is a well-known humectant to retain the skin's moisture. It can also boost skin hydration, relieve dryness, and refresh the skin's surface. It's also an emollient, which means it can soften skin.
Next, I also spot numerous soothing ingredients. This includes Panthenol (6th ingredient), Aloe Extract, Adenosine, Centella Asiatica Extract, and Beta-glucan.
It also contains multiple plant extracts, such as Tumeric, Eggplant, and many more, adding antioxidant goodness to the skin.
Ingredients not included in Wellage Real Hyaluronic Blue Ampoule 100:
Despite its lengthy ingredient list, I do not see fragrance, alcohol, paraben, or essential oils in this ampoule.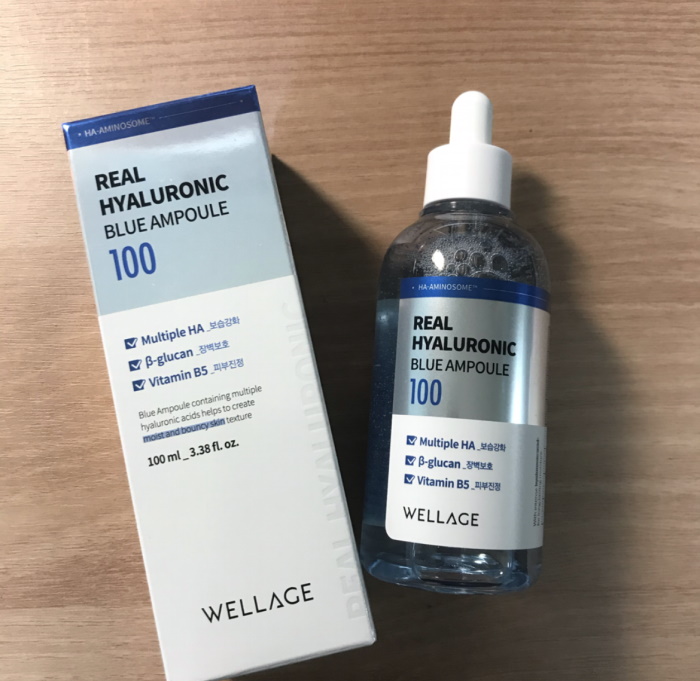 Packaging
No complaints about the packaging. Wellage Real Hyaluronic Blue Ampoule comes in a dropper bottle made of heavy glass, making it feel luxurious, but at the same time, it's not the kind of bottle that will break easily.
Smell
This ampoule is fragrance-free, which is a huge plus.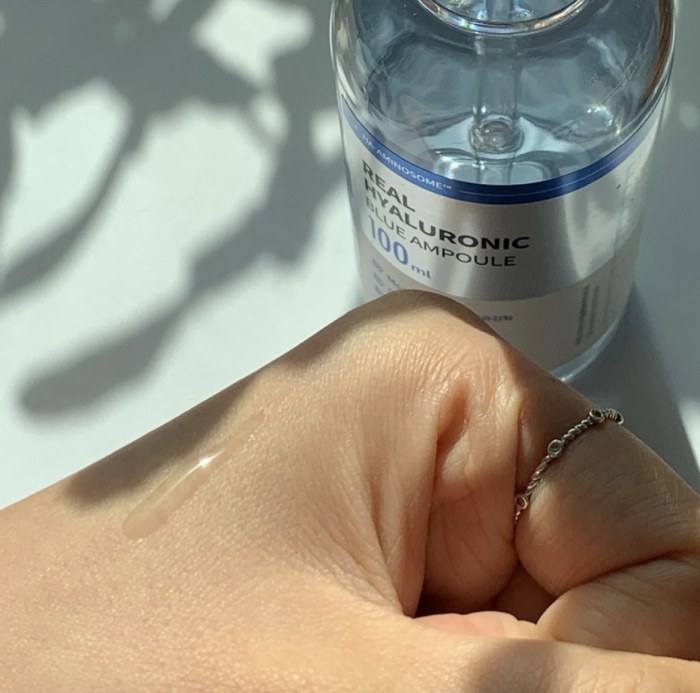 Texture
The texture is unique, but in a good way; It is very runny but has a little body. I am usually more used to ampoules that have a thicker consistency. Thus I find this texture more like an essence. Nonetheless, I adore this texture; my skin absorbs the liquid super quickly without any heaviness or stickiness (other Hyaluronic Acid essence/ampoules give a slightly sticky/tacky finish).
Not going to lie; I struggled a little when taking the photo of the texture because it's just so runny!
My personal experience with the Wellage Real Hyaluronic Blue Ampoule
I live in Singapore. The weather here is hot and humid.
My experience is nothing short of astounding; I am out of words.
My dehydrated skin drinks this ampoule happily, and my skin has never been this soft and plump-looking. I was scared of the long ingredient list, but my sensitive skin loves this product, and my dry patches are gone for good.
Wellage Real Hyaluronic Blue Ampoule leaves my skin so hydrated I miss it when I'm not using it.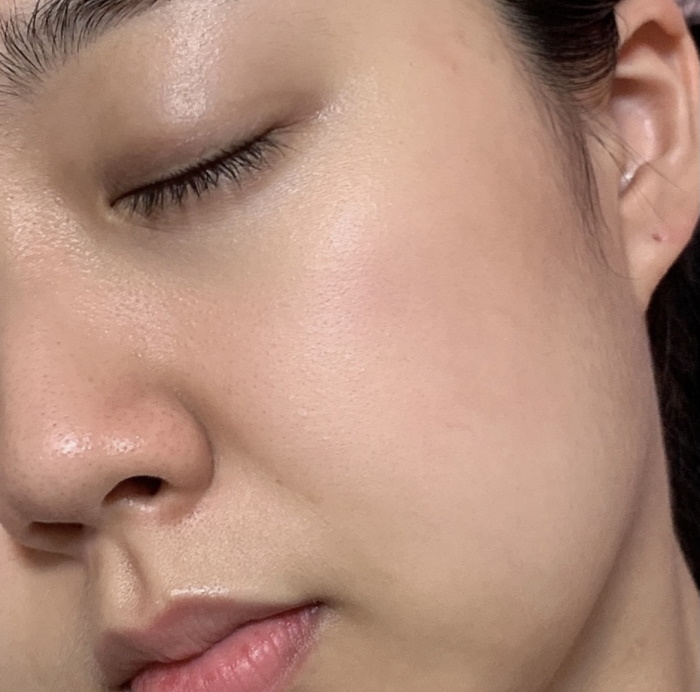 How to apply Wellage Real Hyaluronic Blue Ampoule?
Usual cleansing routine;

While your skin is still damp, put three drops of the Wellage Real Hyaluronic Blue Ampoule on your clean fingertips;
Gently massage the face with the ampoule;
Give it time to sink into the skin before applying moisturizer;
Sunscreen / Sleeping pack depending if AM or PM.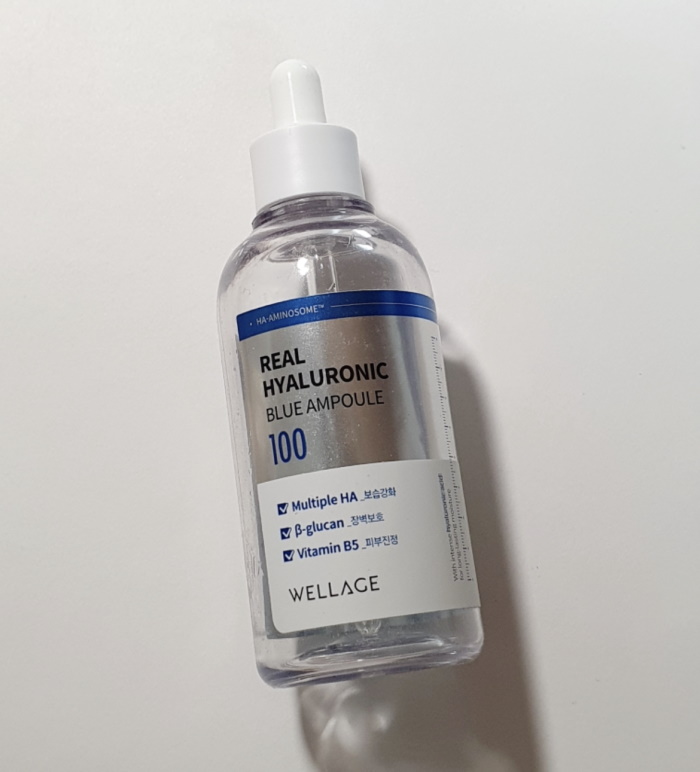 Pros
very hydrating
affordable
layers well
no scent
easily absorbed
not tacky
Cons
Overall Experience
This ampoule is so underrated! If you read this post, please get this product*, and you'll thank me later.
I recommend Wellage Real Hyaluronic Blue Ampoule to everyone with dehydrated skin, whether oily or dry skin.
Will I repurchase Wellage Real Hyaluronic Blue Ampoule 100?
I enjoy this product and am almost certainly repurchasing it.
Rating 5/5
Wellage Real Hyaluronic Blue Ampoule vs. Rovectin Activating Treatment Lotion
I have tried numerous Hyaluronic Acid focused products, and I like Rovectin's Activating Treatment Lotion for its skin benefit and value. But this ampoule takes my HA game to another level. The runnier consistency feels more pleasant and less suffocating to the skin and gives my skin the same amount, if not better, hydration level.
Shop for Wellage Real Hyaluronic Blue Ampoule 100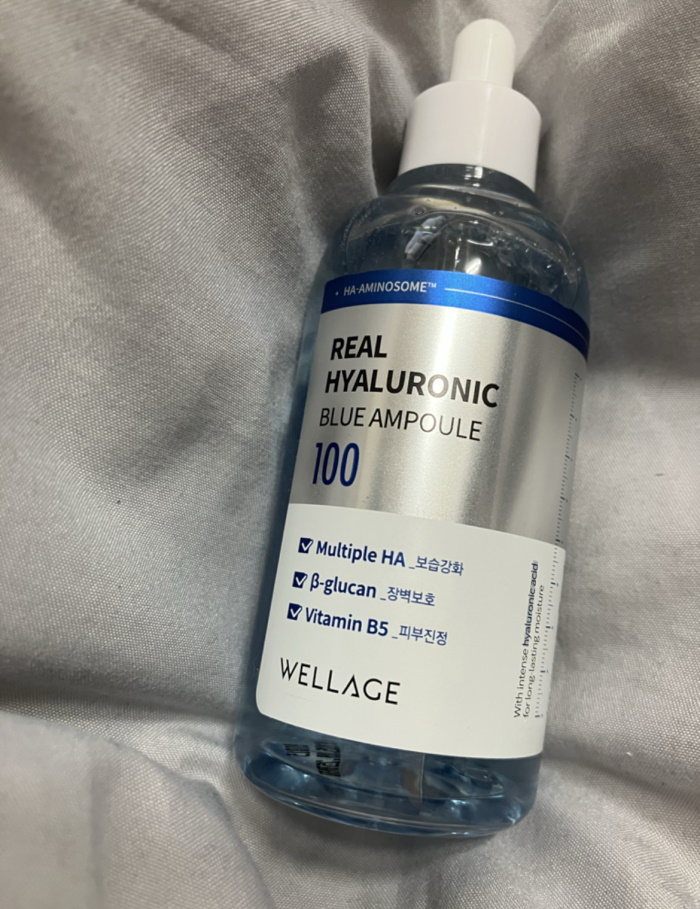 As I write this review, it is sold out on YesStyle and StyleKorean, so I will stock up when it becomes available again.
Lastly, I was not paid for this review or received it as a gift.
As always, you do you, be kind to your skin and yourself! Remember that every person's skin and skin type is different, so what might work for me might not work for you, and vice versa. So before adding a new product to your skincare routine, it pays to do a little research first.
Pay special attention to ingredients that you might react to. Doing a patch test is always a good idea. Unsure? Best to consult your dermatologist.
Want to add even more Hyaluronic Acid to your skincare regimen? Read my fellow muse's review on the Jumiso Waterfull Hyaluronic Sunscreen.