I am a big fan of the Thank You Farmer brand. It has slowly become one of my first choices for Asian beauty stuff. Their skincare is very good, so when I was in the market for a hydrating toner (I guess, when are we not in the market for a new hydrating toner?), I thought I'd give this one a go.
I was expecting something spectacular, not just nice. Let's see how that went, shall we?
Thank You Farmer Rice Toner, at a Glance:
Where to buy Thank You Farmer Rice Pure Essential Toner?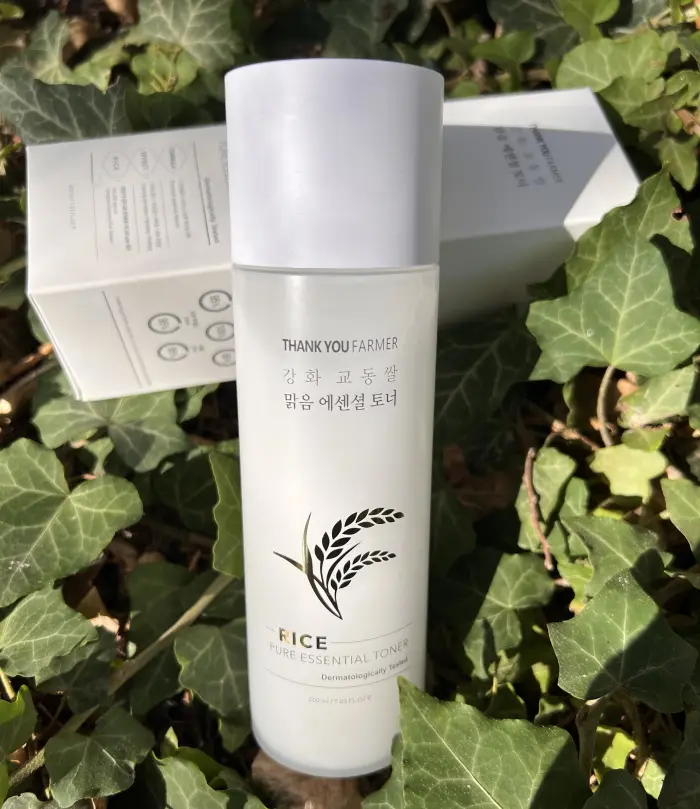 The prices can vary between $22 and $28, depending on where you get it.
You can shop for Thank You Farmer Rice Pure Essential Toner on Amazon* or trusted Asian international websites such as StyleVana* or YesStyle*.
The Thank You Farmer Brand
Thank You Farmer is a clean Korean brand. The brand produces skincare with the mindset of honest, hard-working farmers who follow the laws of nature. Its goal is to achieve healthy skin slowly and naturally.
We promise you the true beauty that shines over time.

Thank You Farmer
My love for the Thank You Farmer Miracle Age Repair Toner has made me want to try more products from this brand, and I must say that Thank You Farmer is truly underrated.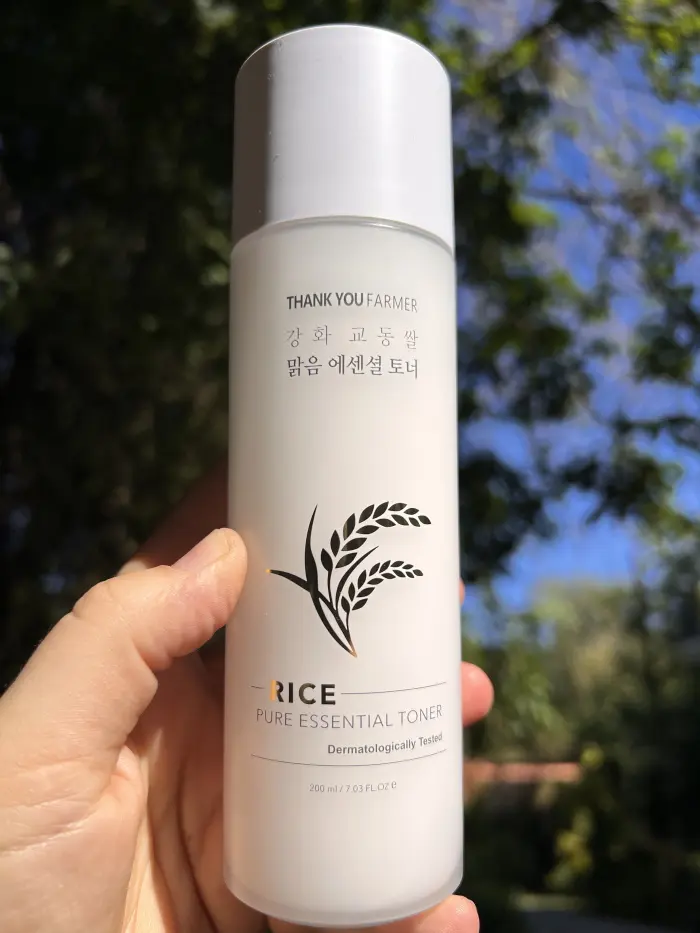 Thank You Farmer Rice Pure Essential Toner Claims
Since ancient times, rice water has been used as a skincare ingredient to make the skin soft and clear. Rice water was used to cleanse and moisturize the skin. The rice is sourced from Gyodong Island, which is a pollution-free area. The rice has been checked for safety and cleanliness. It is extracted at a low temperature with an ultrasonic method that maximizes the natural ingredients' efficacy.
The Thank You Farmer Rice Toner* is a multi-functional product. It is a refreshing toner and a moisturizing essence, covering two skincare steps simultaneously. It has a brightening effect for glowing and crystal-clear skin.
smoothes skin texture
clears skin tone
hydrates and moisturizes
balances oil production
Who Is This Rice Toner For?
This rice toner is suitable for all skin types. It is ideal for dry and dehydrated skin.
Not sure what your skin type is? Please read our guide on Skin types & skin conditions.
Thank You Farmer Rice Pure Essential Toner Ingredients
Water, Oryza Sativa (Rice) Extract, Dipropylene Glycol, Propanediol, 1,2-Hexanediol, Niacinamide, Centella Asiatica Extract, Ficus Carica (Fig) Fruit Extract, Nelumbium Speciosum Flower Extract, Ulmus Davidiana Root Extract, Amaranthus Caudatus Seed Extract, Hydrogenated Lecithin, Centaurea Cyanus Flower Water, Glycerin, Diphenyl Dimethicone, Triethylhexanoin, Polyglyceryl-10 Myristate, Acrylates/​C10-30 Alkyl Acrylate Crosspolymer, Butylene Glycol, Tromethamine, Disodium EDTA, Ceramide NP, Ethylhexylglycerin.
Ingredients referred from the Thank You Farmer Website. It shows no major red flags.
Herbs Humectant/Moisturizing Active
Ingredients Analysis
Rice Extract
Rice extract is the hero ingredient of this toner. There was an old saying that Korean people live by the power of rice. Koreans cherish rice as a staple dish but also discovered the benefits of rice in skincare hundreds of years ago.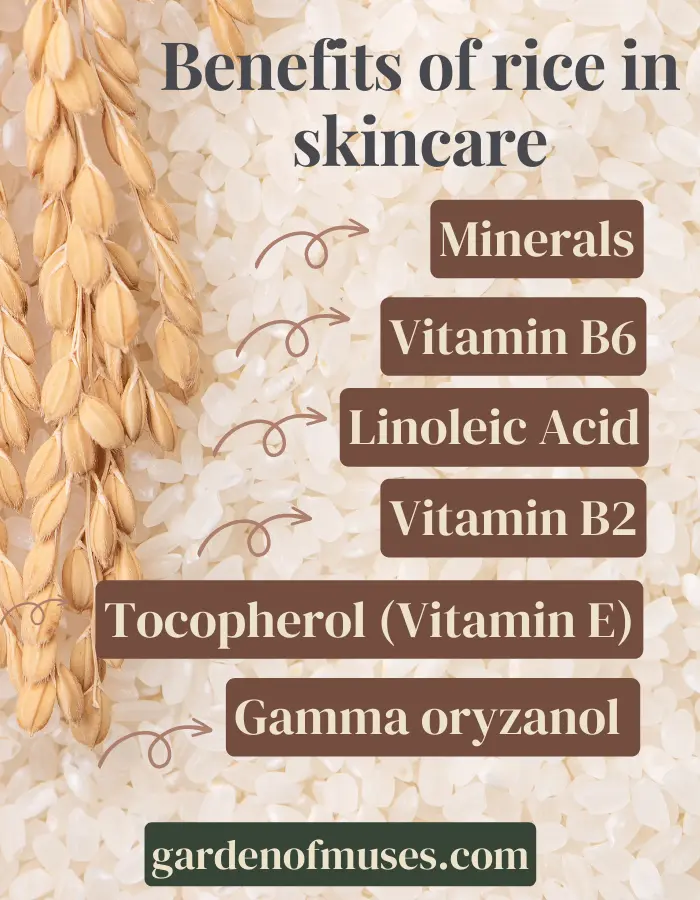 The toner contains rice extract 100 000 ppm. Wondering what that means? I was, too. PPM is a unit to measure the concentration of rice extract in this toner, which stands for parts per million. 100000 ppm means 10%.
Rice extract is mainly known for its brightening properties, but it also strengthens the skin barrier due to its linoleic acid content and vitamin B6. Rice extract has anti-aging properties and is a good source of antioxidants. It has anti-inflammatory properties, heals acne, soothes skin, reduces redness, tightens pores, stimulates blood flow, improves skin hydration, and promotes cell production.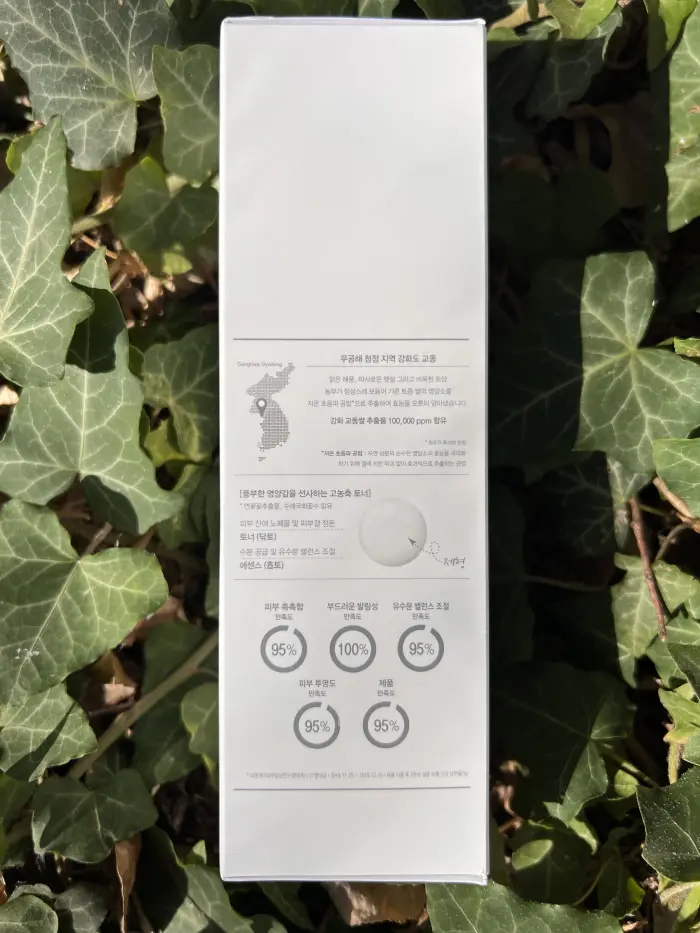 Niacinamide
Niacinamide has been making a splash in the Western market over the last few years and has been splashing in Asian skincare for decades. This beauty powerhouse is the topical form of vitamin B3.
Several well-documented studies show that when used topically, niacinamide can:
To learn more, please read our Complete Guide on Niacinamide and How to Reduce Hyperpigmentation with Niacinamide.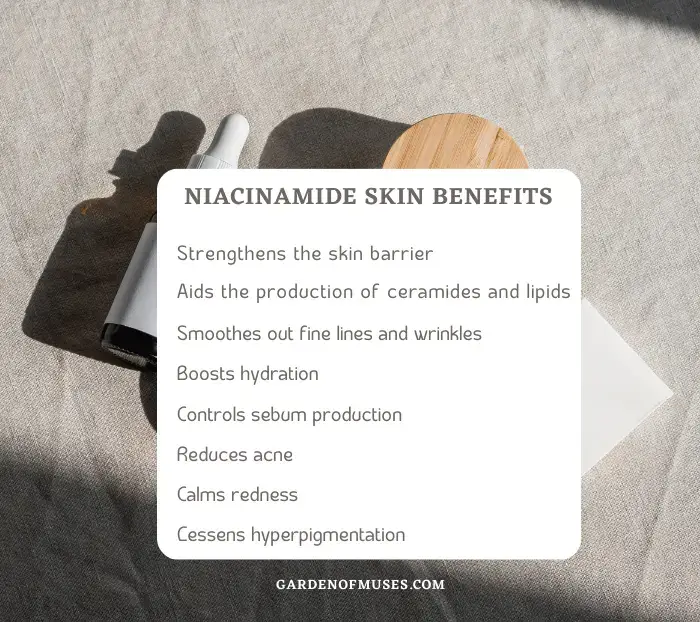 Centella Asiatica
Centella Asiatica is a cute little plant with pretty little fan-shaped leaves. Centella Asiatica is the scientific name of the medicinal plant commonly known as gotu kola, tiger grass, or Indian pennywort. It's a perennial herb with small fan-shaped leaves that grows in tropical and subtropical regions, including Asia, India, equatorial Africa, and Central America.
Centella contains many active compounds. However, researchers believe that saponins Asiaticoside, Madecassoside, Asiatic acid, and Madecassic acid are responsible for this plant's broad therapeutic actions.
Centella Asiatica has strong antioxidant properties due to the above compounds, and it's also a rich source of amino acids, flavonoids, phytosterols, and fatty acids.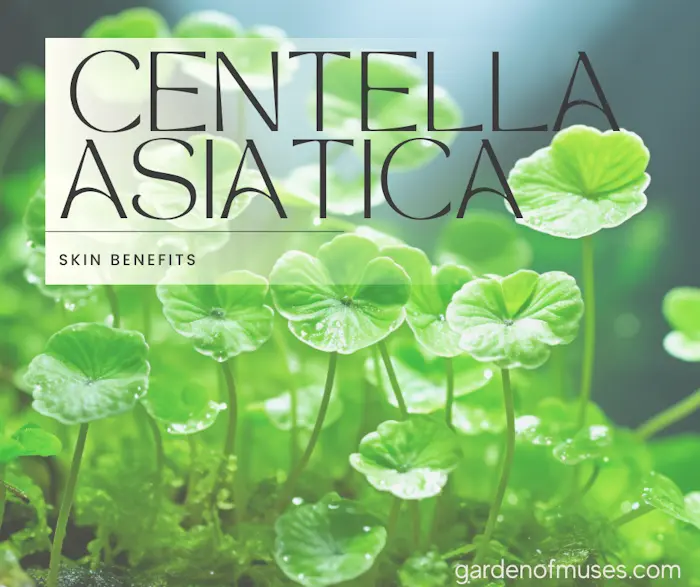 Centella Asiatica is a plant powerhouse when it comes to skincare. Centella:
Ceramides
Ceramides are a family of lipids that account for 50% of the skin barrier (by weight), so they're essential, right? Ceramides are crucial to
maintain the skin's moisture levels;
protect skin from external irritants making skin more resilient;
help make skin more plump, juicy, radiant, and smooth;
makes skin tolerate chemical exfoliation much better;
skin is less likely to become irritated
because they prevent dehydration, ceramides are a great anti-aging ingredient
regulate the cell cycle and apoptosis (regulated cell death)
beneficial for all skin types
Heralded as skincare heroes, ceramides can now be found in cleansers, toners, serums, masks, moisturizers, and even hand creams.
They are generally well tolerated and can be combined with other ingredients, especially plant oils rich in linoleic acid.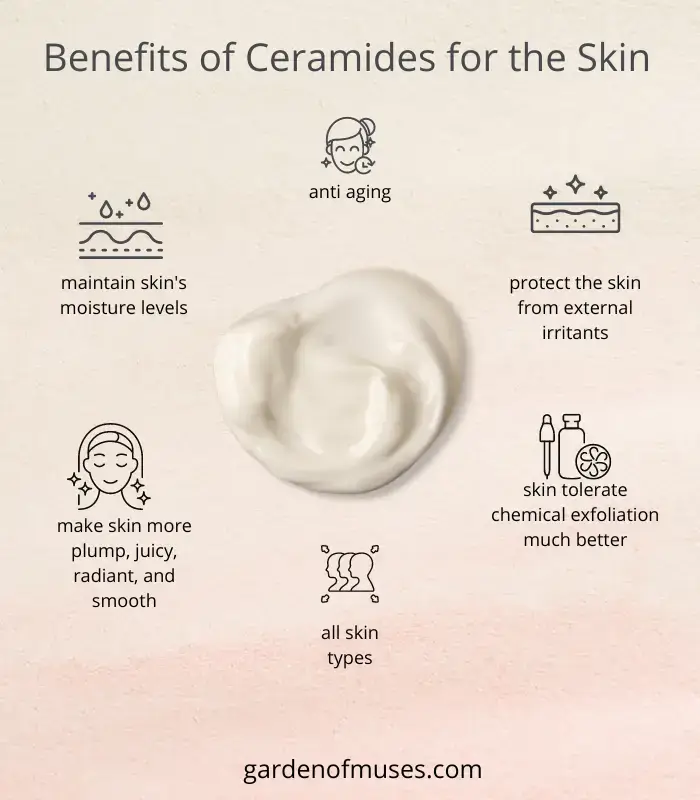 Lotus Flower Extract
Lotus Flower Extract is another natural Korean skincare ingredient. A study shows it is an efficient ingredient for brightening the skin and anti-aging. It helps control oil balance and is also anti-inflammatory.
Centaurea Cyanus Flower Water
It is distilled from the cornflower's beautiful blue petals and is rich in anti-inflammatory and soothing benefits.
Lecithin
Lecithin is a water-binding emollient with skin-restoring properties when used in high concentrations.
Ingredients not included in Thank You Farmer Rice Pure Essential Toner:
Hyaluronic acid, parabens, alcohol, essential oils, fragrance, allergens.
Thank You Farmer Rice Pure Essential Toner is vegan.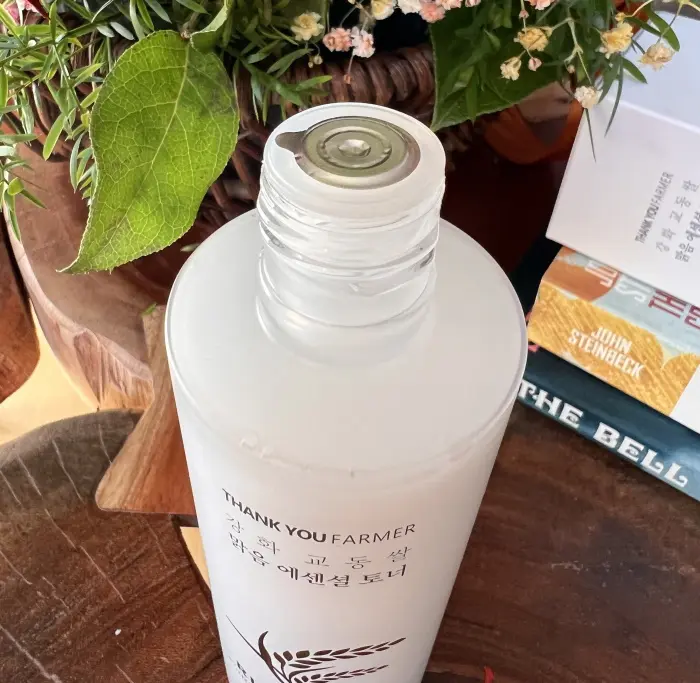 Packaging
200 mL of milky rice toner comes in a simple, large plastic bottle.
Scent
The rice toner has no noticeable scent.
Texture
It's a watery, milky toner. I find that it absorbs within seconds. It doesn't leave any stickiness even when layered multiple times.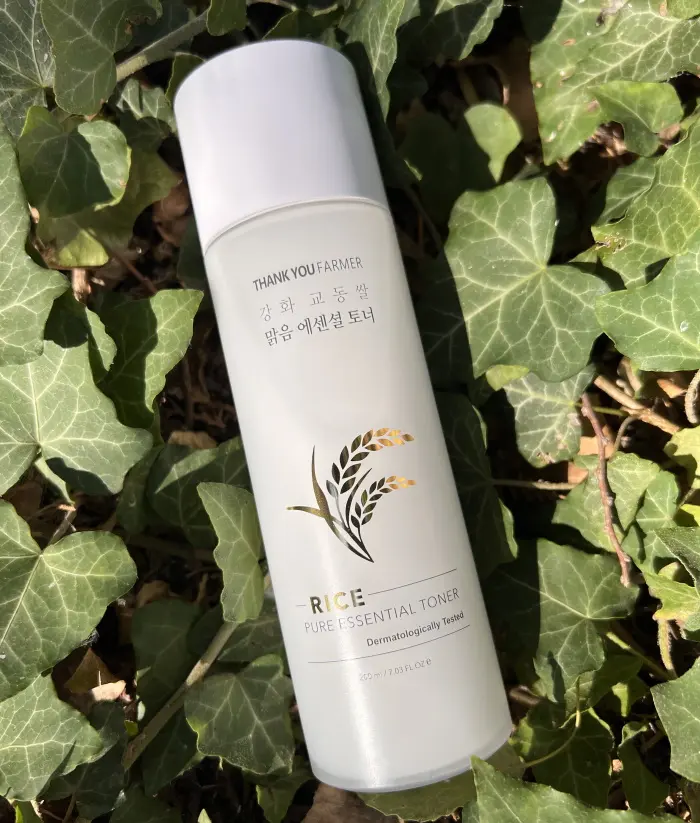 My Experience with Thank You Farmer Rice Pure Essential Toner
I've been using it consistently, twice daily, for about a month, and I honestly loved the results. For reference, I have a normal dry skin type and have been testing this toner during the winter.
The toner is relatively consistent, and when applied, it feels like a liquid moisturizer. It is not greasy at all and doesn't feel suffocating. My skin becomes so insanely soft and bouncy.
It has a brightening effect that is obvious from the very start. Fortunately, I don't suffer from PIE or PIH, but still, I notice my complexion is more even.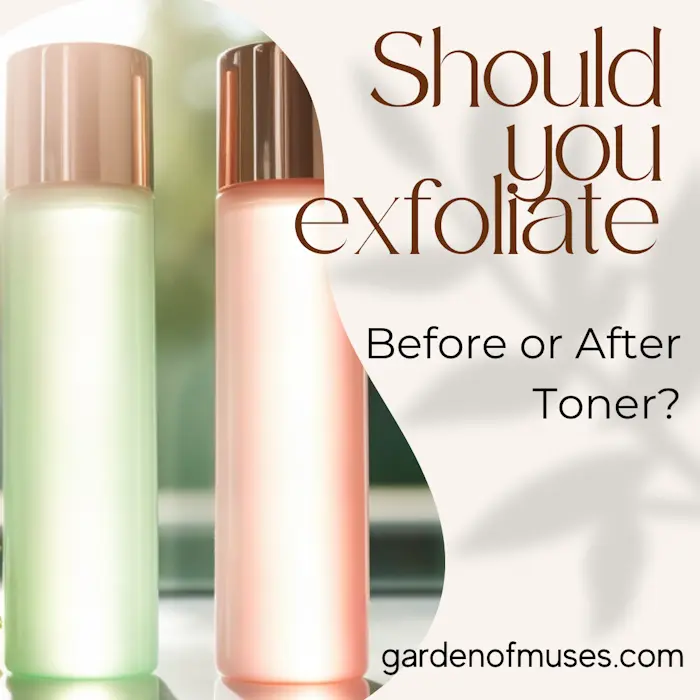 How do I use Thank You Farmer Rice Pure Essential Toner?
Cleanse;
Start with a pH-adjusting toner;
Pour some Thank You Farmer Rice Pure Essential Toner on my fingers and pat it on my face, neck, and chest;
Apply moisturizer and sunscreen in the AM.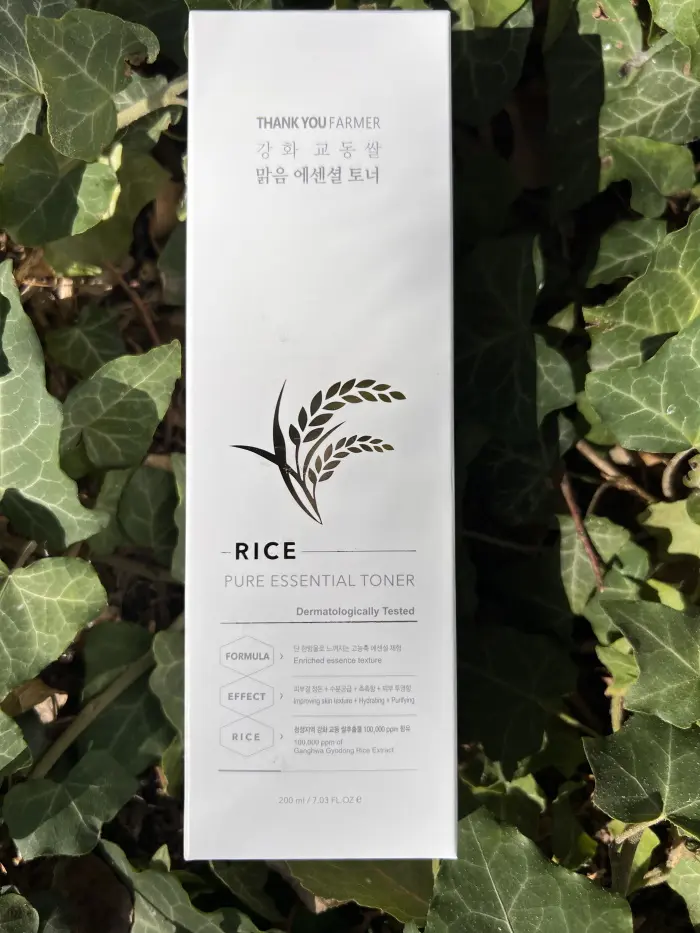 Pros
hydrating
brightening
no fragrance
large bottle
Cons
Conclusion
The results are lovely. It helps with hydration, flakiness, and any tightness. I do not regret trying this out. I wished for a nice hydrating toner, but it exceeded my expectations.
Rating 5/5
Thank You Farmer Rice Pure Essential Toner vs. I'm From Rice Toner
Thank You Farmer Rice Toner* is more moisturizing, nourishing, and thicker than the I'm From Rice Toner, giving my skin a light-from-within glow after several uses. The I'm From Rice Toner didn't impress me when I tried it a while back.
Ingredients wise, they both contain Rice extract, niacinamide and added plant extracts: Ulmus Davidiana Root Extract and Amaranthus Caudatus Seed Extract. In addition to the, I'm From Rice Toner, Thank You Farmer Rice Pure Essential Toner contains Centella, Glycerin, Dimethicone, and ceramides, making it a far better choice for dry & dehydrated skin types.
The TYF rice toner* is more affordable because it comes in a larger bottle (7.03 fl. oz. vs. 5.07 fl. oz.)
(*affiliate links)
Check out this nice ingredient comparison feature from INCIDecoder.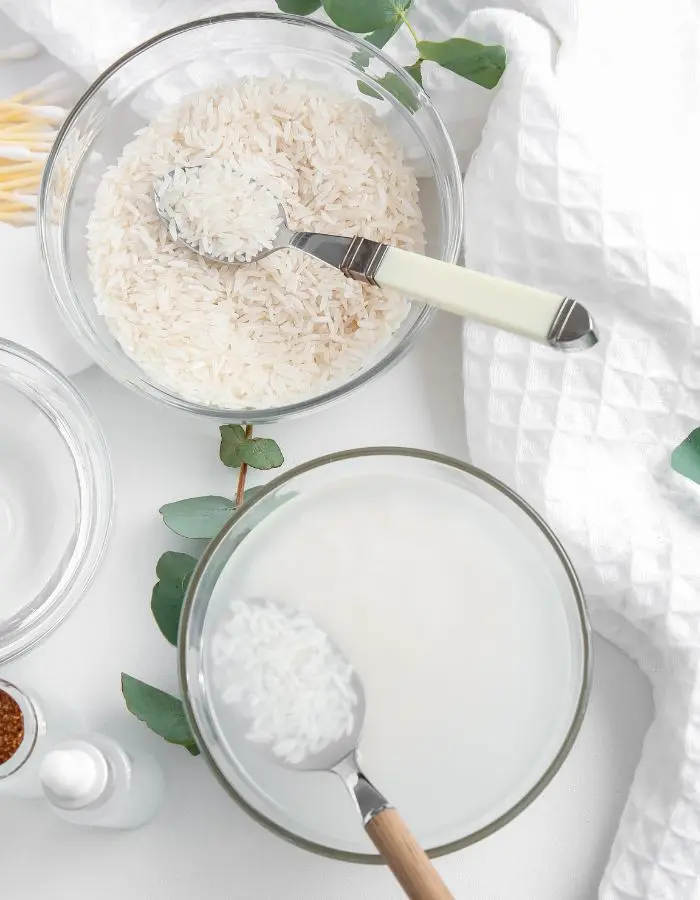 Should You Make Your Own Rice Water?
You can't safely make rice toner at home.
Boiling or washing the rice and saving the water in the fridge isn't safe. No matter how sterilized your pot is. Skincare companies use rice extract for their products, not fresh rice water.
Even a cosmetic preservative like Germall Plus won't prevent food-grade food like rice water from going rancid.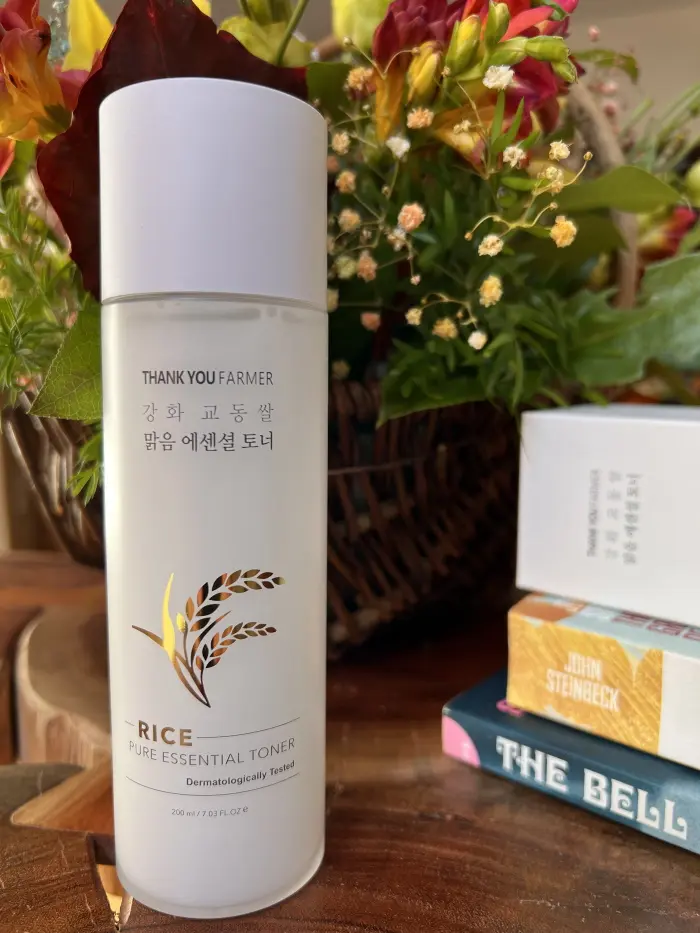 Shop for Thank You Farmer Rice Pure Essential Toner
You can get Thank You Farmer Rice Pure Essential Toner at Amazon*, YesStyle*, and StyleVana*(*affiliate links)
Lastly, I was not paid for this review or received it as a gift.
As always, you do you; be kind to your skin and yourself! Remember that every person's skin and skin type is different, so what might work for me might not work for you, and vice versa. So, before adding a new product to your skincare routine, it pays to do a little research first.
Before adding the Thank You Farmer Rice Pure Essential Toner to your skincare regimen, ensure you are not allergic to it or its ingredients. You should also consult your doctor if you are pregnant, breastfeeding, or have any medical conditions or medications that may interact with the Thank You Farmer Rice Pure Essential Toner. Always do a patch test before applying the Thank You Farmer Rice Pure Essential Toner on your skin to avoid adverse reactions.
I am not a dermatologist or licensed aesthetician, but I have sufficient experience and knowledge I gained by testing multiple products and self-exploration. Unsure? Best to consult your dermatologist.
Happy shopping, and don't forget the sunscreen! Here's to great skin in 2023!
Show Me Proof
Marto, Joana, Ângela Neves, Lídia Maria Gonçalves, Pedro Pinto, Cristina Almeida, and Sandra Simões. 2018. "Rice Water: A Traditional Ingredient with Anti-Aging Efficacy" Cosmetics 5, no. 2: 26. https://doi.org/10.3390/cosmetics5020026
Mayuree Kanlayavattanakul, Nattaya Lourith, Puxvadee Chaikul, Jasmine rice panicle: A safe and efficient natural ingredient for skin aging treatments,
Journal of Ethnopharmacology, Volume 193, 2016, https://doi.org/10.1016/j.jep.2016.10.013.
Lalita Subedi, Taek Hwan Lee, Hussain Mustatab Wahedi, So-Hyeon Baek, Sun Yeou Kim, "Resveratrol-Enriched Rice Attenuates UVB-ROS-Induced Skin Aging via Downregulation of Inflammatory Cascades", Oxidative Medicine and Cellular Longevity, vol. 2017, Article ID 8379539, 15 pages, 2017. https://doi.org/10.1155/2017/8379539
Kim, Tagon & Kim, Hee & Cho, Sung & Kang, Whan & Baek, Hyun & Jeon, Hye & Kim, Boyoung & Kim, Donguk. (2011). Nelumbo nucifera extracts as whitening and anti-wrinkle cosmetic agent. Korean Journal of Chemical Engineering – KOREAN J CHEM ENG. 28. 424-427. 10.1007/s11814-010-0357-6.
Pulok K. Mukherjee, Kakali Saha, J. Das2, M. Pal1, B. P. Saha, (1997) Studies on the Anti-Inflammatory Activity of Rhizomes of Nelumbo nucifera Planta Med 1997; 63(4): 367-369
DOI: 10.1055/s-2006-957705
Mahmood T, Akhtar N, Moldovan C. A comparison of the effects of topical green tea and lotus on facial sebum control in healthy humans. Hippokratia. 2013 Jan;17(1):64-7. PMID: 23935347; PMCID: PMC3738281.
Tatiana Chiru (2009), PHYTOCHEMICAL STUDY OF CENTAUREA CYANUS L., Scientific Papers, USAMV Bucharest, Series A, Vol. LII, 2009, ISSN 1222-5339
Q Li, H Fang, E Dang, G Wang, The role of ceramides in skin homeostasis and inflammatory skin diseases, Journal of Dermatological Science, Volume 97, Issue 1, 2020, https://doi.org/10.1016/j.jdermsci.2019.12.002.
Coderch, L., López, O., de la Maza, A. et al. Ceramides and Skin Function. Am J Clin Dermatol 4, 107–129 (2003). https://doi.org/10.2165/00128071-200304020-00004
Uchida Y. Ceramide signaling in mammalian epidermis. Biochim Biophys Acta. 2014 Mar;1841(3):453-62. doi: 10.1016/j.bbalip.2013.09.003. Epub 2013 Sep 19. PMID: 24055887; PMCID: PMC3943494.
Cha, H. J., He, C., Zhao, H., Dong, Y., An, I., An, S."Intercellular and intracellular functions of ceramides and their metabolites in skin (Review)". International Journal of Molecular Medicine 38, no. 1 (2016): 16-22. https://doi.org/10.3892/ijmm.2016.2600
Tanno, O., Y. Ota, N. Kitamura, T. Katsube, and S. Inoue. "Nicotinamide increases biosynthesis of ceramides as well as other stratum corneum lipids to improve the epidermal permeability barrier." British Journal of Dermatology 143, no. 3 (2000): 524-531.
Snaidr, Victoria A., Diona L. Damian, and Gary M. Halliday. "Nicotinamide for photoprotection and skin cancer chemoprevention: A review of efficacy and safety." Experimental dermatology 28 (2019): 15-22.
Gehring, W. "Nicotinic acid/niacinamide and the skin." Journal of Cosmetic Dermatology 3, no. 2 (2004): 88-93.
Soma, Yoshinao, Masato Kashima, Akiko Imaizumi, Hideto Takahama, Tamihiro Kawakami, and Masako Mizoguchi. "Moisturizing effects of topical nicotinamide on atopic dry skin." International journal of dermatology 44, no. 3 (2005): 197-202.
Draelos, Zoe Diana, Akira Matsubara, and Kenneth Smiles. "The effect of 2% niacinamide on facial sebum production." Journal of Cosmetic and Laser Therapy 8, no. 2 (2006): 96-101.
Shahmoradi, Zabiolah, Farib Iraji, Amir Hossein Siadat, and Azamosadat Ghorbaini. "Comparison of topical 5% nicotinamid gel versus 2% clindamycin gel in the treatment of the mild-moderate acne vulgaris: A double-blinded randomized clinical trial." Journal of Research in Medical Sciences: The Official Journal of Isfahan University of Medical Sciences 18, no. 2 (2013): 115.
Ungerstedt, J. S., M. Blombäck, and T. Söderström. "Nicotinamide is a potent inhibitor of proinflammatory cytokines." Clinical & Experimental Immunology 131, no. 1 (2003): 48-52.
Bissett, D. L., K. Miyamoto, P. Sun, J. Li, and C. A. Berge. "Topical niacinamide reduces yellowing, wrinkling, red blotchiness, and hyperpigmented spots in aging facial skin 1." International journal of cosmetic science 26, no. 5 (2004): 231-238.
Ratz-Łyko, A., J. Arct, and K. Pytkowska. "Moisturizing and antiinflammatory properties of cosmetic formulations containing Centella asiatica extract." Indian journal of pharmaceutical sciences 78, no. 1 (2016): 27.
Haftek, Marek, Sophie Mac‐Mary, Marie‐Aude Le Bitoux, Pierre Creidi, Sophie Seité, André Rougier, and Philippe Humbert. "Clinical, biometric and structural evaluation of the long‐term effects of a topical treatment with ascorbic acid and madecassoside in photoaged human skin." Experimental dermatology 17, no. 11 (2008): 946-952.
Gohil, Kashmira J., Jagruti A. Patel, and Anuradha K. Gajjar. "Pharmacological review on Centella asiatica: a potential herbal cure-all." Indian journal of pharmaceutical sciences 72, no. 5 (2010): 546.
Stallings, Alison F., and Mary P. Lupo. "Practical uses of botanicals in skin care." The Journal of clinical and aesthetic dermatology 2, no. 1 (2009): 36.
Fiume, Z. "Final report on the safety assessment of Lecithin and Hydrogenated Lecithin." International journal of toxicology 20 (2001): 21-45.