Thank You Farmer Miracle Age Repair Toner was the first product I tried from this brand. I must admit that I was drawn to the lovely packaging and the cute company name.
I was not paid for this review or received it as a gift.
At a glance:
Where to buy the Miracle Age Repair Toner?
This toner is excellent; I'm telling you, you can go ahead and buy one; you won't regret it. Still in doubt? Then go ahead and read the rest of the review.
Price varies widely from 23$ to 40$ depending on where you shop and current deals. It's a little on the pricey side if you ask me.
Shop the Thank You Farmer Miracle Age Repair Toner on Amazon*, Nigel Beauty, YesStyle*, Revolve, StyleVana, Jolse, and Sth Sweet. (*affiliate links)
The Thank You Farmer brand
Thank You Farmer produces its natural products based on the philosophy of harmony with the skin's nature, balance, health, and the principle of multi-functionality. Rooted in the farmer's mentality with honest ingredients that help strengthen the skin naturally and still benefit nature.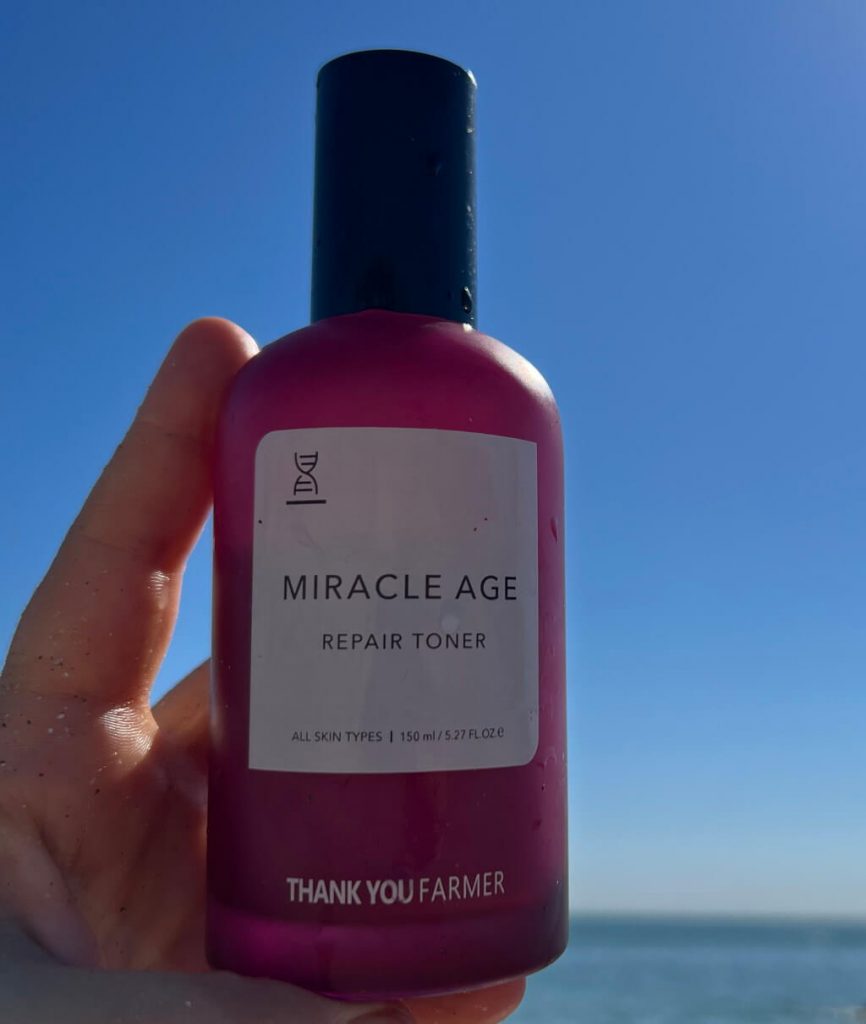 Thank You Farmer Miracle Age Repair Toner
The Korean toner is part of the "miracle age" line. It is a nourishing and anti-age line with brightening and wrinkle care dual functions.
Ideal Skin Type: Dry
The Thank You Farmer Miracle Age Repair Toner is recommended for those with:
Aging concerns – who isn't?!
Dull and dry skin with severe dryness
Crisp and weak skin with dead skin cells
Need for moisture recharge and a concentrated nutrition supply on busy mornings
The absorption power is increased by what the Thank You Farmer website calls the "polymatrix structure": a netted low-viscosity polymer moisturizing component combined with a milky texture nutrient oil.
Thank You Farmer Miracle Age Repair Toner Review Ingredients
Water, Caprylic/​Capric Triglyceride, Butylene Glycol, Dimethicone, Glycerin, Niacinamide, Betaine, Dioscorea Japonica Root Extract, Phellinus Linteus Extract, Arctium Lappa Root Extract, Piper Methysticum Leaf/​Root/​Stem Extract, Portulaca Oleracea Extract, Pueraria Thunbergiana Root Extract, Glycyrrhiza Glabra (Licorice) Root Extract, Paeonia Lactiflora Root Extract, Cnidium Officinale Root Extract, Soluble Collagen, Aloe Barbadensis Leaf Juice, Hydrogenated Lecithin, Sodium Hyaluronate, Argania Spinosa Kernel Oil, Sodium Acrylate /​Sodium Acryloyldimethyl Taurate Copolymer, Squalane, 1,2-Hexanediol, Dimethicone/​Vinyl Dimethicone Crosspolymer, Polysorbate 60, Lauryl Glucoside, Xanthan Gum, Ethylhexylglycerin, Polyglyceryl-2 Dipolyhydroxystearate, Polyquaternium-51, Glycosyl Trehalose, Adenosine, Sodium Laureth Sulfate, Hydrogenated Starch Hydrolysate, Raffinose, Biosaccharide Gum-1, Bisabolol, Lecithin, Panthenol, Dicaprylyl Carbonate, Sucrose Distearate, Ceramide 3, Folic Acid, Cholesterol, Tromethamine, Palmitoyl Pentapeptide-4, Fragrance, Phenoxyethanol
See explained ingredients on INCIDecoder.
Key Ingredients
Niacinamide
skin brightening, pore tightening
Argania Spinosa Kernel Oil
Also called the Golden Solution, the oil helps give skin vitality and prevent moisture evaporation. It is suitable for anti-aging and firming.
Squalane
nourishing, moisturizing
Dioscorea Japonica Root Extract (Yam root extract):
Also called Yam root extract, it is a phytomucin component that forms a natural barrier and moisturizes.
Licorice
Licorice is a potent antioxidant that evens skin tone and soothes sensitive skin. Studies also have shown it acts as an anticarcinogenic.
Adenosine
reducing fine lines and wrinkles
Sodium Hyaluronate 
Sodium Hyaluronate is a natural moisturizing factor that contributes to strengthening the skin's barrier. It has a smaller molecular size than hyaluronic acid, which means it can penetrate the skin better.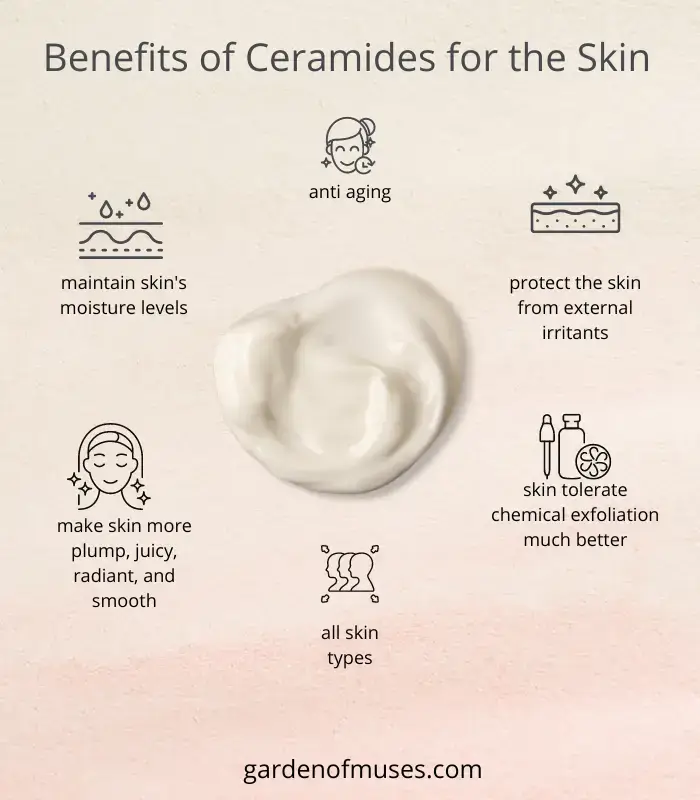 Ceramides
Ceramides are a family of lipids that account for 50% of the skin barrier (by weight), so they're essential, right? Ceramides are crucial to:
maintain the skin's moisture levels;
protect skin from external irritants making skin more resilient;
help make skin more plump, juicy, radiant, and smooth;
makes skin tolerate chemical exfoliation much better;
skin is less likely to become irritated;
because they prevent dehydration, ceramides are a great anti-aging ingredient;
regulate the cell cycle and apoptosis (regulated cell death);
beneficial for all skin types.
Heralded as skincare heroes, ceramides can now be found in cleansers, toners, serums, masks, moisturizers, and even hand creams.
Ceramides are golden children; they get along with everyone (unlike vitamin C and A, those brats). They go exceptionally well with plant oils rich in linoleic acid and cholesterol.
The Thank You Farmer Miracle Age Repair Toner offers everything for dry skin! I give it a thumbs up!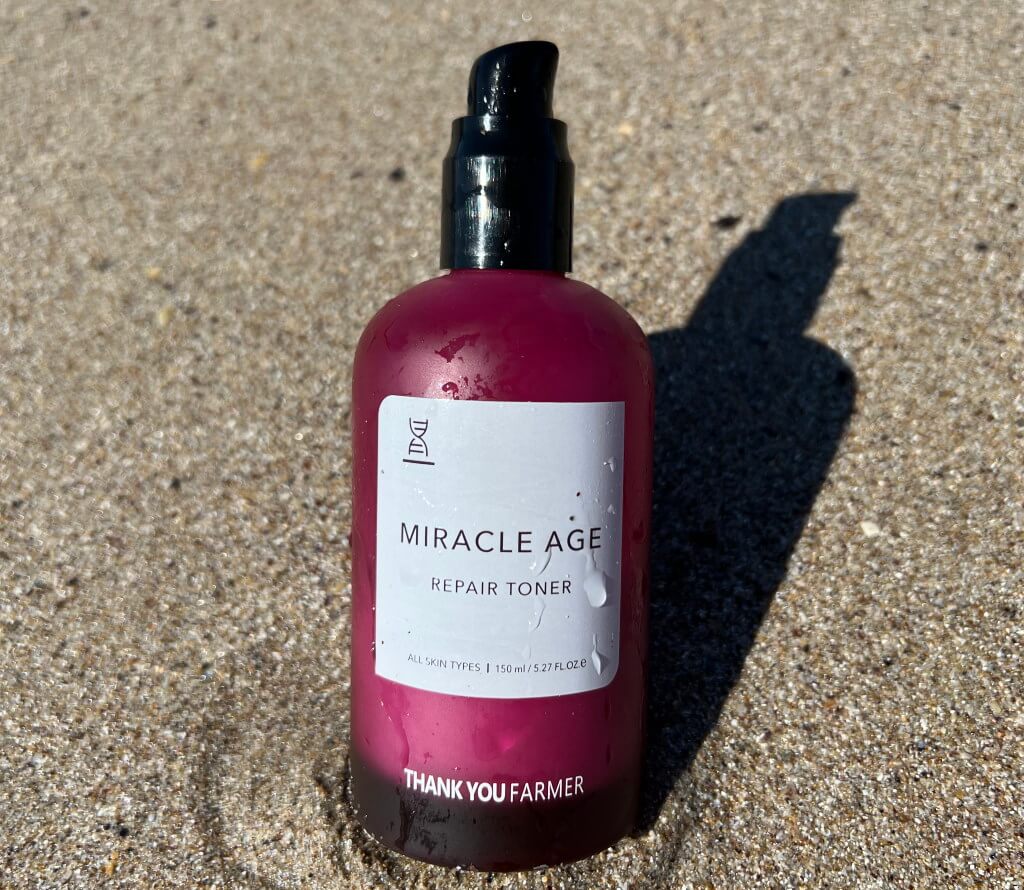 Packaging
The toner comes in a pump-type container. The purple glass bottle is slightly transparent, and the design and feel are luxurious. The content is protected due to lack of air contact, and there is no bacterial contamination.
The packaging is convenient because the usage is precise; there's no spillage or overuse. There is no waste due to unnecessary cotton pads. Therefore the 150ml toner lasts a lot.
The bottle is not travel-friendly; it is very heavy and can break. For traveling, I recommend buying the Thank You Farmer Miracle Age Repair Travel Set. When finished, The little containers can be sanitized and refilled with the original products.
Scent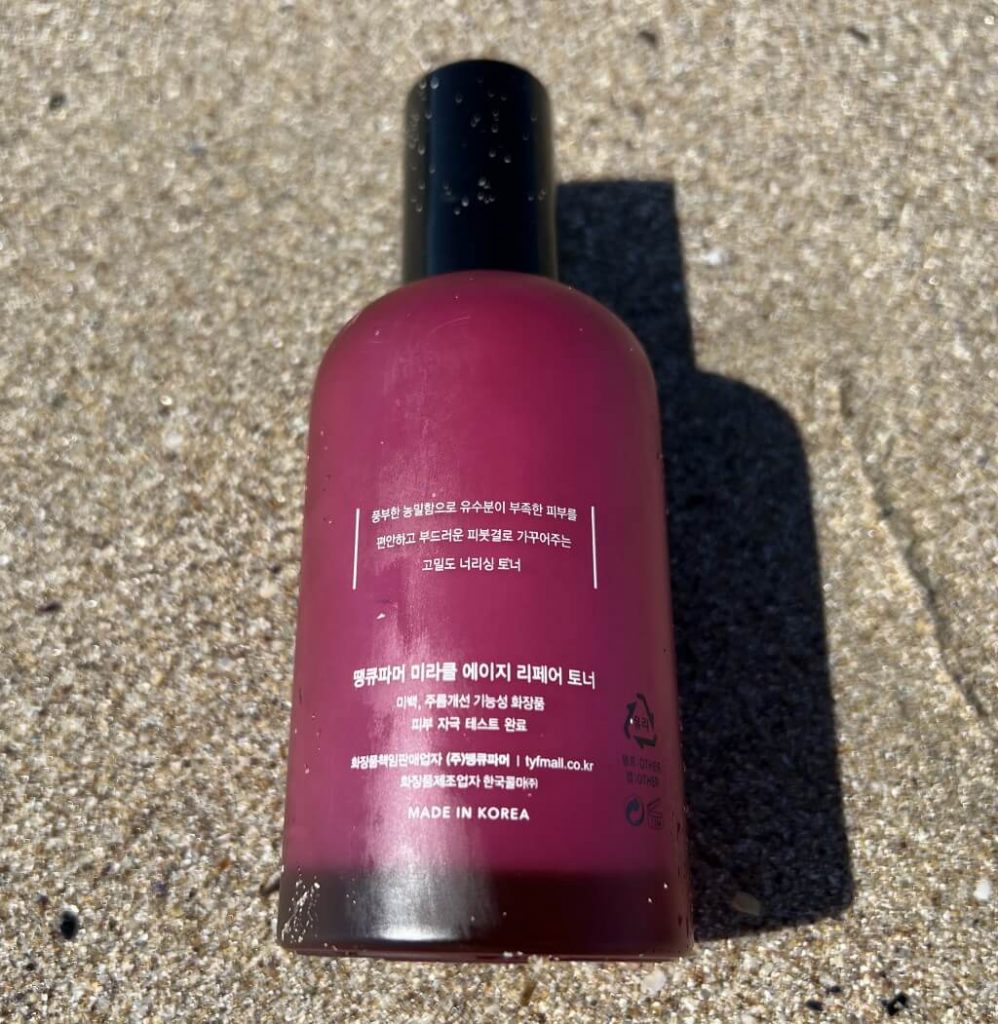 A floral, luxurious scent. It feels therapeutic for the mind also.
Texture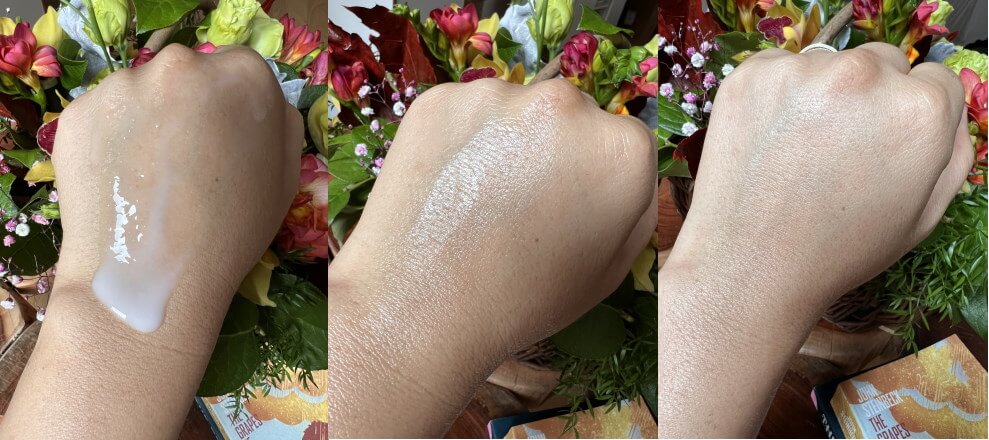 The advanced toner is a thick viscous, chewy texture. The color is slightly whitish but blends in immediately. The Thank You Farmer Miracle Age Repair Toner is not sticky, nor does it leave any stickiness.
The absorption is divine, leaving it soft and supple.
My experience with Miracle Age Repair Toner Review
My skin type and concerns
I have a normal – dry skin type, and I live in a temperate-continental climate with cold & dry winters and hot &dry summers.
Back when I first started using this toner, my skin was extremely dehydrated due to a lack of care and harsh dry winter.
The results had the wow factor!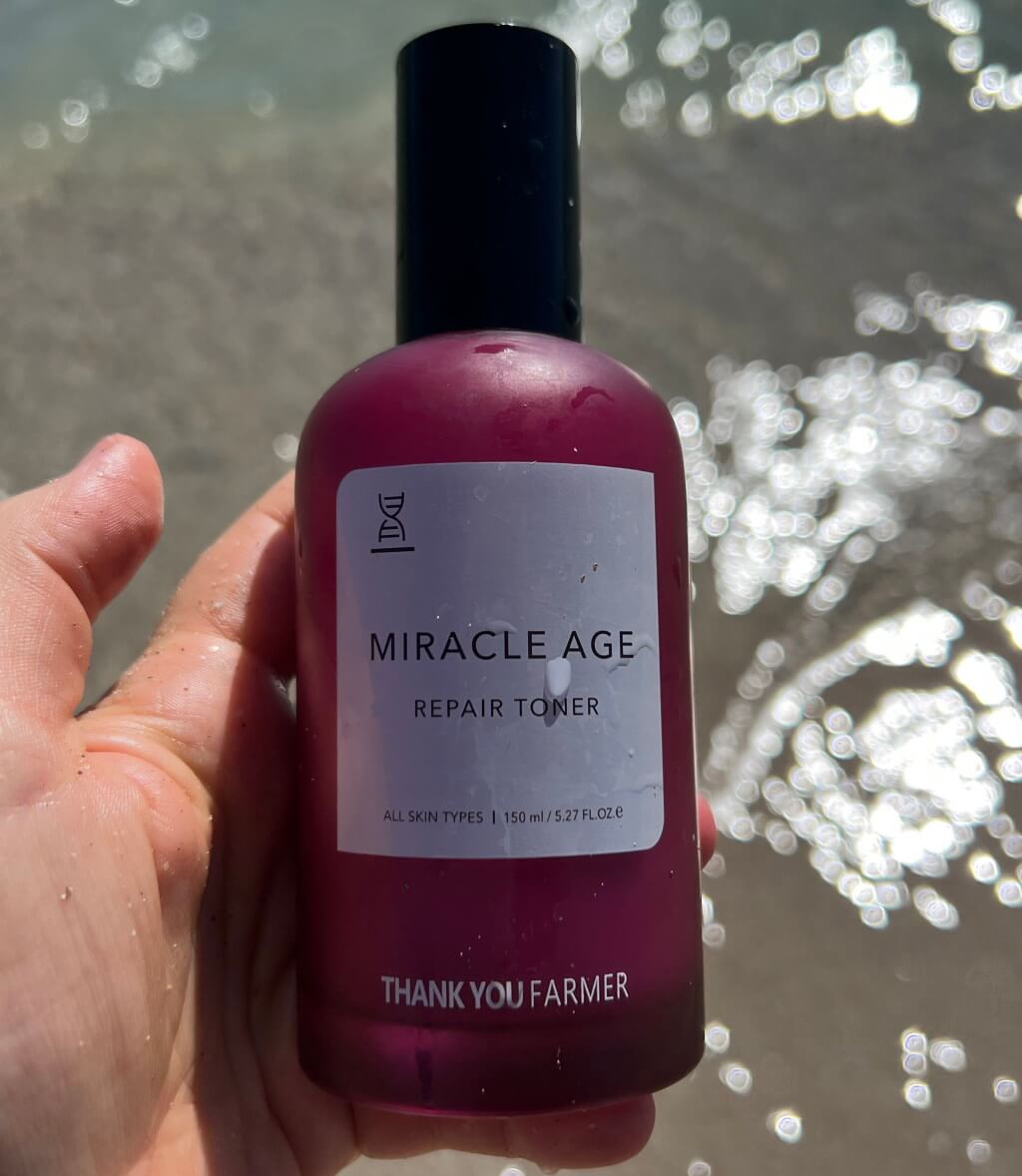 It is genuinely hydrating, making me feel like my face just had a glass full of water. My skin feels plump and firm. The skin becomes glowy in a fresh and supple way, not in a greasy slimy way.
It diminished the crepey skin and fine wrinkles around my eyes. Although packed with many active ingredients, it doesn't sting my eyes, allowing me to apply it all over my face.
It has minimized the pores on my face. I noticed this, especially on my nose, and it was pleasantly unexpected.
I use it in the morning and at night; it is my HOLY GRAIL. We shall never part, and I hope it will never be reformulated.
The multi-purpose toner works wonderfully on its own when you're in a hurry. But if you do your entire routine, it boosts the skin's adhesiveness for the next care product.
Although destined for skin types on the dryer side, I feel it can benefit anyone. I think it can be used as an emulsion for oily skin types. If you're on the market for a brightening milky toner, I recommend you try Thank You Farmer Rice Pure Essential Toner.
How I use the Thank You Farmer Miracle Age Repair Toner
Start by cleansing;
First essence, exfoliating toner, mists, and other hydrating toners if in need of more pampering;

Two pumps into the fingertips of your hand and spread on the entire face area, including the eyes and lips area;

I pat this on my face instead of swiping with a cotton pad;

One more pump for neck and décolletage.

I like to give my skin a full minute to fully absorb this power toner before moving on;

Carry on with a moisturizing cream, lotion, or emulsion as desired.
I loved the toner so much that I repurchased it and tried everything from the Thank You Farmer Miracle Age line: eye cream, serum, emulsion, cream, and mask. Reviews will be coming up soon.
Pros
truly hydrates
smells amazing
crepey skin gone
Cons
not travel friendly

pricey
Verdict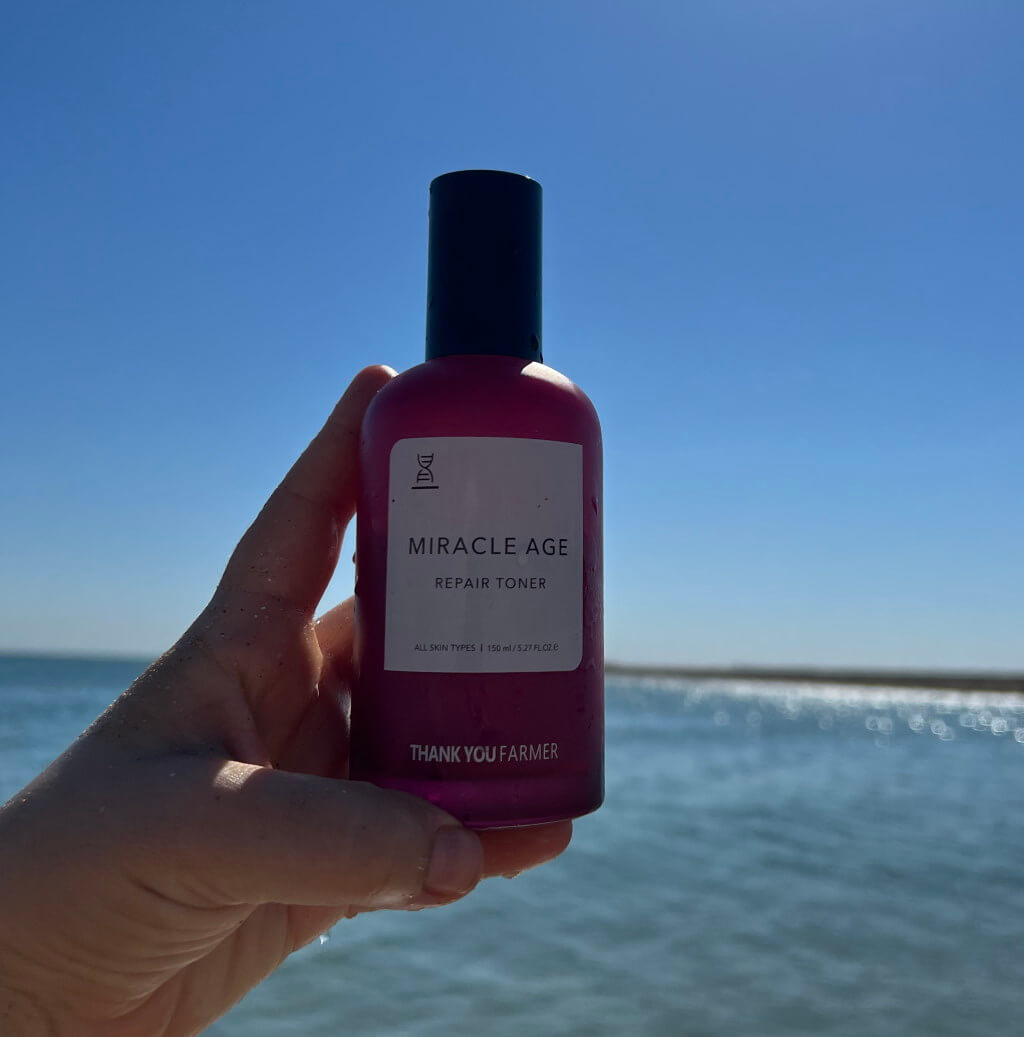 The Thank You Farmer Miracle Age Repair Toner is a multi-purpose product, doing the job of a skin (toner in Asia), lotion, and essence all in one bottle.
Will I repurchase Miracle Age Repair Toner?
YES. It is my holy grail, and I always have one more unopened bottle on my shelf.
Have you tried Miracle Age Repair Toner Review, and did it work for you? I would love to hear from you in the comments section below!
Rating 5/5
Shop for Thank You Farmer Miracle Age Repair Toner
Unfortunately, this product is not so readily available in the US. I found it on Amazon*, Nigel Beauty, Revolve, or on International websites: Jolse, YesStyle*, Sth Sweet, and StyleVana (*affiliate links)
Price varies from 23$ to 40$ depending on where you shop and current deals.
As always, you do you, be kind to your skin and yourself!
Remember that every person's skin and skin type is different, so what might work for me might not work for you, and vice versa.
So before trying a new product, it pays to do a little research first. Pay special attention to ingredients that you might react to.
Doing a patch test is always a good idea. Unsure? Best to consult your dermatologist.
Happy skin experimenting!
Show me proof