I love sunsticks for their convenience and portability, but finding a good one can be tricky. Because Most of my skincare-addicted life has been dedicated to sunscreens from the Far East, I was thrilled when they recently launched the Beauty of Joseon Matte Sun Stick. It's a rare gem of a chemical sunscreen that glides on smoothly and doesn't leave a white cast or a greasy feel. It also has soothing ingredients like mugwort and green tea to calm the skin and regulate sebum.
Enjoy the summer without getting burned!
Beauty of Joseon Matte Sun Stick Review:
Where to Buy the Beauty of Joseon Matte Sun Stick?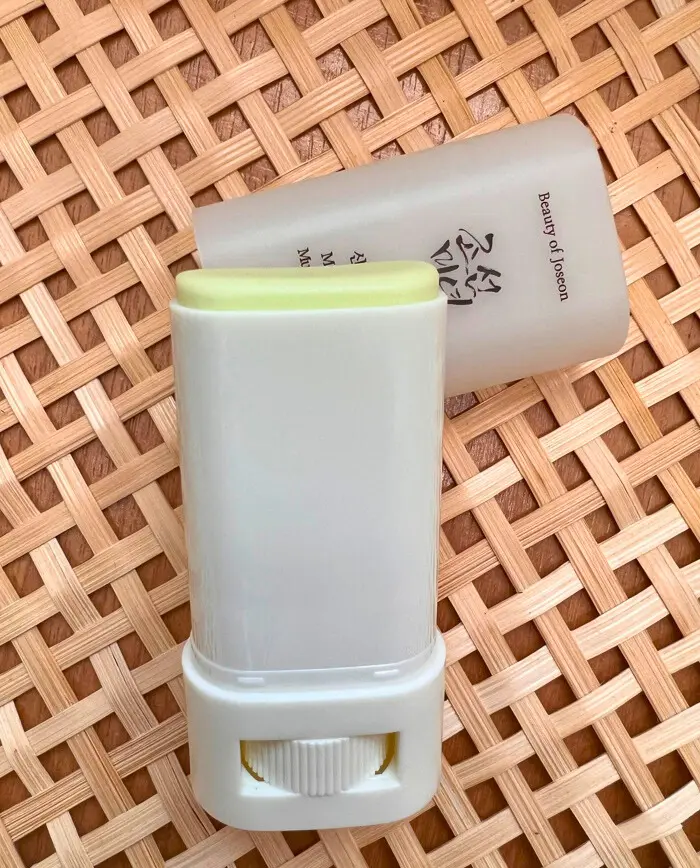 The Matte Sun Stick won't break the bank. It costs between $13.90 and $22 for 0.63 fl. oz. / 18g, depending on where you buy it.
In the US, it's available on the Beauty of Joseon official store on Amazon, unlike the other two BOJ sunscreens. Or you can check out some reliable Asian shops: YesStyle*, Stylevana*, and StyleKorean*.
The Beauty of Joseon Brand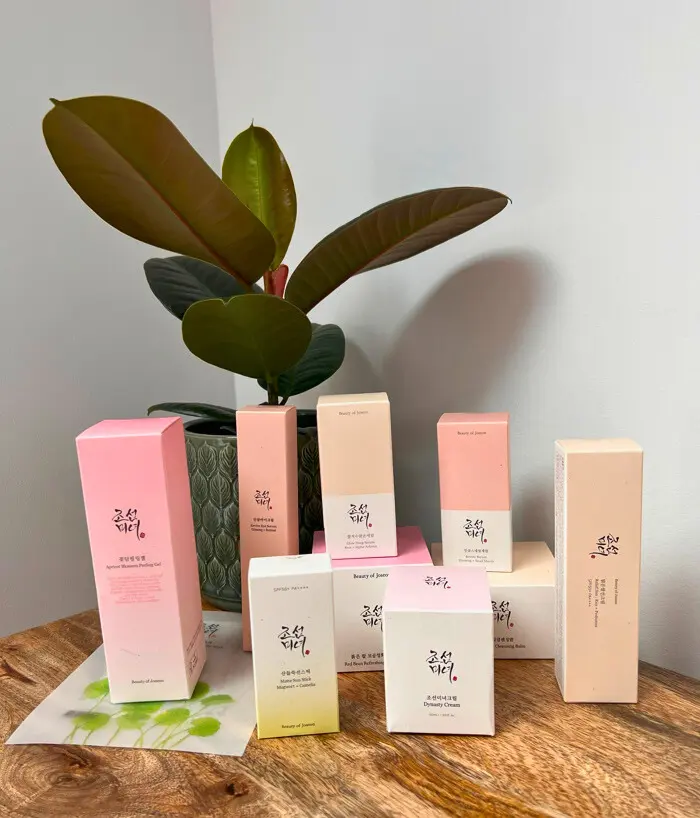 Beauty of Joseon is a brand that draws inspiration from the ancient Korean beauty secrets of the Joseon dynasty, which lasted from 1392 to 1897. The brand uses natural ingredients that were popular among the royal court ladies, such as ginseng, rice, orchid, and honey. Their products are designed to nourish, brighten, and moisturize the skin while being gentle and affordable.
I first discovered Beauty of Joseon while browsing online for new skincare products. I was intrigued by their minimalist packaging and their interesting product names, such as "Dynasty Cream" and "Ginseng Essence Water." I decided to order a few items from their website and try them.
What Is the Beauty of Joseon Matte Sun Stick?
If you don't want to get burned, you must know how to use a sunscreen stick. Yes, you heard me right. A sunscreen stick. It's like a lip balm but for your whole body. Sounds impressive, right? Well, it is. And I'm here to tell you why and how to use it.
A sunscreen stick is a solid form of sunscreen that comes in a tube or a container that you can twist up and down. Ingredients-wise, it has the same chemical filters as regular sunscreen, but it has others, too.
Sun stick benefits:
It comes in a more convenient and mess-free format. You don't need to worry about spilling it, squeezing too much, or getting it on your clothes;
It's easy to apply. You swipe it on your skin and go. You don't need to rub it or wait for it to dry. You glide it over your skin, and you're done;
It's portable. You can carry it in your pocket, purse, backpack, or anywhere else. You don't need to lug around a big bottle or a spray can;
It's precise. You can target specific areas of your skin that need more protection, such as your nose, ears, lips, or tattoos.
The Beauty of Joseon Matte Sun Stick is a chemical sunscreen stick that offers broad-spectrum (UVA & UVB) protection. It is strong enough for normal daily activities but does not claim to be waterproof or sweat-resistant.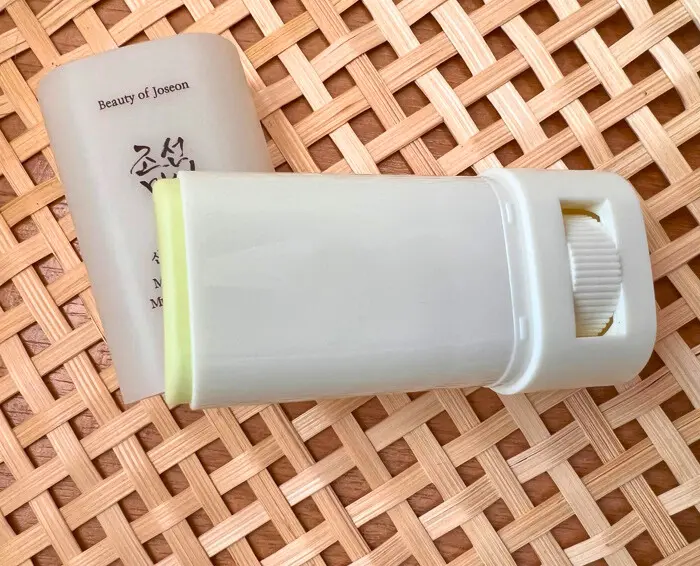 Beauty of Joseon Matte Sun Stick Claims
Most sun sticks are focused on use for outdoor activities, but we wanted to bring out the usefulness of sun sticks in our daily lives in bustling cities as well. To get listed SPF and PA protection level, sunscreen should be reapplied every 2-3 hours, but that's not easy to do all of the time. So, we developed a sun stick with a matte formula that doesn't get clumpy and doesn't feel sticky or greasy even when reapplied several times over makeup.

Sebum-control silica powder regulates sebum to increase adherence and provides a matte and smooth finish without clumping. Containing artemisia capillaris and green tea extracts, it helps create smooth skin while maintaining moisture.

beautyofjoseon.com
Who Is this Sun Stick For?
This is designed for sebum control on oily or combination skin. I have only used this during the winter and spring seasons in semi-humid climates, but it has not been an issue for my dry skin.
Beauty of Joseon Matte Sun Stick Ingredients
Beauty of Joseon Matte Sun Stick Mugwort Camelia Ingredients List (last checked 2023)
Methyl Methacrylate Crosspolymer, Synthetic Wax, Dibutyl Adipate, Coco-Caprylate/Caprate, Isopropyl Palmitate, Caprylyl Methicone, Caprylyl Trimethicone, Ethylhexyl Palmitate, Silica, Vinyl Dimethicone/Methicone Silsesquioxane Crosspolymer, Diethylamino Hydroxybenzoyl Hexyl Benzoate, Bis-Ethylhexyloxyphenol Methoxyphenyl Triazine, Boron Nitride, Butyloctyl Salicylate, Ethylhexyl Triazone, Microcrystalline Wax, Polysilicone-15, Vinyl Dimethicone, Camellia Japonica Seed Oil, Curcuma Longa (Turmeric) Root Extract, Melia Azadirachta Flower Extract, Melia Azadirachta Leaf Extract, Corallina Officinalis Extract, Melia Azadirachta Bark Extract, Ocimum Sanctum Leaf Extract, Moringa Oleifera Seed Oil, Coccinia Indica Fruit Extract, Solanum Melongena (Eggplant) Fruit Extract, Amber Powder, Aloe Barbadensis Flower Extract, Simmondsia Chinensis (Jojoba) Seed Oil, Artemisia Capillaris Extract, Camellia Sinensis Leaf Extract, Camellia Sinensis Seed Oil, Hyaluronic Acid, Bambusa Vulgaris Extract, Centella Asiatica Extract, Morinda Citrifolia Extract, Vigna Radiata Seed Extract, PolyglycerylDiisostearate/Polyhydroxystearate/Sebacate, Water, 1,2-Hexanediol, Panthenol, Butylene Glycol, Propanediol, Glycerin, Methylpropanediol, Ethylhexylglycerin.
Ingredients referred from the Beauty of Joseon Official Website.
Sunscreen filter Moisturizer/Humectant Herbal
Sunscreen Filters
The Beauty of Joseon Matte Sun Stick is an organic sunscreen that absorbs UV rays and converts them into heat. It has four organic UV filters.
Uvinul A Plus
Uvinul A Plus (Diethylamino Hydroxybenxoyl Hexyl Benzoate) is a new-generation chemical sunscreen. It is designed for high UVA protection (whole range) and photostability. Uvinul A Plus is not FDA-approved.
Tinosorb S
Tinosorb S (Bis-Ethylhexyloxyphenol Methoxyphenyl Triazine) is a broad spectrum photo stable chemical filter not yet FDA approved.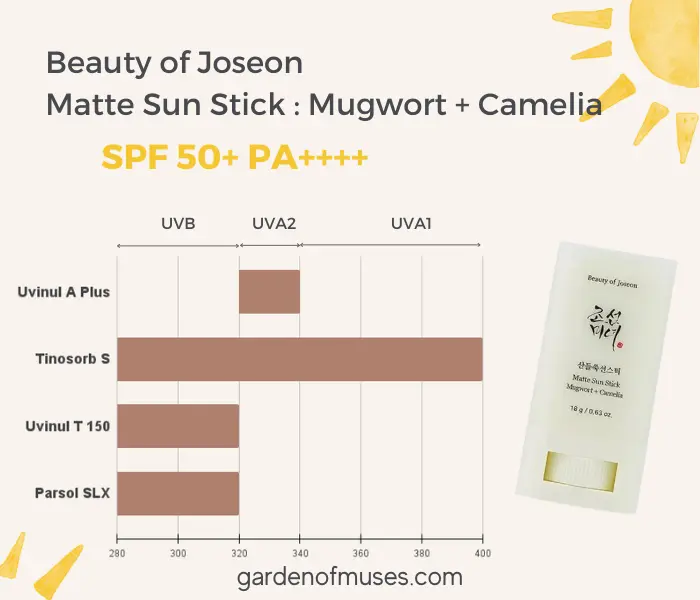 Uvinul T 150
Uvinul T 150 (Ethylhexyl Triazone) is a new-generation chemical sunscreen with today's highest photo-stable absorption of all available UVB filters. It is oil-soluble, odorless, colorless, and works well in fragrance-free formulas. It is approved worldwide but not yet FDA-approved.
Parsol SLX
Parsol SLX (Polysilicone-15) is a silicone-based chemical sunscreen that protects from UVB rays. Silicone is not my favorite ingredient. It can trigger acne and cause "pilling" under makeup. It can have benefits for dry skin since it helps prevent water loss. Although it is not yet FDA-approved, it has been approved in many European and Asian countries.
Ingredients Analysis
What I love about this sunscreen is the excellent amount of botanical extracts present in the formulation. There is an interesting blend of Camellia Japonica, turmeric, chinaberry, red seaweed, basil, moringa, ivy gourd, eggplant, aloe, mugwort, tea leaves, bamboo, Centella, noni fruit, and mung beans. These are mainly skin moisturizers, soothers, and anti-oxidants to repair skin damage, soften the skin, and prevent skin aging.
Mugwort
The hero ingredient for this sun stick is Mugwort, listed as Artemisia Capillaris Extract. Mugwort is a herb used for centuries in traditional medicine and skincare. Its anti-inflammatory, antibacterial, antioxidant, and brightening effects can help you achieve a clear, calm, radiant complexion.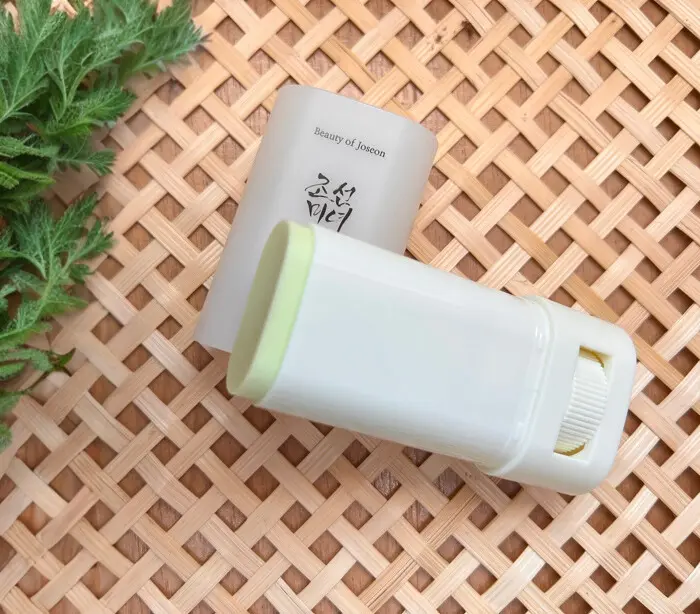 The legend says that one day, the Heavenly God, Hwanin, was bored and decided to spy on his son, Hwanung, who was obsessed with the human world. He peeked through the clouds and saw a beautiful mountain range called Samwi-Taebaek. He thought, "Wow, that looks like a nice place to live. Maybe I should send my son there and see how he likes it."
According to the legend, a tiger and a bear lived in a cave near the sacred Mount Taebaek. They prayed to Hwanung, the son of Hwanin, the Lord of Heaven, to turn them into humans. Hwanung heard their sincere desires. He put them in a cave with mugwort and garlic and told them to stay there for 100 days. The tiger gave up after 21 days, but the bear persevered and completed the test. The bear was turned into a beautiful woman and married Hwanung. She later gave birth to Dangun, who founded the first Korean kingdom, Gojoseon.
I'm a sucker for myths like that. Maybe if we slather ourselves with Mugwort for 100 days, we can become gorgeous and marry a heavenly prince.
Mugwort benefits for the skin include:
Mugwort can soothe irritated and inflamed skin, such as acne, eczema, psoriasis, and rosacea. It can also reduce redness and swelling caused by sunburns, insect bites, or allergic reactions. Mugwort contains flavonoids and terpenoids, which have anti-inflammatory effects and can modulate the immune system's response to inflammation.
Mugwort can fight against bacteria and fungi that can cause infections and breakouts on the skin. It can also prevent the growth of acne-causing bacteria, such as Propionibacterium acnes and Staphylococcus aureus. Mugwort has antimicrobial activity due to its essential oil components, such as thujone, cineole, and camphor.
Mugwort can protect the skin from oxidative stress and environmental damage, such as UV rays, pollution, and free radicals. It can also boost the skin's natural defense mechanisms and enhance its ability to repair itself. Mugwort is rich in antioxidants, such as vitamins C, E, beta-carotene, and quercetin, which can scavenge free radicals and prevent cellular damage.
Mugwort can brighten the skin tone and fade dark spots, hyperpigmentation, and scars. It can also improve the skin texture and smooth out fine lines and wrinkles. Mugwort has skin-lightening and anti-aging effects due to its tyrosinase-inhibiting and collagen-stimulating properties.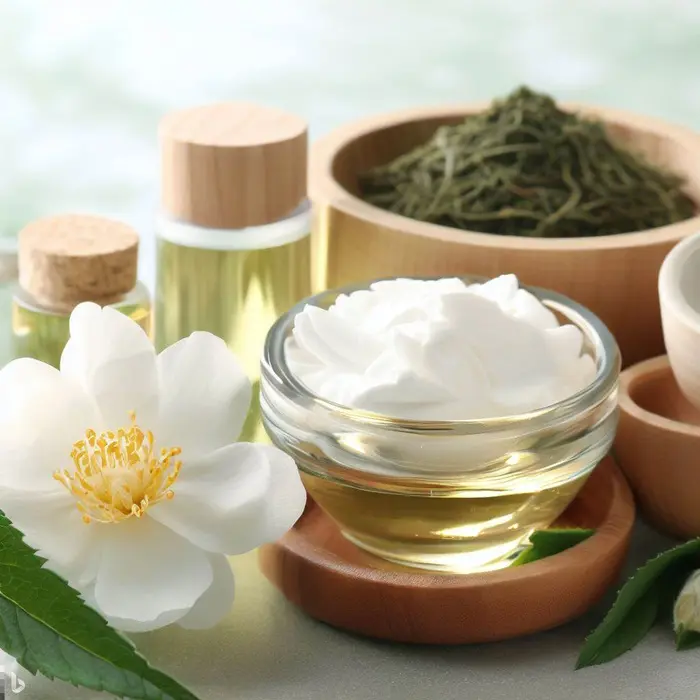 Camellia sinensis
Camellia sinensis leaf extract is a common ingredient in skincare products that can provide many benefits for the skin, such as:
It contains antioxidants that can protect the skin from free radical damage and reduce the risk of skin cancer;
It can help prevent skin aging by protecting it from UV-induced oxidative stress and boosting collagen synthesis;
It has anti-inflammatory and antibacterial properties that can soothe and heal the skin, especially acne-prone skin;
It can regulate sebum production and shrink pores, making the skin less oily and more refined.
Beauty of Joseon Matte Sun Stick does not contain:
Niacinamide, parabens, alcohol, essential oils, or fragrance.
The Beauty of Joseon Matte Sun Stick is vegan and cruelty-free.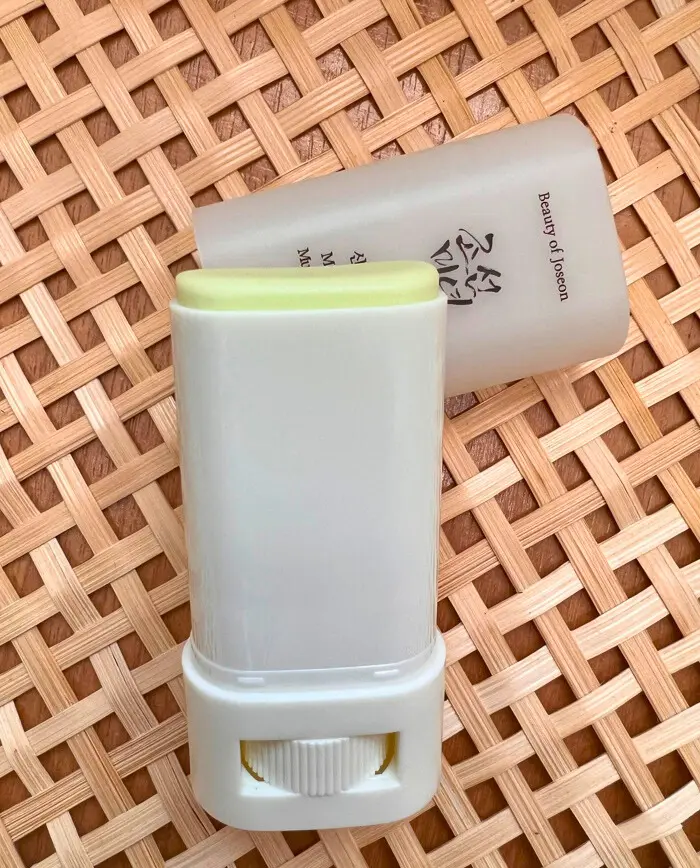 Packaging
The BOJ Matte sun stick has a cute design. It comes in a regular sun stick plastic container with a twist.
Scent
I can hardly smell anything, maybe some faint, calming "grassy" scent, but there is no added fragrance. Most importantly, it doesn't smell like sunscreen.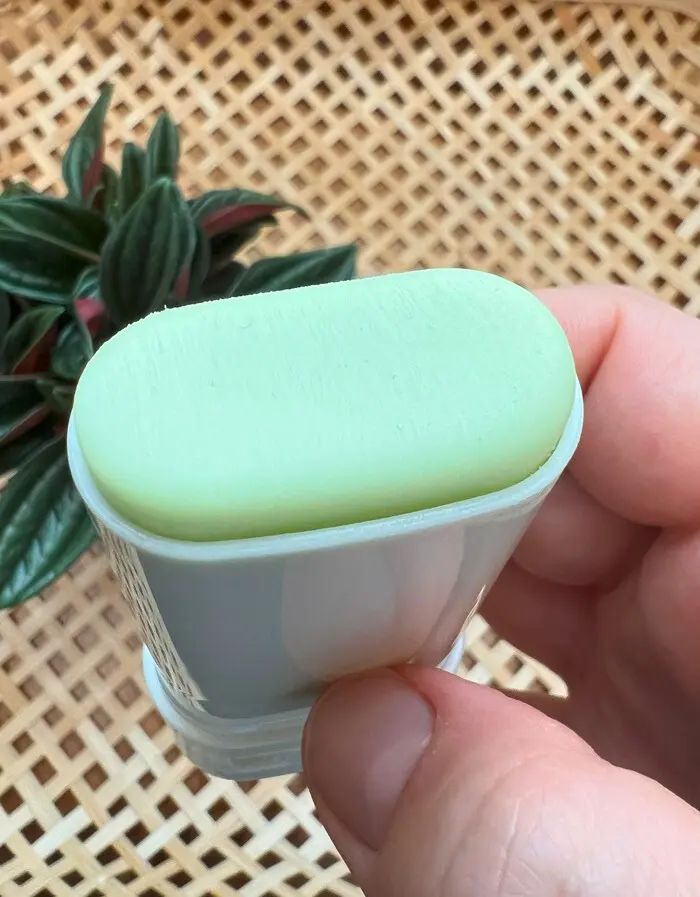 Texture
I don't have to press very hard to apply the stick, it's creamy enough for an easy application but not too creamy to the point it gets messy. It's a balm consistency. Its lightweight formula glides on smoothly and doesn't leave a white cast.
Its color comes from all those herbal ingredients so you can use it without worry.
My Personal Experience with the Beauty of Joseon Matte Sun Stick
I used to love skincare sticks for their convenience and ease of use. They were perfect for quick touch-ups and travel-friendly skincare.
I have a normal – dry skin type, and I live in a typically continental with cold winters and hot summers. My skin is not reactive; I have not reacted to hundreds of products I've tested.
My main concerns are blackheads around the chin and on the nose, the occasional pimple, and inhibiting wrinkle formation.
How to Apply the Beauty of Joseon Matte Sun Stick?
In the AM, at the end of your skincare routine:
Apply with gentle rolling motions, generously and evenly on areas easily exposed to UV rays at least 15 minutes before going outside;
Make sure to glide over each area at least three times;
Reapply the sunscreen stick every two hours or more if you sweat or swim. Also, reapply after towel-drying or wiping your skin.
Beauty of Joseon Matte Sun Stick is gentle. My husband, with oily, acne-prone skin, loves it. It doesn't irritate his skin. I like how this seems to also calm and soothe his sensitive skin and redness. The finish is very matte, even on his oily skin, and seems to help control sebum production.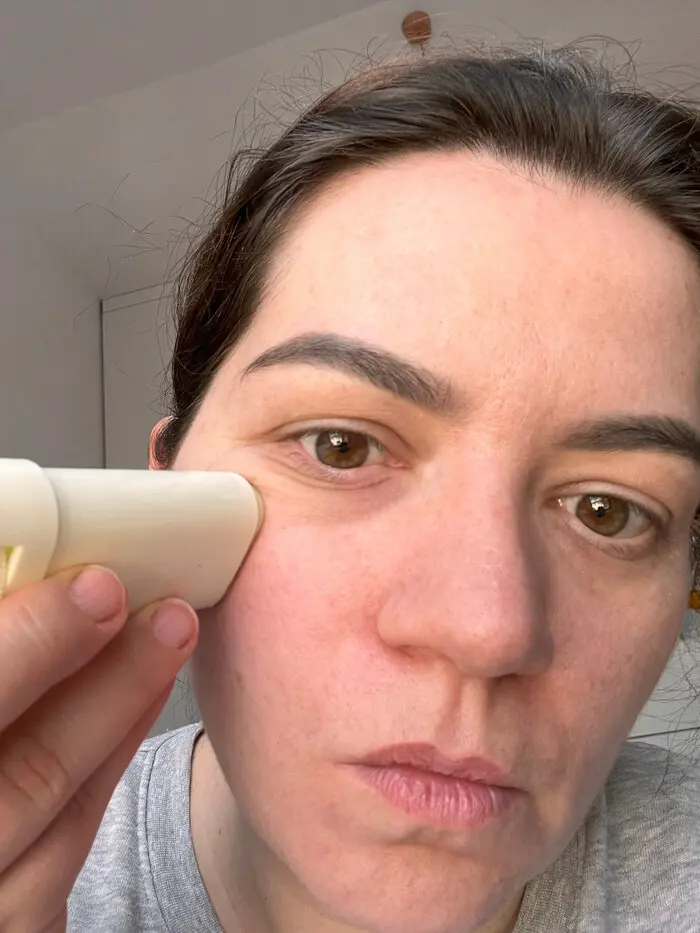 The Beauty of Joseon Matte Sun Stick applies so easily to the skin. Some people find it pills easily on the skin, but on my skin, it doesn't; it applies smoothly, mattifying and drying. It generally stays put if I exercise and fares well under the heat and humidity.
For me, it mattifies, blurs my pores, and glides on easily with no white cast. It has no sticky feeling and leaves a smooth, velvety finish. Although my skin is normal to dry, the stick doesn't further dry out my skin. It isn't hydrating or moisturizing, but doesn't claim to be. I can even use this very close to my eyes without any issues.
It's convenient when I travel as it's solid and great to put in my purse. Often, with liquid sunscreens, I get some product in the package, and it can quickly become a mess when I have to put it again in my bag. Here, it's easier and cleaner. It is hygienic. Even if my hands are dirty, I glide it across my face, and I'm done.
When reapplying, the BOJ sun stick picks up the residue of the skin. Let's face it. There's no magic sunstick that applies on top of your makeup without leaving a trace or rubbing off some makeup.
I'm not sold on sunsticks as a dedicated SPF. Lab Beauty Muffin Science did a dedicated video on sunsticks. Creams and lotions offer better protection.
Sticks can be good to top off creams but not as a dedicated-only SPF.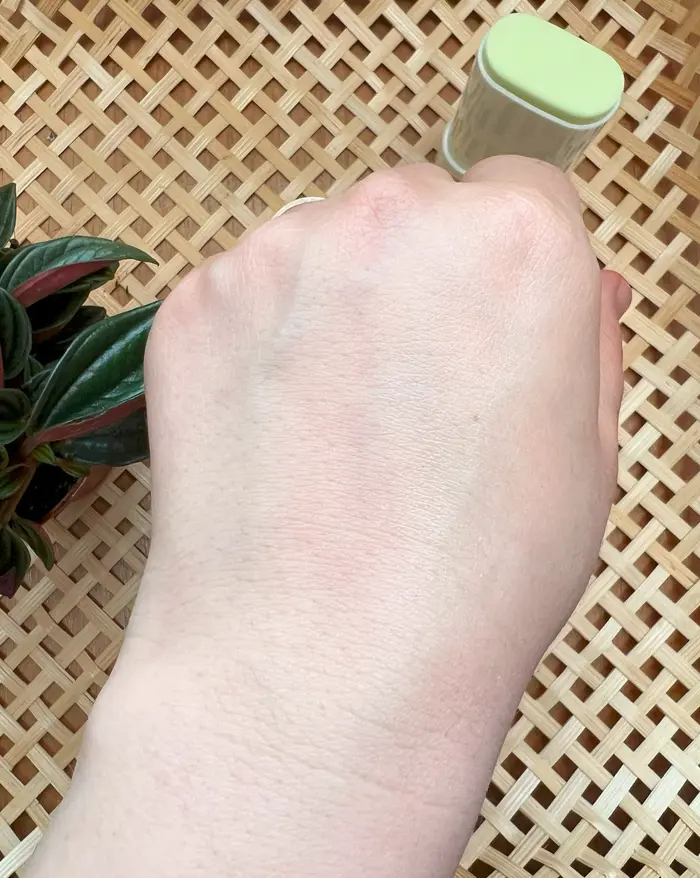 Pros
matte finish
hygienic
travel friendly
glides easily
Cons
not reliable on its own
picks up residue from the skin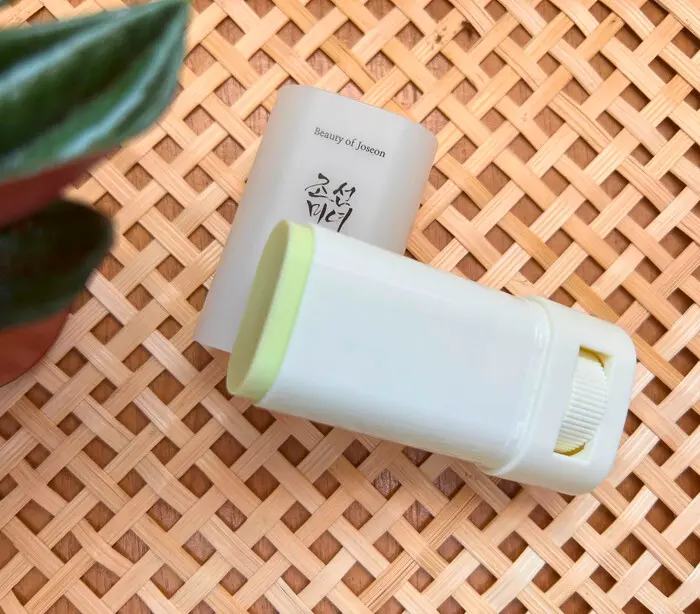 Final Thoughts
Beauty of Joseon Matte Sun Stick is a convenient option for reapplying sun protection during the day. It doesn't don't spill or leak. It is also small and portable, so you can easily toss it in your bag and reapply it whenever you need. You don't even have to use your hands to rub it in. It glides on smoothly and doesn't interfere with makeup application. I like how it works and how handy it is.
If you're looking for a broad-spectrum sun stick that protects your skin from UV rays and gives you a satin, matte finish, you should try the Beauty of Joseon Matte Sun Stick!
Will I Repurchase Beauty of Joseon Matte Sun Stick?
I think this is a good sun stick that I enjoy using. Still, I love trying new things, so maybe.
Rating 4.5/5
Shop for Beauty of Joseon Matte Sun Stick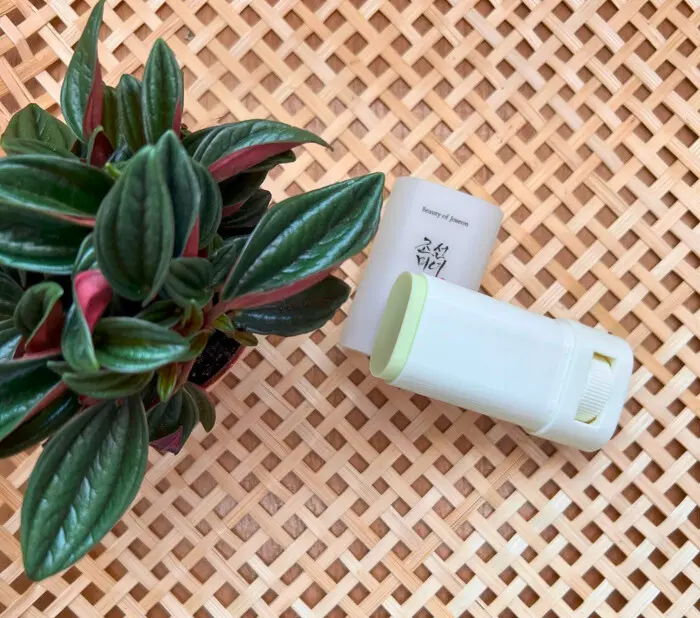 The BOJ Matte Sun Stick is affordable. You can get it for $13.90 – $22, depending on where you shop.
Lastly, I was not paid for this review or received it as a gift.
As always, you do you; be kind to your skin and yourself! Remember that every person's skin and skin type is different, so what might work for me might not work for you, and vice versa. So, before adding a new product to your skincare routine, it pays to do a little research first.
Before adding the Beauty of Joseon Matte Sun Stick to your skincare regimen, ensure you are not allergic to it or its ingredients. You should also consult your doctor if you are pregnant, breastfeeding, or have any medical conditions or medications that may interact with the Beauty of Joseon Matte Sun Stick. Always do a patch test before applying the Beauty of Joseon Matte Sun Stick on your skin to avoid adverse reactions.
I am not a dermatologist or licensed aesthetician, but I have sufficient experience and knowledge I gained by testing multiple products and self-exploration. Unsure? Best to consult your dermatologist.
Until next time, stay fabulous, and don't forget the sunscreen! Here's to great skin in 2023!
Show Me Proof
Shamoto, Yuta, Mikio Yagi, Nozomi Oguchi-Fujiyama, Kazuyuki Miyazawa, and Azusa Kikuchi. "Photophysical properties of hexyl diethylaminohydroxybenzoylbenzoate (Uvinul A Plus), a UV-A absorber." Photochemical & Photobiological Sciences 16 (2017): 1449-1457.
Chatelain, Eric, and Bernard Gabard. "Photostabilization of Butyl methoxydibenzoylmethane (Avobenzone) and Ethylhexyl methoxycinnamate by Bis‐ethylhexyloxyphenol methoxyphenyl triazine (Tinosorb S), a New UV Broadband Filter¶." Photochemistry and photobiology 74, no. 3 (2001): 401-406.
Puri, Neerja, and Ashutosh Talwar. "The efficacy of silicone gel for the treatment of hypertrophic scars and keloids." Journal of cutaneous and aesthetic surgery 2, no. 2 (2009): 104.