It was a winter night when I went on my usual late-date-night with a shop called Amazon (you might have heard of it). I bought Beauty of Joseon Dynasty Cream for 24 dollars with free shipping.
Finding the perfect moisturizer is a colossal pain in the butt. There, I've said it. For someone who jumps at the chance to slather new and (usually) weird stuff on her face, moisturizers are the least exciting of all other products, especially considering their significant role in every woman's skincare regime.
The rollercoaster ride of trying out new cleansers/toners/essences/serums goes like this: Fancy ingredients! Cool dispensers! Amazing smell! Do I have to slap it on and count to 30 while squatting? Sure! That was fun!
The novelty of a new moisturizer: Wow, active ingredients! Nice packaging! I have to try this out now! *opens jar* Eh, exciting smell. Interesting…. *Tries product on patch test area* Okay. Umm, are we done? *slithers back to Shadow and Bone*
We require so many things from our moisturizers that all that fun and innovative bits have been taken out to make way for efficiency. Hey, efficiency is GOOD. It's not very exciting when you try out your 5th jar of meh-ish white cream/lotion/gel. If all the bland moisturizers worked perfectly, throwing out new textures and cool packaging would have been worth it.
Beauty of Joseon Dynasty Cream, at a Glance:
Where to Buy the Beauty of Joseon Dynasty Cream?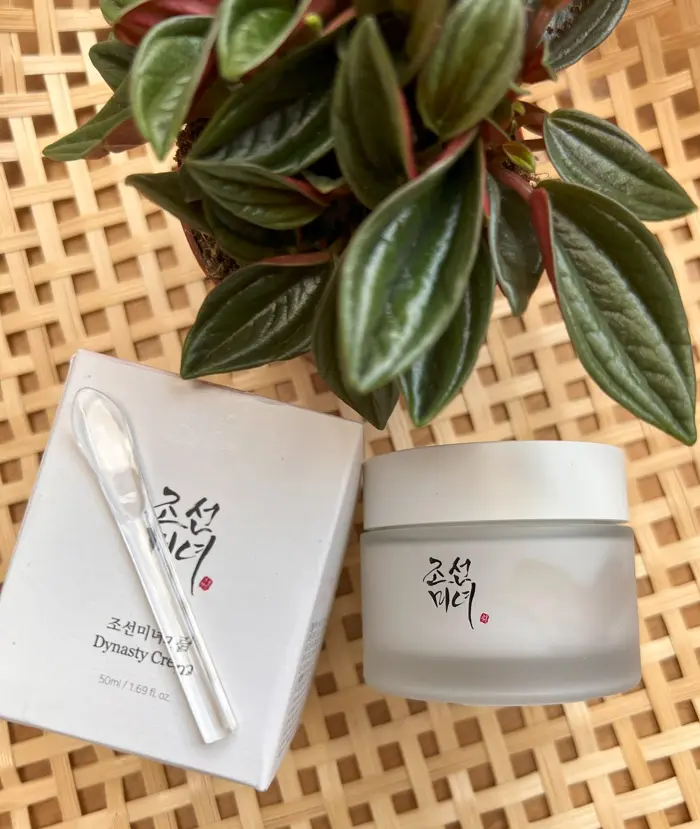 It was so hard to find a few months ago. Out of stock almost everywhere… when things are harder to reach, people tend to want to get them (which is why girls play hard to get). The harder it is to find, the more I want it. When I saw it back in stock on Amazon, I immediately grabbed one without thinking twice.
It comes in a 1.69 fl. oz./ 50 ml jar and retails for $24 on the Beauty of Joseon Official Site.
The Beauty of Joseon Brand
Beauty of Joseon is a Korean beauty brand inspired by Hanbang – traditional Korean medicine.
Joseon was a Korean dynasty that lasted over 500 years. In the Joseon period, the practice of sumptuous makeup was restrained by the values of Confucianism. Instead, other objects such as white, blue, and white porcelain cosmetics containers, mirrors, combs, hats, pendants, and hairpins were developed. The elaborate headpieces and royal costumes you see in Kdramas? Yeah, all that came from the Joseon period.
Just as the name suggests, products from the brand Beauty of Joseon are inspired by the aesthetic preferences of Korean women during the Joseon Dynasty, who focused heavily on taking care of their skin.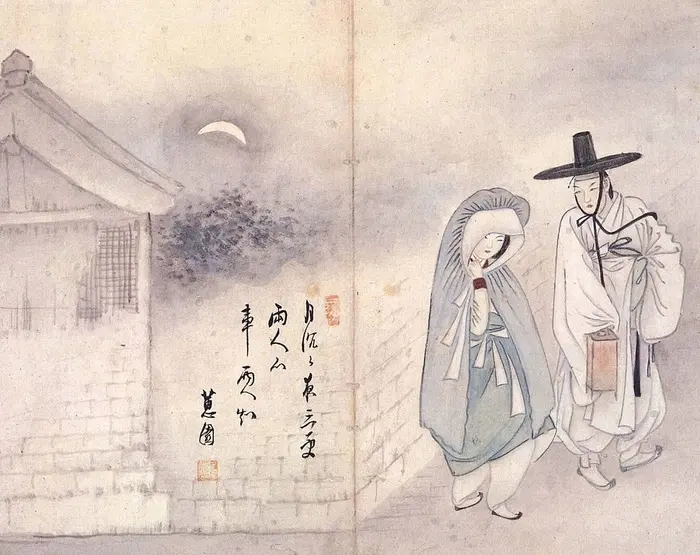 As Confucian ideals were strong during the Joseon Dynasty, looking natural was defined as beautiful. Therefore, Joseon women made efforts to take care of their skin and minimized the use of makeup.

They used natural ingredients to produce skin care products such as ground mung beans for facial scrubs, gourd stem juice for toner, and apricot and peach oils for whitening. Most beauty products were for their skin and efforts to make them look fairer and healthier.

Lee Jun-bae from Cosmax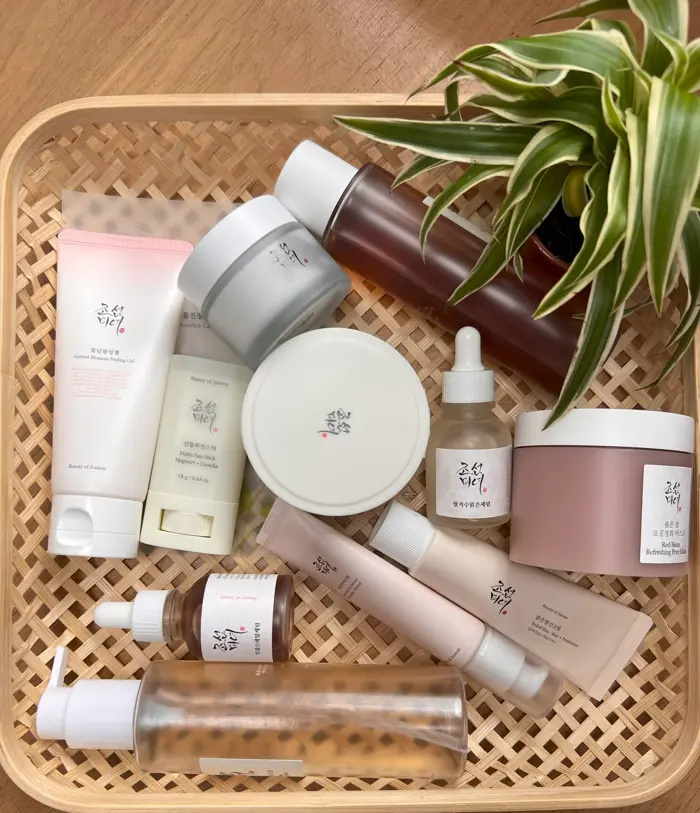 What Is the Beauty of Joseon Dynasty Cream?
For those unfamiliar with the Beauty of Joseon Dynasty Cream, it is a moisturizer that embraces natural oriental beauty. The name itself symbolizes skincare extracted from ancient Korean dynasties. Many call it "hanbang," but it is slightly less hanbang than Hanyul*, Sulwhasoo*, and History of Whoo*.
Beauty of Joseon Dynasty Cream Claims
With its firm texture, it provides dense moisture and nourishment preventing skin from drying out even after long hours.
It is a multi-functional cream containing rice bran water, ginseng water, squalane, and niacinamide for skin health, moisture, and to maintain the oil and moisture balance.
Its firm texture provides moisture and nourishment from deep within.

beautyofjoseon.com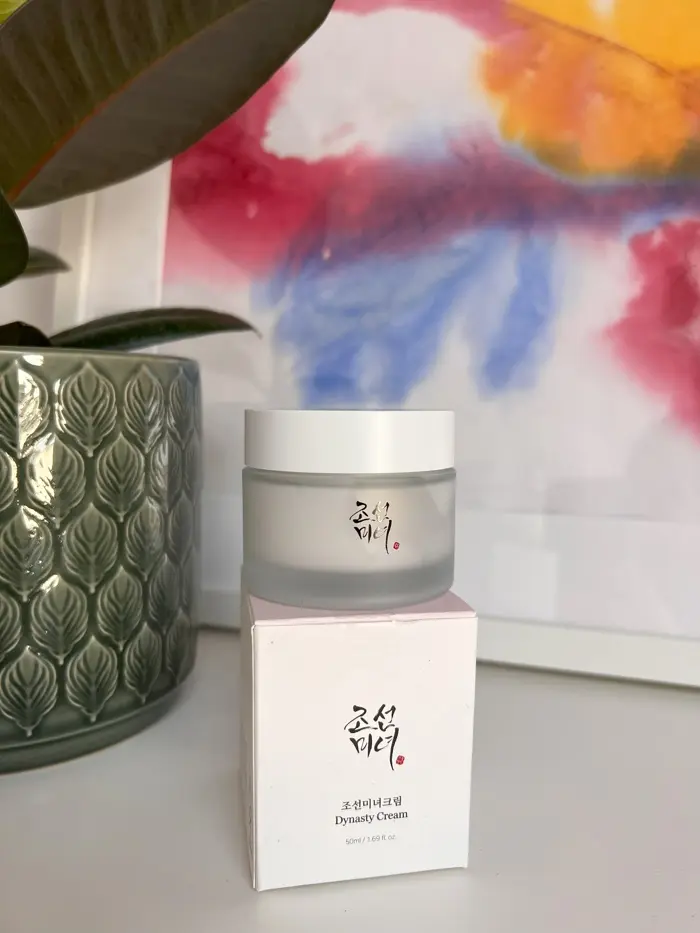 Who Is this Moisturizer For?
The manufacturer states it is suitable for all skin types but amazing for dry skin.
It has a firm texture, and the amount used should be adjusted according to your skin type:
Oily skin. It is a bit rich for you people. Consider it if you are searching for something creamier than a gel but not as thick as most creams. It may be more appropriate during winter. The manufacturer recommends using about half a pea size. Best try the Beauty of Joseon Red Bean Water Gel* instead.
Combination skin. Use during wintertime;
Normal-dry. Use it all year round. The manufacturer recommends using it about the size of a coin;
The manufacturer recommends that acne-prone skin adjust the amount so it doesn't clog the pores.
Beauty of Joseon Dynasty Cream Ingredients
Water, Oryza Sativa (Rice) Bran Water, Glycerin, Panax Ginseng Root Water, Hydrogenated Polydecene, 1,2-Hexanediol, Niacinamide, Squalane, Butylene glycol, Propanediol, Dicaprylate/Dicaprate, Cetearyl Olivate, Sorbitan Olivate, Ammonium acryloyldimethyltaurate/VP Copolymer, Xanthan Gum, Acrylates/C10-30 Alkyl Acrylate Crosspolymer, Tromethamine, Carthamus Tinctorius (Safflower) Seed Oil, Hydrogenated Coconut Oil, Glyceryl Acrylate/Acrylic Acid Copolymer, Ethylhexylglycerin, Adenosine, Caprylic/Capric Triglyceride, Disodium EDTA, Hyaluronic Acid, Hydrolyzed Hyaluronic Acid, Sodium Hyaluronate, Honey Extract, Ceramide NP, Hydrogenated Lecithin, Coptis Japonica Root Extract, Raphanus Sativus (Radish) Seed Extract, Lycium Chinense Fruit Extract, Theobroma Cacao (Cocoa) Seed Extract, Phellinus Linteus Extract, Dextrin, Scutellaria Baicalensis Root Extract.
Ingredients referred from the Beauty of Joseon official website.
Humectant/Moisturizing Active Herbs
Key Ingredients Explained
The Beauty of Joseon Dynasty Cream has an expectedly long ingredient list.
Rice Bran Water (29%)
Rice bran is the finest inner bran of milled rice used in cosmetics to condition and soften skin.
In the Joseon Dynasty, rice bran water was used like today's toner. It was called "Beauty Water"' and used to achieve beautiful skin.
Rice bran, rich in amino acids, minerals, and vitamin E, helps keep the skin moist and healthy.
Glycerin
Good old trusty glycerin is often overlooked as an inexpensive or inelegant ingredient in skincare, but it is one of the best, most reliable humectants.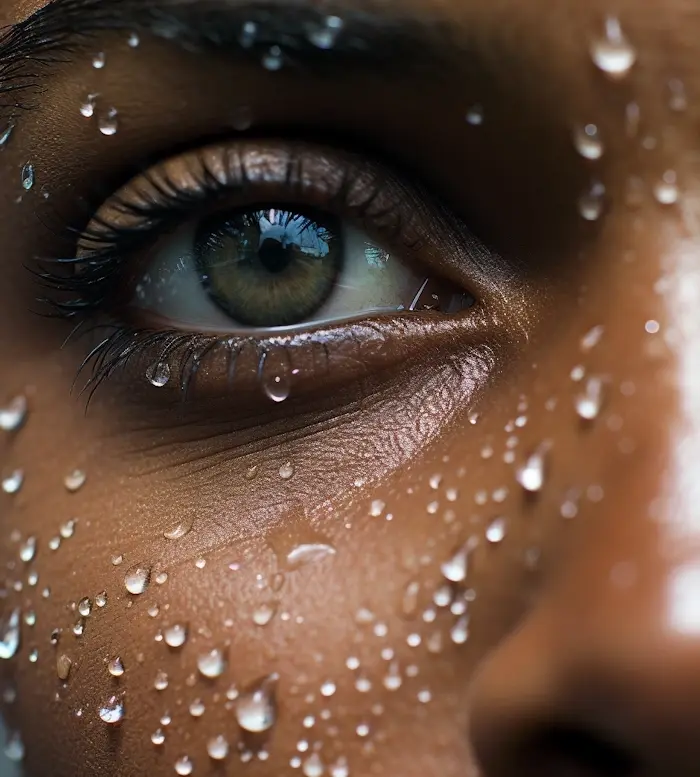 Glycerin is also probably the most well-known humectant. It:
Hydrates. Glycerin is a very effective humectant, used in many moisturizers to increase skin hydration.
Occurs naturally in your skin as part of its home-grown moisturizing system, the natural moisturizing factor (NMF).
Strengthens skin barrier. Glycerin also keeps the skin's lipids flexible, strengthening your skin barrier.
Softens. Glycerin softens the skin so other hydrating ingredients can more easily penetrate the skin.
Reduces TEWL. Glycerin helps slow down transepidermal water loss (TEWL). Like other humectants, it works by sitting in the top layers of your skin and attracting water from the air and the deeper layers, leaving your skin surface plump and hydrated, even when the weather is arid.
Ginseng Root Water (5%)
Ginseng is the most important herbal ingredient in Korean history. In the Joseon Dynasty, it was called 'Shincho,' meaning herb from the gods. The rich saponin in ginseng helps make the skin healthier and more energized.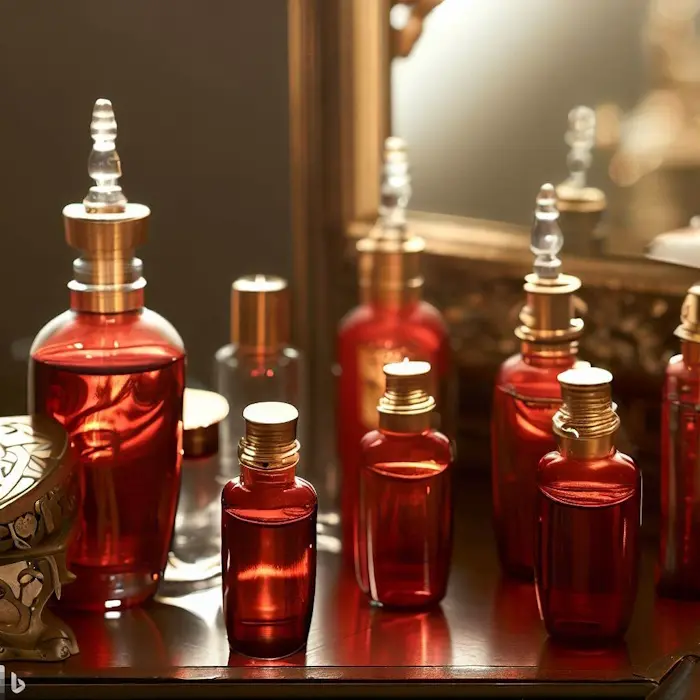 Ginsenosides are believed to be the major biologically active components of ginseng, responsible for many of the benefits of ginseng for the skin. Ginseng, in skincare:
Want to learn more? Please read our full Guide on Ginseng Benefits for the Skin.
Niacinamide (2%)
Superstar, I Say. Read the Complete Guide on Niacinamide and How to Reduce Hyperpigmentation with Niacinamide.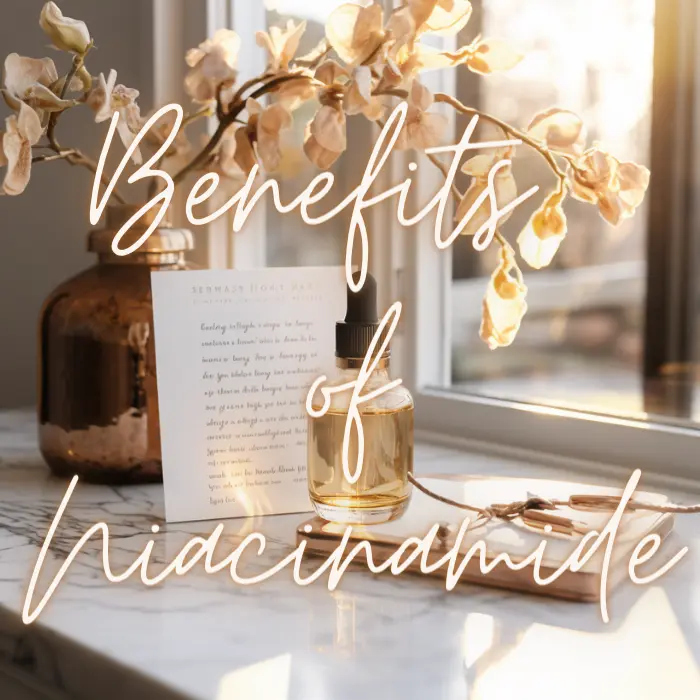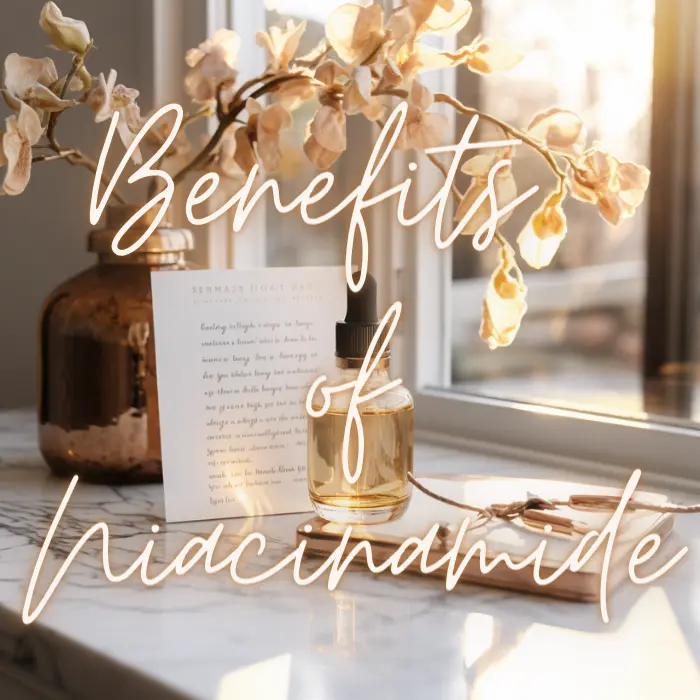 Niacinamide is a superstar ingredient in most top Asian beauty products. This beauty powerhouse is the topical form of vitamin B3.
Well-documented studies show that when used topically, 2% niacinamide potentially can:
Squalane (2%)
Squalane, which has properties similar to sebum, helps balance oil and moisture and acts as a barrier to protect the skin from external stimuli.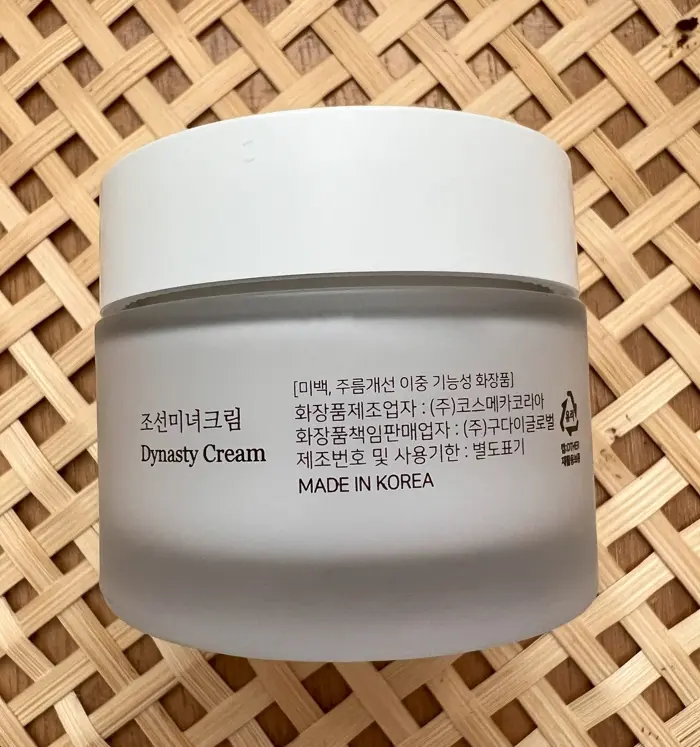 Ceramides
Ceramides are lipids naturally found in all four layers of your skin, forming part of your skin's barrier. Ceramides are crucial to:
Beneficial for all skin types.
Maintain the skin's moisture levels;
Protect skin from external irritants, making skin more resilient;
Make skin plump, juicy, radiant, and smooth;
Make skin tolerate chemical exfoliation;
Skin is less likely to become irritated;
Anti-aging ingredient;
Regulate the cell cycle and apoptosis (regulated cell death);
Ceramides are golden children; they get along with everyone (unlike vitamin C and A, those brats). They go exceptionally well with plant oils rich in linoleic acid and cholesterol.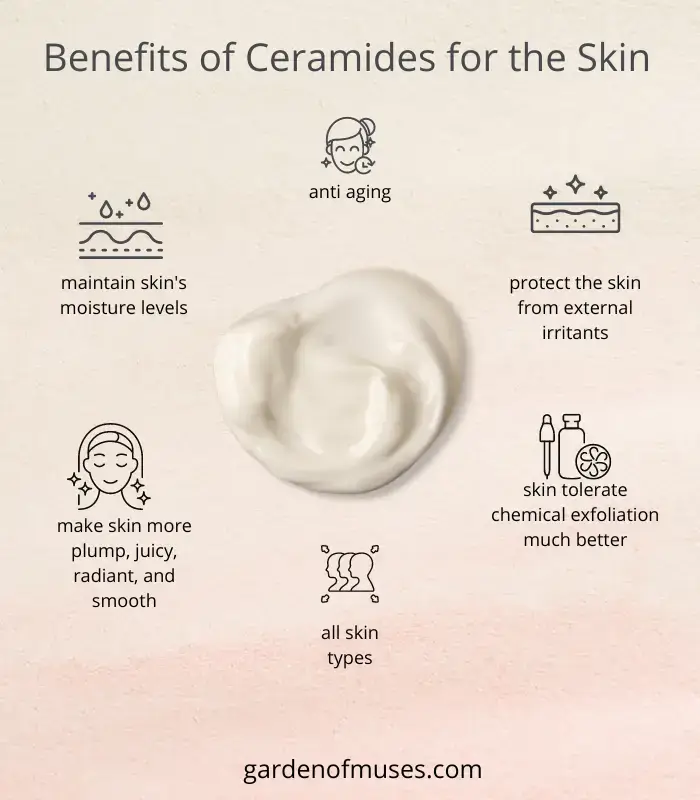 The Beauty of Joseon Dynasty Cream also has three types of hyaluronic acid to hydrate skin.
Other yummy ingredients: honey and safflower.
Given the ingredients, this cream will offer ample moisturizing and moisture-barrier-improving benefits. And it will also help to fade some hyperpigmentation and improve your skin's elasticity. Panax ginseng root is also known for its anti-aging benefits. However, since I don't have access to the exact percentage of ingredients used here, which might be a tiny portion like 0.00001%, I cannot be entirely positive about the anti-aging benefits here.
Acne-prone skin
The manufacturer states that the cream is safe for acne-prone skin. Moreover, niacinamide and squalane can help protect the skin.
Cosdna analysis found two acne triggers: squalane (1/5) and Butylene Glycol (1/5).
Beauty of Joseon Dynasty Cream Does Not Contain:
Alcohol, essential oils, or fragrances. It is cruelty-free but not vegan, as it contains honey extract.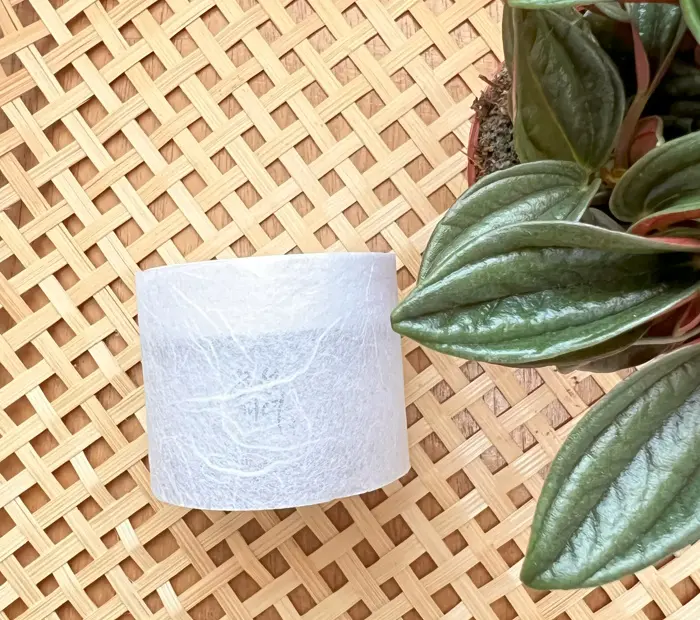 Packaging
The Beauty of Joseon Dynasty Cream comes in a sturdy, frosted glass jar. The jar is protected by a chic traditional mulberry Korean paper that gives it a Hanbang look. So unique and brand distinctive.
It comes with a little spatula that I love and have already lost.
It is a healthy 1.69 fl. oz. / 50ml, which is great for travel and lasts ages because you only use a little each time.
Expiry: Use within 12 months of opening.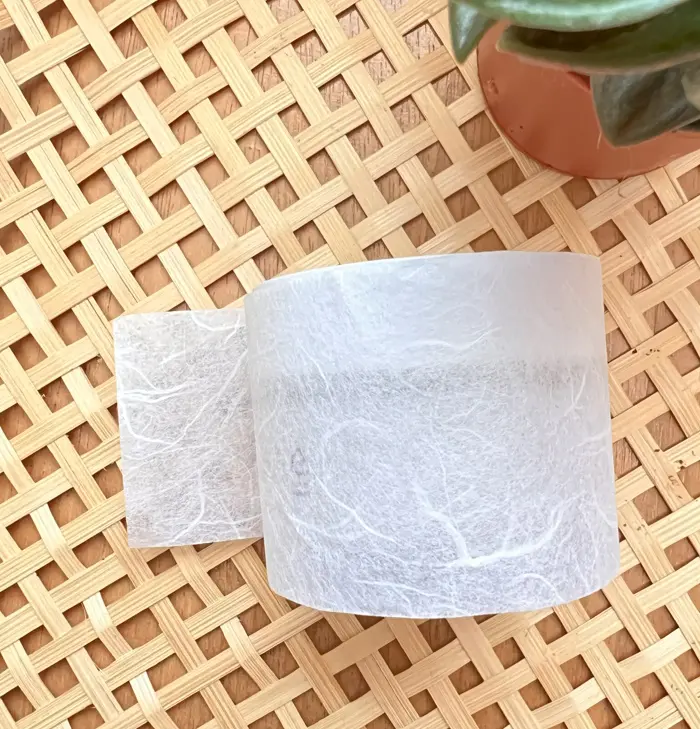 Scent
It has no scent.
Texture
The Beauty of Joseon Dynasty Cream has a snowy appearance and a gel-cream texture, but it's surprisingly vibrant and nourishing.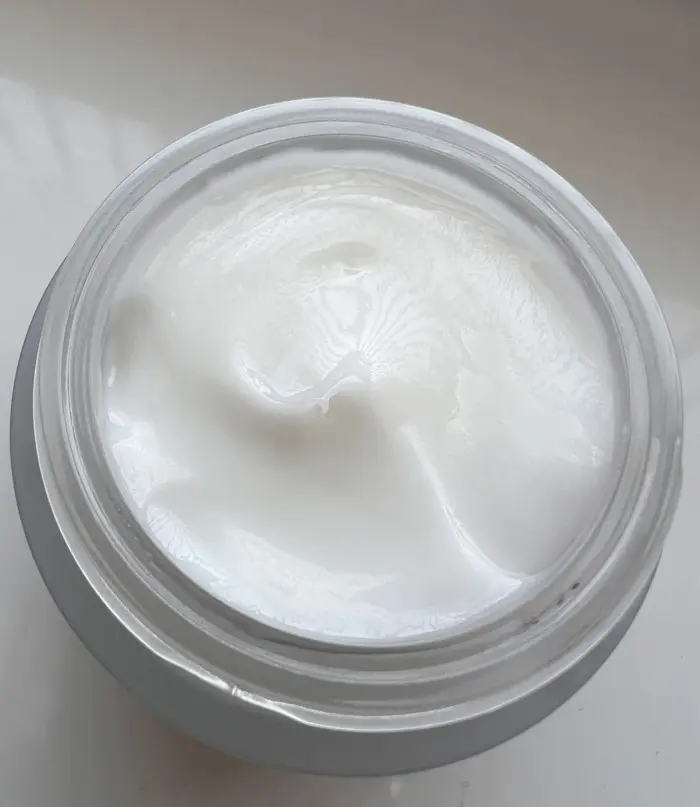 My Experience with the Beauty of Joseon Dynasty Cream
I have been using the new version of this cream for over a month. I have a normal to dry skin type, and I live in a typically continental with cold winters and hot summers.
My skin is resilient (I haven't reacted to hundreds of products throughout my lifetime). Still, I am a Tretinoin user, and first and foremost, I focus on barrier strengthening.
My concerns are hyperpigmentation, blackheads on the nose and chin, the occasional hormonal pimples, and aging skin.
At the moment, I am using the Beauty Of Joseon Ginseng Cleansing Oil, which I love, and the Beauty of Joseon Ginseng Essence Water, which I don't quite like.
My Moisturizer Checklist
In a nutshell, my HG moisturizer would moisturize without triggering a tantrum in my skin. Active ingredients would be great, but I need something to pack a punch of hydration into my dehydrated skin and keep it there. It must absorb fairly quickly, not sting my eyes, itch, or leave me supernaturally shiny. Simple, yes?
My Routine
Cleansing with the Beauty Of Joseon Ginseng Cleansing Oil
Moisturize with the Dynasty Cream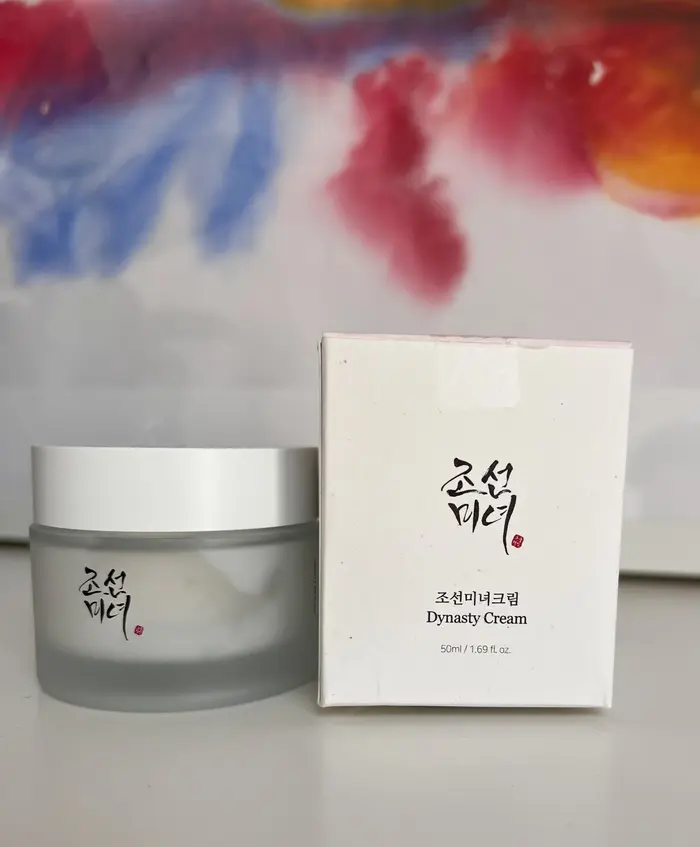 I use this cream in the morning and the night.
Morning skincare means fewer moisturizing steps before and after this cream, as it might be too much before BB cream or foundation. It plays well with all my makeup and sunscreen; the trick is in the right amount applied.
I use the Beauty of Joseon Dynasty Cream in the PM after my toners, essences, and serums. Other products blend well with this cream. I wake up to marshmallow-soft and velvety smooth skin. It is quite good.
What I love most about this cream is that it lives up to its claims. Moisturizing and nourishing? Yes. That's it. It feels moisturizing while it smoothens and plumps.
It doesn't (anymore) claim brightening, anti-inflammatory, anti-pollution, anti-wrinkles, miracle worker, unicorns, or anything else. And it delivers.
I feel this is like a good friend. It was rich when my poor, aging skin badly needed some TLC.
On the downside, more is not always more. If I apply too much, it is tacky on my skin. It will take an extra few minutes to sink into the skin fully.

I recommend this cream for almost every skin type. See above how to apply it according to your skin type.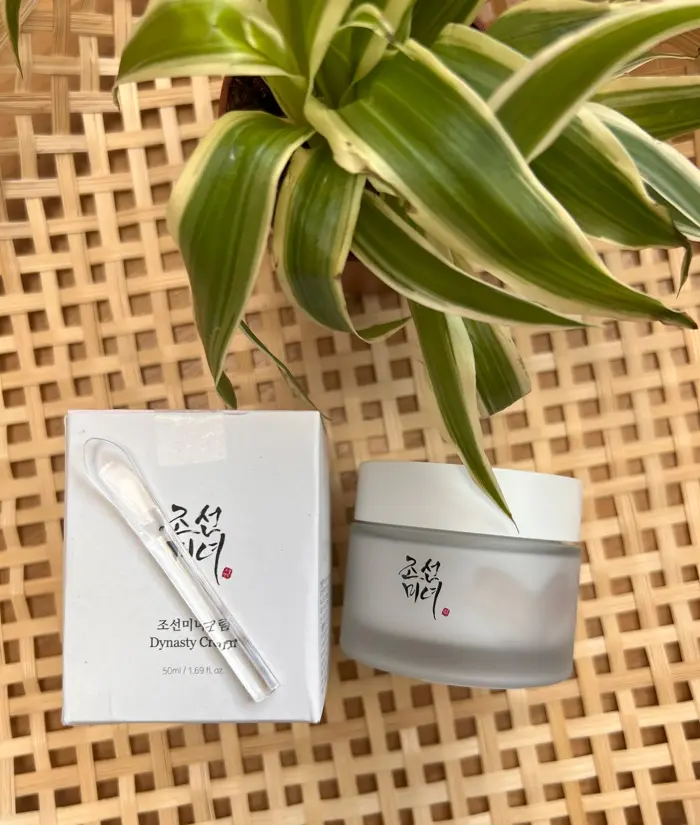 Pros
Dewy glow on dull, lifeless, dry skin;
Pretty moisturizing;
It doesn't irritate my skin;
Healed dry patches;
Essential oil-free;
Fragrance-free;
Denat Alcohol-free;
Paraben-free;
Beautiful packaging
Reasonably priced.
Cons
A little tacky;
Not ideal for oily skin.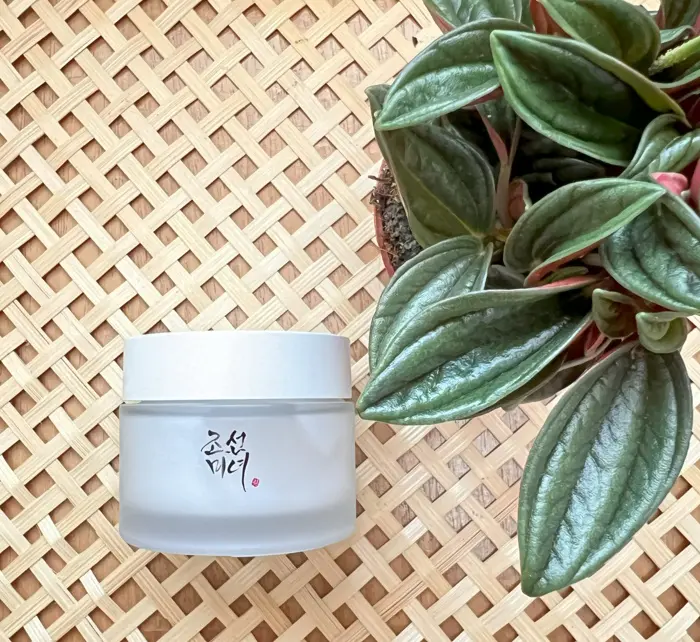 Verdict
The Beauty of Joseon Dynasty Cream is a great option for anyone who needs a gentle product to soften and add glow and dewiness to the skin. A must-try for dry skin!
This moisturizer made it to our editor's Best Korean Ginseng Skin Care Products in 2023. Make sure you read the article for other ginseng-hanbang recs.
Will I Repurchase Beauty of Joseon Dynasty Cream?
I am still wondering if I will repurchase it. Many other creams are waiting to be cracked open, but maybe someday.
Rating 4/5
Beauty of Joseon Dynasty Cream vs. Old Formulation
This is the most romantic name for a moisturizer. The rest has changed.
Shop for Beauty of Joseon Dynasty Cream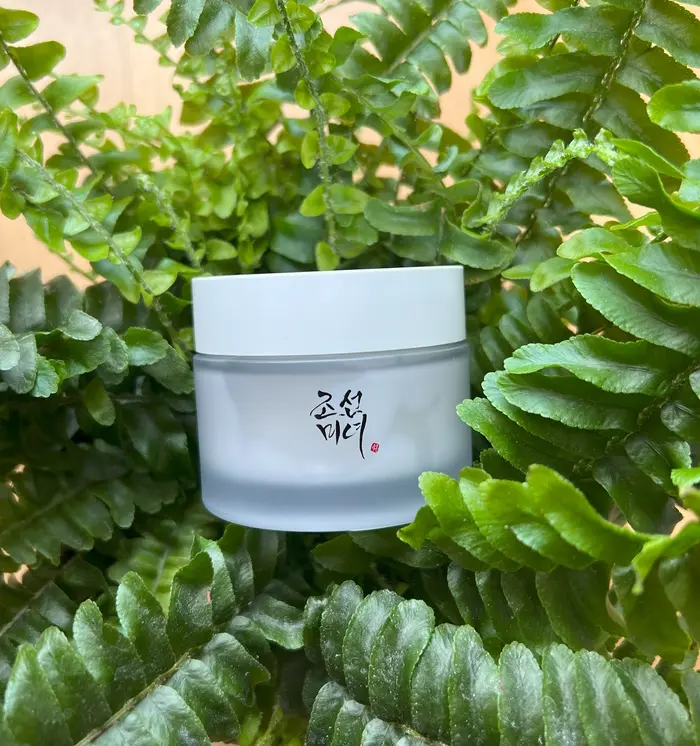 Lastly, I was not paid for this review or received it as a gift.
As always, you do you; be kind to your skin and yourself! Remember that every person's skin and skin type is different, so what might work for me might not work for you, and vice versa. So, before adding a new product to your skincare routine, it pays to do a little research first.
Before adding the Beauty of Joseon Dynasty Cream to your skincare regimen, ensure you are not allergic to it or its ingredients. You should also consult your doctor if you are pregnant, breastfeeding, or have any medical conditions or medications that may interact with the Beauty of Joseon Dynasty Cream. Always do a patch test before applying the Beauty of Joseon Dynasty Cream on your skin to avoid adverse reactions.
I am not a dermatologist or licensed aesthetician, but I have sufficient experience and knowledge I gained by testing multiple products and self-exploration. Unsure? Best to consult your dermatologist.
Happy shopping, and don't forget the sunscreen! Here's to great skin in 2023!
Show Me Proof