iUNIK Centella Calming Gel Cream has finally arrived in my hands! I've been eyeing this product for quite some time before I decided to buy it.
While the first IUNIK products I heard about were the serums, unfortunately, I had to turn a blind eye to them since I still had a stack of serum stocks, even when I thought their claims were pretty interesting. On the other hand, I was running out of my daily moisturizer, so I eventually braced myself to buy a moisturizer from IUNIK instead.
iUNIK Centella Calming Gel Cream Review
Where to Buy the iUNIK Centella Calming Gel Cream?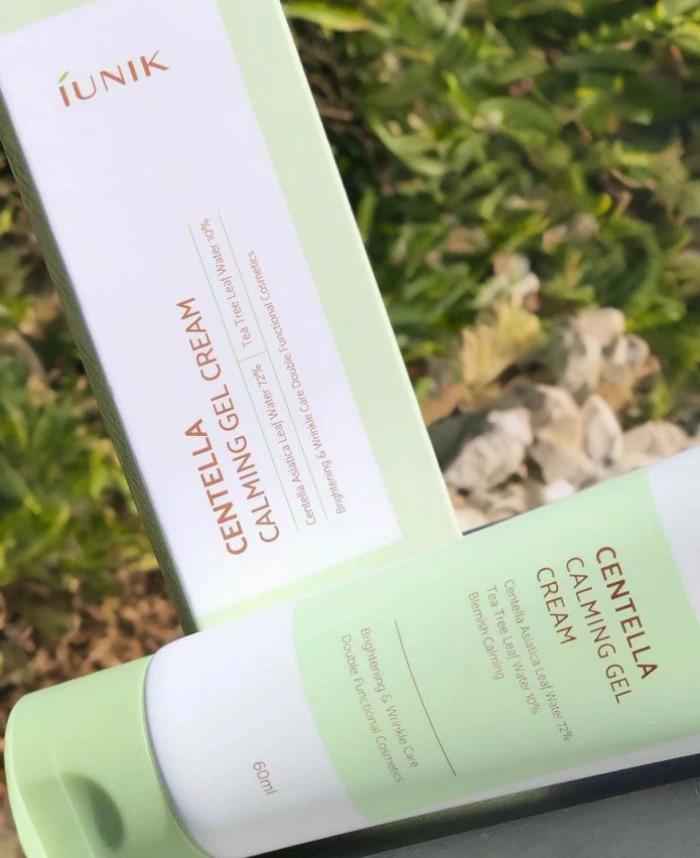 The Centella Calming Gel Cream comes in a two-ounce / 60ml tube and retails for $9-$14.
For all you lucky people in the US who can get Prime delivery, you can buy the moisturizer from iUNIK's official store on Amazon*.
You can also shop for Centella Calming Gel Cream on trusted Asian official retailers, such as YesStyle*, StyleVana*, and JOLSE*.
Also, check out our editor's guide to shopping for Korean skincare.
The iUNIK Brand
iUNIK is the acronym for Ideal, Unique, Natural, Ingredients, KnowHow. iUNIK was launched in late 2016 and is getting increasingly popular in the K-beauty world.
iUNIK is a minimalist skincare brand that attempts to pursue skin happiness through the most uncomplicated packaging and ingredients without being overwhelmed by fancy ingredients and colorful designs.
Minimalism regarding ingredients: only including necessary (all-natural) ingredients for effective skincare into their products.

Minimalism in skincare steps: trying to simplify skincare steps and reducing the number of steps to the absolute minimum for effective skincare.

Minimalism in packaging and design: simple and clean product packaging to match the brand's philosophy.

And most of all, providing great skincare for a reasonable price.

iUNIK
What Is iUNIK Centella Calming Gel Cream?
iUNIK Centella Calming Gel Cream is a lightweight, soothing gel moisturizer.
iUNIK Centella Calming Gel Cream Claims
A light and moisturizing gel cream that calms sensitive skin and relieves skin stress with Centella Asiatica Leaf Water 70% and Tea Tree Leaf Water 10%.
It also helps in managing blemishes, brightening, and wrinkles.
Who Is this moisturizer For?
This is a moisturizer that is suitable for oily skin who live in tropical, humid areas.
iUNIK Centella Calming Gel Cream Ingredients
Centella Asiatica Leaf Water, Melaleuca Alternifolia (Tea Tree) Leaf Water, Butylene Glycol, Water, Niacinamide, Methyl Trimethicone, Acrylates/C10-30 Alkyl Acrylate Crosspolymer, Arginine, 1,2-Hexanediol, Caprylyl Glycol, Dimethicone, Dimethicone/Vinyl Dimethicone Crosspolymer, Centella Asiatica Extract, Allantoin, Melaleuca Alternifolia (Tea Tree) Leaf Extract, Ethylhexylglycerin, Adenosine, Dipotassium Glycyrrhizate, Citrus Aurantium Bergamia (Bergamot) Fruit Oil, Pentylene Glycol, Sodium Hyaluronate, Aspalathus Linearis Extract, Glycyrrhiza Glabra (Licorice) Root Extract, Triticum Vulgare (Wheat) Germ Extract, Brassica Oleracea Italica (Broccoli) Extract, Brassica Oleracea Capitata (Cabbage) Leaf Extract, Medicago Sativa (Alfalfa) Extract, Raphanus Sativus (Radish) Seed Extract, Brassica Campestris (Rapeseed) Extract, Yucca Schidigera Root Extract, Commiphora Myrrha Resin Extract, Perilla Frutescens Leaf Extract, Limonene, Linalool.
Ingredients referred from the iUNIK official website.
Brightening Herbal Active Hydrating/Moisturizing Fragrance
Centella Asiatica
Centella Asiatica, the first ingredient on the list and the namesake of this precious concoction, is one of the most popular ingredients in Korean skincare due to its powerful antioxidant, antimicrobial, and anti-inflammatory properties. It's a fantastic ingredient for soothing red and inflamed skin.
Fun fact: It's called tiger grass in Asia because those big cats purportedly rubbed up against the plants when they were injured, and it helped to heal their wounds.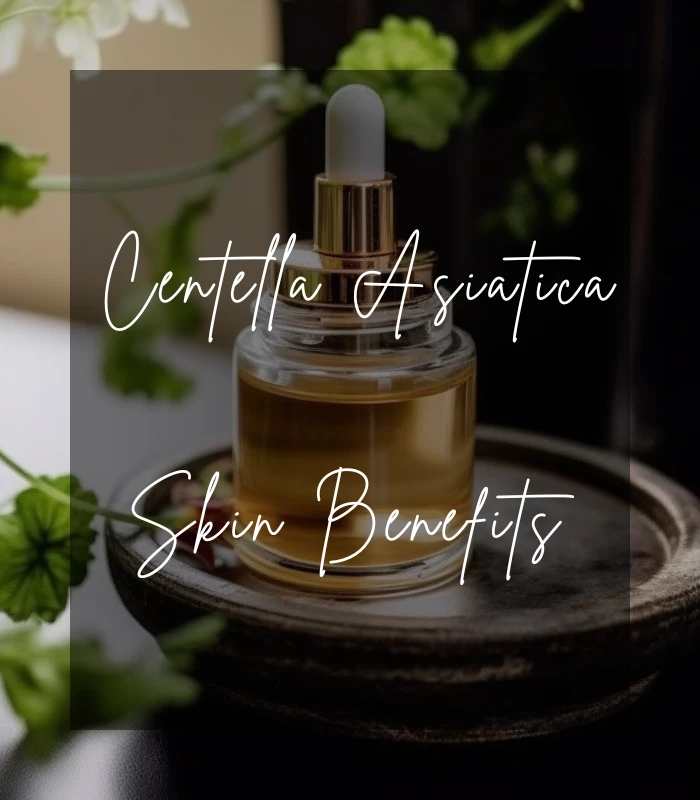 Centella's skin benefits:
Butylene Glycol
Butylene glycol is probably one of the most widely used skincare ingredients. It's commonly used in many skincare and cosmetic products, such as cleansers, serums, moisturizers, sunscreen, sheet masks, foundation and mascara.
I bet if you checked the ingredients list of your skincare products, most of them would contain butylene glycol. This is because it is very effective at increasing skin penetration by other ingredients, as many active ingredients have a molecular weight that is too large for effective skin penetration.
Butylene glycol is also often used as a skincare ingredient to give products a thinner consistency, making them feel less greasy and easier to apply.
Lastly, butylene glycol also has humectant properties due to its alcohol groups. It can draw moisture (water molecules) from the surrounding air and hydrate your skin like hyaluronic acid.
Niacinamide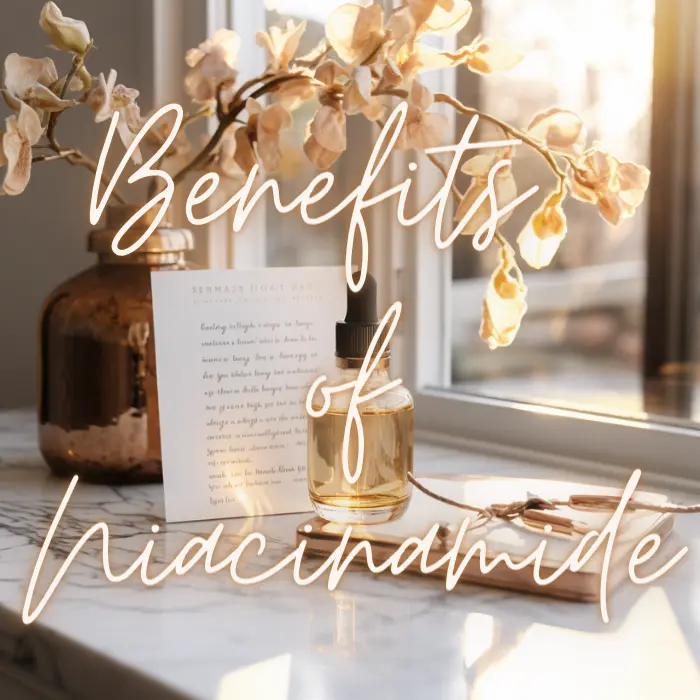 Niacinamide has been making a splash in the Western market over the last few years but has been a superstar in Asian skincare for decades. This beauty powerhouse is the topical form of vitamin B3.
Several well-documented studies show that when used topically, niacinamide:
Long story short, niacinamide does everything, and the good news is that it is well-tolerated by most skin types.
To learn more, please read our Complete Guide on Niacinamide and How to Reduce Hyperpigmentation with Niacinamide.
Glycyrrhiza Glabra (Licorice) Root Extract
Licorice root extract is becoming a frequently used plant extract in skin care products today because of its fantastic ability to prevent skin hyperpigmentation and fade existing hyperpigmentation – all while soothing your skin and providing it with antioxidants.
It is a cream made with love.
iUNIK Centella Calming Gel Cream does not contain alcohol.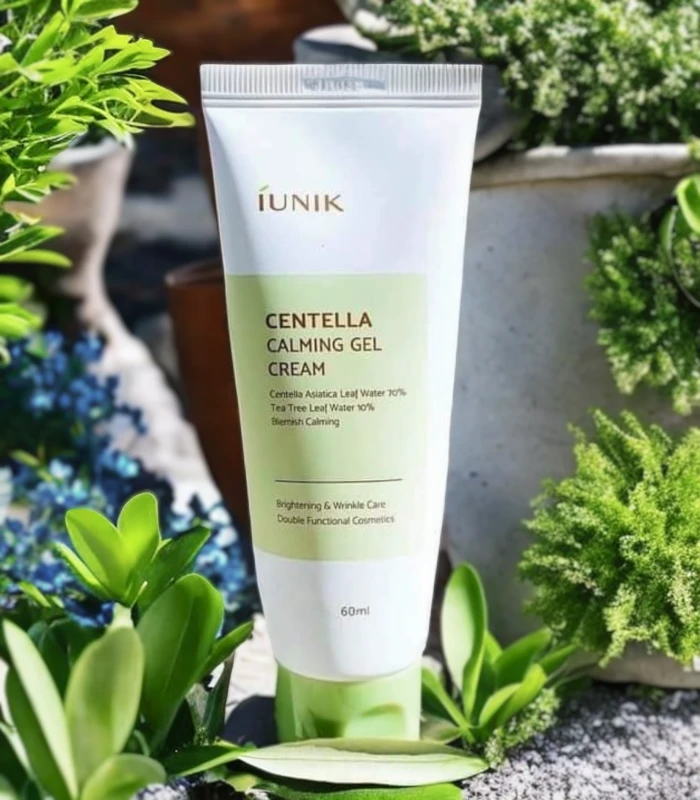 Packaging
The packaging is a green and white tube containing 60ml. Somehow, I presumed this color combination was chosen to give a calming impression, and I love it. Or maybe it was related to the color of the leaf water from Centella Asiatica and the tea tree.
The cap has a fine squeeze opening that dispenses the product without spilling.
I like packaging like this because apart from being travel-friendly, this type of packaging is also hygienic compared to jar packaging. After all, our fingers don't need to get into the packaging. Just press and the product comes out hassle-free!
As a protection, IUNIK provides a seal to ensure the product's novelty when bought.
Scent
It has a subtle citrus scent. You can smell it when you take it out.
But in my opinion, the fragrance is very light. It doesn't 'pierce' your nose and disappears immediately when the product is spread on the skin.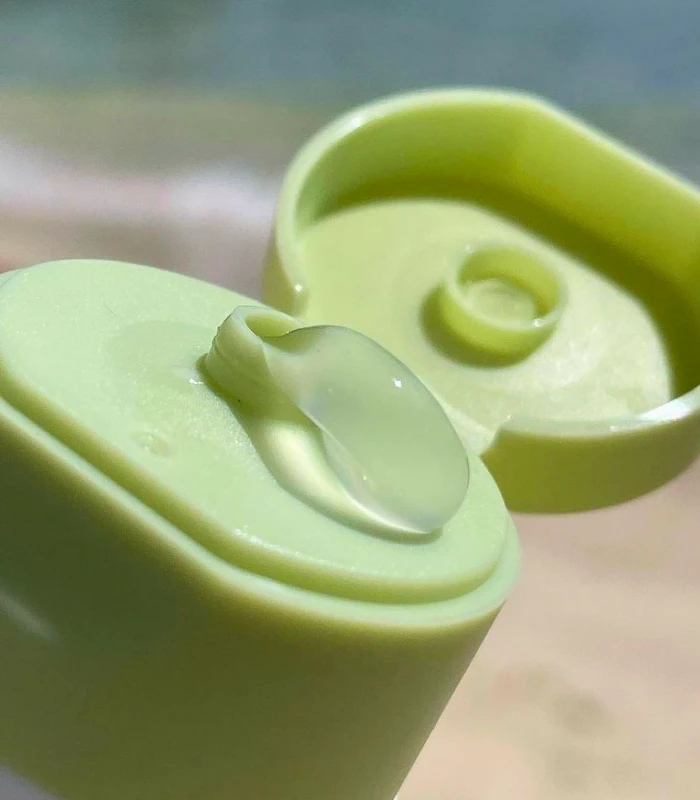 Texture
The gel has a colorless, translucent look, yet it is not entirely transparent, with a dense gel-cream texture. It is not sticky or soft like snail gel cream but is more concentrated and thicker. It is also easily spreadable.
My Experience with the iUNIK Centella Calming Gel Cream
This iUNIK Centella Calming Gel Cream is a cult favorite for acne-prone peeps, and there's a reason for that. I will use only one word to describe this product: stupendous!
My skin is oily, acne-prone, and very sensitive. I am not proud of my enlarged pores either.
This is the second tube I have used since the end of last year. The first one was gifted to me by my friend because she and this cream were not meant to be together. She reacted to this cream and decided to give it to me since I was looking for a moisturizer.
I fell in love with it the first time I tried using it. I could instantly feel the differences after only one week of usage. Hence, I continued using it before deciding to start my review to ensure the effects weren't just temporary.
It is lightweight, easily absorbed, super hydrating, and not sticky. I felt like I was wearing nothing, and my skin didn't feel tight.
The cream works with all my skincare routines (I always switch my products) and can be worn day, night, or whenever I want. Moreover, the soft texture also helps to fasten the absorption. I don't have to wait long to apply my sunscreen.
My mom, who has dry skin, tried it on a day when she felt her face was itchy and uncomfortable, and she says it felt like a refreshing and hydrating gel cream. Its calming and soothing effects are superb! It is not the most hydrating cream for her, but the feeling on the skin was still enjoyable.
IUNIK Centella Calming Gel Cream claims in helping to calm sensitive skin blemishes, and I did see a slight improvement. My cheek was initially dominated with redness due to the enlarged pores. After using this product, I realized the blemishes were reduced, which made me very happy.
However, during my period, I still got my 'period pimples,' and the redness was back. I want to say that IUNIK Centella Calming Gel Cream can calm skin blemishes up to some point, but it can't win over hormones.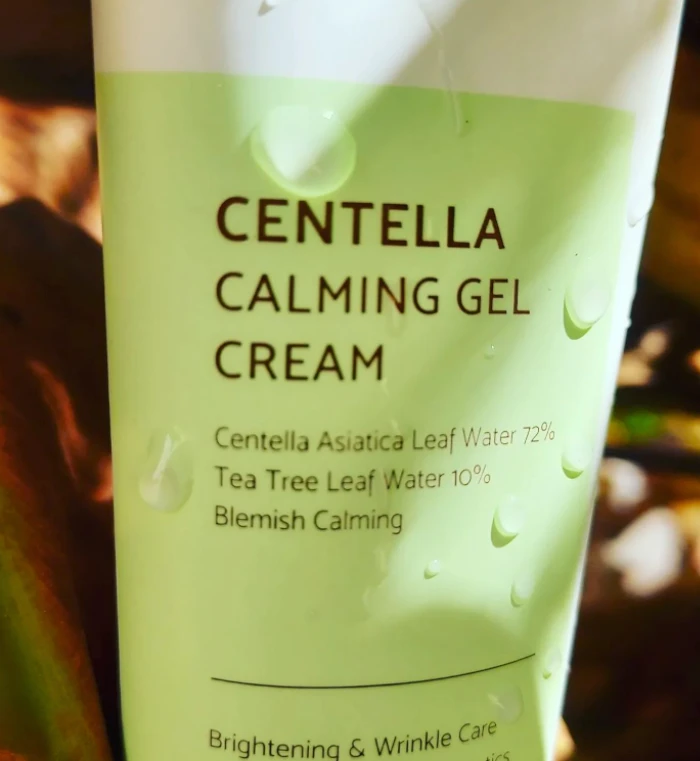 IUNIK Centella Calming Gel Cream claims to relieve skin stress with the help of Centella Asiatica leaf water and tea tree leaf water. The term 'skin stress' is very general, as it could refer to any skin problems. I saw that this product helps strengthen my skin from acne and pimples plus helps nourish it from the inside.
It regulates the sebum production well. If I use it in the morning, then in the afternoon, my skin doesn't have as much oil as usual.
IUNIK Centella Calming Gel Cream also claims to be light and moisturizing, which I fell in love with. Despite its light texture, it gives the moisturizing effect my skin needs and hydrates my face very well, making it healthy and plump. Its moisturizing ability is perfect for my skin, neither too little nor too much.
If you haven't read the list carefully, the main ingredient is not water; it's Centella Asiatica. It's evident to me that the hype of Centella Asiatica wasn't just a part of claptrap, and IUNIK does an admirable job of combining it with tea tree and niacinamide. The trio of acne-fighting ingredients is combined in one tube with other complementary ingredients and does not use alcohol. Why haven't I tried this until now?
As we know, Centella is fantastic in treating wounds in the most gentle way possible. I love to use it, especially when dealing with acne scarring. It is also suitable for healing and when I have any redness on my skin. This cream claims to lower skin temperature, and I am sure it does what it claims. It makes my skin feel calm when I use it in the middle of the day.
Seeing the safe ingredients analysis by cosDNA, I suggest everyone try IUNIK Centella Calming Gel Cream. It's moisturizing enough for oily skin, provides nutrition to dry skin, and treats sensitive skin correctly. However, I'm afraid the moisturizing power isn't enough for dry skin, but it's still recommended if you're looking for the beneficial combos of tea tree and Centella Asiatica. Not to mention how many natural ingredients are listed on the list.
Even though it contains fragrance, it doesn't bother me and is at the end of the composition list, so you could say it has little.
I recommend it to those who have redness and are fighting acne. I believe oily skin peeps are going to love this cream. As for dry skin, this cream might not be enough for you regarding hydration.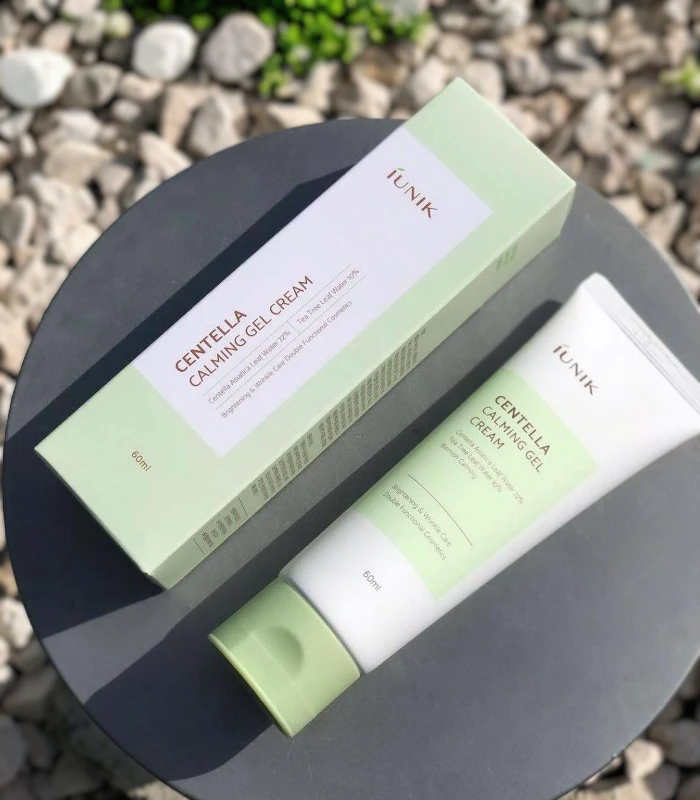 How to Use the iUNIK Centella Calming Gel Cream?
I use this as a moisturizer in the morning and night. The texture is gel and turns watery after being spread evenly on the skin.
If you have oily skin like me, you must try this! For dry skin, you can still use this cream, just layer it with a more occlusive moisturizer.
Cleanser (at night)
Second Cleanser / Face Wash
Toner
Essence
Serum
iUNIK Centella Calming Gel Cream
COSRX Centella Blemish Cream (at night)
Sunscreen (morning/afternoon)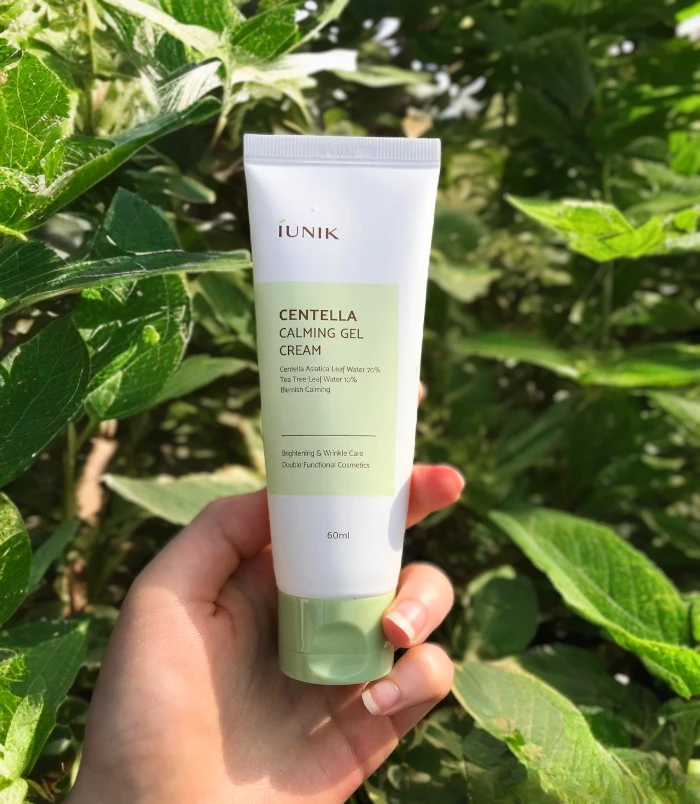 Pros
soothing
calms blemishes
reduces oil production
very affordable
Cons
Verdict
One of the best Centella products I have ever used! Love the texture so much!
It moisturizes well, plus it helps to reduce redness in acne. That's it; the packaging is practical and hygienic, and the price is also friendly.
Finally, I have found a moisturizer with a lighter texture than Krave's Oat So Simple Water Cream* and much more affordable.
Will I Repurchase the iUNIK Centella Calming Gel Cream?
Absolutely, yes.
Rating 5/5
Shop for iUNIK Centella Calming Gel Cream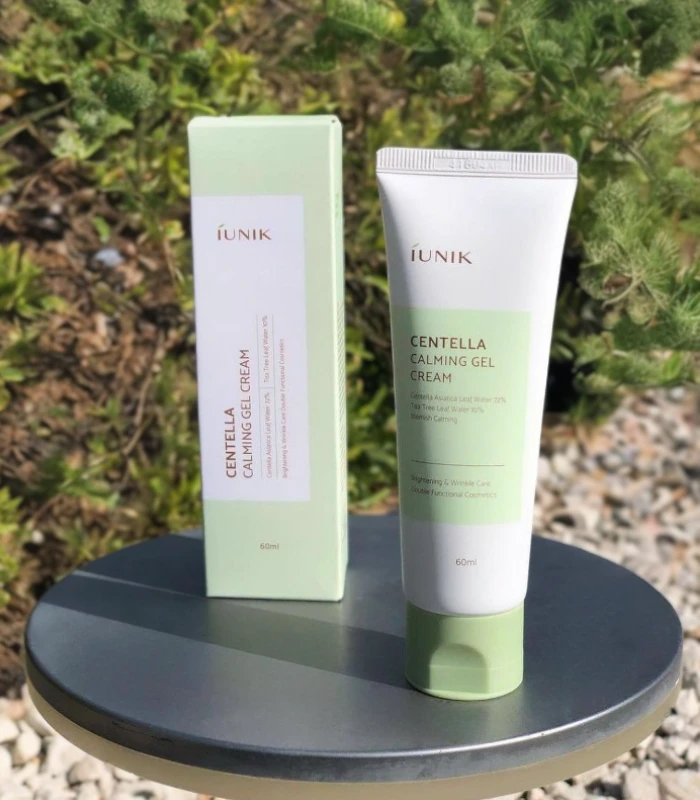 You can get iUNIK Centella Calming Gel Cream for $9-$14. Other popular Asian websites: YesStyle*, StyleVana*, and JOLSE*.
Lastly, I was not paid for this review or received it as a gift.
As always, you do you; be kind to your skin and yourself! Remember that every person's skin and skin type is different, so what might work for me might not work for you, and vice versa. So, before adding a new product to your skincare routine, it pays to do a little research first.
Before adding the Centella Calming Gel Cream to your skincare regimen, ensure you are not allergic to it or its ingredients. You should also consult your doctor if you are pregnant, breastfeeding, or have any medical conditions or medications that may interact with the Centella Calming Gel Cream. Always do a patch test before applying the Centella Calming Gel Cream on your skin to avoid adverse reactions.
I am not a dermatologist or licensed aesthetician, but I have sufficient experience and knowledge I gained by testing multiple products and self-exploration. Unsure? Best to consult your dermatologist.
Happy shopping, and don't forget the sunscreen! Here's to great skin in 2023!
Show Me Proof