Breakouts are the worst. They always seem to come up at the most inconvenient times! I've tried many remedies, from toothpaste to salicylic acid spot treatments. When one of my favorite Korean YouTubers raved about Cosrx Centella Blemish Cream, I knew I had to try it.
Where to Buy the Cosrx Centella Blemish Cream?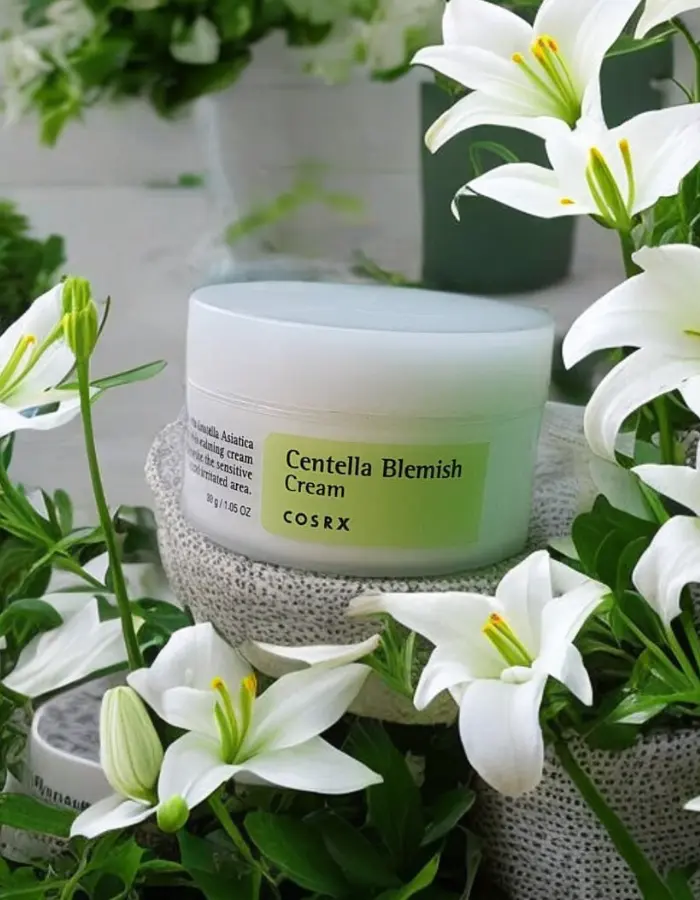 In the US, on the official CosRx website, it's available for $21 and comes in a 1.05 oz / 30g jar. You can also shop for Cosrx Centella Blemish Cream on the official CosRx store on Amazon*.
CosRx Centella Blemish Cream is also available online in trusted Korean stores, such as StyleKorean*, YesStyle*, and StyleVana*, for a price range between $10 to $18, depending on the discount.
The COSRX Brand
I am a packaging person when it comes to skincare. I often buy a product because it looks too cute to resist. This typically ends in disappointment. It was not until I met CosRx that I changed my mind about how skincare brands can be non-cute and non-fancy but effective. Besides, non-fancy packaging also lowers the price, which benefits us, the consumers!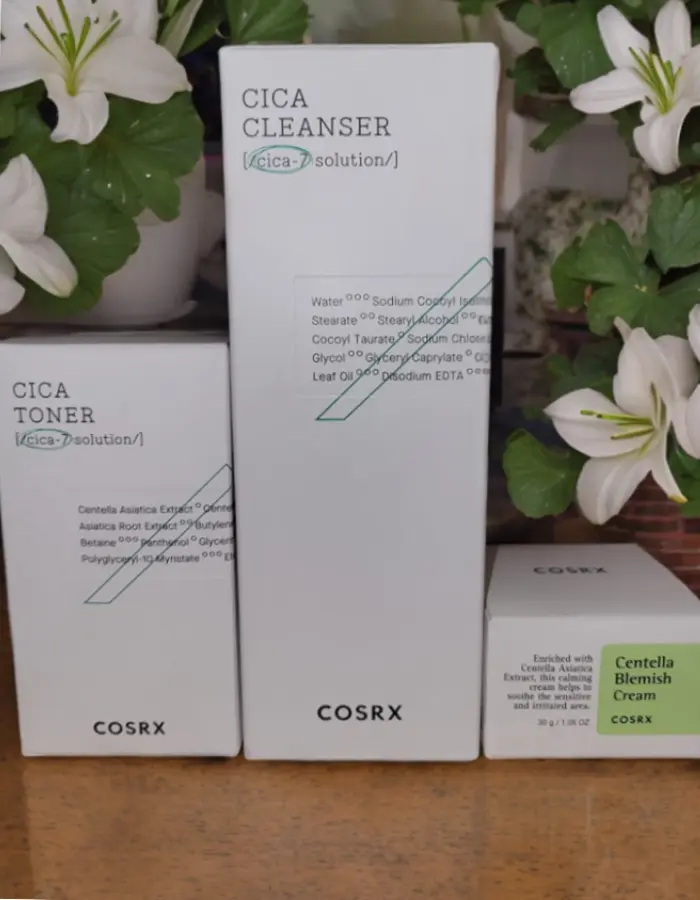 How did I get to know Cosrx? My relationship with Cosrx isn't love at first sight. It is too ordinary and plain to be noticed. But Instagrammers and Youtubers are raving about it. This got me curious, and I started my official relationship with Cosrx.
If you are new to Cosrx, Cosrx is a Korean cosmetic brand that focuses on using the only quality and minimum amount of ingredients to achieve maximum skincare goals. Most Cosrx products are targeted for oily and acne-prone skin. They also carry a hyaluronic acid range for drier skin, but their AHA/BHA products are the most popular.
Cosrx is also unique because they have a down-to-earth customer service attitude. You can always e-mail or leave a comment on their Instagram account. They will always try their best to give you the best feedback. But even if you don't, you can get most of your answers from bloggers, YouTubers, and Instagrammers who share about those products anyway.
I noticed Cosrx is one of the few brands which launched a dedicated line with Centella as a primary ingredient.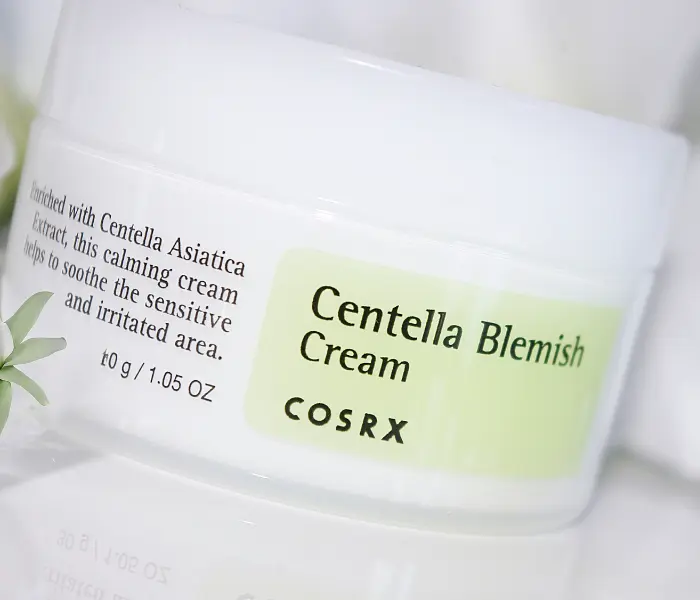 Cosrx Centella Blemish Cream Claims
Cosrx Centella Blemish Cream* is a highly concentrated cream with the main ingredients Centella Asiatica and zinc oxide.
"Cosrx Centella Blemish Cream is a non-oily, hydrating, ointment-type cream that creates a protective barrier for the skin while the all-natural active ingredients clear and soothe the skin free from blemishes."

"Excellent for sensitive skin as well as acne prone skin, the Centella Blemish Cream uses all-natural Centella asiatica leaf water as a base for maximum hydration with calming & soothing effects. Reduce the stress on your skin with a touch of nature with the Centella Blemish Cream today!"

CosRx
*Affiliate links below.
Who Is this CosRx Blemish Cream For?
Cosrx Centella Blemish Cream is a must-have for those who often get random zits or irritation on the skin. The blemish cream is also suitable for acne scarring. If the skin is severely acne-prone or allergic to oils, check the ingredients properly because they contain essential oils.
Not sure what your skin type is? Please read our guide on Skin types & skin conditions.
Cosrx Centella Blemish Cream Ingredients
Key Ingredients Explained
It contains only very few ingredients that could rarely irritate the skin. Based on the formulation, note that this is an anti-inflammatory and anti-microbial product designed to heal breakouts.
Centella Asiatica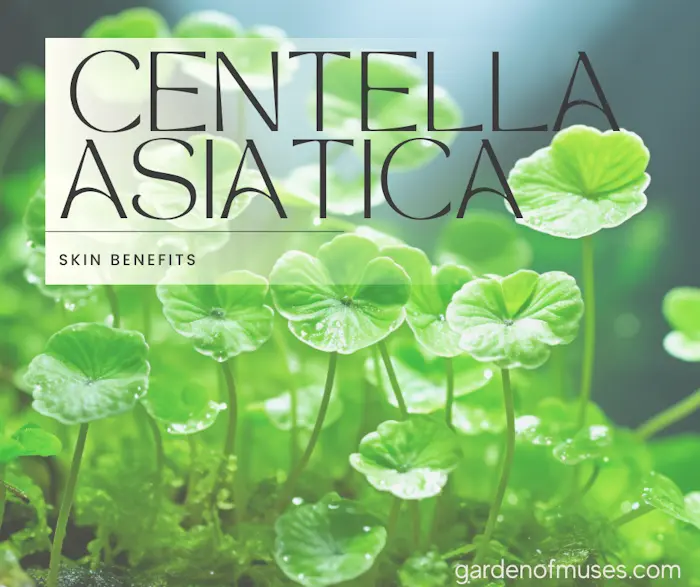 This blemish cream uses approximately 50% Centella Asiatica leaf water and 5,000ppm Centella Asiatica extract. Centella Asiatica is one of the most popular Korean skincare ingredients due to its powerful antioxidant, antimicrobial, and anti-inflammatory properties. It's a fantastic ingredient for soothing red and inflamed skin, making it a great asset in caring for acne-prone skin.
Centella Asiatica is a plant powerhouse when it comes to skincare. Centella:
Glycerin
Glycerin is widely used as a humectant. It is an excellent ingredient that protects the moisture barrier of the skin.
Sunflower seed oil
Sunflower seed oil, a non-volatile emollient oil, is also added as a skin-repairing and inflammation-reducing skin remedy.
Alcohol
Alcohol can potentially assist product absorption, but this is the one irritant in this product. It can cause skin dryness and damage the skin barrier in high enough doses.
Zinc
We have two zinc ingredients here: zinc oxide and zinc PCA. Zinc oxide is a broad-spectrum sunscreen ingredient, but it has many other functions, like coloring, a thickening agent, and an antioxidant. Zinc PCA is more commonly used in acne-treating products. It has astringent and anti-microbial properties, allowing it to be used in anti-acne products. It is also helpful as an anti-aging ingredient as it can thwart destructive enzymes in the skin that cause wrinkles and skin damage.
Ingredients not included in Cosrx Centella Blemish Cream
Niacinamide, Hyaluronic Acid, parabens, artificial fragrance, allergens, artificial coloring.
Is it vegan?
Cosrx is a cruelty-free brand, but this product is not vegan.
Packaging
Cosrx Centella Blemish Cream comes in a compact white jar. Like most Cosrx products, this also has a small plastic reusable inner lid. I like its small and functional packaging. It fits everywhere! The jar comes with a spatula (yesss) and is therefore intended to be hygienic.
Regarding performance and quantity, it has an excellent price-to-value ratio. I have been using the same jar for almost six months, and still, a lot is left for the next 2-3 months. I use it almost every day.
Expiry Period: Cosrx Centella Blemish Cream has an after-opening expiry period of 12 months.
Scent
It is primarily fragrance-free but smells reminiscent of medicinal plants I like (slight hint of tea tree oil).
Texture
Cosrx Centella Blemish Cream is thick in consistency but slightly gritty in texture, like a powder mixed in a cream. It is not too oily.
It runs smoothly on the skin if a small amount is used. It is easy to tap into your skin. It can leave a white cast if used in excess on dry skin. So, it is desirable to be used at night on a spot or a particular part of the skin.
This slightly whitish effect is due to the presence of zinc oxide, which is often found in sunscreens.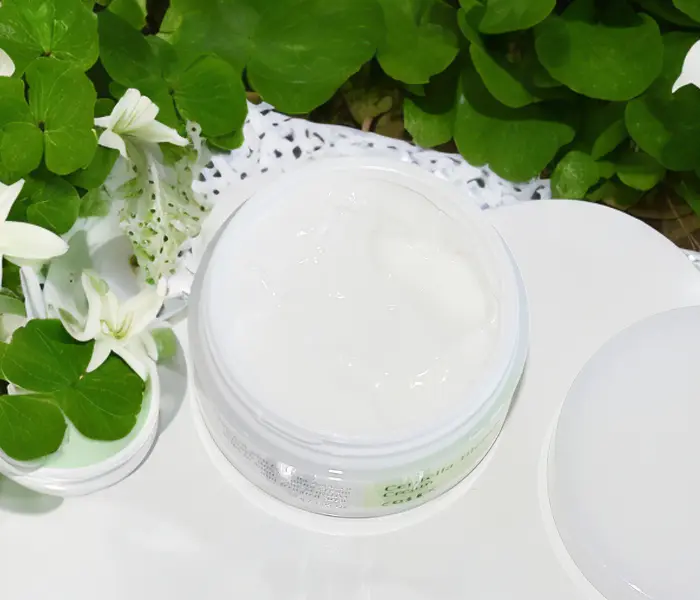 How to Use Cosrx Centella Blemish Cream?
First of all, contrary to popular belif, Cosrx Centella Blemish Cream is not a moisturizer, although it looks like a cream. It is a spot treatment. That's why it comes in 1.05 oz only. Its texture makes it more practical to sit inside a jar, giving some Instagram content creators the wrong impression that this is cream.
You may wonder where something like this fits into your routine: it comes after everything else in your arsenal.
This product is the very last step in my nighttime skincare routine:
Oil cleansing followed by water-based acne cleanser;
Prep skin's pH with a toner;
Do your essence;
I scoop a pea-sized product from the tub using the little spatula and put it on the back of my hand.
Then, I use my finger to pat some of the product onto any cysts gently, whiteheads, irritated red bumps, or local breakouts.
(*affiliate links)
Tip: Mix it with your moisturizing emulsion or lotion for oily skin to use it on the whole face. I like that it is versatile enough to be mixed in with any moisturizing creams. Please don't mix it with treatment lotions that contain active ingredients like AHA/BHA/Vitamin C or similar skin-brightening ingredients.
My Personal Experience with Cosrx Centella Blemish Cream
For reference, I have acne-prone, dehydrated, oily skin. I've been using it for nearly six months, and I am ready to share with you its effects.
Now, let's talk about effectiveness. This is my favorite SOS product. It works best for rising pimples.
It has helped hydrate and calm hormonal acne on my jaws by forming a waterproof wrap that protects the blemish from the environment. It works like Pyunkang Yul Acne Cream to dry out and tame acne.
I used it on a deep cyst on my cheek that had just started to form. I was surprised to see a reduction in the size of the painful cyst. It wasn't completely gone and took a week to disappear, but the cyst never came to a head and never increased further in size.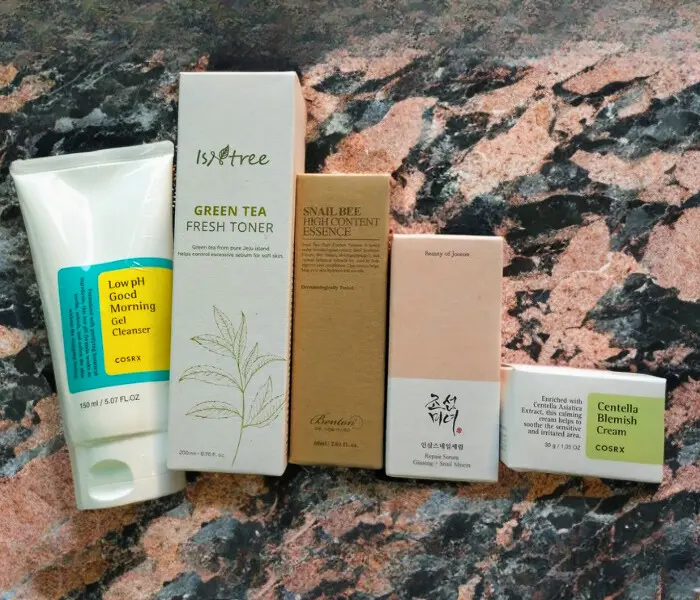 I let the cream do its magic while I sleep, and the blemishes are always less red when I wake up and cleanse my face. I have noticed a regulation of sebum and softer and soothed skin with less redness. Pimples heal faster. It is, above all, the soothing effect of the cream that I love and which I find stands out the most. Its effect reminds me of the acne pimple patches* of the same brand, which I find super practical!
The Cosrx Centella Blemish Cream is also effective against whiteheads. I tested it on some whiteheads. They didn't disappear immediately but went away in two days without scarring or inflammation.
I have also noticed that I can use this blemish cream as a proactive measure for preventing breakouts. When I feel that a pimple is about to pop up and my skin is slightly red in that area, I immediately use the Cosrx Blemish Cream*. Nine times out of 10, the spot is completely clear within a few days of using the cream.
This blemish cream has saved me so many times. It has friendly ingredients, an interesting chewy texture, and is inexpensive. I like Centella Asiatica too. It has been helpful for my acne, I am sure. It works pretty well to calm down those zits and red bumpy things.
I sometimes use it all over my face to "heal scars" due to acne. However, this cream doesn't seem to have scars-reducing benefits. This spot treatment did not help with old acne scars. I am not praising it for its skin-repairing or scars-reducing benefits. Deep scarring and pigmentation can only be reduced via chemical exfoliation or spot treatments recommended by a dermatologist.
Pros
Reduces skin irritation;
Calms rising pimples;
Easily available;
Good value for money;
Travel friendly;
Has safe ingredients;
Mild fragrance.
Cons
It doesn't work on old deep acne scars;
if used on the entire face, the product goes by quickly.
Verdict
The Cosrx Centella Blemish Cream does an excellent job at treating acne, including cysts and pimples. This acne cream prevents and treats blemishes. It's also practical for healing and reducing inflammation.
My skin is too dehydrated to use this as a regular moisturizer, but I imagine it to be moisturizing enough for oily skin. I didn't see any reduction in PIH, but I used it more as a spot treatment for blemishes.
The blemish cream doesn't replace my regular spot treatments (pink powder, pimple stickers), but it's an excellent addition to my routine and can be used under makeup.
I don't suffer from regular acne, but Cosrx Centella Blemish Cream is an excellent addition to my skincare routine and a good alternative to other harsh spot treatments.
Do I recommend it? Yes! The Cosrx Centella Blemish Cream is excellent for anyone with acne-prone skin. Moreover, it is a must-have SOS product for all skin types.
It is a quick and effective way to keep your acne under control.
Will I Repurchase Cosrx Centella Blemish Cream?
Yes, I will unless I find a better alternative.
Rating 5/5
Shop for COSRX Centella Blemish Cream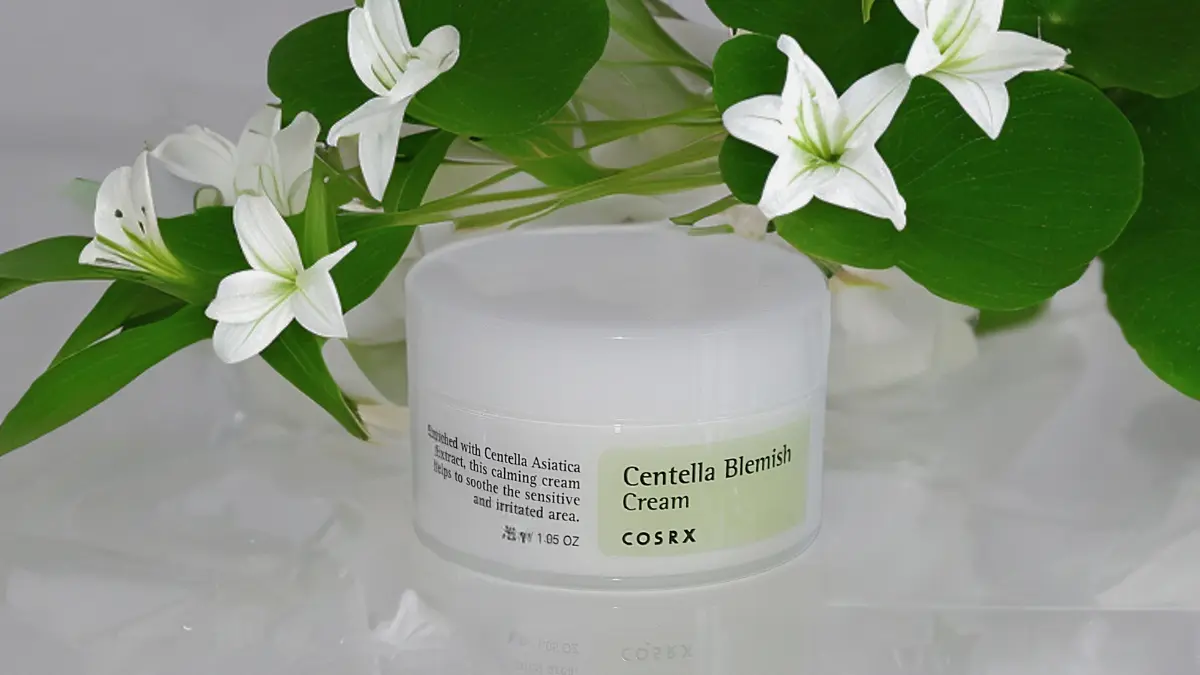 Lastly, I was not paid for this review or received it as a gift.
As always, you do you; be kind to your skin and yourself! Remember that every person's skin and skin type is different, so what might work for me might not work for you, and vice versa. So, before adding a new product to your skincare routine, it pays to do a little research first.
Before adding the COSRX Centella Blemish Cream to your skincare regimen, ensure you are not allergic to it or its ingredients. You should also consult your doctor if you are pregnant, breastfeeding, or have any medical conditions or medications that may interact with the COSRX Centella Blemish Cream. Always do a patch test before applying the COSRX Centella Blemish Cream on your skin to avoid adverse reactions.
I am not a dermatologist or licensed aesthetician, but I have sufficient experience and knowledge I gained by testing multiple products and self-exploration. Unsure? Best to consult your dermatologist.
Happy shopping, and don't forget the sunscreen! Here's to great skin in 2023!
Show Me Proof