I got this as a bonus on my first Style Korean order. A full-sized toner!
The funny thing is because I received it as a present, along with a big haul of products, I never bothered to read the ingredients list before using it.
I have been using the SKIN1004 Hyalu-Cica Brightening Toner for a year. Really. It lasts that long. Read along to see what happened.
SKIN1004 Hyalu-Cica Brightening Toner Review, at a Glance:
Where to Buy the SKIN1004 Hyalu-Cica Brightening Toner?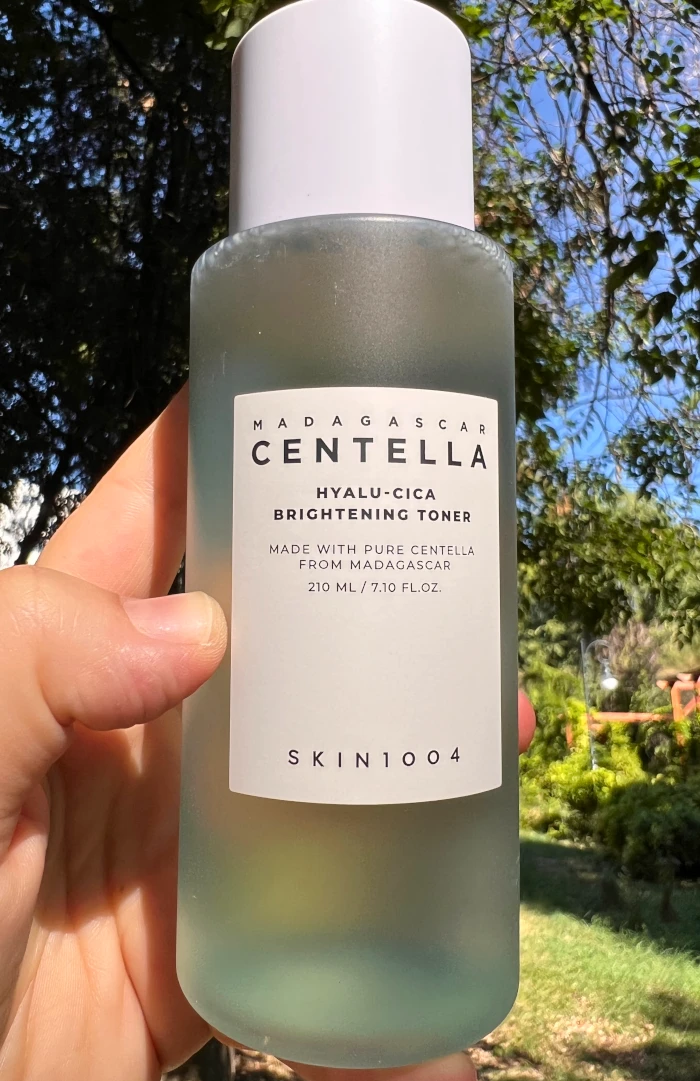 Price/quantity-wise, it's definitely affordable. It varies between $15 and $18 for 7.10 fl.oz./ 210 ml, which lasts a lot.
In the US, it's available at Amazon's SKIN1004 Store.
You can also shop for the No.1 Clear Filter Sun Essence on trusted Asian official retailers, such as YesStyle*, StyleVana*, Jolse*, and StyleKorean*.
Here's our editor's guide to shopping for Korean skincare.
The SKIN1004 Brand
SKIN1004 is a Korean skincare brand that uses Centella Asiatica in all its products.
SKIN1004 claims its products are mild, soothing, extra-light, and non-comedogenic. They are breathable, non-sticky, and have a soft finish.
Whatever touches the skin must be pristine.

SKIN1004
SKIN1004's priority is clean, mild, and gentle ingredients suitable every day for everyone. Their core value is distributing well-crafted natural skincare products at affordable prices.
SKIN1004 is ethical and has clean beauty business practices. They have acquired certifications to prove so, such as CGMP, Beauty without Bunnies, cruelty-free & vegan through PETA, etc.
If you're wondering where 1004 comes from, it's the pronunciation of the word "Angel" in Korean. SKIN1004, therefore, calls themselves "Skin Angels."
Why did they choose Centella from Madagascar?
SKIN1004 believes that good ingredients come from nature that is not polluted, which they call "The Untouched Nature." They have found such an environment in Madagascar, which they say is the oldest island on Earth, where 1.7 billion years of pristine nature has been preserved.
They grow Centella Asiatica of the highest quality in untouched fields of Madagascar, where optimal conditions ensure its quality.
What is the SKIN1004 Hyalu-Cica Brightening Toner?
SKIN1004 Hyalu-Cica Brightening Toner is a highly hydrating toner that helps exfoliate while gently soothing and brightening the skin.
SKIN1004 Hyalu-Cica Brightening Toner Claims
Alpha Hydroxy Acid (AHA): Helps exfoliate and remove dead skin cells on the surface of skin.

Beta-Lipohydroxy Acid (LHA): A gentle exfoliator that removes dead skin cells.

Hyalu-Cica Formula (Hyaluronic Acid + Centella Asiatica): Soothes and replenishes skin hydration level.

Centella Asiatica Extract: Soothes and replenishes skin hydration level.

SKIN1004
Who Is This Toner For?
I recommend this to every skin type who wants a gentle, hydrating exfoliation.
SKIN1004 Hyalu-Cica Brightening Toner Ingredients
SKIN1004 Hyalu-Cica Brightening Toner Ingredients List (last checked 2023)
Centella Asiatica Leaf Water (74%), Butylene Glycol, Glycerin, 1,2-Hexanediol, Niacinamide, Water, Betaine, Sodium Hyaluronate, Hydrolyzed Hyaluronic Acid, Hyaluronic Acid, Hibiscus Esculentus Fruit Extract, Xylitol, Polyglyceryl-10 Oleate, Polyglyceryl-10 Myristate, Polyglyceryl-6 Dioleate, Pyrus Communis (Pear) Fruit Extract, Pentylene Glycol, Polyglyceryl-4 Laurate, Ethylhexylglycerin, Rosa Damascena Flower Water, Adenosine, Cucumis Melo (Melon) Fruit Extract, Iris Florentina Root Extract, Hedera Helix (Ivy) Leaf/Stem Extract, Sodium Phytate, Methylpropanediol, Xanthan Gum, Citric Acid, Artemisia Princeps Leaf Extract, Caprylic/Capric Triglyceride, Polyglutamic Acid, Hydrogenated Lecithin, Ceramide NP, Capryloyl Salicylic Acid.
Ingredients referred from SKIN1004's official website.
Brightening Herbal Surfactant Sun filter Active Hydrating/Moisturizing
Ingredients Analysis
Hyalu-Cica Formula is the golden ratio of hyaluronic acid for moisturization and cica for calming the skin.
The hero ingredient for this toner is Centella Asiatica, which calms and relaxes irritated and tired skin.
SKIN1004 Hyalu-Cica Brightening Toner does not contain alcohol, essential oils, fragrances, or allergens and is vegan and cruelty-free.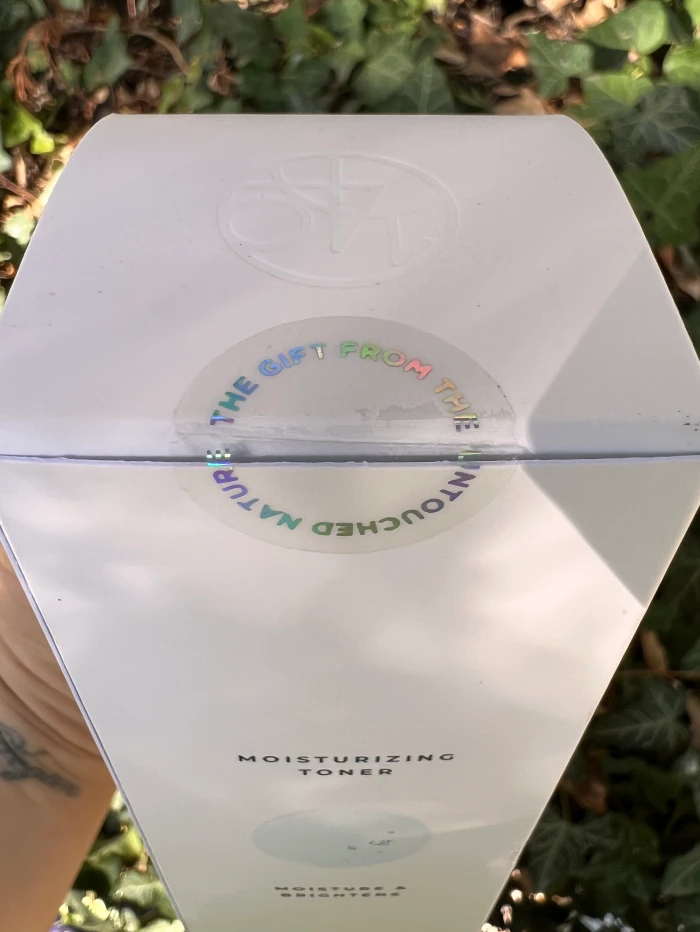 Packaging
Typical plastic toner bottle.
Scent
Although it has no fragrance or essential oils, the toner does have a smell, an amazing one. It is refreshing and clean, barely noticeable.
You can't smell anything once you have finished applying it
Texture
It has a watery texture with a slip.
My Experience with the SKIN1004 Hyalu-Cica Brightening Toner
I have a resilient, normal to dry skin type, and I live in a typically continental with cold winters and hot summers. My skin concerns are blackheads around the chin and nose and the occasional pimple, but mainly inhibiting wrinkle formation.
I started using this toner over a year ago, right about the time I started tretinoin for anti-aging purposes. So, my skin was a little more sensitive than usual at the time.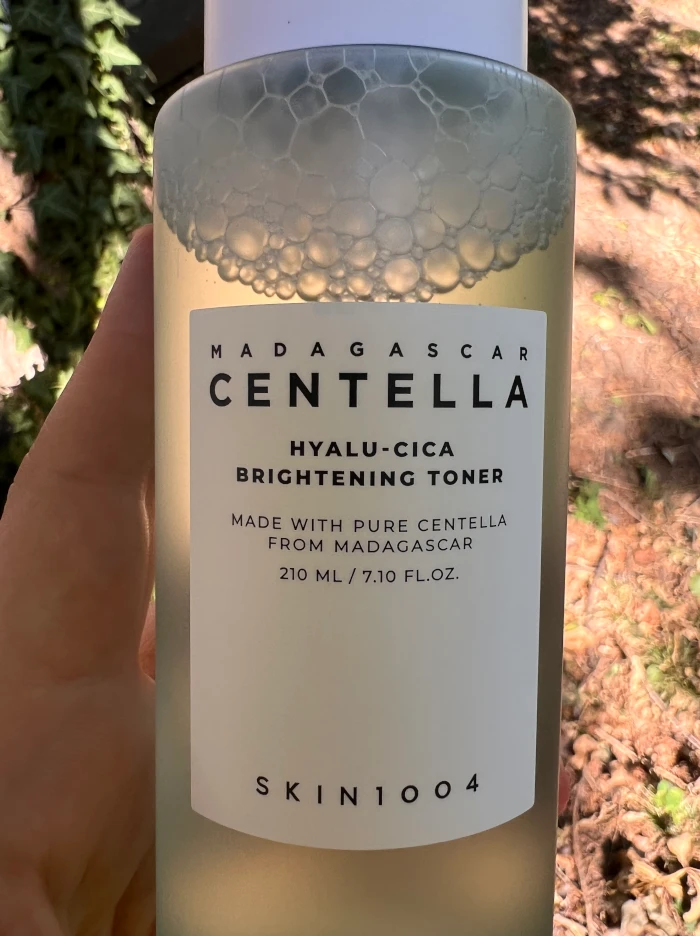 I received this toner as a gift; I didn't bother reading about it much. I deducted it's a hydrating toner from the label and started layering it in my morning and night routine.
After using it for months, to my surprise, I learned that this toner is also a chemical exfoliant. But it is so mild that it didn't bother my tretinoin skin, nor my eyes. I was pleasantly surprised and impressed as I never had any reactions.
I know I am not supposed to put chemical exfoliants on my eyelids, but I thought it was just a hydrating toner, so I spread it everywhere.
The SKIN1004 Hyalu-Cica Brightening Toner leaves my skin feeling soft, non-sticky, hydrated, and fresh.
When I use this toner, my skin is less textured, and my makeup looks much better. It is layerable and absorbs well.
This is a good exfoliant for sensitive skin or retinoid users who do not want to risk over-exfoliating and damaging their skin barrier.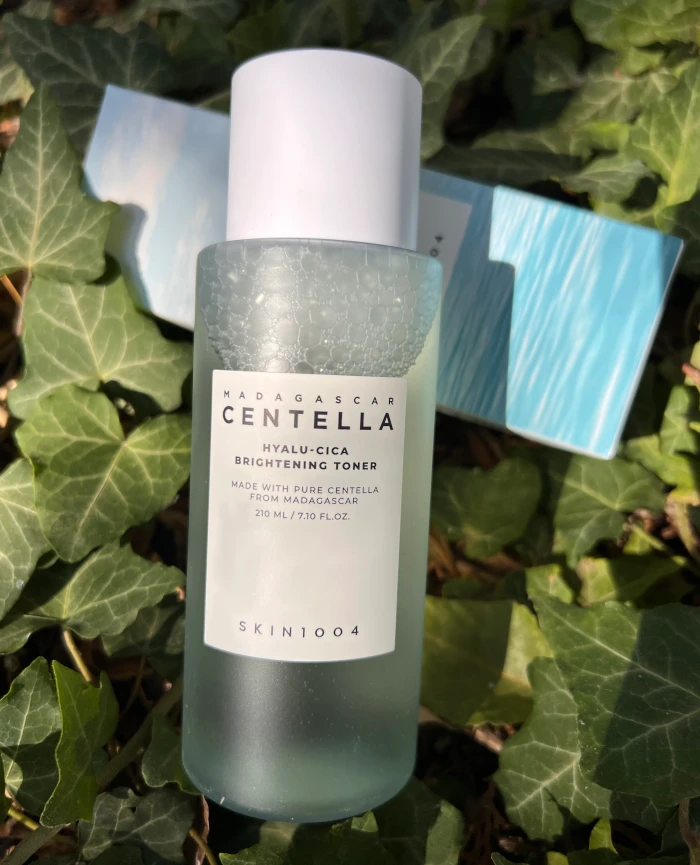 How do you apply the SKIN1004 Hyalu-Cica Brightening Toner?
Apply an appropriate amount to either a cotton pad or directly on the palms. Gently pat to absorb into the skin.
Pros
hydrating
extremely gentle exfoliation
freshness in the morning
Cons
Overall
It's a very lovely toner.
Will I Repurchase the SKIN1004 Hyalu-Cica Brightening Toner?
I enjoy this product, and I think I will repurchase it.
Rating 5/5
Shop for SKIN1004 Hyalu-Cica Brightening Toner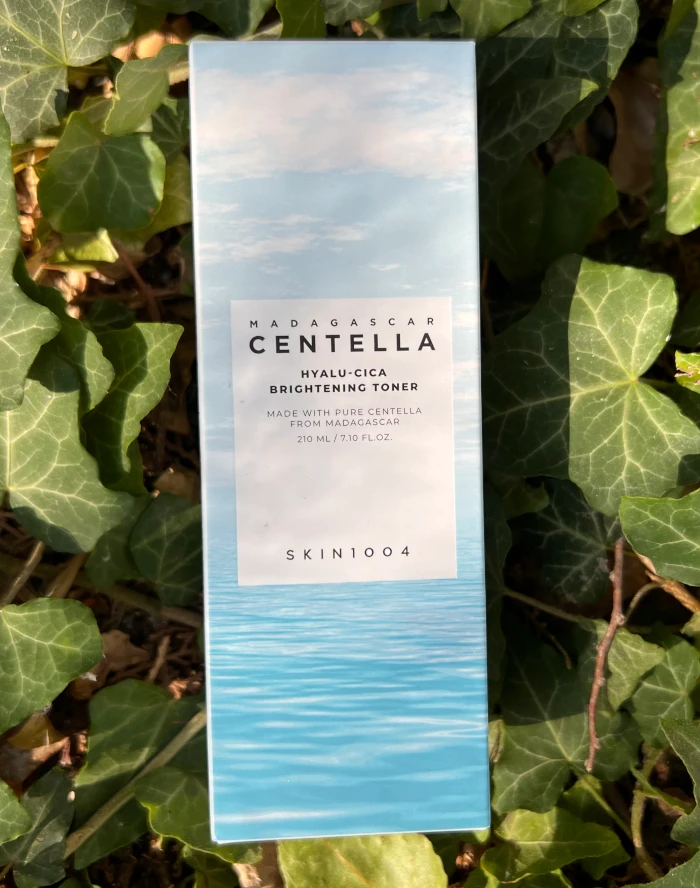 As always, you do you; be kind to your skin and yourself! Remember that every person's skin and skin type is different, so what might work for me might not work for you, and vice versa. So, before adding a new product to your skincare routine, it pays to do a little research first.
Before adding the SKIN1004 Hyalu-Cica Brightening Toner to your skincare regimen, ensure you are not allergic to it or its ingredients. You should also consult your doctor if you are pregnant, breastfeeding, or have any medical conditions or medications that may interact with the SKIN1004 Hyalu-Cica Brightening Toner. Always do a patch test before applying the SKIN1004 Hyalu-Cica Brightening Toner on your skin to avoid adverse reactions.
I am not a dermatologist or licensed aesthetician, but I have sufficient experience and knowledge I gained by testing multiple products and self-exploration. Unsure? Best to consult your dermatologist.
Happy shopping, and don't forget the sunscreen! Here's to great skin in 2023!