The Scinic First Treatment Essence has stood the test of time, continually trending as one of South Korea's most popular treatment essences on the market. I have been seeking a replacement for my discontinued Holy Grail [Still bitter about that, Missha].
Scinic First Treatment Essence, at a Glance:
Where to Buy the Scinic First Treatment Essence?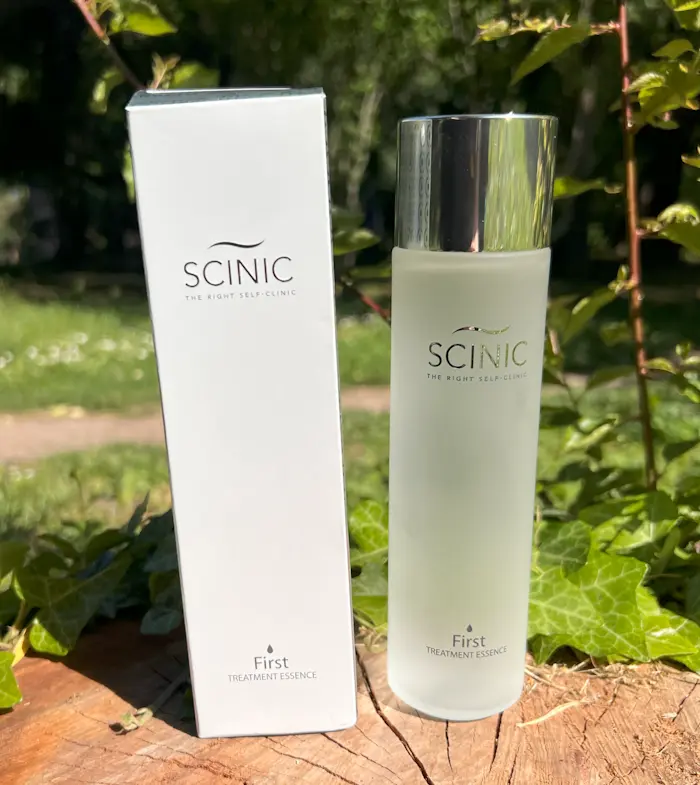 Like most first-treatment essences, the Scninic FTE has excellent undiluted skin-benefiting ingredients. But, unlike most FTEs, Scinic's has an affordable price tag.
The First Treatment Essence comes in a 5.07 fl. oz. / 150ml glass bottle and retails for $11-$24. For all you lucky people in the US who can get Prime delivery, you can buy the first treatment essence from Scinic's official store on Amazon*.
You can also shop for Scinic First Treatment Essence on trusted Asian international shops, such as YesStyle* and StyleVana*.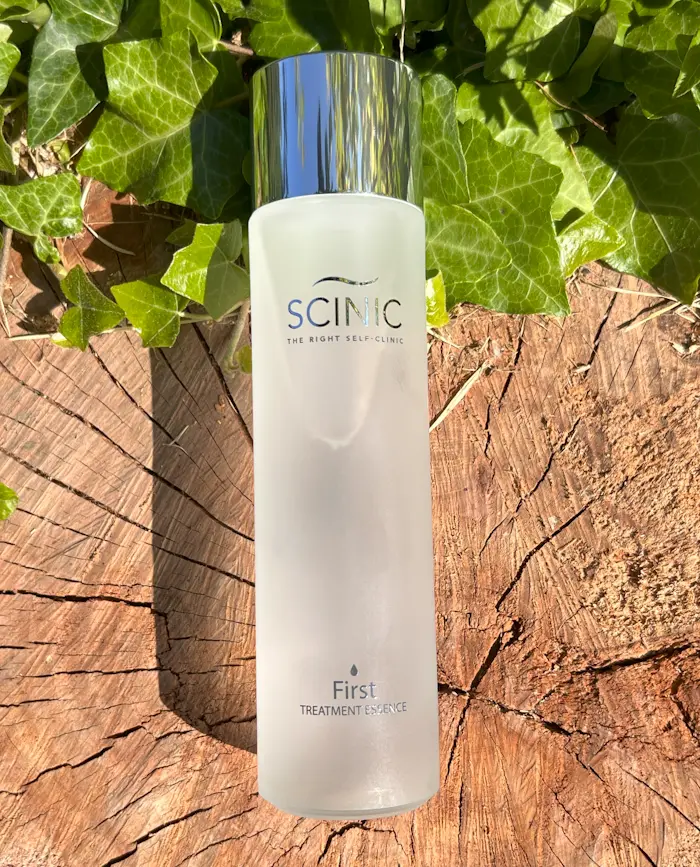 The Scinic Brand
SCINIC is a Korean skincare brand that was launched in 2003. Their products are specifically designed to provide effective solutions for various skin concerns, using a combination of natural and scientific ingredients. SCINIC's philosophy of "Science + Natural + Clinic" is reflected in its skincare line, which delivers fast and instant results for the skin.
Kyung Soo-Jin, a well-known Korean actress, has expressed her trust and admiration for SCINIC's First Treatment Essence. This product has gained immense popularity as an essential ingredient for achieving the coveted Korean glass-skin complexion.
SCINIC creates nourishing skincare products using natural ingredients such as seeds, algae extracts, hyaluronic acid, marine collagen, and traditional Korean snail mucin. The Korean brand is alcohol-free and devoid of artificial fragrances and dyes, making it an excellent choice for users with sensitive skin.
What is the Scinic First Treatment Essence?
As its name says, Scinic First Treatment Essence is a treatment essence. Treatment essence, first essence, first treatment essence, or FTEs, are watery essences used to revitalize, rejuvenate, and exfoliate the skin. It can also do other things like hydrating, prepping, brightening, and anti-oxidizing.
A treatment essence differs from a first serum in that it has a lighter consistency and usually comes in a tall glass bottle.
In addition, it is often made of fermented yeast extract, although some treatment essences are made of biotechnology or other fermented ingredients. Treatment essences tend to be waterless (undiluted) without any fragrance added.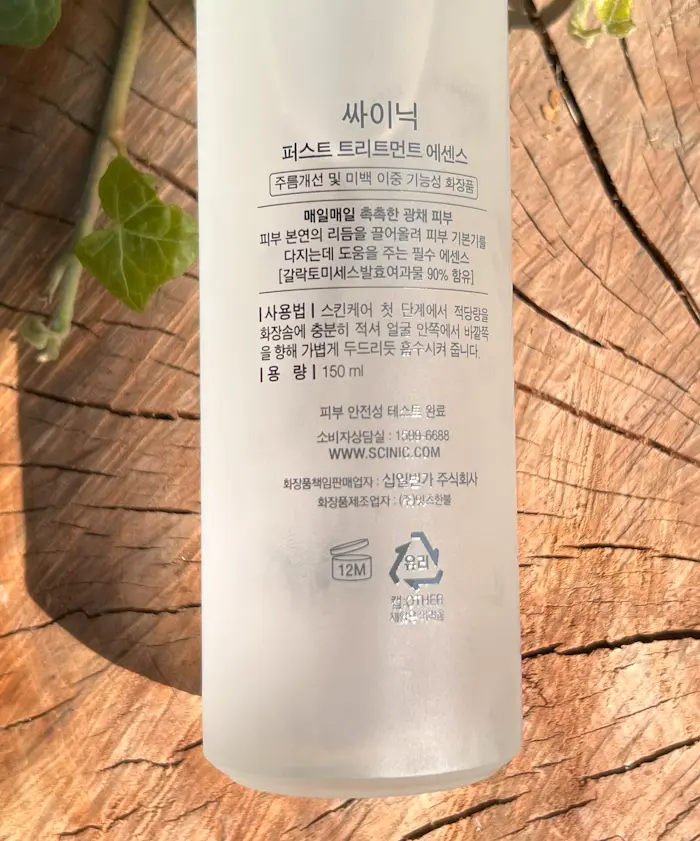 Scinic First Treatment Essence Claims
I struggled to find this product on a brand website where I prefer to gather advertising information, but here are the product claims from YesStyle:
Fortified by 90% Pitera, which is a wonderful fermented ingredient that helps promote rapid cell turnover and makes skin look more refined and smoother.

Scinic's First Treatment Essence also helps improve skin tone and boost hydration without the use of parabens, artificial colors, silicone, ethanol, mineral oil and benzophenone.

YesStyle*
Who Is this First Treatment Essence For?
I would recommend this for every skin type.
Not sure what your skin type is? Please read our guide on Skin types & skin conditions.
Scinic First Treatment Essence Ingredients
Galactomyces Ferment Filtrate, Butylene Glycol, Glycereth-26, Niacinamide, Pentylene Glycol, Caprylhydroxamic Acid, Adenosine, Sodium Citrate, Citric Acid, Disodium EDTA, Glycyrrhiza Glabra (Licorice) Root Water, Portulaca Oleracea Extract, Rubus Coreanus Fruit Extract, Sea Water.
Ingredients referred from the Scinic official website.
Active Herbs Humectant/Moisturizing Brightening Ferments
Ingredients Analysis
Like most treatment essences, Scinic First Treatment Essence has a concentrated formulation, having water as its last ingredient. This means it contains concentrated skin-benefiting ingredients, thus justifying the higher price tags. Treatment essence has many functions, but it is primarily used to prep, hydrate, exfoliate, and rejuvenate the skin, hence the nickname "miracle water" in Asia.
You can also use treatment essence to replace toner if you practice double cleansing and use something moisturizing later. If you use a cleansing toner, then use this after the cleansing toner.
Galactomyces Ferment Filtrate
Due to its fermentation process, Galactomyces Ferment Filtrate is a common ingredient in Korean beauty products. This ingredient is derived from sake and is a fermented yeast highly regarded as one of the most efficient components in Korean cosmetics. GFF:
Please read our 101 Guide on Galactomyces Ferment Filtrate to learn more about it.
Niacinamide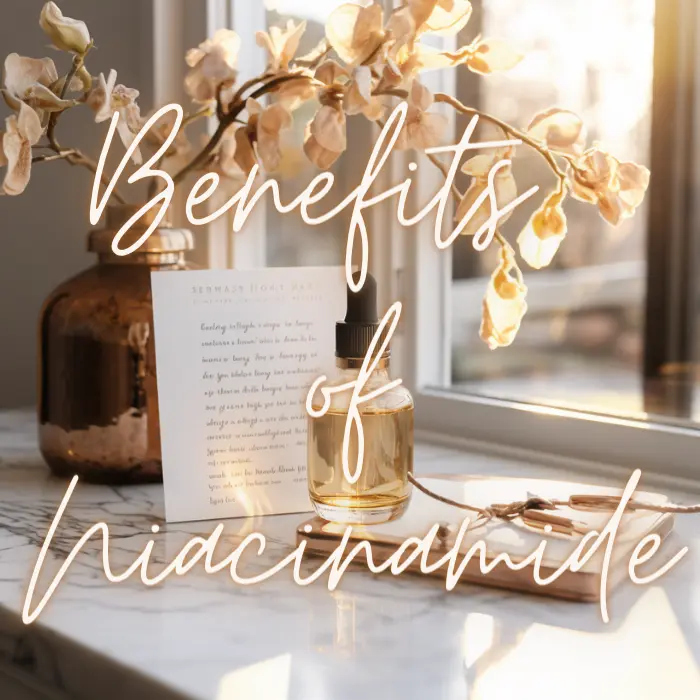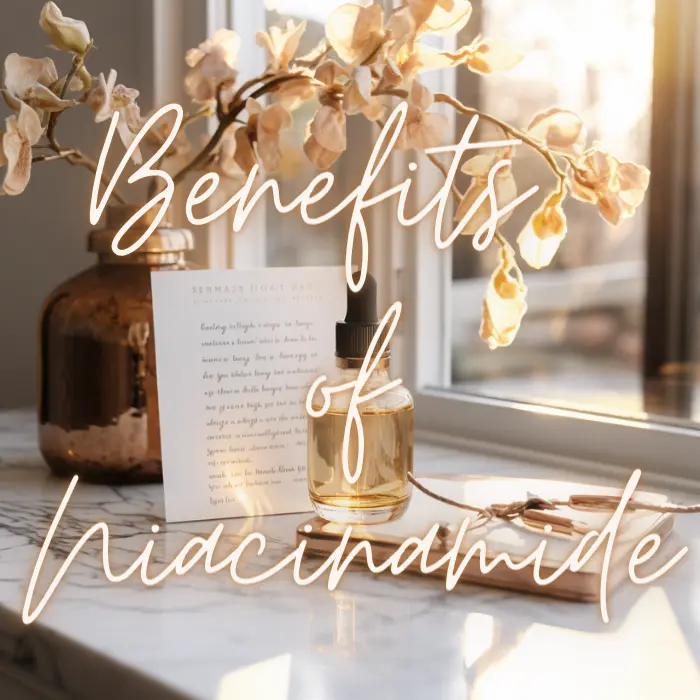 Niacinamide has been making a splash in the Western market over the last few years but has been a superstar in Asian skincare for decades. This beauty powerhouse is the topical form of vitamin B3.
Several well-documented studies show that when used topically, niacinamide can:
Long story short, niacinamide does everything, and the good news is that it is well-tolerated by most skin types.
To learn more, please read:
Portulaca Oleracea
Portulaca Oleracea is a beautiful source of antioxidants and fatty acids. It has also been found to reduce inflammation and improve the skin's protective barrier.
Scinic First Treatment Essence does not contain hyaluronic acid, alcohol, essential oils, or fragrance.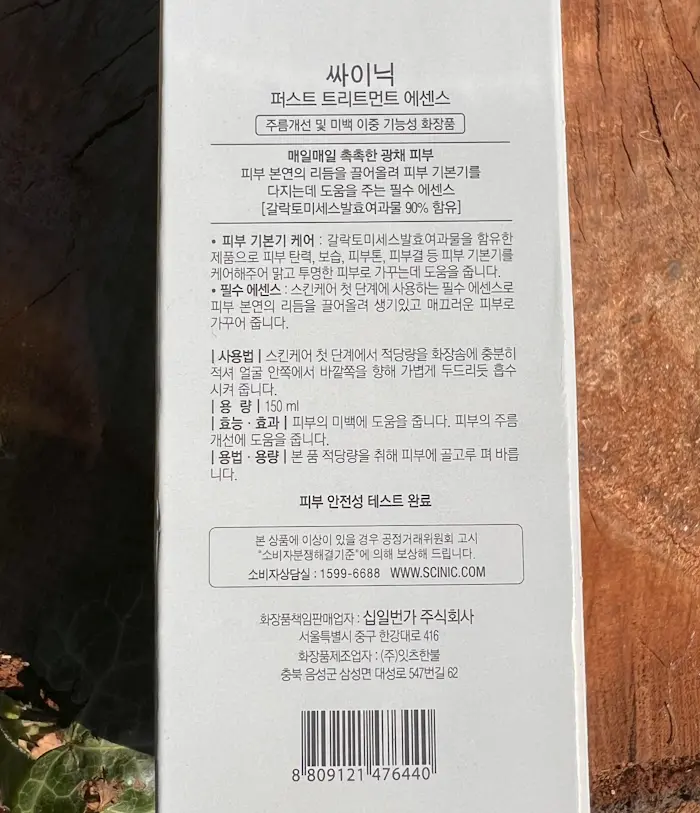 Packaging
The packaging is functional and does not leak, which is all I require in a product.
Scinic First Treatment Essence is packaged like most other first treatment essences before it, focused in a frosted glass bottle with a hole opening for dispensing the product.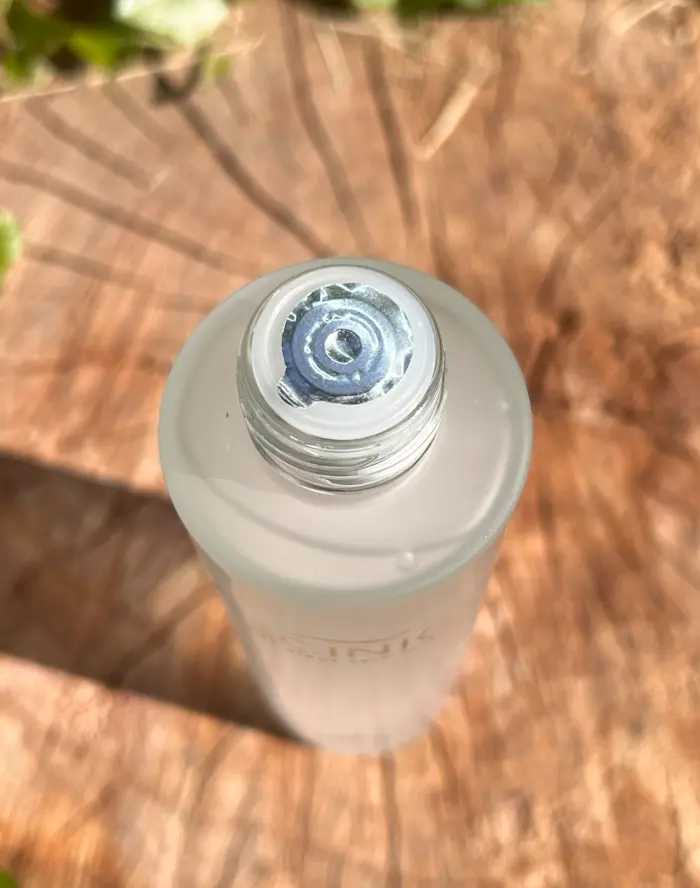 Scent
There is barely any scent, only a slight yeasty sweetness if searching for it, and no added artificial fragrance.
Texture
It is a transparent liquid. It comes in a watery consistency that feels hydrating and prepping on the skin.
I find it easy enough to apply this with just my hands. No cotton rounds are necessary!
My Personal Experience with the Scinic First Treatment Essence
For the past few years, I have been searching for the perfect hydrating first treatment essence replacement for Missha's Original First Treatment Essence for the last few years. While I've come across some options, this product is the closest I've found, although it doesn't match the original.
I have been using this for about two months and still have half of the bottle left. It is a mild, refreshing, hydrating liquid resembling the Missha essence.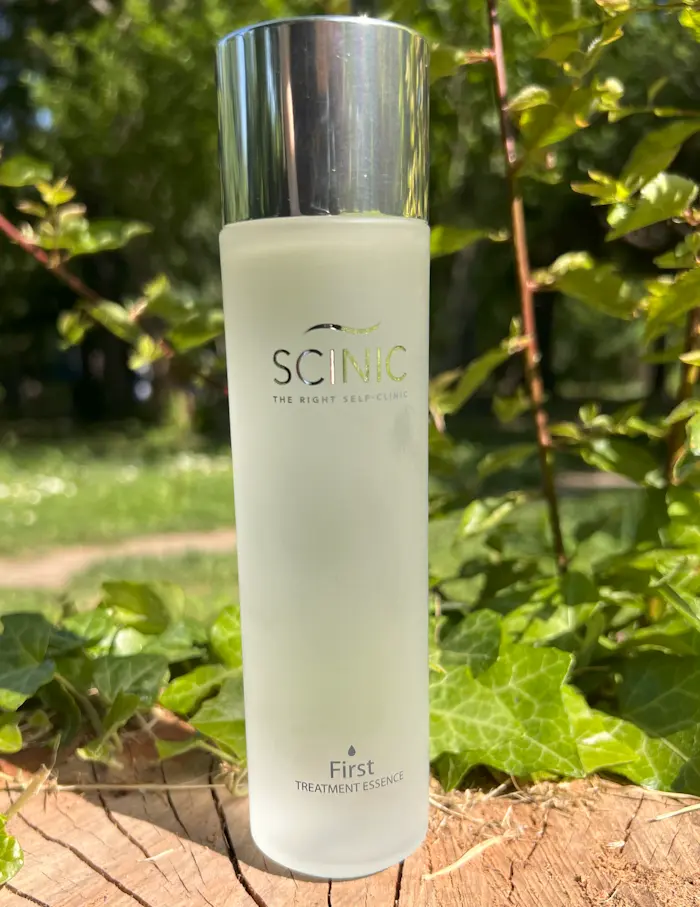 Let's change the pace of my regular reviews. I want to start with the con first. My main qualm with the Scinic FTE is it does not seamlessly absorb into the skin. Usually, I would apply any active products [AHA, Vitamin C, etc.] onto my skin for maximum exfoliation benefit, then follow up with a hydrating toner. If you want to know why, please read Should You Exfoliate Before or After Toner.
However, the Scinic First Treatment Essence wants to be first in line after cleansing for any skincare routine. If I try to apply any other product before this Scinic First Treatment Essence, it feels like Scinic FTEe is washing off the previous product. When I attempt to use this Scinic essence product as a second step instead of a first step, it makes my face feel sticky, and the previous product "pills" on my skin.
Still, this is a minor drawback. Since Missha was discontinued, the Scinic First Treatment Essence is the best stand-alone product for this skincare step. Scinic First Treatment Essence does everything a well-formulated first treatment essence promises to do.
It brightens my skin and makes me look alive in the mornings before I have had time to consume an adequate amount of coffee. It tones down redness after cleansing. It makes my skin feel more plump, though these results are less long-lasting than other hydrating toners I have tried.
The main benefit is this performs the most similarly to Missha's original formula, but it is not a dupe.
Scinic First Treatment Essence tightens my pores, refines my skin texture, and increases my skin's overall radiance. I see a remarkable improvement in my overall complexion. Given its properties, this is a complimentary product to the viral Beauty of Joseon Glow Deep Serum, as they both can work well to enhance your skin's texture and strength.
I am also lesser prone to breakouts despite hormonal imbalances. I wouldn't say that this is a moisturizing essence, but it has the right consistency that meets my need for a first essence, which I would label "hydrating and refreshing." In addition, the area under my eyes appears smoother, and my pores appear smaller ever since I add this to my skincare routine.
How to Use the Scinic First Treatment Essence?
The Scinic First Treatment Essence is the 0 step in your skincare routine, one you use after cleansing and before a toner, serum, or moisturizer.
First Cleanse;
Second Cleanse; (optional)
Exfoliate; (optional)
Vitamin C (preferably in the morning);
Apply Scinic First Treatment Essence with your palms or a cotton pad;
Tap over your face with your palms to aid the absorption of the essence;
Follow with the rest of your treatment serums;
Moisturizer
Sleeping mask (optional) or SPF (non-optional in the AM!)
Pros
Cons
Verdict
This is one of the more affordable first treatment essences I have tried. My skin reacts nicely with this type of product, so I like having it in my routine, but it is not a staple step like cleansing or moisturizing. This product is widely available online for international consumers, so accessibility should not be an issue.
In short, a lightweight and hydrating treatment essence that can brighten up my skin and refine my pores. It also has a beautiful consistency that is perfect for a first essence. A repurchase in the future!
Will I Repurchase the Scinic First Treatment Essence?
A probable repurchase in the future!
Rating 4/5
Shop for Scinic First Treatment Essence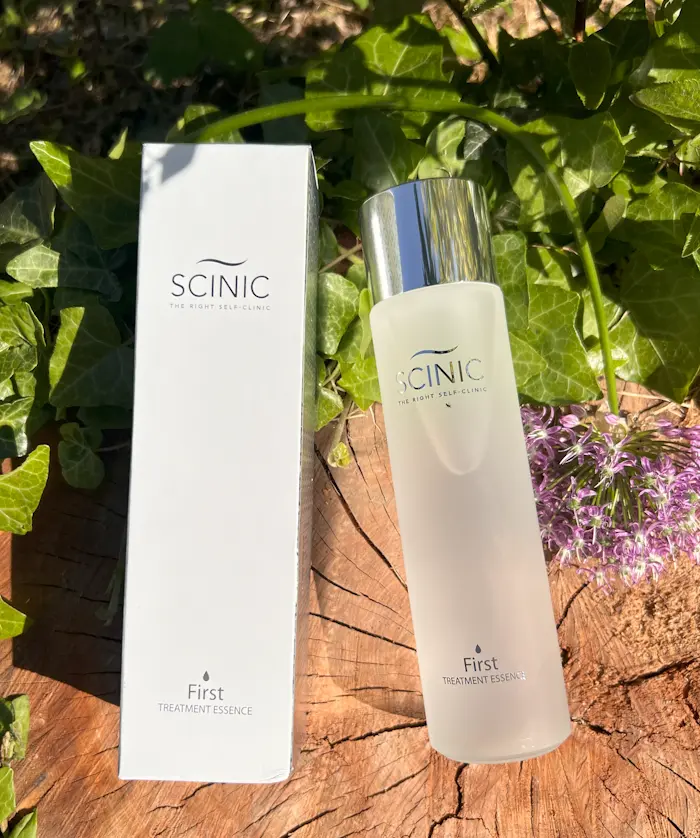 Lastly, I was not paid for this review or received it as a gift.
As always, you do you, be kind to your skin and yourself! Remember that every person's skin and skin type is different, so what might work for me might not work for you, and vice versa. So before adding a new product to your skincare routine, it pays to do a little research first.
Before adding the Scinic First Treatment Essence to your skincare regimen, ensure you are not allergic to it or its ingredients. You should also consult your doctor if you are pregnant, breastfeeding, or have any medical conditions or medications that may interact with the Scinic First Treatment Essence. Always do a patch test before applying the Scinic First Treatment Essence on your skin to avoid adverse reactions.
I am not a dermatologist or licensed aesthetician, but I have sufficient experience and knowledge I gained by testing multiple products and self-exploration. Unsure? Best to consult your dermatologist.
Happy skin experimenting, and don't forget the sunscreen!
Show Me Proof