Anyoung haseyo! As I type this, I still get the same happy, giddy feelings over the huge Numbuzin haul Garden of Muses did for its editors. After reading Seo Yeon Lee's review of the Numbuzin No.3 Super Glowing Essence Toner, I picked the No. 3 essence pads to try and review. I'm glad I did. Numbuzin No.3 Radiance Glowing Jumbo Essence Pads are freaking amazing.
Where to Buy the Numbuzin No.3 Radiance Glowing Jumbo Essence Pad?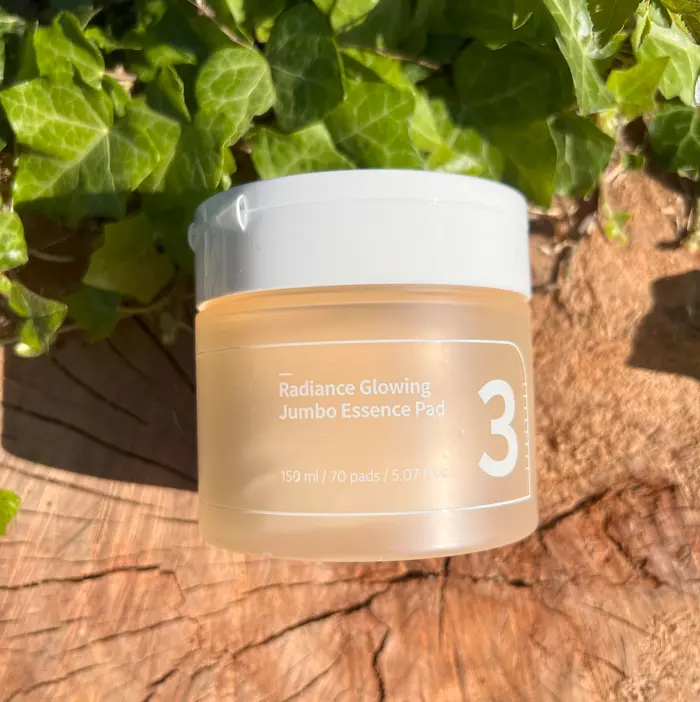 The No.3 Radiance Glowing Jumbo Essence Pad comes in a 5.07 fl. oz / 150 ml / 70 pads toner pad jar and retails for $16-$25. For all you lucky people in the US who can get Prime delivery, you can buy the toner pads from Numbuzin's official store on Amazon*.
You can also shop for the No.3 Radiance Glowing Jumbo Essence Pad on trusted Asian international shops, such as YesStyle*, StyleVana*, and StyleKorean*.
The Numbuzin Brand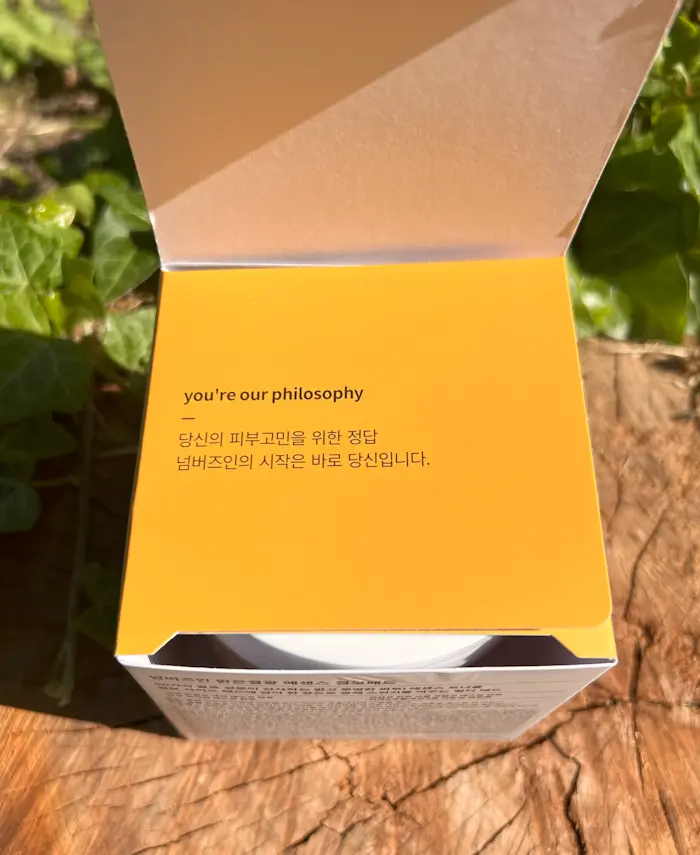 Numbuzin is a Korean beauty company specializing in natural ingredients and innovative formulas. Their products are designed to nourish, hydrate and protect your skin from environmental stressors. Whether you have dry, oily, sensitive, or combination skin, The Numbuzin has something for you.
No. 3 is their best-selling "line," including Numbuzin No.3 Skin Softening Serum, Numbuzin No.3 Super Glowing Essence Toner, and the Numbuzin No.3 Porcelain Base-skip Tone Up Beige.
Seo Yeon took one for the team and did a colossal review of almost all Numbuzin products.
What Is the Numbuzin No.3 Radiance Glowing Jumbo Essence Pad?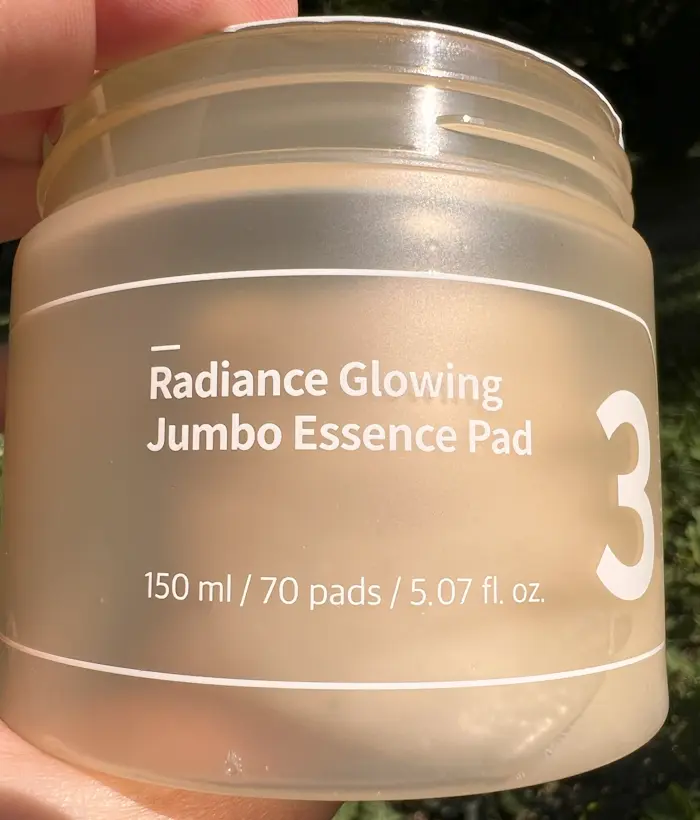 The No.3 Essence Pads are a new skincare product that boosts your skin's health and prepares it for the rest of your routine. It helps your skin absorb more of the good stuff from your serums and creams. It also hydrates your skin from within, balancing its natural moisture levels.
Similar to toner pads, but instead of cotton pads soaked in toner, you get essence, a skin-brightening formula that contains ferments and other goodies. In this case, it's a first treatment essence advertised to by as good as other, more expensive FTEs.
Toner pads (or essence pads, in this case) are not a must-have in your skincare routine, but they can be an excellent addition to boost your skin's clarity and health.
Numbuzin No.3 Radiance Glowing Jumbo Essence Pad Claims
According to human tests conducted by Numbuzin. The essence pads provide brightening and anti-wrinkle benefits.
Convey the efficacy of fermented essence

It feels up a refreshing but dazzling clear glow

Numbuzin on Naver blog
Who are these toner pads for?
I would recommend this for every skin type, as an FTE, or as a "first pad." Also, the manufacturer claims people with sensitive skin can use the essence.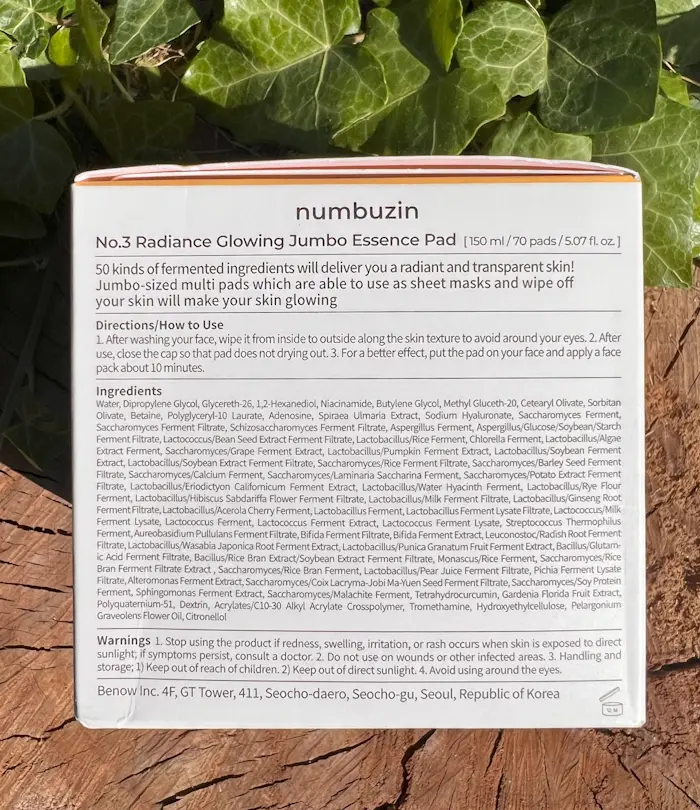 Numbuzin No.3 Radiance Glowing Jumbo Essence Pad Ingredients
Ingredients Analysis
Niacinamide
Niacinamide has been making a splash in the Western market over the last few years and has been splashing in Asian skincare for decades. This beauty powerhouse is the topical form of vitamin B3.
Several well-documented studies show that when used topically, niacinamide can:
Long story short, niacinamide does everything, and the good news is that it is well-tolerated by most skin types. To learn more, please read our Complete Guide on Niacinamide and How to Reduce Hyperpigmentation with Niacinamide.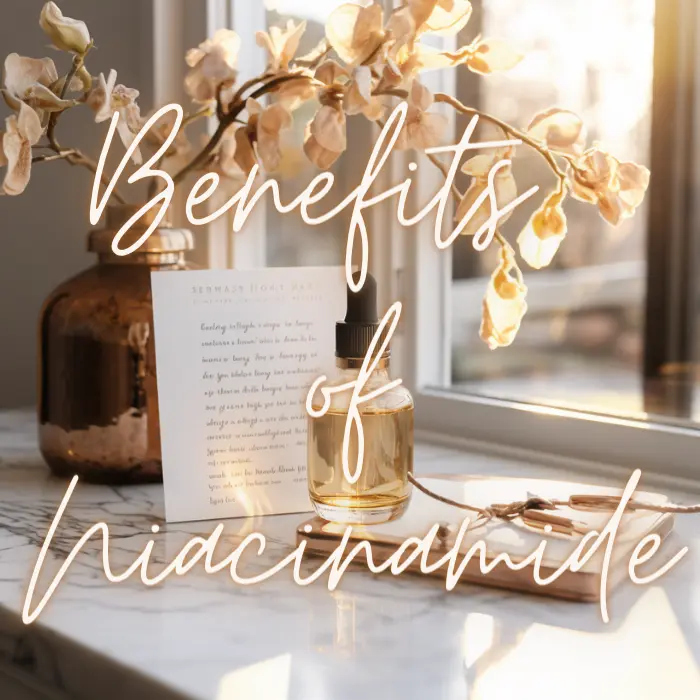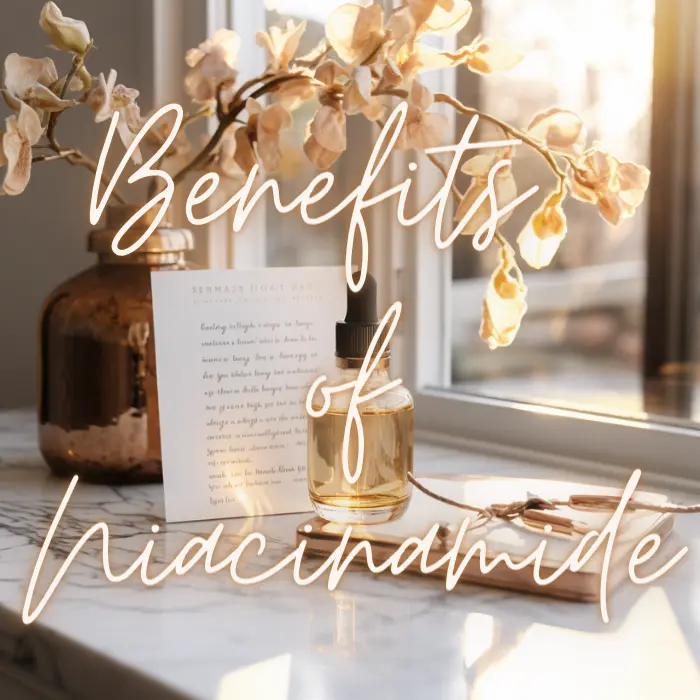 Ferments
This essence contains 50(Fifty!) fermented extracts fermented ingredients. I think the conversation with the manufacturer went as follows:
Manufacturer: How many fermented plant extracts do you want in this toner?
numbuzin: Yes
With an almost identical formulation to the Numbuzin No.3 Super Glowing Essence Toner, the mix of prebiotics and probiotics are a delight and excellent nutrition for our skin microbiome.
Dr. Shereene Idriss, MD, a New York City-based board-certified dermatologist, founder of Idriss Dermatology, and creator of the PillowtalkDerm skincare brand, says fermented ingredients are good for your skin because of three main reasons. Fermentation:
"increases the potency of the active ingredient by utilizing the yeast, and through the fermentation process, that yeast secretes enzymes which make the active ingredient much more potent."
"enhances penetration of the active ingredient because, through fermentation, the ingredient gets broken down into smaller sizes. The smaller the size of the active ingredient, the better it can penetrate deep into your skin."
"increases the preservation of the active ingredient, because through fermentation a metabolite is created that prevents the growth of unwanted bacteria, therefore preserving the life of your product over time and making it safer for you to use."
In addition to ferments, the essence also contains a "golden calming complex" made up of Gardenia, which soothes sensitive skin, and Curcumin, which calms troubled skin.
Numbuzin No.3 Radiance Glowing Jumbo Essence Pad contains neither parabens nor alcohol and is vegan-certified and cruelty-free.
Packaging
The 70-toner pads come in a massive plastic jar and with a pair of tweezers to fish the pads out. In the jar, you also get a lot of leftover essence, i.e., 150mL, so each pad is soaked in essence and feels "wet."
I'm always in a hurry, so I take the mask out of the jar with my fingers.
The pads are made of unbleached, biodegradable cotton, so there are tiny black spots on the fabric from cotton seeds and stems. I feel that both sides of the pad are soft.
Scent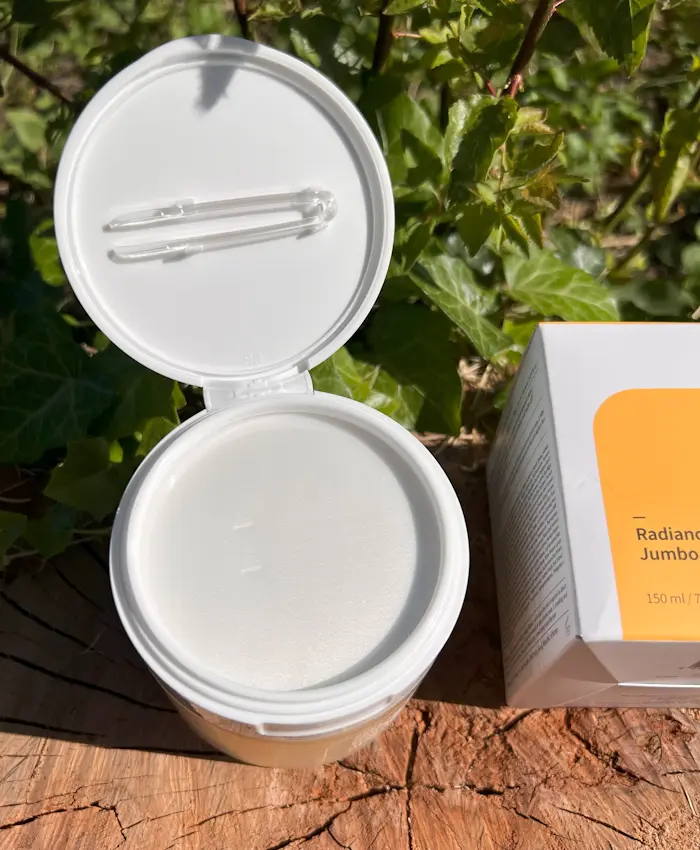 The toner pads have a delicate, citrusy, fresh, clean scent. I thought it was a bit strong at first, but eventually, I got used to it, and now I don't mind it anymore. When it's on, I can't smell it anymore.
Texture
These pads have a soft texture and measure around 70mm in diameter. They're soaked in a liquid essence that provides enough moisture but is not sticky.
When you apply a pad, you immediately feel a cooling sensation.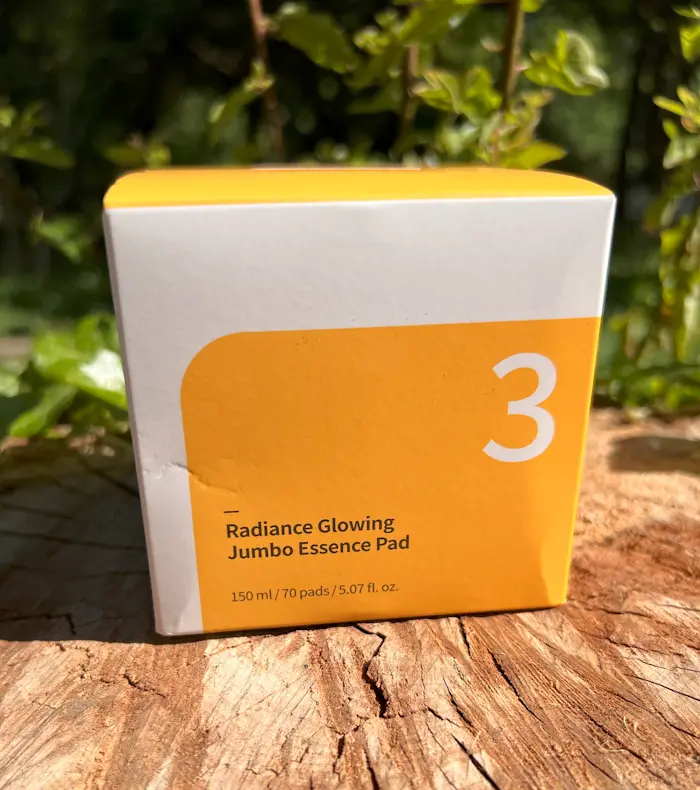 My Personal Experience with the Numbuzin No.3 Essence Pads
I've been using essence pads for more than a month now. My skin type is normal to dry, and it's currently summer. I have resilient skin and have never reacted to any skincare products I've used. My main concerns include hyperpigmentation, blackheads on my nose and chin, hormonal pimples, and signs of aging.
I like these toner pads for a few reasons. Firstly, they are big enough and come in a jar of 70. I only need one pad to cover my face, neck, and cleavage. After I've used it on those areas, there's still enough moisture left on the pad that I swipe it over my shoulders and the back of my hands. With 50 ferments included and a price range of $16-$25, I think they're excellent value for money.
In terms of ingredients, I also find them excellent. There is nothing like it out there. You get lots of ferments, niacinamide, hyaluronic acid, and soothing and antioxidant ingredients.
I can honestly say that Numbuzin No.3 Radiance Glowing Jumbo Essence Pad works well for me, and I'm satisfied with the results. My skin appears instantly brighter and more radiant, without irritation. I noticed a visible improvement after just one use, which is quite impressive. They're perfect for me this summer because of their light and refreshing texture while providing a brightening effect and a little moisture. They leave my face super soft, bouncy, and hydrated. They don't leave a tacky residue.
I love adding ferments to my routine. As Numbuzin calls it, the No. 3 essence pads deliver fermentation energy.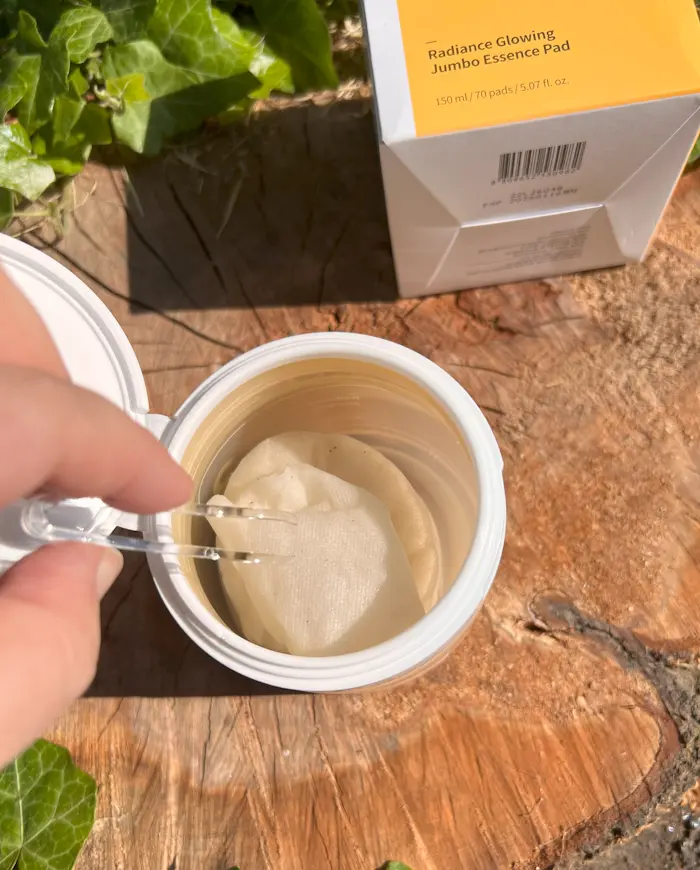 How to use the Numbuzin No.3 Radiance Glowing Jumbo Essence Pad?
I use it both in my morning and my evening routine.
In the morning, they're usually the first thing I put on. As I've said, my skin tends to get dry, so I avoid washing my face in the morning.
I wipe my face, neck, and cleavage, using them as cleansing pads;
I follow with a vitamin C serum;
If it's not particularly hot, I layer more serums;
Sunscreen.
At night:
I double cleanse;
Depending on how my face feels. I switch between the Numbuzin No.3 Radiance Glowing Jumbo Essence Pad and an exfoliating toner;
I follow with my serums
Tretinoin;
Moisturizer;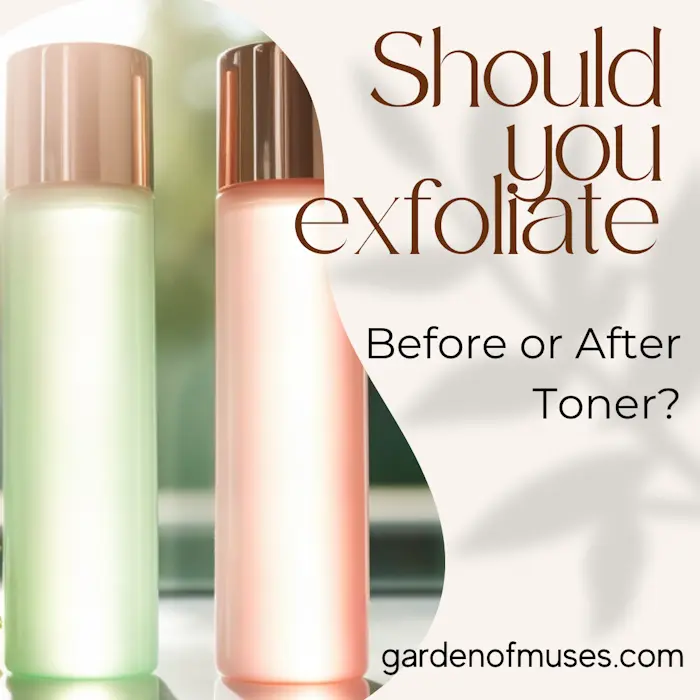 Occasionally, I like using them as mini-sheet masks. I put the jar in the fridge and apply one pad, especially on areas that need extra soothing or moisture, and they feel super refreshing.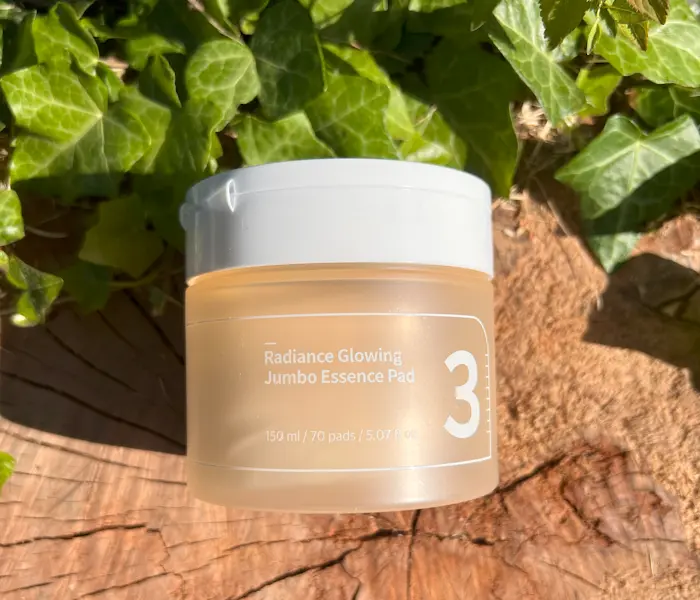 Pros
It makes my skin glow;
Hydrating
Refreshing
Cons
Overall
The results are lovely. It helps with hydration, and I have to say. I'm so glad I tried these pads out.
Will I repurchase Numbuzin No.3 Radiance Glowing Jumbo Essence Pad?
Pretty interesting pads! I might repurchase them!
Rating 5/5
No.3 Radiance Glowing Jumbo Essence Pad vs. Super Glowing Essence Toner
Their ingredient lists are almost identical. The main difference comes from packaging.
Shop for Numbuzin No.3 Radiance Glowing Jumbo Essence Pad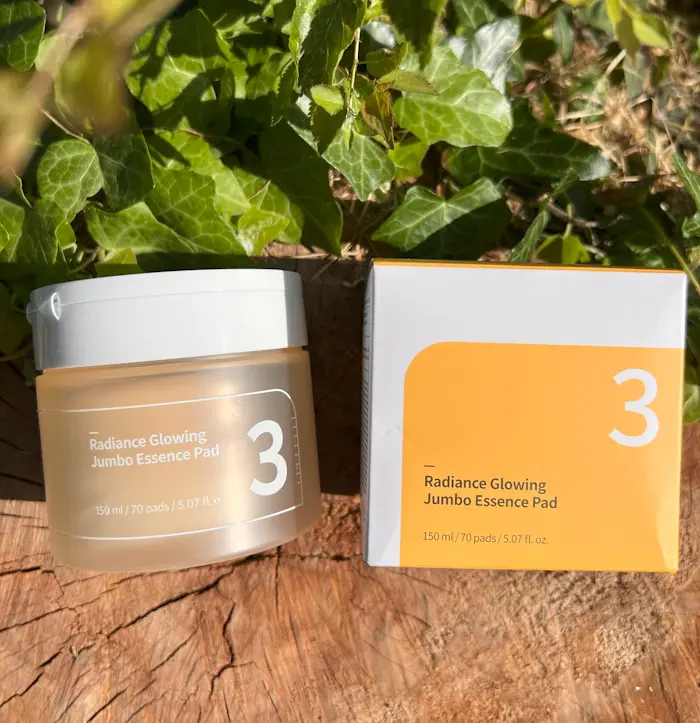 Lastly, I was not paid for this review or received it as a gift.
As always, you do you; be kind to your skin and yourself! Remember that every person's skin and skin type is different, so what might work for me might not work for you, and vice versa. So, before adding a new product to your skincare routine, it pays to do a little research first.
Before using the No.3 Radiance Glowing Jumbo Essence Pad in your skincare regimen, ensure you are not allergic to it or its ingredients. You should also consult your doctor if you are pregnant, breastfeeding, or have any medical conditions or medications that may interact with the No.3 Radiance Glowing Jumbo Essence Pad. Always do a patch test before applying the No.3 Radiance Glowing Jumbo Essence Pad on your skin to avoid adverse reactions.
I am not a dermatologist or licensed aesthetician, but I have sufficient experience and knowledge I gained by testing multiple products and self-exploration. Unsure? Best to consult your dermatologist.
Happy skin experimenting, and don't forget the sunscreen!
Show Me Proof