Cosrx has been releasing some interesting new products* lately, and suffice it to say, I've been feeling pretty left out from all the hype as I've only had experience using their older stuff.
Being the Cosrx fan I am, I was excited to try their new Cosrx Vitamin E Vitalizing Sunscreen SPF 50+, so I jumped ahead and ordered it from Amazon.
There were no reviews online, and the price point was steep, but I said: Hey, somebody's gotta try this!
Read on if you're curious about how my 30 bucks were spent. (I was not paid for this review nor received the product as a gift.)
COSRX new sunscreen at a glance:
Where to buy the Cosrx Vitamin E Vitalizing Sunscreen?
The price ranges roughly from 13$ to 30$, 36$ per mL.
Shop Cosrx Vitamin E Vitalizing Sunscreen SPF 50+ on the Cosrx website, YesStyle*, StyleKorean*, and Jolse. As I write this review, YesStyle* has a 25% sale, and the sunscreen is $12.60.
Unlike most Korean sunscreens, Cosrx Vitamin E Vitalizing Sunscreen is FDA-approved, so you can also find it on Amazon*.
(*affiliate links)
The Cosrx brand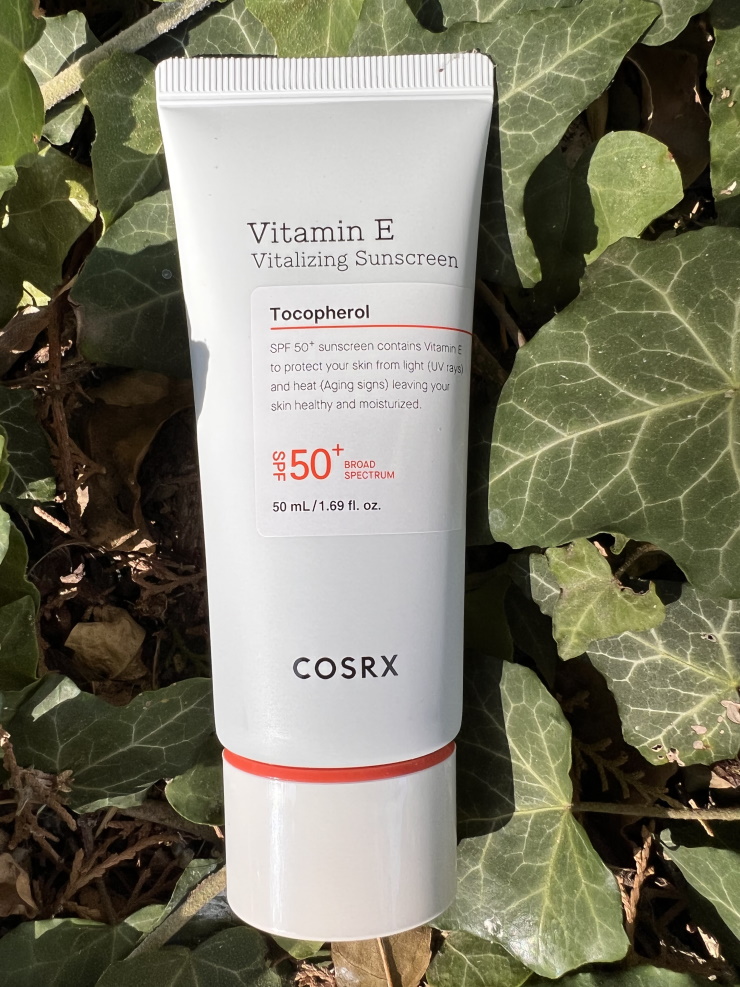 Like other Cosrx products, I like that usage is kept simple and to the point, with no unnecessary multi-functioning property to allure and confuse the customer.
This is what I like about Cosrx! Simple and to the point. One extra piece of information is that Cosrx is a customer-represented brand, not celebrity-endorsed.
Cosrx Vitamin E Sunscreen claims
Clinically-proven sunscreen blocks UV rays to the most substantial degree, formulated with vitamin E and antioxidant protection.
I laughed at the amount of product the model in the video is using.
Who is this sunscreen for?
For those with dry skin. I would not recommend it to any other skin types.
Not sure what your skin type is? Please read our guide on Skin types & skin conditions.
Cosrx Vitamin E Vitalizing Sunscreen Ingredients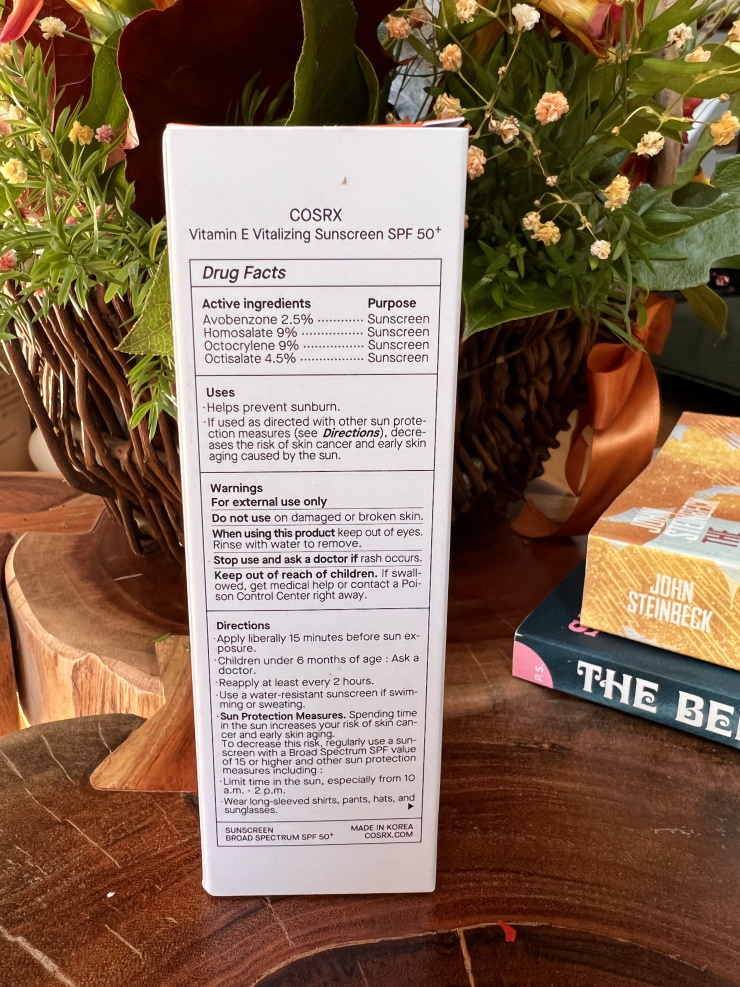 UV filters: Avobenzone (2.5%), Homosalate (9%), Octocrylene (9%), Octisalate (4.5%)
Inactive Ingredients: Water/​Aqua/​Eau, Propanediol, Butyloctyl Salicylate, Diphenylsiloxy Phenyl Trimethicone, Dimethicone, Vp/​Eicosene Copolymer, Silica, Trisiloxane, Cyclopentasiloxane, Trimethylsiloxysilicate, 1,2-Hexanediol, Behenyl Alcohol, Glyceryl Stearate, PEG-100 Stearate, C14-22 Alcohols, Cetyl Alcohol, Potassium Cetyl Phosphate, Polyacrylate-13, Polyisobutene, Fragrance/​Parfum, C12-20 Alkyl Glucoside, Butylene Glycol, Disodium EDTA, Ethylhexylglycerin, Polysorbate 20, Sorbitan Isostearate, Dextrin, Theobroma Cacao (Cocoa) Extract, Gossypium Herbaceum (Cotton) Extract, Glucose, Tocopherol.
See explained ingredients on INCIDecoder.
Key Ingredients
UV filters. Unlike other Korean sunscreens, the Cosrx sunscreen is FDA-approved and is approved for sale in the USA. Therefore it has "outdated" filters that tend to be less cosmetically elegant.
There is no label on the packaging about the value of UVA protection. It just says it's a broad spectrum, meaning the sunscreen has been tested to protect against UV-B/AI/AII.
Avobenzone
Present in 2.5%, Avobenzone is a chemical sunscreen agent with broad spectrum UVA protection, the most used UVA filter worldwide. It is not photostable.
Homosalate
Present in 9%, Homosolate is a chemical sunscreen that protects from UVB rays. It is not very strong but goes well with Avobenzone.
Octocrylene
Present in 9%, Octocrylene is a chemical sunscreen that protects from UVB rays. It also protects from UVA II but is not a strong filter. It is also used to stabilize Avobenzone.
Octisalate
Present in 4.5%, Octisalate is a chemical sunscreen that protects from UVB rays.
Alcohol
Alcohol can potentially assist product absorption, but it is a potential irritant. It can cause skin dryness and damage the skin barrier in high enough doses.
Unfortunately, it is high on the list. Although my skin does not react badly to it, the alcohol smell is quite strong.
Tocopherol (Vitamin E)
An antioxidant that reduces free radicals and helps reduce visible signs of aging and skin damage. It is disappointing that their star ingredient is the last one in the formulation. I'm not a chemist, but this feels deceiving.
Gossypium herbaceum(cotton) extract:
Absorbs and controls oil
Silica
Controls sebum and pores. Although silica and cotton extract are good ingredients for oily skin, this sunscreen is inappropriate for oily skin types. Read on to find out my experience.
Theobroma cacao(cocoa) extract
Contains flavonoids and acts as an antioxidant. It has anti-aging effects. It prevents free radicals damage and helps repair the existing damage done by pollution. It improves blood circulation bringing more oxygen and nutrients to the skin.
Cosrx Vitamin E Vitalizing Sunscreen does not contain hyaluronic acid or niacinamide.
Packaging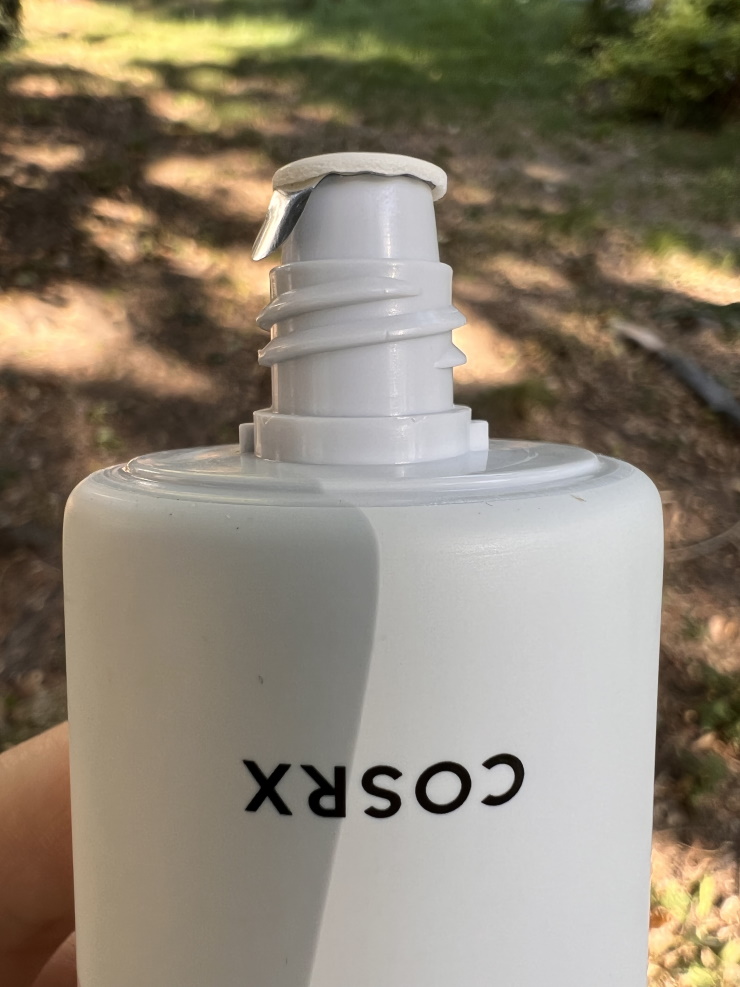 The Cosrx Vitamin E Vitalizing Sunscreen SPF 50+ comes in a regular plastic tube. I like the minimalist, clean design and the overall feel of the tube.
Also, I appreciate the security/hygiene seal on the nozzle.
Smell
The sunscreen has an unpleasant scent. It smells like grandma's old lotion or some cheap cologne; I can't decide. The cheap smell is not subtle, either.
The Cosrx sunscreen has a metallic taste. I don't usually include taste in my reviews (because I don't eat them, haha), but this sunscreen melts into my mouth, and the taste is quite unpleasant.
Texture

The sunscreen is thick but applies smoothly and effortlessly, like a moisturizer. It doesn't pill when you rub it in.
My experience with Cosrx Vitamin E Vitalizing Sunscreen
I have used the Cosrx Vitamin E Vitalizing Sunscreen daily for three weeks. My skin is normal to dry, and I live in a temperate-continental climate with cold & dry winters and hot & dry summers.
First and foremost, the sunscreen seems to be doing its job: I didn't tan, even though I spent time outside in the sun around noon.
Secondly, something of great importance to everyone, the Cosrx sunscreen has no white cast.
My face feels greasy after applying the sunscreen, and the shine is real! The sunscreen creates a film on my skin, feeling heavy. I can't stand to go out like this, so I apply a loose powder that makes me look matte and ok (I guess) to leave the house.
My face is left a greasy fest for hours until the sunscreen gets fully absorbed. Luckily I don't spend very much time in the sun nowadays, and I don't have to reapply it. Because if I had to, I would probably end up skipping, and I would end up getting burnt.
Considering that my skin is normal to dry, I can't see how people with oily or combo skin could handle this sunscreen. It is suited for dry skin.
My eyes are sensitive and this sunscreen stings my eyes. Although I am not sweating, because of its oiliness, I feel the sunscreen sliding down into my eyes and mouth. Nasty, I know!
On the upside, the sunscreen is very moisturizing. I can skip moisturizer before I apply it, and my skin is moisturized throughout the rest of the day.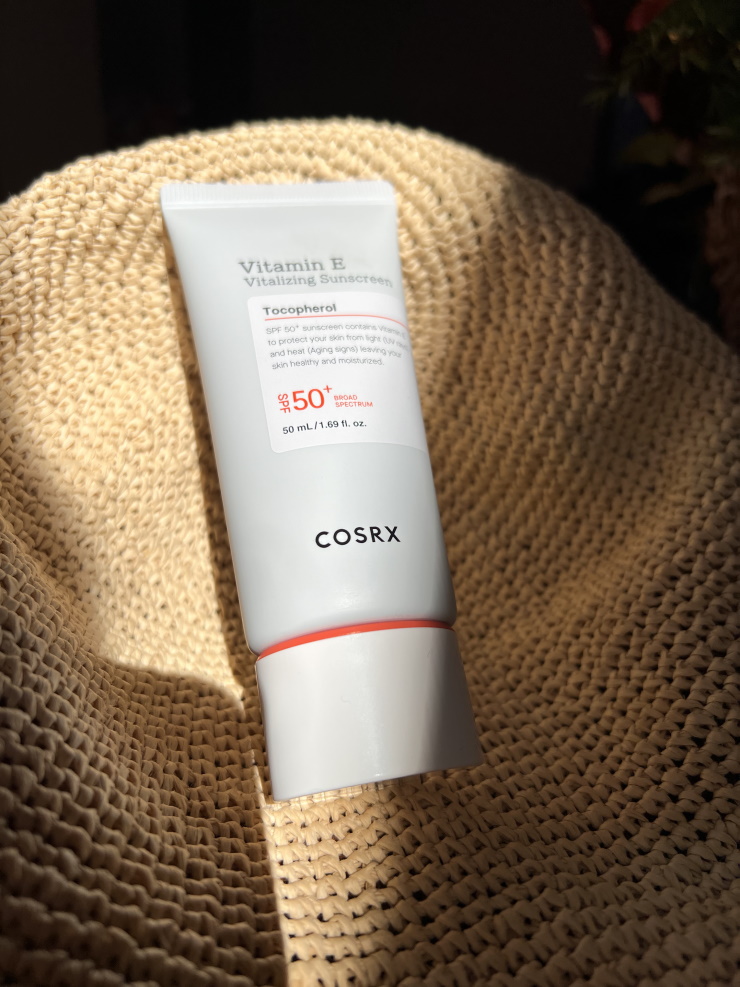 How to use Cosrx Vitamin E Vitalizing Sunscreen?
I splash my face with water;
I do my toner;
Do my serum;
I apply the Cosrx Vitamin E Vitalizing Sunscreen.
Cosrx brand specifies using a water-resistant sunscreen if swimming or sweating.
Pros
No white cast
Moisturizing
Cons
Very greasy
Feels heavy
Stings my eyes
Expensive
Fragrance
Verdict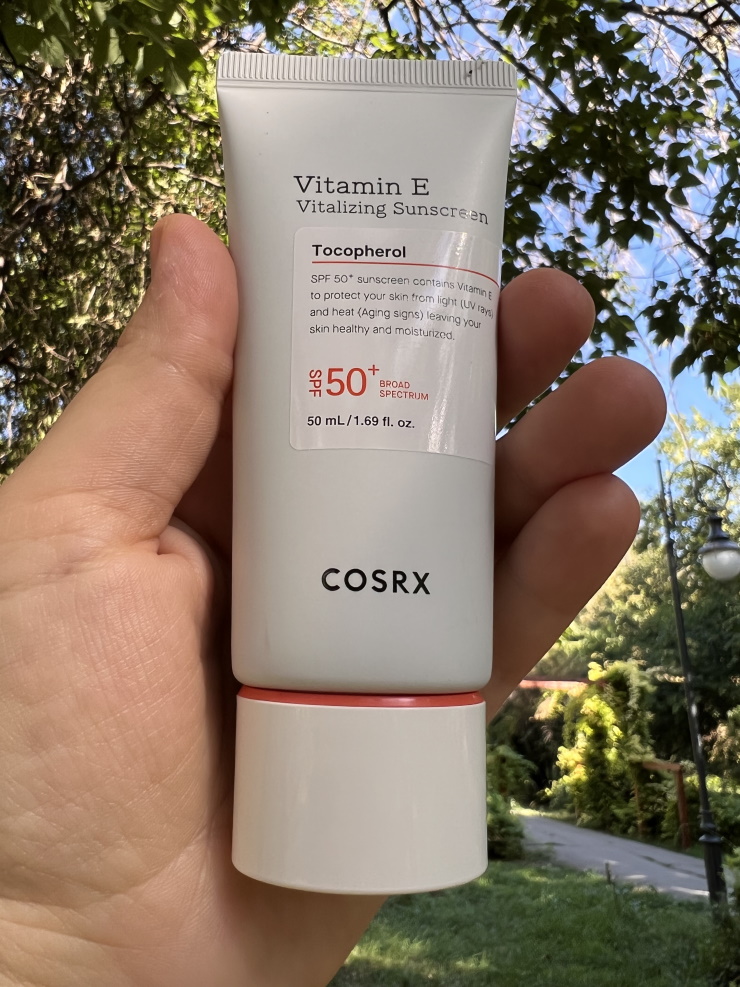 To put it shortly, I've had better.
Although I am happy with most of the stuff I tried from Cosrx, I am disappointed with the Cosrx Vitamin E sunscreen.
I am saving it for winter. I'm keeping my fingers crossed. It will suit me better when my face gets drier. I will avoid the eye area entirely and protect my eyes with shades. I will use it on my body if it doesn't work out.
I have moved on to Jumiso Waterfull Hyaluronic Sunscreen, which is much better formulated.
Will I repurchase Cosrx Vitamin E Vitalizing Sunscreen?
I did not enjoy this product and cannot get over its greasiness. I am certainly NOT going to repurchase it.
Rating: 2/5
Shop for Cosrx Vitamin E Vitalizing Sunscreen
You can get COSRX Vitamin E Vitalizing Sunscreen SPF 50+ at Amazon*, StyleKorean*, the Cosrx official website, YesStyle*, and Jolse. (*affiliate links)
What others are saying:
Client on StyleKorean*
No cast on my Latino skin. It's thicker than other Asian spfs initially but sinks in quickly.
Show me proof
Bissonnette R. Update on sunscreens. Skin Therapy Lett. 2008 Jul-Aug;13(6):5-7. PMID: 18806906.
S Kwak, E Brief, D Langlais, N Kitson, M Lafleur, J Thewalt, Ethanol perturbs lipid organization in models of stratum corneum membranes: An investigation combining differential scanning calorimetry, infrared and 2H NMR spectroscopy, Biochimica et Biophysica Acta (BBA) – Biomembranes, Volume 1818, Issue 5, 2012, https://doi.org/10.1016/j.bbamem.2012.02.013