I've mentioned before that I'm not too fond of the feel of most sunblocks. Since they're such an essential part of our daily skincare to protect yourself from the harmful sun rays, it's usually a very uncomfortable exercise in necessity for me.
You will love this stuff if you're in the same boat regarding being highly picky in the feel of your sunscreens. Well, even if you're not, you still might love it. It's pretty damn awesome.
Missha All-around Safe Block Waterproof Sun Milk, at a Glance:
Where to Buy the Missha All Around Safe Block Waterproof Sun Milk?
In the US, it's available for roughly $11 and comes in a 2.37 fl. oz / 70 ml bottle.
You can shop for Missha All Around Safe Block Waterproof Sun Milk on the official US site, Amazon*, StyleKorean, YesStyle, and Jolse. (*affiliate links)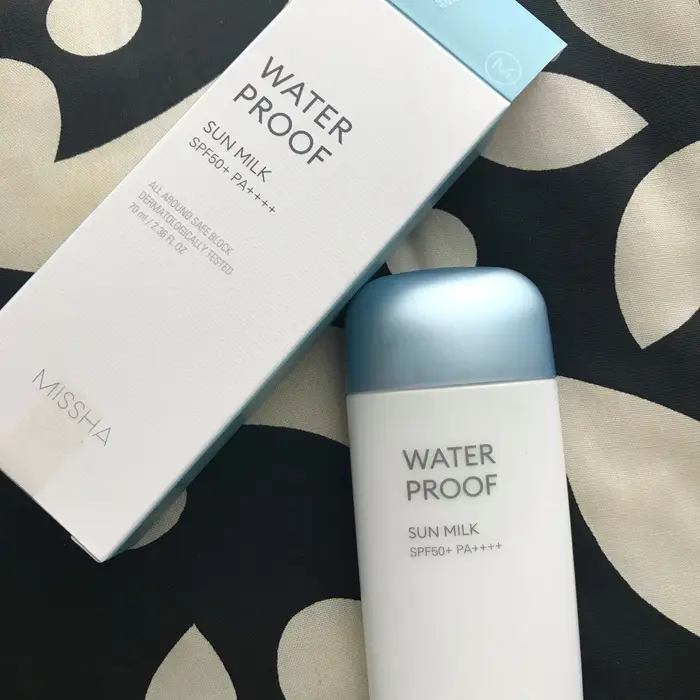 The Missha Brand
Missha is one of the big names in the South Korean beauty industry. This brand is largely undervalued and does not receive enough recognition for its product lines, catering to teens with college budgets and luxury anti-aging alternatives at affordable prices.
Missha appears to be involved in sustainability efforts, such as a recycling program for environmental protection and "assist neglected and estranged neighbors."
Missha All Around Safe Block Waterproof Sun Milk Claims
A waterproof fluid sunscreen that leaves an airy & velvety finish while blocking sweat, water, and sebum. It defends against UV damage for beach days and long hours of outdoor activities.

Eucalyptus Extract soothes while regulating oil production for a soft and protected complexion.

misshaus.com
Who is this sunscreen for?
For those with dry, sensitive, and combination skin problems.
Not sure what your skin type is? Please read our guide on Skin types & skin conditions.
I would recommend this for every skin type.
Ingredients
Water, Cyclopentasiloxane, Homosalate, Silica, Ethylhexyl Salicylate, Titanium Dioxide (CI 77891), Butylene Glycol, Lauryl PEG-10 Tris(Trimethylsiloxy)Silylethyl Dimethicone, Diethylamino Hydroxybenzoyl Hexyl Benzoate, Glycerin, C12-15 Alkyl Benzoate, Alcohol Denat, Helichrysum Arenarium Extract, Bis-Ethylhexyloxyphenol Methoxyphenyl Triazine, Isopropyl Palmitate, Dimethicone, PEG-10 Dimethicone, Magnesium Sulfate, Aluminum Hydroxide, Dimethicone/Vinyl Dimethicone Crosspolymer, Stearic Acid, Fragrance, Triethoxycaprylylsilane, Phenoxyethanol, Quaternium-18 Bentonite, Silica Dimethyl Silylate, Sodium Benzoate, Acrylates/Dimethicone Copolymer, Tocopheryl Acetate, Disodium EDTA, Potassium Sorbate, Caprylyl Glycol, VP/Hexadecene Copolymer, Psidium Guajava Leaf Extract, Cinchona Succirubra Bark Extract, Abronia Villosa Leaf Extract, Aloe Barbadensis Leaf Extract, Eucalyptus Globulus Leaf Extract, Rhodiola Rosea Root Extract.
Ingredients referred from Missha's official website.
Sunscreen filters Herbal Moisturizing/Humectant Fragrance
Sunscreen filters
Internationally approved sunscreen that is non-toxic and ideal for sensitive skin.
Titanium Dioxide
Titanium dioxide is a popular physical sunscreen filter that blocks UVA and UVB rays and blue light, which can cause premature aging and skin damage. It is a naturally occurring white mineral, chemically inactive and safe for the skin.
However, titanium dioxide does not block long UVA1 rays, which can penetrate deeper into the skin and cause more harm. Therefore, it is recommended to use sunscreen products that combine titanium dioxide with other UV filters, such as zinc oxide or avobenzone, to achieve broad-spectrum protection.
Titanium dioxide is also an opacifier, which means it can make cosmetics thicker and more opaque. This can sometimes leave a white cast on the skin, especially if the titanium dioxide particles are large. To avoid this, some sunscreen products use titanium dioxide in nanoparticle form, which is smaller and more transparent. However, there is some debate about nanoparticles' safety and environmental impact, so further research is needed to determine their effects.
Uvinul A Plus
Uvinul A Plus (Diethylamino Hydroxybenxoyl Hexyl Benzoate) is a new-generation chemical sunscreen. It is designed for high UVA protection (whole range) and photostability. It is approved for use in European and Asian countries but not yet FDA-approved.
Tinosorb S
Tinosorb S (Bis-Ethylhexyloxyphenol Methoxyphenyl Triazine) is a photostable chemical filter that can stabilize other UV filters like Avobenzone. Tinosorb S is a broad-spectrum oil-suluble filter that can absorb UVA1, UVA2, and UVB rays. Although it is not yet FDA-approved, it has been approved in many European and Asian countries.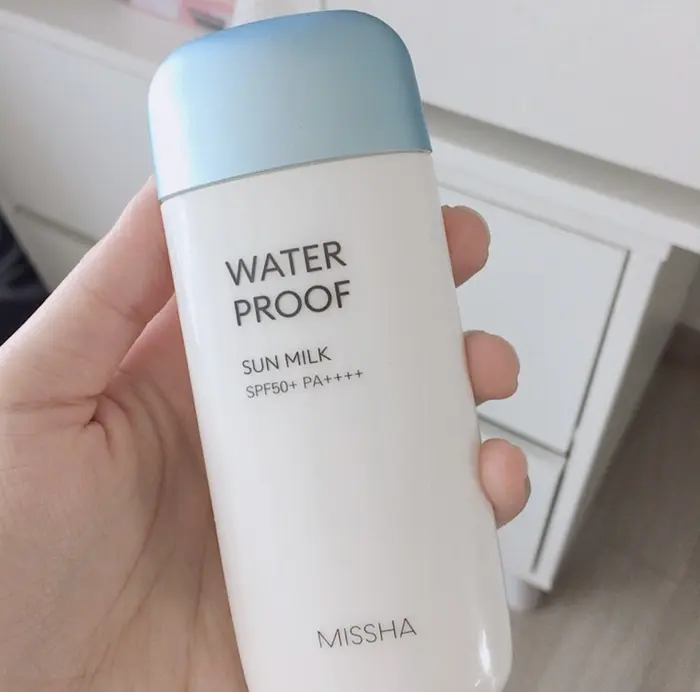 Key Ingredients explained
When you plug the ingredients into the INCIDecoder website, we see that Missha All Around Safe Block Waterproof Sun Milk is a chemical sunscreen.
The tradeoff for weightlessness is that this has a high alcohol content, which can irritate some people. I have no problems with alcohol and irritation, but your mileage may vary.
Eucalyptus
Eucalyptus is an essential oil with antibacterial properties. It is strongly fragrant and a potential skin irritant.
Oriental tea compound: Rich in flavonoids and vitamin E, which restore elasticity and youthfulness to the skin, provide moisture, are antibacterial, detoxify, antioxidant, and protect the skin against harmful environmental effects.
Snow White Petal: This is a potent antioxidant that helps skin smooth, firm, elastic, and youthful, resists the harmful effects of ultraviolet rays, and protects the skin (thanks to containing flavonoids and antioxidants).
Purslane flower extract: The purslane extract has many uses, but it is notable for its outstanding moisturizing ability thanks to the "succulent" nature of the plant and its high vitamin A content. This substance maintains essential moisture for the skin and soothes it.
Missha All Around Safe Block Waterproof Sun Milk does not contain niacinamide, hyaluronic acid, or parabens.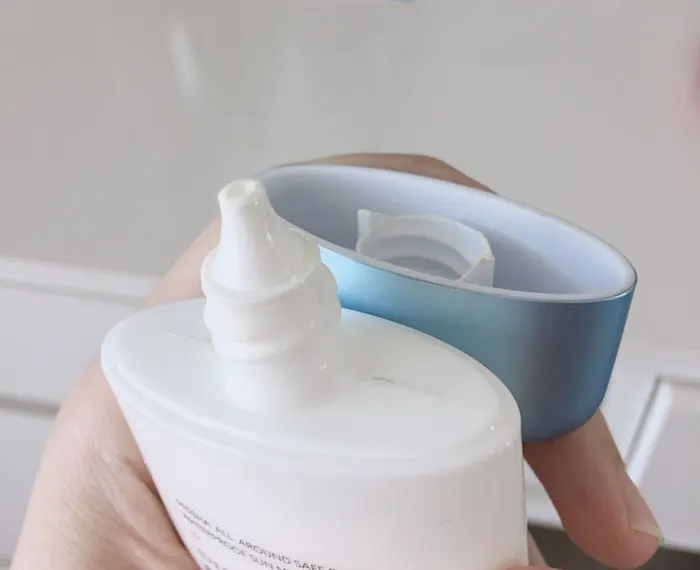 Packaging
My first impression about the packaging is that the Missha All Around Safe Block Sun Milk sunscreen has a lovely "chubby" design—a small sturdy plastic bottle, very firm in hand. The bottle cap is a unique color for each line. Basic information about the product is fully printed on the box for your convenience.
Scent
The scent is the normal powdery sunblock smell but a very mild incarnation. It's not noticeable. The smell is not overpowering or overwhelming and is supposed to be okay for sensitive skin.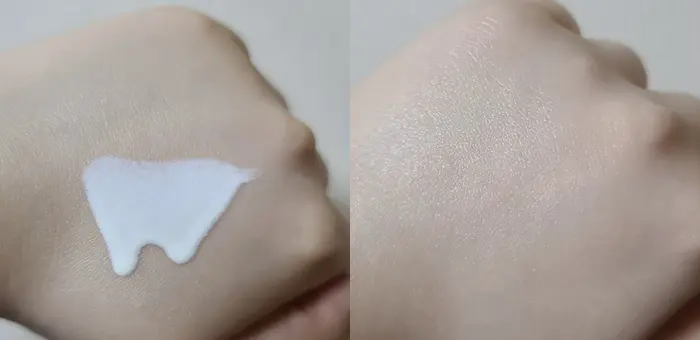 Texture
As the name would suggest, it's a thin and very light texture like a moist, airy sun lotion. Once shaken up, it has the consistency of milk. I was a little anxious when I saw how oily the consistency out of the bottle seemed, but applying it felt like a dream come true. I love this product because it blends away into the feeling of absolute nothing. It's weightless, almost more like a serum than a moisturizer, which most sunblocks tend to present as.
Because of its lightweight oil form, I could easily apply multiple layers of this sunscreen without feeling greasy or sticky, which is great because I'm often out and about during the day. Absorbs easily and very quickly by the skin within 10 sec. Perfect when you're in a hurry in the morning. This reapplies very well, in my experience.
Missha All Around Safe Block Sun Milk is white, but not that super white, a more airy "transparent" white.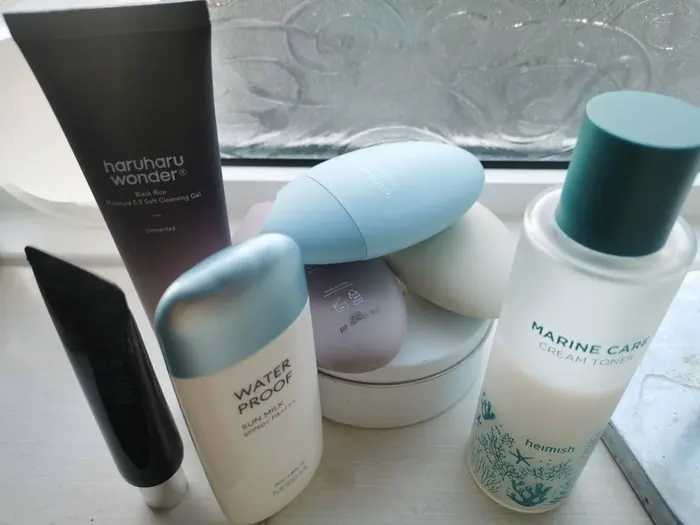 My experience with Missha All Around Safe Block Waterproof Sun Milk
I was not paid for this review or received it as a gift. I've been using it for nearly one month, and the effects on my skin are obvious. For reference, I have a combo of sensitive skin.
Missha All Around Safe Block Waterproof Sun Milk might be my favorite sun protection right now. I am surprised by how much I love it. It might be because I have been so used to Western sunscreens. I was immediately in love with the consistency of this Missha sunscreen and how easy it was to apply and absorb. My sunscreen before this was from a Western brand. It always took me so long to massage it to absorb. And, even when I managed that, there was still the dreaded white cast.
I notice a slight white cast when using the Missha sunscreen, but it is minimal and dissipates quickly. I feel comfortable applying multiple layers of this sunscreen throughout the day as needed, but I am always sure to properly oil cleanse at the end of the day to remove all those layers.
It comes in a bottle with a little bead inside to help stir the contents (much like a nail polish bottle). Make sure you remember to shake it thoroughly before use. Otherwise, you'll get a weird, oily-looking separation of the product. I found that out the hard way one groggy morning when I forgot to shake the bottle and looked like someone coated my face in vinaigrette.
Now, regarding the waterproof claims, I cannot tell accurately. I have a pool in my building, but I don't use it or do any heavy outdoor activities as it's currently the dead of winter. So I must rate this solely on its high 50 SPF, full UVA/UVB protection, and magic lightness.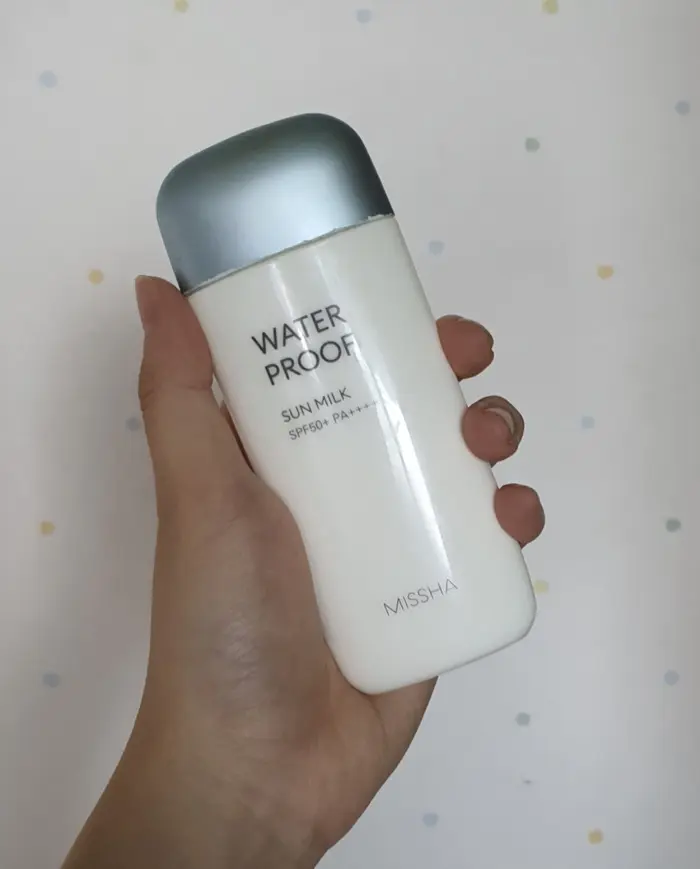 How to apply the Missha All Around Safe Block Waterproof Sun Milk?
In the AM, I wash my face with a very gentle cleanser;
I prep my skin with my favorite toner;
I shake the Missha Sun Milk thoroughly;
I dispense about a pea-sized amount onto my finger and massage it into my left cheek.
I repeat this process for my right cheek, forehead, chin, nose, and either side of my neck.
I ensure I have applied a fairly thick yet even layer to my entire face and neck.
Reapply throughout the day as needed, especially during prolonged sun exposure.
1/4 Teaspoon is considered a good amount of sunscreen to use on the face…so the first time I used this Missha waterproof sunscreen, I measured it out to see what 1/4 teaspoon looked like. It's a lot more than you would think, lol!
Is Missha cruelty-free?
Unfortunately, no, Missha is NOT cruelty-free. Therefore Missha waterproof sun milk is not vegan either.
Are Missha sunscreens good?
Yes, they are pretty awesome. I consider Missha to be the master of cosmetic sunscreens.
Does Missha's sunscreen leave a white cast?
There is no white cast left on your face, another thing typical of most sunblocks that stuff manages to avoid.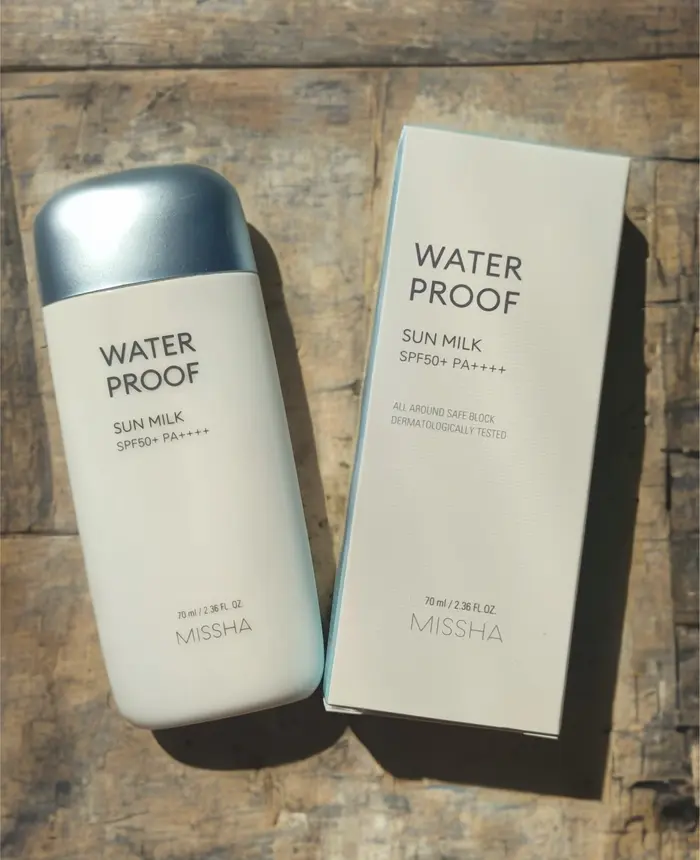 Pros
lovely texture
soft glowy finish
Cons
contains alcohol
slight white cast on deeper tones
Verdict
Missha All Around Safe Block Waterproof Sun Milk will continue as one of my Go-To Sunscreens. It's lightweight, hydrating, and offers good protection. I don't find the scent overwhelming…and after application, my skin is left with a soft glow. Both total bonuses!
Because of the high alcohol content, I can't rate this a 5 for everyone (it's a 5 for me, though!), but this is a solid 4 out of 5.
Rating 4/5
Shop for Missha All Around Safe Block Waterproof Sun Milk
Missha makes a lot of different sunscreens, all sharing similarly long/obnoxious names. So, please be mindful of your purchase to ensure it's what you hoped for. Most have different colored caps/bottles. Just a heads up.
*Affiliate links below.
Lastly, I was not paid for this review or received it as a gift.
As always, you do you; be kind to your skin and yourself! Remember that every person's skin and skin type is different, so what might work for me might not work for you, and vice versa. So, before adding a new product to your skincare routine, it pays to do a little research first.
Before adding the Missha All Around Safe Block Waterproof Sun Milk to your skincare regimen, ensure you are not allergic to it or its ingredients. You should also consult your doctor if you are pregnant, breastfeeding, or have any medical conditions or medications that may interact with the Missha All Around Safe Block Waterproof Sun Milk. Always do a patch test before applying the Missha All Around Safe Block Waterproof Sun Milk on your skin to avoid adverse reactions.
I am not a dermatologist or licensed aesthetician, but I have sufficient experience and knowledge I gained by testing multiple products and self-exploration. Unsure? Best to consult your dermatologist.
Happy shopping, and don't forget the sunscreen! Here's to great skin in 2023!
Show Me Proof