I can't belif it has taken me so long to write this review! I'm almost finished with the Belif True Tincture of Chamomile (these pictures were taken a while ago), and I feel it's high time I share my experience with this tincture.
I got the Belif The True Tincture of Chamomile a few months ago, and I have to admit, I fell in love with the packaging, and it's probably the primary reason I bought it. It looks like an old-fashioned apothecary bottle, and this one had me at hello. Luckily, the product inside is awesome too!
I also got some other Belif products to go with it, like the Belif Creamy Cleansing Foam, Belif Hungarian Water Essence, and the Belif Aqua Bomb*.
The True Tincture Essence Chamomile, at a Glance:
Where to Buy the Belif The True Tincture Essence Chamomile?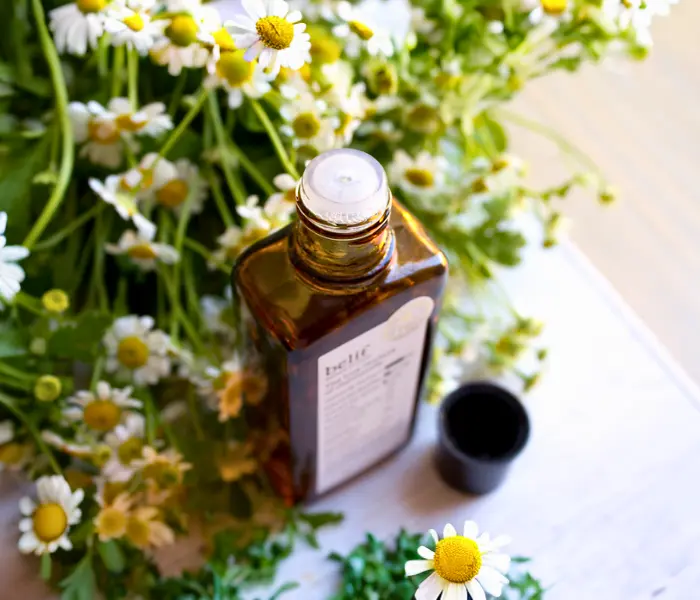 Price/quantity-wise, it's definitely on the higher end of things. 2.53 fl. oz / 75 ml is available for roughly $46.
You can shop for Belif The True Tincture Essence Chamomile on the official Belif store on Amazon*.
The Belif Brand
Belif products are inspired by 19th-century apothecary techniques and are made with the purest ingredients. These products were created to follow Korea's intricate skincare regimens. There's a product for each skincare routine step – cleansing water, toner, and moisturizer.
What Is the Belif The True Tincture Essence Chamomile?
If you are curious about the Belif The True Tincture Essence Chamomile, it is an essence made of chamomile extract. However, rather than using water as the solvent, Belif goes the traditional way by dissing the chamomile in alcohol. This allows skin-benefiting substances otherwise insoluble in water to dissolve in alcohol, maximizing the potency of chamomile extract.
Despite the confusion surrounding its name, Belif The True Tincture Essence Chamomile is an essence. It's not a toner, not a treatment essence, and not a serum, either. It is the closest to Hyggee Relief Chamomile Gel Toner*, which you must use after a toner and before a serum. I wouldn't use this as the first step of my routine unless my toner has a thicker consistency. You can also think of this as a booster or skin vitamin used to enhance the efficacy of other products.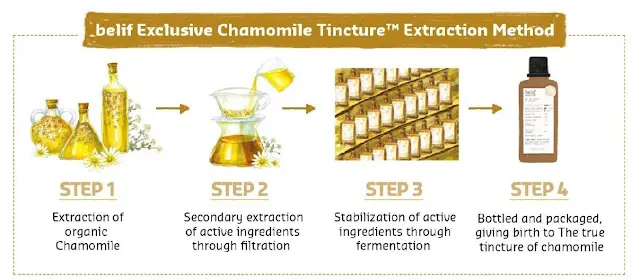 Belif The True Tincture Essence Chamomile Claims
A hydrating essence formulated with belif's Chamomile Tincture™ extract drawn from organic chamomile flowers to boost the skin's vitality levels for a healthy-looking glow and balanced complexion.

Clinical tests:

34.75% increase in blood flow/skin's vitality levels
6.58% enhanced skin texture

belifusa.com
Who Is this Essence For?
For those with troubled, sensitive, inflamed, dull, aged, clogged, normal-to-oily skins.
The Belif Chamomile tincture contains a couple of potentially irritating ingredients, such as alcohol and citrus oils, which can be sensitizing to those with sensitive skin.
Belif The True Tincture Essence Chamomile Ingredients
Belif The True Tincture Chamomile Ingredients List (last check 2023 )
Chamomilla Recutita (Matricaria) Flower Extract (86%), 1,2-Hexanediol, Glycerin, Beta-Glucan, Panthenol, Glycereth-26, Centella Asiatica Extract, Avena Sativa (Oat) Kernel Extract, Calendula Officinalis Flower Extract, Nepeta Cataria Extract, Rubus Idaeus (Raspberry) Leaf Extract, Baptisia Tinctoria Root Extract, Stellaria Media (Chickweed) Extract, Saccharomyces/Imperata Cylindrica Root Ferment Extract, Saccharomyces/Viscum Album (Mistletoe) Ferment Extract, Lactobacillus/Soybean Ferment Extract, Alcohol, Water, Glucosyl Hesperidin, Polydatin, Niacinamide, Trisodium EDTA, PEG-8, Dipotassium Glycyrrhizate, Alanyl Glutamine, PEG-150, Sodium Hyaluronate, Ethylhexylglycerin, PEG-60 Hydrogenated Castor Oil, Sodium Citrate, Citric Acid, Fragrance, Citral, Citronellol, Limonene, Geraniol, Linalool.
Ingredients referred from INCIDecoder.
Herbal ingredients Napier's original formula Humectants/Moisturizers Fermented Actives Brightening Fragrance Potential irritant
Key Ingredients Explained
Belif The True Tincture Essence Chamomile contains various amazing herbal ingredients that nourish and protect the skin.
Chamomile
This tincture essence is a chamomile lover's dream! It contains a whopping 86% chamomile flower extract, the show's star.
Chamomile is a popular and age-old medicinal herb used since ancient Egypt, Greece, and Rome to treat conditions like asthma, colic, fever, inflammation, nausea, and cancer. Its popularity resembles the Chinese tonic Ginseng in Europe. A cup of chamomile tea is also found to relieve individuals of their hefty lifestyle, work stress, environmental pollutants, imbalanced diet, and sleep deprivation.
As a skincare ingredient, chamomile is also great for individuals with duller, dehydrated, inelastic, and troubled skin. This is attributable to constituents such as phenolic compounds, flavonoids, and glucosides inside the flower which carry antioxidizing and skin-soothing benefits. It is also a skin conditioner that enhances the appearance of dehydrated or damaged skin by reducing flakiness and restoring suppleness.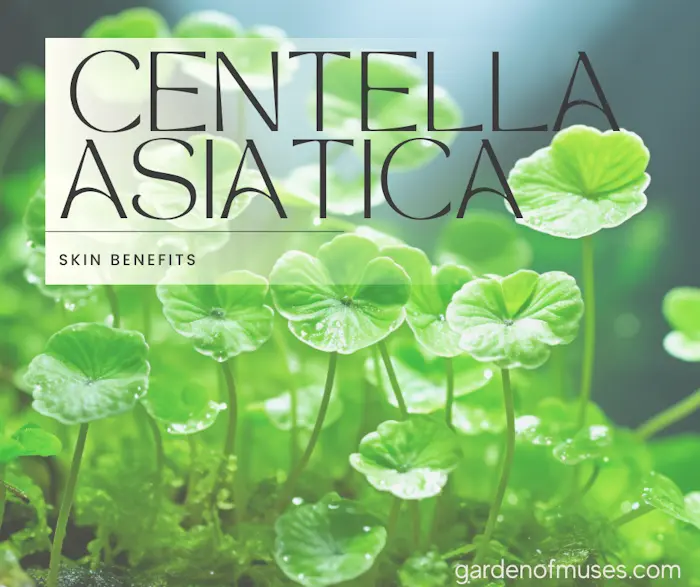 Centella Asiatica (Gotu Kola) Extract is one of the most popular Korean skincare ingredients due to its powerful antioxidant, antimicrobial, and anti-inflammatory properties. It's a fantastic ingredient for soothing red and inflamed skin.
Centella Asiatica is a cute little plant with pretty little fan-shaped leaves. Centella Asiatica is the scientific name of the medicinal plant commonly known as gotu kola, tiger grass, or Indian pennywort. It's a perennial herb with small fan-shaped leaves that grows in tropical and subtropical regions, including Asia, India, equatorial Africa, and Central America.
Centella Asiatica is a plant powerhouse when it comes to skincare. Centella:
Glucosyl Hesperidin
Also in smaller but effective quantities is glucosyl hesperidin, a flavonoid compound believed to be extracted from chamomile flowers. This miraculous ingredient will stimulate blood circulation to the skin, improve dark circles, brighten skin tone, and eliminate dullness. It is also an antioxidant, moisturizing, and radical scavenging ingredient that prevents dryness and aging of the skin.
Niacinamide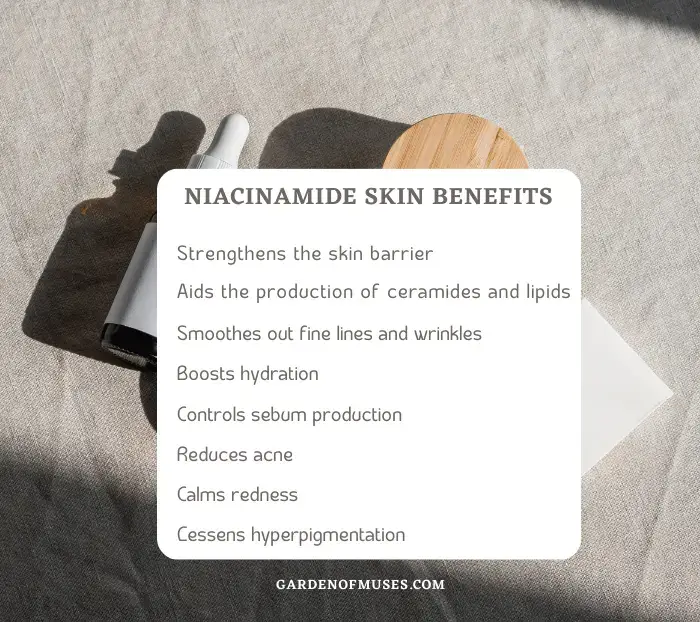 Niacinamide is a skincare powerhouse that can:
To learn more, please read our Complete Guide on Niacinamide and How to Reduce Hyperpigmentation with Niacinamide.
Other skin-benefiting extracts include Oat kernel, Calendula, Catnip flower, Raspberry leaf, Wild indigo, Cogon grass ferment, Mistletoe, Fermented soybean, and chickweed. All these are commonly used ingredients in most Belif products with anti-inflammatory, skin conditioning, and anti-oxidizing properties. Calendula has additional sebum-controlling benefits, whereas Raspberry leaf extract is a vitamin and mineral-rich astringent and moisturizing plant.
The tincture also contains Polydatin, an anti-aging and anti-oxidizing ingredient mostly found in wine.
The remaining ingredients are less significant, although they play a good role in making up the product's consistency, preservation, and absorbency. Belif always uses quality ingredients, so you can see that most of these are flagged "safe" on CosDNA despite being only "side dishes." Most of these are moisturizers, solvents, fragrances, and preservatives, so I don't want to go on and elaborate on them.
There are a couple of potentially irritating ingredients, too — for instance, this essence contains alcohol which can be sensitizing to those with sensitive skin.
Packaging
The bottle reminds me of those vintage cough cough syrups. The aesthetic suits my Instagram feed (yey!).
Scent
Upon opening the bottle, I was greeted with Belif's signature herbal scent. It is one of the more pleasant-smelling herbal scents with notes of chamomile. Unfortunately for me, the scent dissipates quickly. I wish they made the scent into a fragrance. I'd throw my money at it.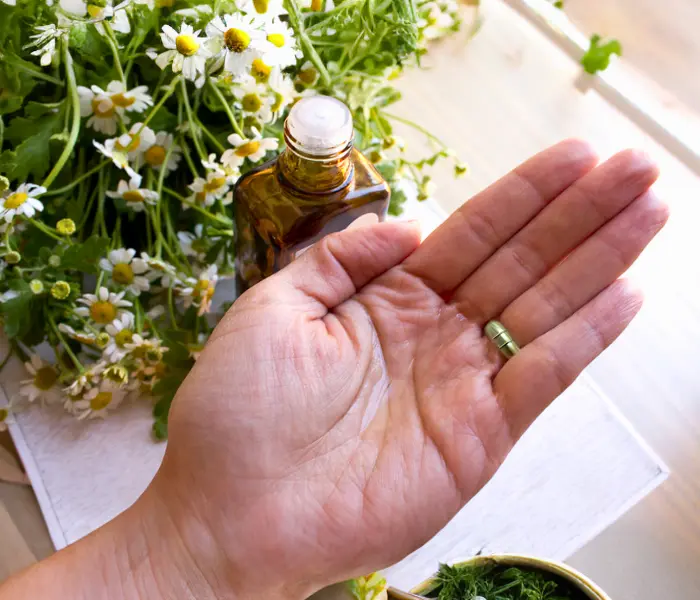 Texture
Belif The True Tincture of Chamomile has a runny but slightly viscous consistency. It is clear with the slightest amber tinge. It will leave a tackiness layer if not applied on a damp face. I sometimes find it rich, but my oily and combination skin friends greatly enjoy the texture.
My Experience with the Belif The True Tincture Essence Chamomile
I'm almost finished with Belif's The True Tincture of Chamomile. My skin type is normal to dry skin, and I am from Malaysia.
You can use your palm to pat it on your face or a cotton pad to swipe it along your skin texture. Swiping it with a cotton pad carries additional gentle exfoliating benefits, but patting it enhances absorption with the warmth of your palm.
First essence;
I apply the chamomile tincture. I typically pour a few drops into my palms and pat it over my face;
I do my serums;
I moisturize;
Never forget sunscreen (AM, of course)
It has a lovely slip and absorbs quickly while feeling soothing and hydrating. It feels lighter than other hydrating essences and toners, so I usually use the Belif Tincture immediately after cleansing or after my watery first essence. There is no stickiness on my skin after I use it.
As shared in my huge Belif review, Belif The True Tincture Essence Chamomile is my mom's holy grail. It eliminates dullness, reduces the appearance of blackheads and pores, and improves the skin's vitality. It also helps to calm down, soothe her easily irritated skin, and protects her from environmental and physical stressors since she travels a lot.
My best friend with extremely sensitive skin survives mainly on Avene products but also enjoys this. She shares that this does not break her out and helps to soothe and moisturize her otherwise acne-prone and inflamed skin.
They find it effective at eliminating dullness, melting away blackheads, and reducing redness and blemishes.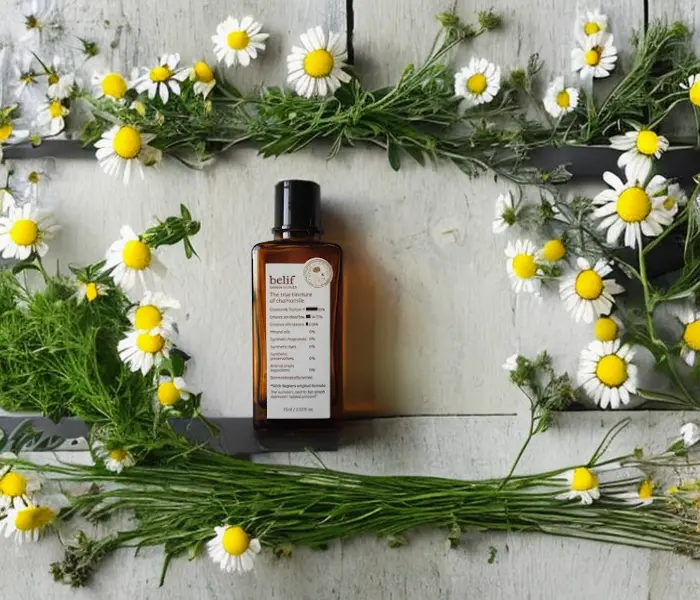 As for me, I like to use this as a pre-essence after a toner. I don't usually apply this as the first step of my routine, but sometimes I do, too, if I want to skip toner. I love using this, especially when I don't have enough sleep and my skin looks like it will collapse anytime. It leaves the skin plump and bouncier with more elasticity and Genki-ness. In the long run, it also reduces inflammation, redness, and itchiness associated with dryness.
I was a little nervous that the alcohol would be drying, but after using up nearly the entire bottle, I can say this is not the case for me. If anything, the alcohol helps it to absorb a little faster, which makes this essence excellent for layering with subsequent products.
In short, a skin booster with noticeable skin-improving benefits for problematic skin but more of a maintenance product for healthier and younger skin. Belif The True Tincture Essence Chamomile is definitely a multitasker with skin soothing, anti-acne, anti-blemishes, hydrating, and anti-oxidizing benefits. Its ability to pump more blood to the skin and enhance cellular turnover gives a healthy and glowing complexion.
Pros
hydrating
improves skin texture
lovely packaging
Cons
Bottom Line
The Belif The True Tincture of Chamomile is a lovely light hydrating essence that is probably suitable for all but the most sensitive skin types (or if you have a specific sensitivity to something in the long ingredients list, like niacinamide or ferments). It has a refreshing texture, absorbs quickly, and improves my skin's hydration.
Because it absorbs so fully without any stickiness, it works extremely well as a layering product, so I keep reaching for it repeatedly. I don't think I've seen any long-term results other than the glow with enhanced hydration, but that's fine with me. It's also very soothing, and I haven't had any irritation or redness in my skin, which is probably helped by the soothing Centella, Oat, and Chamomile extracts.
Unfortunately, this essence is expensive, $46 for 75ml, which I think is overpriced. I think $30 would be more reasonably priced. That being said, I'm considering repurchasing it because it's one of the few products that I'm sorry to see it empty, and with how many products I test on an ongoing basis, that's a pretty high praise.
Rating 4.5/5
Shop for Belif The True Tincture Essence Chamomile
Lastly, I was not paid for this review or received it as a gift.
As always, you do you, be kind to your skin and yourself! Remember that every person's skin and skin type is different, so what might work for me might not work for you, and vice versa. So before adding a new product to your skincare routine, it pays to do a little research first.
Before adding the Belif The True Tincture Essence Chamomile to your skincare regimen, ensure you are not allergic to it or its ingredients. You should also consult your doctor if you are pregnant, breastfeeding, or have any medical conditions or medications that may interact with the Belif The True Tincture Essence Chamomile. Always do a patch test before applying the Belif The True Tincture Essence Chamomile on your skin to avoid adverse reactions.
I am not a dermatologist or licensed aesthetician, but I have sufficient experience and knowledge I gained by testing multiple products and self-exploration. Unsure? Best to consult your dermatologist.
Happy shopping, and don't forget the sunscreen! Here's to great skin in 2023!
Show Me Proof