I am a bit of a toners and FTEs junkie. I mean, yes, I am skin care junkie from head to toe, but there is something about these liquid wonders that make my wallet itch. I have all sorts of them: pH-adjusting, milky, hydrating, with or without snail mucin, all types of fermented, toner pads everything… Well, you get the picture. Benton Aloe BHA Skin Toner* in particular is with aloe vera, hyaluronic acid and very interesting BHA – salicylic acid.
In today's post, I will review a cult favorite Benton brand product that oily acne-prone skin people especially love for its calming, hydrating, and acne-controlling properties. Let me introduce you to this goodie toner, the Benton Aloe BHA Skin Toner.
It has no fragrance, and it is mildly exfoliating but moisturizing. Read the review and give this stuff a whirl.
At a glance:
Where to buy Benton Aloe BHA Skin Toner?
Find it at Amazon*, YesStyle*and StyleKorean*. (*affiliate links)
The Benton brand
The brand Benton was established in the year 2011. Inspired by the film "The Curious Case of Benjamin Button" (Button-Benton), in which time goes back for Benjamin Button, the Benton brand also wants to turn back time for its users.
The brand relies heavily on natural ingredients to encourage and restore skin to its original healthy state and keep it looking young all the time.
Benton is a company out of South Korea that has beauty bloggers buzzing. I suppose that buzzing is appropriate since some of their products actually contain bee venom. Benton's bestselling lines are the Aloe Vera* and Snail Bee lines. Due to their ingredients, both lines are ideal for sensitive, irritated, and dry skin. While Aloe Vera has calming and anti-inflammatory properties, snail slime combined with bee venom pampers the skin with intensive moisture.
All Benton products are 100% made in Korea and are not tested on animals, earning them a Cruelty-Free Certification and the "Beauty Without Bunnies" logo from PETA (People for the Ethical Treatment of Animals).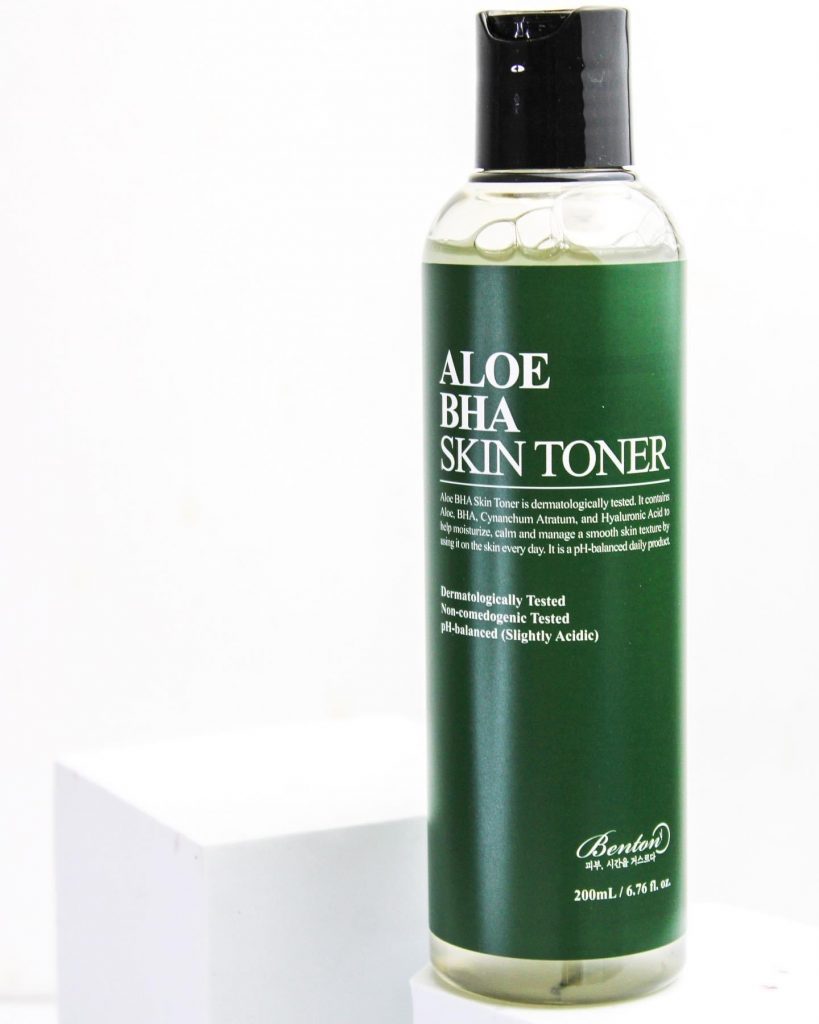 Also, check out my HG Benton Snail Bee High Content Steam Cream Review!
Benton Aloe BHA Skin Toner claims
A toner absorbs easily to the skin which provides moisture, nourishment, and soothing also gives a cooling effect

Transparent liquid formulation

Oily skin, excessive sebum, sensitiveness, oil-water imbalance, dehydrated, dryness, dull skin, rough skin

bentoncosmetics.com
Benton Aloe BHA Skin Toner ingredients
Aloe Barbadensis Leaf Water, Water, Butylene Glycol, Glycerin, Dipropylene Glycol, Pentylene Glycol, 1,2-Hexanediol, Aloe Barbadensis Leaf Juice, Sodium Hyaluronate, Portulaca Oleracea Extract, Psidium Guajava Fruit Extract, Aspalathus Linearis Extract, Cynanchum Atratum Extract, Salicylic Acid, Perilla Ocymoides Leaf Extract, Schisandra Chinensis Fruit Extract, Acorus Calamus Root Extract, Aloe Barbadensis Leaf Extract, Althaea Rosea Root Extract, Polyglutamic Acid, Beta-Glucan, Arginine, Allantoin, Citrus Paradisi (Grapefruit) Fruit Extract, Caprylyl Glycol, C12-14 Pareth-12, Acrylates/​C10-30 Alkyl Acrylate Crosspolymer, Xanthan Gum
taken from InciDecoder
Benton Aloe BHA Skin Toner 's ingredients list is (if I do may say so myself) "modernized hanbang"– herbal, soothing, full of humectants (butylene glycol, glycerin, sodium hyaluronate, beta-glucan…) but with a touch up of today – salicylic acid.
I love them all! Plus, it is essential oil-free and fragrance-free.
Key ingredients at a glance
Aloe
The primary ingredient (first and second) is derived from the aloe plant. People have used aloe's healing properties for centuries. As a small child, I remember running to my Grandmother after scraping myself and staring in wonder as she broke off a leaf from the colossal plant she kept and applied its juice to my booboo. I was used to the stinging hell of Bactine spray and was in awe of how relieving the aloe was. I want nothing less for the delicate skin on my face. What could be more soothing than that?
BHA
Salicylic Acid is commonly found in anti-acne products due to its anti-bacterial properties. This makes it excellent for addressing clogged pores and breaking down blackheads. It's also a superstar exfoliant. The low dose present in this tone ensures it's not too much of an irritant.
What it doesn't contain
Is Benton Aloe BHA Skin Toner alcohol-free? YES. As you can see in the ingredients list above, 0 alcohol, YAY!
It's formulated without parabens, mineral oil, benzophenone, chemical preservatives, and artificial fragrances.
Is Benton aloe BHA skin toner vegan?
Yes, it is vegan-certified, and registered by The Vegan Society. In the 2022 formulation, the snail mucin was removed. The toner is officially part of the "Benton Vegan Line-UP".
Packaging
Regarding packaging, the 6.76 fl. oz. / 200ml Benton Aloe BHA Skin Toner is quite mature-looking. I like the clean design, and the green bottle helps it stand out on my vanity.
The bottle is conveniently transparent so you can see how much of the product is in.
Expiry: Use within six months of opening the product.
Scent
The Benton Aloe BHA Skin Toner is clear and has no fragrance.
Texture
It's thicker and has more viscosity and slip than just plain water. It absorbs immediately on application, leaving the skin soft without stickiness.
My experience with the Benton Aloe BHA Skin Toner
First, you must throw out everything you think you know about toners. If you're not familiar with the Korean version of a toner, it's a soothing and moisturizing skin treatment. It's not your American stinging, dry-out-your-skin, alcohol-laden burn festival. You're probably used to getting your traditional toners from the drug or department stores to purify and dry up excess oils. That's not what this stuff is about.
To make it clearer, this toner is not suited for cleansing. It is not micellar water, either. (If you're looking for one, I've reviewed the Mary Kay Micellar Water)
This one aims to gently eat up the dead skin cells blocking the way of your fresh skin underneath while preparing it for your moisturizer. After using the Benton Aloe BHA Skin Toner, your skin isn't a dried-out tight piece of parchment paper; it's a plump, moisturized (but not oily!) canvas waiting to receive the rest of your routine.
Chemical exfoliators are much gentler on your skin than manual scrubs and are a great way to get you on the road to a brighter complexion. The Benton Aloe BHA Skin Toner contains salicylic acid, a natural chemical exfoliator. If you have sensitive, fussy skin, don't let that scare you, the Benton Aloe BHA Skin Toner is exceptionally gentle. I have very reactive skin, and this goes on like a dream.
My skin loves it. This toner leaves it fresh, hydrated and somewhat moisturized. You know that bouncy skin feeling when you touch it? Yes, yes, I know, you never touch your face.
How do you use Benton Aloe BHA Toner?
This works out great because part of my skincare routine uses another product that I find pretty sticky (By Wishtrend Vitamin C serum, I'll get to that review later), so the Benton Aloe BHA Skin Toner cuts it perfectly and makes an excellent delivery system. Plus, it's a great way to use the excess on your neck and décolletage, which so often get neglected in the daytime hurry and get out the door/nighttime hurry up and get to bed hustle.
When to use
Double cleanse; I use The Face Shop Rice Water Bright Rich Facial Cleansing Oil followed by the Pyunkang Yul Low PH Pore Deep Cleansing Foam.
Shake the bottle and pump some Benton Aloe BHA Skin Toner on your clean palm or on a cotton pad;
Gently apply on the face starting from the inner area of the face, working outwards. Don't forget the neck and cleavage;
Apply the Benton Snail Bee High Content Essence;
Followed by Benton Aloe Propolis Soothing Gel. It's non-greasy and absorbs into my skin within minutes, which is fantastic.
In the AM, don't forget the sunscreen!
How often can you use Benton BHA toner?
Benton Aloe BHA Skin Toner is a daily toner, but usage varies slightly for each skin type.
I have been using Benton Aloe BHA toner* every day. It is excellent for daily use for my very sensitive, oily, acne-prone skin.
If you have combo skin or are oily but not too sensitive, you can use it twice a day. Normal and dry skin should use this 2-3 times weekly as a gentle BHA treatment product.
Is Benton Aloe BHA Toner good?
My answer is a resounding yes. Now, to let you know more about this green potion … does Benton Aloe BHA Skin Toner work? It does. Give this stuff a whirl, I doubt you'll regret it. Many people I know have traditionally skipped toners because they either don't see the benefit in them or don't like how they dry out their skin. This toner is a whole other animal, and it's an animal you need to add to your menagerie right now!
This non-greasy toner is filled with gentle but effective ingredients to nurture all skin types. It excels at combating acne, fighting redness, and keeping the skin generously hydrated for a bright, fresh appearance. Must have for trouble skin.
Is Benton Aloe BHA Skin Toner good for acne?
Yes. Most of its ingredients are acne-fighting and scar-fading.
Rating: 5/5
Pros
It lasts for ages (I've made no real dent in it over the past month or so)
It doesn't contain alcohol or other irritants
Moisturizing
Suitable for dry, oily, combination & sensitive skin
Brightens skin
Combats acne gently and effectively
Addresses redness and irritation
Cruelty-free
Cons
None… it's perfect! Just make sure to use it correctly as per your skin type;
If your skin barrier has been compromised or your skin is extremely sensitive, you might enjoy another favorite of mine, the lovely and soothing Round Lab Mugwort Calming Toner.
Verdict
Overall, Benton Aloe BHA Skin Toner is a fabulous product. It's worth all the hype and a must-try for oily and combination skin. If your skin is congested and needs a gentle product, try out this BHA toner.
Benton Aloe BHA Skin Toner is one of those products that you somehow always have around.
So will I repurchase? Yes, probably. But there are so many toners outhere waiting for me…
Shop for Benton Aloe BHA Skin Toner
You can get Benton Aloe BHA Skin Toner at Amazon*. Other popular Asian websites are YesStyle* and StyleKorean*. (*affiliate links)
As always, you do you, be kind to your skin and yourself!
Remember that every person's skin and skin type is different, so what might work for me might not work for you, and vice versa. So before trying a new product, it pays to do a little research first. Pay special attention to ingredients that you might react to.
Still in the market for a new pH adjusting toner? Read our review on Cosrx AHA/BHA Clarifying Treatment Toner.