I've no idea why I've not written about this product yet, considering the fact that I'm currently on my second bottle. Yes – second bottle! I rarely repurchase products because there are just too many exciting and different things to try, but #onlyoneface. So when I repurchase something, you can be sure I love it.
I'm using the Benton Snail Bee High Content Essence and the Snail Bee High Content Steam Cream. I like how they work together. I don't think they should be broken up. If you use one, you should be using the other because although they're both stellar products, they're a phenomenal team when they are together.
So, let's get right to business.
According to stunning Charlotte Cho, the essence is the heart of the Korean beauty ritual, a crucial step coming straight from South Korea. It is said that its addition to the daily routine gives the most significant effects because it is a step that perfectly moisturizes and supports the processes in the skin.
My Benton Snail Bee High Content Essence Review, at a Glance:
Where to Buy the Benton Snail Bee High Content Essence?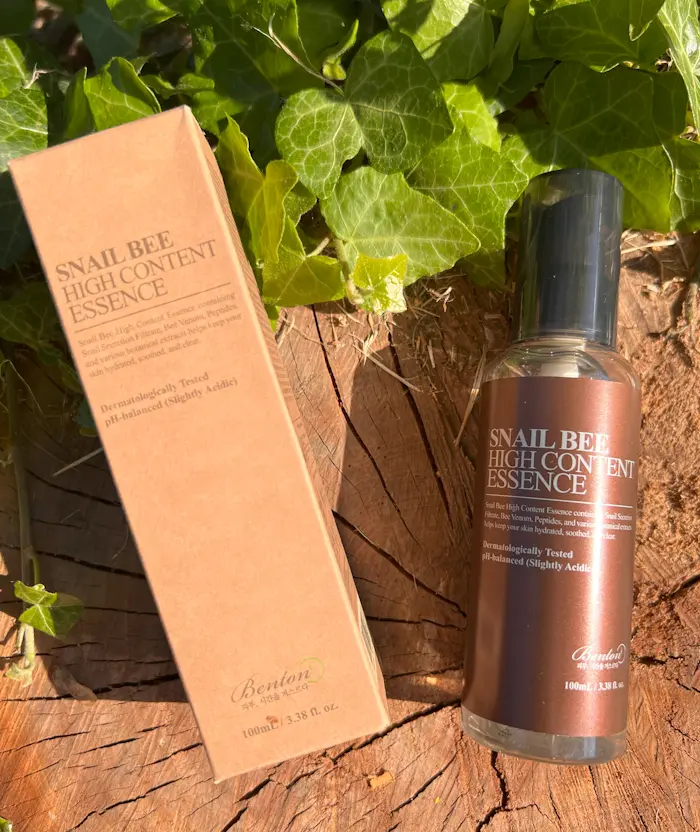 The new Snail Bee High Content Essence packaging comes in a 3.38 fl. oz. / 100 ml pump plastic bottle. The price ranges widely between $11 and $36, depending on where you shop.
For all you lucky people in the US who can get Prime delivery, you can buy the new Benton Snail Bee High Content Essence from Benton's official store on Amazon*.
You can also shop for it on trusted Korean shops: YesStyle*, StyleVana*, and StyleKorean*.
Is Benton a Good Brand?
I would say a firm YES. Benton is a South Korean brand known for its clean beauty products for all skin types, especially sensitive skin.
Among their key ingredients are aloe vera, snail slime, bee venom, and propolis. They make natural cosmetics at reasonable prices. Their products are pretty high quality having the principle of excluding harmful ingredients so that everyone can trust and use them.
All Benton products are 100% made in Korea and are not tested on animals, earning them a Cruelty-Free Certification and the "Beauty Without Bunnies" logo from PETA. Not only are they cruelty-free and non-irritating tested, but they also use eco-friendly packaging.
The Benton Snail Bee High Content Essence is one of their best sellers. I will say it is worth the hype.
Benton Snail Bee High Content Essence Claims
Snail Bee High Content Essence containing Snail Secretion Filtrate, Bee Venom, Peptides, and various botanical extracts helps keep your skin hydrated, soothed, and clear.

The essence has a lightweight, watery texture.

The formula is free of parabens, pigment, artificial fragrance, mineral oil, volatile alcohol and silicone.

Benton
I've had people ask me what an essence is and what it's for since traditional North American skincare regimes don't usually have an essence step. This "essence" is a high concentration of outstanding ingredients in a clear liquidy-gel form. If you've ever used a serum, it's pretty much that. If I were to rebrand this for the Western market, I would rename it as such. When I say a high concentration of great ingredients, I mean it.
Who Is This Essence For?
The essence is perfect for all skin types, including sensitive skin. I would add that it is especially beneficial for acne-prone people.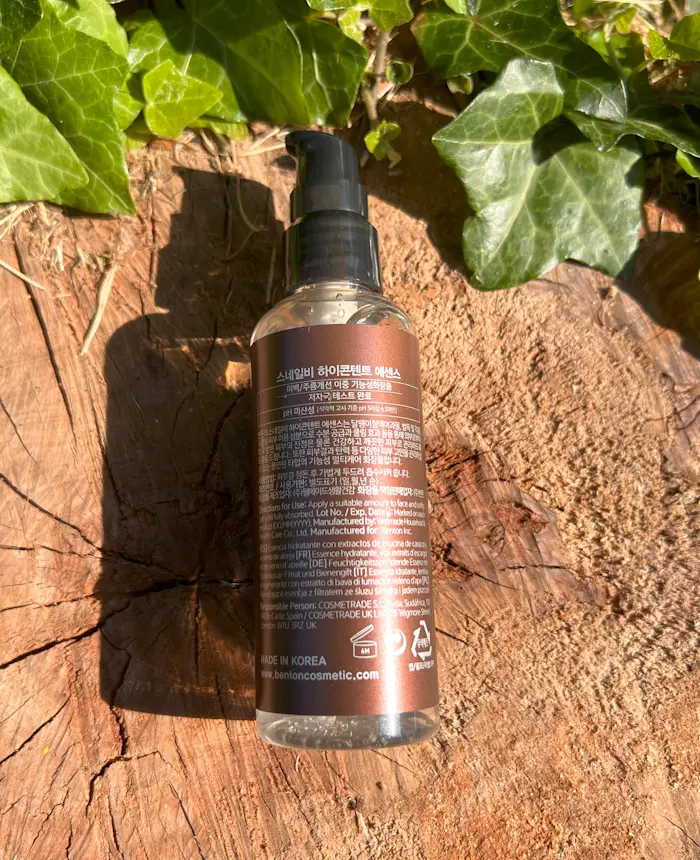 Benton Snail Bee High Content Essence Ingredients
Benton Snail Bee High Content Essence Ingredients List (2023 reformulation)
Snail Secretion Filtrate, Aqua (Water), Butylene Glycol, Glycerin, Niacinamide, 1,2- Hexanediol, Pentylene Glycol, Acrylates/C10-30 Alkyl Acrylate Crosspolymer, Aloe Barbadensis Leaf Juice, Copper Tripeptide-1, Hexapeptide-11, Hexapeptide-9, Palmitoyl Pentapeptide-4, Palmitoyl Tripeptide-1, Tripeptide-1, Panthenol, Betaine, Allantoin, Diospyros Kaki Leaf Extract, Laminaria Digitata Extract, Salix Alba (Willow) Bark Extract, Plantago Asiatica Extract, Ulmus Campestris (Elm) Bark Extract, Polyglyceryl-10 Laurate, Althaea Rosea Root Extract, Aloe Barbadensis Leaf Extract, Beta-Glucan, Arginine, Xanthan Gum, Adenosine, Caprylyl Glycol, Bee Venom.
Ingredients referred from the Benton's Official Website.
Active Humectant/Moisturizing Herb
Key Ingredients Explained
Snail Secretion Filtrate
As you probably have already guessed from the title of this post, one of the main ingredients is snail secretion filtrate.
Ok, I'm going to get honest with you right now. I've had people catch a case of the vapors and act like they were delicate Southern ladies from the 1800s about to faint when I revealed my holy grail products contained snail secretion. Y'all need to grow up and get over it because this stuff is incredible.
People have asked, "Is it slimy, though? I couldn't stand it if it were slimy". It is 100% not slimy, not even a little bit. You would never know the miracle ingredient if it weren't on the bottle. I've also been asked what the benefits are.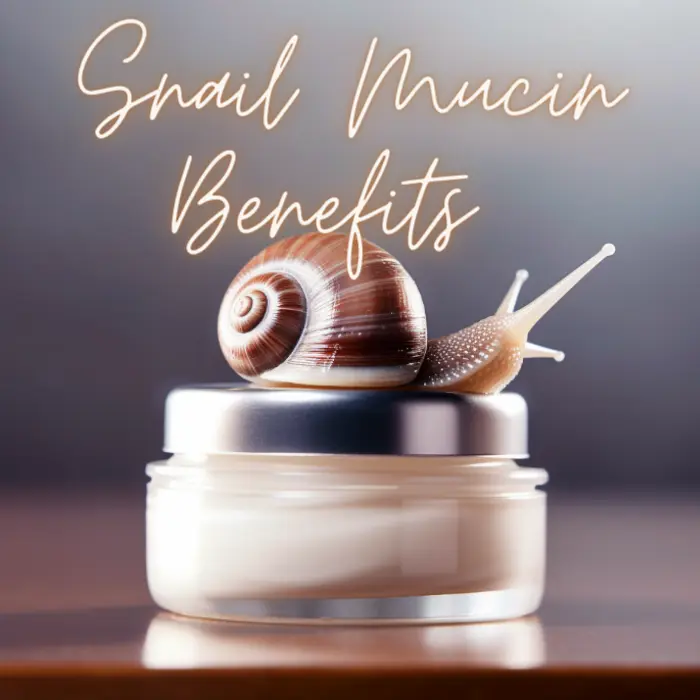 Snail slime has received a fair amount of hype in recent years for its many benefits and probably also for its unusualness:
Snail secretions have been shown to help with healing, reducing damage from photoaging, and inhibiting infections, not to mention it's all-natural and incredibly soothing and nourishing.
Snail filtrate promotes the regeneration of damaged tissue and rehydrates the skin.
It is well-tolerated, helps with skin regeneration, and treats burns and irritations.
It also tightens the skin and has anti-aging properties.
The so-called mucin of the snails is rich in valuable proteins, antioxidants, and hyaluronic acid.
Studies have also shown its efficacy in treating acne and fading scarring.
It is well-tolerated, helps with skin regeneration, and treats burns and irritations.
It also tightens the skin and has anti-aging properties.
The so-called mucin of the snails is rich in valuable proteins, antioxidants, and hyaluronic acid.
Studies have also shown its efficacy in treating acne and fading scarring.
Even the most sensitive skin (I'm your guinea pig representative, sensitive skinners) will love this because there's absolutely nothing in here that will kick up a fuss.
Niacinamide
Some skin nerds have noticed that the Azelaic Acid, Arbutin, and Bacillus Ferment have been removed from the new formulation. Instead, ingredient superstar, all-time loved, but hated by some, niacinamide, has been added. I know what you are all asking, "What is the Benton Snail Bee High Content Essence niacinamide percentage"? No one knows precisely because it hasn't been revealed. About the change, niacinamide, I think it is an excellent choice since niacinamide is a more stabilized ingredient that works on a more broad spectrum of skin types.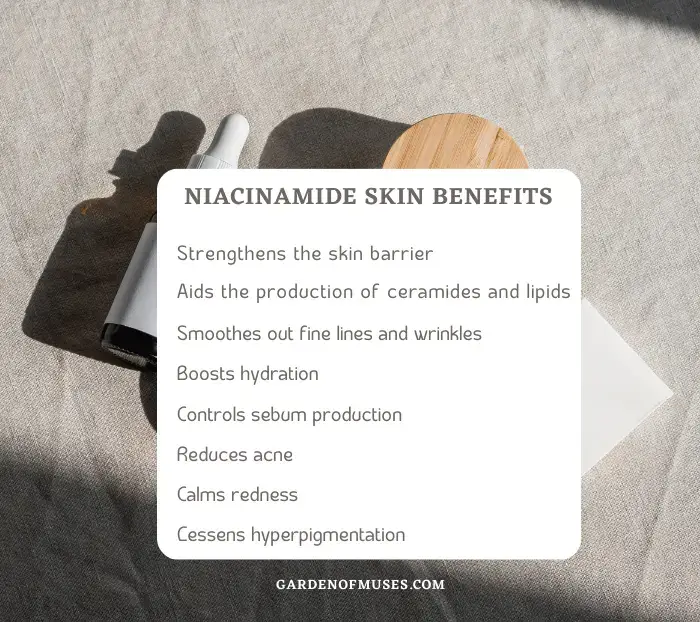 Studies show that when used topically, niacinamide can:
Long story short, niacinamide does everything, and the good news is that it is well-tolerated by most skin types. To learn more, please read our Complete Guide on Niacinamide and How to Reduce Hyperpigmentation with Niacinamide.
Aloe Vera
You'll also notice that they've replaced water with aloe leaf juice.
Aloe Vera contains vitamins A, C, and E, fatty acids, and anti-inflammatory and antibacterial properties to help treat sensitive skin, acne, and swelling.
Peptides
If you're a skincare beginner or have pretty reactive skin and don't want to risk the pitfalls of trying a new active ingredient… Peptides will be your safest bet. Peptides (or Polypeptides) are amino acids that make up specific proteins naturally occurring in and essential for our skin. Like collagen! But while we do produce collagen naturally, the process diminishes with age. This is precisely why peptides pose a plethora of benefits for our skin. Peptides fortify the skin barrier, boost collagen and elastin production, repair damaged skin, and in the case of antimicrobial peptides, they can also clear breakouts.
There are six peptides added to this new formulation.
Copper Tripeptide-1 – The least sexy peptide of the bunch, it is still an antioxidant though it may not penetrate the skin as well as other peptides.
Hexapeptide-11 is a promising anti-aging agent that improves skin elasticity.
Palmitoyl Pentapeptide-4 Peptides did not earn notoriety in skincare until the beginning of 2000, when Palmitoyl Pentapeptide-4 was launched, proposing to reduce facial wrinkles. It is among the most commonly studied peptides in wrinkle attenuation and skin filling.
Palmitoyl Pentapeptide-4 increases elastin fiber density, thickness, and collagen, as proven in a double-blind, placebo-controlled, split-face, left-right randomized trial involving 93 subjects conducted to assess the clinical efficacy of this peptide in reducing fine lines and wrinkles.
Palmitoyl Tripeptide-1 – Has shown the ability to stimulate collagen synthesis in a human fibroblast culture and prevent its degradation after exposure to UVA light. Furthermore, as shown in a study involving 23 healthy female volunteers, Palmitoyl Tripeptide-1 promotes a small but statistically significant increase in skin thickness.
Arginine
Arginine is an amino acid that helps to strengthen and repair the skin's barrier. It's a natural moisturizing factor, a humectant that may help speed up wound healing.
Bee Venom
The action of bee venom is comparable to that of Botox. Bee venom increases blood circulation, firms the skin, smoothes fine lines and wrinkles, and removes skin imperfections. It also increases the level of skin hydration and improves its elasticity.
The apitoxin contained in the venom stimulates the production of collagen, elastin, and enzymes to strengthen the outermost membrane of the skin. Collagen enhances the body's tissues, while elastin is a protein that helps the skin stay taut and is responsible for its elasticity.
Benton Snail Bee High Content Essence will make your complexion illuminated and nourished from the inside. After applying bee venom, a slight tingling sensation might appear, which is not long-lasting. According to the producers, our brain receives a signal that we have been stung and stimulates skin cells to repair them.
Sounds enticing.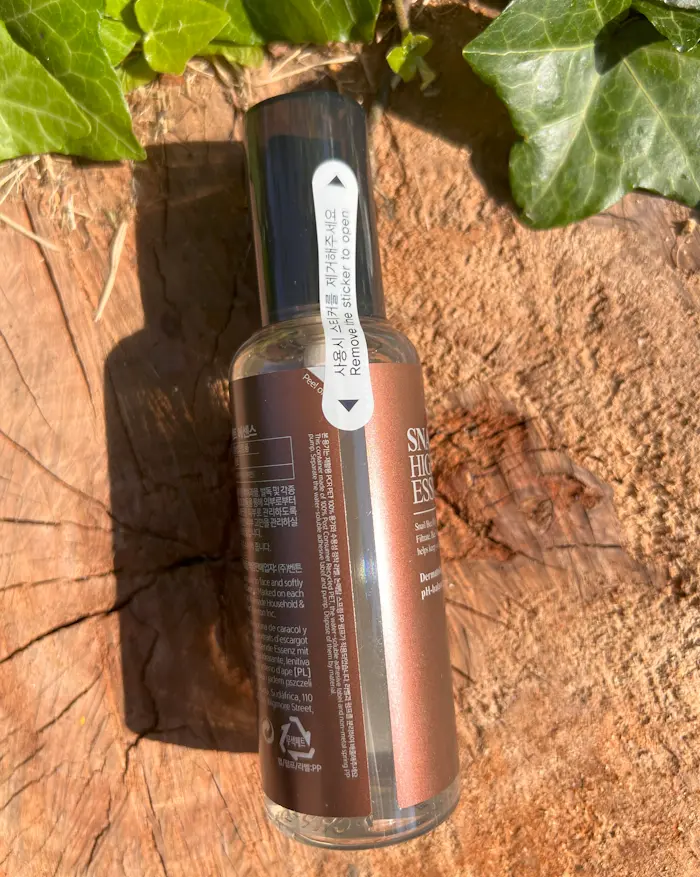 Packaging
I like the packaging very much. It is elegant, tasteful, and luxurious. The transparent bottle is additionally packed in a cardboard box. The design is minimalist, and looking at it makes me feel friendly with nature and organic.
It comes in a convenient, built-in airless pump bottle secured with a removable, transparent cap. The pump is nice because it gives an adequate amount of the product depending on the pressure applied. The application is precise without splashing the cosmetic to the left and right.
It takes about 2-3 pumps. That's enough to cover my entire face, neck, and décolletage. In the case of Benton, which uses natural ingredients, a 6-month use-by date after opening the packaging is given, and it should be followed. So I'm not too stingy when applying it because I'd rather apply more than throw it away when it's not finished yet (or even worse – use an old product).
The Benton Snail Bee High Content Essence should be enough for a minimum of 4 months or longer, but it largely depends on how much you will apply it because, thanks to the light formula, you do not have to limit yourself and fear spillage.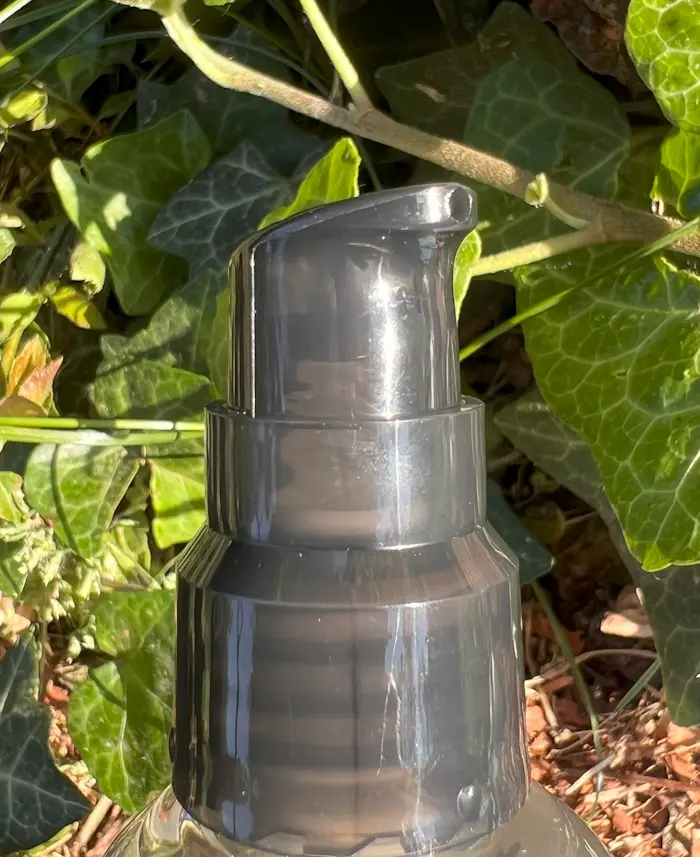 Scent
The Benton Snail Bee High Content Essence itself is clear and has a very faint, neutral smell that I can't quite put my finger on. It's like this strange hybrid of earth and ozone. Whatever it is, it doesn't last long; it's gone by the time you've rubbed this into your skin.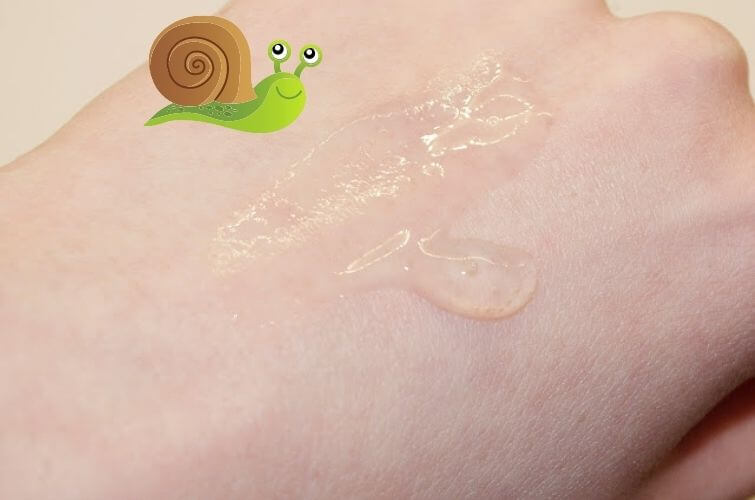 Texture
It is a gel, slightly slippery, moist jelly that is entirely transparent and colorless. It's more watery than the Benton Aloe Propolis Soothing Gel but thicker than water.
After spreading, it becomes completely watery and non-greasy, spreading quickly, and you don't need much to cover it up. Immediately after application, it is still moist for a moment but completely absorbed after a while, leaving a matte, non-noticeable finish.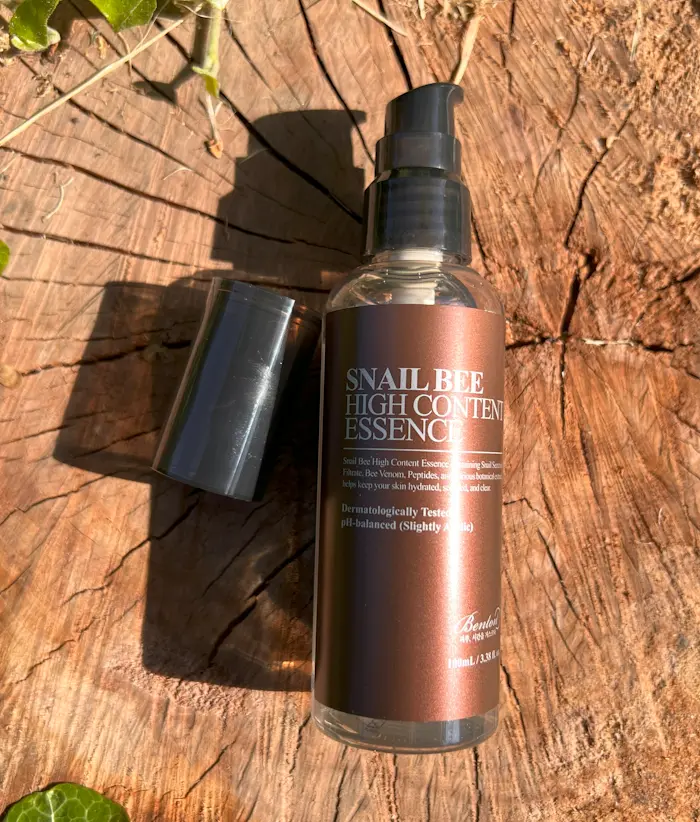 My Experience with the Benton Snail Bee High Content Essence
It's not like my skin suddenly looks ten years younger. No, nothing flashy like that. Instead, I think of it as a robust and stout guardian, silently providing the best it can for my skin while staying in the shadows. Like a ninja, it's there one moment, gone the next, but its work is done.
What I love the most after years of use is that it deals with skin issues typical of problematic skin. It reduces inflammation and accelerates the drying and healing of already-formed pimples. With regular use, the Benton Snail Bee High Content Essence significantly reduces the chance of future breakouts.
This is one of the best products I have used for narrowing enlarged pores. I was shocked when I noticed they were becoming less visible each night. This essence has astringent properties, but not in a negative sense because it did not dry out my skin.
The "snail on top" is that it significantly influenced the regulation of my excessively hard-working, sebaceous glands. White willow bark's astringent and exfoliating properties essentially reduced the dark blackheads on my nose. This product does not show powerful exfoliating properties, but the result was lovely, and I could say that their visibility decreased by a whopping 80%. YAY!
As it is commonly known, snail mucin has potent regenerating properties. Therefore, the Benton Snail Bee High Content Essence helps heal existing pimples and the nasty pigmentation (PIH) they leave behind. In addition, the overall skin tone is even and visibly brightened, making it look healthy, fresh, and radiant. I might be imagining things, but I feel it radiates its inner light.
Something else I noticed, while subtle, is that my skin is generally smoother. It used to have a few minor bumps here and there, but now they are all smoothened out! The skin becomes soft, pleasantly smoothed, and slightly firmer.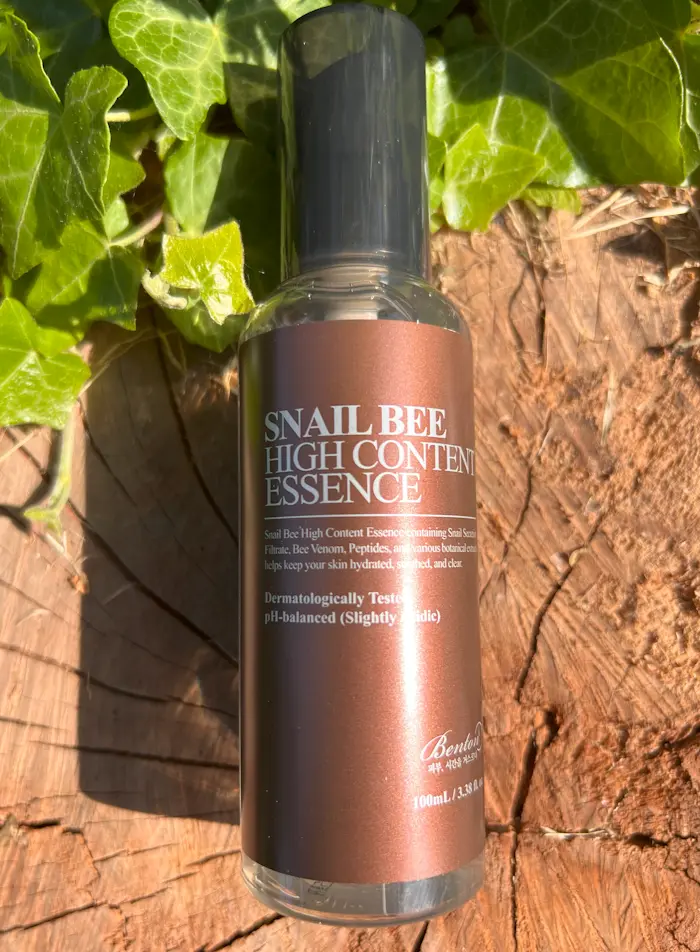 Regarding hydration, yes – the Benton Snail Bee High Content Essence maintains its optimal level and restores the skin's balance, but I would not say it's a superstar in this respect. Many other beauty products can moisturize the skin better, but as you can see, you can't have everything. The essence is very light and watery, so if your skin needs it, try to lock in that moisture with a more occlusive finish.
The Benton Snail Bee High Content Essence did not cause any unpleasantness and didn't irritate my sensitive skin, but it is also not a soothing product. It has little to no effect on the redness caused by sun exposure. Also, sunscreen is essential, so don't skip it by relying on some later fix.
How do I use the Benton Snail Bee High Content Essence?
I've also been asked where this fits in, meaning at what step of my skincare routine.
Vitamin C serum (in the AM)
I apply my toner (ok toners :);
I apply the Benton Snail Bee High Content Essence;
A simple way to remember is to apply things in order of their consistency, from lightest to heaviest. Of course, your toner is the most watery, the essence, the gel, and finally, your cream. Sometimes, there are some surprises in a Korean skincare regime, especially when you reach the 6-8 product mark as I have, but that's a good rule of thumb.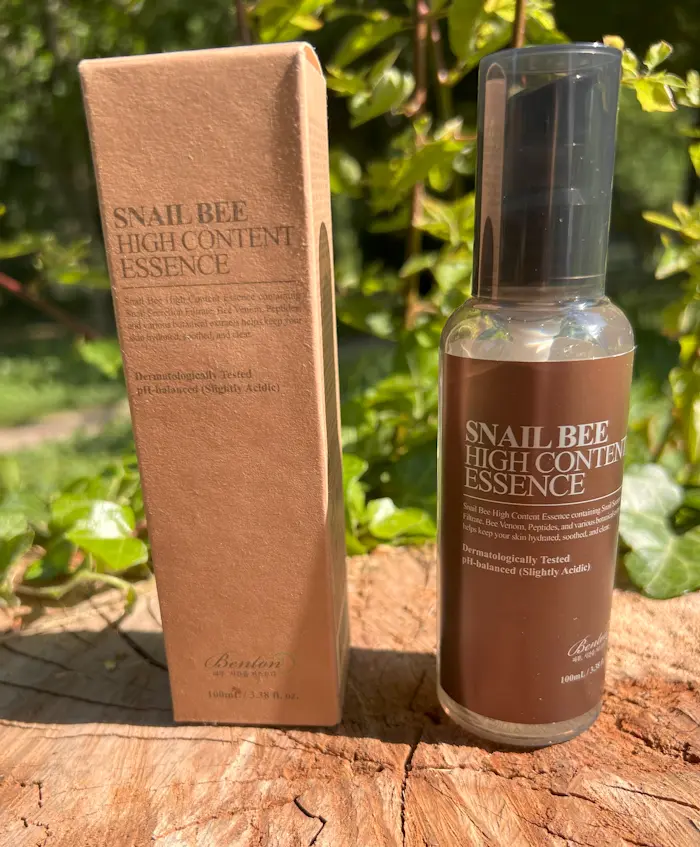 Pros
no scent
affordable
clean ingredients
cruelty-free
absorbs quickly
not occlusive
hydrating
very strong regenerating and healing properties
brightens the skin tone
shrinks pores
eliminates blackheads
makes the skin soft and smooth
slightly firms
Cons
None so far.
Benton Snail Bee High Content Essence New Version vs. Old Formulation
2023 formulation
2020 formulation
Size
3.38 fl. oz. / 100 ml
2.02 fl. oz. / 60 ml
Ingredients
– Snail mucin as the first ingredient
– Six peptides added
Benton Snail Bee High Content Essence vs. Mizon Snail Repair Intensive Ampoule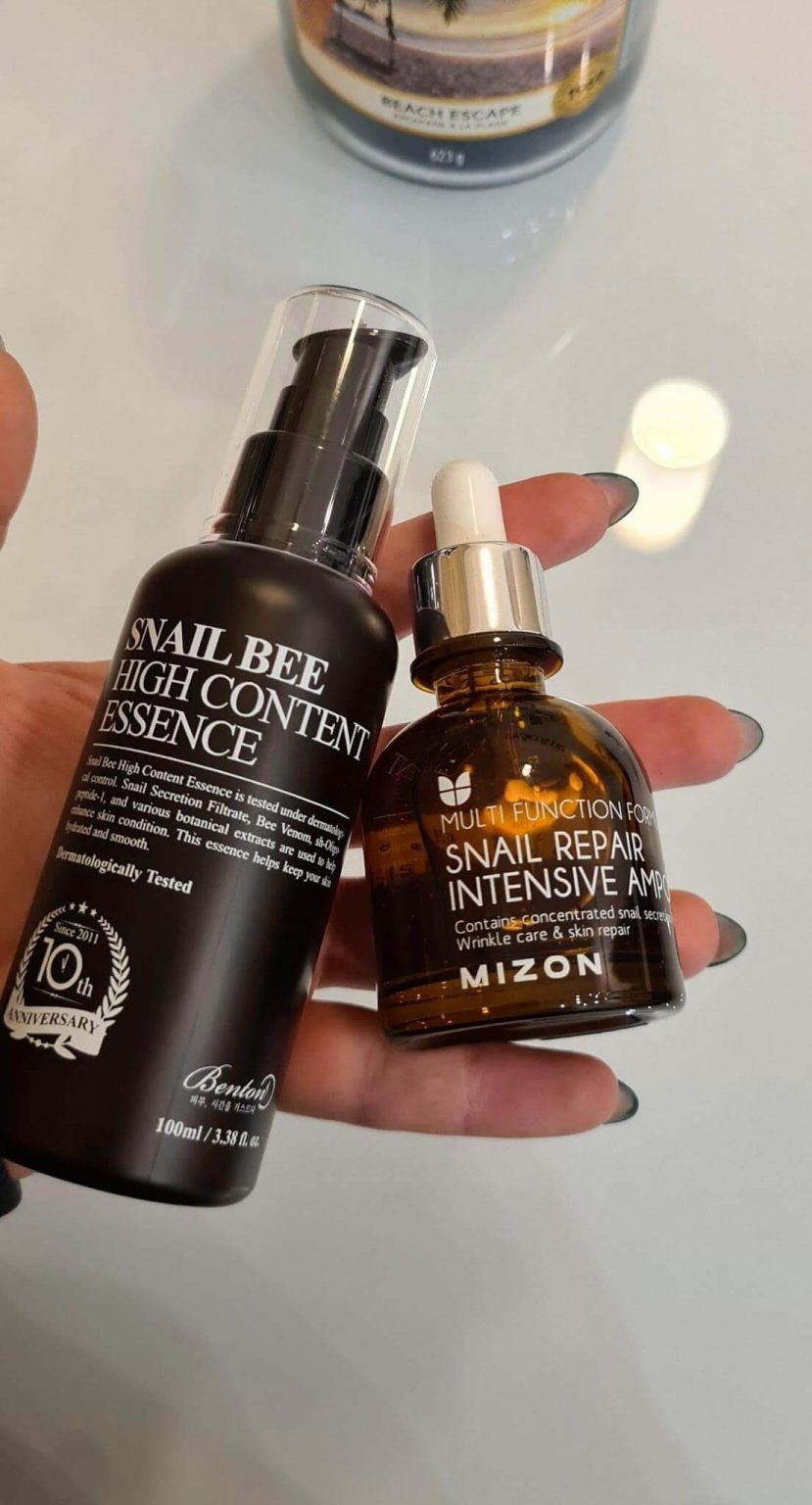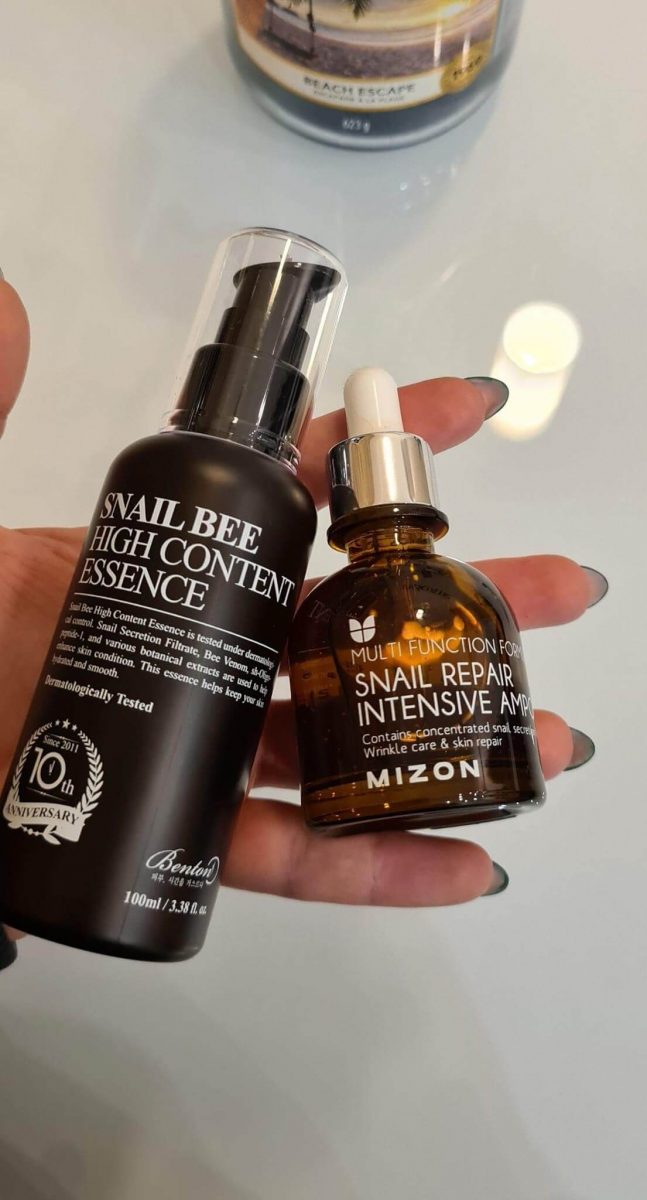 Mizon Snail Repair Intensive Ampoule is a very slippy, viscous, light-gold serum. It took some time to get used to it because I'm accustomed to the Benton Snail Bee High Content essence gel texture.
The slippy feeling made me think it might be a bit greasy, which I don't like in serums. It isn't, though!
There's alcohol in it, which will be off-putting for some, but it doesn't bother me. The alcohol makes you feel like it absorbs very quickly.
I also didn't feel any sticky residue after using the Mizon ampoule.
Final Thoughts
I love this essence. It works well on my skin, and with the power-packed ingredients, I think it is the foundation of my skincare routine. It has earned the spot as a mainstay, and I don't see myself without this anytime soon!
Overall rating: 5 out of 5!
Shop for Benton Snail Bee High Content Essence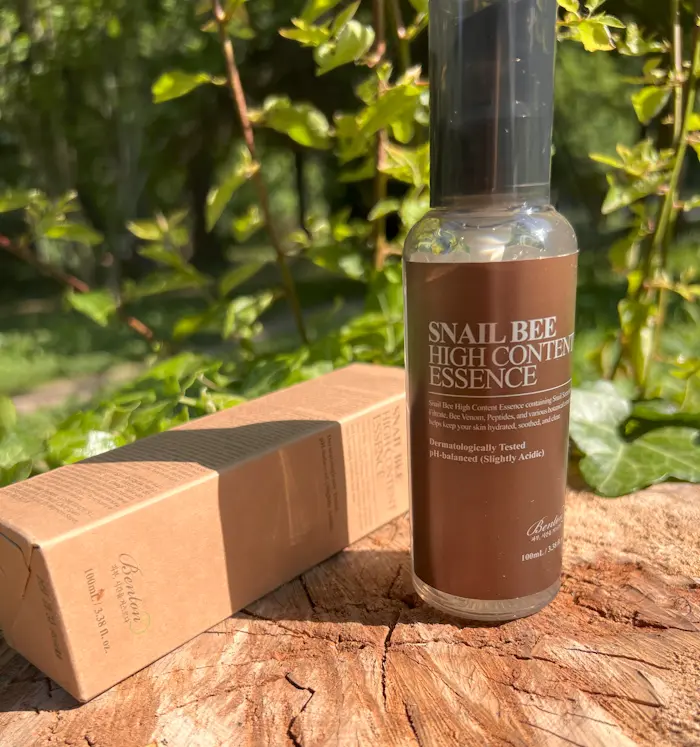 Lastly, I was not paid for this review or received it as a gift.
As always, you do you; be kind to your skin and yourself! Remember that every person's skin and skin type is different, so what might work for me might not work for you, and vice versa. So, before adding a new product to your skincare routine, it pays to do a little research first.
Before adding the Benton Snail Bee High Content Essence to your skincare regimen, ensure you are not allergic to it or its ingredients. You should also consult your doctor if you are pregnant, breastfeeding, or have any medical conditions or medications that may interact with the Benton Snail Bee High Content Essence. Always do a patch test before applying the Benton Snail Bee High Content Essence on your skin to avoid adverse reactions.
I am not a dermatologist or licensed aesthetician, but I have sufficient experience and knowledge I gained by testing multiple products and self-exploration. Unsure? Best to consult your dermatologist.
Happy shopping, and don't forget the sunscreen! Here's to great skin in 2023!
Up Next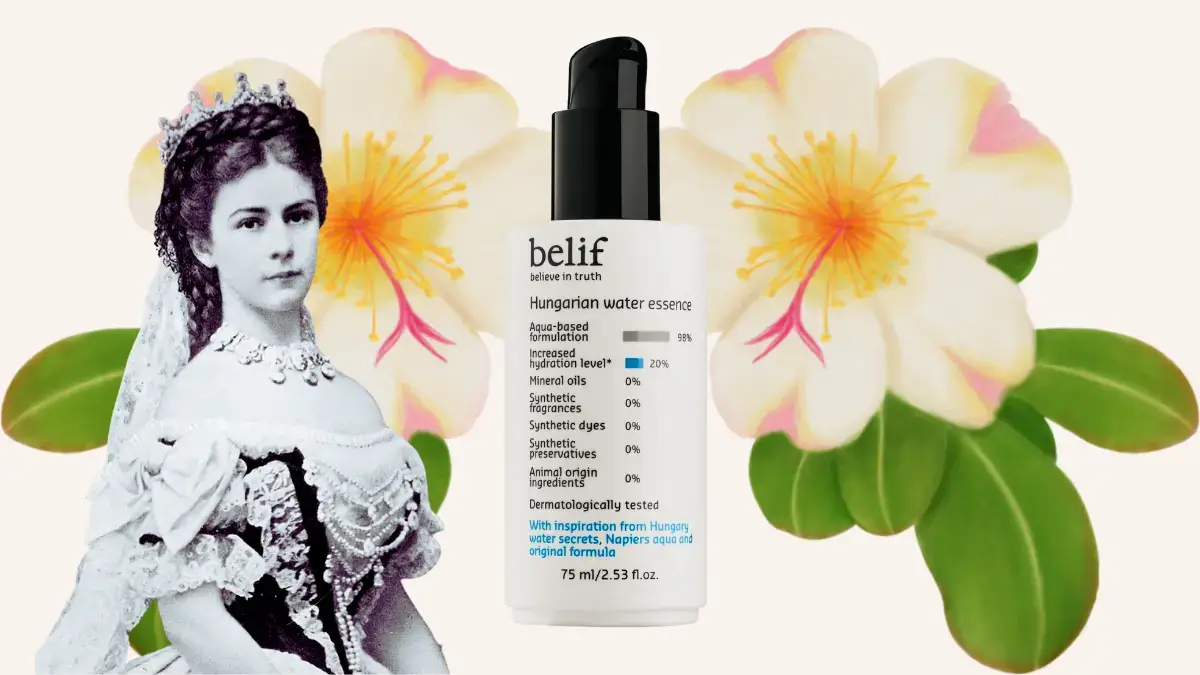 Belif Hungarian Water Essence – Excellent introductory product
Show Me Proof
Tanno, O., Y. Ota, N. Kitamura, T. Katsube, and S. Inoue. "Nicotinamide increases biosynthesis of ceramides as well as other stratum corneum lipids to improve the epidermal permeability barrier." British Journal of Dermatology 143, no. 3 (2000): 524-531.
Mohammed, D., J. M. Crowther, P. J. Matts, J. Hadgraft, and M. E. Lane. "Influence of niacinamide containing formulations on the molecular and biophysical properties of the stratum corneum." International journal of pharmaceutics 441, no. 1-2 (2013): 192-201.
Snaidr, Victoria A., Diona L. Damian, and Gary M. Halliday. "Nicotinamide for photoprotection and skin cancer chemoprevention: A review of efficacy and safety." Experimental dermatology 28 (2019): 15-22.
Gehring, W. "Nicotinic acid/niacinamide and the skin." Journal of Cosmetic Dermatology 3, no. 2 (2004): 88-93.
Soma, Yoshinao, Masato Kashima, Akiko Imaizumi, Hideto Takahama, Tamihiro Kawakami, and Masako Mizoguchi. "Moisturizing effects of topical nicotinamide on atopic dry skin." International journal of dermatology 44, no. 3 (2005): 197-202.
Draelos, Zoe Diana, Akira Matsubara, and Kenneth Smiles. "The effect of 2% niacinamide on facial sebum production." Journal of Cosmetic and Laser Therapy 8, no. 2 (2006): 96-101.
Shahmoradi, Zabiolah, Farib Iraji, Amir Hossein Siadat, and Azamosadat Ghorbaini. "Comparison of topical 5% nicotinamid gel versus 2% clindamycin gel in the treatment of the mild-moderate acne vulgaris: A double-blinded randomized clinical trial." Journal of Research in Medical Sciences: The Official Journal of Isfahan University of Medical Sciences 18, no. 2 (2013): 115.
Ungerstedt, J. S., M. Blombäck, and T. Söderström. "Nicotinamide is a potent inhibitor of proinflammatory cytokines." Clinical & Experimental Immunology 131, no. 1 (2003): 48-52.
Bissett, D. L., K. Miyamoto, P. Sun, J. Li, and C. A. Berge. "Topical niacinamide reduces yellowing, wrinkling, red blotchiness, and hyperpigmented spots in aging facial skin 1." International journal of cosmetic science 26, no. 5 (2004): 231-238.
Darlenski, Razvigor, Jana Kazandjieva, Nikolai Tsankov, and Joachim W. Fluhr. "Acute irritant threshold correlates with barrier function, skin hydration and contact hypersensitivity in atopic dermatitis and rosacea." Experimental dermatology 22, no. 11 (2013): 752-753.
Navarrete-Solís, Josefina, Juan Pablo Castanedo-Cázares, Bertha Torres-Álvarez, Cuauhtemoc Oros-Ovalle, Cornelia Fuentes-Ahumada, Francisco Javier González, Juan David Martínez-Ramírez, and Benjamin Moncada. "A double-blind, randomized clinical trial of niacinamide 4% versus hydroquinone 4% in the treatment of melasma." Dermatology research and practice 2011 (2011).
Namazi, Mohammad Reza. "Nicotinamide: a potential addition to the anti‐psoriatic weaponry." The FASEB journal 17, no. 11 (2003): 1377-1379.
Mazurowska, Lena, and Miroslaw Mojski. "Biological activities of selected peptides: skin penetration ability of copper complexes with peptides." Journal of cosmetic science 59, no. 1 (2008): 59-69.
Sklirou, Aimilia D., Marianna Ralli, Maria Dominguez, Issidora Papassideri, Alexios-Leandros Skaltsounis, and Ioannis P. Trougakos. "Hexapeptide-11 is a novel modulator of the proteostasis network in human diploid fibroblasts." Redox Biology 5 (2015): 205-215.
Schagen, Silke Karin. "Topical peptide treatments with effective anti-aging results." Cosmetics 4, no. 2 (2017): 16.
Robinson, L. R., N. C. Fitzgerald, D. G. Doughty, N. C. Dawes, C. A. Berge, and D. L. Bissett. "Topical palmitoyl pentapeptide provides improvement in photoaged human facial skin 1." International journal of cosmetic science 27, no. 3 (2005): 155-160.
Lintner, K., and O. Peschard. "Biologically active peptides: from a laboratory bench curiosity to a functional skin care product." International journal of cosmetic science 22, no. 3 (2000): 207-218.
Han, Sang Mi, In Phyo Hong, Soon Ok Woo, Sung Nam Chun, Kwan Kyu Park, Young Mee Nicholls, and Sok Cheon Pak. "The beneficial effects of honeybee-venom serum on facial wrinkles in humans." Clinical interventions in aging (2015): 1587-1592.