I couldn't call myself a beauty editor if I didn't write much about sunscreens, right? Cliché, but whatever. I was excited to try the Pyunkang Yul ATO Mild Sun Cream! My obsession with sunscreens is no secret. I collect them like women collect lipstick, or how I used to collect beanie babies… pretty sure I lost money on that middle school investment. Let me clarify: if you care about your skin, you should care about sunscreens as much as I do!
Pyunkang Yul Sunscreen, at a Glance:
Where to Buy the Pyunkang Yul ATO Mild Sun Cream?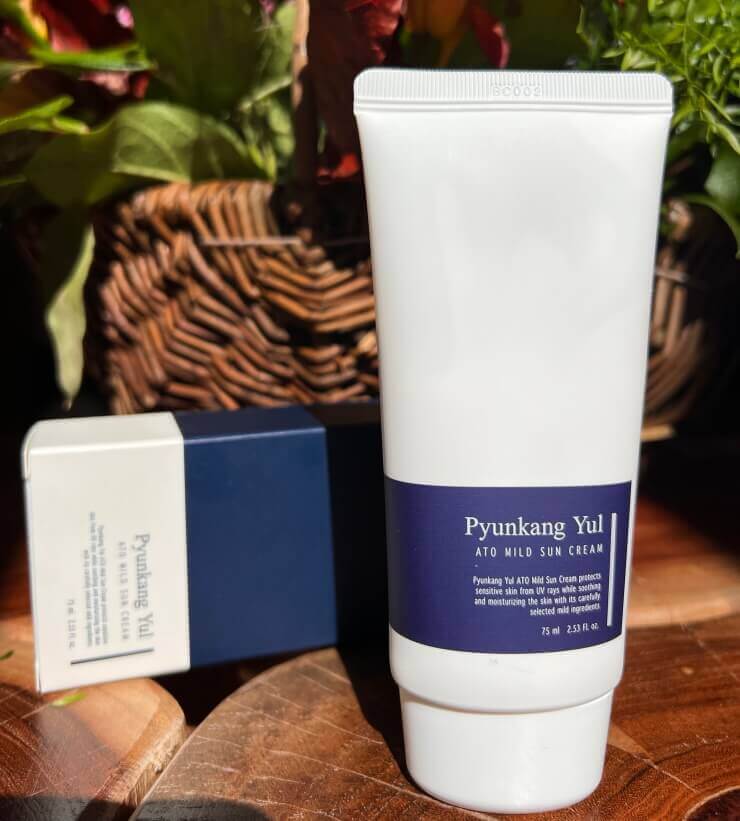 There are various places to purchase the Pyunkang Yul sunscreen. My favorite place to find this beauty in the US is Amazon's Pyunkang Yul Official Store*.
As I write this review, it is available on Asian websites such as YesStyle*, StyleKorean*, and StyleVana*, with prices ranging from $11-$13. They are all trustworthy Asian websites that ship internationally.
It's a sweet deal because it comes in a 2.53 fl oz / 75 ml compared to the 1.69 fl. oz / 50 ml typical to most Asian sunscreens. It matters, especially when you need sunscreen every day.
The Pyunkang Yul Brand
The brand Pyunkang Yul was developed by the renowned Pyunkang Oriental Medicine Clinic in South Korea and uses Hanbang – traditional Korean herbal medicine. Each product contains a high amount of traditional herb extracts and little fillers and fragrances to minimize irritation to the skin and help promote a healthy oil and moisture balance in the skin.
I am also currently enjoying Pyunkang Yul ATO Cream Blue Label. I am eager to try new products from this brand because I have read my fellow muse, Adela's, review on the Pyunkang Yul Low PH Pore Deep Cleansing Foam and Seo Yeon's review on the Pyunkang Yul Acne Facial Cleanser.
Pyunkang Yul ATO Mild Sun Cream Claims
A mild, light weighted mineral sunscreen formulated with reef safe, EWG-verified ingredients to protect your delicate skin.
Features a powerful broad-spectrum SPF 50 PA++++ to shield against free radical rays.
Hydrating semi-matte lotion type formula that doesn't leave white cast.

pyunkangyul.us
Who is this hybrid sunscreen for?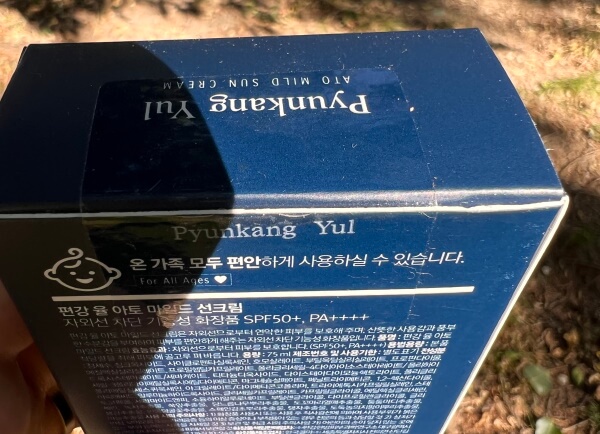 For all skin types, especially for sensitive, easily irritated skin. It is tested and ok to use even for babies.
Pyunkang Yul ATO Mild Sun Cream Ingredients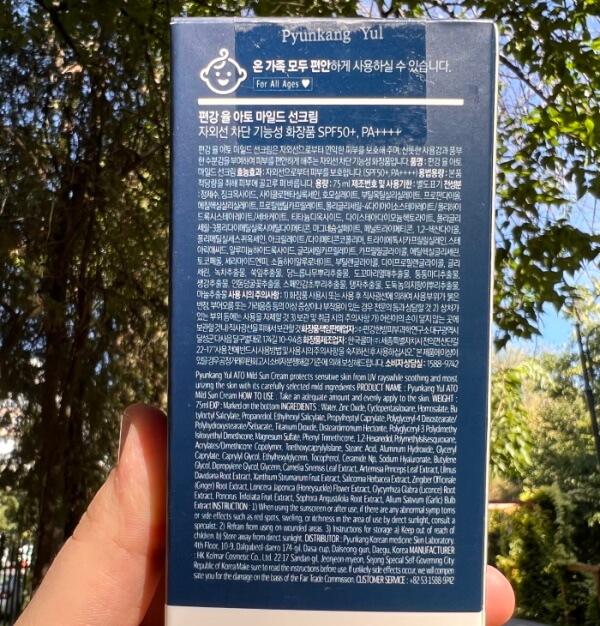 Water, Zinc Oxide, Cyclopentasiloxane, Homosalate, Butyloctyl Salicylate, Propanediol, Ethylhexyl Salicylate, Propylheptyl Caprylate, Polyglyceryl-4 Diisostearate/​Polyhydroxystearate/​Sebacate, Titanium Dioxide, Disteardimonium Hectorite, Polyglyceryl-3 Polydimethylsiloxyethyl Dimethicone, Magnesium Sulfate, Phenyl Trimethicone, 1,2-Hexanediol, Polymethylsilsesquioxane, Acrylates/​Dimethicone Copolymer, Triethoxycaprylylsilane, Stearic Acid, Aluminum Hydroxide, Glyceryl Caprylate, Caprylyl Glycol, Ethylhexylglycerin, Tocopherol, Ceramide NP (Ceramide 3), Sodium Hyaluronate, Butylene Glycol, Dipropylene Glycol, Glycerin, Camellia Sinensis Leaf Extract, Artemisia Princeps Leaf Extract, Ulmus Davidiana Root Extract, Xanthium Strumarium Fruit Extract, Salicornia Herbacea Extract, Zingiber Officinale (Ginger) Root Extract, Lonicera Caprifolium (Honeysuckle) Flower Extract, Glycyrrhiza Glabra (Licorice) Root Extract, Poncirus Trifoliata Fruit Extract, Sophora Angustifolia Root Extract, Allium Sativum (Garlic) Bulb Extract.
Ingredients referred from INCIDecoder.
Sunscreen filters Herbal Moisturizing/Humectant Brightening
Sunscreen Filters
Zinc Oxide, Homosalate, Ethylhexyl Salicylate, Titanium Dioxide.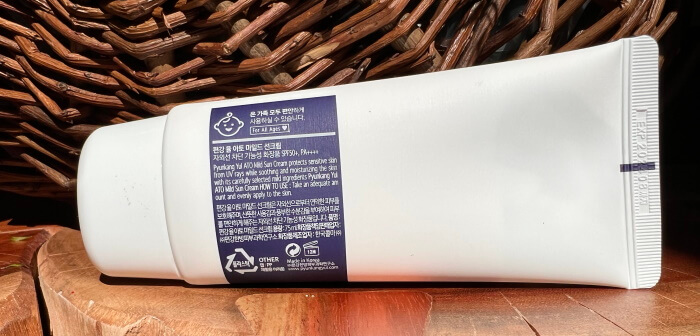 Pyunkang Yul sunscreen* was previously formulated with only one UV filter: Titanium Dioxide.
Titanium Dioxide is an inorganic photostable sunscreen filter that reflects and blocks UVA and UVB rays. However, it has been said that it does not protect against the whole range of UVA rays but depends on the formulation.
Inorganic filters are supposedly a safer choice for those with sensitive and/or acne-prone skin types as they do not penetrate much into the skin and instead form a protective film over the skin. However, some may still find their skin irritated or allergic to this filter, so do note.
It also may cause a "white cast" effect on deeper skin tones.
Based on the ingredients, it can be observed that this new formulation of the Pyunkang Yul sunscreen has added Zinc Oxide, Homosalate, and Ethylhexyl Salicylate to the UV filters.
Key Ingredients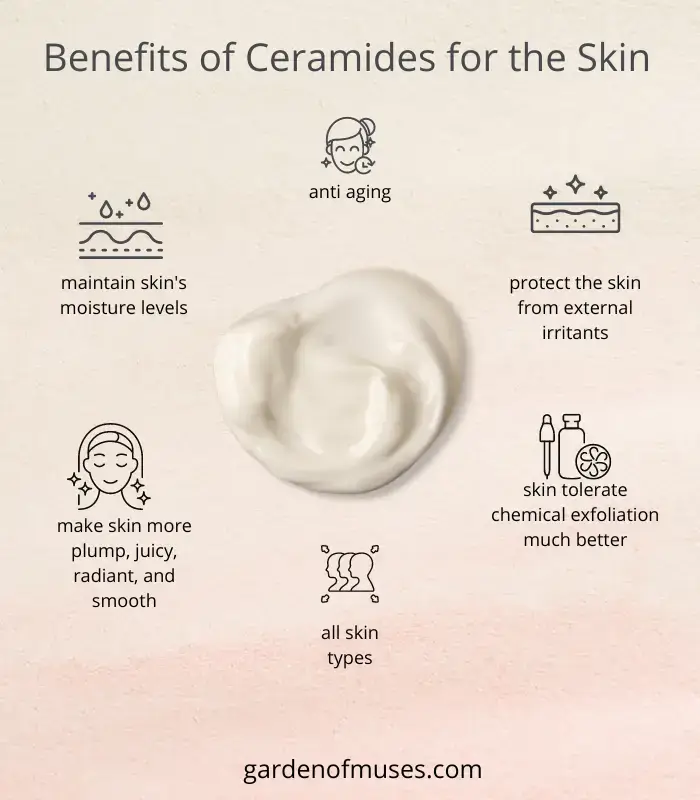 Ceramides
Ceramides are a family of lipids that account for 50% of the skin barrier (by weight), so they're essential, right? Ceramides are crucial to
maintain the skin's moisture levels;
protect skin from external irritants making skin more resilient;
help make skin more plump, juicy, radiant, and smooth;
makes skin tolerate chemical exfoliation much better;
skin is less likely to become irritated;
because they prevent dehydration, ceramides are a great anti-aging ingredient;
regulate the cell cycle and apoptosis (regulated cell death);
beneficial for all skin types.
Heralded as skincare heroes, ceramides can now be found in cleansers, toners, serums, masks, moisturizers, and even hand creams.
They are generally well tolerated and can be combined with other ingredients, especially plant oils rich in linoleic acid.
Artemisia Capillaris Extract
Also known as Mugwort, it has been a beneficial ingredient in medicine, food, and cosmetics for centuries. It is a fool-proof, flexible product for sensitive, acne-prone, dry, and dull skin.
calms irritated and sensitive skin;
helps treat redness and atopic diseases;
prevent breakouts;
is full of antioxidants and Vitamin E;
helps to protect and nourish the skin barrier;
hydrates and brighten the skin tone, making it look more radiant and healthy.
Licorice
Licorice is a potent antioxidant that evens skin tone and soothes sensitive skin. Studies also have shown it acts as an anticarcinogenic.
Ingredients not Included in the Pyunkang Yul ATO Mild Sun Cream
Alcohol, fragrance, and essential oils
Pyunkang Yul ATO Mild Sun Cream* is vegan, therefore, cruelty-free.
Packaging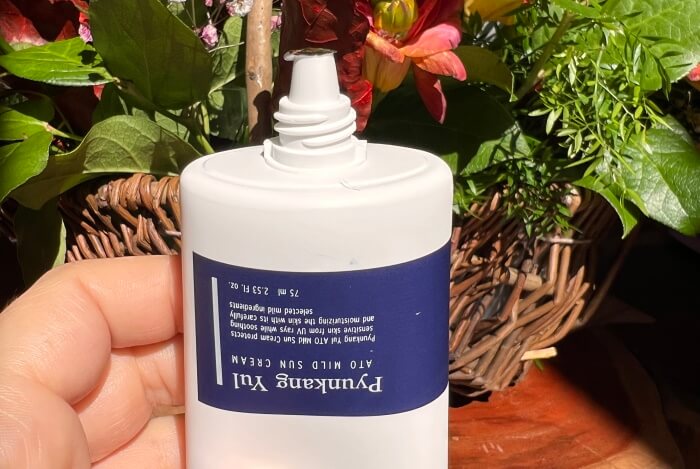 The Pyunkang Yul ATO Mild Sun Cream, or as I like to call it, the Pyunkang Yul sunscreen (I'm just lazy, haha), comes in an outer blue and white transparent carton box that's pretty minimalistic in itself. The actual product is housed in an opaque, matte slim white squeeze tube with a screw cap that twists off to reveal a fine nozzle dispenser.
Scent
Scent-wise, this sunscreen has a light sunscreen smell. I have no issue with it, as it's not strong.
Interestingly though, when I asked my mum what this sunscreen smells like, she said it reminds her of those old medicinal zinc ointments, which is surprisingly quite apt as Zinc Oxide is listed as the second ingredient.
Texture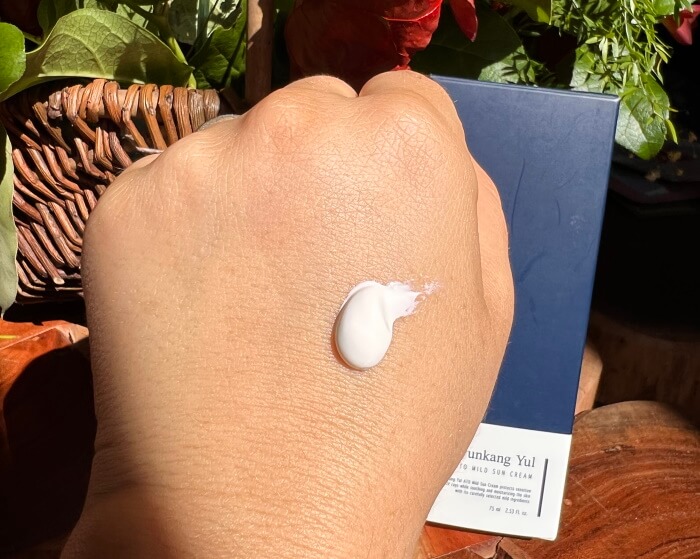 I'm pleased to say that the application is smooth sailing. It has a lightweight consistency, but it is not oily.
I also like how travel-friendly the packaging design is, as the firm screw cap eases any worry of product leakage.
My Personal Experience with Pyunkang Yul ATO Mild Sun Cream
I've been using this Pyunkang Yul sun cream as my everyday sunscreen for about three weeks, and I see some pros and cons. I have to mention, though, that when I first started using this product, my skin was particularly sensitive due to starting tretinoin, so results may vary depending on the individual, particularly if you have less reactive skin than I do.
Let's start with how nice the texture is. The sunscreen is a white cream with a soft, lightweight consistency that spreads onto the skin quickly and feels comfortable on the skin upon application. The finish is also an excellent natural semi-matte finish and does seem to aid in oil control during the day.
However, as expected from a hybrid sunscreen, it leaves a slight white cast that will probably show up or darker skin tones (I'm around a MAC NC20), primarily if you use the two-finger application rule with minimal rubbing. It's less noticeable on this swatch on my hand, but trust me when I say it's more apparent on the face.

This white cast does go away eventually, but not until a few hours later, and even then, I wonder if it's because it's a sign I need to reapply. So yes, I usually have to wear base makeup if I use this sunscreen. I use foundations or bb creams that might be a tad too dark to balance out the paleness of my skin post-sunscreen application.
During this trial, the most important thing for me is how it reacts when my skin is sensitized. Is it genuinely suitable for sensitive skin, as advertised? Short answer: yes, for me at least (YMMV!).
How to Use Pyunkang Yul ATO Mild Sun Cream?
In the AM, at the end of your skincare routine, apply and spread evenly on areas easily exposed to UV rays.
Reapply throughout the day as needed, especially during prolonged sun exposure.
Is Pyunkang Yul ATO Mild Sun Cream Discontinued?
Yes, the 2020 formula is discontinued. That sunscreen was a physical sunscreen containing only titanium dioxide as a UV filter. The sunscreen was SPF45 PA+++
The new version, the one I'm reviewing now, is the 2022 formula. It contains physical and chemical filters; therefore, it's a hybrid sunscreen. The new sunscreen is SPF50 PA++++.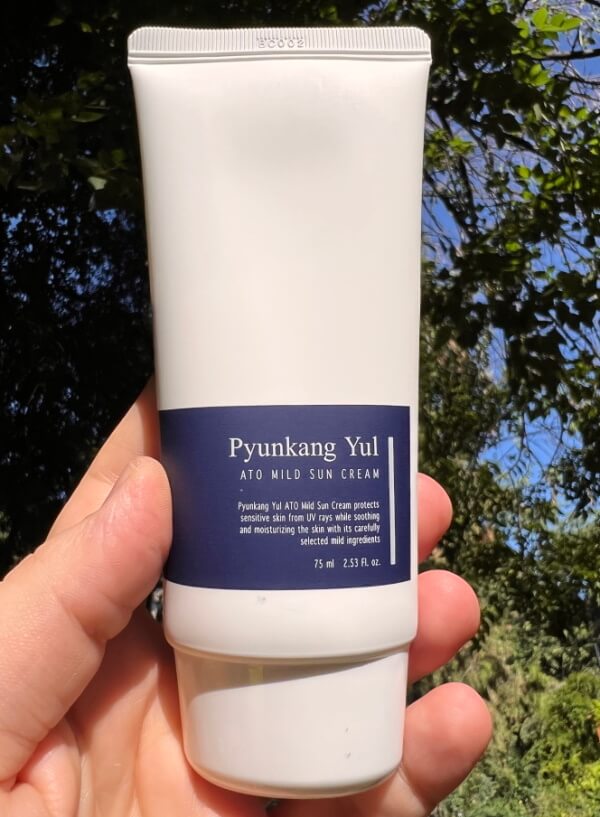 Pros
moisturizing
good price/quantity
does not sting my eyes
hypoallergenic
Cons
Final Thoughts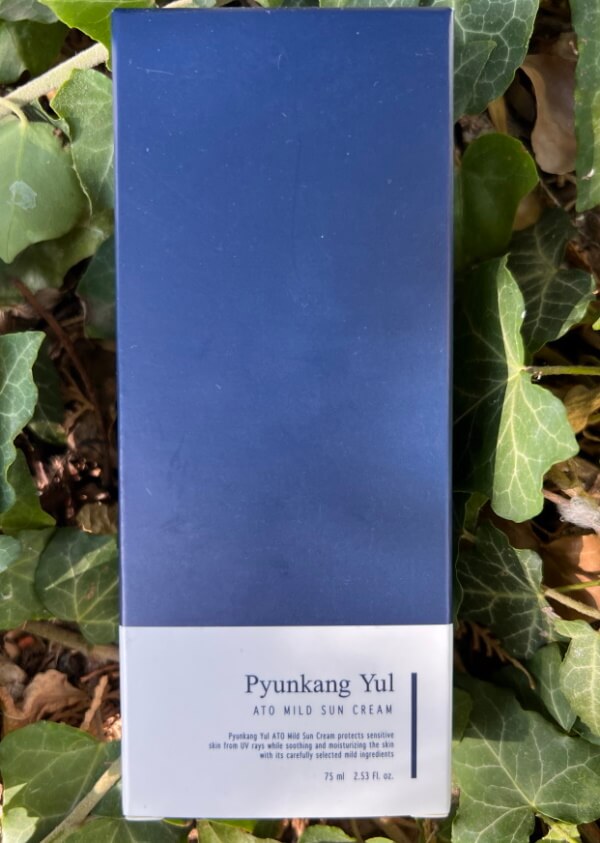 The Pyunkang Yul ATO Mild Sun Cream is beautiful for those who love KBeauty or want a great, cost-effective sunscreen. It's a great choice if you're on the fairer end of the skin spectrum and generally have sensitive skin.
Overall it's an excellent sunscreen to wear all year round since it's light-feeling.
Will I Repurchase Pyunkang Yul ATO Mild Sun Cream?
I enjoyed this product but won't repurchase it, not because I didn't like it, but because I want to try new things.
Rating: 4.5/5
Pyunkang Yul ATO Mild Sun Cream vs. Beauty of Joseon Relief Sun Rice + Probiotics Sunscreen
Unlike the Beauty of Joseon sunscreen, the Pyunkang Yul sunscreen does not sting my eyes. Because of my sensitive eyes, this is an actual selling point. Pyunkang Yul sunscreen is a little thicker in texture than the BOJ sunscreen.
The Beauty of Joseon Relief Sun Rice + Probiotics* is good, but this one is better.
Shop for Pyunkang Yul ATO Mild Sun Cream
As always, you do you, be kind to your skin and yourself! Remember that every person's skin and skin type is different, so what might work for me might not work for you, and vice versa. So before adding a new product to your skincare routine, it pays to do a little research first.
Pay special attention to ingredients that you might react to. Doing a patch test is always a good idea. Unsure? Best to consult your dermatologist.
Happy skin experimenting, and don't forget the sunscreen!
Show Me Proof