I was pretty intrigued by the Atopalm Real Barrier Extreme Cream's bold marketing claims:  Improves skin barrier by 99.5% within two weeks.
So, of course, I had to try it.
Where to Buy the Real Barrier Extreme Cream?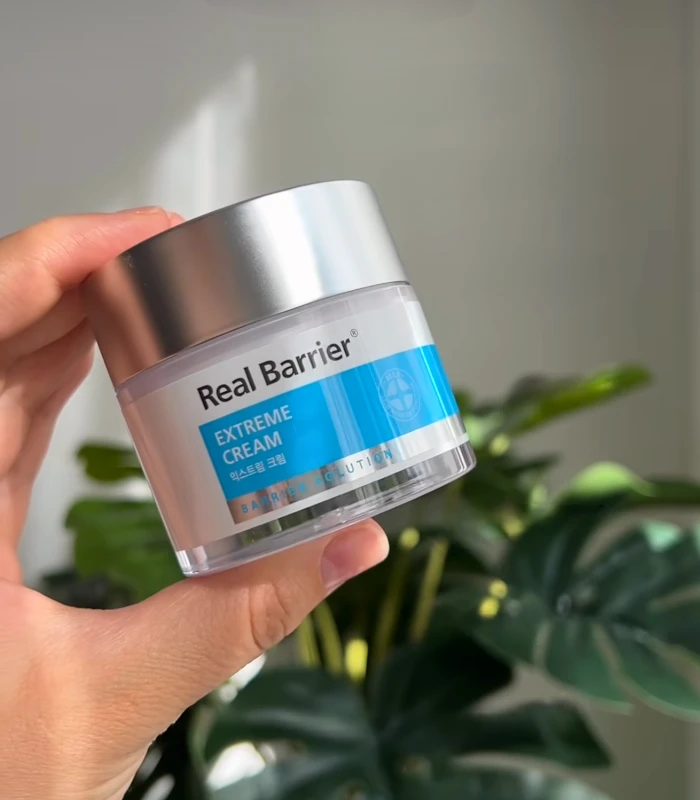 The Real Barrier Extreme Cream comes in a 1.69 fl. oz. / 50 ml retails for $23-$38 and is available at the Official Real Barrier Store on Amazon*.
You can also shop this moisturizer on trusted international Korean shops: YesStyle*, StyleVana*, Jolse*, and StyleKorean*.
Also, check out our editor's guide to shopping for Korean skincare.
The Atopalm Real Barrier Brand
After researching, I found that Dr. Raymond Park created the Atopalm brand to heal his child's atopic dermatitis. He has invented the Triple Ceramide and Multi-Lamellar Emulsion (MLE) technologies,
Originally named Atopalm, the brand has grown into the Atopalm family. The umbrella company now has several brands:
Atopalm MLE* is their flagship range designed with ultra-sensitive skin in mind. MLE replenishes skin that's too irritated by more complex skincare formulas.
Real Barrier* is for skin that still needs MLE (i.e., everybody) but can tolerate more ingredients like hyaluronic acid and patented dual ceramides. Rich, refreshing, and luxurious.
Zeroid* is a Korean doctor-recommended range for skin and scalp/hair concerns. Science-backed ingredients are gentle enough for all skin types and ages.
T'else* is a revolutionary kombucha-based skincare line that provides soothing and relaxing care through antioxidants!
Derma:B* focuses solely on the body with moisturizing and soothing products designed for the body.
dermArtlogy is their newest range, formulated to provide robust anti-aging care without irritating or compromising the skin.
Real Barrier Extreme Cream Claims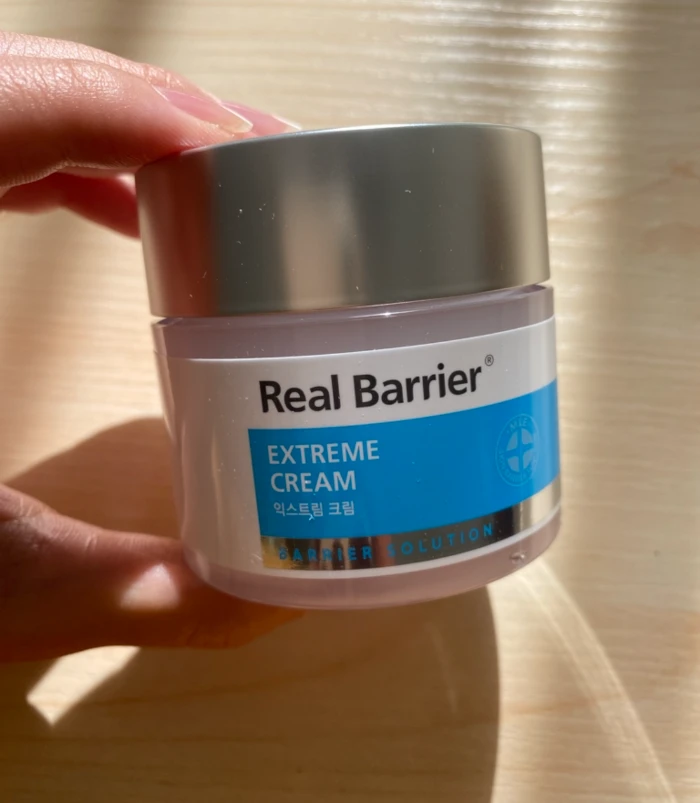 With the addition of a newly patented ceramide, Omega-Ceramide-16, Real Barrier Extreme Cream now has triple hydration, and increases the moisture level of the skin on the surface and from within.

Also, along with Hyaluronic Acid, has been proven to provide 72 hours of continuous moisturization.

ATOPALM
The new formulation is safer for sensitive skin types because allergenic ingredients were removed.
It is designed to combat wintertime skin dryness and helps protect against the stresses of the environment with the MLE technology.
It is an excellent solution for strengthening and repairing the skin barrier (dry, itchy skin, redness, irritated skin).
Who Is the Real Barrier Extreme Cream For?
For those with dry or dehydrated skin types, especially those with a damaged skin barrier. If you have oily or acne-prone skin, I do not recommend this.
Real Barrier Extreme Cream Ingredients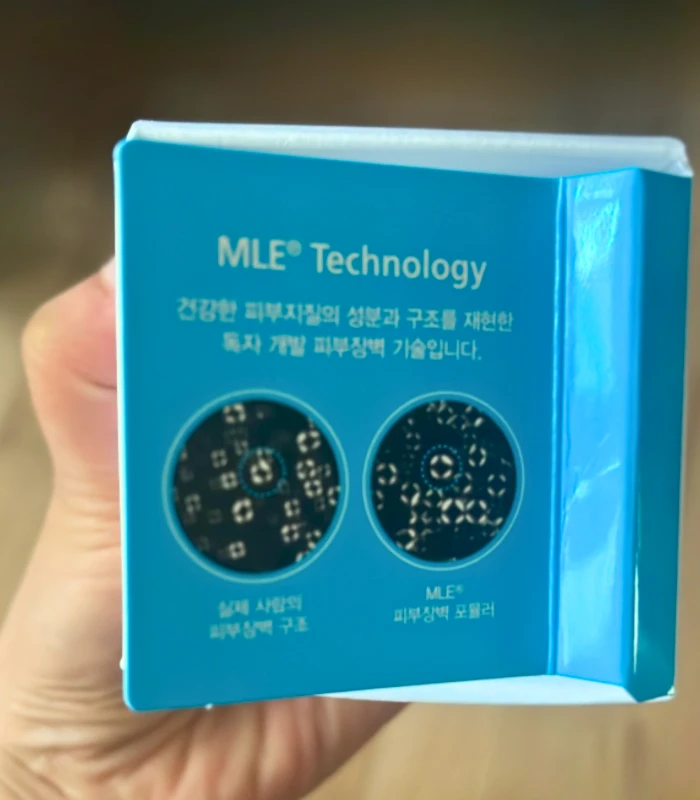 MLE Technology
The multi-layer emulsion technology uses a combination of ceramides, fatty acids, cholesterol, and other fats to flawlessly mimic the natural lamellar structure of skin lipids.
Simply put, the idea is to supply the lipids in our stratum corneum and arrange them in a specific shape and pattern identical to the one in the skin. Thanks to this, they perfectly fill the cavities in the intercellular cement and seal the skin barrier. This technology provides a new standard for dermatological science. MLE technology started an era of multi-layer emulsions.
MLE technology was specially designed to help soothe dry and sensitive skin. It revitalizes the skin's moisture by restoring the protective barrier system.
Key Ingredients
This product has all the good ingredients for skin barrier, regeneration, recovery, and skin soothing.
Ceramides
Real Barrier Extreme Cream's main ingredient is a complex of synthetic ceramides – pseudo ceramide PC-95 and synthetic ceramide type III- which is remarkably similar to the natural elements of intercellular cement.
Ceramides are a family of lipids that account for 50% of the skin barrier (by weight), so they are crucial to:
Maintain the skin's moisture levels;
Protect skin from external irritants, making skin more resilient;
Help make skin more plump, juicy, radiant, and smooth;
Make skin tolerate chemical exfoliation much better;
Skin is less likely to become irritated
Because they prevent dehydration, ceramides are a great anti-aging ingredient
Regulate the cell cycle and apoptosis (regulated cell death)
Beneficial for all skin types
The lipids develop their best effect in combination with other skin-identical ingredients such as glycerin and amino acids. Since ceramides are found in the skin, they suit all skin types.
Good to know: Young skin produces enough ceramides. From the age of 30, the body's ceramide production decreases. In addition, the quality of the produced lipids decreases.
Guide on the Benefits of Ceramides for the Skin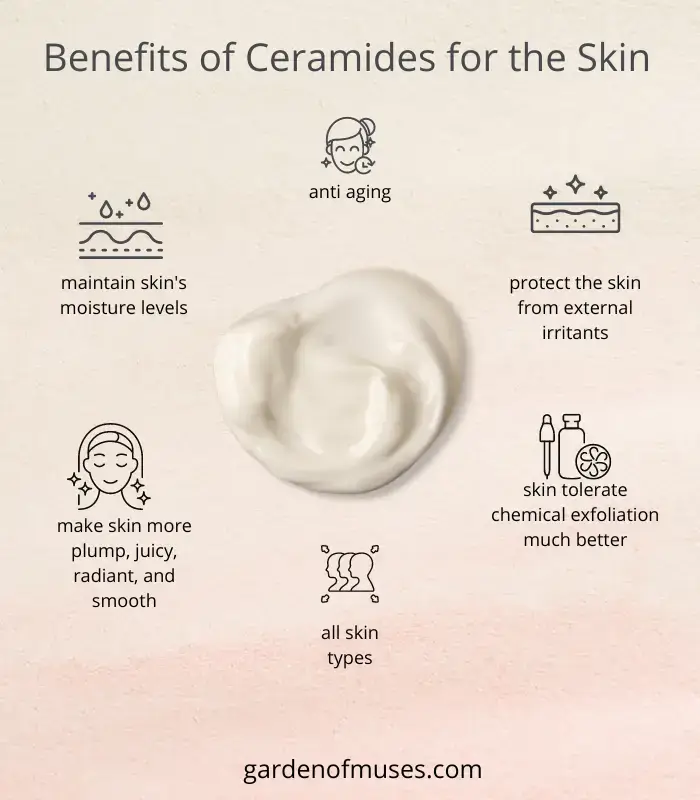 The composition includes many fatty substances that supplement the missing lipids in the damaged skin barrier, restore its natural protective functions, and reduce transepidermal water leakage (TEWL).
Real Barrier Extreme Cream has also been enriched with a whole arsenal of ingredients that soothe and deeply moisturize it.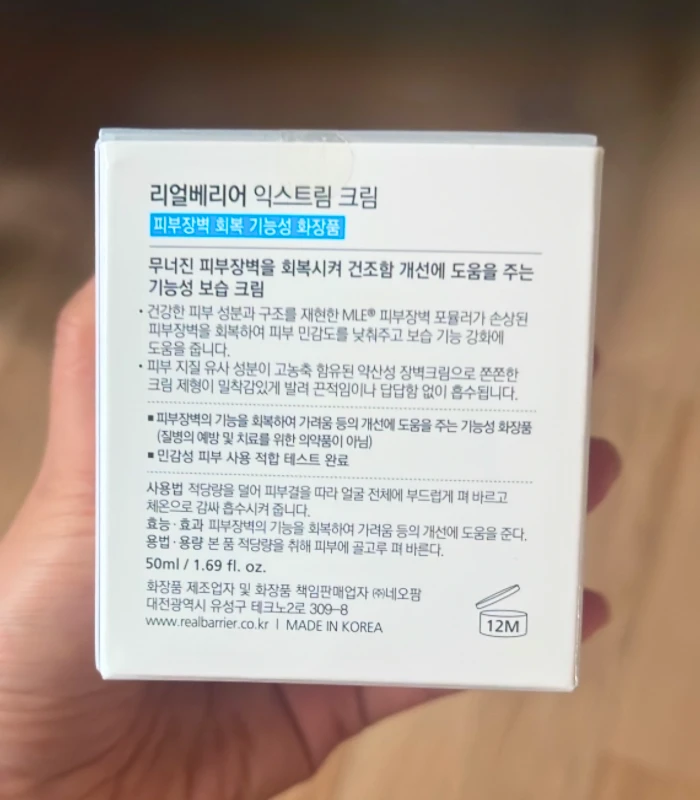 Peptides
I believe this is one of the most underrated ingredients in anti-aging skincare. This ingredient has the genetic makeup that is part of proteins that form amino acids.
You will often see di, tri, tetra, hexa, etc. prefixes in front peptides that refer to the number of amino acids encompassed in the ingredient. They are cell communicators but possess different "communication styles," i.e., hormonal activity, immune activity, etc.
So why does any of this jibberish matter?
Wrinkles form when the skin loses elasticity and collagen. Peptides are cell communicators that alert your skin to collagen loss so your body can produce more collagen. Theoretically, when peptides are applied topically, they penetrate your skin without damaging your cells so that your body receives the "More collagen, bro!" message, thus stimulating more collagen production wherever it is applied.
It depends significantly on the type of peptides used in a product and its formulation. Some peptides have tremendous anti-inflammatory benefits, while others have been used as antibacterials. The real challenge is having peptides successfully penetrate the skin without breaking down.
Another major obstacle to any new and exciting skincare item is curbing expectations back to reality. Peptides will not erase a few decades from your face or plump your lips like Kylie Jenner's.
Not even the Real Barrier Extreme Cream can take back time 🙂
Consider alternative options like Botox or surgical intervention if you want these results. This ingredient can have significant preventative effects but will not eliminate all the damage already done.
Acetyl Dipeptide-1 Cetyl Ester stimulates the skin nerve cells to release an opioid messenger molecule. In other words, it is a soothing peptide that signals our skin cells to relax. It decreases skin irritations from heat and harsh physical or chemical exfoliation. It is also claimed to prevent the onset of wrinkles and expression lines thanks to its muscle relaxation properties;
Acetyl Heptapeptide 4 is an antioxidant that protects the cell's DNA against UV radiation.
Madecassoside
Madecassoside is derived from the Centella Asiatica plant.
It has potent anti-inflammatory effects and stimulates fibroblasts, creating collagen and strengthening the skin's structure.
It also contributes to anti-aging as it is an effective antioxidant. Madecassoside is also an active ingredient used for its anti-redness and anti-scaling effect.
Sodium Hyaluronate
Sodium Hyaluronate is a form of Hyaluronic Acid, a water-binding agent that attracts moisture to the skin, prevents moisture loss, and reinforces the skin's protective layer.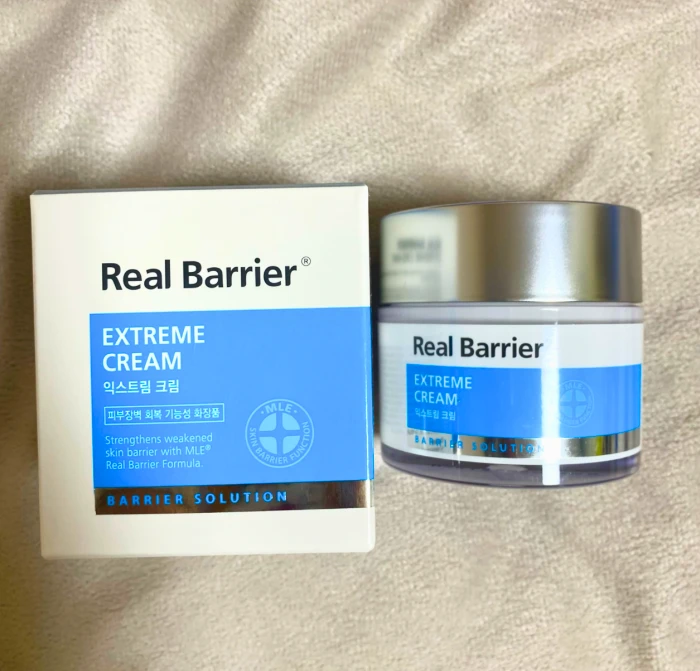 Alcohol
Alcohol can potentially assist product absorption, but this is the one irritant in this product. It can cause skin dryness and damage the skin barrier in high enough doses.
Panthenol
Panthenol is used to improve skin moisture retention and prevent trans-epidermal water loss.
Olive Oil
Olive oil is known for its anti-inflammatory and antioxidant qualities. This oil is also considered one of the most 'hypoallergenic' oils.
Scientists have seen little reactions from patients, and it has been proven to help those with skin disorders such as eczema.
Which are the best humectants for the skin?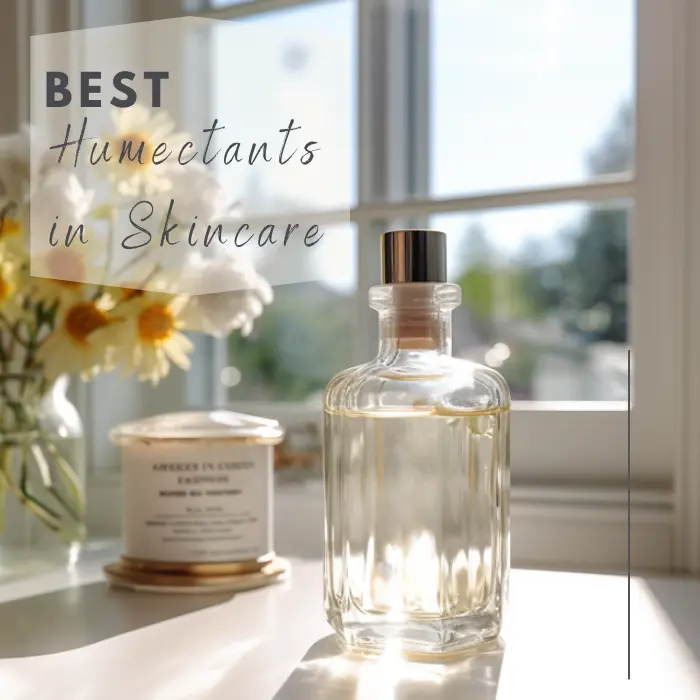 Allantoin
If you pay close attention to the ingredient lists of your products, there's a good chance your eyes have scrolled past this ingredient quite a few times.
Allantoin is an excellent ingredient for sensitive skin. Abounding in nature but synthetically crafted for its use in cosmetics, allantoin is derived from uric acid and is a fantastic multi-tasker.
It acts as an emollient to protect the skin, a calming agent to soothe irritation and promote wound healing, an exfoliant to shed dead skin cells, a humectant to improve moisture content and prevent transepidermal water loss, and more. It's super gentle and plays well with all skin types, with no known side effects besides allergies on a person-to-person basis.
Mistletoe Extract
Mistletoe Extract is used for its anti-inflammatory and anti-aging properties.
Ingredients NOT included in the Real Barrier Extreme Cream:
Niacinamide, parabens, mineral oil. Also, this product was not tested on animals.
Packaging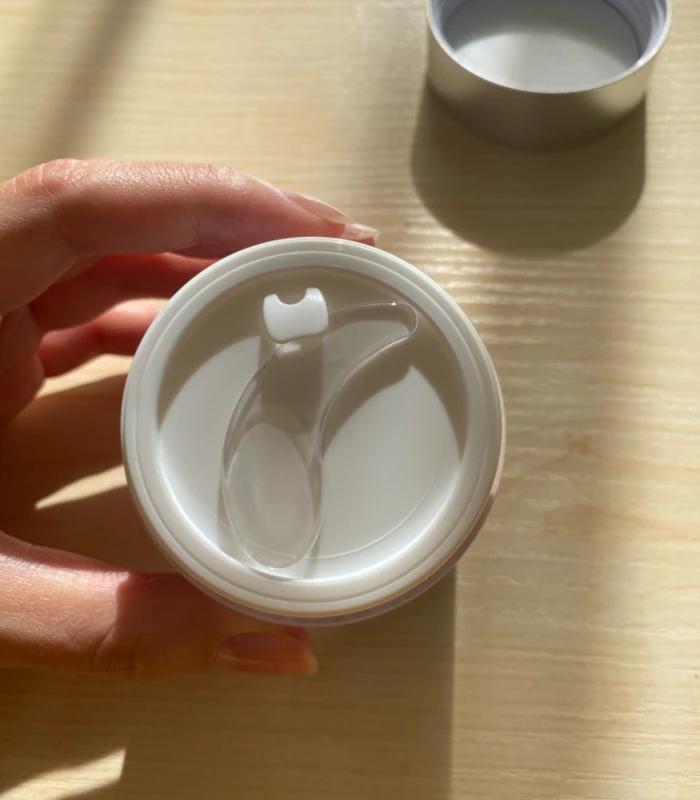 The Real Barrier Extreme Cream is tubbed in a clinical-looking plastic jar contained in a box. They have information (in Korean), such as ingredients listed on their sides.
Furthermore, the plastic jar has a screw-type cap as its cover and a white seal with a pull tab for hygienic purposes (I think). I'm glad that Real Barrier Extreme Cream emphasizes cleanliness, too. I love that about this cream!
I like both packaging (box and jar) for their minimal designs. It is not as pretty as the other brands you find out there, but not forgetting what it contains is ultimately the most important!
About the expiration of this Real Barrier Extreme Cream, interestingly, the manufacturer claims:
Our products are suitable for 2 to 3 years beyond the date of manufacture, and if you check the jar symbol on the back of the carton, you will see it contains the number 12. That means the product is at its' peak efficiency for 12 months after opening.

ATOPALM
Smell
The scent is light herbal. It smells natural.
Texture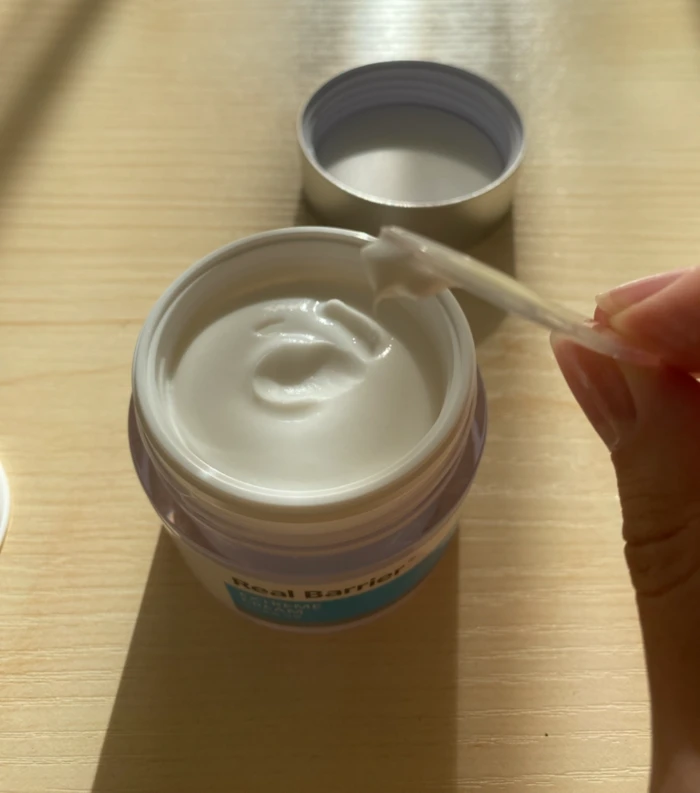 The extreme cream has a thick, buttery, creamy texture, and a little goes a long way. But upon applying it on my skin, I found it lightweight, to my surprise.
I know the texture looks heavy, but looks can be deceiving. The cream absorbs fast without leaving my skin feeling oily or sticky.
Love it!
Personal Experience with the Real Barrier Extreme Cream
I was not paid for this review or received it as a gift. I am about to finish my first jar, but the effects on my skin have been obvious.
My Skin Type and Concerns
Before I start, though, I have normal skin during summer. As some of you who consistently read my beauty posts know already. As winter approaches, my skin gets drier and drier. It might be a good time to mention that I started tretinoin a month ago, and I'm still adjusting.
Remember how I said you should always start with a patch test for every beauty product? Please do so because it's always safer to do that. Different people have different reactions to specific products, so even if it's claimed by many to be safe, you must ensure it's suitable for your skin type.
Okay, enough with the preaching. You guys know this far too well already.
When I received the Real Barrier Extreme Cream, I assumed it was just like any other ordinary moisturizer, but boy, was I wrong. I love just how effective this cream is.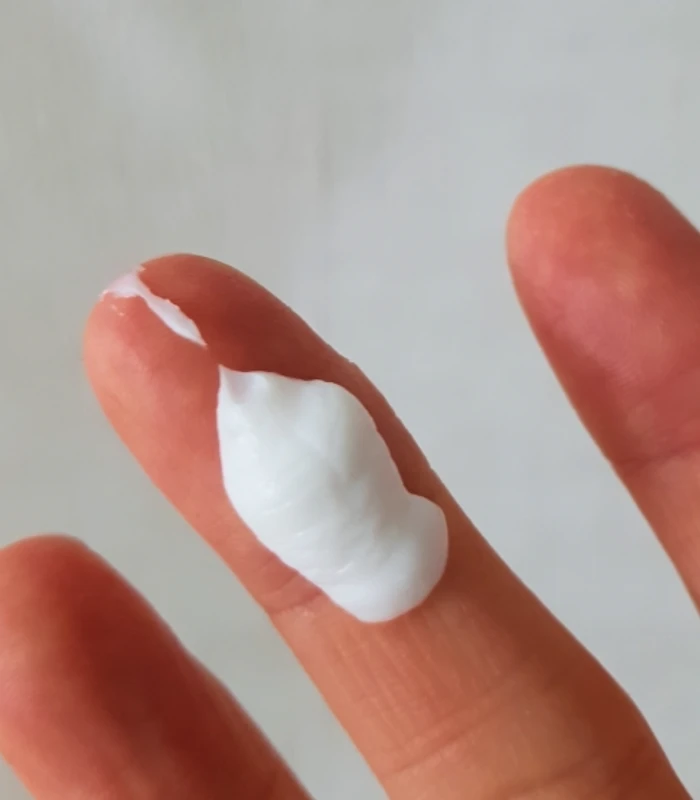 First climate test: Summer in Chicago
I sweat a lot, and I'm not too fond of my cream not getting absorbed fast enough, especially in the mornings when I rush to work. I usually run through my morning routine because I'm so sleepy that I wake up just in time to prepare for work – usually within 30 minutes.
The cream passed the test. It was moisturizing yet contained the right amount of moisture for this hot and slightly humid climate. It absorbed fast, and I was able to apply my makeup very quickly. Usually, I let my creams rest on my face for 5 minutes or so: absorption time.
I felt comfortable and hydrated. I would continue using this cream in the summertime!
First climate test: Winter in Chicago
Honestly, I've tried many creams. This cream was one of those that genuinely got absorbed quickly. I often thought I was underapplying because the film left on the skin was so thin that I wondered if the amount I used was enough to protect my face (due to the harsh winds I encountered in the winter).
Usually, my skin would be rough and flake as soon as the chilly winds started. My chin sometimes peels. I get dry patches of skin at the corners of my mouth and a slight dryness around my nose area. And I sometimes get eczema on my forehead.
But when using this moisturizer, I had no problems at all. My skin was not rough, nor did it flake even a little.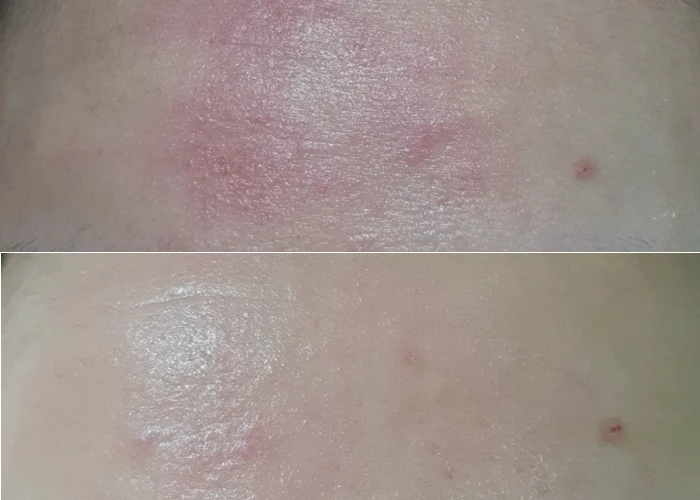 As you can see, my eczema calmed after three days of use. My skin doesn't get dry much but is more soothed and moisturized instead. I also enjoy how, upon applying, this cream is light to my skin. There are no hints of greasiness or stickiness. It makes my skin more radiant and glowy versus oily. I am delighted, seriously.
It is thick in consistency, like butter, but once you apply it to your face, it goes smoothly and absorbs quickly into your skin without feeling like it sits on top of your face. I use this as my moisturizer at night after tretinoin, and I no longer need to lock it in with an occlusive such as a petroleum-based formula. I also use it during the mornings, and it works just as well.
The Real Barrier Extreme Cream seals in the Numbuzin No.3 Skin Softening Serum I am currently applying and makes an excellent barrier for my skin that lasts from 7:00 a.m. to 5:00 p.m.
Furthermore, my skin never experienced any reactions, and I need to mention that this cream has no dangerous ingredients that may harm your skin.
How to Use the Real Barrier Extreme Cream?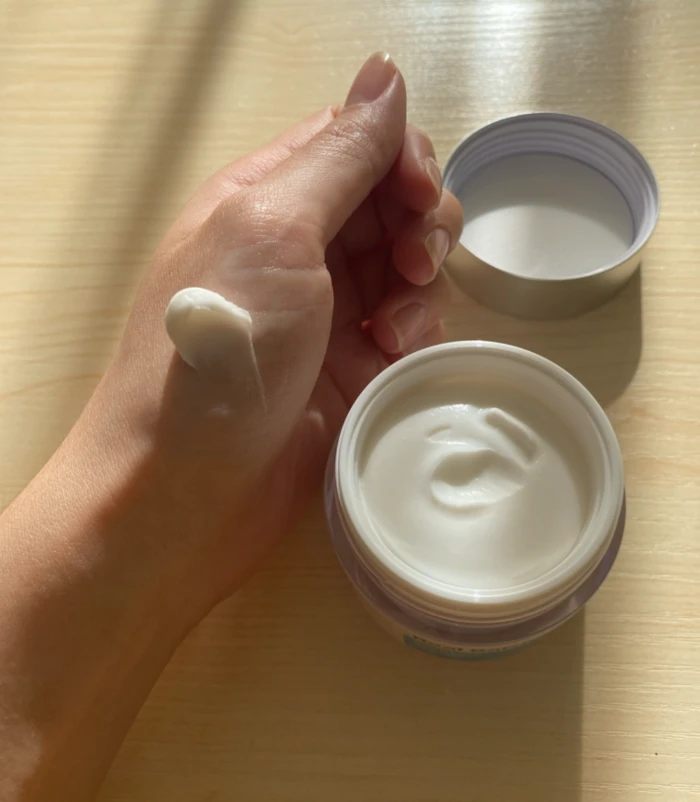 Use it at the last step in your skincare routine because it contains occlusive ingredients.
The best way to apply the Real Barrier Extreme Cream is by using small quantities. Using more is unnecessary because it doesn't provide extra benefits. It takes a longer time for the cream to absorb into the skin when using a large amount. Your face should be able to absorb the cream rather than feel sticky.
In the case of atopic, extremely dry, or irritated skin, you can use it up to 3 times a day on its own or with a moisturizing serum.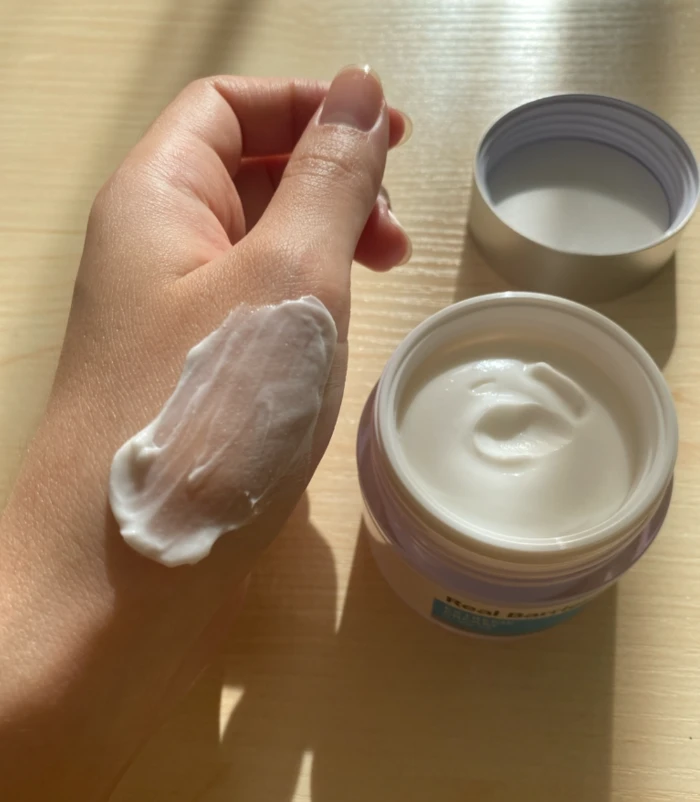 Pros
strengthens the skin barrier
hypoallergenic
hydrating
moisturizing
Cons
Final Thoughts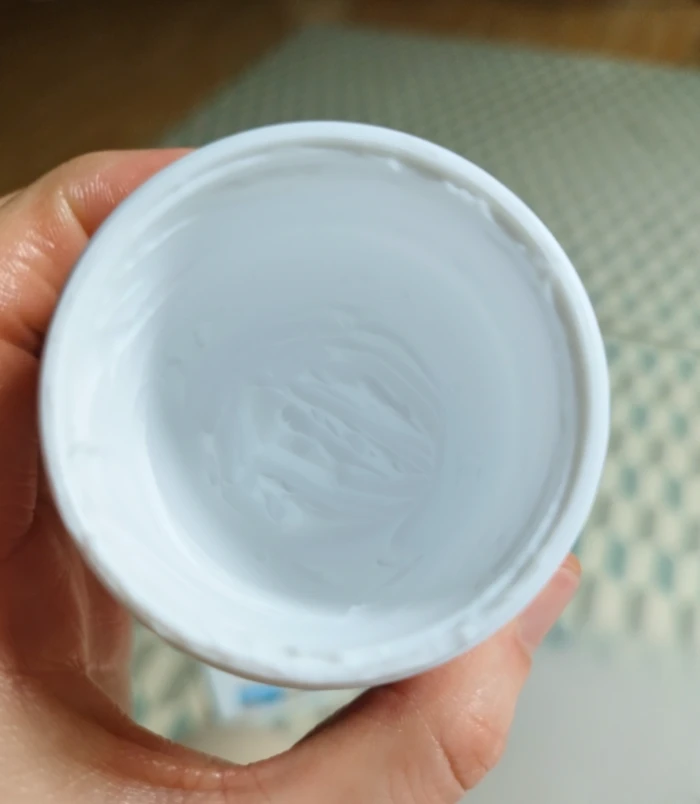 Gosh, I love this cream! It's an excellent moisturizer for very dry, sensitized skin. It has a heavier and thicker texture than your "typical" everyday cream, making it a dreamy choice for my dry skin. Also, it is not a bad choice for other skin types, for dry or dehydrated days.
So, considering its packaging, texture, scent, and benefits, Real Barrier Extreme Cream is one of my go-to moisturizers.
Will I Repurchase Real Barrier Extreme Cream?
I enjoy this product and am almost certainly going to repurchase it to use it daily.
Rating: 5/5
Shop for Real Barrier Extreme Cream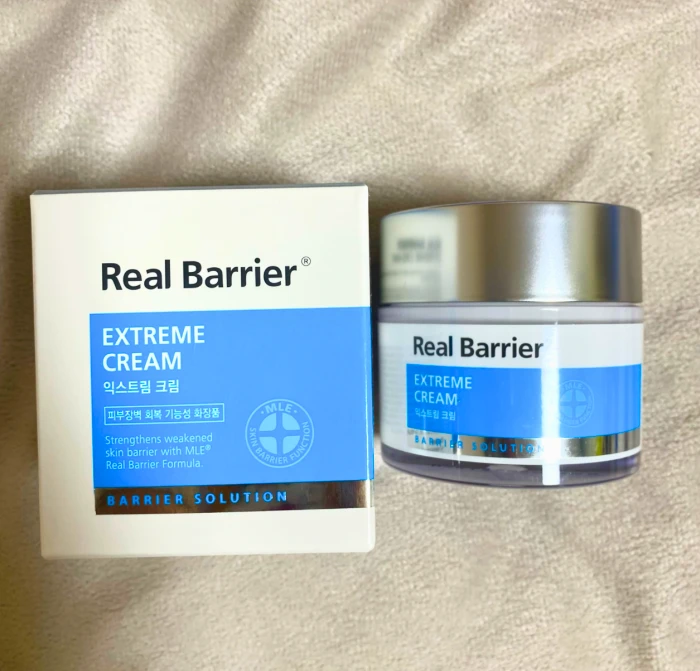 Shop at Amazon*, Atopalm, StyleKorean*, YesStyle*, Jolse*, and StyleKorean*.
As always, you do you; be kind to your skin and yourself! Remember that every person's skin and skin type is different, so what might work for me might not work for you, and vice versa. So, before adding a new product to your skincare routine, it pays to do a little research first.
Before adding the Real Barrier Extreme Cream to your skincare regimen, ensure you are not allergic to it or its ingredients. You should also consult your doctor if you are pregnant, breastfeeding, or have any medical conditions or medications that may interact with the Real Barrier Extreme Cream. Always do a patch test before applying the Real Barrier Extreme Cream on your skin to avoid adverse reactions.
I am not a dermatologist or licensed aesthetician, but I have sufficient experience and knowledge I gained by testing multiple products and self-exploration. Unsure? Best to consult your dermatologist.
Happy shopping, and don't forget the sunscreen! Here's to great skin in 2023!
Show Me Proof