At a glance, on skin peeling and flaking on tretinoin:
What is tretinoin peeling?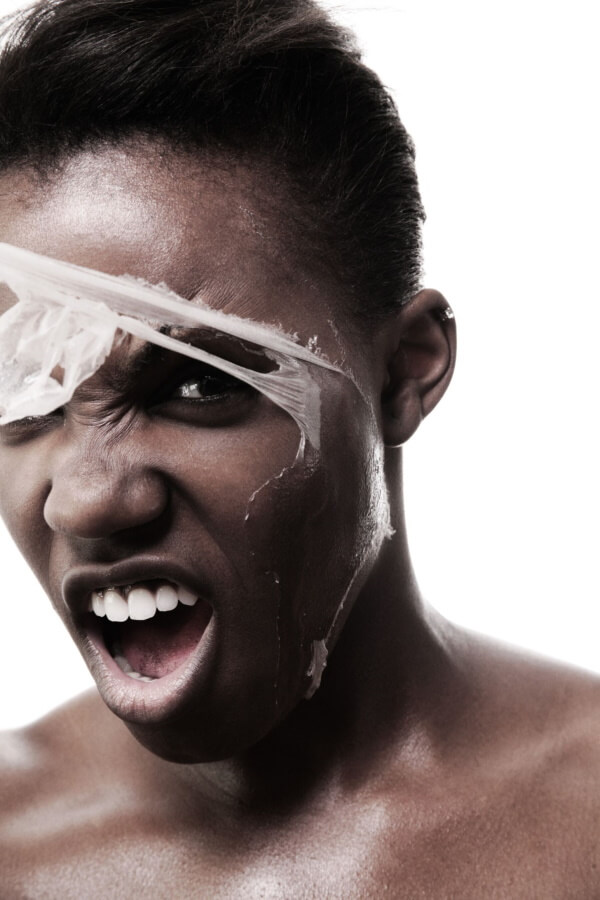 When introducing tretinoin, the skin will go through what is called retinization. Retinoic acid will bind to its receptor in the skin and start speeding up shedding old skin cells via "cell turnover."
Retinoid users must know that skin peeling and flaking are one of the tretinoin's varied side effects. It's crucial to remember that skin peeling is an average effect of the tretinoin treatment and is not very concerning.
Tretinoin peeling usually happens in the first two to six weeks of using tretinoin. Many users also experience tretinoin purging during the adjusting period, aka the retinoid uglies.
Learn more about how tretinoin works:
How do I avoid Flaking and Peeling?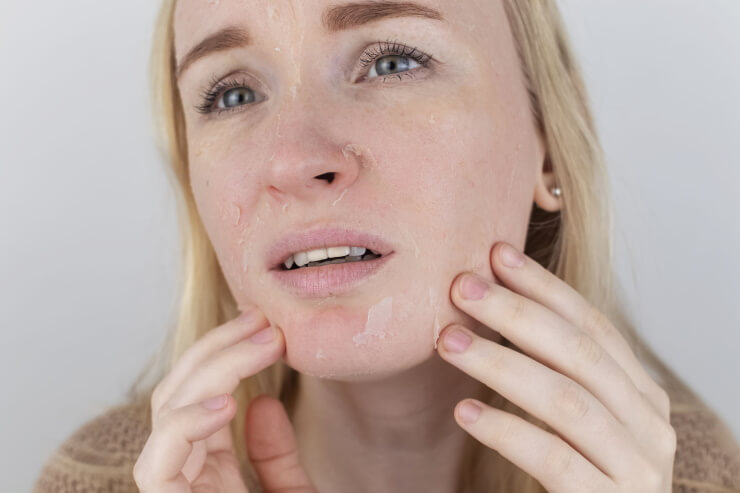 Avoid increased absorption
Make sure your skin is completely dry when you apply tretinoin. Wet skin increases absorption and flaking.
Amount
Make sure you use only a pea-sized amount.
Avoid sensitive areas
Tretinoin should not be applied around the eyes, mouth, nasal creases, and mucous membranes. Protect these areas with occlusive such as Vaseline, before using tretinoin.
Start slowly
Don't rush into it; go slow. Skincare is a marathon, not a race.
Start with a lower percentage formulation: 0.025% or

0.04%

.

0.05% is pretty high at first. 0.1% is VERY high.

The Retin-A Micro Gel formulation is generally less irritating.
Don't use it nightly. To build tolerance, apply once every two-three days in the beginning. Use the other nights to add plenty of hydration and moisturization.
Buffer
There are several methods of applying tretinoin to reduce irritation.
Applying moisturizer before tretinoin is called "buffering." It slightly dilutes tretinoin and can be ideal for a beginner to get through the retinization phase.
Applying moisturizer both before and after is called "sandwiching." This is a good strategy during retinization or to avoid/deal with dryness and peeling.
Hydrate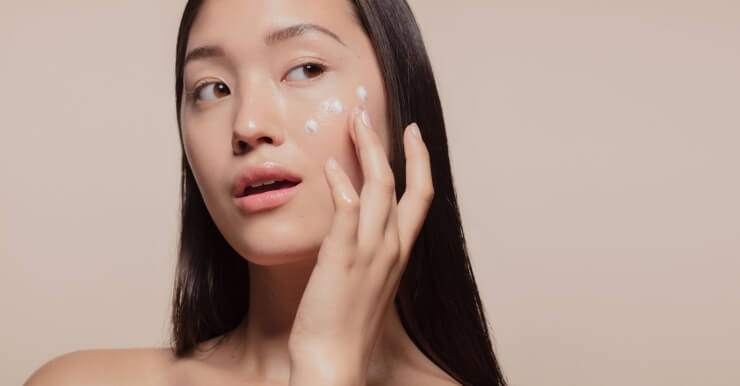 A tretinoin routine works best when it combines hydrating, moisturizing, and occlusive. So many of you are struggling because you slap some moisturizer on a dehydrated face. It would be best if you had the hydration aspect as well.
Moisturize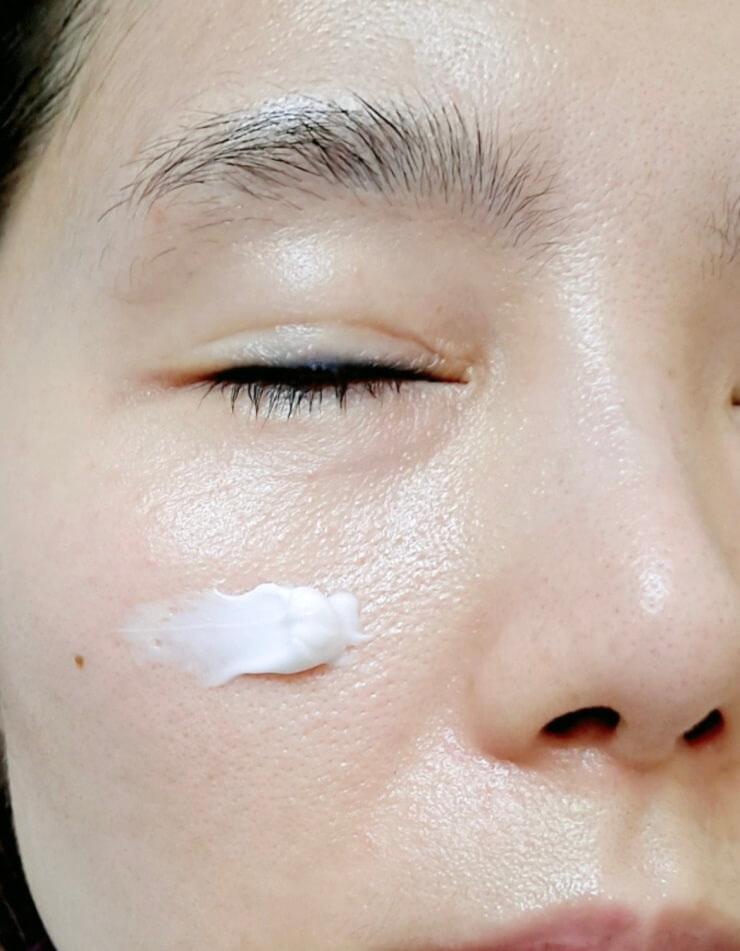 Strengthening your skin barrier is crucial. For that, an appropriate moisturizer is vital. Using a moisturizer improves tretinoin outcomes 1-4, especially with niacinamide 6.
Slugging
Slugging is applying a thin layer of petroleum jelly over your entire face. It locks in the moisture from your routine, helping it soak in better and helping your skin to retain moisture.
Vaseline, Aquaphor, CeraVe Healing Ointment, or La Roche Posay Cicaplast Baume* are good examples that can be used on "off" nights to help prevent dryness. Gently pat on a skinny layer.
Don't slug over tretinoin. In some cases, slugging over tretinoin can do more harm than good. It can cause an increase in irritation instead of alleviating it. Slugging over actives increases their absorption rate and can also increase irritation.
What to do if I start peeling?
How to remove excess skin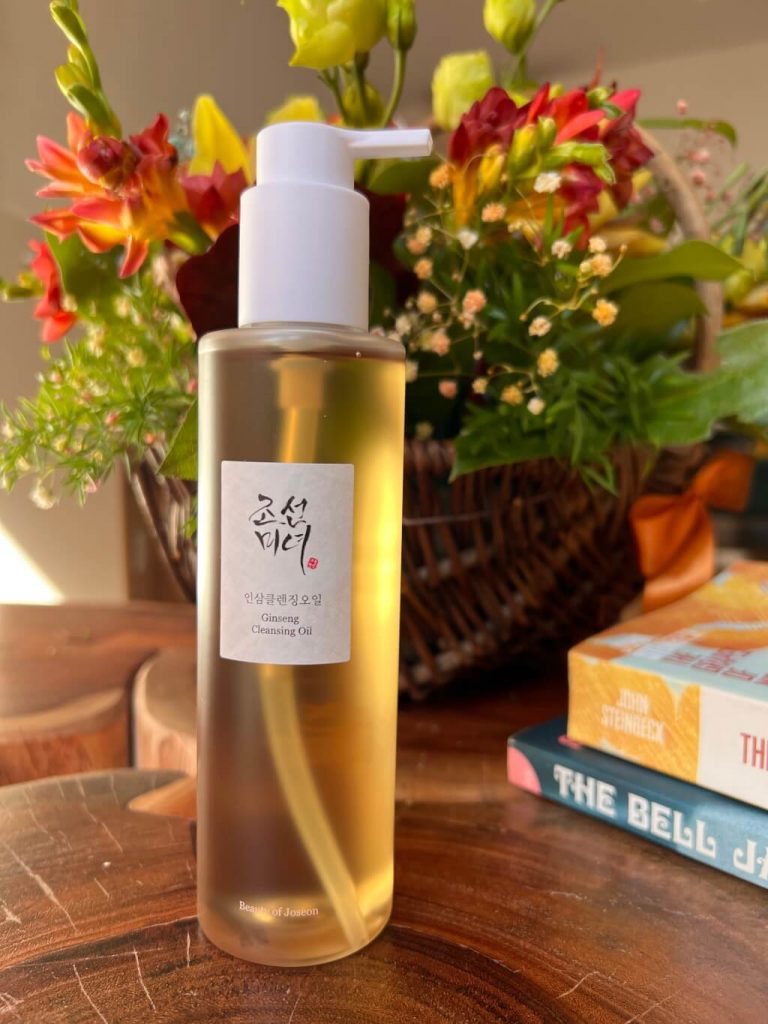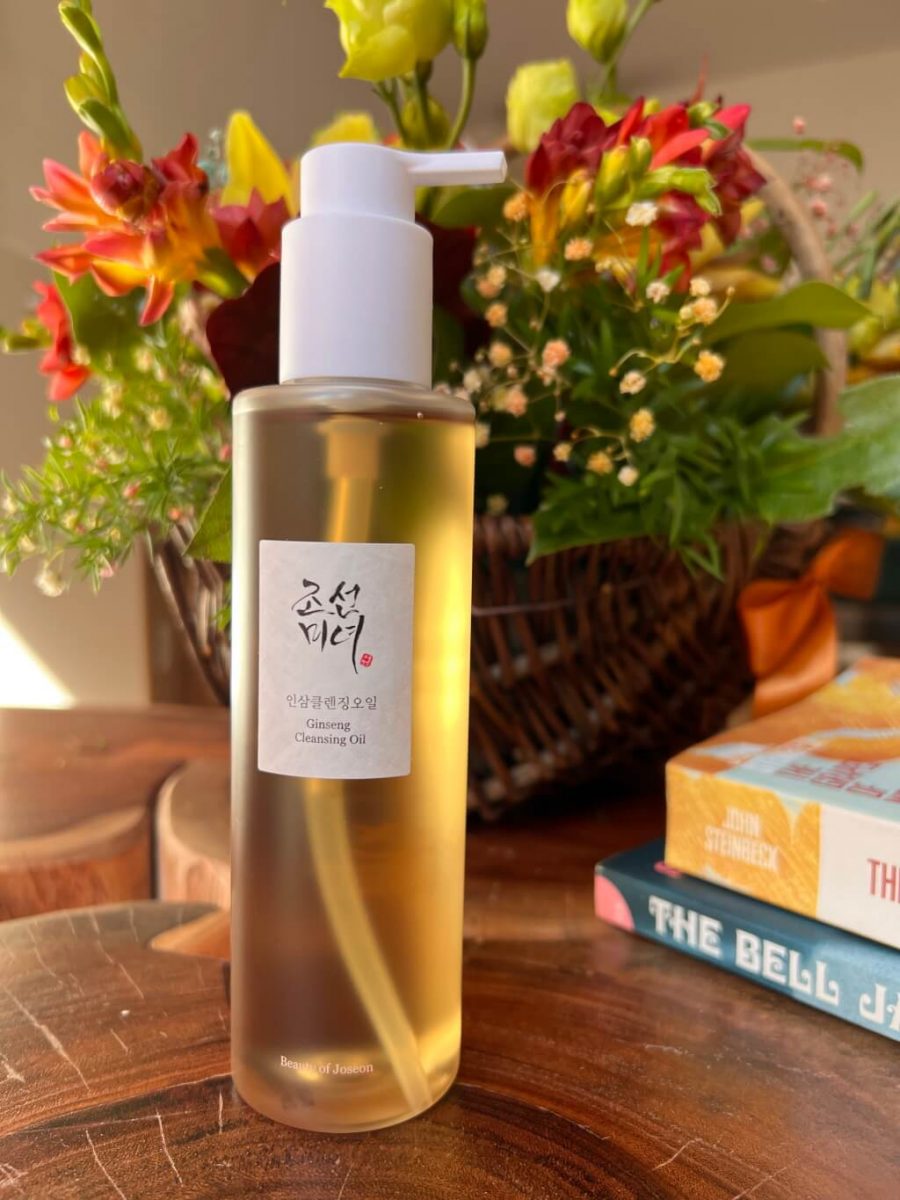 Don't force the skin off because that may lead to increased irritation. Whatever you do, don't pull on the skin flakes.
If the peeling is severe, take a gentle cloth or konjac sponge and lightly brush the skin when washing to help lift some of it. Don't do a full-on exfoliation if your skin isn't fully adjusted to tretinoin. It could lead to damaging your skin's moisture barrier.
Another way to gently remove the excess skin is oil cleansing. Get an emulsifying oil cleanser that will wash off easily. We love Beauty Of Joseon Ginseng Cleansing Oil. It is gentle and doesn't further strip or dry the skin.
Avoid makeup
Makeup can increase your flakes' appearance, so a hydrating tinted sunscreen would be much more advisable.
Should I quit tretinoin?
Before concluding that tretinoin is not suitable for you, you should:
Consult with your doctor or provider first.
Consider skipping a night of tretinoin if you have lots of flaking.

Switch formulations. Some people experience breakouts triggered by a particular formulation. If you're still breaking out after 4-6 months, consider switching types (gel → cream, cream → gel).

Is your routine too irritating? Cut out ALL other actives and focus on hydration.
Are you using it too infrequently? If so, the skin must undergo the retinization process each time. That inherently involves some irritation. If you go too slow, your skin may never acclimate. Try increasing your frequency to at least four times a week.
Moisturize. Moisturize. Moisturize.
How long does tretinoin peeling last?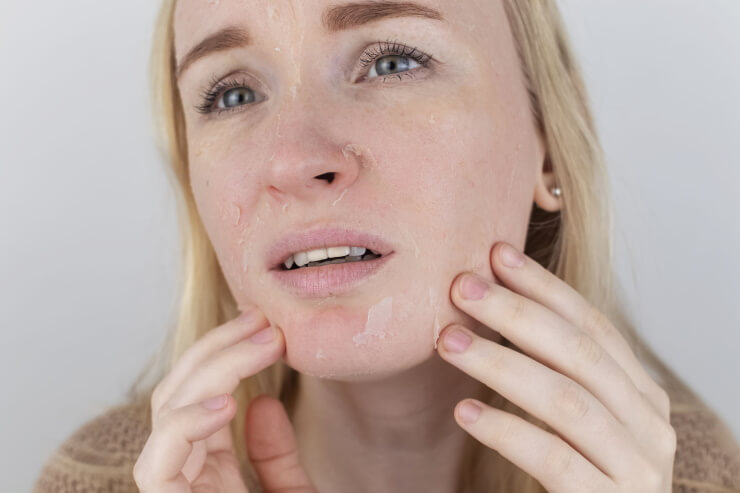 Typically, skin peeling stops after two to six weeks of treatment as your body replaces the old skin with new, fresh skin cells, and your skin becomes acclimated to the treatment.
No peeling with tretinoin?
People who started tretinoin weeks or months ago and have not experienced peeling or redness may wonder if tretinoin is even working.
Peeling, redness, and irritation are undesirable side effects during retinization, but they are neither signs of efficacy nor predictors of long-time results. Every skin is unique and if you can use tretinoin without any side effects from the beginning, consider yourself lucky.
Also, there is no relationship between the degrees of efficacy and the degree of irritation [7].
Bottom line: Don't worry if you are not getting irritation from tretinoin at the start of treatment – it doesn't mean it's not working.
Example Tretinoin Routine
This simple routine may be used, in the beginning, to avoid skin flaking on tretinoin:
AM
PM
Tretinoin
(*affiliate links)
As always, you do you, be kind to your skin and yourself!
Remember that every person's skin and skin type is different, so what might work for me might not work for you, and vice versa.
So before adding a new product to your skincare routine, it pays to do a little research first. Pay special attention to ingredients that you might react to.
Doing a patch test is always a good idea. Unsure? Best to consult your dermatologist.
Happy skin experimenting, and don't forget the sunscreen!
Show me proof
[1] Adjunctive use of a facial moisturizer SPF 30 containing ceramide precursor improves tolerability of topical tretinoin 0.05%: a randomized, investigator-blinded, split-face study.

01 Sep 2012

, 11(9):

1104-1107


https://europepmc.org/article/med/23135655
,
[2]Moisturizer improves tolerability for tazarotene and does not negatively impact efficacy. Tanghetti, Emil, et al. Poster presented at 32nd Annual Hawaii Dermatology Seminar. 2008.
https://dermatologyandlasersurgery.com/wp-content/uploads/2020/01/2008-Poster-Moisturizer-Use-Enhances-Facial-Tolerability.pdf
[3] The Role of Skin Care as an Integral Component in the Management of Acne Vulgaris: Part 1: The Importance of Cleanser and Moisturizer Ingredients, Design, and Product Selection. J Clin Aesthet Dermatol. 2013 Dec; 6(12): 19–27.
https://www.ncbi.nlm.nih.gov/pmc/articles/PMC3997205/
[4]The Role of Skin Care as an Integral Component in the Management of Acne Vulgaris: Part 2: Tolerability and Performance of a Designated Skin Care Regimen Using a Foam Wash and Moisturizer SPF 30 in Patients with Acne Vulgaris Undergoing Active Treatment. J Clin Aesthet Dermatol. 2013 Dec; 6(12): 28–36.
https://www.ncbi.nlm.nih.gov/pmc/articles/PMC3997206/
[5]Schorr ES1, Sidou F, Kerrouche N. (2012) Adjunctive use of a facial moisturizer SPF 30 containing ceramide precursor improves tolerability of topical tretinoin 0.05%: a randomized, investigator-blinded, split-face study. Journal of Drugs in Dermatology : JDD, 01 Sep 2012, 11(9):1104-1107
https://europepmc.org/article/med/23135655
[6] Draelos, Zoe Diana (2008) Clinical Situations Conducive to Proactive Skin Health and Anti-Aging Improvement. Journal of Investigative Dermatology Symposium Proceedings. Vol. 13. No. 1. Elsevier, 2008.
https://www.sciencedirect.com/science/article/pii/S0022202X15526675
[7] Griffiths CEM, Kang S, Ellis CN, et al. Two Concentrations of Topical Tretinoin (Retinoic Acid) Cause Similar Improvement of Photoaging but Different Degrees of Irritation

:

A Double-blind, Vehicle-Controlled Comparison of 0.1% and 0.025% Tretinoin Creams. Arch Dermatol. 1995;131(9):1037–1044. doi:10.1001/archderm.1995.01690210067011