I swear StyleKorean* must have a psychic link to my skin's wants and needs because I was just thinking about how I wanted to do a calming toner to combat all the redness I was experiencing. I was also coming to the end of my beloved Benton toner bottle. When I opened the package, there was Round Lab Mugwort Calming Toner*! Perfect!
Jump around in this review to:
Round Lab Mugwort Calming Toner Price
On the Round Lab official website, it retails for $27 for 10.14 fl. oz / 300 ml.
Shop on Amazon*, StyleKorean*, Soko Glam, StyleVana, and Sukoshi Mart. (*affiliate links)
Round Lab Brand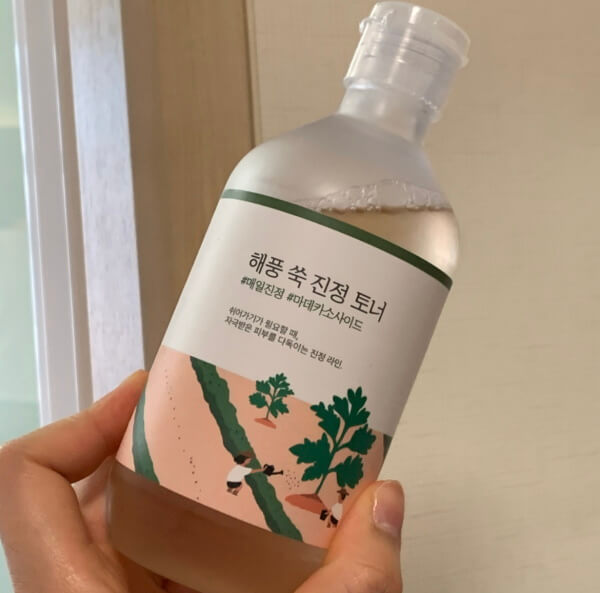 Having launched in 2017, Round Lab is not a new brand in the Korean Market. Its parent company has other brands you may also be familiar with if you're into the Korean Skincare world; the History of Whoo and Sum37 are two of the most popular.
Round Lab claims it focuses on helping alleviate daily weariness and stress-worn skin through high-quality skincare products. Round Lab is constantly searching for reinvigorated ingredients to formulate the best Korean skincare products to improve skin conditions, regardless of skin type and age.
Is Round Lab cruelty-free?
Yes! Round Lab products are alcohol-free, paraben-free, cruelty-free, and vegan-friendly!
Round Lab Mugwort Calming Toner Claims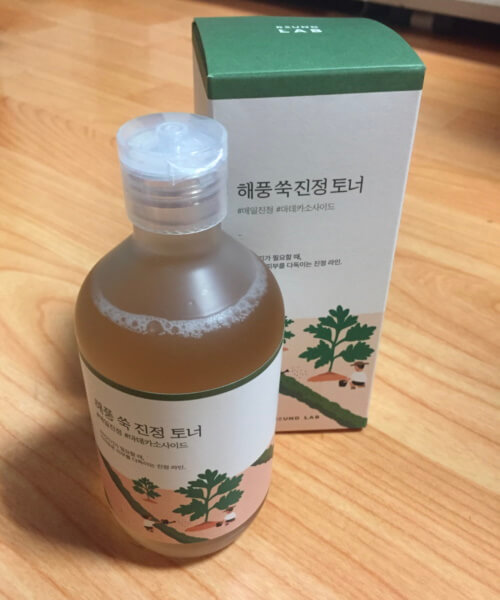 A watery toner infused with Mugwort extract and Madecassoside which effectively moisturizes and soothes irritated skin for a healthier complexion.
The formulation of Mugwort extract contains Vitamin A, B, and Beta-Carotene which reduces skin's stress with a soothing effect.
Panthenol, Mugwort extract, and Betaine provide moistures to skin without stickiness.
Round Lab Mugwort Calming Toner Ingredients
Purified Water, Dipropylene Glycol(solvent), Glycerin(skin-identical ingredient, moisturizer), 1,2-Hexanediol(solvent), Glycereth-26(moisturizer, emollient, viscosity controlling), Pentylene Glycol(solvent, moisturizer), Artemisia Vulgaris Extract (10,000 Ppm), Chondrus Crispus Extract(moisturizer, viscosity controlling), Saccharum Officinarum Extract(moisturizer), Betaine(moisturizer), Panthenol(soothing, moisturizer), Madecassoside(antioxidant, soothing), Ethylhexylglycerin(preservative), Sodium Citrate(chelating), Citric Acid(buffering), Dipotassium Glycyrrhizate(soothing, moisturizer), Biosaccharide Gum-1(soothing, moisturizer), Dextrin(viscosity controlling, moisturizer), Xanthan Gum(viscosity controlling), Theobroma Cacao Seed Extract(antioxidant).
So, the ingredients list is quite beautiful. 10 out of the 20 ingredients are moisturizing, and four are soothing. The ingredients list shows that this is a calming, moisturizing toner!
Key Ingredients
Mugwort
Also listed as Artemisia on skincare products, Korean mugwort is a herb in the daisy family. Mugwort is popular in skincare due to its healing, soothing, calming benefits, and treating redness. Mugwort is packed with antioxidants and vitamin E, which help protect the skin barrier.
Love Mugwort? Then take a look at K-beauty's newest darling Houttuynia Cordata aka Heartleaf
Madecassoside
Derived from the Centella Asiatica plant. It has potent anti-inflammatory effects and stimulates fibroblasts, creating collagen and strengthening the skin's structure. It also contributes to anti-aging as it is an effective antioxidant.
Packaging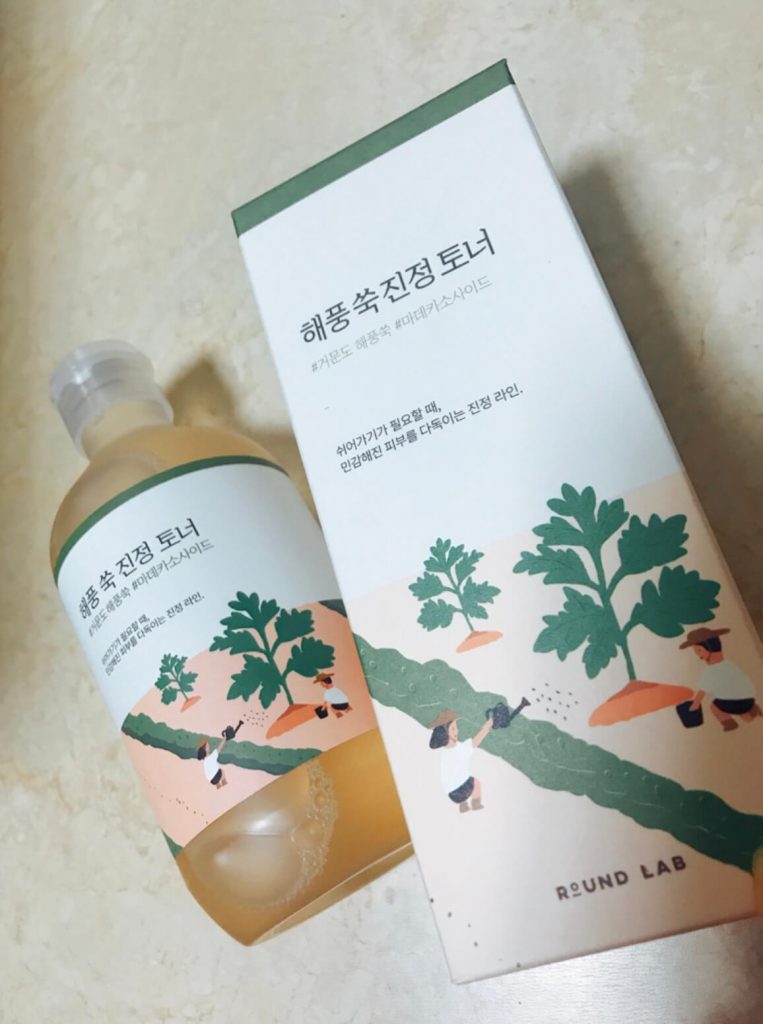 It comes in a huge container compared to most toners; it's a whopping 10.14 fl. oz. / 300 ml! It will last forever, so it's excellent value for your money. Also, the Round Lab Mugwort Calming Toner packaging is adorable.
The toner has a safety seal, making it very hygienic.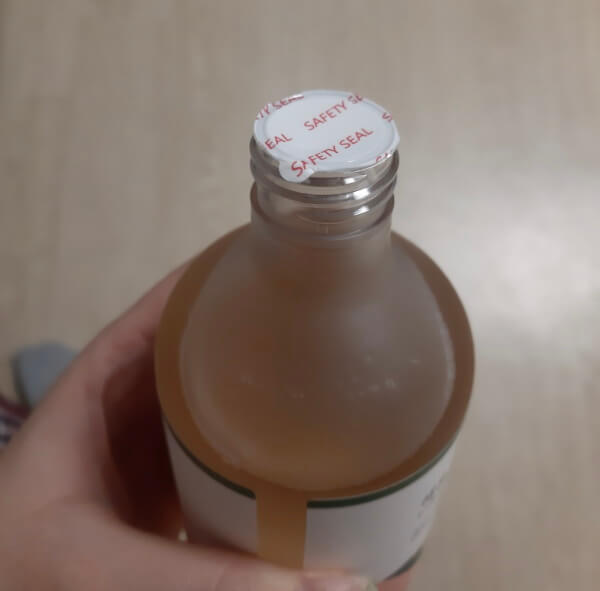 Scent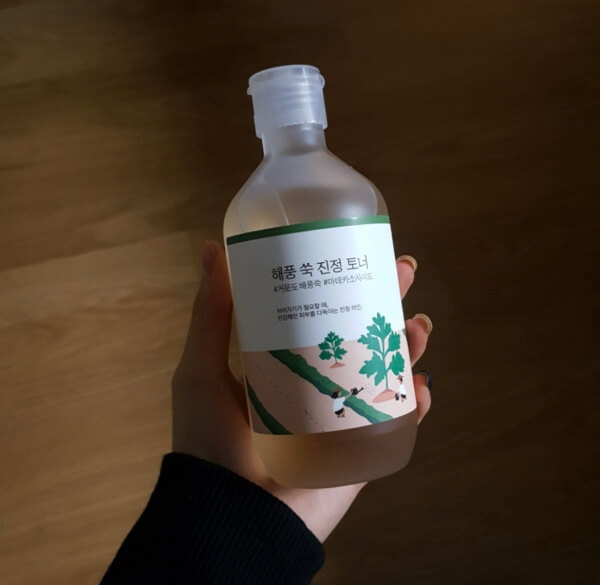 It also smells like that LUSH tea tree toner if you've ever used or smelled it. If you haven't, it's like a carbonated grapefruit/herbal smell. It's hard to describe, but I like that smell.
Texture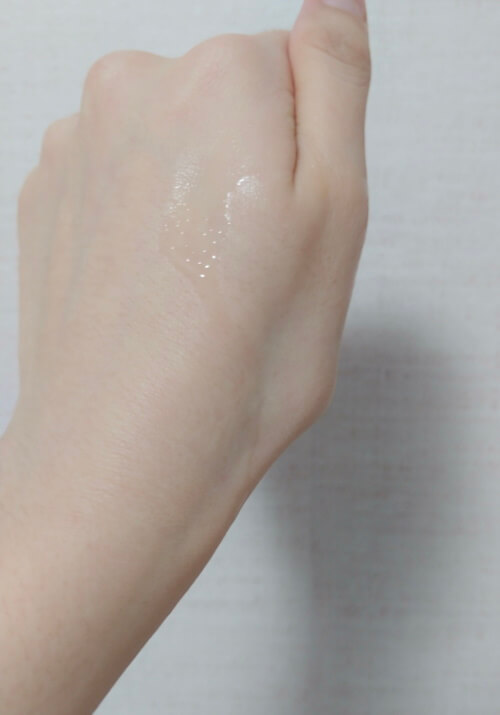 Round Lab Mugwort Calming Toner is a colored, thin liquid that soaks easily and quickly into the skin. I loved applying multiple layers when I used it because of its light and watery consistency. The Mugwort Calming toner can be used for the seven skins method without any problems and also gets a bit bubbly/foamy if you jostle the liquid around.
My skin type
At this point, I wanted to add my skin type: very sensitive, combination, and rosacea-prone.
My experience with Round Lab Mugwort Calming Toner
My skin was in pretty good shape when I began using this, and I have to say, it stayed that way throughout. I especially enjoyed using this post-workout because it has a delicate, clean scent and is refreshing and moisturizing. This made my skin look glowy and supple, tightened my pores, and added a nice amount of hydration.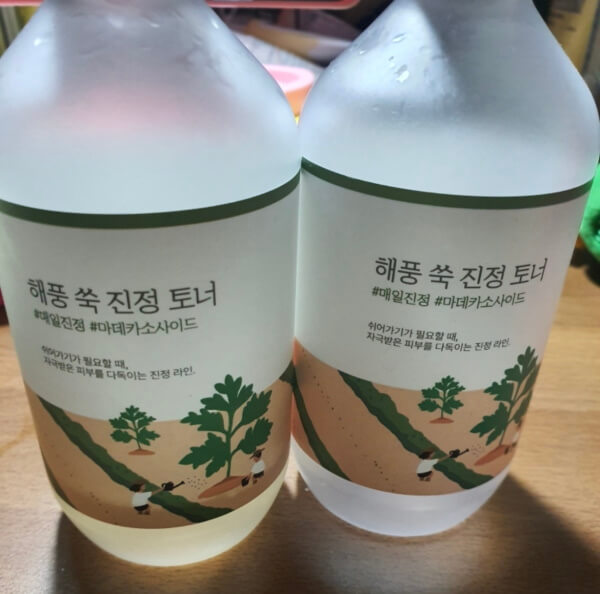 The Round Lab Mugwort Calming Toner delivers in terms of providing quick redness relief. I'm on my third bottle of this Round Lab Mugwort Calming Toner, so I obviously like it. It's honestly not my favorite toner, I prefer the Benton Aloe BHA Toner, but the Round Lab Mugwort Calming Toner calms my skin in a way that no other toner has ever been able to do. My hypersensitive skin was calmed down, so no more itchy bumps. It's a bit pricey, but also easy to get as we have it on Amazon here in the States.
Although it contains citric acid, it's very gentle, and I believe it soothes my skin because it tends to reduce the teeny bit of redness I sometimes get from using my vitamin C. I'd say it's so soothing and calming that it would be appropriate for fixing damaged skin barrier.
If you sleep in an air-conditioned room or it is cold where you live, you will need a more hydrating toner at night.
How to use the Round Lab Mugwort Calming Toner
Oil cleanser followed by water-based cleanser;
Start with a pH-adjusting toner;
Drop some Round Lab Mugwort Toner on my palm and pat it on my face, neck, and chest;
If needed, continue with a more dense, milky toner;
Do your essences and serums;
Apply moisturizer;
Don't skip sunscreen in the AM.
Tip. Another way to make the most of this toner is to soak in pads and use it as a mask.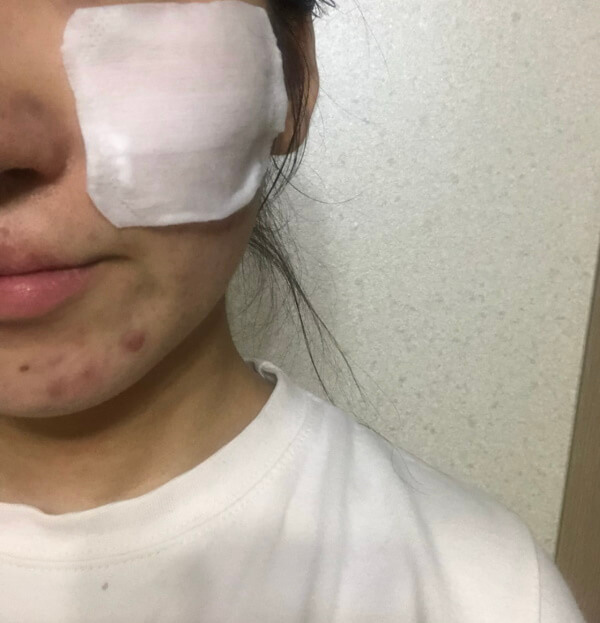 Fungal acne safety
Nine months later – It didn't trigger my fungal acne and was soothing to my skin. Round Lab Mugwort Calming Toner IS fungal acne safe. My skin feels light during the day, coupled with a lightweight gel moisturizer.
Who is Round Lab Mugwort Calming Toner suitable for?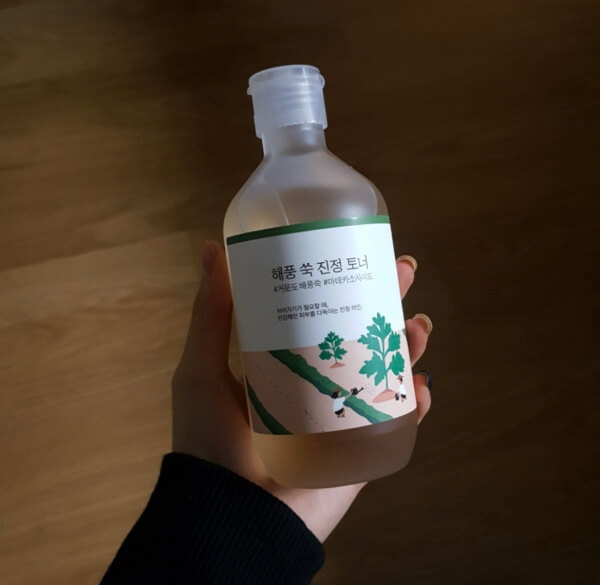 The Round Lab Mugwort Calming Toner can work for every skin type, but if your skin is mature and needs extra hydration, please try Thank You Farmer Miracle Age Repair Toner.
Remember, Korean toners are not like American astringents; these are meant to be moisturizing, not stripping. I had my husband, who has oily skin try this out, and it worked just as well for him as it did for me. I have to say; I'm so glad I tried these products out; barring any new information on the ingredients that say it contains crazy things, I'm going to say I recommend it!
If it's hot and humid where you are, then the toner should be pretty refreshing for you.
Round Lab Mugwort Calming Toner vs. Round Lab 1025 Dokdo Toner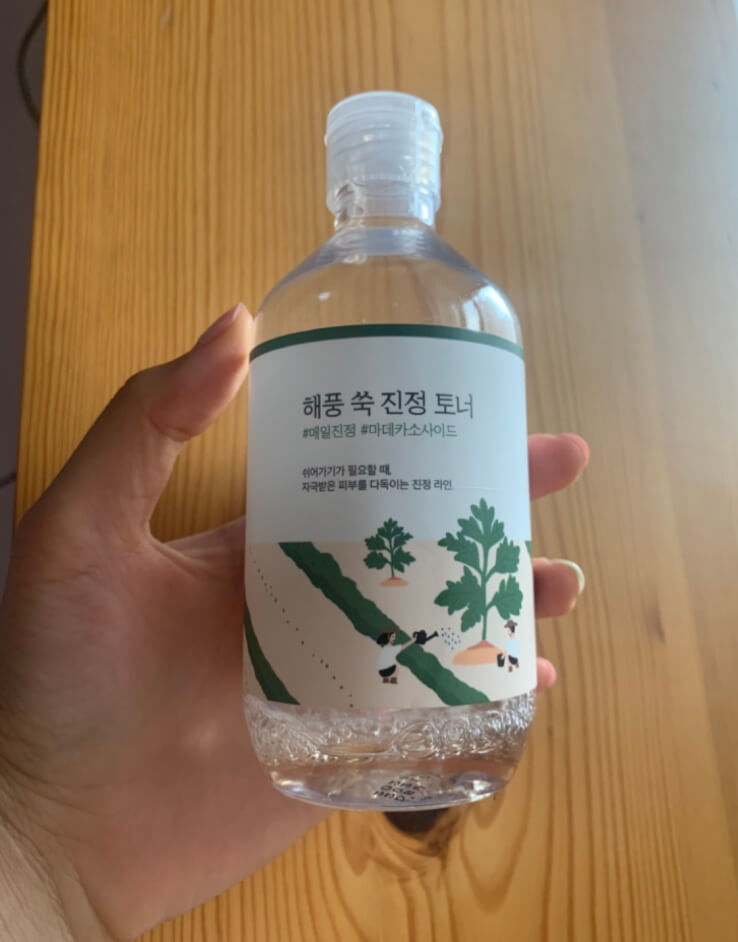 I was lucky to receive a 50 ml sample of the Round Lab Dokdo Toner*, so if you're wondering which one to choose between the two Round Lab toners, I'd say the Mugwort toner is more appropriate for my sensitive skin. Although both toners are suitable for sensitive skin, the ingredients are different.
The Round Lab 1025 Dokdo Toner* contains protein enzymes for providing hydration panthenol, allantoin, betaine, glycerin, seawater, and sugar cane extract and for exfoliation. The Round Lab Mugwort Calming Toner contains mugwort extract, Madecassoside, glycerin, panthenol, betaine, and cacao seed extract for calming and soothing.
Regarding texture, both are very watery toners, but when applied by hand, Dokdo toner has a slight viscosity. Both are super quick, have no stickiness, layer nicely, and have no scent added. The but Mugwort Calming Toner smells like a sweet smile and the Dokdo toner of nothing in particular.
As mentioned above, the Round Lab Dokdo Toner* gives hydrating and exfoliating effect, and the Mugwort toner gives a feeling of hydrating, calming, soothing, and refreshing. In providing hydration, both of them are hydrating, but Dokdo Toner is more hydrating. The Mugwort Calming Toner is better at soothing and calming.
The Round Lab Mugwort Calming Toner reduces irritation and helps skin to have a healthy glow. On the other hand, the Dokdo toner adjusts uneven skin tone and slowly smoothes skin texture.
Round Lab 1025 Dokdo Toner* – Hydrating, gentle exfoliating toner
Round Lab Mugwort Calming Toner* – Hydrating, calming, soothing, refreshing toner
(*affiliate links)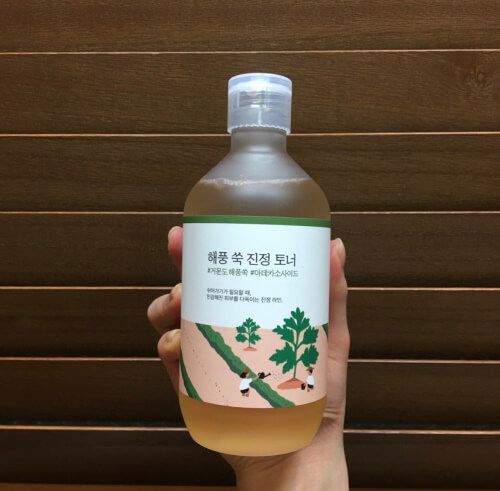 PROs
suitable for every skin type
provides quick redness relief, this mugwort toner delivers
soothes and cools and doesn't cause any irritation
very gentle
CONS
In terms of hydration, however, this falls short for dry skin types
a bit pricey
Final thoughts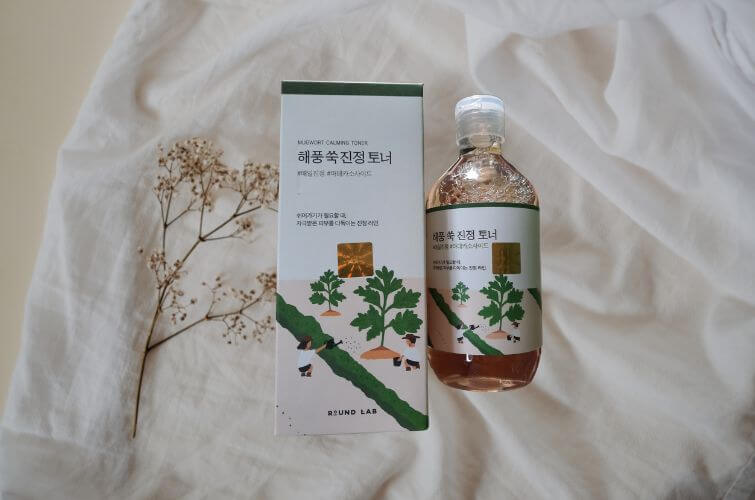 I'm enjoying the Round Lab Mugwort Calming Toner. I'd say it was a lovely summer toner. It was an excellent soothing toner for me.
Shop for Round Lab Mugwort Calming Toner
Find it at: Amazon*, StyleKorean*, Soko Glam, StyleVana, and Sukoshi Mart.(*affiliate links)
As always, you do you, be kind to your skin and yourself!
Remember that every person's skin and skin type is different, so what might work for me might not work for you, and vice versa.
So before trying a new product, it pays to do a little research first. Pay special attention to ingredients that you might react to.
Doing a patch test is always a good idea. Unsure? Best to consult your dermatologist.
Happy skin experimenting, and don't forget the sunscreen!