This past week, I've encountered many people asking about AM skincare routines, especially "anti-aging" routines. While I'm not sure I'm on board with "anti-aging" as a concept (although I am on board with more specific goals, like "wrinkle-smoothing"), I have a sense of what people are getting at when they say it. Typically, they mean they want their skin to be bouncier, more resilient, more hydrated, more smooth, with a nice healthy glow. I've recommended one specific product to all: the CosRx The Vitamin C 23 Serum.
I suppose it's only appropriate to think about "anti-aging" products today, for better or worse: today is my 32nd birthday.
CosRx The Vitamin C 23 Serum Review, in a Nutshell:
Where to Buy the CosRx The Vitamin C 23 Serum?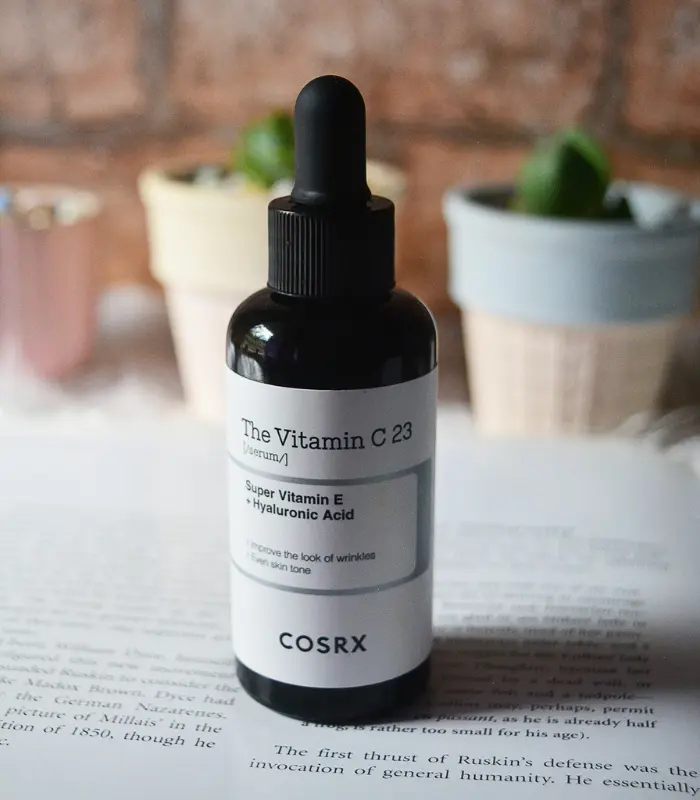 CosRx The Vitamin C 23 Serum comes in a 0.7 fl. oz / 20ml glass bottle with a dropper and retails for $15-$25. For all you lucky people in the US who can get Prime delivery, you can buy the vitamin C serum from CosRx's official store on Amazon*.
You can also shop for The Vitamin C 23 Serum on trusted Asian international shops, such as YesStyle*, StyleVana*, and StyleKorean*.
The CosRx Brand
Since 2013, COSRX has been creating products with high concentrations of active and effective ingredients that deliver real results. Their products are gentle on the skin, cruelty-free, and enriched with natural ingredients such as propolis and cica extracts. Whether you have acne, dryness, dullness, or any other skin concern, COSRX has a solution for you.
Some of their best-selling products include the CosRx AHA/BHA Clarifying Treatment Toner, a gentle chemical exfoliator, Cosrx Centella Blemish Cream, which is a spot treatment that heals blemishes overnight, the Low pH Good Morning Gel Cleanser, which is a mild face wash that balances your skin in the morning and let's not forget the CosRx Snail Mucin 96% Power Repairing Essence*.
What Is CosRx The Vitamin C 23 Serum?
CosRx The Vitamin C 23 Serum is a vitamin C serum.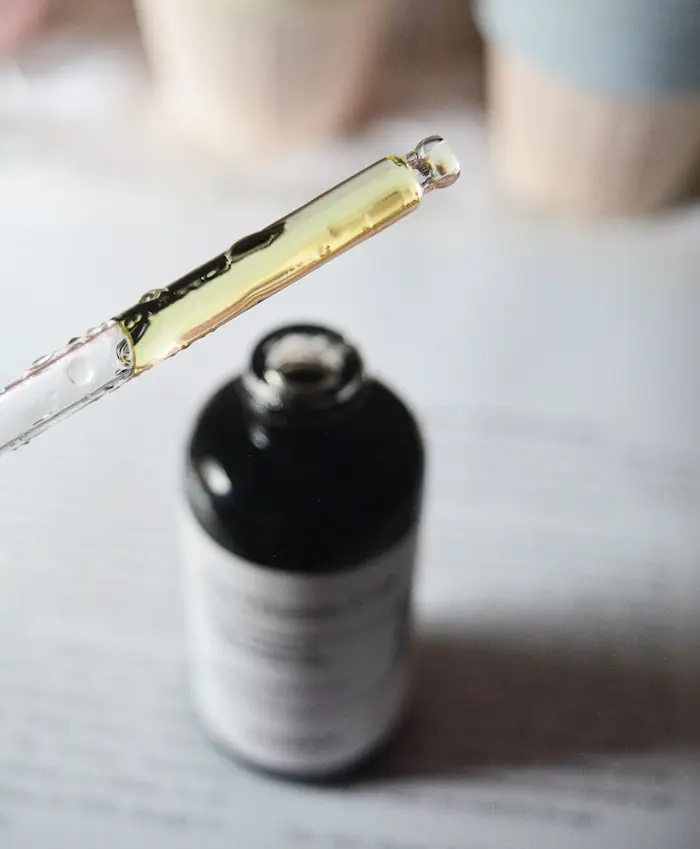 CosRx The Vitamin C 23 Serum Claims
Hypoallergenic 23% pure vitamin C antioxidant brightening booster with high performance for preventing early signs of anti-aging.

Benefits:

Fade acne scars and hyperpigmentation
Brightens dull skin
Firms and plumps
Diminishes fine lines and wrinkles

Targets:

Dull skin
Uneven skin tone
Dark spots and hyperpigmentation
Early signs of aging

CosRx Official Website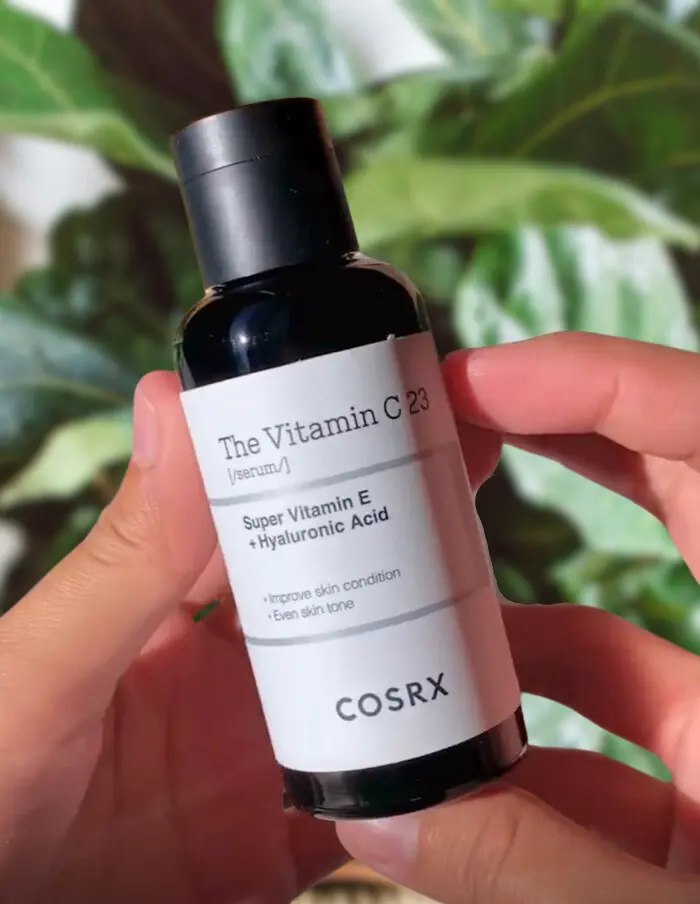 Who Is this CosRx Vitamin C Serum For?
For those interested in reducing hyperpigmentation, either from melasma or blemishes.
I would not recommend this serum to someone just starting their skincare journey, who is unfamiliar with Vitamin C or actives.
Not sure what your skin type is? Please read our guide on Skin types & skin conditions.
CosRx The Vitamin C 23 Serum Ingredients
Water, Ascorbic Acid (23%), Propanediol, Dimethicone, Tromethamine, Panthenol, Ethyl Ascorbyl Ether, Squalane, Caffeine, Sodium Chloride, Sodium Hyaluronate, Sodium Sulfite, Disodium EDTA, Glutathione, Adenosine, Acetyl Glucosamine, Gardenia Florida Fruit Extract, Allantoin, Dextrin, Tocotrienols, Tocopherol, Elaeis Guineensis (Palm) Oil, Butylene Glycol, Arginine, Niacinamide, Pentylene Glycol, Alcohol Denat, Helianthus Annuus (Sunflower) Seed Oil, Glycyrrhiza Glabra (Licorice) Root Extract, Methyl Trimethicone, Carthamus Tinctorius (Safflower) Seed Oil, Camellia Japonica Seed Oil, Daucus Carota Sativa (Carrot) Root Extract, Beta-Carotene.
Ingredients referred from the CosRx official website.
Active Herbs Humectant/Moisturizing Brightening
Ingredients Analysis
It has everything you'd want in a Vitamin C serum: 23% Vitamin C (as LAA), two types of Vitamin E, Sunflower, Safflower and Camellia Japonica Seed Oil, hyaluronic acid. Moreover, it has the dream team of Niacinamide and Adenosine, which fights wrinkles, brightens, and whitens! I love that this serum effectively combines all these great ingredients into one gentle, pleasant-to-use package.
This combination of ingredients makes the CosRx Vitamin C 23 Serum especially well-suited to anyone whose skincare goals are increased collagen synthesis (which smooths out wrinkles and texture issues), healing and preventing sun damage, supporting the skin barrier, and hydration. Those goals are prevalent for more mature skin, but they're nice things to aim for at any age.
Vitamin C L-Ascorbic Acid
Vitamin C has numerous skin-boosting properties. It brightens the look of the skin tone and its texture. It helps to keep the skin firm and wrinkle-free by increasing collagen production and is an excellent addition to your routine to help with premature skin aging. Vitamin C helps achieve the glow from within and is also a potent antioxidant.
CosRx The Vitamin C 23 Serum contains L-ascorbic acid, the purest and most active form of vitamin C. It has the highest bioactivity and can penetrate deeper into the skin. It can stimulate collagen synthesis, protect cells from free radicals, and even skin tone. However, it is also very unstable and prone to oxidation. It must be formulated with a low pH, water-based ingredients, and antioxidants such as vitamin E to stay stable and effective. It can also cause irritation or sensitivity in some people.
Glutathione
Glutathione is a powerful antioxidant that protects cells from environmental damage and may reduce signs of aging. Glutathione was discovered to have skin-brightening effects by accident. Glutathione can inhibit melanin production and switch to a lighter pigment type. However, more research is needed on its stability and effectiveness in topical products.
Tocotrienol
Tocotrienol is a super vitamin E. It has 50 times higher antioxidant activities than tocopherol and stimulates collagen production.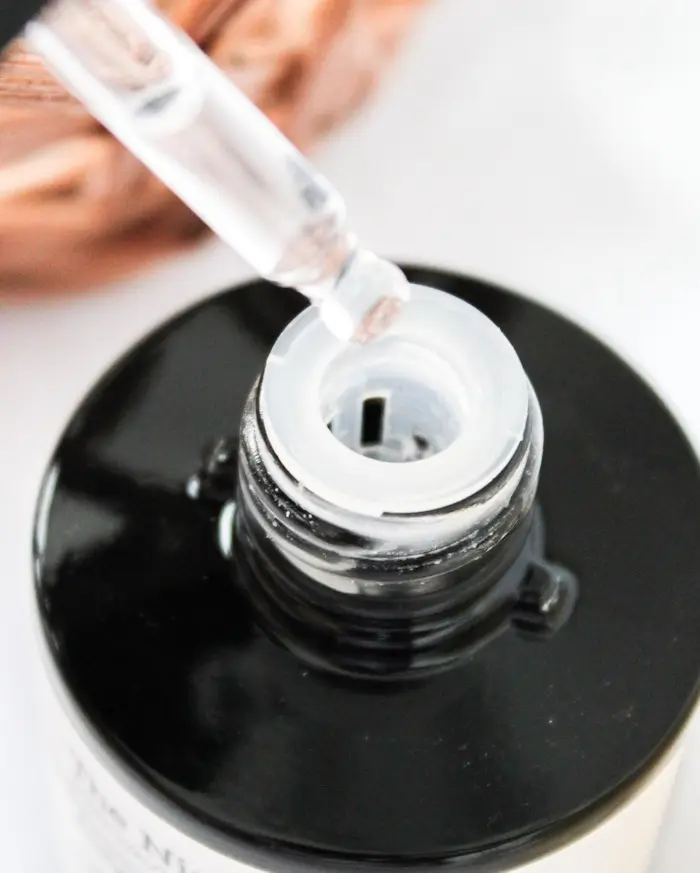 Hyaluronic acid
Strong moisture retention properties to maintain hydration.
Allantoin
If you pay close attention to the ingredient lists of your products, there's a good chance your eyes have scrolled past this ingredient quite a few times.
Allantoin is an excellent ingredient for sensitive skin. Abounding in nature but synthetically crafted for its use in cosmetics, allantoin is derived from uric acid and is a fantastic multi-tasker.
It acts as an emollient to protect the skin, a calming agent to soothe irritation and promote wound healing, an exfoliant to shed dead skin cells, a humectant to improve moisture content and prevent transepidermal water loss, and more. It's super gentle and plays well with all skin types, with no known side effects besides allergies on a person-to-person basis.
Arginine
Arginine is an amino acid that helps to strengthen and repair the skin's barrier. It's a natural moisturizing factor, a humectant that may help speed up wound healing.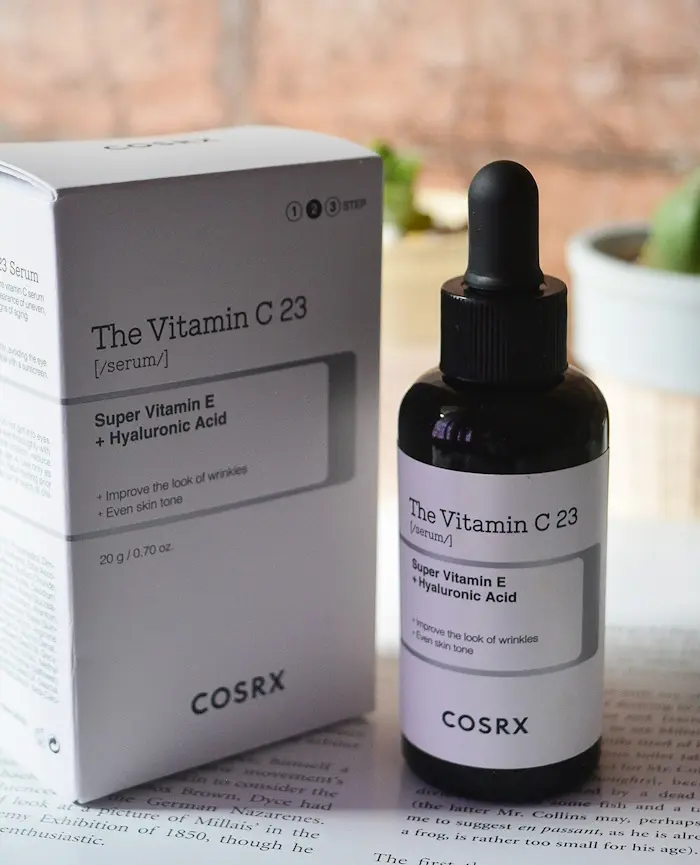 Packaging
20ml glass dropper bottle. The dropper comes separately packed.
This highly concentrated pure vitamin C formula is in a specialized bottle that allows it to expel gas while blocking the inward flow of oxygen. There was a slight popping sound and a whiff of corned beef scent once it opened, which surprised me.
It's meant to be stored in the fridge once open and only has a 2-month PAO.
Scent
My vitamin C serum smells like corned beef. If you're wondering if you have a spoilt product, no, it's normal. Serums with a very potent vitamin C are often reported as smelling like 'hot dog water.' To counteract that, most companies add fragrance to Vitamin C creams and serums, but I appreciate that CosRx did not.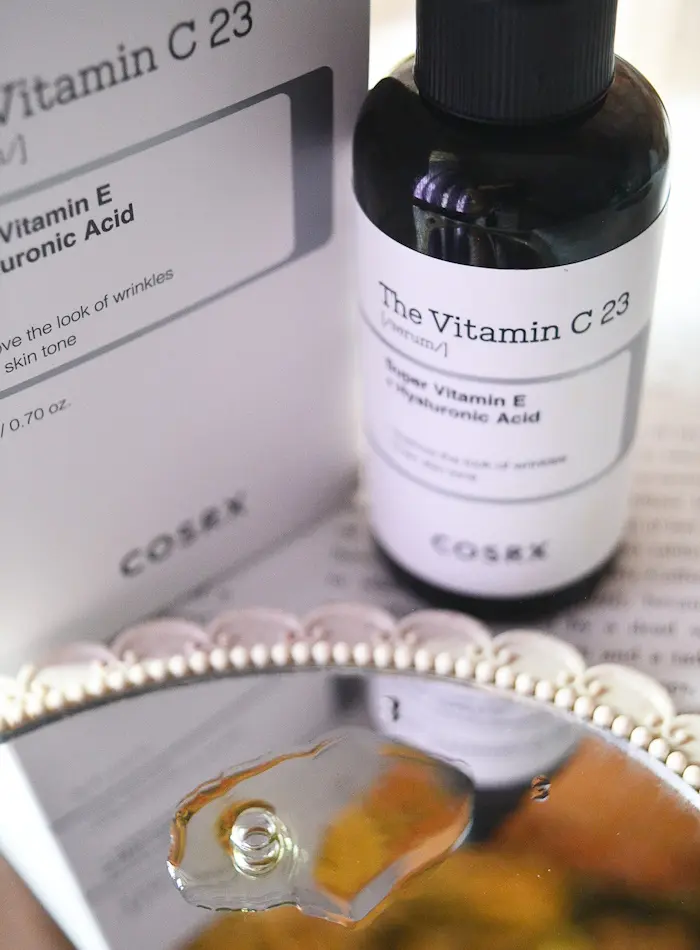 Texture
Watery-oily consistency. The serum's texture feels very silky, though it does leave a slight filmy, tacky finish before fully absorbed into the skin.
My Experience with the CosRx Vitamin C 23 Serum
It has a double-layer structure with an oil layer to maintain freshness and delay oxidation.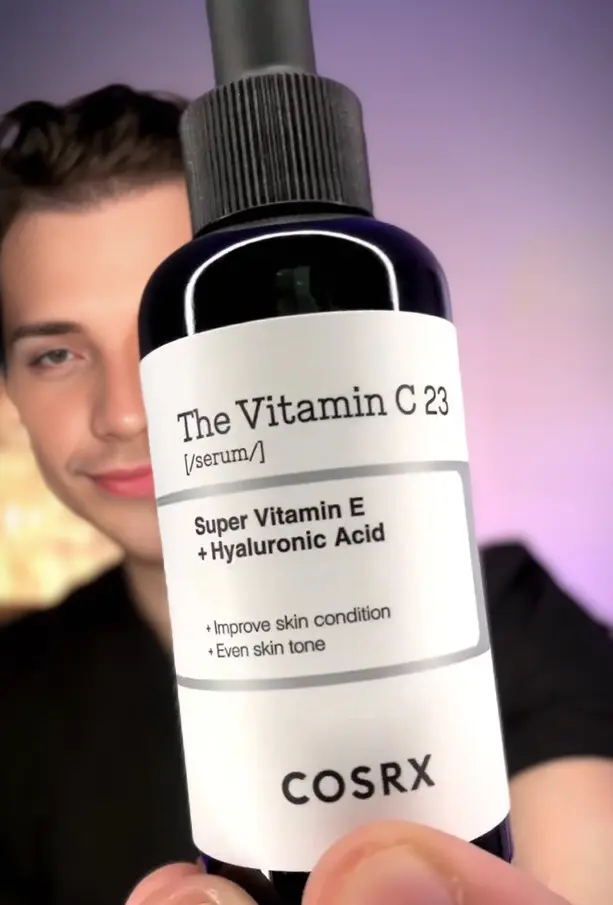 When I first apply this to my skin, it leaves a mild stinging sensation on my cheeks, though it only lasts a few seconds. So, I avoid applying this on certain dry spots on my skin and only apply it at night. I also layer my toners for better hydration before using this. So far, it hasn't caused me any breakouts, though I still experienced the occasional stinging sensation.
Vitamin C serums have always been a hit or miss with my skin. Sometimes, my skin loves it, and sometimes, it doesn't. So, I rarely use it continuously on a long-term basis. However, I still reach for it whenever my skin looks dull because Vitamin C is one of the ingredients for promoting healthy skin turnover. However, if you're a beginner to Vitamin C, starting with a lower concentration of Vitamin C is best before slowly building your way up.
How I use the CosRx The Vitamin C 23 Serum:
In the AM, after I cleanse and apply my ph-adjusting toner
You can't see due to the black bottle, but it's a bi-phase formulation, so you'll need to shake it before each use.
Sunscreen
I use this serum after applying my toner, and with the dropper, I drop five drops on my face – forehead, cheeks, nose, and chin. I massage this into my skin, and a few seconds later, I will feel tingling, particularly around my jawline. Sometimes, this feeling is bearable, but sometimes, it feels a little uncomfortable – like ant bites. I guess it depends on the condition of my skin on that day. The sensation, fortunately, does not last long and goes away after some massaging.
After application, I wait approximately 20 minutes before continuing with my next skincare step. I want the serum to absorb fully into my skin and not have its effects canceled out by the subsequent products I apply. I usually use this serum only in the morning to boost antioxidants under my sunscreen.
Sunscreen! This is even more important if you use this serum daily. I always make sure I slap on the sunscreen before leaving the house the next day. This is so even on days when the weather is overcast, and the sun is hidden behind a cluster of thick grey clouds.
Once opened, you should store this serum in a cool, dark place away from sunlight. The reason is that vitamin C is sensitive to light, and, if exposed too often, it can oxidize quickly. When this happens, the serum loses its effectiveness. Therefore, I store mine in the refrigerator, nestled nicely between my ketchup bottle and jar of olives. My only gripe is the storage of this serum, as I find it quite annoying to make a detour to the kitchen fridge to apply this serum.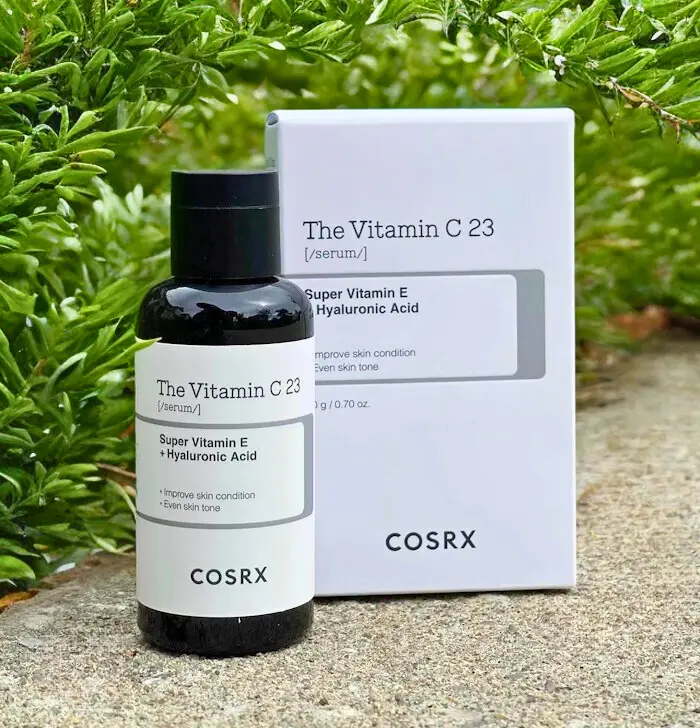 Pros
strong potency
affordable
Cons
small bottle
oxidizes quickly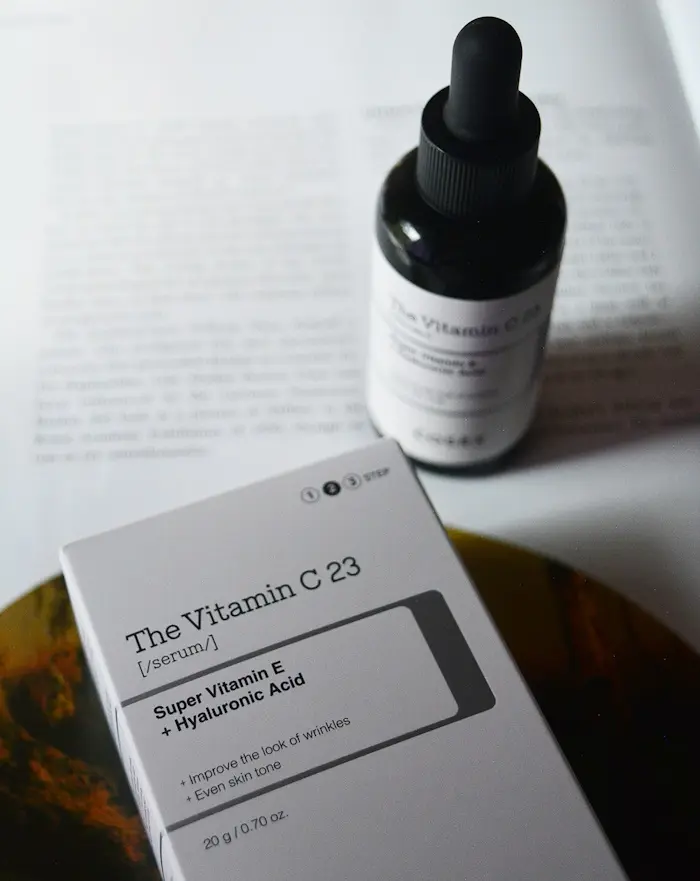 Verdict
I hesitate to call the CosRx Vitamin C 23 Serum a good "anti-aging" product because, to me, there's a sense in which the concept of "anti-aging" is inevitably a little self-destructive, or at least unfriendly to yourself and the years you have earned by living them. But I would say this is a good serum for a well-lived life. As the years go by, your skin will want more of exactly what this serum offers.
Be nice to your skin, and indulge it!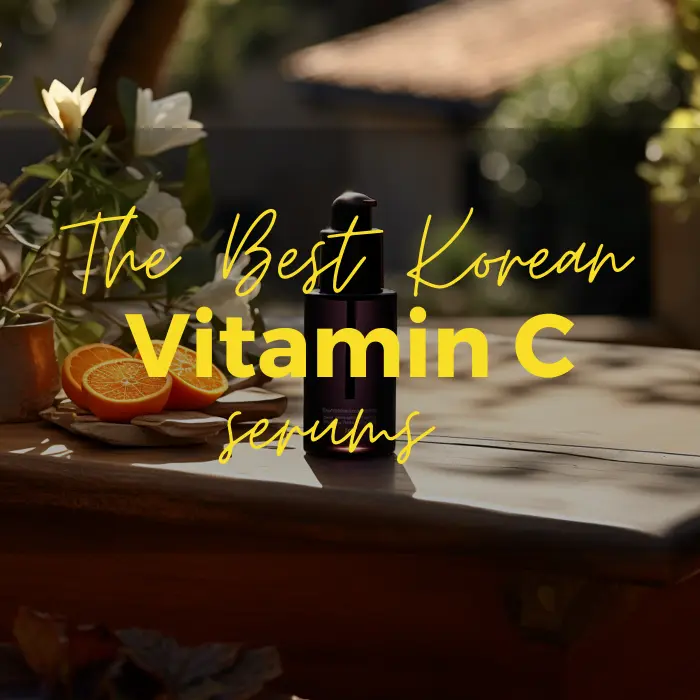 Will I Repurchase the CosRx The Vitamin C 23 Serum?
I enjoy this product and am almost certainly repurchasing it.
Rating 4.5/5
Shop for CosRx The Vitamin C 23 Serum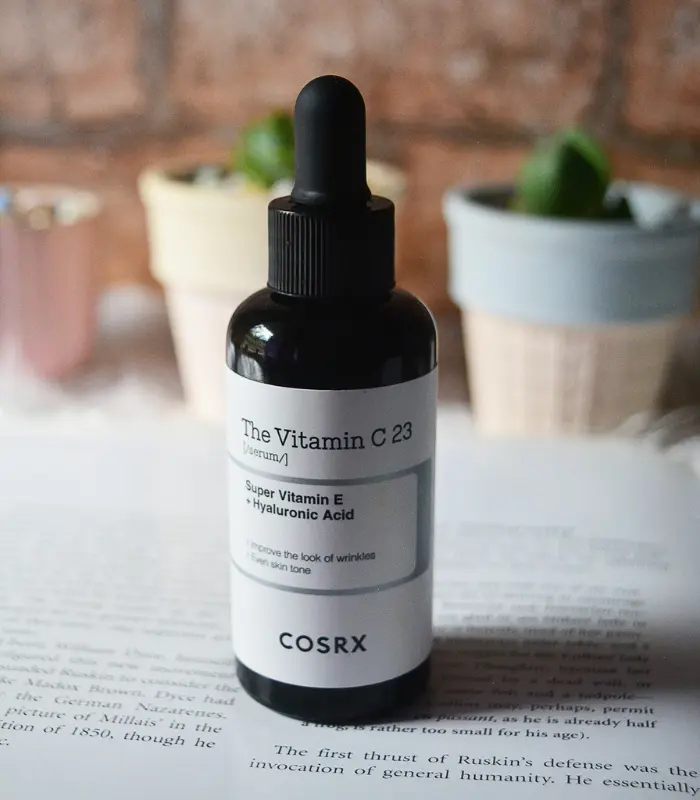 You can get CosRx The Vitamin C 23 Serum for $15-$25 on Amazon*—and other popular Asian websites: YesStyle* and Stylevana.
Lastly, I was not paid for this review or received it as a gift.
As always, you do you; be kind to your skin and yourself! Remember that every person's skin and skin type is different, so what might work for me might not work for you, and vice versa. So, before adding a new product to your skincare routine, it pays to do a little research first.
Before adding the CosRx The Vitamin C 23 Serum to your skincare regimen, ensure you are not allergic to it or its ingredients. You should also consult your doctor if you are pregnant, breastfeeding, or have any medical conditions or medications that may interact with the CosRx Vitamin C Serum. Always do a patch test before applying the CosRx The Vitamin C 23 Serum on your skin to avoid adverse reactions.
I am not a dermatologist or licensed aesthetician, but I have sufficient experience and knowledge I gained by testing multiple products and self-exploration. Unsure? Best to consult your dermatologist.
Happy skin experimenting, and don't forget the sunscreen!
Show Me Proof