I stumbled upon Benton on Instagram long ago and fell in love with its Benton Aloe BHA Skin Toner, only to be pleasantly surprised that they had other aloe products. After reading about the brand, I furiously opened Amazon and picked up the Benton Aloe Propolis Soothing Gel*.
Benton Aloe Propolis Soothing Gel changed the game in my search for low- or no-oil moisturizers and gels.
Where to Buy the Benton Aloe Propolis Soothing Gel?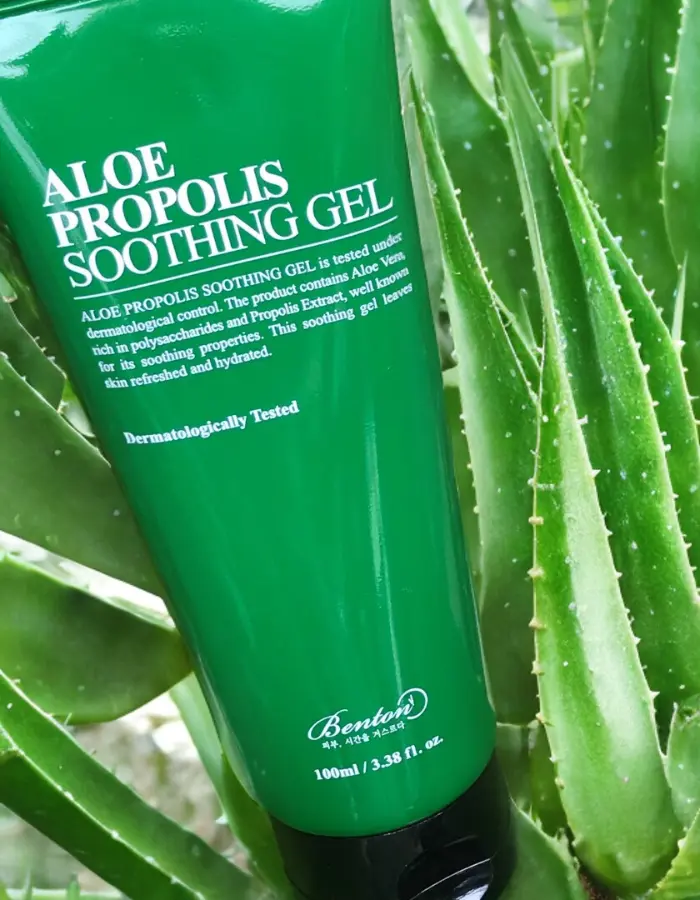 Benton Aloe Propolis Soothing Gel retails at $19 for a 3.38 fl.oz./ 100ml tube on the Benton official website.
For all of us lucky people in the US who can get Prime delivery, you can buy the Benton Aloe Propolis Soothing Gel from Benton's official store on Amazon*.
You can shop for it on the official Benton retailers: StyleVana*, YesStyle*, and StyleKorean* for $9-$16.
The Benton Brand
The Benton brand is one of the first Korean skincare brands I have ever used in a regime.
Benton is a Korean company that specializes in natural and cruelty-free products for all skin types. Their philosophy is to use fresh and healthy ingredients that restore the skin's original health and vitality.
Benton offers a range of products, from cleansers and toners to serums and masks, that are gentle yet effective. Whether you have dry, oily, sensitive, or combination skin, you can find something that suits your needs and preferences. Benton is good for your skin, environment, and animals. They are certified by PETA as a cruelty-free brand, and they use eco-friendly packaging and minimal preservatives.
Benton Aloe Propolis Soothing Gel Claims
This gel moisturizer is made with over 80% Aloe and propolis that help soothe irritated skin, fade acne scars, brighten skin tone, and even maintain hydration throughout the day. It is also made with naturally derived ingredients. Each batch of the product might have a slightly different scent and color due to its natural ingredients' original scent and color.

A soothing gel containing propolis which is excellent for anti-inflammation to help cool, soothe, and moisturize.

Transparent yellowish gel formulation.

Dryness, itchiness, sensitiveness, oil-water imbalance, looking for a very light moisturizer.

Benton
Who Is the Benton Aloe Propolis Soothing Gel For?
I agree with the manufacturer's claims that this product is for every skin type. It benefits everyone across the board, which is pretty impressive.
Sensitive skin will love this because of how soothing it is, oily skin will love how light it is, dry skin will love how moisturizing it is, and every skin will love how much it nourishes. It's a must-try if your skin can't handle heavy, oil- and butter-laden creams and balms.
This is a little skincare gigolo, and it's got thrills for everyone.
Benton Aloe Propolis Soothing Gel Ingredients
Key Ingredients Explained
Aloe Vera
Aloe has an astonishing amount of uses. The skincare industry loves aloe because it contains several beneficial vitamins (A, C, E) and antioxidants. It's also over 99% water*, which is excellent for moisturizing and hydrating damaged skin. Did I mention that it also boasts anti-inflammatory and anti-bacterial properties?
Another thing that stands out to me is that water is not the first ingredient on the list. Grab your nearest moisturizer or product and read the list of ingredients. Go on now, go ahead. I'll wait. Ok, are you back? Look at that bastard. What's the first ingredient? It's Eau. If it's not Eau, then it's Aqua, and if it's not Aqua, they went the plain route and just said Water. Eau, Aqua, and Water are the #1 most prominent ingredients. The Benton Aloe Propolis Soothing Gel uses aloe leaf juice primarily! So it's just that much more moisturizing and high quality.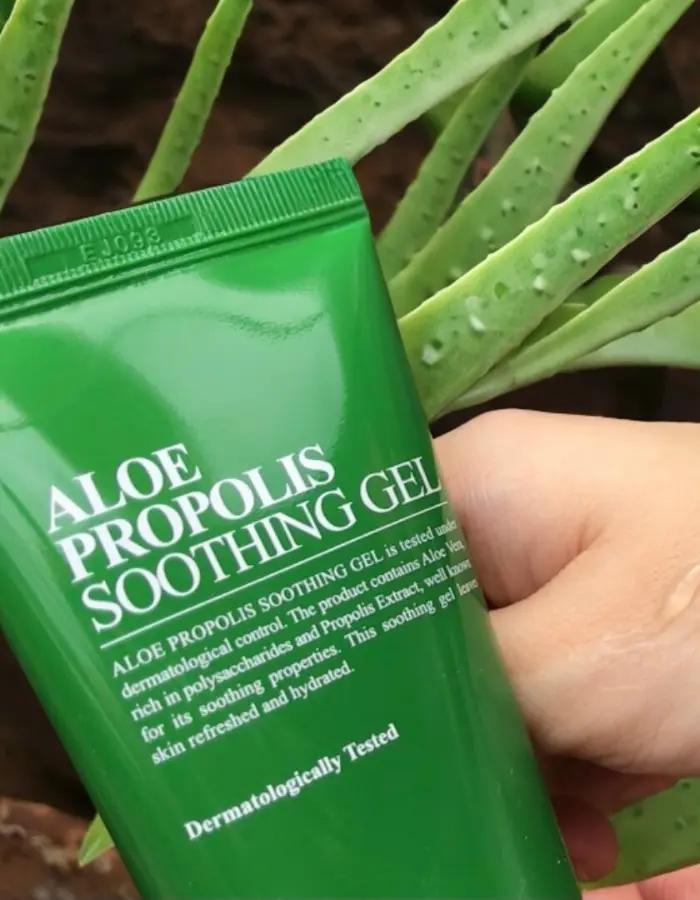 Propolis Extract
You might wonder what Propolis Extract is if you're unfamiliar with it. If you're an idiot like me, you heard the word propolis and wondered if they had distilled the essence of some ancient Greek amphitheater, but no, propolis is a product that bees produce. Propolis is the stuff that keeps the hive from rotting and keeps the germs at bay. It has antibacterial properties and has been used in natural medicines and biomedical research for its attributes as an antioxidant, an emollient, and an antimicrobial.
So propolis is pretty rad, and you want it on your face.
Aloe and propolis form a powerful combination that can help improve your skin's health and appearance.
Glycerin
Glycerin is a very effective humectant, used in many moisturizers to increase skin hydration. It occurs naturally in your skin as part of its home-grown moisturizing system, the natural moisturizing factor (NMF).
Like other humectants, it works by sitting in the top layers of your skin and attracting water from the air and the deeper layers, leaving your skin surface plump and hydrated, even when the weather is arid. This ingredient softens the skin so other hydrating ingredients can more easily penetrate the skin.
Glycerin also keeps the skin's lipids flexible, strengthening your skin barrier.
Portulaca Oleracea
Portulaca Oleracea is a wonderful source of antioxidants and fatty acids. It has also been found to reduce inflammation and improve the skin's protective barrier.
Heartleaf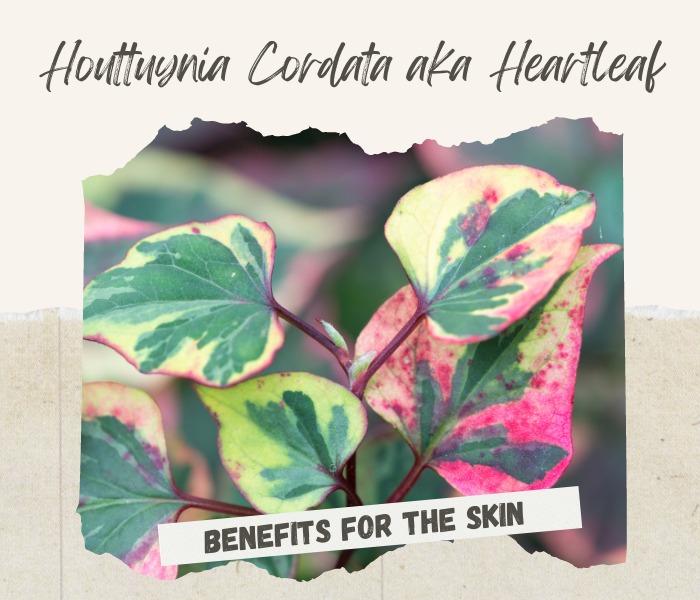 Benton Aloe Propolis Soothing Gel has been reformulated (over and over again) and now contains heartleaf or Houttuynia Cordata extract. As you can learn in our editor's guide, Houttuynia Cordata is Korea's newest skincare darling. It is an antioxidant and a calming ingredient, one of which has been shown to decrease damage from UVB rays. It is rich in polyphenols, plant-derived compounds with potent antioxidant and prooxidant effects that keep the skin young and healthy.
Soothing & Anti-inflammatory Ingredients
These ingredients are rich in antioxidants and have wound-healing abilities, like Aloe Extract, Propolis Extract, Portulaca Extract, Psidium Guajava Fruit Extract, Schisandra Chinensis Fruit Extract, Perilla Ocymoides Leaf Extract, and Acorus Calamus Root Extract.
Rich in Amino Acids and Emollients
Apart from having soothing & anti-bacterial components, the Benton Aloe Propolis Soothing Gel also contains amino acids like arginine, betaine, etc., and emollient-rich plant extracts. These added ingredients bring moisturizing factors to it as well.
What Benton Aloe Propolis Soothing Gel Doesn't Contain
I'd also like to point out that this Benton Aloe Propolis Soothing Gel touts its "8 free system," as they put it, which means it's free of 8 gnarly things you don't want in your skincare which are parabens, mineral oil, essential oils, alcohol, benzophenone, chemical preservatives, steroids, artificial fragrance, and artificial coloring.
I want to note that Benton Aloe Propolis Soothing Gel contains grapefruit. Grapefruit extract is an antibacterial that can be used as a natural preservative. However, it is not one of the most effective preservatives for cosmetics, and citrus has the potential for skin irritation.
Packaging
The packaging is fantastic because it comes in a squeezable opaque green color tube with a flip-open cap. The tube has a nozzle opening out of which the required amount can be taken quickly without overflowing, thus making it travel-friendly.
Scent
The fragrance is pretty much nonexistent, and it only carries its natural aloe scent.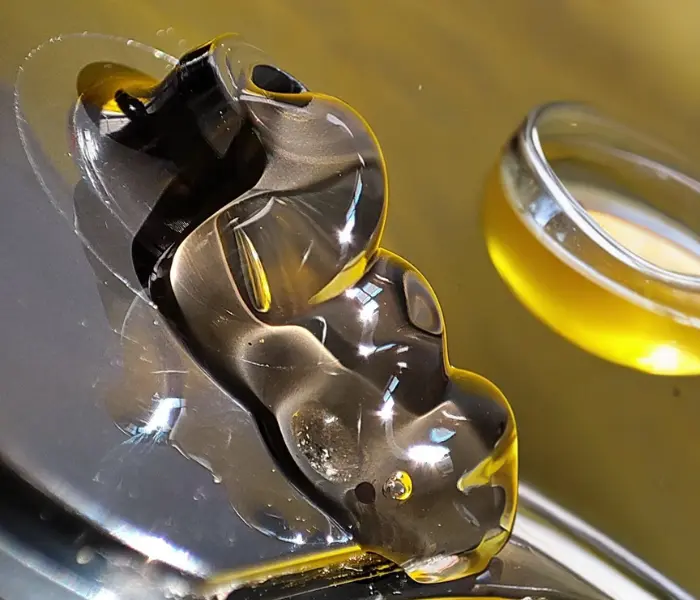 Texture
Now, I had someone bring to my attention that the other natural aloe products they've used in the past were too sticky, and they wondered if this, and the aloe toner reviewed earlier, were sticky as well. I can assure you that this product and the Benton Aloe BHA Skin Toner are not sticky. The texture is a light clear gel that glides onto your skin and absorbs quickly upon application.
My Personal Experience with the Benton Aloe Propolis Soothing Gel
Let me start this review on Benton Aloe Propolis Soothing Gel with what impressed me the most: the super simple and focused ingredient list I look for in any hydrating product.
This gel is another star in the Benton line. Like the toner I reviewed (Benton Aloe BHA Skin Toner), this little green wonder comprises mainly aloe leaf juice with solid, proven skin benefits.
Regarding its moisturizing benefits, I would say that an oily skin type could probably get away with using this alone as their primary moisturizer. I use it in my regime, along with the Benton Steam Cream.
Overall, the Benton Aloe Propolis Soothing Gel has been a fantastic addition to my skincare stash and is right up there as one of my favorite daytime moisturizers due to its lightweight and effortless feel on the skin but also due to its effectiveness in hydrating the skin and keeping it looking plump and fresh.
It uses a unique blend of botanical ingredients to nourish the skin and help decongest and clarify it. Whilst my skin isn't blemish-prone, it can get quite oily, and I have found when using this moisturizer, my skin does seem a bit more balanced – my dry cheeks aren't as dry, and my T-Zone seems to be under control in terms of the sebum secretion. This moisturizer is a fantastic addition to the Benton Aloe range and hasn't disappointed me. I love it!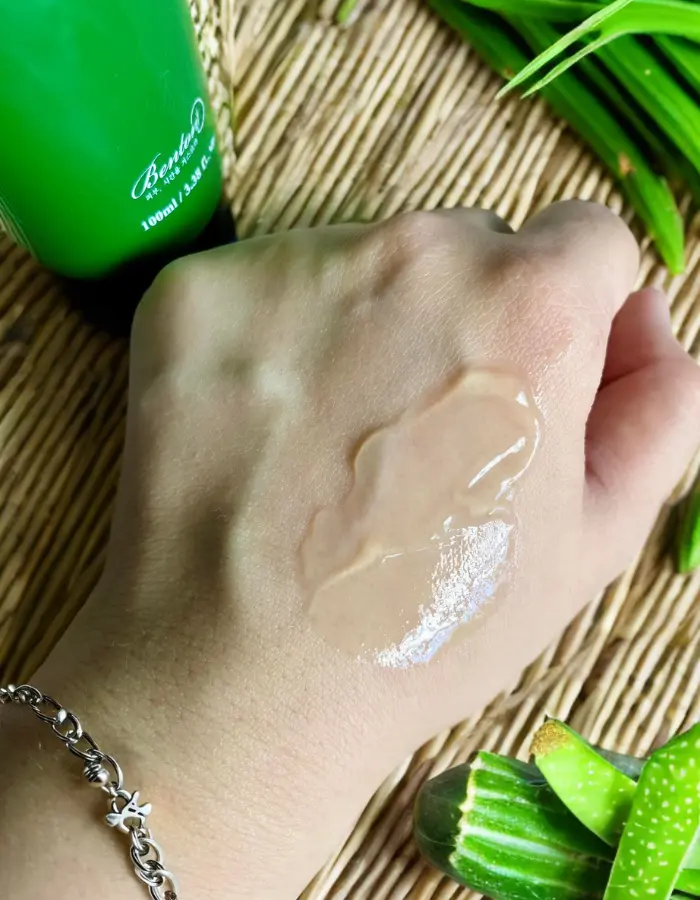 Performance with Actives
Benton Aloe Propolis Soothing Gel works well with actives like AHA/BHA/retinoids. I used it as a base before applying actives on my skin, which helped me minimize the purging. It works like a hydrating serum to reduce itchiness and tingling caused by actives. I have used it as a buffering agent post applying AHA toner, and it soothed my sensitive skin.
Skin Types & Weather
I adhere to a Korean skincare routine which I will write about in detail later, but basically, the bones of it go like this: cleanser-toner-essence-gel-cream. If it's summer and you're oily, you could forgo the cream. I have a normal to dry skin type, and I'm in the midst of a harsh dry winter right now, so I couldn't get away with the gel only. I will venture to say, though, in the summer months, I probably could.
Results on Acne Marks & Hyperpigmentation
Benton Aloe Propolis Soothing Gel won't work on existing dark spots and hyperpigmentation, but it helps control them. It minimizes the chances of acne marks by nourishing inflamed areas and acne spots.
How Do I Use the Benton Aloe Propolis Soothing Gel?
First thing first, double-cleansing;
Take a pea-sized amount on your palm and spread it over your skin, focusing on red and irritated areas. Pat it using your fingers instead of massaging it. Repeat if you need more hydration;
Follow up with any active-based serum (if you use it in your routine);
Seal it with a face oil or a moisturizer.
Don't forget the sunscreen!
Tip. Squirt out your product and add a few drops of Argan, maracuja, or baobab oil to your gel for that extra oomph. I do that now, and I love the results.
Pros
Lightweight and extremely hydrating
Soothe & Calm the inflamed skin
Relieve itchiness on the skin
Non – sticky & absorbs instantly
Non- irritating for sensitive skins
Soothes the acne wounds
Works well in non – AC humid conditions
It can be mixed with concentrated actives like AHA/BHA/retinoids
Fungal acne safe
Fragrance-free, alcohol-free, and Essential oil-free
Water-based oil-free formula
Balance oil production on oily skin
Pocket Friendly
Cons
Grapefruit extract is a potential irritant;
Less moisturizing means you will need a moisturizer or oil to seal the hydration into the skin.
Verdict
Ultimately, hydration is the key to healthy and soft skin. Benton Aloe Propolis Soothing Gel works like a serum, providing sufficient hydration without any stickiness. It is suitable for all skin types, including acne-prone and sensitive skin. Benton Aloe Propolis Soothing Gel may help repair the damage caused by UV rays by providing instant relief to stressed skin. I highly recommend it to every skin type but especially to oily skin beauties because it's an oil-free, water-based light formula to keep your skin relaxed while providing balanced moisture.
So the Benton Aloe Propolis Soothing Gel would be an excellent asset to your skincare team, and with the impressive resume it has behind it, you should be hiring.
Shop for Benton Aloe Propolis Soothing Gel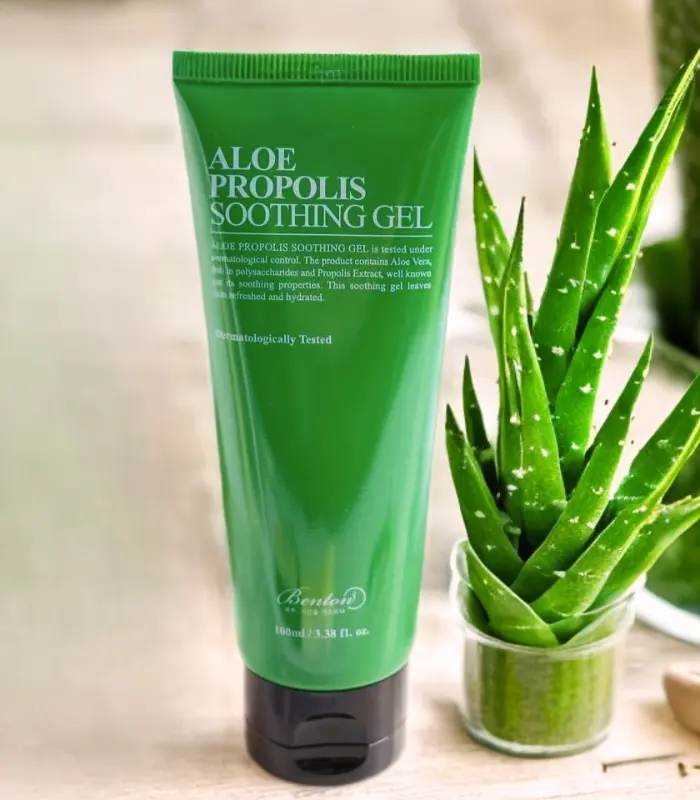 You can get Benton Aloe Propolis Soothing Gel at Amazon*.
Lastly, I was not paid for this review or received it as a gift.
Rating 5/5
Show Me Proof