As a skincare enthusiast, I always love to try different brands. So, this is my first time using a Needly product. After seeing that this is one of the most popular toner pads sold in a Korean Beauty store – Olive Young – I thought I had to try it myself. So let's jump to the Needly Daily Toner Pad review!
At a glance:
Where to buy Needly Daily Toner Pad?
On Amazon US, it's available for $27, and it comes in a 280g / 60 pads jar. 60 pads for $27 means $0.45 per pad.
So price/quantity-wise, it's definitely on the higher end. Still, the pads are large, so you can cut them in two and only use half at a time.
You can shop for Needly Daily Toner Pad on the official Korean site, Amazon, YesStyle, Olive Young, Jolse, and StyleVana.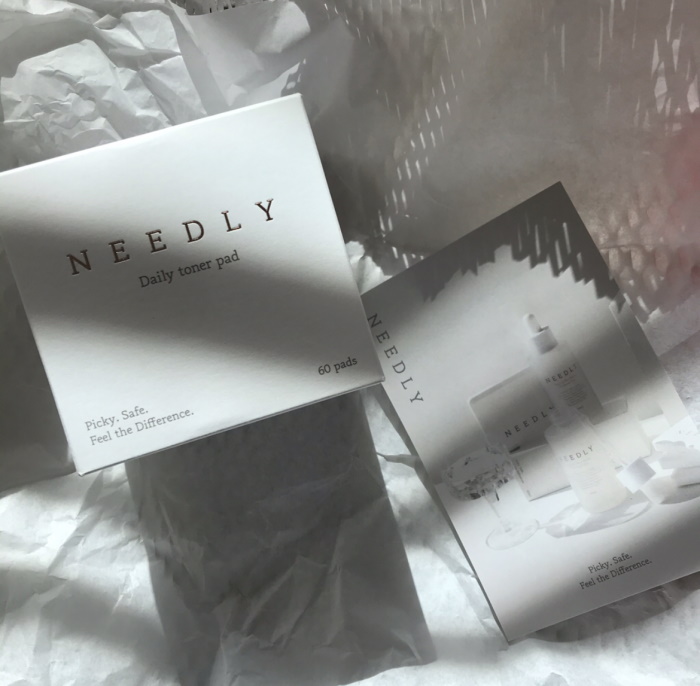 The Needly brand
Needly is a Korean skincare company that develops truly effective skincare products.
"For beautiful skin, Needly is the answer"
Needly Daily Toner Pad claims
Tightens pores and replenishes moisture with simple two-layer care

Helps with pore "management" in four ways: number, area, volume, and depth of pores.

Mildly exfoliates with BHA and PHA.

Hydrates with Hyaluronic Acid and Mugwort.

Relatively large 80mm pad.
Who are these toner pads for?
For those with a rough texture and enlarged pores. I would recommend this for every skin type who needs to exfoliate softly.

Needly Daily Toner Pad Ingredients
Water, Glycerin, Dipropylene Glycol, Glyceryl Glucoside, 1,2-Hexanediol, Allantoin, Ethylhexylglycerin, C12-14 Pareth-12, Betaine, Caprylyl Glycol, Artemisia Princeps Leaf Water, Butylene Glycol, Centella Asiatica Extract, Melaleuca Alternifolia Leaf Extract, Carbomer, Sodium Citrate, Disodium EDTA, Gluconolactone, Salicylic Acid, Tromethamine, Glucose, Aniba Rosaeodora (Rosewood) Wood Oil, Sodium Hyaluronate.
See explained ingredients on INCIDecoder.

Key Ingredients explained
Artemisia Princeps Leaf Water, the Japanese mugwort, has anti-inflammatory and antioxidant effects. Skin care products containing mugwort improve dry skin symptoms in atopic dermatitis1.
Hyaluronic Acid is a natural moisturizing factor that attracts, absorbs, and stores hydration around it. More about HA's benefits.
Salicylic Acid is one of the main acne-fighters and is also referred to as BHA. BHA is a lipid-soluble chemical exfoliator with anti-inflammatory properties, which means it can break up sebum and penetrate deeper. Ideally, the pH of these products will be below 4.
PHA. Gluconolactone 0.01% Clears and smoothes the skin and induces keratinization on the skin surface.
Needly Daily Toner Pads claim to work as an all-in-one product. The pads are chock full of hydrating and moisturizing ingredients (marked in blue), soothing ingredients (marked in green), and active ingredients, the acids (marked in turquoise).
Although perfectly tolerated by some sensitive users, keep in mind that the pads contain essential oils: Tea Tree and Rosewood (marked with purple).
Ingredients not included in Needly Daily Toner Pad: alcohol, niacinamide
The pH level is 5.5.
This product is not vegan.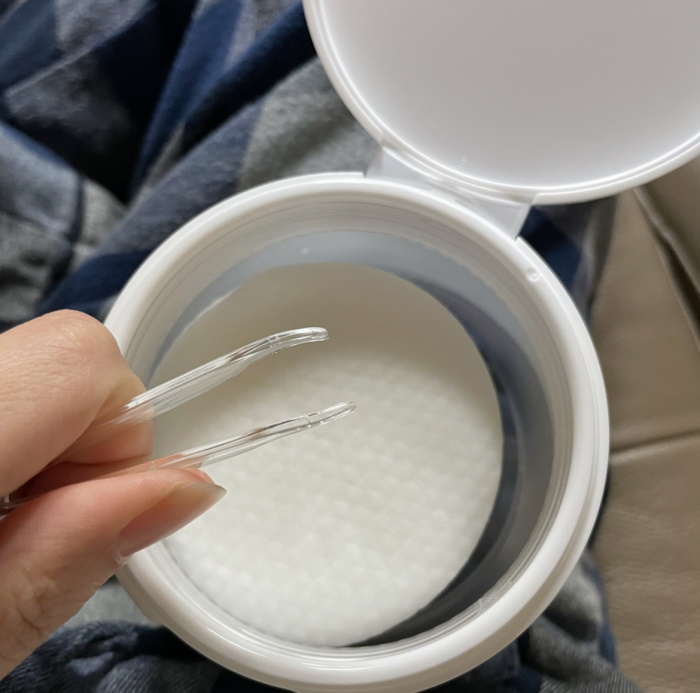 Packaging
The pads come in a beautiful one-touch cap container. It also comes with a small plastic tong, so you don't have to grab them with your fingers to separate them.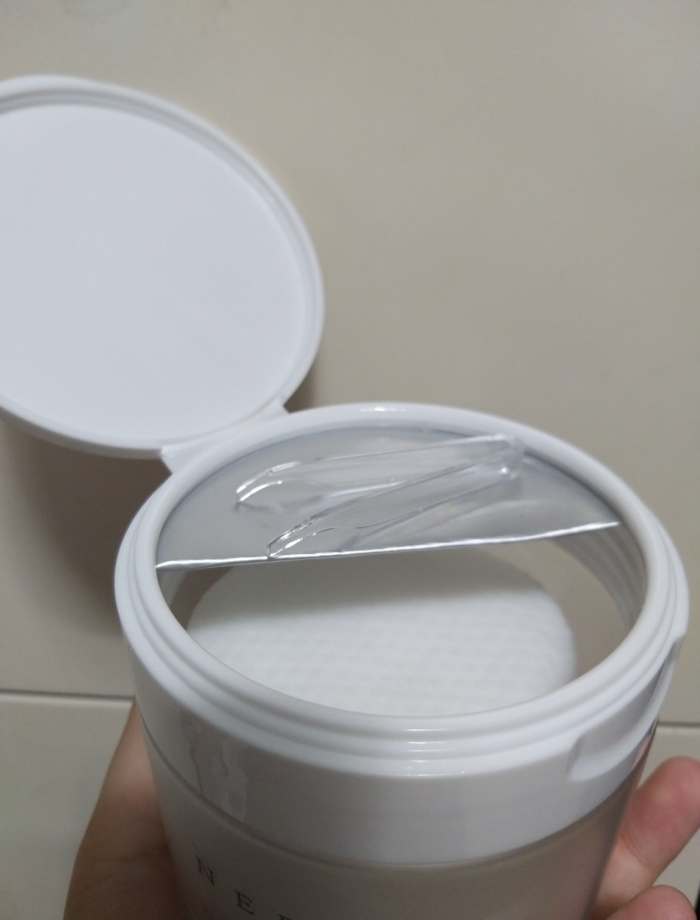 Scent
The toner pad smells nice but subtle. If I had to describe it, it would just be "clean."

Texture
It's incredibly refreshing to apply. It's a pleasure because it absorbs quickly.
My skin and my experience with the Needly toner pads
The pads are huge, big enough to cover your whole cheek so you can leave it on your face to soak into your skin.
Each pad has two sides. One side is slightly embossed, and the other side is smooth.
The textured one works as a peeling pad to remove makeup residue, mildly exfoliate, and for sebum removal.
Then you can flip it over for the smooth side to soothe, moisturize and pat in the toner solution. The smooth side can also be used for sort-of-sheet masking, concentrating on my problem areas, the nose, and the chin.
I like that the pads hold a lot of product to the point where I need to squeeze some of the juice out. I've gone through all the pads in three months, and the pads never dried out, even the top pad.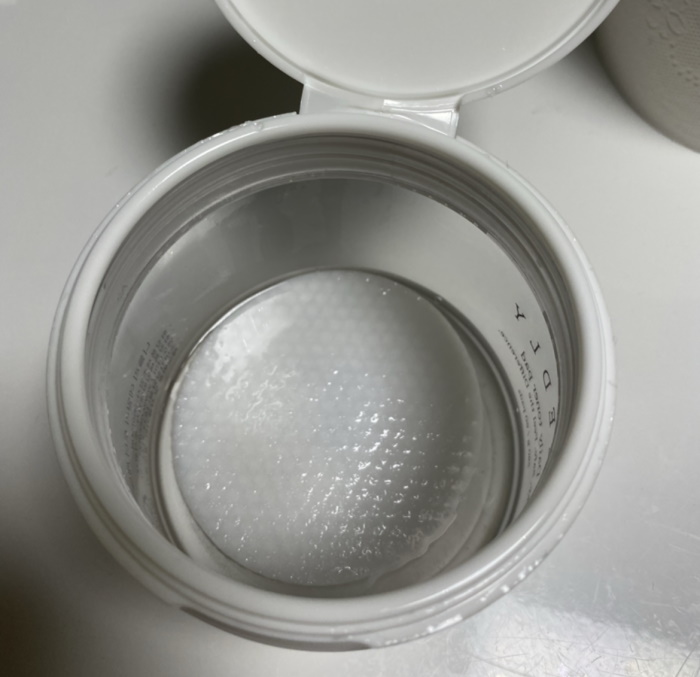 How to use Needly Daily Toner Pad?
Do your usual cleansing routine;
Wipe the face with the embossed cotton side;
Wipe again, in a lifting motion, this time with the soft cotton side;
Gently pat toner onto your skin for better absorption;
Follow with the rest of your toners, essences, serums, Needly Ampoule, etc.;
Don't forget to close the lid all the way!
In the morning, don't skip sunscreen.
A different way to use the pads: place 3-4 cotton pads on the entire face as a facial mask.
I recommend leaving it somewhere cool to get that cold touch when applying it. I store my toner pads in the fridge, so when I swipe a pad across my face, I feel a fresh and cooling sensation after washing my face.
As the title suggests, with the right amount of PHA and BHA, they don't irritate and are so gentle that sensitive skin can use them daily.
I cut each pad in half, so I had plenty for each application, and the 60 pads lasted more than three months.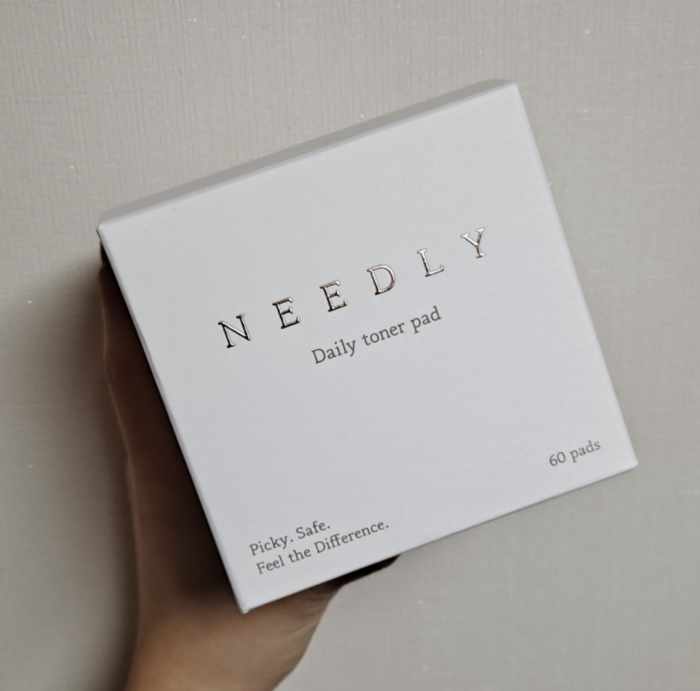 The results
For reference, I currently have dry skin and have used these pads during warm-ish autumn.
I was delighted by how well these pads clean the pores without stripping. This stuff clears your skin fast and has a nice brightening effect. Even when I stay at home the whole day (which means I don't use makeup), it still shows some sebum residue on my face. It is a bit disgusting to see, but it is simultaneously satisfying.
Having tried D'Alba, Cosrx, and Goodal, Needly takes the cake for feeling the most gentle yet with the most essence!
Opposed to more potent, western exfoliating pads, Needly Daily Toner Pad is a gently exfoliating product that gives benefits over time. This is preferable for every skin type, even those with resilient skin types, like myself, because you don't risk over-exfoliating and disrupting your skin moisture barrier.
At the same time, they give a quick hydration boost. My skin feels smoother, calmer, and moisturized afterward.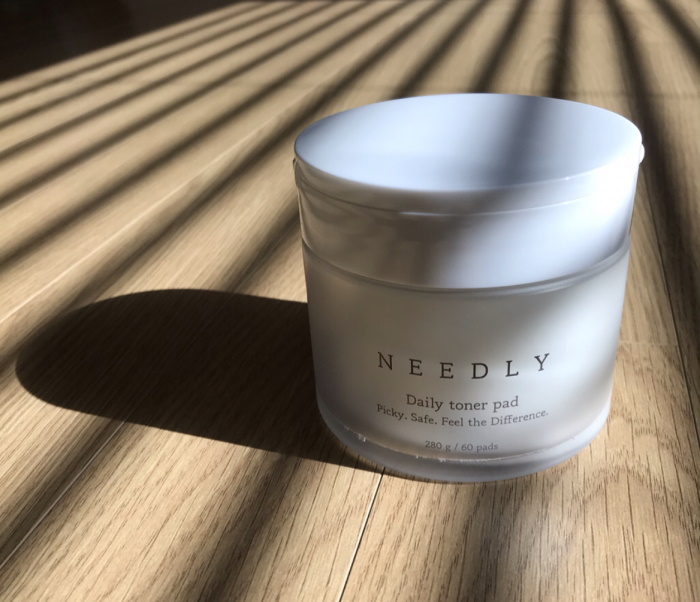 Pros
larger pads
clean & refreshing feeling
brightening
light exfoliation
Cons
essential oils
price
not environment friendly
Overall
This excellent all-in-one toner cleans, tones, and tightens pores. I loved them because they are soothing, gently exfoliating, hydrating, and moisturizing with their yummy ingredients.
Warning you might blind some people with how radiant and clear your skin is! I honestly loved the results. I would purchase this product again.
Rating 4.7/5
Shop for Needly Daily Toner Pad
You can get Needly Daily Toner Pad at Amazon US for $27. Other popular Asian websites you can shop: YesStyle, Olive Young, Jolse, and StyleVana.
You can also shop for Needly Daily Toner Pad on the official Korean site.
I was not paid for this review, nor did I receive it as a gift.
As always, you do you, be kind to your skin and yourself! Remember that every person's skin and skin type is different, so what might work for me might not work for you, and vice versa. So before adding a new product to your skincare routine, it pays to do a little research first.
Pay special attention to ingredients that you might react to. Doing a patch test is always a good idea. Unsure? Best to consult your dermatologist.
Happy skin experimenting, and don't forget the sunscreen!
Affiliate disclaimer
Garden of Muses Magazine includes some affiliate links. This a kind reminder that if you click on an affiliate link and make a purchase, Garden of Muses Magazine may earn a small sales commission. The price stays the same for you. You will be helping support further publishing in Garden of Muses Magazine by clicking these links. Thank you!
References
Hirano A, Goto M, Mitsui T, Hashimoto-Hachiya A, Tsuji G, Furue M. Antioxidant Artemisia princeps Extract Enhances the Expression of Filaggrin and Loricrin via the AHR/OVOL1 Pathway. Int J Mol Sci. 2017 Sep 11;18(9):1948. doi: 10.3390/ijms18091948. PMID: 28892018; PMCID: PMC5618597.
Let's get social
Have you tried Needly Daily Toner Pad, and did it work for you? I would love to hear from you in the comments section below!
Follow me on Instagram, Facebook, and Pinterest, where we can get a bit more personal and talk about skincare in real-time.