I started using Dr. Wu Intensive Renewal Serum With Mandelic Acid 18% about eight months ago. I started with the 18% version as I am worried that the 8% one is too mild for my normal to dry skin. My mom uses the 8% version.
About a month before purchasing this serum, my friend and I discussed how our complexion had greatly improved by incorporating acids into our daily skincare routine. She then mentioned how she briefly came across the term "mandelic acid" but did not bother doing much research into it.
Being a naturally nosy person, I thought I should maybe educate myself on this new acid lest I miss out on a star ingredient that could give me flawless skin….wishful thinking but hey, what is life without hope amirite?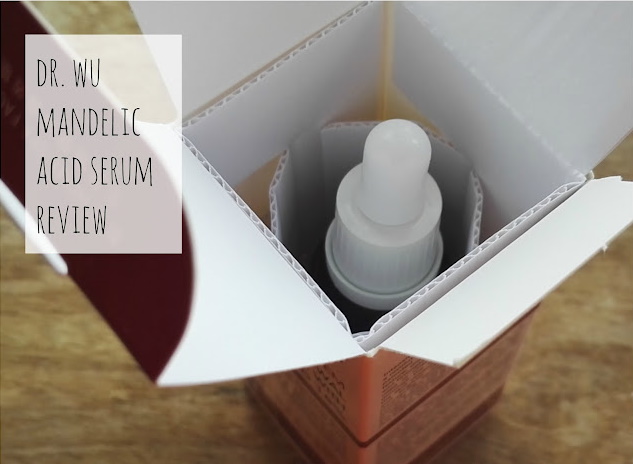 At a glance:
Where to buy Dr. Wu Intensive Renewal Serum With Mandelic Acid 18%?
In the US, it's available for $35, and it comes in a 0.5 fl. oz. / 15ml bottle.
You can shop for Dr. Wu Intensive Renewal Serum With Mandelic Acid 18% on Amazon, BeautyWithin, Walmart, and StyleVana.
The Dr. Wu brand
There have been several sparkling reviews on this serum produced by the Taiwanese brand – Dr. Wu. This company claims to be Taiwan's No.1 Clinical Skincare. As a fan of cosmeceuticals, I knew I had to try this serum.
On their website, this father and son company (interestingly known as the 'Godfather of Cosmetic Medicine' in Taiwan) claims to allow their customers to "enjoy skincare just like having a doctor perform medical treatments at home."
Serum's claims
Cell metabolism by gently boosting skin metabolic cycles.

Pore cleansing by decongesting blocked pores.

Blackhead removal

Whitening & Brightening

Anti-wrinkle Lifting & Tightening by improving fine lines and wrinkles
Who is this serums for?
Please note that there are two types of mandelic acid serums produced by Dr.Wu. The 18% serum is designed for oily and combination skin types.
Dr. Wu Intensive Renewal Serum With Mandelic Acid 18% Ingredients
Aqua, Propylene Glycol, Mandelic Acid, Butylene Glycol, Triethanolamine, Beta-Glucan, Ruscus Aculeatus Root Extract, Panthenol, Centella Asiatica Extract, Sodium Hyaluronate, Hydrolyzed Yeast Protein, Disodium EDTA, Dipotassium Glycyrrhizate, Calendula Officinalis Flower Extract, Allantoin, Ammonium Glycyrrhizate, Aesculus Hippocastanum Extract
See explained ingredients on INCIDecoder.
Key Ingredients explained
Mandelic acid is derived from bitter almonds and is a type of alpha hydroxy acid (AHA). It is most suitable for hypersensitive skin types and being of a more gentle nature, it would be perfect for those dipping their toe in the AHA/BHA pool for the first time. It targets three main skin concerns: wrinkles / fine lines, hyperpigmentation/discoloration, and acne.
This miracle acid strengthens collagen and sloughs off the outermost layer of the skin, allowing it to reflect light better, thus making the skin look more youthful. It also excels at correcting skin tones, and because it is so gentle, it can be used by those with rosacea.
This serum contains 18% mandelic acid but do not be put off by this high concentration as it is, in reality, very gentle.
Other ingredients like Beta-Glucan, Centella Asiatica, Panthenol, Calendula Flower Extract, and Allantoin are all soothing ingredients to calm and heal the damage and irritation caused by this serum.
Ingredients not included in Dr. Wu Intensive Renewal Serum With Mandelic Acid 18%: alcohol, fragrance, and essential oil free.

Packaging
The product comes in a brown glass bottle which protects the contents from excessive light. Labeling is minimalistic as with most cosmeceutical products, where the product speaks for itself and does not need to rely on fancy-schmancy labeling.
It has a rubber tip which works well to pick up a good amount of the product with a squeeze. A tiny complaint I have is that the bottle does not close properly. It is just a normal screw cap bottle, but if you apply pressure and try to tighten the cap when closing (I like to ensure all my products have their covers screwed on tightly), it will pop open again.
I am not sure if it is my bottle that may be a little defective or if that is the case with all bottles. We shall see when my second bottle arrives. Yes, I love it so much I can see this becoming a staple in my routine.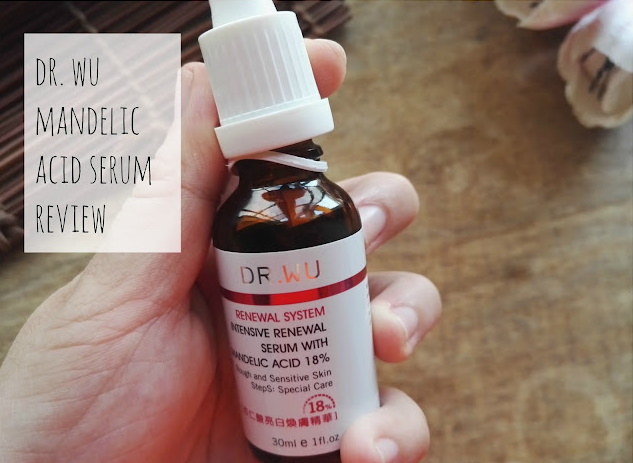 Smell
It smells faintly of almonds, and each time I use it, it evokes a memory of the time when I was growing up back in Malaysia and how I used to love the hot almond milk tea from a particular street vendor. Not only did it have a comforting smell of almonds, but it also tasted divine. Yummmm….
After a bit, the smell disappears, so do not worry about those who dislike fragrances in their products.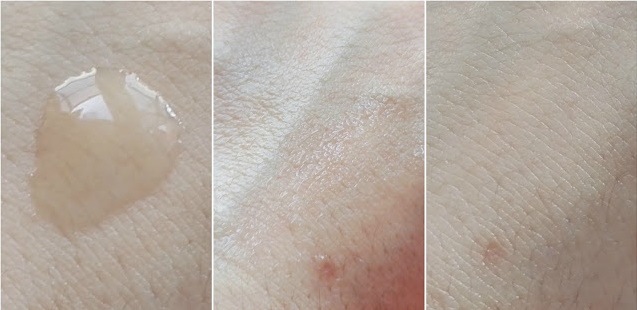 Texture
Dr. Wu Intensive Renewal Serum With Mandelic Acid 18% is a clear and runny liquid that comes in a dropper form.
I find the serum a bit oilier than what I am used to, maybe because the other serums I use, in comparison, dry up relatively quickly on my skin.
Let's look at its effect on my and my mom's skin after 60 days
I should have reviewed this six months ago, but I have so many other things to review, and I still have more than half left in the bottle, hence the delay. I was not paid for this review, nor did I receive it as a gift.
The main ingredient, Mandelic acid, is an excellent alternative to glycolic acid as it has larger molecules and is less irritating on the skin. It doesn't give me the tingling effect glycolic acid typically does. It is also oil-soluble, so people with oily skin can use this too. It will clear out blackheads due to its oil solubility properties. Mandelic acid works like all other AHAs to target aging-related problems. It can diminish the appearance of fine lines and remove the aged epidermis. Doing so will give you smoother, clearer, younger-looking skin!
After applying this serum, my skin feels distinctly softer and plumper. Maybe it is a combination of the serum and the mini face massage I give myself. It absorbs well into the skin, and here is where I am thankful for the slightly oilier consistency, as my skin does not tighten and dry out while I wait 15 minutes before continuing with the next step. During that waiting period, my skin feels nicely moisturized and hydrated.
The nostalgic smell and the plumper feeling of skin is an excellent tri-weekly skin booster, and my skin definitely thanks me for it. I cannot provide concrete reviews on its anti-aging properties as I do not yet have many wrinkles or fine lines, but I think this serum helps slow the aging process.
As for blackhead removals and pore cleansing, my nose strips are a testament that there is still gunk lurking around in my pores. In terms of brightening properties, my complexion is brighter, and the blemish marks around my chin slowly fade. Do not expect instantaneous results because it takes time, as with most good things.
If I were to recommend an AHA serum, this would be the one. It is the gentlest and most effective one I have tried. I also love Krave Beauty Kale-lalu-yAHA, but that one is more like an AHA toner, and Krave uses a more potent acid (glycolic) which always gives me a slight tingling effect. Dr. Wu doesn't have that, so you know it can tackle sensitive skin too.
Also, my mom had excellent results. Finding a gentle AHA that works so well on my mom's skin is exciting since she is reaching her 50s.
How to use Dr. Wu's Serum?
You may be wondering where something like this fits into your routine.
At night:
Cleanse
I drop about five drops of the serum on my face and give it a good massage for a few minutes. I avoid the lip and eye area.
Please wait 15 minutes for the product to absorb before continuing with my toner. This will impede the pH or the toner's ingredients from interfering with this serum's efficacy.
I use this product thrice a week. You must wear sunscreen daily after using it as it will make your skin more vulnerable to sun damage!
Photos before and after
When I started using this, I was not in the mood for selfies, so I didn't keep any before and after pictures. I noticed that it helps remove zits and bumps on my skin. There was also a soft glow on my skin when I started to use this. But it doesn't help fade my freckles.
My mom, however, got better results. She sent me her pictures almost every day to rave about how this makes her skin a lot brighter and younger, her pore sizes smaller, and her fading dark spots.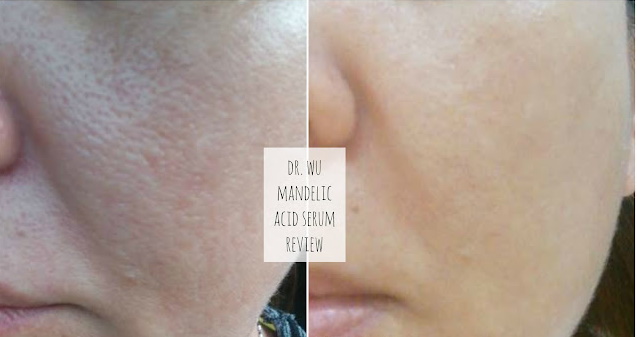 I know she is on her 3rd bottle since this has made her a different person altogether. Her skin is now a bit younger, smoother, baby-soft, less dull, and brighter. She suffers from lesser acne and blackheads issues too! Double thumbs-up from her!
Pros
a gentle and effective formula
convenient dropper design
Cons
pricey (unless you buy it in Taiwan)
AHA serum is quite a hassle to use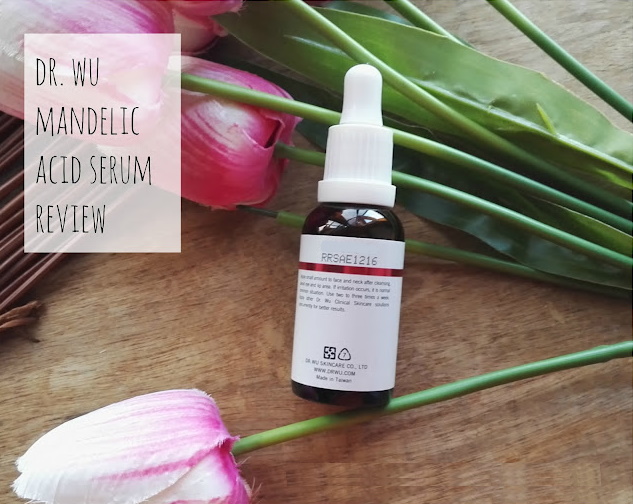 Verdict
This mandelic acid serum is a chemical exfoliant that refined my skin texture. It works like SK-II Facial Treatment Essence or any other treatment essence but at a much faster rate and is less pricey than those.
I would say I like it.
Will I repurchase Dr. Wu Intensive Renewal Serum With Mandelic Acid 18%?
Sometimes, I think that there are so many excellent skincare products out there and repurchasing a particular product is so lame when there are so many options left to try, which might be even more impressive. However, this serum suits me so well, and I only use it three times a week that I am willing to happily incorporate it into my routine.
Rating: 4/5
Shop for Dr. Wu Intensive Renewal Serum With Mandelic Acid 18%
You can get Dr. Wu Intensive Renewal Serum With Mandelic Acid 18% from Amazon for $35. You can also find it at BeautyWithin, Walmart, and StyleVana.
As always, you do you, be kind to your skin and yourself! Remember that every person's skin and skin type is different, so what might work for me might not work for you, and vice versa. So before adding a new product to your skincare routine, it pays to do a little research first.
Pay special attention to ingredients that you might react to. Doing a patch test is always a good idea. Unsure? Best to consult your dermatologist.
Happy skin experimenting, and don't forget the sunscreen!
Affiliate disclaimer
Garden of Muses Magazine includes some affiliate links. This a kind reminder that if you click on an affiliate link and make a purchase, Garden of Muses Magazine may earn a small sales commission. The price stays the same for you. You will be helping support further publishing in Garden of Muses Magazine by clicking these links. Thank you!
Let's get social
Have you tried Dr. Wu Intensive Renewal Serum With Mandelic Acid 18%, and did it work for you? I would love to hear from you in the comments section below!
Follow me on Instagram, Facebook, and Pinterest, where we can get a bit more personal and talk about skincare in real-time.