Sometime last summer, I received a message from one of my followers asking if I had tried the Beauty of Joseon Ginseng Essence Water because it was her favorite. This stuck in my mind; it was time to try it out.
Some of the things I bought are based on positive reviews I received on Instagram, YouTube, and bloggers I follow. I'm From Rice Toner and Dr. Jart Ceramidin Cream are some of the products I bought after others raved about them but sadly failed to live up to my expectations. The beauty of Joseon Ginseng Essence Water is one of these "duds" (oh, dud sounds like a very strong word, maybe I should say "regrets") that fails to live up to my expectations.
This review, at a glance:
Where to buy Beauty Of Joseon Ginseng Essence Water?
In the US, it comes in a five fl. oz. / 150ml bottle for $18 on the official Beauty of Joseon website.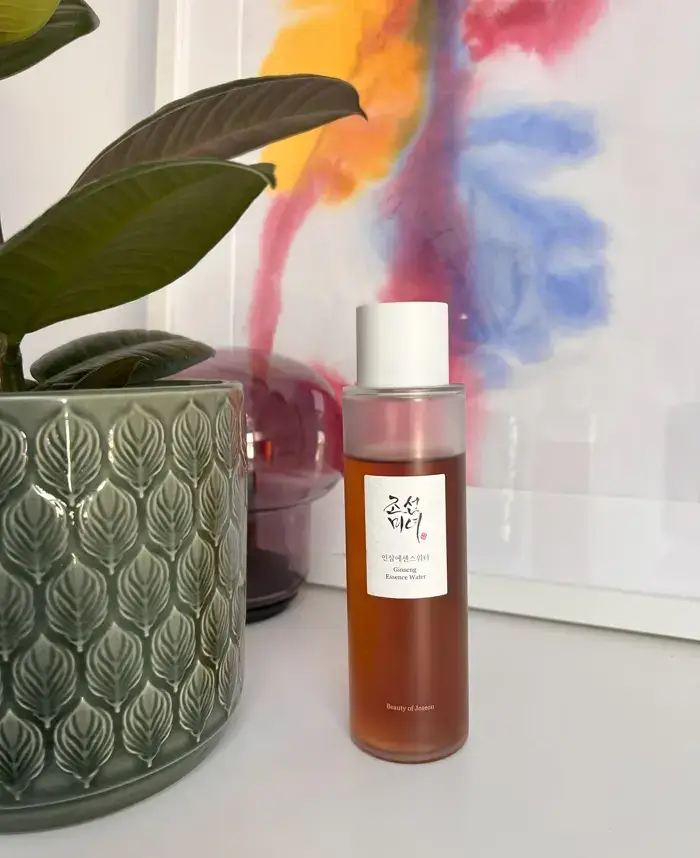 Beauty Of Joseon Ginseng Essence Water is available in the Beauty of Joseon Official Store on Amazon* and on trusted Asian official retailers: YesStyle*, StyleVana*, and StyleKorean*.
The price varies between $13 and $18.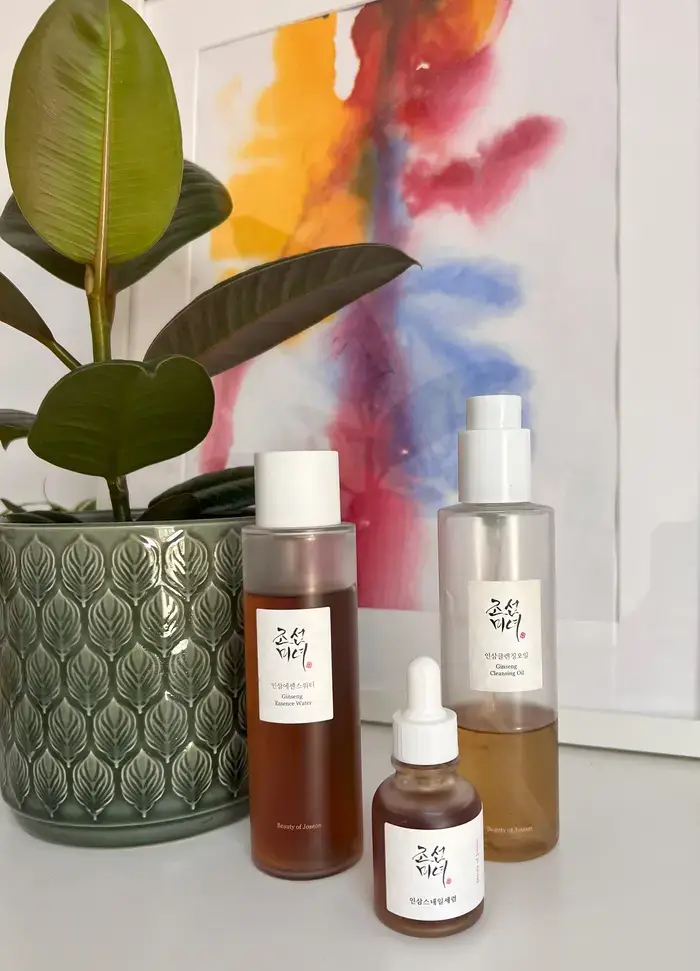 The Beauty of Joseon Brand
This Korean beauty brand creates skincare products using ingredients popular during the Joseon Dynasty. Traditional Hanbang (aka Korean herbal medicine) techniques and ingredients inspire product formulas. Thus you will often find extracts of Rice, Ginseng, Orchid, Radish, etc., as well as traditional techniques such as fermentation in their skincare collection. Beauty of Joseon focuses on achieving bright, clear skin and improving skin health, thus highlighting one's natural beauty. The ancient Korean Dynasty times influences its simplistic and traditional packaging.
The Beauty of Joseon brand has gained enormous popularity quickly due to their well-performing products, especially their first hit, the Beauty of Joseon Dynasty Cream*.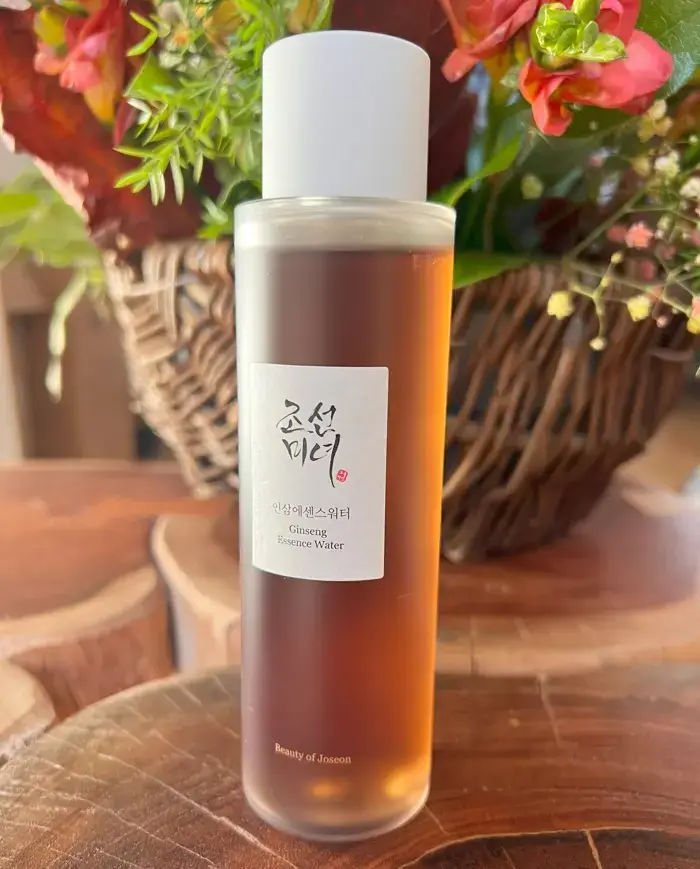 What is the Beauty Of Joseon Ginseng Essence Water?
Korea, or what I like to say, the "birthplace of skincare," is a country filled with all the different kinds of skincare products. It's a cornucopia of beauty products. They have them all! Cleansers, toners, serums, and, yes, essences. In fact, essences were first introduced by Korea. Essences are now being used worldwide, encouraging foreign beauty brands to make their own.
Essences are applied after your toner as a prepping step for moisturizers and serums. The steps after the essence will work better because of the extra hydration and nutrients it adds to the skin. They will absorb well into the skin, and the essence will magnify the benefits. Also, having a facial essence in a routine preps the skin by beginning the cell reproduction process. It assists in shedding old skin and revealing new skin for an improved and radiant appearance.
Essences usually have a light, watery consistency to sink in easily. You should use your hands to pat it on your face, instead of a cotton pad, as you'll waste a lot of product. So, skip the cotton pad and save yourself and the environment the hassle of using essences.
Essences are not the most popular skincare products out there, so finding one that will fit your skin might be challenging.
Beauty Of Joseon Ginseng Essence Water* is a facial essence. This essence is 80% ginseng water that claims to cure dull and dehydrated skin. Ginger and panthenol ingredients, should soothe the skin and give it an enlightening and invigorating feeling.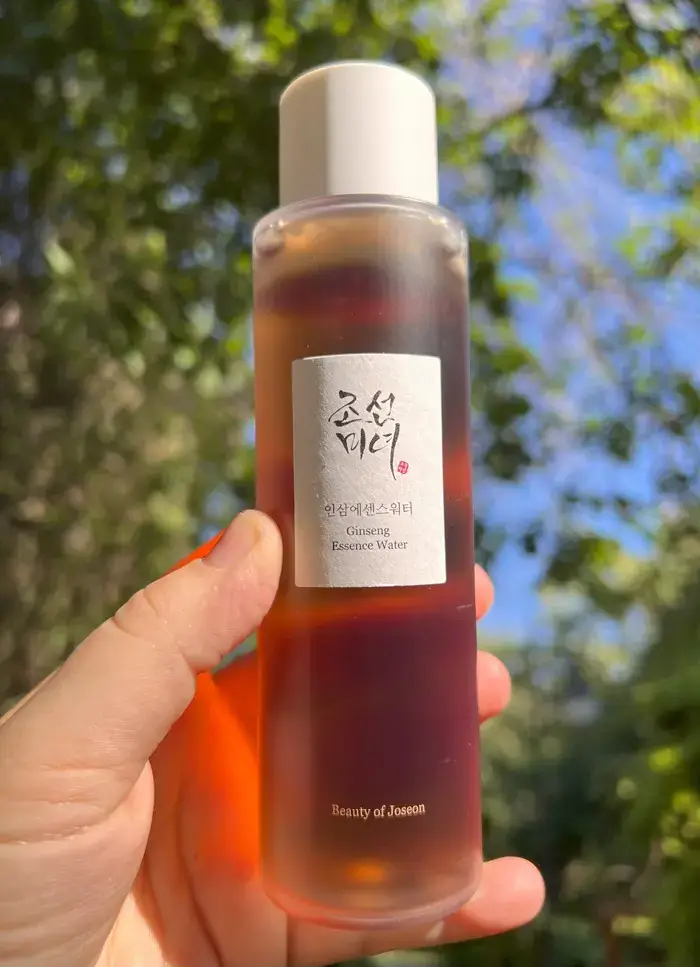 Beauty Of Joseon Ginseng Essence Water Claims
Ginseng essence water contains 80% of ginseng water and focuses on the benefits of ginseng itself, giving sufficient moisture and nutrition to the skin. It fills moisture and nutrition firmly to help keep your skin moisturized for a long period of time.

beautyofjoseon.com
Who is this essence toner for?
The essence is suitable for all skin types. The brand recommends pairing it with the Beauty of Joseon Revive Serum* to maximize the efficacy of the ginseng.
Not sure what your skin type is? Please read our guide on Skin types & skin conditions.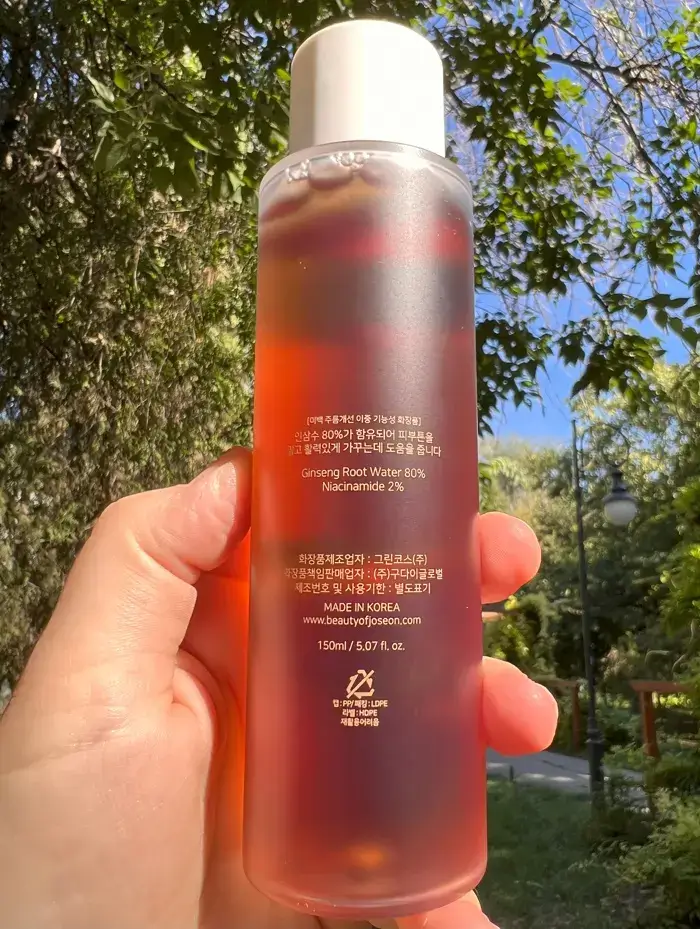 Beauty Of Joseon Ginseng Essence Water Ingredients
Key Ingredients
Hanbang
Hanbang has been around in Korea for many years. The name does not refer to a specific ingredient but a traditional Korean wellness approach. Hanbang incorporates natural herbal ingredients with medicinal or therapeutic properties into daily food or personal care routines. Popular Hanbang ingredients in Korean skincare are ginseng root (for its anti-inflammatory properties), Chaga mushroom (also for its anti-inflammatory properties), lotus root (for moisturizing), licorice root (for its antiaging and UV protection), among many others.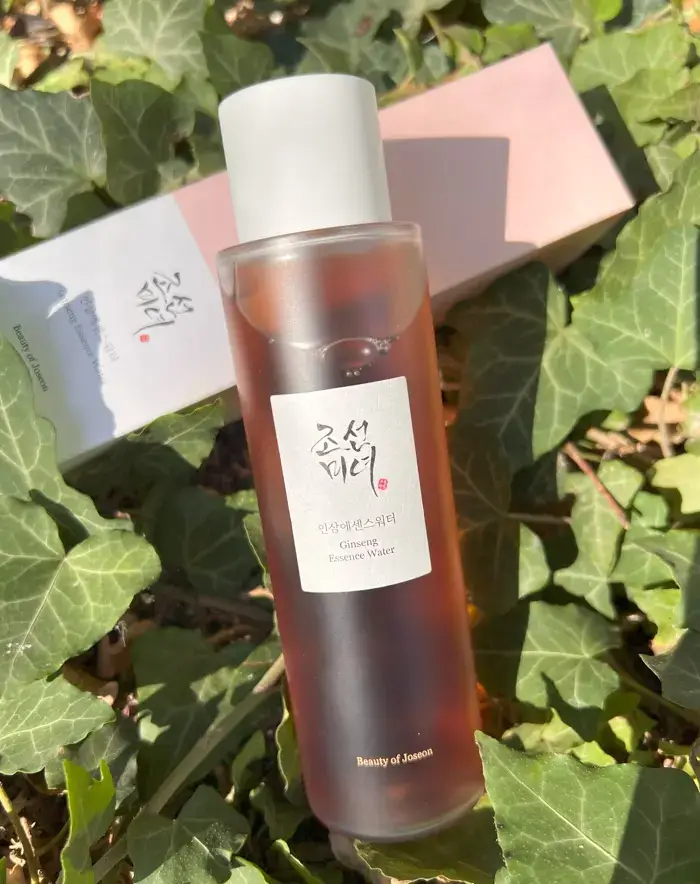 Ginseng
The hero ingredient for this essence is ginseng water (80%) which calms and relaxes irritated and tired skin.
In Korean history, Ginseng is a vital herbal ingredient that has been used for a long time for the skin's health.
In Korean herbal medicine books, ginseng is considered a "herb of perpetual youth" and helps lighten hyperpigmentation and soften wrinkles. The legend says Hwang Jini, the most beautiful woman in the Joseon Dynasty, used a ginseng decoction as bath water. The rich saponin in ginseng helps quickly supply moisture and maintains it deep inside the skin for a long time to help create healthy skin.
Niacinamide 2%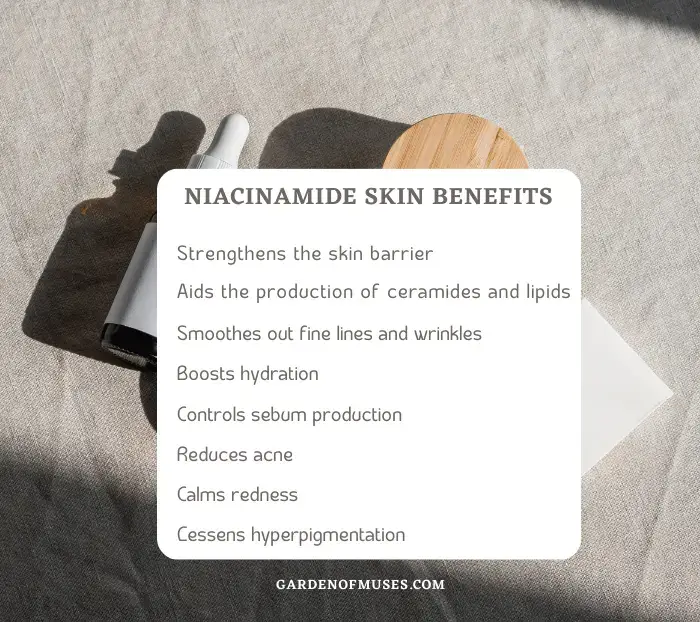 Niacinamide has been making a splash in the Western market over the last few years and has been splashing in Asian skincare for decades. This beauty powerhouse is the topical form of vitamin B3.
Several well-documented studies show that when used topically, niacinamide can:
Long story short, niacinamide does everything, and the good news is that it is well-tolerated by most skin types. Read the Complete Guide on Niacinamide.
Then the essence contains adenosine, which aids healing, has an anti-inflammatory effect, restores the barrier, and strengthens the skin.
Also worth mentioning is panthenol, an active ingredient from licorice root and allantoin – all of which help soothe sensitive and irritated skin. Glycerin and hyaluronic acid take care of hydration.
Beauty Of Joseon Ginseng Essence Water* is vegan and cruelty-free, and it does not contain: alcohol, essential oils, or fragrance.
The formula is oil-free, so those with oily/combination skin are pretty safe from using this, as nothing will clog pores. Those with sensitive skin will also find this should be gentle enough for the skin due to the lack of irritating ingredients.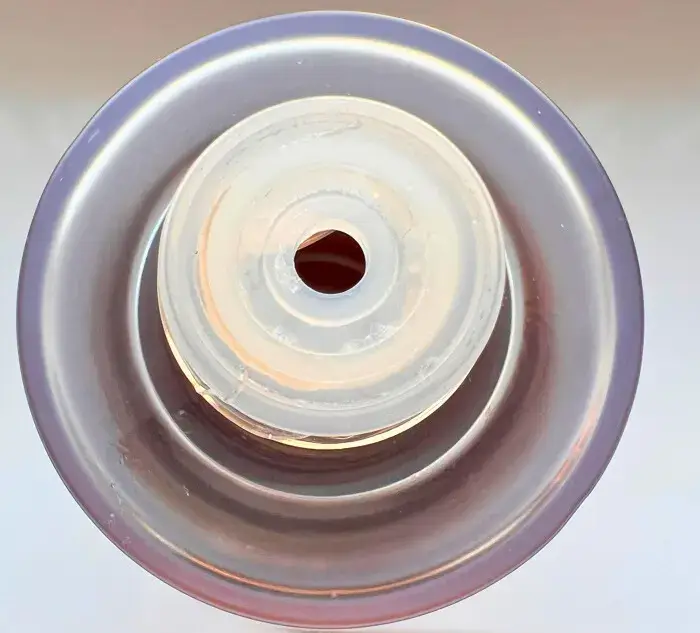 Packaging
When I tried the Beauty of Joseon Ginseng Essence Water for the first time, I was very impressed by the packaging: the essence water bottle came in a neat box with all the information on it.
The bottle itself had a soft matte effect, giving it a premium look to my eyes. The packaging is functional and does not leak, which is all I require in a product.
It has a foiled screw-off cap made of bulky plastic and a hole opening for dispensing the product. The bottle was sealed, so I didn't have to worry that it had been opened.
Scent
I always appreciate Beauty of Joseon products' neutral, almost inexistent scent, especially in a marketplace where heavily perfumed cosmetics seem commonplace.
I was not surprised this product has no scent. I can only decent the slightest herbal notes when searching for it.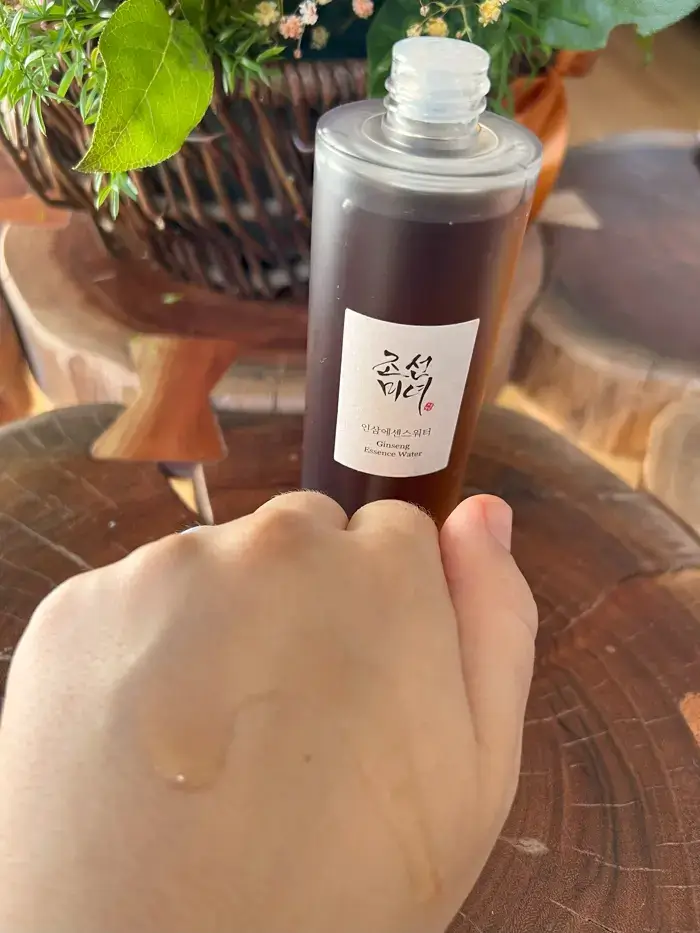 Texture
Beauty Of Joseon Ginseng Essence Water's texture is super runny but easily applied directly from the palm. After applying, it is quickly absorbed and does not leave a sticky feeling.
My experiences with Beauty Of Joseon Ginseng Essence Water
Please do not be deceived by the image's usage because I always take photos before using the product. Who doesn't love looking at a fresh product?
For reference, my skin is dry during cold winters and normal during the hot summers. I've been using it sparingly, on and off, for about six months. You may be wondering why. As I don't have acne-prone skin (just the occasional hormonal spots), and I am lucky my skin is resilient, I don't really patch test because I have never reacted to anything.
Experience with a cosmetic is a highly individual phenomenon. It broke me out the first two times I introduced it into my routine. I was intrigued, I did not want to believe the Beauty Of Joseon Ginseng Essence Water was to blame because I loved the brand. I checked the ingredients list and the comedogenicity in cosdna and found nothing. The Ginseng Essence Water was probably not to blame. I left it on my beauty shelf for another month and tried it again. It broke me out again.
I am nothing if not persistent, so I recently tried it for the third time. This time it didn't break me out. I must admit my routine has changed a little, so I am not sure to this day what the culprit is.
It is nothing like CosRx Full Fit Propolis Synergy Toner*, which changed my skin. This essence Ginseng Essence Water is not very hydrating, even when layered. I have tried three layers of this essence straight out of the shower when my skin needs it the most. I never got the same hydrated feeling I would get after using CosRx Full Fit Propolis Synergy Toner*.
I did want to love it, and I still use it on my cleavage (as I wait for the CosRx Full Fit Propolis Synergy Toner* to arrive). It didn't perform as well as other products in the same category. In theory, this really should work well for me, it had glowing reviews, but my skin didn't like this for some reason.
It does not make my skin feel plumper or soften it. I didn't see any anti-aging results either.
It doesn't do much to my skin. It is my most spectacular letdown in terms of expectations versus results.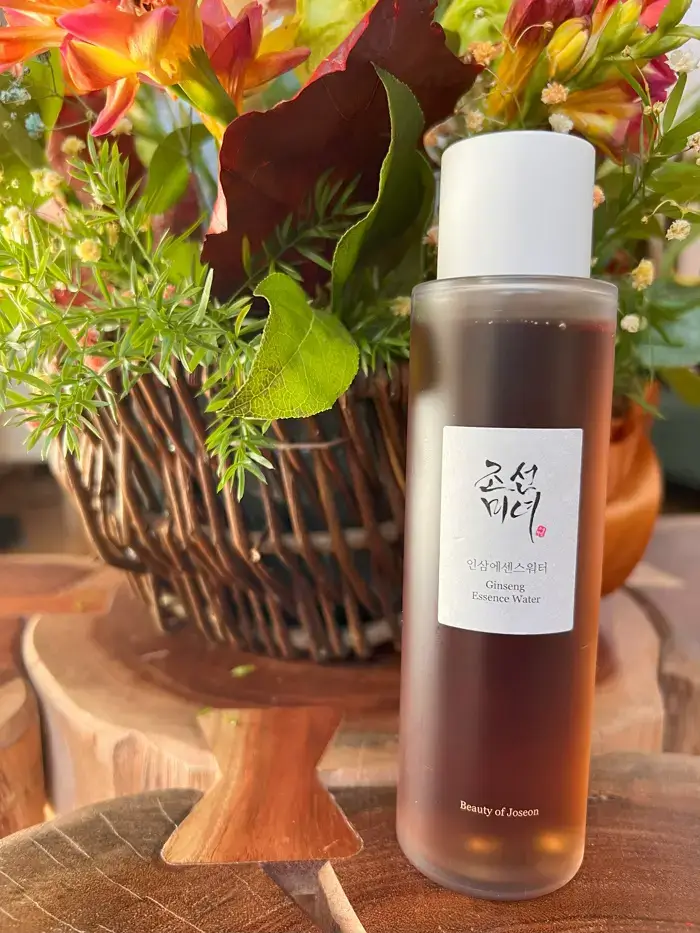 How to use Beauty Of Joseon Ginseng Essence Water?
You may be wondering where something like this fits into your routine.
Pour a few drops of the Ginseng Essence Water into your hands and gently pat the face.
At night, moisturizer on top to lock in all the moisture;
In the AM, SPF.
Pros
slightly hydrating
not sticky
layers well
can be easily incorporated into routine
Cons
not hydrating enough
broke me out
didn't plump my skin
didn't help with pores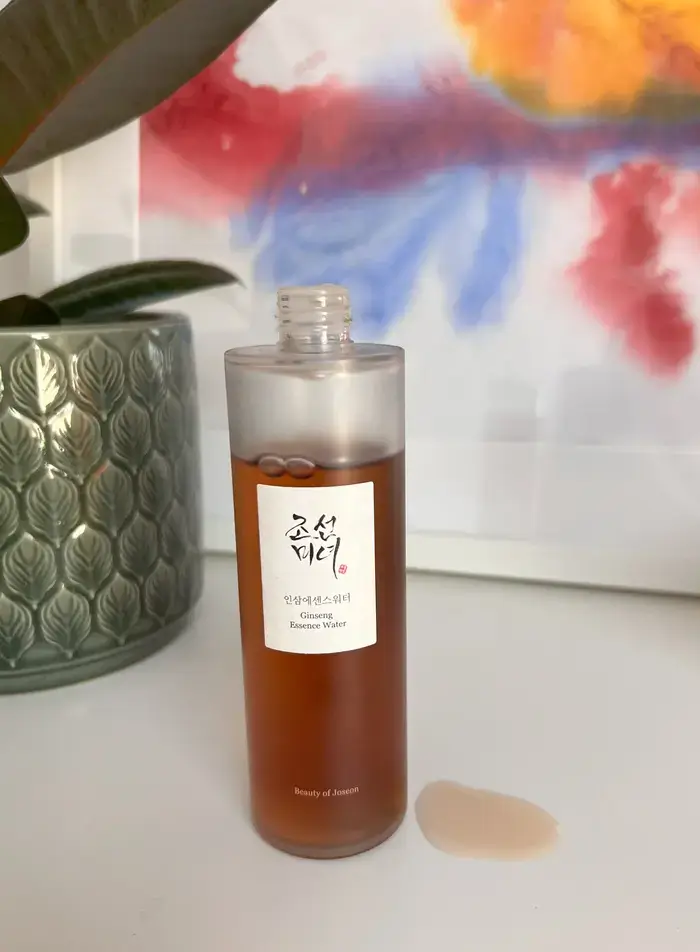 Verdict
The results are inexistent. It does not help with hydration, firmness, or plumpness.
Almost every single review I have read gives it glowing reviews. I have to say I am surprised by how hyped this product is. However, I just didn't love it. I wanted to love it more than anything, the ingredients, the hanbang, everything sounded amazing, but the amazing just didn't translate to my skin.
Bear in mind that it has worked for MANY people, so do not rule this one out completely. My opinion is just another point of view for you to consider and make an informed decision.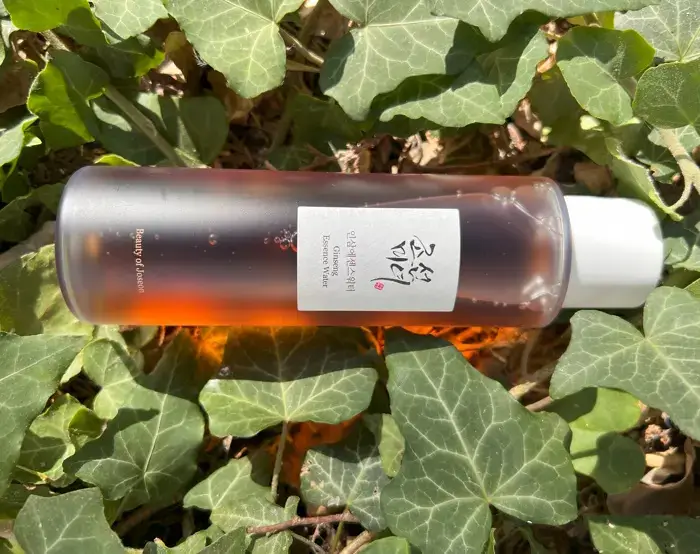 Will I repurchase Beauty Of Joseon Ginseng Essence Water?
Unfortunately, as this didn't quite work for me, I will not repurchase this. Whilst it does hydrate a little, it doesn't hydrate enough for me and is not comparable to what CosRx Full Fit Propolis Synergy Toner* did for my skin.
Going forward, I will most likely focus on other essences. In saying this, the Beauty Of Joseon Ginseng line, in general, is very popular and great value for money, and it does work for many people. Beauty Of Joseon as a brand is wonderful at hanbang ingredients and making them accessible to everyone. I have used (and quite like) the Beauty Of Joseon Ginseng Cleansing Oil in this range and will always be happy to try out their products.
Unfortunately, the Beauty Of Joseon Ginseng Essence Water didn't do wonders for me as it did for others! My skin simply didn't love it, and that's okay because not everything works for everyone.
Rating 1/5
Shop for Beauty Of Joseon Ginseng Essence Water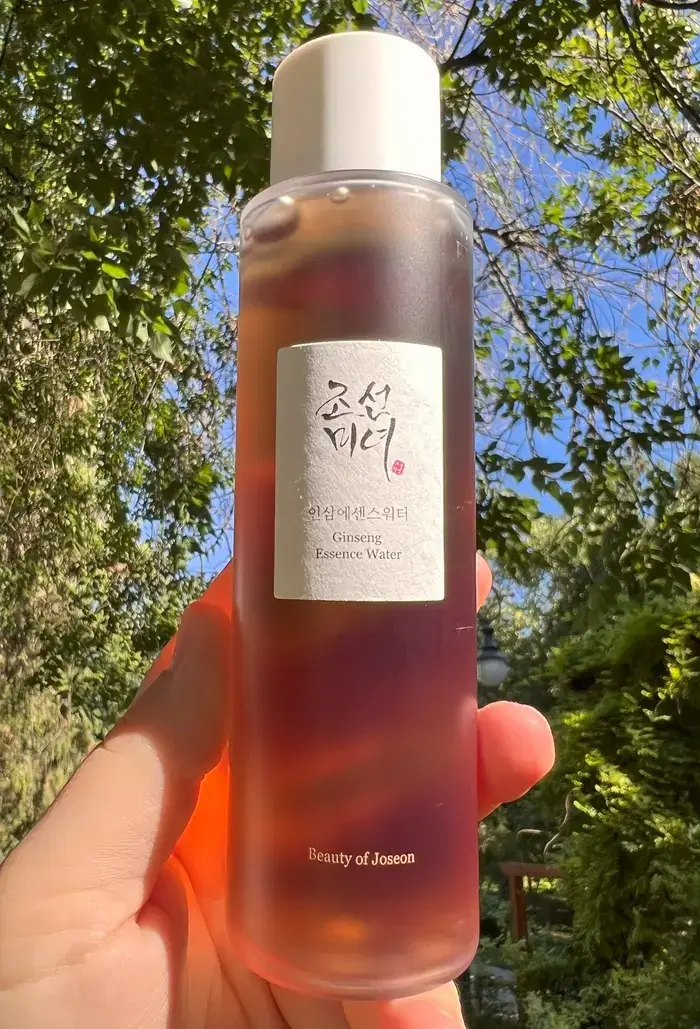 The value for this and what you get is good (if it works for you!) – this can be purchased in the US for around $18.
(*affiliate links)
I was not paid for this review or received it as a gift.
As always, you do you, be kind to your skin and yourself! Remember that every person's skin and skin type is different, so what might work for me might not work for you, and vice versa. So before adding a new product to your skincare routine, it pays to do a little research first.
Pay special attention to ingredients that you might react to. Doing a patch test is always a good idea. Unsure? Best to consult your dermatologist.
Happy skin experimenting, and don't forget the sunscreen!
Show me proof